"The First Weibo World War": Is Weibo an International Social Media Platform Now?
Some see the rising relevance of Weibo in the international social media scene as a sign of a rising China.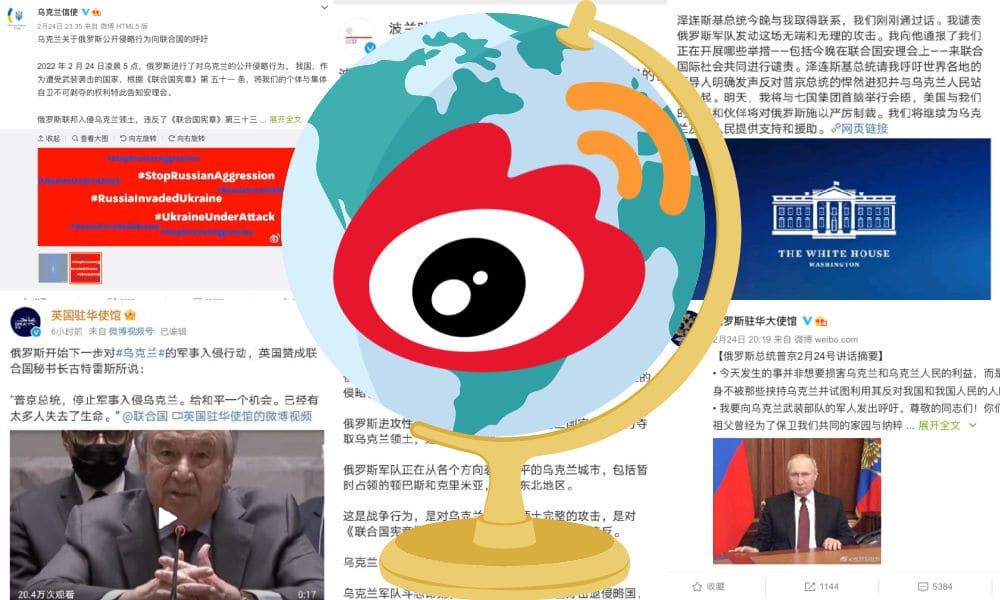 Over the past years, Weibo's international significance has risen when it comes to celebrities and pop culture. With the outbreak of the Russia-Ukraine war, Weibo's role as an increasingly international social media platform has become all the more clear.
On Feb 21st, Russian President Vladimir Putin signed two decrees recognizing the self-proclaimed breakaway states Lugansk People's Republic (LPR) and the Donetsk People's Republic (DPR) as independent and sovereign states.
Following the news, the Weibo account 'Ukrainian Courier' (@乌克兰信使), which is the verified information center of the Embassy of Ukraine in China, responded in Chinese via Weibo on February 22nd, condemning the move and urging the world to put an end to Russian aggression.
That post received about 12,000 comments within four hours after publishing. The hashtag 'Ukraine Publishes a Statement on Weibo' (#乌克兰在微博发表声明#) topped the trending list for hours, and so far has received about 350 million views.
One comment under the post, receiving more than 142,000 likes, is not about the content of the statement, but instead responds to what is happening on Weibo now:
"In my lifetime I didn't expect to actually see such international affairs appearing on Weibo like it's a public court."

Comments of a similar nature – transcending the post content yet receiving many likes – could also be found days earlier, on February 15th, when the official Weibo account of the UK Prime Minister (@英国首相) published a post in Chinese saying:
"We are on the verge of a cliff. But President Putin still has time to step back and think. We urge everyone to participate in the dialogue. The Russian government should avoid doing what would be a disastrous mistake for the country."


The comment that received the most likes (about 151,000) under the post is a short message to Boris Johnson, hinting that there should be a new season of the popular British mystery crime drama TV series Sherlock.
Two other popular comments also completely ignored the topic's main subject, tagging the Weibo account of the Russian Embassy in China (@俄罗斯驻华大使馆) and saying: "He's on the verge of a cliff, quick, push him off," and "Solve the problem by yourselves please, you two are grown up enough."
The next day, on February 16, the Weibo account of the Russian Embassy in China shared the UK Prime Minister's post on their own account (twice), calling the Downing Street statement "absurd" and saying it was an example of the West propagating "information terrorism."
In response, one commenter hinted at how US officials earlier claimed that Russia would initiate an attack on February 16, jokingly suggesting they meant this Weibo collision: "Oh, now I understand what 'attack' they were talking about."
Another popular comment under the shared post was: "I could never have imagined that the war would start on Weibo."
With more countries publishing their statements in Chinese on the Weibo platform, another hashtag also went trending, namely "Russia, the United States, Britain, and France have spoken out on Weibo" (#俄美英法纷纷在微博发声#).
One netizen called these Weibo interactions between countries in conflict "WWWI, short for the First Weibo World War."
On Feb 24, Putin authorized 'special operations' in the Donbas region, making the words 'Ukraine' and 'Russia' peaking on Weibo.
On Feb 25, the Ukrainian Embassy in China posted a call on Weibo to raise money – dollars, euros, pounds – for the military. A hashtag dedicated to this topic (#乌克兰驻华使馆发博为军队募款#) received more than 53 million views. One Weibo user wrote: "What were you thinking when asking for donations on Weibo, but not including account information for Renminbi?"
On Feb 28, the same account published an updated post, this time including donation information for the Chinese currency. Though some Weibo users were questioning the legitimacy and compliance of this action – a comparable situation previously did not occur in China, – it did show that the Ukrainian Embassy read Weibo users' comments and that they actually quickly acted to them.
There was a short period of time when jokes and misinformation started circling around the platform, but soon the Weibo platform announced that they were cracking down on those remarks. So far, Weibo has not banned any official accounts of other countries' embassies or international organizations involved in the conflict.
Another recent Weibo post of the Ukrainian Embassy interacted with the Weibo account of the European Union (@欧盟在中国), and was basically a thank-you note for receiving global support, the words written in classical Chinese style.
The Russian Embassy in China also recently posted on Weibo again, this time with a video titled "How Ukraine Incites Hatred Towards Russia and Russians" ("乌克兰是如何煽动对俄罗斯和俄罗斯人的仇恨情绪的").
Meanwhile, the latest Weibo post of the Embassy of the United States in China is promoting the word "peace" while using the supposedly apolitical hashtag "Learning English" (#英语学习#). However, in the comment section, many Weibo users did take the post as a political statement and accused the US of being a "peace-breaker," posting images of America invasions in Iraq, Libya, Yemen, and Syria.
A New International Role for China's Weibo?
The Russian Embassy in China has since long been on Weibo, using the Chinese platform for its "foreign diplomacy" with other countries. As early as 2014, the account already saw an online clash with another nation as it argued with the China-based Polish ambassador Tadeusz Chomicki on Weibo over MH17.
The Iranian and American embassies in China became all the talk on Chinese social media in 2020 when the US-Iran tensions also heightened on Weibo, where the two argued over the assassination of Soleimani. Their exchanges were all in Chinese. Later that same year, the U.S. and Iranian Embassies again fought on Weibo, this time over the so-called "Wuhan virus" stigmatization of Covid-19.
In addition to emerging as a platform for international diplomacy, Weibo has also become more important in international pop culture – and the drama that comes with it. In late 2021, when the divorce of the U.S.-born "King of Chinese Pop" Wang Leehom (王力宏) and his former wife Lee Jinglei (李靚蕾) played out on Weibo, also involving a female singer from Singapore, more Chinese netizens started wondering: is Weibo already an international social media space, as the platform has increasingly become a hotspot for official and popular international public conversations?
According to Weibo's latest press release, its number of monthly active users (MAUs) was 573 million in December 2021, and its average daily active users (DAUs) were 249 million in December 2021.
Twitter, which has stopped reporting MAUs and switched its user reporting metric to monetizable daily active usage (mDAU) since Q2 2019, reported 217 million in Q4 2021. Its lastest number of average MAUs is 330 million as of Q1 2019 (for reference, Weibo's MAUs were 465 million in that same period).
It seems that looking at users alone, Weibo is qualified enough to serve as a major social platform like Twitter. But as a platform originally launched and mainly operated in Chinese, the language seems to be the first barrier for more international users, along with its functionality and strict content management (censorship) system.
In March 2017, Weibo launched its international version specifically for overseas account holders. However, non-Chinese international users did not respond to that with too much enthusiasm and for that user group, Weibo never came near to Twitter. Google Trends shows how worldwide searches for the keyword Weibo were drastically low compared to those of Twitter.
In 2018, Weibo chose to focus more on the "overseas Chinese-speaking world" to gain a foothold in the worldwide social media market, rather than concentrating on English-speaking communities. Nonetheless, being China's most popular social media platform for public dialogue, Weibo has still drawn in many foreign government departments, companies, celebrities, and international organizations.
There are many international celebrities using Weibo, including six of the top 10 most followed Twitter accounts. Through Weibo, where they usually post in English, they can stay in touch with their Chinese-speaking fans.
On Weibo, you will find the accounts of 80 tourism boards of different international cities and countries, over 20 international airports, more than 40 football clubs, and at least 50 foreign embassies in China are using Weibo to publish statements and interact with Chinese netizens, including the embassies that have been using Weibo to post statements in Chinese on the Ukraine crisis.
Some see the rising relevance of Weibo in the international social media scene as a sign of a rising China. "The British Prime Minister ran to Weibo shout at Russia, indicating that China's international status has heightened and indicating that the role of Weibo has improved," one blogger wrote.
Popular Weibo account VShanshan also agreed, writing:
"Because of the growing influence of China's international position and Chinese online platforms, China's social media platforms, and specifically Weibo, have in fact also become a battleground of the global public opinion war, and Weibo is now also at the forefront of the cyberwar between Russia and Ukraine. Before the Russian-Ukrainian military conflict and war happened, it already started on Weibo."

On February 24th, when Russia announced the so-called "special military operation" in Ukraine's eastern Donbas region, the Weibo accounts of France, Germany, the Netherlands, the U.S., Poland, the UK, and others all posted statements on Weibo. One netizen proposed to call these international accounts the "Weibo United Nations."
On that same day, the hashtag "World Peace" (#世界和平#) went trending on Weibo. Whether or not Weibo already is an 'international' social media platform is up for debate, but it is nevertheless evident that most Weibo users want to raise their voices for a peaceful international society. Hopefully, their voices will be heard.
Click here to see more of our articles on the Russia-Ukraine war.
By Wendy Huang
Follow @whatsonweibo
Edited for clarity by Manya Koetse.
Spotted a mistake or want to add something? Please let us know in comments below or email us. Please note that your comment below will need to be manually approved if you're a first-time poster here.
©2022 Whatsonweibo. All rights reserved. Do not reproduce our content without permission – you can contact us at info@whatsonweibo.com
Less Education, More Babies? Discussions Surrounding China's Falling Birth Rate
Another year, another drop in birth rates: according to the latest statistics, China's 2022 saw more deaths than births.
China's falling birth rates have been a topic of discussion for years. With the latest statistics marking another record low in birth rates, Chinese experts look for ways to motivate couples to have (more) children at an earlier age.
Official yearbook data, released by China's National Bureau of Statistics (国家统计局) on Jan. 17, 2023, shows that the total Chinese mainland population was 1.4118 billion by late 2022. Last year, 9.56 million people were born, while 10.41 million people died. The population in 2022 fell by 850,000 from 2021.
As reported by The New York Times, according to the latest data, 2022 was not just the first time deaths outnumbered births in China since the Great Leap Forward in 1960s, it was also one of the worst performance years for the Chinese economy since 1976.
China's dropping birth rates have been a topic of discussion for years. The annual statistics that were published three years ago, in January 2020, showed that China's birth rate in 2019 had fallen to its lowest since the founding of the People's Republic of China. In that year, the birth rate was 10.48 per thousand, and 14.65 million babies were born in mainland China.
The data from later years showed that just 12 million babies were born in 2020 (8.5 births per thousand) and that only 10.6 million babies were born in 2021 – a rate of 7.52 births per thousand. The latest number is another record low.
Over recent years, various trends in Chinese (online) media have highlighted the social issues behind China's dropping marriage and birth rates. The rising costs of living and the fact that Chinese younger generations "prefer to marry late," are often mentioned as an explanation for China's decline in marriage rates and the interrelated lowering birth rates.
But China's so-called 'leftover' single men have also been pointed out as a "crisis," with China having millions of more men than women of marriageable age – partly a consequence of the one-child policy combined with a traditional preference for baby boys.
For years, China's 'leftover women' were also mentioned as a reason for the country's declining marriage rates; China's well-educated, career-oriented, urban single women were singled out for making it harder for China's unmarried men to find a wife because of their 'choice' to postpone marriage and family life. This increased the pressure on China's single women to get married, including facing an associated social stigma, which has become a recurring topic of debate on Chinese social media.
Chinese couples are allowed to have two children since 2015, three children since 2021, and it was later widely reported that parents with more than three children would also no longer receive fines according to a draft law amendment.
But the new regulations have not had the desired effect, with many couples simply not wanting a second child or being unable to afford it. The pandemic and zero Covid policy also haven't exactly helped to boost China's birth rates.
On social media, official media put out the two hashtags "9.56 Million People born in China in 2022" and "In 2022, China's Population Decreased by 850,000 people" (#2022中国全年出生人口956万人#, #2022年中国人口减少85万人#). Among commenters, the latest data have led to various discussions.
Some are about the costs of living:
"There's so much to consider if you want to have a child, the costs are just too high, and I wouldn't be able to support it."
Others are about increasing social pressure:
"These days there's too much pressure on men to get married, they're not confident and at ease anymore."
And then there are those who see no problem in a population drop:
"It's only natural for the population to decline, how can you expect it to be like the old days when people would have five or six kids; the people like my grandma in my hometown all come from families with at least four kids."
"This country of 1,5 billion people is constantly worried about going extinct, people are crazy!"
"The Information Age doesn't need so many people anyway."
HOW TO BOOST BIRTH RATES?
But while netizens' opinions on the matter vary, experts, politicians, and media outlets focus on the topic of how China's birth rates can be boosted.
Various places across China have already announced policies to encourage families to raise more than one child, including prolonged maternity leave, increased maternity allowances, and support for home purchases.
One hashtag that was popular on Weibo this week was about a statement made by the billionaire businessman Zong Qinghou (宗庆后), CEO of leading beverage company Wahaha Group (哇哈哈).
Zong is a proponent of offering affordable housing to young people. In a video that has since gone viral – and which was a segment from a CCTV interview, – Zong talks about his low-cost housing project and also called on China's young people to find a partner, get married earlier and have children sooner to "contribute" to the country's birth rates (#宗庆后希望年轻人早点结婚生娃#).
The hashtag triggered many replies. Most of them criticized Zong's remarks, and many commenters expressed that they did not like being told to marry and have kids. Some also remarked how Zong's own forty-something daughter allegedly is not married herself.
It is not the first time for an opinion leader or expert to frame marriage and childbirth as a "contribution" to the country.  In 2015, the Chinese scholar Yang Zao (杨早) wrote an essay in which he explained China's falling birth rates as "a clash between individualist and collectivist values." At the time, he wrote: "For the country, for society, for parents, can't you let go a bit of personal happiness? After all, isn't marriage key to solving China's present-day problems?"
Another hashtag that went viral this week is "Could Shortening Education Time Increase Birth Rates?" (#缩短教育时间能提高生育率吗#).
The topic relates to an article published by Zhejiang News on Jan. 16, 2023, about China's Education and Population Report (中国教育和人口报告). In this report, James Jianzhang Liang (梁建章, a demographer who is better known as the Ctrip CEO) and other authors suggest that shortening the duration of education might help boost the country's birth rates. The authors suggest that the middle and elementary education time could be cut down by two years by eliminating the Senior High School Entrance Examination (Zhongkao 中考).
There are two ways in which this idea might benefit China's birth rates. On the one hand, the authors argue, China's highly competitive education system puts a lot of pressure on children and financial strain on their parents, who struggle to invest as much time and money into their children's education as they can. The pressure is real: the exam results during the last year of junior high school are of crucial importance regarding admission to the preferred senior high school, which also profoundly influences education after high school and students' future careers. So the reasoning is that couples are more likely to have children if the financial burdens on parents are alleviated.
On the other hand, the authors argue that when people finish school two years earlier, this will give them more time to start their life after graduation, making it more likely for women to have children at an earlier age.
One post about this topic, in which netizens were asked how they felt about the idea, received over 225,000 likes and nearly 13,000 comments.
A typical reply suggested that all these 'experts' should have more children themselves, reiterating a widespread criticism of opinion makers and experts who often do not practice what they preach.
Others expressed that they did not think that China's lower birth rates were related to education, while others felt that a shortened education time would be a step back for China.
Some also criticized Zhejiang News. The media outlet itself indicated that the idea of shortening school years to boost fertility rates was like treating people as "tools." But some commenters said: "The sad thing is not that people are treated as tools, the sad thing is that it took you this long to realize it."
There are more Weibo bloggers and commenters suggesting that people paid a heavy price for the One Child policy that was implemented between 1980-2015, and that its effects will have a significant impact on society for a long time to come. After decades of only allowing couples to have one child, the shift to now introducing policies to encourage people to have more children is a strange reality.
One popular blogger (@峰哥亡命天涯) posted a photo that showed an old One Child Policy slogan on a building [少生优生,幸福一生 'Have fewer but healthier babies and a happier life'], and he wrote: "The effects of family planning have contributed to contemporary times and bring benefits for future centuries!"
Another poster said they felt bad for the one-child generation born in the 1980s:
"I really feel sorry for those born in the 1980s. They've always dealt with problems in attending school from young to old, then when they were all grown up faced problems with the job [market], then the issue of marrying and the bride price, and most importantly the high price of housing and caring for the elderly – the 1980s generation is carrying the burden. Those born in the 1970s can no longer have children, and those born after '95 or 2000 are not giving birth. So we can only squeeze the post-1980s (..) Let them finally take a breather."
By Manya Koetse 
with contributions by Zilan Qian
Get the story behind the hashtag. Subscribe to What's on Weibo here to receive our newsletter and get access to our latest articles:
Spotted a mistake or want to add something? Please let us know in comments below or email us. First-time commenters, please be patient – we will have to manually approve your comment before it appears.
©2023 Whatsonweibo. All rights reserved. Do not reproduce our content without permission – you can contact us at info@whatsonweibo.com.
From Peaches to Pears: 3 Natural Food Remedies Trending on Chinese Social Media in Times of Covid Outbreak
Even though experts suggest that natural food remedies won't prevent or cure Covid, Chinese netizens believe in the power of peaches.
Coughing, fever, sore throat; during China's current Covid outbreak, the ways to alleviate the most common symptoms have become an everyday topic on Chinese social media. Food remedies are a recurring trending topic. Here are three natural food remedies that have become popular (again) over the past few weeks.
In December of 2022, during the rapid spread of Covid-19 across China after the country let go of its 'zero Covid' policy, fever and cough medicine were selling out fast. Some Covid patients turned to foods and drinks to help soothe Covid symptoms.
The following types of food have become especially popular on Chinese social media over the past few weeks.
1. Canned Yellow Peaches (黄桃罐头)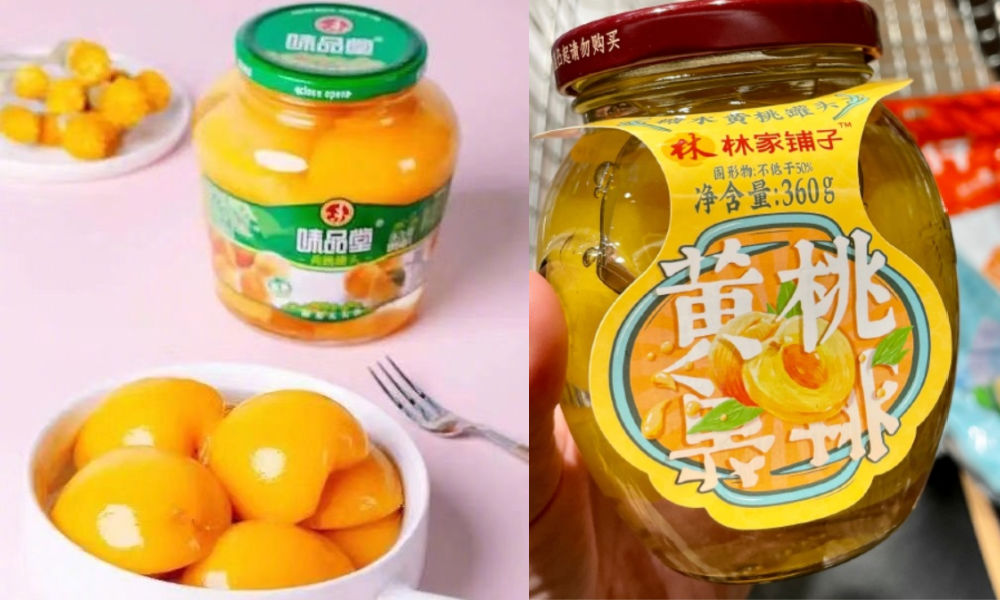 In December, when the number of Covid-19 infections spiked throughout China, canned yellow peaches suddenly received significant attention. Under the Weibo hashtag "Canned Yellow Peaches, the Mysterious Power from the East" (#东方神秘力量黄桃罐头#), netizens shared how canned yellow peaches helped them recover from Covid-19, describing it as "the god of children from Northeastern China" that "blessed every Northeastern Chinese child." Some even joked that the government should include canned yellow peaches in the public health insurance package.
Although many state media quoted experts' claims that canned yellow peaches cannot fight Covid-19 symptoms and might even worsen coughing, most netizens still believe in the power of peaches.
While most people acknowledge that natural food remedies aren't always effective, they are seemingly unanimously against the "experts' advice." Under Pengpai News' Weibo post and hashtag "Experts Claim Canned Yellow Peaches Might Worsen Cough" (#专家称黄桃罐头或加重咳嗽#)," some Weibo users commented that experts would not dare to discuss the supposed ineffectiveness of Lianhuaqingwen (traditional Chinese medicine that has become hot-selling during Covid outbreak) and thus criticize canned peaches instead.
Another commenter wrote: "Who would actually believe that canned yellow peaches can cure diseases? It is just like a placebo when we're sick."
One popular image compared the effectiveness of canned yellow peaches and Lianhuaqingwen. According to the image, the former is tasty and hydrates, while also containing electrolytes and calories and serving as comfort food to people, whereas the latter is only capable of potentially having side effects for the kidney and liver.
Canned yellow peaches are a nostalgic comfort food, especially for people from Northeastern China. For the generations growing up during the 1970s and 1980s, canned yellow peaches are known as a 'cure-all.' In an era of food scarcity, canned yellow peaches were a sweet luxury that most children could only get when they were ill.
One commenter on Q&A platform Zhihu wrote: "Eating canned yellow peaches is a ritual." Other netizens shared their childhood memories about the food – one commenter recalled how eating canned yellow peaches at the hospital after a car accident left a deep impression on them.
Moreover, the name of the food has also come to be associated with recovering from Covid. As the character '桃' (peach) sounds the same as the character '逃' (escape), eating canned yellow peaches is also jokingly used in the context of 'escaping' from the epidemic.
2. Steamed Orange with Salt (盐蒸橙子)
Another food that gained popularity during the Covid-19 outbreak is steamed orange with salt, which is considered a more medicinal food remedy than canned yellow peaches. The food has since long been used as a Chinese folk prescription for sore throat. The widespread Covid-19 symptom of severe sore throat, sometimes also described as "swallowing blades" (喉咙吞刀片)," has made the folk prescription popular again.
Here is the cooking procedure according to many online posts: wash and soak the orange in salted water; cut the orange at ⅕ point from the top; spread ⅓ spoon of salt onto the remaining ⅘ oranges; put two parts of the orange together and steam (steaming time varies between posts from 20 min up to two hours); eat the orange with the peel and the rest of the water.
Contrary to canned yellow peaches, experts have acknowledged the benefits of eating salt-steamed oranges. According to a post released by Youth Hunan (青年湖南), the official Weibo account of the Communist Youth League of Hunan Province, some 'experts' state that the peel of salt-steamed oranges help alleviate discomforts in the throat, and the vitamin C can prevent and alleviate viral infections. In reports by other mainstream media, such as CCTV News, it is also claimed that salt-steamed oranges might be helpful, and that the salt can make the natural sugar taste sweeter.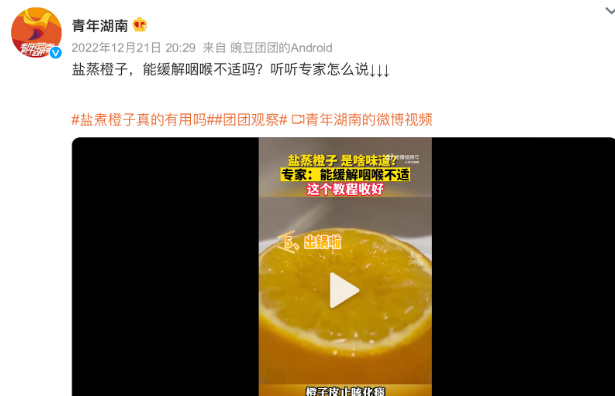 However, steamed oranges with salt are not as beloved among the public as canned yellow peaches. People's comments on the effectiveness of salty steamed oranges vary. Some share that they stopped coughing after eating them, while others criticize it as having "no use at all," or even exacerbating the pain.
Despite the disagreement on its effectiveness, most Weibo posts agree that steamed oranges with salt are just "not tasty" at all. Contrary to the CCTV report that suggested that salt brings out the sweetness of oranges, many describe the food as extremely bitter and sour to the extent of "crying while eating."
In online discussions about steamed oranges with salt, the distrust in expert opinions surfaced again. Although experts claim that the food is beneficial and alleviates symptoms, some netizens seem annoyed that it does not do anything for them at all: "I've been eating this for three days, not a damn change and it tastes disgusting."
3. Stewed Pear with Rock Sugar (冰糖炖梨)
Besides canned yellow peaches and salty steamed oranges, many other kinds of food and folk prescriptions have also become trends during the Covid-19 outbreak. There's salt-steamed lemons (盐蒸柠檬), boiled scallion water (葱白煮水), roasted oranges (烤橘子), white radish soup (萝卜汤), honeysuckle chrysanthemum tea (金銀花菊花茶) or brown sugar ginger tea (红糖姜茶), which is also commonly used to alleviate menstrual pain.
Among them, you'll also find stewed pear with rock sugar (冰糖炖梨), which is commonly eaten to alleviate symptoms like sore throat and coughing as well reducing excessive phlegm. Many netizens indicate that it is something their parents made for them, and that it is sweet, warm, and comforting.
Recipes vary, but the pears, generally yellow pears (雪梨), can be either cooked or boiled and its core is then removed and filled with rock sugar as well as other optional ingredients, such as Chinese dates, dried Goji berries, or Sichuan peppers (see a recipe here).
Despite many people expressing their love for stewed pear with rock sugar, a recent article by the Taiwanese 'Health 2.0' site claimed that the food remedy is somewhat outdated as other ingredients are supposedly more effective against a persistent cough, such as daikon (combined with honey, rock sugar), which is also used as a home remedy for its antibacterial properties.
The advantages of many foods and folk prescriptions are still up for debate. However, recent related online discussions show that the comfort or even the placebo effect of certain food remedies are very important in the Covid-19 experience of many Chinese people. Some are 100% sure they work.
"One bite and it instantly made me feel better," one commenter wrote about their homemade stewed pear. Some people admit they do not necessarily even mind if it really alleviates their symptoms or not: "It's just so tasty!"
By Zilan Qian
with contributions by Manya Koetse
Follow @WhatsOnWeibo
Get the story behind the hashtag. Subscribe to What's on Weibo here to receive our newsletter and get unlimited access to all of our articles:
Spotted a mistake or want to add something? Please let us know in comments below or email us. First-time commenters, please be patient – we will have to manually approve your comment before it appears.
©2023 Whatsonweibo. All rights reserved. Do not reproduce our content without permission – you can contact us at info@whatsonweibo.com.