"The First Weibo World War": Is Weibo an International Social Media Platform Now?
Some see the rising relevance of Weibo in the international social media scene as a sign of a rising China.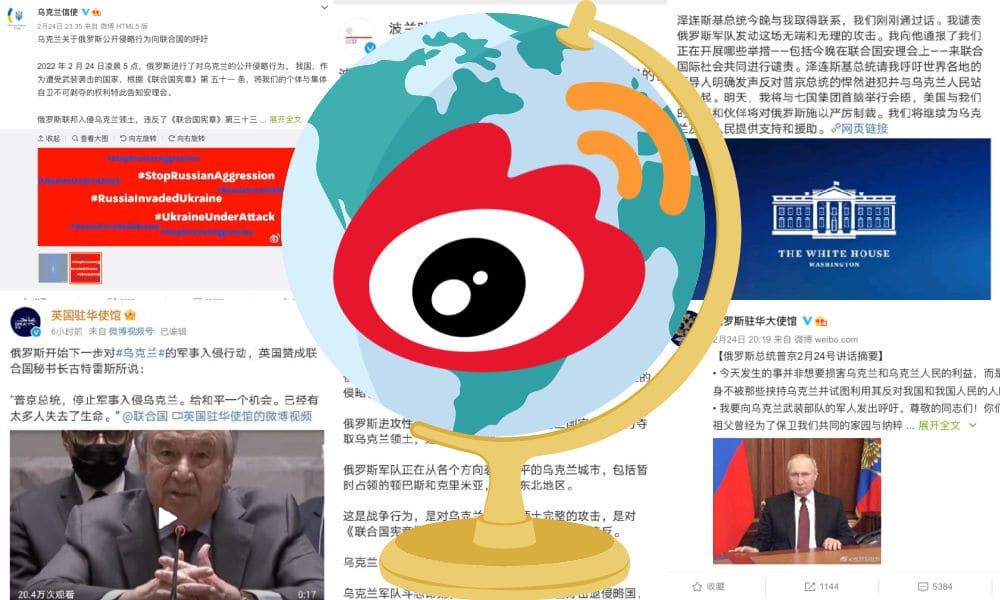 Over the past years, Weibo's international significance has risen when it comes to celebrities and pop culture. With the outbreak of the Russia-Ukraine war, Weibo's role as an increasingly international social media platform has become all the more clear.
On Feb 21st, Russian President Vladimir Putin signed two decrees recognizing the self-proclaimed breakaway states Lugansk People's Republic (LPR) and the Donetsk People's Republic (DPR) as independent and sovereign states.
Following the news, the Weibo account 'Ukrainian Courier' (@乌克兰信使), which is the verified information center of the Embassy of Ukraine in China, responded in Chinese via Weibo on February 22nd, condemning the move and urging the world to put an end to Russian aggression.
That post received about 12,000 comments within four hours after publishing. The hashtag 'Ukraine Publishes a Statement on Weibo' (#乌克兰在微博发表声明#) topped the trending list for hours, and so far has received about 350 million views.
One comment under the post, receiving more than 142,000 likes, is not about the content of the statement, but instead responds to what is happening on Weibo now:
"In my lifetime I didn't expect to actually see such international affairs appearing on Weibo like it's a public court."

Comments of a similar nature – transcending the post content yet receiving many likes – could also be found days earlier, on February 15th, when the official Weibo account of the UK Prime Minister (@英国首相) published a post in Chinese saying:
"We are on the verge of a cliff. But President Putin still has time to step back and think. We urge everyone to participate in the dialogue. The Russian government should avoid doing what would be a disastrous mistake for the country."


The comment that received the most likes (about 151,000) under the post is a short message to Boris Johnson, hinting that there should be a new season of the popular British mystery crime drama TV series Sherlock.
Two other popular comments also completely ignored the topic's main subject, tagging the Weibo account of the Russian Embassy in China (@俄罗斯驻华大使馆) and saying: "He's on the verge of a cliff, quick, push him off," and "Solve the problem by yourselves please, you two are grown up enough."
The next day, on February 16, the Weibo account of the Russian Embassy in China shared the UK Prime Minister's post on their own account (twice), calling the Downing Street statement "absurd" and saying it was an example of the West propagating "information terrorism."
In response, one commenter hinted at how US officials earlier claimed that Russia would initiate an attack on February 16, jokingly suggesting they meant this Weibo collision: "Oh, now I understand what 'attack' they were talking about."
Another popular comment under the shared post was: "I could never have imagined that the war would start on Weibo."
With more countries publishing their statements in Chinese on the Weibo platform, another hashtag also went trending, namely "Russia, the United States, Britain, and France have spoken out on Weibo" (#俄美英法纷纷在微博发声#).
One netizen called these Weibo interactions between countries in conflict "WWWI, short for the First Weibo World War."
On Feb 24, Putin authorized 'special operations' in the Donbas region, making the words 'Ukraine' and 'Russia' peaking on Weibo.
On Feb 25, the Ukrainian Embassy in China posted a call on Weibo to raise money – dollars, euros, pounds – for the military. A hashtag dedicated to this topic (#乌克兰驻华使馆发博为军队募款#) received more than 53 million views. One Weibo user wrote: "What were you thinking when asking for donations on Weibo, but not including account information for Renminbi?"
On Feb 28, the same account published an updated post, this time including donation information for the Chinese currency. Though some Weibo users were questioning the legitimacy and compliance of this action – a comparable situation previously did not occur in China, – it did show that the Ukrainian Embassy read Weibo users' comments and that they actually quickly acted to them.
There was a short period of time when jokes and misinformation started circling around the platform, but soon the Weibo platform announced that they were cracking down on those remarks. So far, Weibo has not banned any official accounts of other countries' embassies or international organizations involved in the conflict.
Another recent Weibo post of the Ukrainian Embassy interacted with the Weibo account of the European Union (@欧盟在中国), and was basically a thank-you note for receiving global support, the words written in classical Chinese style.
The Russian Embassy in China also recently posted on Weibo again, this time with a video titled "How Ukraine Incites Hatred Towards Russia and Russians" ("乌克兰是如何煽动对俄罗斯和俄罗斯人的仇恨情绪的").
Meanwhile, the latest Weibo post of the Embassy of the United States in China is promoting the word "peace" while using the supposedly apolitical hashtag "Learning English" (#英语学习#). However, in the comment section, many Weibo users did take the post as a political statement and accused the US of being a "peace-breaker," posting images of America invasions in Iraq, Libya, Yemen, and Syria.
A New International Role for China's Weibo?
The Russian Embassy in China has since long been on Weibo, using the Chinese platform for its "foreign diplomacy" with other countries. As early as 2014, the account already saw an online clash with another nation as it argued with the China-based Polish ambassador Tadeusz Chomicki on Weibo over MH17.
The Iranian and American embassies in China became all the talk on Chinese social media in 2020 when the US-Iran tensions also heightened on Weibo, where the two argued over the assassination of Soleimani. Their exchanges were all in Chinese. Later that same year, the U.S. and Iranian Embassies again fought on Weibo, this time over the so-called "Wuhan virus" stigmatization of Covid-19.
In addition to emerging as a platform for international diplomacy, Weibo has also become more important in international pop culture – and the drama that comes with it. In late 2021, when the divorce of the U.S.-born "King of Chinese Pop" Wang Leehom (王力宏) and his former wife Lee Jinglei (李靚蕾) played out on Weibo, also involving a female singer from Singapore, more Chinese netizens started wondering: is Weibo already an international social media space, as the platform has increasingly become a hotspot for official and popular international public conversations?
According to Weibo's latest press release, its number of monthly active users (MAUs) was 573 million in December 2021, and its average daily active users (DAUs) were 249 million in December 2021.
Twitter, which has stopped reporting MAUs and switched its user reporting metric to monetizable daily active usage (mDAU) since Q2 2019, reported 217 million in Q4 2021. Its lastest number of average MAUs is 330 million as of Q1 2019 (for reference, Weibo's MAUs were 465 million in that same period).
It seems that looking at users alone, Weibo is qualified enough to serve as a major social platform like Twitter. But as a platform originally launched and mainly operated in Chinese, the language seems to be the first barrier for more international users, along with its functionality and strict content management (censorship) system.
In March 2017, Weibo launched its international version specifically for overseas account holders. However, non-Chinese international users did not respond to that with too much enthusiasm and for that user group, Weibo never came near to Twitter. Google Trends shows how worldwide searches for the keyword Weibo were drastically low compared to those of Twitter.
In 2018, Weibo chose to focus more on the "overseas Chinese-speaking world" to gain a foothold in the worldwide social media market, rather than concentrating on English-speaking communities. Nonetheless, being China's most popular social media platform for public dialogue, Weibo has still drawn in many foreign government departments, companies, celebrities, and international organizations.
There are many international celebrities using Weibo, including six of the top 10 most followed Twitter accounts. Through Weibo, where they usually post in English, they can stay in touch with their Chinese-speaking fans.
On Weibo, you will find the accounts of 80 tourism boards of different international cities and countries, over 20 international airports, more than 40 football clubs, and at least 50 foreign embassies in China are using Weibo to publish statements and interact with Chinese netizens, including the embassies that have been using Weibo to post statements in Chinese on the Ukraine crisis.
Some see the rising relevance of Weibo in the international social media scene as a sign of a rising China. "The British Prime Minister ran to Weibo shout at Russia, indicating that China's international status has heightened and indicating that the role of Weibo has improved," one blogger wrote.
Popular Weibo account VShanshan also agreed, writing:
"Because of the growing influence of China's international position and Chinese online platforms, China's social media platforms, and specifically Weibo, have in fact also become a battleground of the global public opinion war, and Weibo is now also at the forefront of the cyberwar between Russia and Ukraine. Before the Russian-Ukrainian military conflict and war happened, it already started on Weibo."

On February 24th, when Russia announced the so-called "special military operation" in Ukraine's eastern Donbas region, the Weibo accounts of France, Germany, the Netherlands, the U.S., Poland, the UK, and others all posted statements on Weibo. One netizen proposed to call these international accounts the "Weibo United Nations."
On that same day, the hashtag "World Peace" (#世界和平#) went trending on Weibo. Whether or not Weibo already is an 'international' social media platform is up for debate, but it is nevertheless evident that most Weibo users want to raise their voices for a peaceful international society. Hopefully, their voices will be heard.
Click here to see more of our articles on the Russia-Ukraine war.
By Wendy Huang
Follow @whatsonweibo
Edited for clarity by Manya Koetse.
Spotted a mistake or want to add something? Please let us know in comments below or email us. Please note that your comment below will need to be manually approved if you're a first-time poster here.
©2022 Whatsonweibo. All rights reserved. Do not reproduce our content without permission – you can contact us at info@whatsonweibo.com
Fangcang Forever: China's Temporary Covid19 Makeshift Hospitals To Become Permanent
China's temporary 'Fangcang' shelter hospitals are here to stay.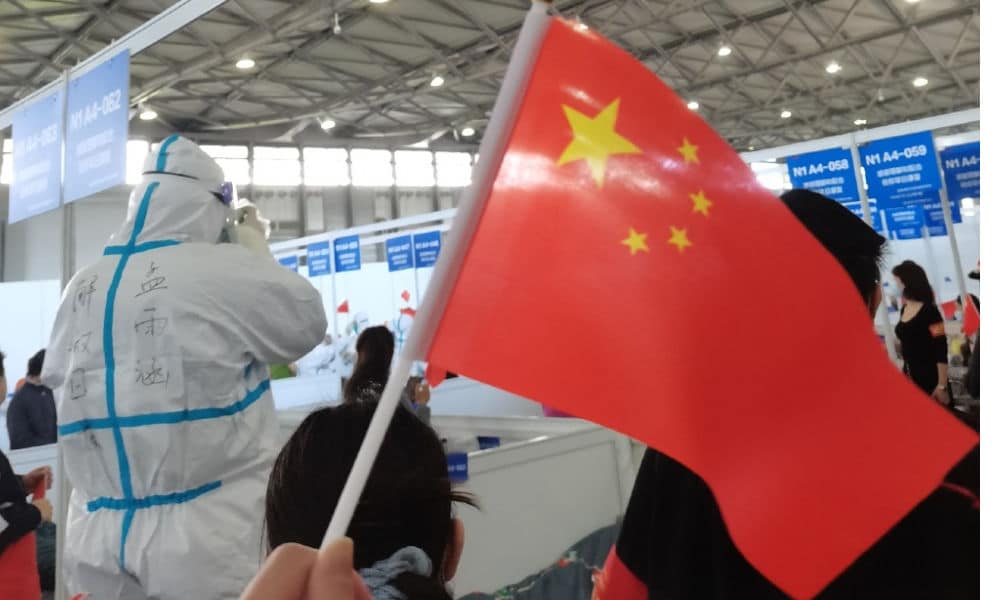 A new term has been added to China's pandemic lexicon today: Permanent Fangcang Hospital. Although China's 'Fangcang' shelter hospitals are, by definition, temporary, these healthcare facilities to isolate and treat Covid patients are now becoming a permanent feature of China's Zero-Covid approach.
Over the past few days, Chinese authorities have emphasized the need for China's bigger cities to build or renovate existing makeshift Covid hospitals, and turn them into permanent sites.
So-called 'Fangcang hospitals' (方舱医院, square cabin hospitals) are large, temporary makeshift shelter hospitals to isolate and treat Covid-19 patients. Fangcang shelter hospitals were first established in China during the Wuhan outbreak as a countermeasure to stop the spread of the virus.
They have since become an important part of China's management of the pandemic and the country's Zero-Covid policy as a place to isolate and treat people who have tested positive for Covid-19, both asymptomatic and mild-to-moderate symptomatic cases. In this way, the Fangcang hospitals alleviate the pressure on (designated) hospitals, so that they have more beds for patients with serious or severe symptoms.
On May 5th, Chinese state media reported about an important top leadership meeting regarding China's Covid-19 situation. In this meeting, the Politburo Standing Committee stressed that China would "unswervingly adhere to the general Zero-Covid policy" and that victory over the virus would come with persistence. At the meeting, chaired by Xi Jinping, the seven-member Politburo Standing Committee also declared that China would fight against any words or acts that "distort, doubt, or deny" the country's dynamic Zero-Covid policy.
Following the meeting, there have been multiple official reports and statements that provide a peek into China's 'zero Covid' future.
On May 13, China's National Health Commission called on all provinces to build or renovate city-level Fangcang hospitals, and to make sure they are equipped with electricity, ventilation systems, medical appliances, toilets, and washing facilities (Weibo hashtag ##以地级市为单位建设或者改造方舱医院#).
On May 16, the term 'Permanent Fangcang Hospital' (Weibo hashtag #永久性方舱医院) became a trending topic on Weibo after Ma Xiaowei (马晓伟), Minister of China's National Health Commission, introduced the term in Qiushi (求是), the leading official theoretical journal of the Chinese Communist Party.
The term is new and is somewhat contradictory as a concept, since 'Fangcang hospitals' are actually defined by their temporary nature.
Ma Xiaowei stressed the need for Chinese bigger cities to be ready for the next stage of China's Covid control. This also includes the need for some central 'Fangcang' makeshift hospitals to become permanent ones.
In order to 'normalize' the control and monitoring that comes with living in Zero-Covid society, Chinese provincial capitals and bigger cities (more than ten million inhabitants) should do more to improve Covid testing capacities and procedures. Ma proposes that there should be nucleic acid sample collection points across the city within a 15-minute walking distance radius, and testing frequency should be increased to maximize efficient control and prevention.
Cities should be prepared to take in patients for isolation and/or treatment at designated hospitals, centralized isolation sites, and the permanent Fangcang hospitals. The recent Covid outbreak in Shanghai showed that local authorities were unprepared to deal with the outbreak, and sites that were used as Fangcang hospitals often lacked proper facilities, leading to chaotic scenes.
The hashtag "Permanent Fangcang Hospitals" received over 140 million views on Weibo on Monday.
One of the Weibo threads by state media reporting on the Permanent Fangcang hospitals and the publication by Ma Xiaowei received nearly 2000 comments, yet the comment section only displayed three comments praising the newly announced measures, leaving out the other 1987 comments.
Elsewhere on Weibo, people shared their views on the Permanent Fangcang Hospitals, and most were not very positive – most commenters shared their worries about China's Covid situation about the stringent measures being a never-ending story.
"We're normalizing nucleic acid test, we're introducing permanent fangcang hospitals, [but] why isn't the third Covid vaccination coming through?" one person wondered.
"If there was still a little bit of passion inside me, it was just killed by reading these words 'Permanent Fangcang Hospital,'" another commenter writes, with one Weibo user adding: "I feel desperate hearing the words 'Permanent Fangcang Hospital.'"
"Building permanent Fangcang? Why? Why don't you use the resources you're now spending on normalizing testing to create more hospital beds, more medical staff and more medications?"
Another commenter wrote: "China itself is one giant permanent Fangcang hospital."
"The forever Fangcang are being built," one Weibo user from Guangdong writes: "This will never end. We'll be locked up like birds in a cage for our entire life."
For more articles on the Covid-19 topics on Chinese social media, check here.
By Manya Koetse, with contributions by Miranda Barnes
Get the story behind the hashtag. Subscribe to What's on Weibo here to receive our weekly newsletter and get access to our latest articles:
Featured image via user tongtong [nickname] Weibo.com.
Spotted a mistake or want to add something? Please let us know in comments below or email us. First-time commenters, please be patient – we will have to manually approve your comment before it appears.
©2022 Whatsonweibo. All rights reserved. Do not reproduce our content without permission – you can contact us at info@whatsonweibo.com.
'Hard Isolation' is Shanghai's New Word of the Day
In line with a new 'hard isolation' measure, the entrances of some Shanghai residential buildings were fenced up.
While some Shanghai households have already endured weeks of isolation, a new word was added to their epidemic vocabulary today: 'hard isolation' or 'strong quarantine' (yìng gélí 硬隔离)
The word popped up on Chinese social media on April 23rd after some Shanghai netizens posted photos of fences being set up around their community building to keep residents from walking out.
"New word: hard isolation. Shanghai is rotten to the core," one commenter wrote.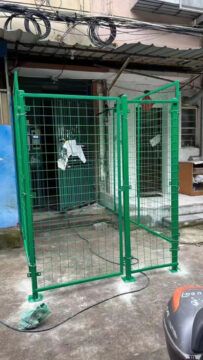 The word soon turned into a hashtag page where people started commenting on the issue of fences being placed around residential buildings, voicing concerns on what a fence around buildings would mean for fire safety, especially after online rumors suggested that there had been a fire at one community in Pudong on Saturday night.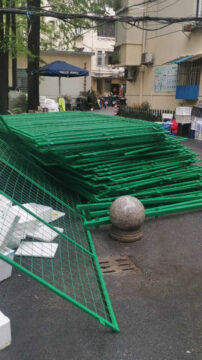 An official document regarding the 'hard isolation' measure was also shared online on Saturday. It is dated April 23, 2022, and its source is the Pudong New Area Office for Epidemic Control.
The document states that in line with the guidelines for the city's epidemic prevention and control, the division between areas or zones that are in certain risk categories should be 'optimized,' with those in the high-risk category requiring a 'hard isolation.' Security guards should also be on duty 24 hours a day at the entrance of the buildings.
Earlier this month, Shanghai adopted "3-level control measures" after its initial phased lockdown. It means that local areas will be classified as "locked-down," "controlled" or "precautionary," based on their Covid19 risk.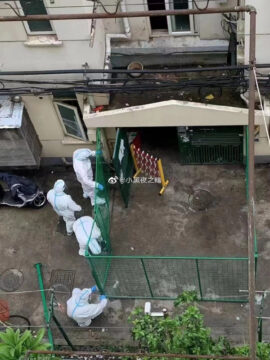 "Could we also put fences around the homes of Shanghai leaders?", one person suggested, while others posted images from the Walking Dead to mock the situation.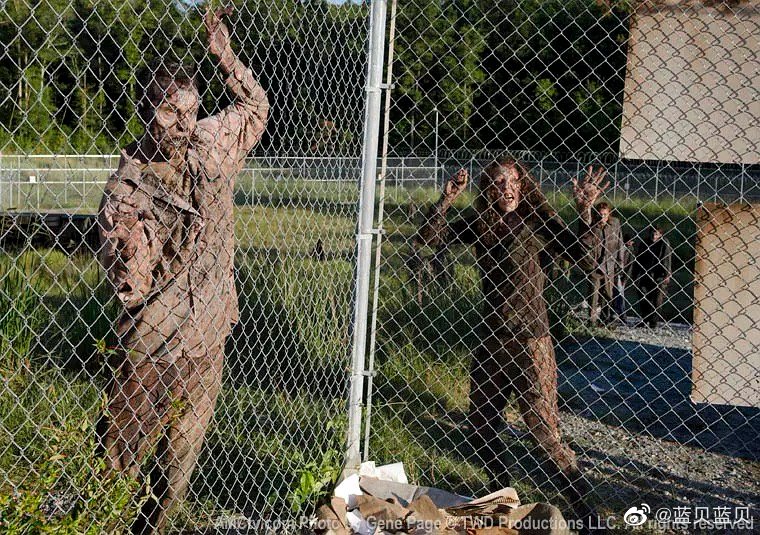 In the hope of Shanghai soon tackling the Covid situation, not everybody disagreed with the decision to fence some buildings or communities in the Pudong area: "I don't disagree with it, as long as there is always someone there to open the fence in case of fire," one person stated.
Although having a fence around their building is currently not a reality for most in Shanghai, the online photos of some communities seeing their buildings being fenced up is a reason to worry for some: "It's been 40 days, and now they start hard isolation? This actually scares me. Before we know it, it's June."
One Weibo user asked: "Why is it possible to implement this hard isolation now? Was this created by the same persons who also implemented the rule to separate children from parents at isolation sites?"
"I truly can't imagine why some people thought this is a good idea," others wrote.
For more articles on the Covid-19 topics on Chinese social media, check here.
By Manya Koetse
Get the story behind the hashtag. Subscribe to What's on Weibo here to receive our weekly newsletter and get access to our latest articles:
Spotted a mistake or want to add something? Please let us know in comments below or email us. First-time commenters, please be patient – we will have to manually approve your comment before it appears.
©2022 Whatsonweibo. All rights reserved. Do not reproduce our content without permission – you can contact us at info@whatsonweibo.com.