The Weibo Battlefield in the US-Iran Conflict: Iranian and American Embassies 'Argue' on Chinese Social Media
The US-Iran conflict has extended to Weibo, where Chinese netizens watch the online 'battle' unfold.
"Don't know if you all have discovered it yet, but the Iranian Embassy in China and the American Embassy in China have started to fight on Weibo," prominent Chinese media outlet 21st Century Business Herald (21世纪经济报道) writes on Weibo on January 10th.
The Iranian and American embassies have been all the talk on Chinese social media this week. While US-Iran tensions are dominating international media headlines, the embassies of Iran and US have been taking their conflict to the Chinese social media platform.
Ever since January 3rd, when the head of Iran's Quds Force Qasem Soleimani was killed by a US airstrike in Iraq, the Beijing embassies of both the USA and Iran have engaged in an online argument over the conflict between their two countries.
The Iranian Embassy (@伊朗驻华大使馆), that has 254670 followers on its Weibo account, condemned the assassination of Soleimani on January 3rd by reposting and translating a Twitter post by Iranian Foreign Minister Javad Zarif, calling it a "dangerous and foolish" act of "international terrorism."
That post received over 23,000 likes and thousands of comments, with many of them showing support for Iran.
The US Embassy Weibo account (@美国驻华大使馆), that has over 2,5 million followers, also posted a response to the attack on January 4 by translating several quotes by US Secretary of State Mike Pompeo asserting that the decision to kill Soleimani was the right one and that it made the world a safer place.
Although many of the thousands of netizens responding to the American Embassy's post praised the attack, there was also a lot of criticism.
"The terrorist group 'USA' has claimed responsibility for this act of terrorism," one popular comment said, with others also pointing the finger at the American government for behaving as 'terrorists.'
With the deepening of the US-Iran crisis after the Iranian military launched missiles against US bases in Iraq earlier this week, the Weibo posts and comments just keep coming in.
On January 8, the Iranian Embassy wrote that the "end of malign US presence in West Asia has begun," a sentence also posted on Twitter by Foreign Minister Javad Zarif.
In between some light-footed Weibo posts about the Golden Globes, the American Embassy published various Weibo posts explaining its stance on the situation. One post of January 7 detailed the "bloody history" of Qassem Soleimani, writing about him as a terrorist and evil man who killed hundreds of people.
The online 'battle' between Iran and the US has led to various hashtags, such as "The Weibo Fight of the Iranian and US Embassy of China" (#美伊驻华大使馆微博互斗#), a topic that is receiving a lot of attention on Chinese social media.
The official accounts of two foreign powers' embassies, discussing their conflict on a Chinese social media platform, in Chinese; it's not common, and Chinese netizens talk about it while Chinese media write about it.
One sentence* has been reposted dozens of times by Weibo users over the past days: "Here's the world's largest imperialist country and the world's largest theocratic republic, on a social media platform of the world's largest socialist nation, using Standard Chinese to engage in a fierce diplomatic fight."
"And we're all watching and eating popcorn," one commenter added [literal expression used is "Chī guā qúnzhòng" (吃瓜群众), online expression for "watermelon eating masses," meaning clueless bystanders watching the situation unfold].
The Weibo battleground has seemingly also turned into a way for the embassies to win the favor of the Chinese public; the Iranian Embassy, for example, published a post on its Weibo account that invites Chinese tourists to visit Iran during the Spring Festival and pinned it to its main page to attract the attention of readers amidst the recent online upheaval.
The online presence of the US-Iran conflict shows the importance of 'Weibo diplomacy,' also known as 'Weiplomacy.' A large number of foreign embassies in China have a presence on Sina Weibo to engage with local audiences. It is a low-cost, convenient, and seemingly effective tool to promote their countries, political goals, and inform people about their latest activities.
Over the past week, it seems that the majority of Chinese netizens have sided with Iran and condemned the US. This public sentiment, however, might have more to do with the prevailing anti-American sentiments over the past year than a general pro-Iranian stance.
In a 2016 overview of most popular foreign embassies on Weibo, the US embassy scored a number three position with its 1+ million followers, while the Iranian account only came in at number 39 with a mere 6000+ fans on its account.
Although it is unusual for foreign embassies to use Weibo as an online battleground for their offline conflicts, it is not the first time it has happened. In 2014, What's on Weibo reported how the Beijing embassies of Russia and Poland also argued on Weibo during the aftermath of MH17 crash.
This time around, some netizens conclude that the only one to really 'win' in online conflicts such as these is the Weibo platform itself. As the Weibo posts keep going, the 'melon eating masses' keep coming. "The Sina Weibo company must be secretly laughing at this ordeal," one person writes.
By Manya Koetse, with contributions from Miranda Barnes
Follow @whatsonweibo
* Chinese sentence: "世界上最大的帝国主义国家,跟世界上最大的政教合一的神权共和国,在世界上最大的社会主义国家的网络平台上,使用标准的汉语进行激烈的外交缠斗"
Spotted a mistake or want to add something? Please let us know in comments below or email us. First-time commenters, please be patient – we will have to manually approve your comment before it appears.
©2020 Whatsonweibo. All rights reserved. Do not reproduce our content without permission – you can contact us at info@whatsonweibo.com.
Online Anger over "Special Treatment" for Quarantined Foreigners in China
Are foreigners in quarantine being treated better than Chinese nationals? This Nanjing Daily article has triggered controversy.
On March 27, an article titled "For the Good Health of 684 Foreigners" ("为了684个"老外"的安康") sparked controversy online over the alleged special treatment of foreign nationals during their mandatory 14-day quarantine period.
According to the article published by Nanjing Daily, Nanjing's Xianlin Subdistrict set up a special WeChat group for foreign nationals and their families returning to the city after the Spring Festival holiday, which coincided with the outbreak of the new coronavirus.
In special WeChat groups, subdistrict officers, doctors, translators, and property managers provide assistance and daily services to these China-based foreigners. Examples of such "daily services" include delivering fresh bread or contacting pet boarding facilities.
"One young man loved online shopping on Taobao, and once we delivered twenty packages for him within one day," one member of the service group told Nanjing Daily.
Although foreign residents in China and foreigners with previously issued visas are currently no longer allowed to enter China, they needed to undergo a two-week quarantine period upon entry until the travel ban of a few days ago.
Jiangsu Province, of which Nanjing is the capital, tightened quarantine rules on March 23, making every traveler from abroad subject to a centralized quarantine (e.g. in a hotel) for fourteen days.
The special services for returning foreigners reported by Nanjing Daily triggered controversy on Chinese social media this week. Many netizens criticized it as a "supra-nationals treatment" (超国民待遇).
Under one Weibo post by media outlet The Cover (@封面新闻), which received over one million views, many people are criticizing local officers' favorable treatment of foreigners. One commenter writes: "Will they provide the same comprehensive services to their compatriots?"
Another person writes: "Why don't they also adhere to the slogan of 'Serve the People' (..) when dealing with Chinese citizens?"
In discussing the supposed inequality between the treatment of foreigners and Chinese nationals in quarantine, many netizens raise a recent example of a quarantined Chinese student who asked the civil police staff for mineral water. In a video that circulated online in mid-March, the girl quarrels with the police for not being offered mineral water. The student, demanding mineral water over the available boiled tap water, was ridiculed for suggesting that having mineral spring water is a "human right."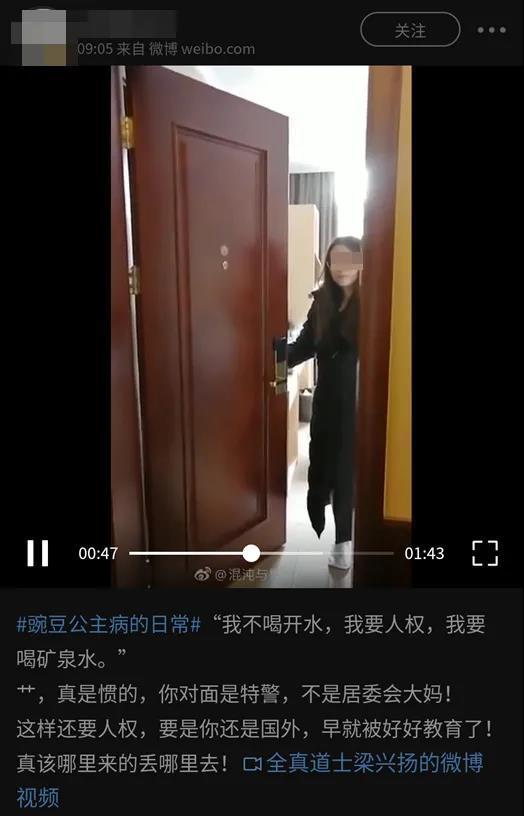 Ironically, the Nanjing Daily article explicitly mentions how the Xianlin Subdistrict deals with foreigners drinking purified water: "[This] Laowai [foreigner] wants to drink bottled purified water, [so] we bought four barrels for him (..) and carried them from the community gate to his apartment."
The contrast in treatment of quarantined foreigners versus Chinese nationals prompted some Weibo users to reflect on their previous remarks on the female student: "I apologize for previously mocking the Chinese student at the quarantine center in Pudong, Shanghai, for demanding to drink mineral water," one commenter writes.
In response to the online controversy, the office of the Xianlin Subdistrict clarified that Chinese nationals would receive "corresponding services" during their quarantine period. Some netizens question what these alleged "corresponding services" exactly entail.
In another media report, the official reply was that "the Subdistrict treats Chinese and foreign citizens the same."
Over recent years, there have been many online controversies on the issue of privilege in China. Earlier this year, there was public outrage over two women driving a Benz SUV into the Palace Museum, where cars are usually not allowed.
The issue of the perceived privileges of foreigners in China has particularly triggered anger among netizens. The "preferential treatment" of overseas students and the "dorm disparities" between Chinese and foreign students in China, for example, previously became major topics of online discussion.
A popular WeChat article that comments on the Nanjing controversy of this week also lists examples of special treatment for foreigners, including cases where foreigners were not fined when breaking rules in China or being "treated better" in other ways. By now, the article has received over 100,000 views.
For more COVID-19 related articles, please click here.
By Bobby Fung (@bobbyfungmr)
Spotted a mistake or want to add something? Please let us know in comments below or email us. First-time commenters, please be patient – we will have to manually approve your comment before it appears.
©2020 Whatsonweibo. All rights reserved. Do not reproduce our content without permission – you can contact us at info@whatsonweibo.com.
Online Outrage over Gansu Female Medical Workers Required to Shave Their Heads
Heroes of the coronavirus crisis or victims of visual propaganda? A video showing female medical workers having their heads shaved has triggered controversy.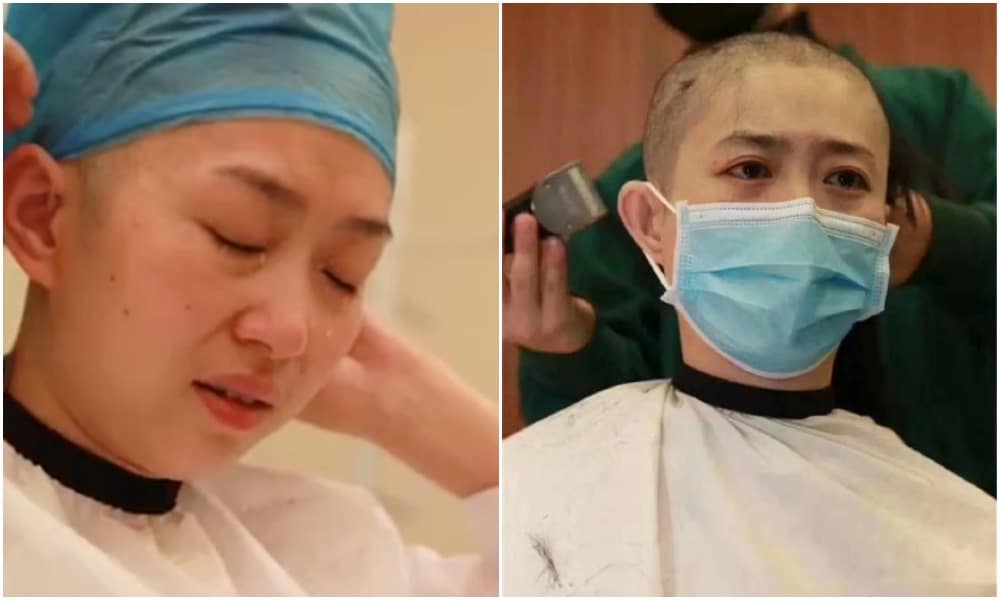 First published
A Chinese media post praising female nurses for having their heads shaved has sparked outrage on Weibo and WeChat. Are these women heroes of the coronavirus crisis or victims of gendered visual propaganda?
A video showing tearful female medical workers having their head shaved before going to COVID-19 epicenter city Wuhan has sparked outrage on Chinese social media.
The video, originally posted by Gansu Daily (每日甘肃网) on February 15, shows how a group of female nurses is standing in line to have their hair shaved off in preparation of their mission to Hubei to assist during the ongoing coronavirus crisis.
In the short segment that has since gone viral on Weibo and WeChat, some women can be seen crying while having all of their hair shaved off.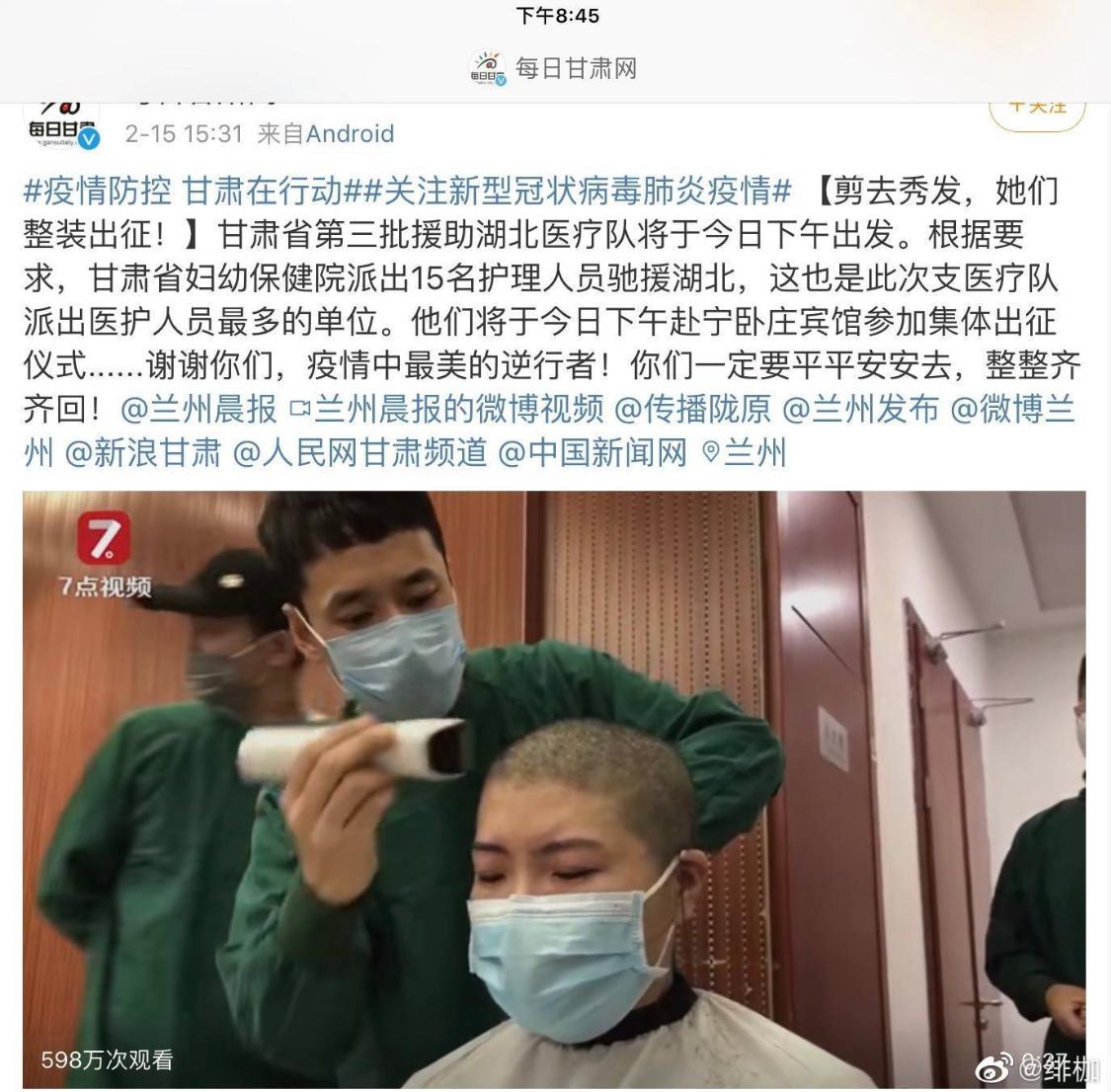 According to Gansu Daily and other Chinese media, the fifteen nurses, including one man, are part of a medical aid group that was sent out to Wuhan this weekend. Their hair was reportedly shaved off "in accordance with requirements" to make their work more efficient and reduce the risk of infection.
The original news post praises the women as "the epidemic's heroes in harm's way" ("疫情中最美的逆行者") – a term also used to describe brave firefighters during the 2015 Tianjin explosions (for more background on this term in Chinese, also see Xinhua and Zhihu).
Although the story praises the female medical workers as heroes and was soon reposted and promoted by many other (state) media, it was not just met with positive reactions from Chinese netizens.
On the contrary: it triggered waves of criticism over the medical team's supervisors requiring the women to shave off their hair, with many deeming the measures unnecessary, humiliating, and sexist.
"Why do they need to shave all of their hair, the men don't even need to do that?!", some Weibo commenters wonder.
Many Weibo users wonder how necessary it actually is for the women to go completely bold for medical work purposes, wondering why the male workers do not need to shave their heads and why the women could not just opt for a shorter hairstyle instead – suggesting the media circus surrounding the shaving of the heads is more about visual propaganda than actually being a necessity.
"I am a medical worker myself," one Weibo user writes: "I consulted an infection control doctor [on this matter] and they said it is not necessary at all to have a bald head. Short hair is convenient enough, and hair has a protective function too to reduce [skin] irritation from the friction of wearing hats and masks. It furthermore also has a function of catching sweat, preventing it from dripping to your eyes. A shaven head does more harm than good."
"Why do people need to bleed and cry in order for them to become heroes?", others say: "This is just cruel."
Adding to the online fury was a photo showing the group of medical workers after their heads were shaved, as the one male nurse in the group not only seemed to wear a better quality face mask, but also appeared to have much more hair left than the female nurses.
The original Gansu Daily post has since been deleted from social media.
On WeChat account Epoch Story ("epochstory2017″/Epoch故事小馆), author Chen Mashu (陈麻薯) posted a critique on February 17th titled "Please Stop Using Female Bodies as Propaganda Tools" ("请停止用女性的身体,作为宣传的工具").
Recent online Chinese visual propaganda in times of the coronavirus crisis has seen a strong focus on Wuhan medical workers.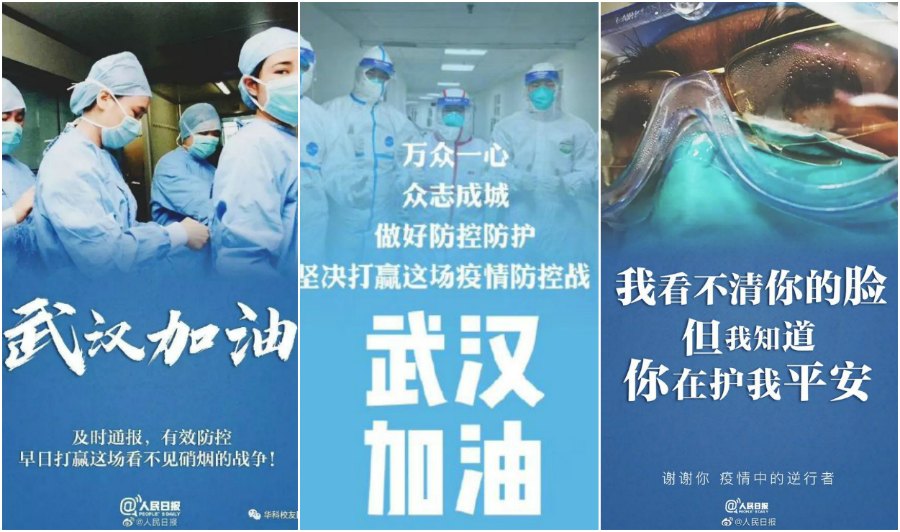 This kind of visual propaganda often highlights the idea of "sacrificing," especially when it comes to women as pretty girls, loving mothers, or good wives.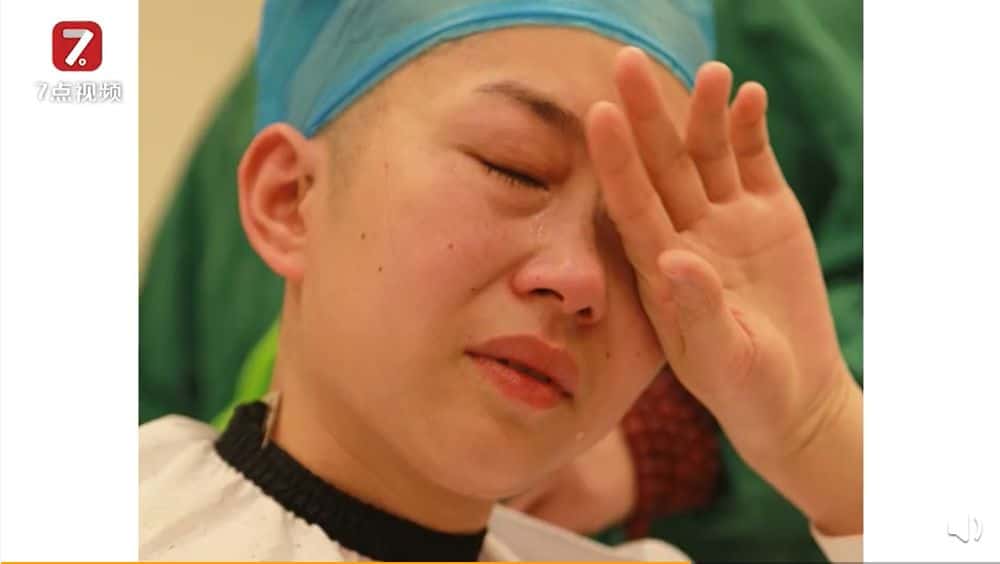 In the WeChat article, author Chen argues that Chinese state media always uses women's bodies as a tool for propaganda, and argues that it should not be necessary for women to endure extra hardship or suffering (in this case, sacrifice their hair) in order to make them admirable 'model workers.' The fact that they are fighting on the front line should be more than enough reason to praise them, Chen writes.
While these women's tears were "used to try to impress the audience" and become an example of some "collectivist spirit," Chen argues, this kind of propaganda backfired because the individual needs and wishes of these women were completely ignored during the process.
Although the original story and visuals may have meant to be empowering in times of coronacrisis, they are actually counterproductive to female empowerment at large.
This is not the first time the role of women in Chinese state media propaganda become a big topic of discussion online.
In 2016, a photo series titled "100.000 soldier-loving girls" (十万恋军女孩) posted by China's Military Web during the Wuhan flood also caused controversy. In the online media campaign, Chinese state media paid a 'tribute' to rescue workers by sharing pictures of girls holding the message "I wish to wash your uniform for you". It triggered online discussions on the submissive female image propagated by Chinese state media.
At time of writing, various posts about the shaved heads of the Gansu medical workers have been taken offline.
For more COVID-19 related articles, please click here.
By Manya Koetse (@manyapan) and Bobby Fung (@bobbyfungmr), with contributions by Miranda Barnes
Spotted a mistake or want to add something? Please let us know in comments below or email us. First-time commenters, please be patient – we will have to manually approve your comment before it appears.
©2020 Whatsonweibo. All rights reserved. Do not reproduce our content without permission – you can contact us at info@whatsonweibo.com.