The Weibo Battlefield in the US-Iran Conflict: Iranian and American Embassies 'Argue' on Chinese Social Media
The US-Iran conflict has extended to Weibo, where Chinese netizens watch the online 'battle' unfold.
"Don't know if you all have discovered it yet, but the Iranian Embassy in China and the American Embassy in China have started to fight on Weibo," prominent Chinese media outlet 21st Century Business Herald (21世纪经济报道) writes on Weibo on January 10th.
The Iranian and American embassies have been all the talk on Chinese social media this week. While US-Iran tensions are dominating international media headlines, the embassies of Iran and US have been taking their conflict to the Chinese social media platform.
Ever since January 3rd, when the head of Iran's Quds Force Qasem Soleimani was killed by a US airstrike in Iraq, the Beijing embassies of both the USA and Iran have engaged in an online argument over the conflict between their two countries.
The Iranian Embassy (@伊朗驻华大使馆), that has 254670 followers on its Weibo account, condemned the assassination of Soleimani on January 3rd by reposting and translating a Twitter post by Iranian Foreign Minister Javad Zarif, calling it a "dangerous and foolish" act of "international terrorism."
That post received over 23,000 likes and thousands of comments, with many of them showing support for Iran.
The US Embassy Weibo account (@美国驻华大使馆), that has over 2,5 million followers, also posted a response to the attack on January 4 by translating several quotes by US Secretary of State Mike Pompeo asserting that the decision to kill Soleimani was the right one and that it made the world a safer place.
Although many of the thousands of netizens responding to the American Embassy's post praised the attack, there was also a lot of criticism.
"The terrorist group 'USA' has claimed responsibility for this act of terrorism," one popular comment said, with others also pointing the finger at the American government for behaving as 'terrorists.'
With the deepening of the US-Iran crisis after the Iranian military launched missiles against US bases in Iraq earlier this week, the Weibo posts and comments just keep coming in.
On January 8, the Iranian Embassy wrote that the "end of malign US presence in West Asia has begun," a sentence also posted on Twitter by Foreign Minister Javad Zarif.
In between some light-footed Weibo posts about the Golden Globes, the American Embassy published various Weibo posts explaining its stance on the situation. One post of January 7 detailed the "bloody history" of Qassem Soleimani, writing about him as a terrorist and evil man who killed hundreds of people.
The online 'battle' between Iran and the US has led to various hashtags, such as "The Weibo Fight of the Iranian and US Embassy of China" (#美伊驻华大使馆微博互斗#), a topic that is receiving a lot of attention on Chinese social media.
The official accounts of two foreign powers' embassies, discussing their conflict on a Chinese social media platform, in Chinese; it's not common, and Chinese netizens talk about it while Chinese media write about it.
One sentence* has been reposted dozens of times by Weibo users over the past days: "Here's the world's largest imperialist country and the world's largest theocratic republic, on a social media platform of the world's largest socialist nation, using Standard Chinese to engage in a fierce diplomatic fight."
"And we're all watching and eating popcorn," one commenter added [literal expression used is "Chī guā qúnzhòng" (吃瓜群众), online expression for "watermelon eating masses," meaning clueless bystanders watching the situation unfold].
The Weibo battleground has seemingly also turned into a way for the embassies to win the favor of the Chinese public; the Iranian Embassy, for example, published a post on its Weibo account that invites Chinese tourists to visit Iran during the Spring Festival and pinned it to its main page to attract the attention of readers amidst the recent online upheaval.
The online presence of the US-Iran conflict shows the importance of 'Weibo diplomacy,' also known as 'Weiplomacy.' A large number of foreign embassies in China have a presence on Sina Weibo to engage with local audiences. It is a low-cost, convenient, and seemingly effective tool to promote their countries, political goals, and inform people about their latest activities.
Over the past week, it seems that the majority of Chinese netizens have sided with Iran and condemned the US. This public sentiment, however, might have more to do with the prevailing anti-American sentiments over the past year than a general pro-Iranian stance.
In a 2016 overview of most popular foreign embassies on Weibo, the US embassy scored a number three position with its 1+ million followers, while the Iranian account only came in at number 39 with a mere 6000+ fans on its account.
Although it is unusual for foreign embassies to use Weibo as an online battleground for their offline conflicts, it is not the first time it has happened. In 2014, What's on Weibo reported how the Beijing embassies of Russia and Poland also argued on Weibo during the aftermath of MH17 crash.
This time around, some netizens conclude that the only one to really 'win' in online conflicts such as these is the Weibo platform itself. As the Weibo posts keep going, the 'melon eating masses' keep coming. "The Sina Weibo company must be secretly laughing at this ordeal," one person writes.
By Manya Koetse, with contributions from Miranda Barnes
Follow @whatsonweibo
* Chinese sentence: "世界上最大的帝国主义国家,跟世界上最大的政教合一的神权共和国,在世界上最大的社会主义国家的网络平台上,使用标准的汉语进行激烈的外交缠斗"
Spotted a mistake or want to add something? Please let us know in comments below or email us. First-time commenters, please be patient – we will have to manually approve your comment before it appears.
©2020 Whatsonweibo. All rights reserved. Do not reproduce our content without permission – you can contact us at info@whatsonweibo.com.
"Support Xinjiang MianHua!" – China's Social Media Storm over Xinjiang Cotton Ban
The hashtag "Wo Zhichi Xinjiang Mianhua" – "I Support Xinjiang Cotton" – received over 6 billion views on Weibo.
Western brands faced heavy criticism in China this week when a social media storm erupted over the Better Cotton Initiative (BCI) and its brand members for no longer sourcing from China's Xinjiang region. The 'Xinjiang cotton ban' led to a major 'Xinjiang cotton support' campaign on Weibo, and a boycott for those brands siding with BCI.
In 2019, an extensive brand 'witch hunt' took place on Weibo and other Chinese social media networks in light of the protests in Hong Kong, with international fashion and luxury brands, from Versace to Swarovski, getting caught in the crossfire for listing Hong Kong, Macau, and Taiwan as separate countries or regions – not part of China – on their official websites or brand T-shirts.
Now, another brand 'witch hunt' is taking place on Chinese social media. This time, it is not about Hong Kong, but about Xinjiang and its cotton industry.
H&M, Uniqlo, Nike, Adidas and other international brands have caused public outrage for the stand they've taken against the alleged use of forced labor involving the Muslim Uyghur minority to produce cotton in China's western region of Xinjiang.
The social media storm started earlier this week on Wednesday, March 24, and is linked to H&M and the 'BCI' (Better Cotton Initiative), a Swiss NGO that aims to promote better standards in cotton farming.
In October 2020, H&M shared a statement on its site in which the Swedish retailer said it was "deeply concerned" over reports of forced labor in the production of cotton in Xinjiang, officially Xinjiang Uygur Autonomous Region (XUAR).
H&M stated that it would no longer source cotton from Xinjiang, following the BCI decision to suspend licensing of BCI cotton in the region.
BCI and its Suspension of Activities in Xinjiang
The Better Cotton Initiative (BCI) is the largest cotton sustainability program in the world. It practices across 23 countries and accounts for 22% of global cotton production. The governance group was established in 2005 in cooperation with WWF and leading retailers, with the aim of promoting the widespread use of improved farm practices.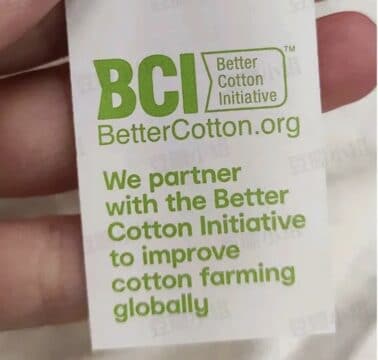 While H&M is a 'top member' of the Better Cotton Initiative (link), many others brands such as IKEA, Gap, Adidas, Nike, Levi's, and C&A are also brand members.
January 2020
In January of 2020, the BCI was slammed by Dr Adrian Zenz, a senior fellow with the Victims of Communism Memorial Foundation in Washington DC, for its refusal to pull out of the Xinjiang region. At the time, 20 percent of its 'better cotton' was sourced from Xinjiang, which is China's largest cotton growing area.
According to a 2020 report by EcoTextile, the BCI maintained that its implicated council member, the yarn producer Huafu, denied the allegations and that an independent audit of the company's Aksu facility in Xinjiang had failed to identify any instances of forced labor. An earlier report by Adidas from 2019 also stated that their independent investigations found no evidence of forced labor.
March 2020
In late March of 2020, the BCI reportedly did suspend activities with licensed farmers in the Xinjiang region for the 2020/21 cotton season while also contracting a global expert to conduct an external review of the Xinjiang situation. Chinese state media Global Times later reported that despite suspending its licensing activities, the BCI would remain committed to cotton farming communities in Xinjiang and would continue to engage in activities in the region.
July 2020
The pressure on BCI and other brands to stop sourcing from Xinjiang was heightened when a coalition of civil society groups raised concerns over the treatment of the Uyghur Muslim minority in China and the "grave risk of forced labor." Reuters reported that more than 180 organizations urged brands from Adidas to Amazon to end sourcing of cotton and clothing from the region and cut ties with any suppliers in China that would benefit from the alleged forced labour of Uyghur other Muslim groups.
October 2020
In October of 2020, the Better Cotton Initiative announced it would cease all field-level activities in Xinjiang with immediate effect because the region had reportedly become "an increasingly untenable operating environment." The aforementioned statement by H&M came out in the same month.
March 2021
By late March 2021, various Chinese state media reported on the BCI suspension. These reports came days after a coordinated effort by the United States, the European Union, Britain and Canada to impose sanctions on Chinese officials over China's alleged human rights violations and abuses in Xinjiang, something which was called a "concerted effort to slander China's policies in its Xinjiang region" by Global Times. The news outlet linked these "anti-China forces' efforts" to the BCI decision to suspend its Xinjiang activities.
A Social Media Storm over Xinjiang Cotton
The news developments were followed by a wave of social media boycott movements and Chinese brand ambassadors cutting ties with international brands, with H&M being the main target over its Xinjiang statement.
Chinese e-commerce platforms Taobao, JD.com, Pinduoduo, Suning.com, and Meituan's Dianping on Thursday all removed H&M from their platforms, with Chinese Android app stores also removing H&M. On Thursday, a search for "H&M" came up with no results on these sites (see images below).
Two of China's largest online maps also removed H&M from its systems.
On Thursday, virtually all topics in Weibo's top trending lists related to the Xinjiang cotton ban (see image below), with Chinese famous influencers and celebrities one by one announcing they would terminate their contracts with international brands related to the Xinjiang cotton ban.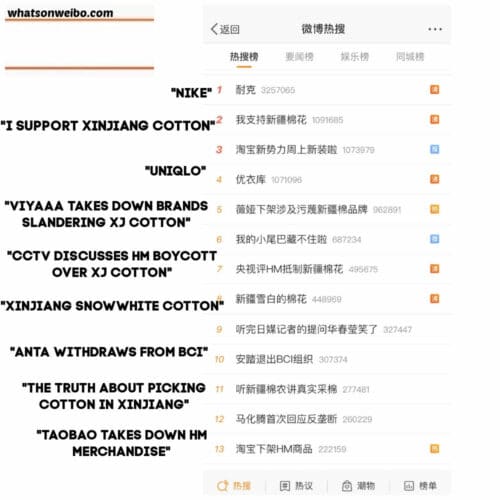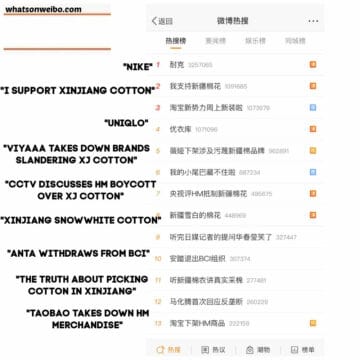 The storm became so big this week that some people on social media even commented that "if you're a Chinese celebrity and you don't have any contracts to terminate now, you're not doing so well."
After H&M, an entire list of brands was targeted, including Adidas, Nike, Calvin Klein, New Balance, Tommy Hilfiger, Uniqlo, Converse, Puma, Burberry, and Lacoste.
In light of the heated discussions and calls for boycotts, there was also another hashtag that popped up on Weibo, namely that of "don't make it hard for the workers" (不要为难打工人). The hashtag came up after some Chinese staff members at Nike and Adidas stores were scolded on a live stream, with netizens calling on people to stay rational and not let the boycott turn into personal attacks on people. But another popular video showed a man in Chongqing calling customers out in an H&M store for buying their "trash."
Another hashtag gaining many views, 520 million in total, was that of two 'girls from Xinjiang dancing outside H&M' (#新疆小姐姐在HM门店外跳新疆舞#) – it was linked to a video that showed two women performing outside of a H&M store in Chongqing.
Meanwhile, some brands, including Chinese company Anta Sports and the Japanese Asics, reportedly announced they would leave the Better Cotton Initiative in order to continue sourcing cotton from Xinjiang.
The discussions on Xinjiang as Weibo saw this week are unprecedented, as 'Xinjiang' was previously a sensitive topic on Chinese social media and was barely discussed in political contexts. The last time Xinjiang became a big topic of discussion on Chinese social media was in 2018, when CCTV aired a program on the region's "vocational education programs" in Xinjiang. That media moment triggered mixed reactions on Weibo, with some commenters wondering what the difference between a 're-education center' and a 'prison' is.
Chinese State Media and the 'Xinjiang Cotton Ban'
While Chinese netizens and celebrities play a major role in the storm that erupted over BCI, H&M, and Xinjiang cotton, the role of Chinese state media is pivotal.
Over the past week, various state media outlets posted strong messages regarding the ban in various ways, the most noteworthy one being People's Daily's "I Support Xinjiang Cotton" (#我支持新疆棉花#) hashtag, which had garnered six billion views by the weekend. "The H&M Group released a statement that sparked outrage among netizens. Let's pass it on together: Support Xinjiang Cotton," the tagline of the hashtag page said.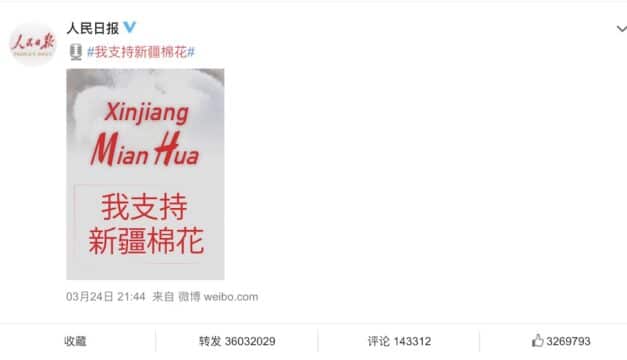 The message came with an image saying "Xinjiang Mianhua" (Xinjiang cotton) in a similar font to the H&M logo, the "H" and "M" within 'mianhua' being identical to the H&M letters.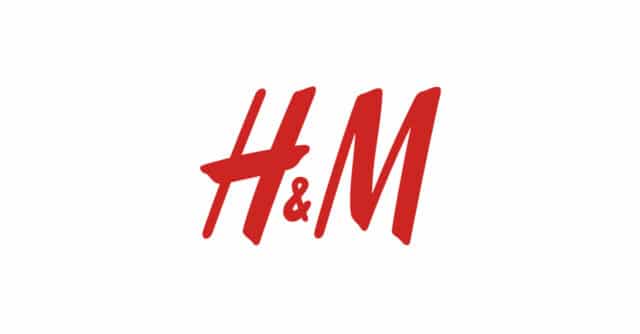 The image and post by People's Daily was shared over 36 million times.
Another image by People's Daily published on March 25 said that the Chinese market does not welcome those who slander China.
The Communist Youth League also contributed to the online storm by posting about H&M, writing: "On the one hand they are starting rumors and boycotting Xinjiang cotton, on the other hand they want to make money in China. Dream on, H&M!" That post received around 430,000 likes.
Various official media, including Global Times and China Daily, posted about cotton production in Xinjiang. Besides refuting the forced labor accusations and accusing Western players of hypocrisy and ulterior motives, a recurring issue stressed is how 42 percent of Xinjiang's cotton is harvested by machines. Ministry of Commerce spokesman Gao Feng was quoted as saying that "the so-called forced labor in Xinjiang is nonexistent and entirely imaginary. The spotless white Xinjiang cotton brooks no slander."
On March 27, People's Daily posted a rap video by 'Xinjiang Youth' (新疆青年) on its official Weibo channel (video below) that included some tough lines attacking Western powers, companies, and media.
Chinese state media are now posting this rap song on social media about the "Western forces slandering Xinjiang cotton." pic.twitter.com/piouahMf80

— Manya Koetse (@manyapan) March 27, 2021
Also noteworthy in this propaganda campaign is how the Canadian YouTuber Daniel Dumbrill got caught up, as what he said in one of his videos was quoted by Foreign Ministry spokesperson Hua Chunying (华春莹) on March 27 during a press conference, with his video being screened before the conference.
In this video, that was part of a larger panel on Xinjiang, Dumbrill responded to the decision-making process on how China's treatment of Uyghurs is called a "genocide."
Recently, a number of countries and parliaments including the U.S., Canada and the Netherlands have declared that China's crackdown on the Muslim minorities amounts to "genocide" in violation of the U.N. Genocide Convention. Dumbrill talks about why the Xinjiang narratives matter to both the foreign and domestic politics of the US and other Western countries, with Dumbril claiming it "isn't really about human rights and a care for overseas Muslims" but about other political goals. Dumbrill's video was praised by authorities, state media, and by Chinese netizens.
"We have to push for the truth to come out," some netizens commented. Others wrote: "But we're only allowed to discuss it from within [the country]."
Meanwhile, while many companies are seeing sales falling, there are also many who are benefiting from the current developments. Some sellers on Taobao have found another way to attract customers, promoting their products as being made with "100% Xinjiang Cotton!"
As this is an ongoing topic, we will report more later. Meanwhile, don't forget to follow us on Twitter.
By Manya Koetse, with contributions by Miranda Barnes
Spotted a mistake or want to add something? Please let us know in comments below or email us. First-time commenters, please be patient – we will have to manually approve your comment before it appears.
©2021 Whatsonweibo. All rights reserved. Do not reproduce our content without permission – you can contact us at info@whatsonweibo.com.
About Yang Jiechi's Instant Noodle Lunch at the US-China Talks in Alaska
Chinese state media want to make sure that you know that top diplomat Yang Jiechi had instant noodles for lunch during the top-level US-China talks in Alaska.
A 12-second video in which top diplomat Yang Jiechi said he had an instant noodle lunch became a topic of discussion in China, where one hashtag on the issue attracted over 270 million views. It's about more than noodles alone.
The high-level talks between U.S. and Chinese officials in Alaska concluded on Friday. While international media describe the talks as "tough" and exposing the "depth of tensions" between the United States and China, many netizens also focus on the smaller events that occurred during the talks.
Besides the cool and collected way in which Chinese interpreter Zhang Jing (张京) went about her job, the fact that Chinese top diplomat Yang Jiechi (杨洁篪) had remarked he had instant noodles for lunch also triggered discussions on Weibo.
Chinese state media outlet CGTN published a short video showing how Chinese State Councilor and Foreign Minister Wang Yi (王毅) and Yang walk to enter a session of the high-level talks, with Wang asking Yang "Have you had lunch?" Yang then answers: "Yes, instant noodles."
The relevant stuff you need to know about the #USChina strategic dialogue: Yang Jiechi tells Wang Yi he had instant noodles for lunch before entering a session of the high-level meeting. pic.twitter.com/5pI3WzIjyX

— Manya Koetse (@manyapan) March 21, 2021
The topic was discussed on Weibo in multiple threads and under the hashtags "Yang Jiechi Had Instant Noodles for Lunch" (#杨洁篪午饭吃泡面#) and "The Instant Noodles Yang Jiechi Had for Lunch" (#杨洁篪午饭吃的泡面#). The latter received had 270 million views on Weibo by Sunday evening.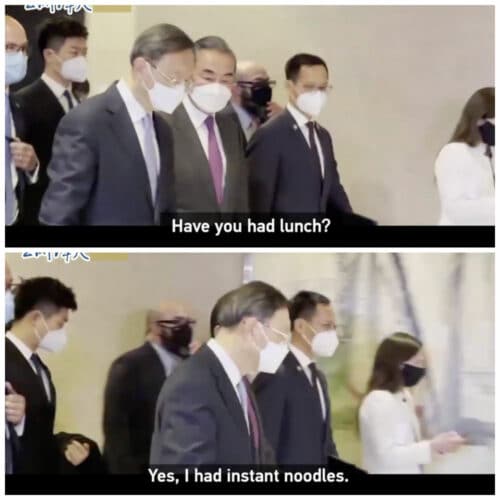 Noteworthy enough, the hashtag page "Yang Jiechi Had Instant Noodles for Lunch" was initiated by Party newspaper People's Daily. Together with the video published by CGTN, this shows that state media are purposely bringing 'noodle gate' to the attention of readers – both inside and outside of China.
Some Chinese news outlets reported that no formal dinner was arranged for the Chinese diplomats at the strategic dialogue due to COVID19, and that their lunch apparently consisted of simple noodles.
On Twitter, Christian Goebbels (@Chri5tianGoebel), Professor of Modern China Studies at the University of Vienna, commented: "My first thought when seeing this was: this is a complaint that the hosts didn't even serve their guests a proper lunch, which Chinese viewers (and the guests!) would consider incredibly rude. If they wanted to create a good atmosphere, they should've served up a banquet."
Jonathan Sullivan, Associate Professor of Contemporary Chinese Studies at University of Nottingham, called the noodle incident a "meaningful detail" on Twitter (@jonlsullivan), writing: "It fits the narrative that the US is inhospitable & disrespectful, incapable of treating China as a power of equal standing."
Many netizens on Weibo take a similar stance, writing: "The American etiquette is unsatisfactory," and: "Let's not pay attention to food, they completely lack etiquette."
"Jeez, these Americans don't even care about food," others wrote.
"It's extremely insulting," one blogger wrote: "This is a superpower, their strategy is despicable, to send our diplomatic staff off with a bucket of noodles!"
On Twitter, George Washington University Law Professor Donald Clarke called 'noodle-gate' a "non-story," saying: "A reliable source tells me that China agreed on no joint meals for Covid reasons. Thus, no big banquet. If someone wants to order noodles instead of a proper meal from room service, they can do that, but it's their choice, not something forced on them."

But meanwhile, on Weibo, commenters are adding that plenty of restaurants in Alaska are still operating, suggesting that there would have been options to socialize safely.
In Chinese culture, it is a custom to hold a banquet for business, diplomatic, or even trivial events, with meal gatherings being used as a social lubricant; a way to build and maintain relations.
With food and meal gatherings being such an important part of communicative practices in relationship-building in China, Yang Jiechi having instant noodles by himself for lunch is much more than just that. From the perspective of many Chinese, it shows little consideration for the Chinese cultural background and not a lot of hospitality from the Americans towards their Chinese guests.
The fact that the US-China talks were icy does not help. State media outlet Global Times said that American National Security Advisor Jake Sullivan and Secretary of State Anthony Blinken "unjustifiably attacked and accused China's domestic and foreign policies" and "seriously prolonged its opening remarks."
The Chinese delegation blamed the Americans, who invited the Chinese to Anchorage to have the strategic dialogue, for lacking "hospitable [and] good diplomatic etiquette."
The noodle incident already led to one Guancha blogger coining the term 'noodle diplomacy' ("泡面外交").
"The decline of the US starts with a bowl of instant noodles," some said on Weibo.
"Let's at least hope it was a 'unifying' beef noodle that he had," some on Weibo jokingly commented.
Although many see the noodle lunch as a symbol of American inhospitality, there are also many commenters who see it as a practical and safe way to have lunch: "It's good this way – at least nobody can poison him."
"I want to know which brand [of instant noodles] he's having, I want it too!"
By Manya Koetse
Featured image by Miguel Andrade.
Spotted a mistake or want to add something? Please let us know in comments below or email us. First-time commenters, please be patient – we will have to manually approve your comment before it appears.
©2021 Whatsonweibo. All rights reserved. Do not reproduce our content without permission – you can contact us at info@whatsonweibo.com.