The Weibo Battlefield in the US-Iran Conflict: Iranian and American Embassies 'Argue' on Chinese Social Media
The US-Iran conflict has extended to Weibo, where Chinese netizens watch the online 'battle' unfold.
"Don't know if you all have discovered it yet, but the Iranian Embassy in China and the American Embassy in China have started to fight on Weibo," prominent Chinese media outlet 21st Century Business Herald (21世纪经济报道) writes on Weibo on January 10th.
The Iranian and American embassies have been all the talk on Chinese social media this week. While US-Iran tensions are dominating international media headlines, the embassies of Iran and US have been taking their conflict to the Chinese social media platform.
Ever since January 3rd, when the head of Iran's Quds Force Qasem Soleimani was killed by a US airstrike in Iraq, the Beijing embassies of both the USA and Iran have engaged in an online argument over the conflict between their two countries.
The Iranian Embassy (@伊朗驻华大使馆), that has 254670 followers on its Weibo account, condemned the assassination of Soleimani on January 3rd by reposting and translating a Twitter post by Iranian Foreign Minister Javad Zarif, calling it a "dangerous and foolish" act of "international terrorism."
That post received over 23,000 likes and thousands of comments, with many of them showing support for Iran.
The US Embassy Weibo account (@美国驻华大使馆), that has over 2,5 million followers, also posted a response to the attack on January 4 by translating several quotes by US Secretary of State Mike Pompeo asserting that the decision to kill Soleimani was the right one and that it made the world a safer place.
Although many of the thousands of netizens responding to the American Embassy's post praised the attack, there was also a lot of criticism.
"The terrorist group 'USA' has claimed responsibility for this act of terrorism," one popular comment said, with others also pointing the finger at the American government for behaving as 'terrorists.'
With the deepening of the US-Iran crisis after the Iranian military launched missiles against US bases in Iraq earlier this week, the Weibo posts and comments just keep coming in.
On January 8, the Iranian Embassy wrote that the "end of malign US presence in West Asia has begun," a sentence also posted on Twitter by Foreign Minister Javad Zarif.
In between some light-footed Weibo posts about the Golden Globes, the American Embassy published various Weibo posts explaining its stance on the situation. One post of January 7 detailed the "bloody history" of Qassem Soleimani, writing about him as a terrorist and evil man who killed hundreds of people.
The online 'battle' between Iran and the US has led to various hashtags, such as "The Weibo Fight of the Iranian and US Embassy of China" (#美伊驻华大使馆微博互斗#), a topic that is receiving a lot of attention on Chinese social media.
The official accounts of two foreign powers' embassies, discussing their conflict on a Chinese social media platform, in Chinese; it's not common, and Chinese netizens talk about it while Chinese media write about it.
One sentence* has been reposted dozens of times by Weibo users over the past days: "Here's the world's largest imperialist country and the world's largest theocratic republic, on a social media platform of the world's largest socialist nation, using Standard Chinese to engage in a fierce diplomatic fight."
"And we're all watching and eating popcorn," one commenter added [literal expression used is "Chī guā qúnzhòng" (吃瓜群众), online expression for "watermelon eating masses," meaning clueless bystanders watching the situation unfold].
The Weibo battleground has seemingly also turned into a way for the embassies to win the favor of the Chinese public; the Iranian Embassy, for example, published a post on its Weibo account that invites Chinese tourists to visit Iran during the Spring Festival and pinned it to its main page to attract the attention of readers amidst the recent online upheaval.
The online presence of the US-Iran conflict shows the importance of 'Weibo diplomacy,' also known as 'Weiplomacy.' A large number of foreign embassies in China have a presence on Sina Weibo to engage with local audiences. It is a low-cost, convenient, and seemingly effective tool to promote their countries, political goals, and inform people about their latest activities.
Over the past week, it seems that the majority of Chinese netizens have sided with Iran and condemned the US. This public sentiment, however, might have more to do with the prevailing anti-American sentiments over the past year than a general pro-Iranian stance.
In a 2016 overview of most popular foreign embassies on Weibo, the US embassy scored a number three position with its 1+ million followers, while the Iranian account only came in at number 39 with a mere 6000+ fans on its account.
Although it is unusual for foreign embassies to use Weibo as an online battleground for their offline conflicts, it is not the first time it has happened. In 2014, What's on Weibo reported how the Beijing embassies of Russia and Poland also argued on Weibo during the aftermath of MH17 crash.
This time around, some netizens conclude that the only one to really 'win' in online conflicts such as these is the Weibo platform itself. As the Weibo posts keep going, the 'melon eating masses' keep coming. "The Sina Weibo company must be secretly laughing at this ordeal," one person writes.
By Manya Koetse, with contributions from Miranda Barnes
Follow @whatsonweibo
* Chinese sentence: "世界上最大的帝国主义国家,跟世界上最大的政教合一的神权共和国,在世界上最大的社会主义国家的网络平台上,使用标准的汉语进行激烈的外交缠斗"
Spotted a mistake or want to add something? Please let us know in comments below or email us. First-time commenters, please be patient – we will have to manually approve your comment before it appears.
©2020 Whatsonweibo. All rights reserved. Do not reproduce our content without permission – you can contact us at info@whatsonweibo.com.
The Top 10 Buzzwords in Chinese Online Media in 2020 (咬文嚼字)
Some of the buzzwords that were most noteworthy in Chinese media this year.
These are some of the expressions and idioms that have been buzzing in Chinese media in 2020. What's on Weibo's Jialing Xie explains.
China's online media environment is a breeding ground for new terms and niche expressions that suddenly make it to mainstream discussions.
Every year, the most popular new words and expressions are listed by the Chinese magazine 咬文嚼字 (yǎo wén jiáo zì). The magazine selects buzzwords that reflect present-day society and the changing times.
Yǎo Wén Jiáozì, which means "to pay excessive attention to wording,"* is a monthly publication featuring commentary, criticism, and essays on the Chinese language.
Founded in 1995, the magazine has gained social influence for correcting typos in the language used by media and celebrities. Some of these corrections have been impactful, such as their correction of the 2006 CCTV Chinese New Year Gala on writing 'Shenzhou 6' (the second human spaceflight of the Chinese space program) as "神州六号" rather than "神舟六号" (different character for 'zhōu'). It was included in their "Ten Biggest Language Mistakes" list (十大语文差错) of that year.
On social media, Chinese online (state) media always promote the magazine's selection of the top words and terms of the past year. The ten terms have also become a relatively big topic on Weibo over the past month, with the list of Top 10 Buzzwords in 2020 #2020年度十大流行语# already garnering 460 million views.
*yǎo wén jiáo zì, literal meaning: to talk pedantically and pay excessive attention to wording, often referring to a stickler for detail with an intent to display their fine knowledge; often used negatively or neutrally.
We've listed the top 10 buzzwords for you here:
1. 人民至上,生命至上 (Rénmín zhìshàng, shēngmìng zhìshàng): "People First"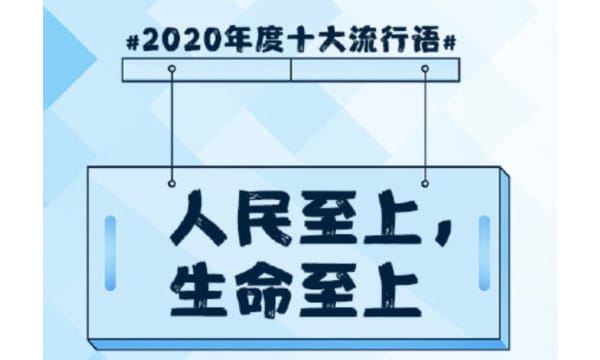 Literal Meaning

: "People are above everything else, life is above everything else."

The context of this phrase in 2020:

On May 22 of 2020, Chinese President Xi Jinping took part in the deliberation of the Inner Mongolia delegation at the annual legislative session

, where he stated that "our people come first, people's lives come first, and the safety and health of our people should be secured at all costs." "People first, life first" has since become a widely circulated slogan and guiding principle for government and society to combat Covid-19 across the country. 
2. 逆行者 (Nìxíng zhě): "People Going against the Tide"
Literal Meaning

: "People who swim upstream / people who go against the current."

The context of this phrase in 2020:

In a broad sense, this phrase shares a similar meaning as its English counterpart, describing people who dare to differ from the mainstream and to go above and beyond their call of duty. In 2020, it has become a term often used by state media to refer to frontline workers and individuals who made a significant contribution or sacrifice during the battle against the novel coronavirus.
3. 飒 (Sà): "Spirited"
Literal Meaning

: "

1) Chill and refreshing 2) Onomatopoeia: the sound of the wind 

The context of this word in 2020: In modern Chinese literature, this word is commonly used in the idiom "英姿飒爽" (yīng zī sà shuǎng), illustrating how a person, either a man or woman, is high of energy and full of morale and is showing an attitude of heroism and prestige. According to People's Daily, half of the doctors and more than 90% of the nurses working in healthcare during the fight against COVID19 are female. State media started to use 飒 (sà) as an adjective to eulogize these female medical workers. The word was later used to praise both men and women working in other industries as well. 
4. 后浪 (Hòu làng): "The Rear Waves"
Literal Meaning

: "The rear waves."

The context of this phrase in 2020: 后浪 hòulàng is often used within the idiom "长江后浪推前浪" (cháng jiāng hòu làng tuī qián làng) which literally means "the rear waves in the Yangtze River drive on those before," and figuratively referring to how the new generation excels beyond the one before, or how the new is constantly replacing the old. This phrase became an internet meme regarding the young generation in China – specifically, those born in the 90s and 00s – as a result of heated online discussions about a video launched on Bilibili and other social media for Youth Day (May 4th), in which the older actor He Bing talks about the rights and opportunities enjoyed by young people in China today. On various occasions, this word is used to address the more privileged young people. Some associated stereotypes about this group include studying or living abroad, high-quality lifestyle, and luxury material possessions. Those who don't identify with this privileged group tend to refer to themselves as "韭菜" (Jiǔcài, chives), which shares a similar sentiment as "屌丝" (Diǎosī, loser), as opposed to "the rear waves."
5. 神兽 (Shén shòu): "Divine Beasts"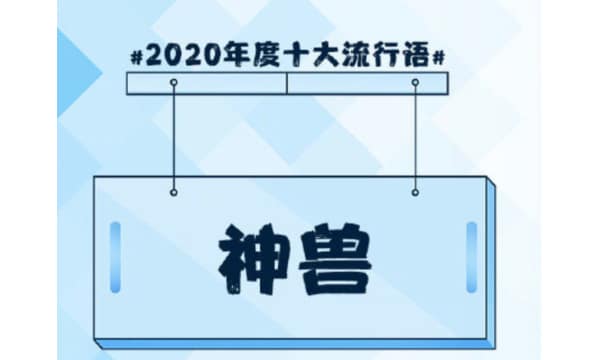 Literal Meaning

: "Divine beasts."

The context of this word in 2020: Totem worshiping is deeply rooted in the religion and tradition of many ancient cultures. Divine beasts in China are in fact deities, also known as the Four Symbols (四象), as a mixed product of Chinese ancient cosmology and mythology.

Since the beginning of remote learning and delay in schools reopening across the country, many parents and caregivers have posted their experience balancing work and remote learning with their children from home. In these posts, parents often call their children 'divine beasts' then share their children's naughty behavior and how they struggled to deal with them. 
6. 直播带货 (Zhíbò dài huò): "Live commerce"
Literal Meaning

: "Live commerce", "

Influencer marketing via live streaming.

"

The context of this phrase in 2020:

China's live-streaming economy played an important role in the country's economic market recovery amidst COVID19. I

nfluencer marketing via live streaming combines talk show-like entertainment and the convenience of online shopping, at times even leveraging social proof and the reputation of influencers themselves to crack astonishing sales records.

Apart from internet celebrities, many business executives (i.e. Jack Ma) and even government officials (

i.e. 13 local mayors in Hubei Province

) also took advantage of the booming live-streaming and appeared in front of webcams to promote certain products which resulted in millions of views on TikTok.

On the flip-side of the business, there have been concerns about the quality of the products as well as lawsuits against fraudulent sales practices. Popular topics on Weibo as such include #如何看待直播带货卖假货#("What do you think of counterfeit goods in live-streaming sales"). 
7. 双循环 (Shuāng xún huán): "Dual Cycle"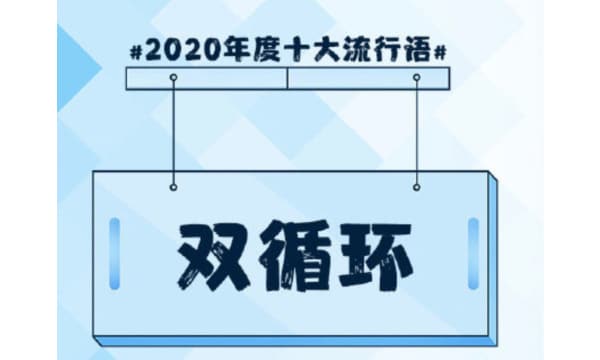 Literal Meaning

: "

Dual cycle

."

The context of this word in 2020:

This term comes from President Xi's speech at the meeting of the Politburo of the Chinese Communist Party on May 4, 2020, during which he stated that the dual-cycle system will be the party's strategy for China's economic and political development for the near future following COVID19 recovery. The system focuses on recovering and growing the economy by primarily expanding domestic demand mixed with healthy participation in international trade.

While it certainly was not the first time the Communist Party introduced this concept of prioritizing the domestic market, according to Xinhua News Agency, the dual-cycle system has been regarded as a suitable strategy given current restrictions facing international trade due to the pandemic and the ongoing trade tensions between China and a few western powers.
8. 打工人 (Dǎ gōng rén): "Working People"
Literal Meaning

: "Working people"

The context of this phrase in 2020: As agriculture, foreign trade, and investment sectors developed following the economic reform in 1978, a social-economic trend emerged in the 80s during which labor forces across China's villages and countrysides migrated to cities and worked in blue-collar jobs. These migrant workers are called 打工人 (Dǎ gōng rén) / 打工仔 (Dǎ gōng zǎi). The word later evolved and was used to address the entire working class and salaried employees. For example, the memoir written by Shujuan Liu of the former president of Microsoft China, Jun Tang, was titled "I'm the 高级打工仔 (Gāojí dǎgōng zǎi, high-class worker) at Microsoft". The term was frequently used as an internet buzzword in 2020 after appearing in a viral video in which a man acted as a migrant worker and showed watchers warm and positive encouragement. The video ended with a "good morning" greeting and addressed watchers as 打工人.  
9. 内卷  (Nèi juǎn): "Involution"
Literal Meaning

: "

Involution

"

The context of this phrase in 2020: According to People's Daily, this word is a direct translation of the concept of 'involution' brought up by the American anthropologist Clifford Geertz. Involution describes the economic situation in which as the population grows, per capita wealth decreases.

This year, this word is used to represent the competitive circumstances in academic or professional settings where individuals are compelled to overwork because of the standard raised by their peers who appear to be even more hard working.

In the latter half of 2020, a few pictures capturing college students' multitasking went viral on Weibo. One of the images shows a person working on his computer while riding his bike. These people were then called "卷王" (Juǎn wáng, meaning they are the example of overworking) on social media and became the origin of this buzzword. You can find this word sometimes associated with

the 996 working hour system

on Weibo.
10. 凡尔赛文学 (Fán'ěrsài wénxué): "Versailles Literature"
Literal Meaning

: "Versailles literature."

The context of this phrase in 2020: 

Social media has made displaying wealth and superiority easier than ever before. Instead of showing off explicitly, some find a way to both satisfy their desire for publicity and avoid doing so ostentatiously, by flaunting wealth and material possessions in an indirect and often negative-toned message. This writing style for social media posts is then referred to as "Versailles literature."

Admittedly not all posts labeled as "Versailles literature" were written with the intent to show off, but those with clear intention are often easily spotted and circulated online and became funny memes. This then led to a wave of discussions and a contest of "Versailles literature" on social media, which became a form of entertainment itself.
By Jialing Xie
Follow @WhatsOnWeibo
Spotted a mistake or want to add something? Please let us know in comments below or email us. First-time commenters, please be patient – we will have to manually approve your comment before it appears.
©2020 Whatsonweibo. All rights reserved. Do not reproduce our content without permission – you can contact us at info@whatsonweibo.com.
"The Biden Era is Approaching": Discussions of U.S.-China Relations under the 'Sleepy King'
Now that the electoral storm has somewhat settled, the issue of what Sino-American might look like under Biden is much discussed in Chinese online media.
Now that the storm of jokes and memes surrounding the American elections has settled, more serious discussions regarding Biden's win and what it might mean for China are surfacing in China's online media environment. These commentators and academics approach the subject from different angles.
The American elections have been a major topic of discussion in the Chinese social media environment over the past weeks.
For many netizens on Weibo and beyond, the presidential race was one between the 'King of Understanding' (懂王, also 'King of Knowing') and the 'Sleepy King' (睡王).
Trump's quotes on the things he knows and understands "more than anyone else" have become somewhat famous on Chinese social media ("people are really surprised I understand this stuff'"), earning him the 'King of Knowing' nickname.
Joe Biden got his nickname for dozing off during a speech and for an edited (fake) video that went viral in which Biden was seemingly falling asleep during a live interview.
But the Democrat has more nicknames on Chinese social media, including 'Grandpa Bai' (Bài yéyé 拜爷爷), or the cute 'Dēngdēng' (登登).
His name in Chinese is usually written as (Bàidēng 拜登), although netizens have made up many more creative ways to write his name (拜灯, 白等, 败蹬).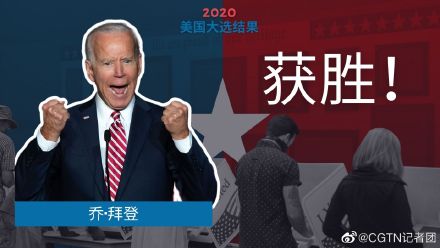 Now that it has become clear that former Vice President Joe Biden has won the 2020 US presidential race, Chinese media, bloggers, and netizens are reflecting on the Biden victory with a more serious tone, with the phrase "the Biden era is approaching" recurringly popping up on social media.
There are many articles and posts in China's online media sphere that focus on Biden's journey to the presidency, including how he faced family and personal tragedy during his political career.
But, as noted in our previous article on Chinese discussions on Trump versus Biden, most of the online articles and posts about the outcome of the American elections focus on what the shift in power might mean for China and Chinese–U.S. relations.
Over the past few days, Chinese media outlets have posted several interviews, op-eds, and videos of Chinese experts discussing the future prospects of Sino-American relations under Biden. We have selected some of these that have become popular on Weibo or news app Toutiao.
Hu Xijin: "The shift of American leadership has no intrinsic meaning for Sino-American relations."
"Is anyone under the illusion that Biden's rise to power will lead to a major U.S.-China détente? I'm certainly not. And neither is anyone in my circles, whether they're journalists, academics, or officials."
Hu Xijin (胡锡进), the editor-in-chief of the Global Times – a daily newspaper under the auspices of Party news outlet People's Daily -, has over 23 million fans on his Weibo account. He frequently posts lengthy texts about his views on current news developments, both on Chinese social media as on Twitter (@HuXijin_GT). (For more about Hu Xijin, also check out this SupChina article.)
On November 9, Hu posted about the Biden win, writing:
"Along with China's further development, America's strategic precautions against China will only get heavier. China only needs its own continuously growing strength to draw a baseline for the United States in its relations with China. The shift of American leadership has no intrinsic meaning for Sino-American relations. I reckon this already is the general consensus of China's mainstream society."
This view, that it does not really matter whether Biden or Trump leads the U.S. for the next four years, was also reiterated in a recent blog post published by Global Times in which the author wrote: "Regardless if it's the Democrats or the Republicans, both hold a negative stance when it comes to the China issue. (..) No matter who comes to power in the future, there is a high probability that they will continue to suppress China."
In his November 9 post, Hu Xijin stressed that the outcome of the American elections is not of great significance for the status-quo of Sino-American relations, but he did add that Biden's win might possibly positively affect the irregular patterns of current Sino-American relations. The political mistrust and power games that took place under the Trump presidency might make way for a period of U.S.-China relations that is less tense.
One of the most popular comments in response to Hu's post basically summarized Hu's message, writing: "America's goal is to suppress China. The leaders might be different, the methods might not be the same, but the goal remains unchanged."
Prof. Shen Yi: "It's all for the betterment of the US – not for China."
Shen Yi (沈逸) is the Associate Professor of the School of International Relations and Public Affairs at Fudan University. On Weibo, he has over 927,000 fans.
On November 10, Shen commented on Biden's win through a video that was published on Chinese social media by The Observer (观察者).
Shen's view is somewhat different than that of Hu. Instead of arguing that it does not matter whether Biden or Trump takes office, Shen argues that Chinese people should not mistake foreign politicians for friends, and remember that U.S.-China relations are all about power politics. Even though Chinese netizens sometimes warm up to American leaders like 'Grandpa Bai' (拜爷爷), and jokingly make them part of their daily discussions, their views of them should be more serious.
Shen says: "When the American media announced Biden's victory, there were even some people in China who 'shed tears of gratitude', thinking that Sino-American relations will now get back on track." But Shen gives a warning to those who sighed with relief about Biden's win, saying: "You should not forget that Biden is a politician. He is an American politician. (..) He is not a Chinese leader."
Shen suggests that even if Biden would relax some of the tougher China policies after he takes office, for example regarding trade or technology, he would only do so for the betterment of the U.S., not because it would help China. Trump put 'America first', but so will future U.S. leaders: "It's all for themselves."
Shen mentions that Chinese people should draw a lesson from China's position during the Korean War and its 'Resist America, Aid North Korea' campaign, when China fought on Korean soil to counter 'American aggression.' In the worst-case scenario, he argues, China would again firmly stand ground against U.S. powers: "To combat American hegemony, we can only respond with the only language they can understand."
Prof. Yao Yang: "It's impossible to go back to how U.S.-China relations used to be."
"During Trump's four years in office, he's established a political heritage that can't be immediately erased – including the worsened relations between the U.S. and China. If Biden takes power, will there be a shift in Sino-American relations?"
Yao Yang (姚洋) is the dean and professor at the National School of Development of Peking University. He previously also taught at the University of Washington and New York.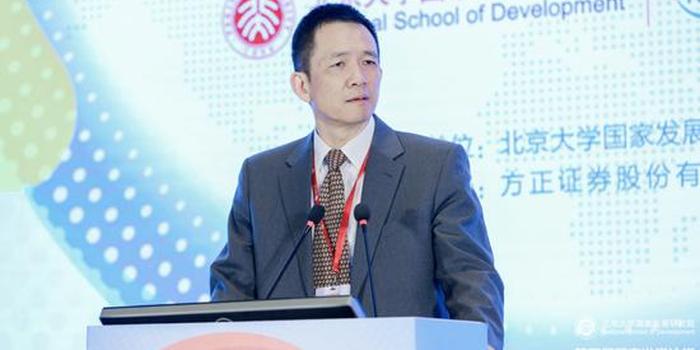 In a recent op-ed for Beijing News, the professor writes that in these initial discussions of what Biden's office might mean for the future of the relations between Beijing and Washington, it must first be acknowledged that Chinese-U.S. relations will never go back to how they used to be.
Whereas Hu took a stance from the perspective of the people, and Shen discussed the upcoming Biden era from the stance of international power relations, Yang approaches the subject through a more historical lens.
Yang argues that the tensions between China and the U.S. did not start with Trump. Obama's "pivot to Asia" strategy, which tried to peacefully contain China's ambitions, disrupted the general tranquility that existed before 2008. "China started to be seen as a rival," Yang writes, adding that this idea of the U.S. and China being geopolitical competitors was continued under Trump and is expected to remain the same under Biden.
Looking back at half a century of U.S.-China relations, Yang claims that the friendly relations between the two countries in the 1970s and 1980s were because of the changing relations with the Soviet-Union and that the U.S. policy of engagement with China from the 1990s to 2010 was based on the hope that China would become more like the United States.
When, around 2010, it became clear to the U.S. elite and leadership that China was not going to be Americanized and that the Chinese path to development was actually successful, the response was one of resentment. Yang asserts that the China policies during the four years under Trump show this angry response towards a China that has taken a different route than America had hoped for during the decades preceding 2010.
Does this mean that nothing will change for U.S.-China relations under Biden? Not necessarily so. Although the two countries will remain to have a competitive relationship, Yang does expect China and the U.S. to have more peaceful relations under the administration of Biden, which will shift away from Trump's "Cold War mentality" towards China.
Zheng Yongnian: "Biden's China Policy will be much more predictable."
An interview with Chinese political scientist and political commentator Zheng Yongnian (郑永年) was posted by 21st Century Business Herald (21世纪经济报道) on November 11, focusing on American politics and Biden.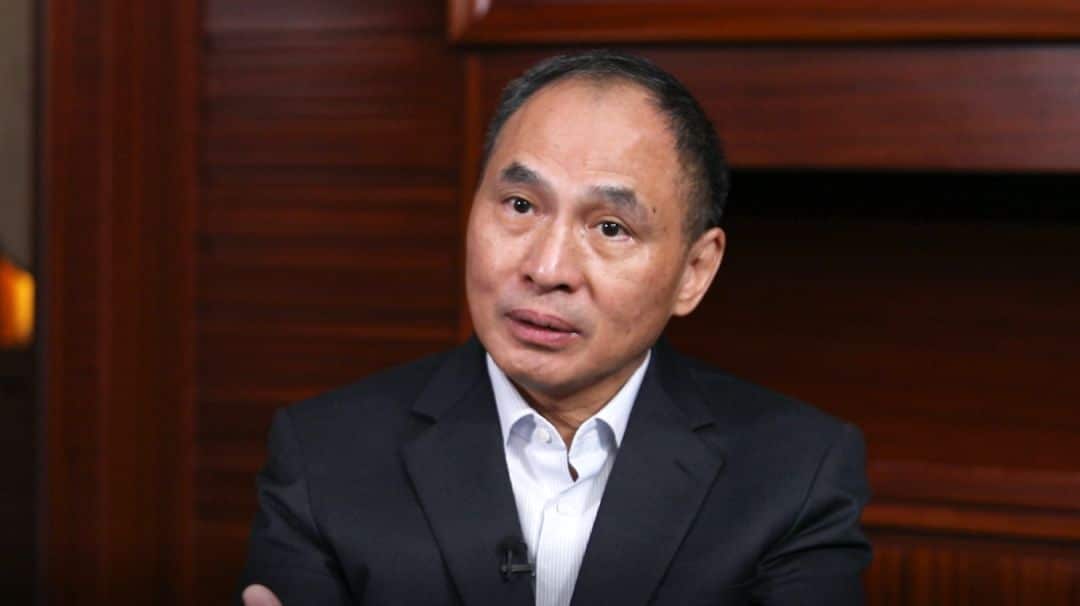 Zheng holds similar views on the upcoming Biden era as the other commentators mentioned in this article, namely that the general state of China-US relations will not be drastically changed when Biden comes to power.
Zheng does stress, however, that Biden's win might have a positive impact on the international community at large, bringing more rationality and an intention to cooperate. In that regard, the Biden era will probably be more similar to the Obama presidency, Zheng says.
Although no major changes are expected under Biden when it comes to U.S.-China relations, Zheng does assert that Biden's win is positive for Chinese leadership because this president will be much more predictable than Donald Trump.
"Biden's foreign policy will probably be a basic continuation of the Obama era. So of course there will be some change in Sino-American relations. There's no fear of hard-line [policies], there are mainly worries about unpredictability. Trump would constantly create these black swans, there's just no way to predict it. The predictability of the Biden team will be stronger than that of Trump."
More from What's on Weibo on China–United States relations here.
By Manya Koetse
Follow @WhatsOnWeibo
Spotted a mistake or want to add something? Please let us know in comments below or email us. First-time commenters, please be patient – we will have to manually approve your comment before it appears.
©2020 Whatsonweibo. All rights reserved. Do not reproduce our content without permission – you can contact us at info@whatsonweibo.com.