The Top 10 Buzzwords in Chinese Online Media in 2020 (咬文嚼字)
Some of the buzzwords that were most noteworthy in Chinese media this year.
These are some of the expressions and idioms that have been buzzing in Chinese media in 2020. What's on Weibo's Jialing Xie explains.
China's online media environment is a breeding ground for new terms and niche expressions that suddenly make it to mainstream discussions.
Every year, the most popular new words and expressions are listed by the Chinese magazine 咬文嚼字 (yǎo wén jiáo zì). The magazine selects buzzwords that reflect present-day society and the changing times.
Yǎo Wén Jiáozì, which means "to pay excessive attention to wording,"* is a monthly publication featuring commentary, criticism, and essays on the Chinese language.
Founded in 1995, the magazine has gained social influence for correcting typos in the language used by media and celebrities. Some of these corrections have been impactful, such as their correction of the 2006 CCTV Chinese New Year Gala on writing 'Shenzhou 6' (the second human spaceflight of the Chinese space program) as "神州六号" rather than "神舟六号" (different character for 'zhōu'). It was included in their "Ten Biggest Language Mistakes" list (十大语文差错) of that year.
On social media, Chinese online (state) media always promote the magazine's selection of the top words and terms of the past year. The ten terms have also become a relatively big topic on Weibo over the past month, with the list of Top 10 Buzzwords in 2020 #2020年度十大流行语# already garnering 460 million views.
*yǎo wén jiáo zì, literal meaning: to talk pedantically and pay excessive attention to wording, often referring to a stickler for detail with an intent to display their fine knowledge; often used negatively or neutrally.
We've listed the top 10 buzzwords for you here:
1. 人民至上,生命至上 (Rénmín zhìshàng, shēngmìng zhìshàng): "People First"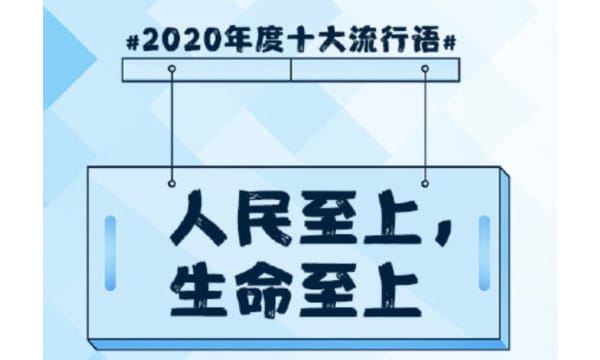 Literal Meaning

: "People are above everything else, life is above everything else."

The context of this phrase in 2020:

On May 22 of 2020, Chinese President Xi Jinping took part in the deliberation of the Inner Mongolia delegation at the annual legislative session

, where he stated that "our people come first, people's lives come first, and the safety and health of our people should be secured at all costs." "People first, life first" has since become a widely circulated slogan and guiding principle for government and society to combat Covid-19 across the country. 
2. 逆行者 (Nìxíng zhě): "People Going against the Tide"
Literal Meaning

: "People who swim upstream / people who go against the current."

The context of this phrase in 2020:

In a broad sense, this phrase shares a similar meaning as its English counterpart, describing people who dare to differ from the mainstream and to go above and beyond their call of duty. In 2020, it has become a term often used by state media to refer to frontline workers and individuals who made a significant contribution or sacrifice during the battle against the novel coronavirus.
3. 飒 (Sà): "Spirited"
Literal Meaning

: "

1) Chill and refreshing 2) Onomatopoeia: the sound of the wind 

The context of this word in 2020: In modern Chinese literature, this word is commonly used in the idiom "英姿飒爽" (yīng zī sà shuǎng), illustrating how a person, either a man or woman, is high of energy and full of morale and is showing an attitude of heroism and prestige. According to People's Daily, half of the doctors and more than 90% of the nurses working in healthcare during the fight against COVID19 are female. State media started to use 飒 (sà) as an adjective to eulogize these female medical workers. The word was later used to praise both men and women working in other industries as well. 
4. 后浪 (Hòu làng): "The Rear Waves"
Literal Meaning

: "The rear waves."

The context of this phrase in 2020: 后浪 hòulàng is often used within the idiom "长江后浪推前浪" (cháng jiāng hòu làng tuī qián làng) which literally means "the rear waves in the Yangtze River drive on those before," and figuratively referring to how the new generation excels beyond the one before, or how the new is constantly replacing the old. This phrase became an internet meme regarding the young generation in China – specifically, those born in the 90s and 00s – as a result of heated online discussions about a video launched on Bilibili and other social media for Youth Day (May 4th), in which the older actor He Bing talks about the rights and opportunities enjoyed by young people in China today. On various occasions, this word is used to address the more privileged young people. Some associated stereotypes about this group include studying or living abroad, high-quality lifestyle, and luxury material possessions. Those who don't identify with this privileged group tend to refer to themselves as "韭菜" (Jiǔcài, chives), which shares a similar sentiment as "屌丝" (Diǎosī, loser), as opposed to "the rear waves."
5. 神兽 (Shén shòu): "Divine Beasts"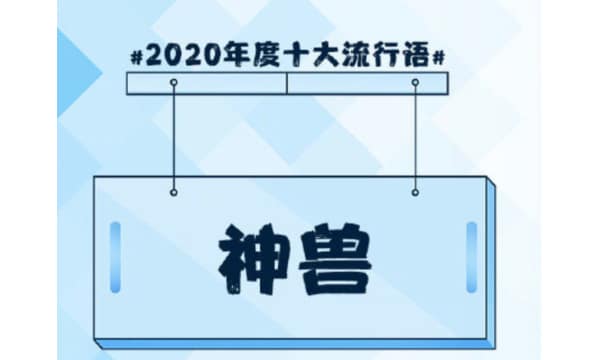 Literal Meaning

: "Divine beasts."

The context of this word in 2020: Totem worshiping is deeply rooted in the religion and tradition of many ancient cultures. Divine beasts in China are in fact deities, also known as the Four Symbols (四象), as a mixed product of Chinese ancient cosmology and mythology.

Since the beginning of remote learning and delay in schools reopening across the country, many parents and caregivers have posted their experience balancing work and remote learning with their children from home. In these posts, parents often call their children 'divine beasts' then share their children's naughty behavior and how they struggled to deal with them. 
6. 直播带货 (Zhíbò dài huò): "Live commerce"
Literal Meaning

: "Live commerce", "

Influencer marketing via live streaming.

"

The context of this phrase in 2020:

China's live-streaming economy played an important role in the country's economic market recovery amidst COVID19. I

nfluencer marketing via live streaming combines talk show-like entertainment and the convenience of online shopping, at times even leveraging social proof and the reputation of influencers themselves to crack astonishing sales records.

Apart from internet celebrities, many business executives (i.e. Jack Ma) and even government officials (

i.e. 13 local mayors in Hubei Province

) also took advantage of the booming live-streaming and appeared in front of webcams to promote certain products which resulted in millions of views on TikTok.

On the flip-side of the business, there have been concerns about the quality of the products as well as lawsuits against fraudulent sales practices. Popular topics on Weibo as such include #如何看待直播带货卖假货#("What do you think of counterfeit goods in live-streaming sales"). 
7. 双循环 (Shuāng xún huán): "Dual Cycle"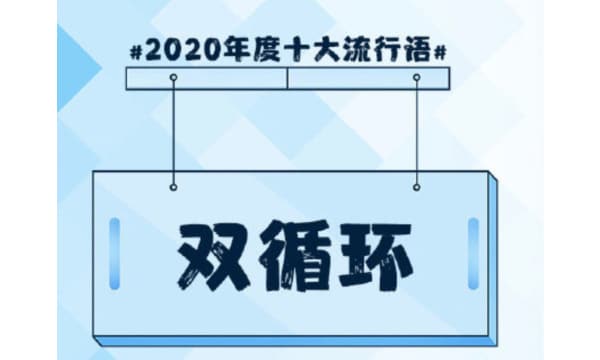 Literal Meaning

: "

Dual cycle

."

The context of this word in 2020:

This term comes from President Xi's speech at the meeting of the Politburo of the Chinese Communist Party on May 4, 2020, during which he stated that the dual-cycle system will be the party's strategy for China's economic and political development for the near future following COVID19 recovery. The system focuses on recovering and growing the economy by primarily expanding domestic demand mixed with healthy participation in international trade.

While it certainly was not the first time the Communist Party introduced this concept of prioritizing the domestic market, according to Xinhua News Agency, the dual-cycle system has been regarded as a suitable strategy given current restrictions facing international trade due to the pandemic and the ongoing trade tensions between China and a few western powers.
8. 打工人 (Dǎ gōng rén): "Working People"
Literal Meaning

: "Working people"

The context of this phrase in 2020: As agriculture, foreign trade, and investment sectors developed following the economic reform in 1978, a social-economic trend emerged in the 80s during which labor forces across China's villages and countrysides migrated to cities and worked in blue-collar jobs. These migrant workers are called 打工人 (Dǎ gōng rén) / 打工仔 (Dǎ gōng zǎi). The word later evolved and was used to address the entire working class and salaried employees. For example, the memoir written by Shujuan Liu of the former president of Microsoft China, Jun Tang, was titled "I'm the 高级打工仔 (Gāojí dǎgōng zǎi, high-class worker) at Microsoft". The term was frequently used as an internet buzzword in 2020 after appearing in a viral video in which a man acted as a migrant worker and showed watchers warm and positive encouragement. The video ended with a "good morning" greeting and addressed watchers as 打工人.  
9. 内卷  (Nèi juǎn): "Involution"
Literal Meaning

: "

Involution

"

The context of this phrase in 2020: According to People's Daily, this word is a direct translation of the concept of 'involution' brought up by the American anthropologist Clifford Geertz. Involution describes the economic situation in which as the population grows, per capita wealth decreases.

This year, this word is used to represent the competitive circumstances in academic or professional settings where individuals are compelled to overwork because of the standard raised by their peers who appear to be even more hard working.

In the latter half of 2020, a few pictures capturing college students' multitasking went viral on Weibo. One of the images shows a person working on his computer while riding his bike. These people were then called "卷王" (Juǎn wáng, meaning they are the example of overworking) on social media and became the origin of this buzzword. You can find this word sometimes associated with

the 996 working hour system

on Weibo.
10. 凡尔赛文学 (Fán'ěrsài wénxué): "Versailles Literature"
Literal Meaning

: "Versailles literature."

The context of this phrase in 2020: 

Social media has made displaying wealth and superiority easier than ever before. Instead of showing off explicitly, some find a way to both satisfy their desire for publicity and avoid doing so ostentatiously, by flaunting wealth and material possessions in an indirect and often negative-toned message. This writing style for social media posts is then referred to as "Versailles literature."

Admittedly not all posts labeled as "Versailles literature" were written with the intent to show off, but those with clear intention are often easily spotted and circulated online and became funny memes. This then led to a wave of discussions and a contest of "Versailles literature" on social media, which became a form of entertainment itself.
By Jialing Xie
Follow @WhatsOnWeibo
Spotted a mistake or want to add something? Please let us know in comments below or email us. First-time commenters, please be patient – we will have to manually approve your comment before it appears.
©2020 Whatsonweibo. All rights reserved. Do not reproduce our content without permission – you can contact us at info@whatsonweibo.com.
"Support Xinjiang MianHua!" – China's Social Media Storm over Xinjiang Cotton Ban
The hashtag "Wo Zhichi Xinjiang Mianhua" – "I Support Xinjiang Cotton" – received over 6 billion views on Weibo.
Western brands faced heavy criticism in China this week when a social media storm erupted over the Better Cotton Initiative (BCI) and its brand members for no longer sourcing from China's Xinjiang region. The 'Xinjiang cotton ban' led to a major 'Xinjiang cotton support' campaign on Weibo, and a boycott for those brands siding with BCI.
In 2019, an extensive brand 'witch hunt' took place on Weibo and other Chinese social media networks in light of the protests in Hong Kong, with international fashion and luxury brands, from Versace to Swarovski, getting caught in the crossfire for listing Hong Kong, Macau, and Taiwan as separate countries or regions – not part of China – on their official websites or brand T-shirts.
Now, another brand 'witch hunt' is taking place on Chinese social media. This time, it is not about Hong Kong, but about Xinjiang and its cotton industry.
H&M, Uniqlo, Nike, Adidas and other international brands have caused public outrage for the stand they've taken against the alleged use of forced labor involving the Muslim Uyghur minority to produce cotton in China's western region of Xinjiang.
The social media storm started earlier this week on Wednesday, March 24, and is linked to H&M and the 'BCI' (Better Cotton Initiative), a Swiss NGO that aims to promote better standards in cotton farming.
In October 2020, H&M shared a statement on its site in which the Swedish retailer said it was "deeply concerned" over reports of forced labor in the production of cotton in Xinjiang, officially Xinjiang Uygur Autonomous Region (XUAR).
H&M stated that it would no longer source cotton from Xinjiang, following the BCI decision to suspend licensing of BCI cotton in the region.
BCI and its Suspension of Activities in Xinjiang
The Better Cotton Initiative (BCI) is the largest cotton sustainability program in the world. It practices across 23 countries and accounts for 22% of global cotton production. The governance group was established in 2005 in cooperation with WWF and leading retailers, with the aim of promoting the widespread use of improved farm practices.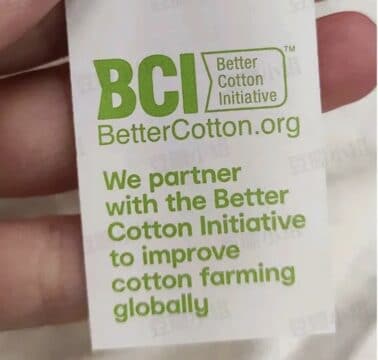 While H&M is a 'top member' of the Better Cotton Initiative (link), many others brands such as IKEA, Gap, Adidas, Nike, Levi's, and C&A are also brand members.
January 2020
In January of 2020, the BCI was slammed by Dr Adrian Zenz, a senior fellow with the Victims of Communism Memorial Foundation in Washington DC, for its refusal to pull out of the Xinjiang region. At the time, 20 percent of its 'better cotton' was sourced from Xinjiang, which is China's largest cotton growing area.
According to a 2020 report by EcoTextile, the BCI maintained that its implicated council member, the yarn producer Huafu, denied the allegations and that an independent audit of the company's Aksu facility in Xinjiang had failed to identify any instances of forced labor. An earlier report by Adidas from 2019 also stated that their independent investigations found no evidence of forced labor.
March 2020
In late March of 2020, the BCI reportedly did suspend activities with licensed farmers in the Xinjiang region for the 2020/21 cotton season while also contracting a global expert to conduct an external review of the Xinjiang situation. Chinese state media Global Times later reported that despite suspending its licensing activities, the BCI would remain committed to cotton farming communities in Xinjiang and would continue to engage in activities in the region.
July 2020
The pressure on BCI and other brands to stop sourcing from Xinjiang was heightened when a coalition of civil society groups raised concerns over the treatment of the Uyghur Muslim minority in China and the "grave risk of forced labor." Reuters reported that more than 180 organizations urged brands from Adidas to Amazon to end sourcing of cotton and clothing from the region and cut ties with any suppliers in China that would benefit from the alleged forced labour of Uyghur other Muslim groups.
October 2020
In October of 2020, the Better Cotton Initiative announced it would cease all field-level activities in Xinjiang with immediate effect because the region had reportedly become "an increasingly untenable operating environment." The aforementioned statement by H&M came out in the same month.
March 2021
By late March 2021, various Chinese state media reported on the BCI suspension. These reports came days after a coordinated effort by the United States, the European Union, Britain and Canada to impose sanctions on Chinese officials over China's alleged human rights violations and abuses in Xinjiang, something which was called a "concerted effort to slander China's policies in its Xinjiang region" by Global Times. The news outlet linked these "anti-China forces' efforts" to the BCI decision to suspend its Xinjiang activities.
A Social Media Storm over Xinjiang Cotton
The news developments were followed by a wave of social media boycott movements and Chinese brand ambassadors cutting ties with international brands, with H&M being the main target over its Xinjiang statement.
Chinese e-commerce platforms Taobao, JD.com, Pinduoduo, Suning.com, and Meituan's Dianping on Thursday all removed H&M from their platforms, with Chinese Android app stores also removing H&M. On Thursday, a search for "H&M" came up with no results on these sites (see images below).
Two of China's largest online maps also removed H&M from its systems.
On Thursday, virtually all topics in Weibo's top trending lists related to the Xinjiang cotton ban (see image below), with Chinese famous influencers and celebrities one by one announcing they would terminate their contracts with international brands related to the Xinjiang cotton ban.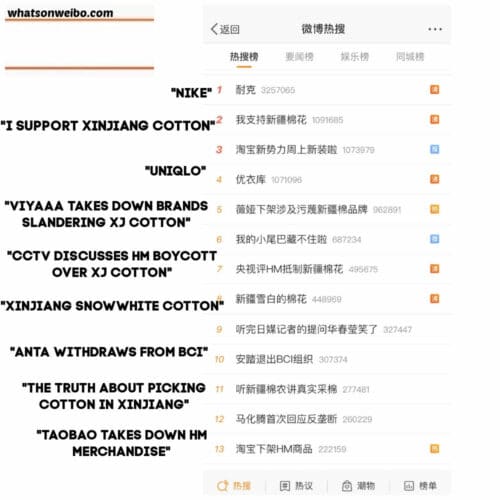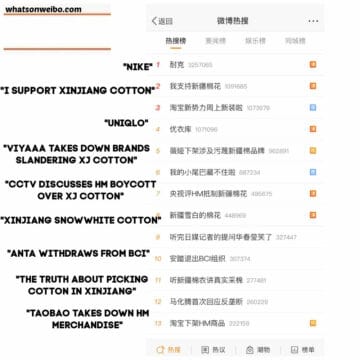 The storm became so big this week that some people on social media even commented that "if you're a Chinese celebrity and you don't have any contracts to terminate now, you're not doing so well."
After H&M, an entire list of brands was targeted, including Adidas, Nike, Calvin Klein, New Balance, Tommy Hilfiger, Uniqlo, Converse, Puma, Burberry, and Lacoste.
In light of the heated discussions and calls for boycotts, there was also another hashtag that popped up on Weibo, namely that of "don't make it hard for the workers" (不要为难打工人). The hashtag came up after some Chinese staff members at Nike and Adidas stores were scolded on a live stream, with netizens calling on people to stay rational and not let the boycott turn into personal attacks on people. But another popular video showed a man in Chongqing calling customers out in an H&M store for buying their "trash."
Another hashtag gaining many views, 520 million in total, was that of two 'girls from Xinjiang dancing outside H&M' (#新疆小姐姐在HM门店外跳新疆舞#) – it was linked to a video that showed two women performing outside of a H&M store in Chongqing.
Meanwhile, some brands, including Chinese company Anta Sports and the Japanese Asics, reportedly announced they would leave the Better Cotton Initiative in order to continue sourcing cotton from Xinjiang.
The discussions on Xinjiang as Weibo saw this week are unprecedented, as 'Xinjiang' was previously a sensitive topic on Chinese social media and was barely discussed in political contexts. The last time Xinjiang became a big topic of discussion on Chinese social media was in 2018, when CCTV aired a program on the region's "vocational education programs" in Xinjiang. That media moment triggered mixed reactions on Weibo, with some commenters wondering what the difference between a 're-education center' and a 'prison' is.
Chinese State Media and the 'Xinjiang Cotton Ban'
While Chinese netizens and celebrities play a major role in the storm that erupted over BCI, H&M, and Xinjiang cotton, the role of Chinese state media is pivotal.
Over the past week, various state media outlets posted strong messages regarding the ban in various ways, the most noteworthy one being People's Daily's "I Support Xinjiang Cotton" (#我支持新疆棉花#) hashtag, which had garnered six billion views by the weekend. "The H&M Group released a statement that sparked outrage among netizens. Let's pass it on together: Support Xinjiang Cotton," the tagline of the hashtag page said.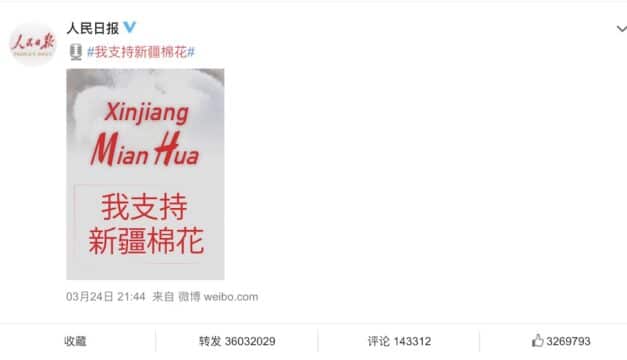 The message came with an image saying "Xinjiang Mianhua" (Xinjiang cotton) in a similar font to the H&M logo, the "H" and "M" within 'mianhua' being identical to the H&M letters.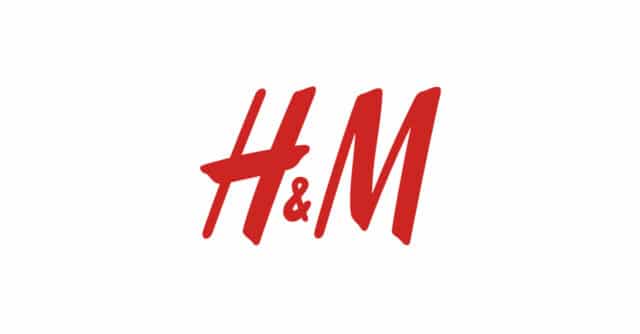 The image and post by People's Daily was shared over 36 million times.
Another image by People's Daily published on March 25 said that the Chinese market does not welcome those who slander China.
The Communist Youth League also contributed to the online storm by posting about H&M, writing: "On the one hand they are starting rumors and boycotting Xinjiang cotton, on the other hand they want to make money in China. Dream on, H&M!" That post received around 430,000 likes.
Various official media, including Global Times and China Daily, posted about cotton production in Xinjiang. Besides refuting the forced labor accusations and accusing Western players of hypocrisy and ulterior motives, a recurring issue stressed is how 42 percent of Xinjiang's cotton is harvested by machines. Ministry of Commerce spokesman Gao Feng was quoted as saying that "the so-called forced labor in Xinjiang is nonexistent and entirely imaginary. The spotless white Xinjiang cotton brooks no slander."
On March 27, People's Daily posted a rap video by 'Xinjiang Youth' (新疆青年) on its official Weibo channel (video below) that included some tough lines attacking Western powers, companies, and media.
Chinese state media are now posting this rap song on social media about the "Western forces slandering Xinjiang cotton." pic.twitter.com/piouahMf80

— Manya Koetse (@manyapan) March 27, 2021
Also noteworthy in this propaganda campaign is how the Canadian YouTuber Daniel Dumbrill got caught up, as what he said in one of his videos was quoted by Foreign Ministry spokesperson Hua Chunying (华春莹) on March 27 during a press conference, with his video being screened before the conference.
In this video, that was part of a larger panel on Xinjiang, Dumbrill responded to the decision-making process on how China's treatment of Uyghurs is called a "genocide."
Recently, a number of countries and parliaments including the U.S., Canada and the Netherlands have declared that China's crackdown on the Muslim minorities amounts to "genocide" in violation of the U.N. Genocide Convention. Dumbrill talks about why the Xinjiang narratives matter to both the foreign and domestic politics of the US and other Western countries, with Dumbril claiming it "isn't really about human rights and a care for overseas Muslims" but about other political goals. Dumbrill's video was praised by authorities, state media, and by Chinese netizens.
"We have to push for the truth to come out," some netizens commented. Others wrote: "But we're only allowed to discuss it from within [the country]."
Meanwhile, while many companies are seeing sales falling, there are also many who are benefiting from the current developments. Some sellers on Taobao have found another way to attract customers, promoting their products as being made with "100% Xinjiang Cotton!"
As this is an ongoing topic, we will report more later. Meanwhile, don't forget to follow us on Twitter.
By Manya Koetse, with contributions by Miranda Barnes
Spotted a mistake or want to add something? Please let us know in comments below or email us. First-time commenters, please be patient – we will have to manually approve your comment before it appears.
©2021 Whatsonweibo. All rights reserved. Do not reproduce our content without permission – you can contact us at info@whatsonweibo.com.
About Yang Jiechi's Instant Noodle Lunch at the US-China Talks in Alaska
Chinese state media want to make sure that you know that top diplomat Yang Jiechi had instant noodles for lunch during the top-level US-China talks in Alaska.
A 12-second video in which top diplomat Yang Jiechi said he had an instant noodle lunch became a topic of discussion in China, where one hashtag on the issue attracted over 270 million views. It's about more than noodles alone.
The high-level talks between U.S. and Chinese officials in Alaska concluded on Friday. While international media describe the talks as "tough" and exposing the "depth of tensions" between the United States and China, many netizens also focus on the smaller events that occurred during the talks.
Besides the cool and collected way in which Chinese interpreter Zhang Jing (张京) went about her job, the fact that Chinese top diplomat Yang Jiechi (杨洁篪) had remarked he had instant noodles for lunch also triggered discussions on Weibo.
Chinese state media outlet CGTN published a short video showing how Chinese State Councilor and Foreign Minister Wang Yi (王毅) and Yang walk to enter a session of the high-level talks, with Wang asking Yang "Have you had lunch?" Yang then answers: "Yes, instant noodles."
The relevant stuff you need to know about the #USChina strategic dialogue: Yang Jiechi tells Wang Yi he had instant noodles for lunch before entering a session of the high-level meeting. pic.twitter.com/5pI3WzIjyX

— Manya Koetse (@manyapan) March 21, 2021
The topic was discussed on Weibo in multiple threads and under the hashtags "Yang Jiechi Had Instant Noodles for Lunch" (#杨洁篪午饭吃泡面#) and "The Instant Noodles Yang Jiechi Had for Lunch" (#杨洁篪午饭吃的泡面#). The latter received had 270 million views on Weibo by Sunday evening.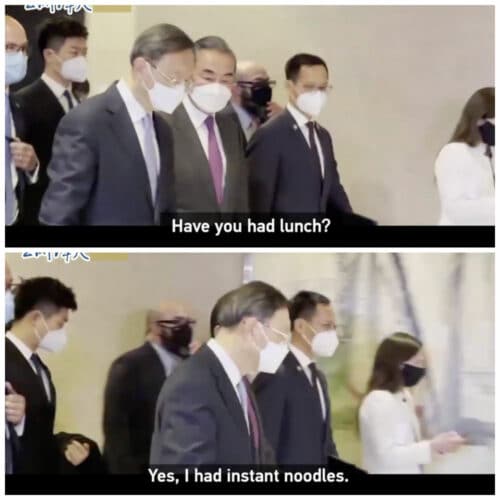 Noteworthy enough, the hashtag page "Yang Jiechi Had Instant Noodles for Lunch" was initiated by Party newspaper People's Daily. Together with the video published by CGTN, this shows that state media are purposely bringing 'noodle gate' to the attention of readers – both inside and outside of China.
Some Chinese news outlets reported that no formal dinner was arranged for the Chinese diplomats at the strategic dialogue due to COVID19, and that their lunch apparently consisted of simple noodles.
On Twitter, Christian Goebbels (@Chri5tianGoebel), Professor of Modern China Studies at the University of Vienna, commented: "My first thought when seeing this was: this is a complaint that the hosts didn't even serve their guests a proper lunch, which Chinese viewers (and the guests!) would consider incredibly rude. If they wanted to create a good atmosphere, they should've served up a banquet."
Jonathan Sullivan, Associate Professor of Contemporary Chinese Studies at University of Nottingham, called the noodle incident a "meaningful detail" on Twitter (@jonlsullivan), writing: "It fits the narrative that the US is inhospitable & disrespectful, incapable of treating China as a power of equal standing."
Many netizens on Weibo take a similar stance, writing: "The American etiquette is unsatisfactory," and: "Let's not pay attention to food, they completely lack etiquette."
"Jeez, these Americans don't even care about food," others wrote.
"It's extremely insulting," one blogger wrote: "This is a superpower, their strategy is despicable, to send our diplomatic staff off with a bucket of noodles!"
On Twitter, George Washington University Law Professor Donald Clarke called 'noodle-gate' a "non-story," saying: "A reliable source tells me that China agreed on no joint meals for Covid reasons. Thus, no big banquet. If someone wants to order noodles instead of a proper meal from room service, they can do that, but it's their choice, not something forced on them."

But meanwhile, on Weibo, commenters are adding that plenty of restaurants in Alaska are still operating, suggesting that there would have been options to socialize safely.
In Chinese culture, it is a custom to hold a banquet for business, diplomatic, or even trivial events, with meal gatherings being used as a social lubricant; a way to build and maintain relations.
With food and meal gatherings being such an important part of communicative practices in relationship-building in China, Yang Jiechi having instant noodles by himself for lunch is much more than just that. From the perspective of many Chinese, it shows little consideration for the Chinese cultural background and not a lot of hospitality from the Americans towards their Chinese guests.
The fact that the US-China talks were icy does not help. State media outlet Global Times said that American National Security Advisor Jake Sullivan and Secretary of State Anthony Blinken "unjustifiably attacked and accused China's domestic and foreign policies" and "seriously prolonged its opening remarks."
The Chinese delegation blamed the Americans, who invited the Chinese to Anchorage to have the strategic dialogue, for lacking "hospitable [and] good diplomatic etiquette."
The noodle incident already led to one Guancha blogger coining the term 'noodle diplomacy' ("泡面外交").
"The decline of the US starts with a bowl of instant noodles," some said on Weibo.
"Let's at least hope it was a 'unifying' beef noodle that he had," some on Weibo jokingly commented.
Although many see the noodle lunch as a symbol of American inhospitality, there are also many commenters who see it as a practical and safe way to have lunch: "It's good this way – at least nobody can poison him."
"I want to know which brand [of instant noodles] he's having, I want it too!"
By Manya Koetse
Featured image by Miguel Andrade.
Spotted a mistake or want to add something? Please let us know in comments below or email us. First-time commenters, please be patient – we will have to manually approve your comment before it appears.
©2021 Whatsonweibo. All rights reserved. Do not reproduce our content without permission – you can contact us at info@whatsonweibo.com.