The Top 10 Buzzwords in Chinese Online Media in 2020 (咬文嚼字)
Some of the buzzwords that were most noteworthy in Chinese media this year.
These are some of the expressions and idioms that have been buzzing in Chinese media in 2020. What's on Weibo's Jialing Xie explains.
China's online media environment is a breeding ground for new terms and niche expressions that suddenly make it to mainstream discussions.
Every year, the most popular new words and expressions are listed by the Chinese magazine 咬文嚼字 (yǎo wén jiáo zì). The magazine selects buzzwords that reflect present-day society and the changing times.
Yǎo Wén Jiáozì, which means "to pay excessive attention to wording,"* is a monthly publication featuring commentary, criticism, and essays on the Chinese language.
Founded in 1995, the magazine has gained social influence for correcting typos in the language used by media and celebrities. Some of these corrections have been impactful, such as their correction of the 2006 CCTV Chinese New Year Gala on writing 'Shenzhou 6' (the second human spaceflight of the Chinese space program) as "神州六号" rather than "神舟六号" (different character for 'zhōu'). It was included in their "Ten Biggest Language Mistakes" list (十大语文差错) of that year.
On social media, Chinese online (state) media always promote the magazine's selection of the top words and terms of the past year. The ten terms have also become a relatively big topic on Weibo over the past month, with the list of Top 10 Buzzwords in 2020 #2020年度十大流行语# already garnering 460 million views.
*yǎo wén jiáo zì, literal meaning: to talk pedantically and pay excessive attention to wording, often referring to a stickler for detail with an intent to display their fine knowledge; often used negatively or neutrally.
We've listed the top 10 buzzwords for you here:
1. 人民至上,生命至上 (Rénmín zhìshàng, shēngmìng zhìshàng): "People First"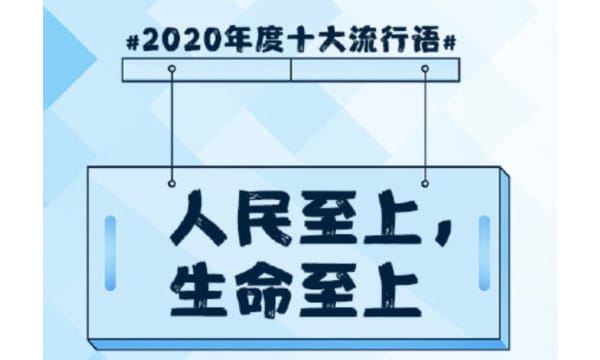 Literal Meaning

: "People are above everything else, life is above everything else."

The context of this phrase in 2020:

On May 22 of 2020, Chinese President Xi Jinping took part in the deliberation of the Inner Mongolia delegation at the annual legislative session

, where he stated that "our people come first, people's lives come first, and the safety and health of our people should be secured at all costs." "People first, life first" has since become a widely circulated slogan and guiding principle for government and society to combat Covid-19 across the country. 
2. 逆行者 (Nìxíng zhě): "People Going against the Tide"
Literal Meaning

: "People who swim upstream / people who go against the current."

The context of this phrase in 2020:

In a broad sense, this phrase shares a similar meaning as its English counterpart, describing people who dare to differ from the mainstream and to go above and beyond their call of duty. In 2020, it has become a term often used by state media to refer to frontline workers and individuals who made a significant contribution or sacrifice during the battle against the novel coronavirus.
3. 飒 (Sà): "Spirited"
Literal Meaning

: "

1) Chill and refreshing 2) Onomatopoeia: the sound of the wind 

The context of this word in 2020: In modern Chinese literature, this word is commonly used in the idiom "英姿飒爽" (yīng zī sà shuǎng), illustrating how a person, either a man or woman, is high of energy and full of morale and is showing an attitude of heroism and prestige. According to People's Daily, half of the doctors and more than 90% of the nurses working in healthcare during the fight against COVID19 are female. State media started to use 飒 (sà) as an adjective to eulogize these female medical workers. The word was later used to praise both men and women working in other industries as well. 
4. 后浪 (Hòu làng): "The Rear Waves"
Literal Meaning

: "The rear waves."

The context of this phrase in 2020: 后浪 hòulàng is often used within the idiom "长江后浪推前浪" (cháng jiāng hòu làng tuī qián làng) which literally means "the rear waves in the Yangtze River drive on those before," and figuratively referring to how the new generation excels beyond the one before, or how the new is constantly replacing the old. This phrase became an internet meme regarding the young generation in China – specifically, those born in the 90s and 00s – as a result of heated online discussions about a video launched on Bilibili and other social media for Youth Day (May 4th), in which the older actor He Bing talks about the rights and opportunities enjoyed by young people in China today. On various occasions, this word is used to address the more privileged young people. Some associated stereotypes about this group include studying or living abroad, high-quality lifestyle, and luxury material possessions. Those who don't identify with this privileged group tend to refer to themselves as "韭菜" (Jiǔcài, chives), which shares a similar sentiment as "屌丝" (Diǎosī, loser), as opposed to "the rear waves."
5. 神兽 (Shén shòu): "Divine Beasts"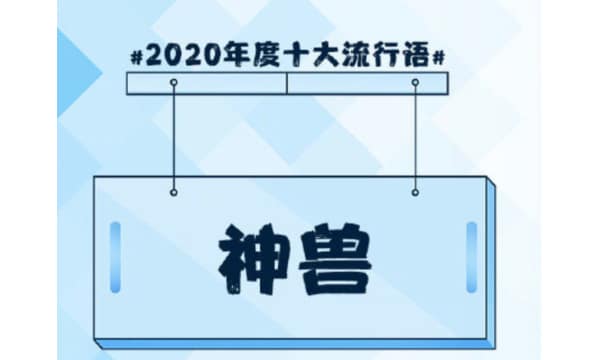 Literal Meaning

: "Divine beasts."

The context of this word in 2020: Totem worshiping is deeply rooted in the religion and tradition of many ancient cultures. Divine beasts in China are in fact deities, also known as the Four Symbols (四象), as a mixed product of Chinese ancient cosmology and mythology.

Since the beginning of remote learning and delay in schools reopening across the country, many parents and caregivers have posted their experience balancing work and remote learning with their children from home. In these posts, parents often call their children 'divine beasts' then share their children's naughty behavior and how they struggled to deal with them. 
6. 直播带货 (Zhíbò dài huò): "Live commerce"
Literal Meaning

: "Live commerce", "

Influencer marketing via live streaming.

"

The context of this phrase in 2020:

China's live-streaming economy played an important role in the country's economic market recovery amidst COVID19. I

nfluencer marketing via live streaming combines talk show-like entertainment and the convenience of online shopping, at times even leveraging social proof and the reputation of influencers themselves to crack astonishing sales records.

Apart from internet celebrities, many business executives (i.e. Jack Ma) and even government officials (

i.e. 13 local mayors in Hubei Province

) also took advantage of the booming live-streaming and appeared in front of webcams to promote certain products which resulted in millions of views on TikTok.

On the flip-side of the business, there have been concerns about the quality of the products as well as lawsuits against fraudulent sales practices. Popular topics on Weibo as such include #如何看待直播带货卖假货#("What do you think of counterfeit goods in live-streaming sales"). 
7. 双循环 (Shuāng xún huán): "Dual Cycle"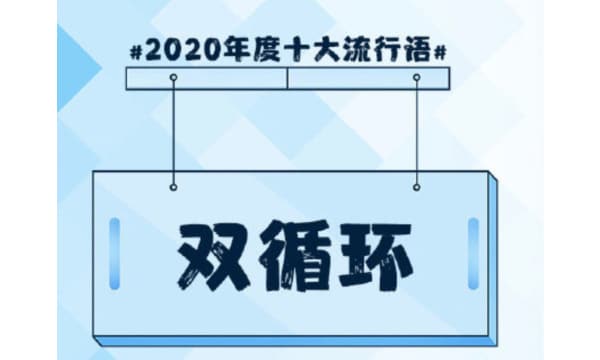 Literal Meaning

: "

Dual cycle

."

The context of this word in 2020:

This term comes from President Xi's speech at the meeting of the Politburo of the Chinese Communist Party on May 4, 2020, during which he stated that the dual-cycle system will be the party's strategy for China's economic and political development for the near future following COVID19 recovery. The system focuses on recovering and growing the economy by primarily expanding domestic demand mixed with healthy participation in international trade.

While it certainly was not the first time the Communist Party introduced this concept of prioritizing the domestic market, according to Xinhua News Agency, the dual-cycle system has been regarded as a suitable strategy given current restrictions facing international trade due to the pandemic and the ongoing trade tensions between China and a few western powers.
8. 打工人 (Dǎ gōng rén): "Working People"
Literal Meaning

: "Working people"

The context of this phrase in 2020: As agriculture, foreign trade, and investment sectors developed following the economic reform in 1978, a social-economic trend emerged in the 80s during which labor forces across China's villages and countrysides migrated to cities and worked in blue-collar jobs. These migrant workers are called 打工人 (Dǎ gōng rén) / 打工仔 (Dǎ gōng zǎi). The word later evolved and was used to address the entire working class and salaried employees. For example, the memoir written by Shujuan Liu of the former president of Microsoft China, Jun Tang, was titled "I'm the 高级打工仔 (Gāojí dǎgōng zǎi, high-class worker) at Microsoft". The term was frequently used as an internet buzzword in 2020 after appearing in a viral video in which a man acted as a migrant worker and showed watchers warm and positive encouragement. The video ended with a "good morning" greeting and addressed watchers as 打工人.  
9. 内卷  (Nèi juǎn): "Involution"
Literal Meaning

: "

Involution

"

The context of this phrase in 2020: According to People's Daily, this word is a direct translation of the concept of 'involution' brought up by the American anthropologist Clifford Geertz. Involution describes the economic situation in which as the population grows, per capita wealth decreases.

This year, this word is used to represent the competitive circumstances in academic or professional settings where individuals are compelled to overwork because of the standard raised by their peers who appear to be even more hard working.

In the latter half of 2020, a few pictures capturing college students' multitasking went viral on Weibo. One of the images shows a person working on his computer while riding his bike. These people were then called "卷王" (Juǎn wáng, meaning they are the example of overworking) on social media and became the origin of this buzzword. You can find this word sometimes associated with

the 996 working hour system

on Weibo.
10. 凡尔赛文学 (Fán'ěrsài wénxué): "Versailles Literature"
Literal Meaning

: "Versailles literature."

The context of this phrase in 2020: 

Social media has made displaying wealth and superiority easier than ever before. Instead of showing off explicitly, some find a way to both satisfy their desire for publicity and avoid doing so ostentatiously, by flaunting wealth and material possessions in an indirect and often negative-toned message. This writing style for social media posts is then referred to as "Versailles literature."

Admittedly not all posts labeled as "Versailles literature" were written with the intent to show off, but those with clear intention are often easily spotted and circulated online and became funny memes. This then led to a wave of discussions and a contest of "Versailles literature" on social media, which became a form of entertainment itself.
By Jialing Xie
Follow @WhatsOnWeibo
Spotted a mistake or want to add something? Please let us know in comments below or email us. First-time commenters, please be patient – we will have to manually approve your comment before it appears.
©2020 Whatsonweibo. All rights reserved. Do not reproduce our content without permission – you can contact us at info@whatsonweibo.com.
Let's Plant: China's Variety Show "Become a Farmer" Is Harvesting Success Online
As iQIYI's 'Become a Farmer' gains momentum, it highlights China's growing trend of embracing rural themes in mainstream entertainment.
With its focus on hard farm work and meeting actual targets, Become a Farmer is a fresh breeze of air for China's variety show business, especially among young Chinese viewers who appreciate the show's authenticity and the calmness of the rural scenes that pose a stark contrast with stressful urban life.
The Chinese variety show Become A Farmer has achieved tremendous popularity in China recently through the iQIYI platform, which is often hailed as the Chinese equivalent of Netflix. Become A Farmer recently gained over 4.6 billion (!) views on Weibo through the hashtag #种地吧# (Zhǒng dì ba), which translates to "Let's Plant" or "Let's Farm" in English and also happens to be the show's name in Chinese.
Produced by iQIYI and Blue Sky Media Group (BSMG), Become A Farmer (Young Men edition) is a documentary-style interactive reality show that revolves around the theme of farming, with actual farm work as its central focus.
The show handpicked ten young men out of 300 candidates to assemble a "farming team." With unwavering dedication, they toiled for over 190 days, diligently cultivating 142.8 mu (approximately 95,200 square meters) of land. They actively engaged in every aspect of farm work, starting from planting a single seed and guiding the audience through the complete journey of rice germination, growth, flowering, and ultimately reaping the harvest.
Chinese netizens have drawn comparisons between the show and the British television documentary series Clarkson's Farm. Playfully, they remarked that if Clarkson's Farm were to be introduced in the Chinese market, it could aptly be renamed "Become A Farmer (Old Men Edition)."
Become A Farmer released its first episode on February 4 of this year, initially receiving limited attention. However, as subsequent episodes were released, the show started garnering increased interest, with the audience discovering the genuine dedication of the ten young men towards their farming endeavors – and that it was not just for show.
Its rating on Douban, China's IMDB, has climbed up to 8.9 out of 10. Meanwhile, the series has been nominated for the prestigious Magnolia Award for Best Variety Program at the 28th Shanghai TV Festival.
A Fresh Take on Chinese Idol Survival Shows
Become A Farmer initially caught the attention of many Chinese netizens through the humorous jokes of veteran comedian Pang Bo during the fifth season of the stand-up comedy competition Rock & Roast.
At that time, the show had not yet been aired but its format had already been introduced during a media conference, and Pang Bo (庞博) had heard about it.
In Pang's joke, he compared the show to a farmer version of idol survival shows, proposing that the four individuals who made the greatest contributions to the final harvest could come together as a group, forming a new generation of F4 (referring to the popular Asian boy band), playfully dubbed "Farmer 4."
While Chinese netizens were initially amused by this joke, little did they realize that iQIYI was actually turning it into a reality, albeit without the comedic intent.
"Food is not something we can take lightly with jokes and banter, especially considering the size of our farmland, which spans approximately 140 mu and has the potential to provide sustenance for many people. This is a matter of responsibility and morality," stated Yang Changling (杨长岭), the show's director.
Normally, Chinese entertainers are compensated for their involvement in reality or variety shows, as they play a crucial role in generating engaging content. Such shows often seek out celebrities with a large online fan base to ensure a favorable viewership.
But Become A Farmer is different. Among the ten young men, no one is a typical celebrity that has a huge fan base online. Moreover, they are not paid for filming the show but have to earn from the land rented from local farmers through their own hard work.
To legally sell the products grown on their farmland, the ten young men took the step of registering an official company. This registration allowed Chinese netizens to verify the company's information on the government website, providing evidence of the project's authenticity. As the information about the company circulated, the related hashtag (#种地吧 开公司#) gained traction on Weibo, eventually trending when the ten young men received their official company certificate.
Become A Farmer leans more towards being a documentary rather than a traditional entertainment program. To underscore its authenticity, a novel approach has been adopted in China's variety show landscape. It airs live for one hour every day, beginning at 9:30 am, synchronizing with the young men's start of work. This timing allows netizens, who typically commence their own workday around that time, to actively participate as 'online supervisors,' overseeing the ten young men's daily tasks while starting on their own tasks of the day.
Through livestreaming on both Weibo and Douyin (the Chinese version of TikTok), the show creates a natural teaser for the edited reality series while embodying its interactive nature.
As an additional element, the ten young men occasionally share vlogs on Weibo and Douyin during the filming process. This unique combination of long-form reality show footage + livestreaming + vlogs allows the audience to closely follow and stay updated on the progress of the ten young men's work over the span of more than 190 days.
The show's concept of gathering relatively unknown young men aspiring to make a breakthrough in the entertainment industry bears resemblance to popular shows like Youth With You, also produced by iQIYI. However, Youth With You's third season was suspended in 2021 for wasting large amounts of milk amid the China's strengthened efforts in eradicating wasting food; viewers were ecouraged to buy bottled Mengniu milk and scan QR codes inside the caps to vote for their favorite trainees, which led to fans buying tons of bottles only to vote and getting rid of the milk.
Clearly, iQIYI has learned from the past and taken a different approach with Become A Farmer. In this show, there are no milk-wasting competitions or cutthroat rivalries. Instead, the ten young men are united in their goal to complete the farm work together and to run the company and get rid of its debt.
Focus on Vital China Topics: Empowering Youth, Food Security, and Rural Revitalization
Various topics that are relevant in today's China come together in Become a Farmer. The show also explicitly addressed its objectives in producing this diverse variety show and released a pre-episode to emphasize the importance of food security and shed light on the challenges faced by Chinese youth upon entering the workforce.
In recent years, China has placed significant emphasis on food security, with leaders repeatedly stressing the need to ensure that "the Chinese rice bowl is firmly held in our own hands."
The China Agricultural Outlook Report (2023-2032), released on April 20, outlined the ongoing consolidation of China's food security foundation for the next decade. Notably, all 103 million hectares of permanent farmland will be transformed into high-standard farmland. The report also highlighted plans to diversify import channels for agricultural products, improve the trade structure, and reduce grain imports by 19.7 percent over the next decade.
During the pre-episode of the show, an expert who provided training courses to ten young men emphasized the need to address the aging agricultural workforce in China's agricultural development.
Simultaneously, in 2023, China witnessed a record-breaking number of graduates, reaching 11.58 million.
Given the increasing digitalization in agriculture, encouraging young people to pursue farming careers emerges as a viable solution. By becoming New Era Farmers (新农人) and actively participating in the nine tasks outlined in China's "No. 1 central document" for 2023, which promotes rural vitalization comprehensively, young talent can contribute to the development of rural areas instead of solely pursuing white-collar jobs in urban areas.
A Rural Trend in Chinese Entertainment
The increasing appeal of rural life among young people in China is reflected in a survey conducted by the Social Survey Center of China Youth Daily (中国青年报社社会调查中心) in September 2022. The survey revealed that 70.9% of the respondents believed that the countryside has become more attractive to young individuals. Factors such as a slower pace of life, lower pressure, and reduced costs were cited as the main reasons why young people find rural areas appealing.
As transportation and internet connectivity have gradually improved, rural life in China is no longer seen as isolated and cut off from the rest of the world. This transformation has sparked a growing interest in living in the countryside, particularly among young people. The countryside's allure lies in its simplicity, natural beauty, and the chance to escape the fast-paced and hectic city life.
This growing interest in rural life may explain the popularity of shows like Become a Farmer. The commitment demonstrated by the ten young men to their farm work has garnered applause from Chinese netizens. Overcoming challenges such as working in adverse weather conditions, assisting with difficult births for animals, and engaging in physically demanding tasks have showcased their dedication and hard work. These aspects have resonated with the audience and contributed to the show's success.
Originally planned to conclude after 39 episodes, the show's production team has decided to extend it to 50 episodes due to the abundance of material gathered from over 190 days of farm work and the increasing interest and positive feedback from viewers. This extended episode count goes beyond the typical duration for a variety show, highlighting its exceptional popularity.
It is evident that iQIYI, the broadcasting platform behind the show, is keen on fulfilling its alleged social responsibility to promote the importance of food security and sustainable food production, farming, and showing that young individuals that they can thrive in rural areas.
Capitalizing on the success of the reality show, iQIYI has also released a teaser for an upcoming drama called Romance on the Farm (田耕纪), which also revolves around farming. This drama portrays a contemporary woman unexpectedly finding herself in the countryside during the Song Dynasty and embarking on a journey of farming, prosperity, and love alongside the enigmatic Shen Nuo.
In the last couple of years, there were several countryside-themed dramas that showcased China's rural revitalization efforts and highlighted the involvement of younger generations in supporting their rural hometowns, such as On The Way to Hope (在希望的田野上) or The Story of Xing Fu (幸福到万家) which starred the renowned Chinese actress Zhao Liying.
The success of Become a Farmer, the upcoming Romance on the Farm, and the overwhelming enthusiasm among Chinese viewers for these shows suggest that farming has become the latest 'hip' trend in China's entertainment industry. It seems that plowing fields and tending to crops have now found their place in the limelight. With the growing interest and excitement surrounding these shows, it's safe to say that we can expect a blooming harvest of more Chinese productions focused on farm work and rural life in the near future.
Watch "Become a Farmer" on Youtube here (including English subtitles).
By Wendy Huang
Follow @whatsonweibo
Spotted a mistake or want to add something? Please let us know in comments below or email us. Please note that your comment below will need to be manually approved if you're a first-time poster here.
©2023 Whatsonweibo. All rights reserved. Do not reproduce our content without permission – you can contact us at info@whatsonweibo.com
Meanwhile in Panda News: After More Than Two Decades, Yaya Returns to Beijing
From Memphis to Shanghai to Beijing: every step in Yaya's journey is closely followed by China's panda fans.
Yaya, the panda, made her way back to Beijing after a residence of more than two decades at the Memphis Zoo and completing her quarantine period in Shanghai. Now, netizens are advocating for the return of three other pandas currently residing in the United States.
It is time for the third 'Meanwhile in Panda News' by What's on Weibo to keep you updated on the trending panda topics, from the cute to the controversial.
This time, it is all about Yaya (丫丫), the panda that is trending on Weibo in various hashtags these days:

Panda Yaya became one of the most discussed pandas of this year. This female panda resided in the Memphis Zoo in the United States for most of her life and attracted significant attention on Chinese social media platforms after netizens expressed concern about her seemingly thin and unhealthy appearance.
Even though the Memphis care team stated that Yaya's fur condition is related to her hormones and immune system, these online discussions further intensified in light of escalating tensions between the United States and China.
The concerns surrounding Yaya prompted an online campaign, with netizens advocating for Yaya's return to China. After residing at the Memphis Zoo in the United States for two decades as part of a conservation and research project, Yaya's second ten-year term had concluded, and the 23-year-old panda was set to return to Shanghai, China.
Yaya's return in late April became a true social media spectacle, fuelled by state media outlets that created special posters and videos welcoming Yaya home.
Panda propaganda is the best kind of propaganda 😅 Chinese state media are turning panda YY's return to China from Memphis Zoo into a big media show. Many fans have been anticipating her return for months already. pic.twitter.com/AAGJpgQi2y

— Manya Koetse (@manyapan) April 27, 2023
Now, a month later, Yaya is trending again. This time, it is her move from Shanghai to Beijing that is hitting the trending lists. After finishing her quarantaine, Yaya's new home will be in the Beijing Zoo. Yaya returned to China's capital, where she was born, by airplane on May 28.
While many people are cheering that Yaya has finally returned home, they are also sad that panda Lele is not with her. Lele (乐乐) was Yaya's male partner, and the two arrived in Memphis together. Unfortunately, Lele passed away earlier this year due to heart disease.
Around 4 am in the morning on May 29, the official Weibo account of the Beijing Zoo posted a statement about Yaya's return, confirming that the panda had arrived before 1 am on Monday morning.
Beijing Zoo further wrote that Yaya has her own dedicated enclosure and will need some time to adjust to her new environment and will not be shown to the public for now. They did post a photo and a video of Yaya's arrival, and promised to give more updates about Yaya via social media.
They also just posted this video 45 minutes ago, featuring Yaya's arrival. She's 23 and spent 20 years of her life in the US. Hope she'll soon get used to her new Beijing life.

PS in case you wondered, she was flying China Southern.🐼 pic.twitter.com/AAf5OVHQsF

— Manya Koetse (@manyapan) May 28, 2023
"Yaya has finally returned home," some commenters said, "I hope she will have a happy and healthy life there."
In the meantime, netizens have launched a new online campaign advocating for the repatriation of the pandas Xiao Qiji (小奇迹), Tiantian (添添), and Meixiang (美香), currently residing at the Washington National Zoo.
Those advocating for the return of the three pandas are also expressing concerns about their well-being and treatment at the Washington National Zoo. They worry that the pandas may not be receiving adequate food and are particularly concerned about Meixiang's health.
In 2020, it was reported that the panda couple Meixiang and her partner Tiantian would minimally stay in Washington until December of 2023.
Concerned that Meixiang might face a similar fate to Yaya's late partner Lele, panda enthusiasts on Weibo are urging for the prompt repatriation of the entire panda family. "I'm glad to hear good news about Yaya," expressed one Weibo user, "Now, I hope we can get good news about Meixiang too."
Read more panda news here.
By Manya Koetse 
Get the story behind the hashtag. Subscribe to What's on Weibo here to receive our newsletter and get access to our latest articles:
Spotted a mistake or want to add something? Please let us know in comments below or email us. First-time commenters, please be patient – we will have to manually approve your comment before it appears.
©2023 Whatsonweibo. All rights reserved. Do not reproduce our content without permission – you can contact us at info@whatsonweibo.com.
Subscribe to our newsletter
Stay updated on what's trending in China & get the story behind the hashtag
Sign up here to become a premium member of What's on Weibo today and gain access to all of our latest and premium content, as well as receive our exclusive newsletter. If you prefer to receive just our weekly newsletter with an overview of the latest, you can subscribe for free here.
Would you like to become a contributor, or do you have any tips or suggestions for us? Get in touch with us here.