50 of the Best New Books on China for the Holidays and Winter 2020/2021
So much reading to do! These are some of the best new books on China.
What's on Weibo lists the 50 best China books for winter reading 2020/2021, with China non-fiction and fiction books that have come out in English recently.
What's on Weibo has previously issued two major China book lists, one Best 30 Books to Understand Modern China (non-fiction), and one Top Best Fiction Books on China. Because both articles were published in 2018, and so many new and interesting books on China have come out since, it's high time for another list.
This list consists of all new and interesting China books that have come out recently, mainly in 2020, but it also includes some earlier books.
We realize that there are so many books out there, and China's domestic book market is enormous. But for the scope of this article, we will only list books that have come out in English as original works or were translated into English.
For the fiction section, we have selected modern fiction books by Chinese authors that have come out in English translation over the past two years. For a broader list of modern literary fiction works that provide deeper insights into China, please check our previous list here.
This list is categorized into seven major areas of China General (Popular), China History, Chinese Society & Focus Topics, China Tech/Digital, Academic Publications (China Studies), Chinese Fiction, and For Kids – something for everyone, from very broad China books to very focused subjects. Some books might fall into several categories such as academic and/or history, but have only been placed in one. Since there are many books being published on similar topics, we have tried to highlight different relevant focus topics and styles of narrating in this list. The order of the books is random and for reference purpose only (we do mention some personal favorites at the end of this list).
We have also tried to add relevant podcasts to each book recommendation, so there is plenty to read and listen to during these (pandemic) winter days!
ON CHINA GENERAL (POPULAR)
#1 ● Has China Won?: The Chinese Challenge to American Primacy
By Kishore Mahbubani, Public Affairs 2020
This book by the renowned Singaporean academic and former UN ambassador Kishore Mahbubani focuses on the geopolitical contest that has broken out between the US and China, and invites the reader to critically think about the complex dimensions behind this discourse and the strategic game behind it. Mahbubani writes that "it is curious that no one has pointed out that America is making a big strategic mistake by launching this contest with China without first developing a comprehensive and global strategy to deal with China" (2), and argues that not only does the US lack a sound understanding of its rival and their interests, it also overestimates its own position in a growingly complex international society. Being neither Chinese nor American, Kishore offers interesting perspectives that come from outside the American (or Chinese) thought bubble when it comes to current geopolitics.
Mahbubani is also on Twitter @mahbubani_k. Listen to the SupChina Sinica podcast with Kaiser Kuo featuring Kishore Mahbubani here.
Buy: Has China Won?: The Chinese Challenge to American Primacy

★ Also available as audiobook (iTunes) here / or via Audible here
#2 ● China's Western Horizon: Beijing and the New Geopolitics of Eurasia
By Daniel Markey, Oxford University Press 2020
With the Belt and Road Initiative (BRI), also known as the One Belt One Road (OBOR) initiative being key to China's present-day foreign policy, this list wouldn't be complete without a book on this topic. Recently, multiple books came out on this subject. For example, there is The Emperor's New Road: China and the Project of the Century by Jonathan Hillman and One Belt One Road: Chinese Power Meets the World by Eyck Freymann. One of the recent books on this topic to receive a lot of praise is that by China's Western Horizon: Beijing and the New Geopolitics of Eurasia by Daniel Markey, senior research professor in International Relations at the Johns Hopkins School of Advanced International Studies. This book, useful for anyone who wants to get a better understanding of the Belt and Road Initiative, aims to make sense of "the decisive role that China's less powerful neighbors are likely to play as China extends its reach across its western horizon." This work is mainly divided into three sections, covering South Asia (chapter 3), Central Asia (chapter 4), and the Middle East (chapter 5). The last chapter focuses on US-China competition in Eurasia, with Markey arguing that the US needs a more local strategy in order to compete with China globally.
Listen to the Global Cable podcast with the author here. Daniel Markey is also on Twitter: @MarkeyDaniel.
Get the book here: China's Western Horizon: Beijing and the New Geopolitics of Eurasia

★ Also available as audiobook (iTunes) here / or via Audible here
#3 ● Superpower Interrupted: The Chinese History of the World
By Michael Schuman, Public Affairs 2020
Superpower Interrupted offers a fresh perspective on China and its history for a western readership, focusing on the Chinese view of the Chinese history of the world, and demonstrating that there actually is no such thing as a truly global 'world history.' Schuman argues that since history shaped China's perception of the world and its present-day position in international society, it is crucial for western diplomats, academics, politicians, and journalists to understand China not through the prism of their own world history, but through China's own view.
Michael Schuman is also on Twitter: @MichaelSchuman. Sinica did a podcast with Schuman on his book earlier in 2020, which you can check out here.
Get: Superpower Interrupted: The Chinese History of the World

★ Also available as audiobook (iTunes) here / or via Audible here
#4 ● In the Dragon's Shadow: Southeast Asia in the Chinese Century
By Sebastian Strangio, Yale University Press 2020
There is so much talk about US-China tensions recently, that China's complicated relationships with its southern neighbors is a topic that often gets overlooked although it needs to be in the spotlight.In the Dragon's Shadow, by journalist and Southeast Asia Editor at The Diplomat, is a very relevant work centering on the impact of China's booming emergence and the dynamics of South East Asia. Chapter by chapter, Strangio provides valuable insights into the countries of Southeast Asia, exploring how China's expanding power affects Vietnam, Cambodia and Laos, Thailand, Burma, Singapore, Malaysia, Indonesia and the Philippines.
This book was recently featured on the Sinica podcast, with Kaiser Kuo saying the book "is easily one of the best books I've read this year." Sebastian Strangio is also on Twitter: @sstrangio.
Buy: In the Dragon's Shadow: Southeast Asia in the Chinese Century

★ Also available as audiobook (iTunes) here / or via Audible here
#5 ● India's China Challenge: A Journey through China's Rise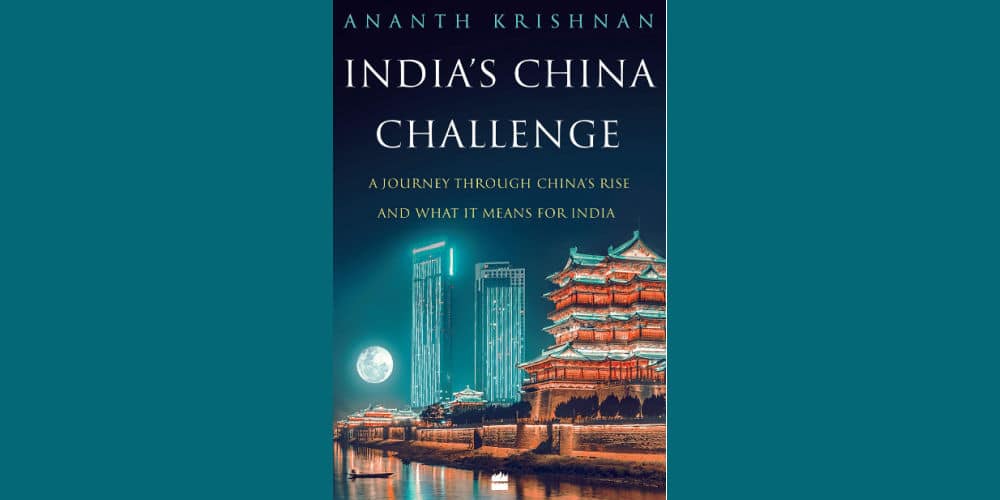 By Ananth Krishnan, HarperCollins India 2020
Ananth Krishnan, China correspondent for The Hindu, moved to China in the summer of 2008 and ended up staying a decade. This book is a result of the author's own on-the-ground experiences, and, in an accessible and engaging way, presents different perspectives on what China's rise and transformations mean for India. The book explores political, economic, diplomatic, and military challenges in China-India relations, and also zooms out to the broader implications for international society.
This book was featured on the Grand Tamasha podcast. Ananth Krishan is on Twitter @ananthkrishnan.
Get it here: India's China Challenge: A Journey through China's Rise
#6 ● China: The Bubble That Never Pops
By Thomas Orlik, Oxford University Press 2020
It will collapse, it will bounce back, financial crisis, yuan devaluation – so much has been written (and wrongly speculated) about China's economy over the past decade or two that it is hard to believe anything you read anymore. One thing is clear, and that is that China's economy has demonstrated resilience throughout the years. This resilience is at the heart of this book by Thomas Orlik, chief economist at Bloomberg. Orlik explores how China managed to escape national financial crises in the face of global slowdown and provides a clear overview of China's economic history since Deng Xiaopeng. In doing so, the author makes it clear that conventional approaches often taken by Western analysts in looking at China's economy often get it wrong – and he explains why.
China: The Bubble That Never Pops was featured on Bloomberg's Odd Lots podcast (link) and also on Sinica (link). Tom Orlik is on Twitter here: @TomOrlik.
Get: China: The Bubble that Never Pops
#7 ● Invisible China: How the Urban-Rural Divide Threatens China's Rise
By Scott Rozelle and Natalie Hell, University of Chicago Press 2020
This book by development economist Scott Rozelle and researcher Natalie Hell highlights problems that often remain invisible in the face of China's rapid economic rise. It's the drama of the rural low-educated workers who were the motor driving China's growth since the 1980s, but are now more and more left jobless and hopeless in their home villages as low-skilled work is increasingly outsourced to other countries or is taken over by robotics. In many ways, China and the Chinese people are going forward – yet the rural population is left behind, and it's China's Achilles' heel. This book focuses on this invisible side to China's rise and on how such a big story, with such major implications, could be so little known.
More about this book here and in the World Class podcast here.
Get: Invisible China: How the Urban-Rural Divide Threatens China's Rise
#8 ● The Third Revolution: Xi Jinping and the New Chinese State
By Elizabeth C. Economy, Oxford University Press 2018
This book by Elizabeth Economy, Senior Fellow at Stanford University's Hoover Institution, is for anyone who wants to understand how Xi's 'revolution' is transforming China. It goes behind Xi Jinping and his vision for China, diving into the main areas on top of the Xi government agenda, including internal politics, the internet, innovation, economy, environment, and foreign policy. The priorities of the Xi-led leadership and the direction they are taking are not just of key importance to China, but also to the rest of the world – with a focus on the United States. A well-researched and concise work on China under Xi – its background, status-quo, and what lies ahead.
Elizabeth Economy is on Twitter, @LizEconomy. If you'd like to hear more on this book, listen to this CFR Asia Unbound podcast.
Get: The Third Revolution: Xi Jinping and the New Chinese State

★ Also available as audiobook (iTunes) here / or via Audible here
CHINA HISTORY
#9 ● China's Good War: How World War II Is Shaping a New Nationalism
By Rana Mitter, Harvard University Press 2020
Rana Mitter is a British historian and political scientist who specializes in China's history, and we're a huge fan of his original perspectives and selection of topics. Mitter previously published China's War with Japan, 1937-45: The Struggle for Survival (2014), which became an Economist Book of the Year and a Financial Times Book of the Year. For this book, Mitter continued to pursue his interest in China's wartime history, this time focusing on how China's memories of war have shaped its national identity, both at home and global role abroad. Mitter demonstrates that WWII is very much alive in China today, influencing popular culture and media to the dynamics of international relations.
Listen to Mitter talk about his book on the Sinica podcast here.
Get: China's Good War: How World War II Is Shaping a New Nationalism

★ Also available as audiobook (iTunes) here / or via Audible here
#10 ● The Story of China: The Epic History of a World Power from the Middle Kingdom to Mao and the China Dream
By Michael Wood, St Martin's Press 2020
This brand-new single-volume work (624 pages) presents a chronological history of China, weaving personal, local stories into big historical narratives, from early history to modern-day China. Wood, Professor of Public History at the University of Manchester, previously wrote and presented the short documentary series for BBC and PBS that was also titled The Story of China. This is an excellent and accessible book for anyone with an interest in China's history and its role in the world today.
Wood is on Twitter here @mayavision. More about his book in this South China Morning Post review.
Get: The Story of China: The Epic History of a World Power from the Middle Kingdom to Mao and the China Dream

★ Also available as audiobook via Audible here
#11 ● China at War: Triumph and Tragedy in the Emergence of the New China
By Hans van de Ven, Harvard University Press 2020
Hans van de Ven is Professor of Modern Chinese History at the University of Cambridge and a Fellow of the British Academy. He specializes in the history of 19th and 20th century China. China at War zooms in on the period between 1937 and 1949. Van de Ven emphasizes that this was not just a time when China was at war with Japan, but also with itself, as it was also the time of the revolutionary war between the Nationalists and the Communists. The Second Sino-Japanese War and China's civil war are intertwined and this history, and how it is remembered, is pivotal to understanding China's 20th century and its place in the world today.
Check out the Asian Review of Books for more about China at War here. Hans van de Ven is also on Twitter @Jjv10Ven.
Get: China at War: Triumph and Tragedy in the Emergence of the New China
#12 ● Eurasian Crossroads – A History of Xinjiang
By James Millward, Hurst Publishers 2021 (2007)
This book ended up on our list here thanks to the 'Five Best China Books 2020' article by Jeffrey Wasserstrom, American historian of modern China, who pointed out this upcoming renewed publication. The book was actually published years ago, but a new and revised edition is coming out in January 2021, adding a chapter on the status-quo in Xinjiang and the so-called re-education camps. With this book, James Millward, author and historian of China & Central Asia, provided the first comprehensive account in English of the history of Xinjiang and its peoples from earliest times to the present. This book is a must-have for anyone interested in Xinjiang and for anyone who wants to get a better grasp of the history and complex dynamics behind today's Xinjiang.
There's a recent episode of the Harvard Fairbank Center for Chinese Studies podcast featuring Millward speaking about the history of the crisis in the Uyghur Autonomous Region. James Millward is on Twitter @JimMillward.
Get (still the earlier version, updated book set to release late January 2021): Eurasian Crossroads: A History of Xinjiang
#13 ● China and Japan: Facing History
By Ezra F. Vogel, Belknap Press of Harvard University 2019
Ezra F. Vogel, an eminent scholar of China and Japan, passed away in December of 2020. China and Japan: Facing History is his last book, which Vogel hoped would help improve understanding in that tense relationship between these neighboring rivals. With so many books focusing on China-US relations and power politics, there are relatively few new books that focus on Sino-Japanese relations, even though they are so crucial to both nations and the region. Vogel calls it a dangerous, deep, and complicated relationship. This book is an excellent overview of the relations between China and Japan, from early history to modern times.
The Harvard University Program on U.S.-Japan Relations recorded a podcast featuring Vogel earlier in 2020, which can be listened to here.
Get this book: China and Japan: Facing History

★ Also available as audiobook (iTunes) here / or via Audible here
#14 ● Maoism: A Global History
By Julia Lovell, Knopf 2019
This award-winning book is written by Julia Lovell, Professor of Modern Chinese History and Literature at Birkbeck College as well as an active translator of Chinese literature into English. Maoism: A Global History provides an overview of the influence of Maoism in different parts of the world from the 1930s to the present, with Lovell calling Maoism "one of the major stories of the twentieth and twenty-first centuries." This is a big book, but Lovell succeeds to captures the reader's attention with her in-depth insights and engaging writing style.
Also check out this History Extra podcast, in which Julia Lovell explores the nature of Mao's ideology and how it has shaped China and many other countries around the world.
Get: Maoism: A Global History

★ Also available as audiobook (iTunes) here / or via Audible here
#15 ● Last Boat Out of Shanghai: The Epic Story of the Chinese Who Fled Mao's Revolution
By Helen Zia, Ballantine Books 2019
Benny, Ho, Bing, and Annuo were still young when the Chinese civil war was coming to an end and the threat of a violent Communist revolution was looming over Shanghai, the epicenter of a large-scale exodus in the late 1940s. It is estimated that approximately one million people fled through the city around 1949, the year the People's Republic of China was founded. Through the lens of the personal stories of some of these people, Zia shines a light on the bigger picture of the mass departure of wealthy and middle class Chinese and foreigners from Shanghai. She does so in a very captivating way – a pleasure to read.
In the They Call us Bruce podcast, Helen Zia talked about her book (link) and the tumultuous forces of history and migration. Helan Zia is also on Twitter here @HelenZiaReal.
Get: Last Boat Out of Shanghai: The Epic Story of the Chinese Who Fled Mao's Revolution

★ Also available as audiobook (iTunes) here / or via Audible here
#16 ● The Last Kings of Shanghai – The Rival Jewish Dynasties That Helped Create Modern China
By Jonathan Kaufman, Penguin Random House 2020
Shanghai's Jewish history is a fascinating one, and over the past few years there's been increased attention on the Jewish community of Shanghai and the history of Jews in China (also see our article on this, Memories of a Nearly Forgotten Community). In this book, author Jonathan Kaufman, journalist & director of the Northeastern University's School of Journalism, tells the epic multigenerational stories of two Jewish families: Shanghai's famous Sassoon family, who had been doing business in China for a century, and the Kadoorie family, another business dynasty that rivaled the Sassoons. Both the Sassoons and Kadoeries were originally from Baghdad, and these wealthy families accumulated great influence and played a role in Chinese business and politics for more than 175 years. This well-researched book provides intriguing insights into a history that few people know of.
In Northwestern University Library's What's New podcast, Kaufman recently discussed his book, link. Jonathan is on Twitter here @jkaufman617.
Get: The Last Kings of Shanghai: The Rival Jewish Dynasties That Helped Create Modern China

★ Also available as audiobook (iTunes) here / or via Audible here
#17 ● Forbidden Memory: Tibet during the Cultural Revolution
By Tsering Woeser, translated by Susan T Chen, edited by Robert Barnett, photographs by Tsering Dorje, Potomac Books 2020 (2006)
The story behind the making of the Forbidden Memory book is an extraordinary one. It begins with Tibetan writer and activist Tsering Woeser finding rare photos taken by her father, who passed away in 1991, of the Cultural Revolution period in Tibet. Woeser's father, Tsering Dorje, was with the People's Liberation Army when it entered Tibet in the 1950s. In 1999, Woeser sent these photos to Chinese writer and scholar Wang Lixiong, who had written on Tibet in his book Sky Burial: The Destiny of Tibet. Wang, realizing how precious these photographs were, wrote back to Woeser saying the history told through the photos needed to be told by herself and those on the inside of the history. Six years later, Woeser completed her research and writing, including interviews with over seventy people connected to the history captured in the photographs, and published an edition of Forbidden Memory for the Taiwanese market. Brought together by her father's photos, Woeser and Wang ended up getting married in 2004. Now, in 2020, Forbidden Memory is finally translated into a revised English edition. Through text and photos, this 400-page book tells the horrible story of the violence of the Cultural Revolution in Tibet. With this work, Woeser uncovers the stories of a past that was previously erased.
Read more on this work here. Woeser is on Twitter here @degewa
Get: Forbidden Memory: Tibet during the Cultural Revolution
CHINESE SOCIETY AND FOCUS TOPICS
#18 ● Wuhan Diary: Dispatches from a Quarantined City
By Fang Fang, translated by Michael Berry, HarperCollins 2020
Wuhan Diary is written by the 65-year-old acclaimed Chinese author Wang Fang, better known as Fang Fang, and it is an important book documenting China's COVID19 outbreak. Wuhan Diary is an online account of the 2020 Hubei lockdown, originally published on WeChat and Weibo. Throughout the lockdown period in January, February, and March, Fang Fang wrote about life in quarantine in province capital Wuhan, the heart of the epicenter, documenting everything from the weather to the latest news and the personal stories and tragedies behind the emerging crisis. Fang's 60-post diary was published on her Weibo account from late January shortly after the lockdown began, until late March when the end of the lockdown was announced. Although Fang was originally praised as a 'voice of the people' in China, she was later bashed for being a 'traitor' once it became known that her book would be published in the US and Europe.
Read more about Wuhan Diary and its controversy here.
Get: Wuhan Diary: Dispatches from a Quarantined City

★ Also available as audiobook (iTunes) here / or via Audible here
#19 ● Eat the Buddha: Life and Death in a Tibetan Town
By Barbara Demick, Random House 2020
American journalist Barbara Demick previously wrote a book on North Korea (Nothing to Envy: Ordinary Lives in North Korea) (2010), and with this book she explores another closed-off area; that of Sichuan's Ngaba, a place that is usually a no-go area for foreign journalists due to the many anti-government demonstrations and self-immolation protesters. During the years she lived in China, Demick managed to travel to Ngaba on several occasions and conducted interviews. This book is a result of these interviews and spans decades of modern Tibetan and Chinese history and closely examines the relationships between the Chinese Communist Party and Tibet.
Demick is on Twitter @BarbaraDemick.
Get: Eat the Buddha: Life and Death in a Tibetan Town

★ Also available as audiobook (iTunes) here / or via Audible here
#20 ● City on Fire: The Fight for Hong Kong

By Antony Dapiran, Scribe 2020
This list obviously needs a focus book on Hong Kong, as 2020 came with great restrictions on Hong Kong freedom as the National Security Law came into effect – causing alarm among the people that have protested for greater freedom, democracy, and independence from the political influences of Beijing since 2019. In this book, Hong Kong-based lawyer and author Antony Dapiran provides a concise account of the Hong Kong's 2019 anti-government protests that grew into a pro-democracy movement that engulfed the city for months. This book is for everyone who wants to understand what has happened and is happening in Hong Kong and grasp the protesters' tactics and how their movement fits into the city's history of dissent.
Listen to more on this book in the Intelligence Squared podcast here. Anthony is on Twitter here @antd.
Get: City on Fire: the fight for Hong Kong
#21 ● The Myth of Chinese Capitalism: The Worker, the Factory, and the Future of the World
By Dexter Roberts, St Martin's Press 2020
There are many complicated stories behind all the headlines on China's economic success and its rise on the world stage. This book by award-winning journalist Dexter Robers sheds critical light on the serious problems that China and its people face today; (reverse) migration, an aging society, income inequality, an unfair hukou system, and rising social unrest. Roberts tells the stories of the people behind these huge issues, focusing on the small village of Binghuacun in Guizhou and on Dongguan town in Guangdong.
Roberts and his work recently came on the Sinica podcast, listen here. Dexter Roberts is on Twitter here @dtiffroberts.
Get the book: The Myth of Chinese Capitalism: The Worker, the Factory, and the Future of the World
★ Also available as audiobook (iTunes) here / or via Audible here
#22 ● The Chile Pepper in China: A Cultural Biography
By Brian Dott, Columbia University Press 2020
The Chile Pepper in China is just too hot to exclude from this list. In this book, Brian Dott, associate professor of history at Whitman College, explores the evolution of the chile pepper from an obscure foreign import to a ubiquitous plant regarded by most Chinese as native to the land. In doing so, we learn many new things. Such as that there were no chiles anywhere in China prior to the 1570s – which is surprising when you know how firmly chile is ingrained in China's national and local gastronomic traditions. The chile serves as a lens through with Dott explains more about Chinese history and the changing components of Chinese culture.
Brian Dott and his recent work were previously featured on the Sinica podcast here.
Get: The Chile Pepper in China: A Cultural Biography (Arts and Traditions of the Table: Perspectives on Culinary History)
#23 ● Beijing from Below: Stories of Marginal Lives in the Capital's Center
By Harriet Evans, Duke University Press 2020
Anyone who has been to Beijing pre-Olympics and after will understand the major transformation some parts of the city have undergone during and since that time. This book by Harriet Evans, Emeritus Professor of Chinese Cultural Studies at the University of Westminster, focuses on the disadvantaged residents of 'Dashalar', a small popular neighborhood just steps away from Tiananmen. It is the result of years-long research between 2007-2014 and conversations with its old residents, and captures how the rapid pace of Beijing's transformation is affecting local families and individuals.
Listen to Harriet Evans speak about her work and Beijing in this podcast by New Books in Anthropology.
Get this book: Beijing from Below: Stories of Marginal Lives in the Capital's Center
#24 ● China's New Red Guards: The Return of Radicalism and the Rebirth of Mao Zedong
By Jude Blanchette, Oxford University Press 2019
China's neo-Maoists are those who place their belief in that the philosophy and strategies of Mao Zedong can help China navigate the 21st century. In this book, Blanchette zooms in on neo-Maoism as a political movement born out of discontent with China's current-day political and economic route. Besides shedding light on China's political system and how the political agenda has shifted since Mao's death, China's New Red Guards explores key questions of who speaks for 'authentic socialism' and Marxism, "and who the true political inheritors of Mao's legacy are."
Kaiser Kuo sat down with Jude Blanchette for the Sinica podcast here.
Get: China's New Red Guards: The Return of Radicalism and the Rebirth of Mao Zedong
# 25 ● Big Sister, Little Sister, Red Sister: Three Women at the Heart of Twentieth-Century China
By Jung Chang, Vintage Digital 2019
Jung Chang is most famous for her work Wild Swans, a classic book that virtually anyone who is interested in China will probably have in their book collection. Although Jung Chang previously drew criticism over Mao: The Untold Story, with people questioning the factual accuracy, this new book needs to be here due to its fascinating topic of three sisters who part of a defining moment in China's modern history as sisters, wives, and mothers. The Song sisters, born between 1888 and 1898, were all powerful and influential women, with each choosing their own unique path. Ailing became a successful businesswoman in cooperation with her husband (a director of the Bank of China), Qingling married Sun Yat-sen, and Meiling married Chiang Kai-shek. In Big Sister, Little Sister, Red Sister, Jung Chang goes beyond the popular generalizations about the Song sisters ("one loves power, one loves money, one loves the people"), and tells their stories in an absorbing way and highlights the tensions between them. Fun fact: Jung Chang initially planned to write a book about Sun Yat-sen but then decided his wife and her sisters were far more interesting.
For more on Jung Chang's latest work, check out this episode of the Spectator Books podcast.
Get: Big Sister, Little Sister, Red Sister: Three Women at the Heart of Twentieth-Century China

★ Also available as audiobook (iTunes) here / or via Audible here
CHINA TECH & DIGITAL
#26 ● Attention Factory: The Story of TikTok and China's ByteDance
By Matthew Brennan, 2020
China's 'old' tech giants Baidu, Alibaba en Tencent are often at the center of books that focus on China's flourishing tech scene, but it is high time that the newer giants get the attention they deserve. Brennan's book focuses on Bytedance, the company behind super-popular apps such as TikTok, Toutiao, and Xigua. He tells the story of the company's rise to international fame, with TikTok becoming the most downloaded app in the world in 2020. Brennan explains both the 'back end' and the 'front end' – shining a light on TikTok's algorithms, business growth stages, telling the story of Bytedance founder Zhang Yiming and the early years of the company. In doing so, Brennan clearly illustrates the road that has led to TikTok's emergence as a global hit.
Listen to the FYI Podcast with Brennan here. Follow Matthew Brennan on Twitter here @mbrennanchina.
Get the book here: Attention Factory: The Story of TikTok and China's ByteDance
(Also available on BookDepository)
#27 ● Blockchain Chicken Farm: And Other Stories of Tech in China's Countryside
By Xiaowei Wang, Farrar, Straus and Giroux 2020
China's rapid technological developments are impacting virtually every corner of society. While mainstream media generally solely focus on how China's urban people and environments are influenced by high-tech innovation, Blockchain Chicken Farm puts a spotlight on how the lives of China's rural and poor are changed by technology. In this book, technologist and writer Xiaowei Wang challenges metronormativity and shows that China's countryside is not just adapting to the rapid technological developments – it is fuelling the technology that's used every day. From AI farming systems to e-commerce villages and blockchain food projects, Wang provides new insights into China's tech world, its urban-rural dynamics, and globalization.
Xiaowei Wang talks about their book in a recent episode of the ChinaTalk podcast with Jordan Schneider. Wang is also on Twitter @xrw.
Get: Blockchain Chicken Farm: And Other Stories of Tech in China's Countryside (FSG Originals x Logic)
#28 ● Censored: Distraction and Diversion Inside China's Great Firewall
By Margaret E. Roberts, Princeton University Press 2020 (2018)
We can't talk about China's internet or digital environment at large without discussing its censorship apparatus. This work by Roberts zooms in on the dynamics of censorship in the Chinese digital environment and shows that China's online censorship is not as black and white of an issue as it is sometimes made out to be. Censorship in China is 'porous', it is often circumventable, it includes some things and leaves out others. Roberts argues that there is a clear strategy behind this specific kind of censorship and how it differently affects different segments of the population.
Roberts talked about her work on the Sinica Podcast, listen here. Margaret Robers is also on Twitter @mollyeroberts.
Get the book: Censored: Distraction and Diversion Inside China's Great Firewall
#29 ● The Great Firewall of China: How to Build and Control an Alternative Version of the Internet
By James Griffith, Zed Books 2019
This book by Griffith, reporter and producer for CNN International, is a great introduction to the background and history of the 'Great Firewall of China' and China's online environment in general. Jumping from pro-democracy protests in Hong Kong and at Tiananmen to discussing Falun Gong and online Uyghur voices, Griffith narrates the story of China's censorship machine in a compelling way.
Check The Wire China for more on this work, or check out ABC with Marc Fenell here. James is on Twitter here @jgriffiths.
Get the book: The Great Firewall of China: How to Build and Control an Alternative Version of the Internet
#30 ● Tech Titans of China: How China's Tech Sector is Challenging the World by Innovating Faster, Working Harder, and Going Global
By Rebecca Fannin, Nicholas Brealey Publishing 2019
It is always a bit hard to recommend books on the ongoing tech developments in China, since they tend to be outdated from the moment they are published. Still, this book by Rebecca Fannin (who previously wrote Silicon Dragon) is an informative starting point for those who need an introduction to China's tech environment, its main players, and most important startups. It explains how and why Chinese tech players and products have become more innovative than their American counterparts, and how they quickly invest and commercialize.
The Inside Asia podcast previously featured Fannin and her book in this episode. Rebecca Fannin is also on Twitter @rfannin.
Get the book here: Tech Titans of China: How China's Tech Sector is challenging the world by innovating faster, working harder, and going global
#31 ● AI Superpowers: China, Silicon Valley, and the New World Order
By Kai-Fu Lee, Houghton Mifflin Harcourt 2018
This best-selling book by computer scientist and businessman Kai-Fu Lee is often highly recommended within China's tech book category because it gives a clear overview of the country's artificial intelligence industry and how China's status-quo as AI superpower and ongoing 'AI fever' will have dramatic implications for global economics and governance. Informative and engaging, this book provides valuable insights into China and AI in general, and the challenges that lie ahead.
Listen to Kai-fu Lee talk about his book on the Lex Fridman podcast here. Kai-Fu Lee is also on Twitter @kaifulee.
Get the book: AI Superpowers: China, Silicon Valley, and the New World Order

★ Also available as audiobook (iTunes) here / or via Audible here
#32 ● China, Africa, and the Future of the Internet
By Iginio Gagliardone, Zed Books 2020
Chinese presence in Africa is an important focus topic that definitely needs to be included on this list, and Gagliardone's book provides an original and relevant perspective. It examines the extent to which China is influencing information societies in Africa, where the Internet, in various ways, is still taking shape. Gagliardone explores the existing assumption that China is influencing other media systems and is actively promoting its own model of a controlled Internet environment outside of the PRC. Gagliardone makes it clear that African states are not passive recipients of Chinese influence and highlights the complex dynamics of Chinese-African relations and the Internet.
Check out this episode of the China in Africa podcast featuring this author on this latest book. Iginio Gagliardone is also on Twitter @iginioe.
Get the book: China, Africa, and the Future of the Internet
IN CHINA STUDIES
#33 ● The Chinese Communist Party in Action: Consolidating Party Rule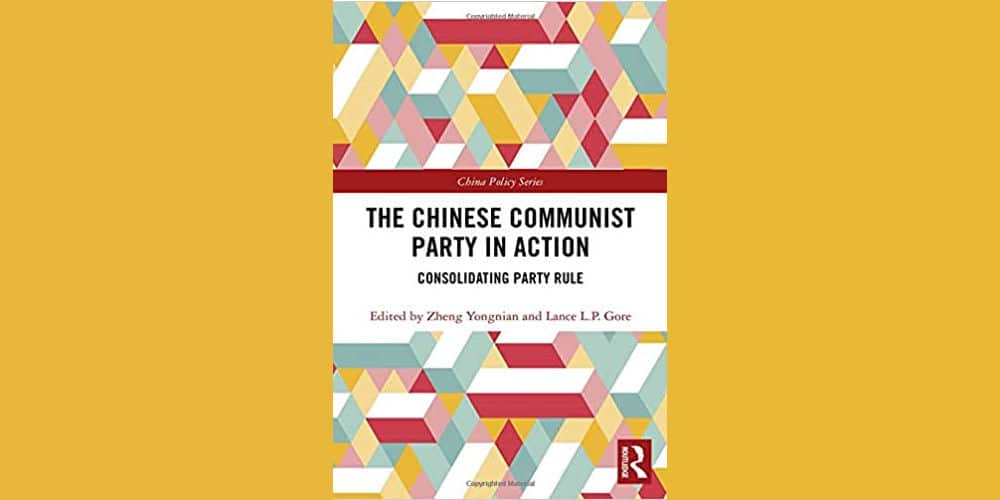 By Zheng Yongnian and Lance L.P. Gore (eds), Routledge 2020
There is a lot of talk about China's 'One Party system' and the Communist Party, with many being unaware of the systems and dynamics behind the CCP. This edited volume explores the role of the Chinese Communist Party as an institution in China today; its strategies, its campaigns, transformations, the interaction between party members, and its policymaking. These thirteen chapters are written by different scholars from various parts of the world.
Get this book: The Chinese Communist Party in Action: Consolidating Party Rule (China Policy Series)
#34 ● Afterlives of Chinese Communism: Political Concepts from Mao to Xi
Christian Sorace, Ivan Francescini, Nicholas Loubere (eds), Verso Book 2019
What is the legacy of the Mao era? There is no straightforward answer to this question. This edited volume is a collection of essays discussing the history and contemporary relevance of key concepts from the Mao era. It focuses on the political thoughts and discourse in China from 1949-1976 and revisits the complicated and contested legacies of Chinese communism, with each author in this work writing about this topic from their own critical perspective.
Get: Afterlives of Chinese Communism: Political Concepts from Mao to Xi
#35 ● Anxious China – Inner Revolution and Politics of Psychotherapy
By Li Zhang, University of California Press 2020
We first learned about this book via the New Books in East Asian Studies podcast and wanted to include it here due to its original and relevant research on how Chinese middle-class urbanites are more and more turning to Western-style counseling to deal with psychological distress in a rapidly changing China. Li Zhang is a Professor of Anthropology at the University of California at Davis. She argues that China's profound economic reforms have not just generated transformations in China's society and urban landscape, but have also generated changes the inner landscape of people in China. Li speaks of 'a new kind of revolution' unfolding in postsocialist China, which she terms "the inner revolution." This book provides valuable insights into the field of psychology in China today and contextualizes the emergence of a new language entering China – allowing people to talk about their emotional distress despite the existing stigmas on mental health.
Listen to the New Books Network here.
Get this book: Anxious China: Inner Revolution and Politics of Psychotherapy
#36 ● China and the World
By David Shambaugh (ed), Oxford University Press 2020
This well-organized volume edited by Professor David Shambaugh consists of sixteen chapters by renowned China scholars from various countries with different academic specialties to describe China's developments to date, focusing on its foreign relations and role on the world stage today. Some examples: renowned Norwegian historian Odd Arne Westad provides an insightful chapter of how China's past matters to its present-day foreign affairs (chapter 2); founding director of the Manchester China Institute Peter Gries ties Chinese foreign policy to nationalism and social influences in chapter 4; Robert Sutter, one of America's most respected scholars of Chinese foreign policy, writes about Sino-US relations in chapter 10.
Get this book: China and the World
#37 ● Securing China's Northwest Frontier: Identity and Insecurity in Xinjiang
By David Tobin, Cambridge University Press 2020
Analysis of Chinese nationalism is often focused on the construction of the West and Japan as threats, but in this work, Tobin argues that the position of 'domestic strangers' is crucial to understanding nationalism in present-day China. Tobin analyzes how nation-building in China's western Xinjiang region had shaped and is shaping insecurity and ethnic boundaries between Han and Uyghur populations.
While we're here, we'd like to sneak another recommendation, namely Land of Strangers: The Civilizing Project in Qing Central Asia by Eric Schluessel, social historian of China and Central Asia (Twitter @EricTSchluessel). Land of Strangers explores the 'civilizing mission' in Xinjiang undertaken in the last decades of the Qing to transform Xinjiang's Turkic-speaking Muslims into Chinese-speaking Confucian.
Listen to the New Books Network podcast with Tobin here. David Tobin is on Twitter @ReasonablyRagin.
Get the book: Securing China's Northwest Frontier: Identity and Insecurity in Xinjiang
And also: Land of Strangers: The Civilizing Project in Qing Central Asia
#38 ● Staging China: The Politics of Mass Spectacle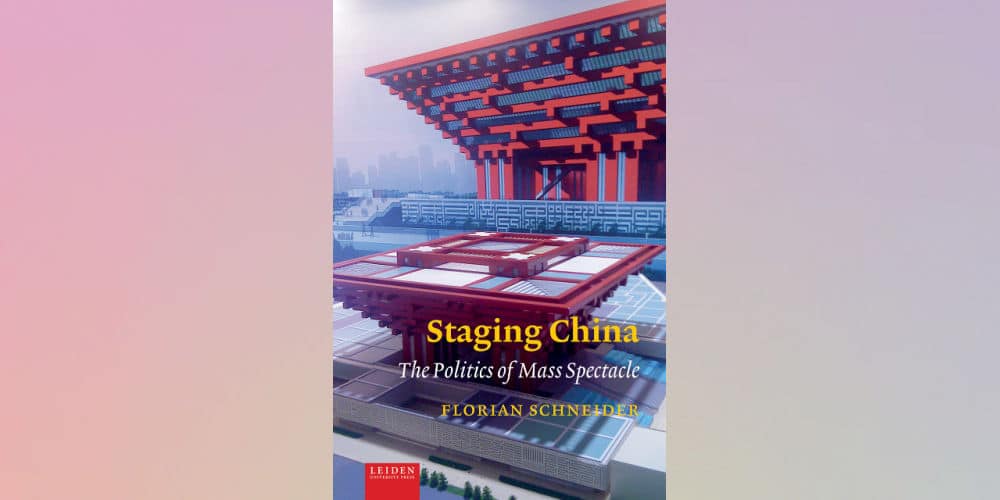 By Florian Schneider, Leiden University Press 2019
Florian Schneider, social scientist and China-scholar at the Leiden University Institute of Area Studies and director of the Leiden Asian Center, previously published Visual Political Communication in Popular Chinese Television Series and China's Digital Nationalism. This book deals with large-scale staged events in mainland China and dives deeper into the discourse of power and media politics behind them. The Shanghai Expo, the Beijing Olympics opening ceremony and the PRC anniversary parade are among the high-profile spectacles analyzed by Schneider as vehicles through which China's leadership communicates its ideologies to the people. This work is interesting for anyone in China studies interested in media, propaganda, and politics, but also for those outside of China studies who would like to get a better understanding of visual political communication and discourse analysis.
Florian Schneider is on Twitter @schneiderfa77.
Get this book: Staging China: The Politics of Mass Spectacle
#39 ● The Other Digital China: Nonconfrontational Activism on the Social Web
By Jing Wang, Harvard University Press 2019
In present-day China, there is a large group of social media users and agents who are finding ways to express discontent online without directly confronting state authority. Jing Wang, a scholar at MIT and an activist in China, argues that there are many ways in which online activism is taking place in China's social media environment – yet there is often a onedimensional of Chinese activism and social media users as if they're either 'brainwashed' or 'dissidents.' In this work, Jing shows the multidimensionality of activism on the Chinese internet and tracks its transformations.
Get via Amazon: The Other Digital China: Nonconfrontational Activism on the Social Web
CHINESE FICTION
#40 ● A Hero Born: The Definitive Edition (Legends of the Condor Heroes 1)
By Jin Yong, translated by Anna Holmwood,
Hong Kong martial arts novelist Louis Cha 'Jin Yong' (1924-2018) is probably the world's most popular Chinese writer. His success is often compared to that of writers such as JRR Tolkien. His wuxia novels gave rise to their own entertainment industry, generating movies, TV adaptations, video games, and graphic novels. A Hero Born is the first book of Jin's 12-volume epic Legends of the Condor Heroes, originally published in the late 1950s. Blending history and fantasy, the story is set in 13th-century China and follows the trials and tribulations of its hero, Guo Jing, from birth to adolescence.
Now – after just two of Jin Yong's works were previously released in English translation – the entire Legends of the Condor Heroes series is being translated and published by MacLehose Press. A Hero Born is the first to have come out.
Get the book: A Hero Born: The Definitive Edition (Legends of the Condor Heroes, 1)

★ Also available as audiobook (iTunes) here / or via Audible here
#41 ● Stories of the Sahara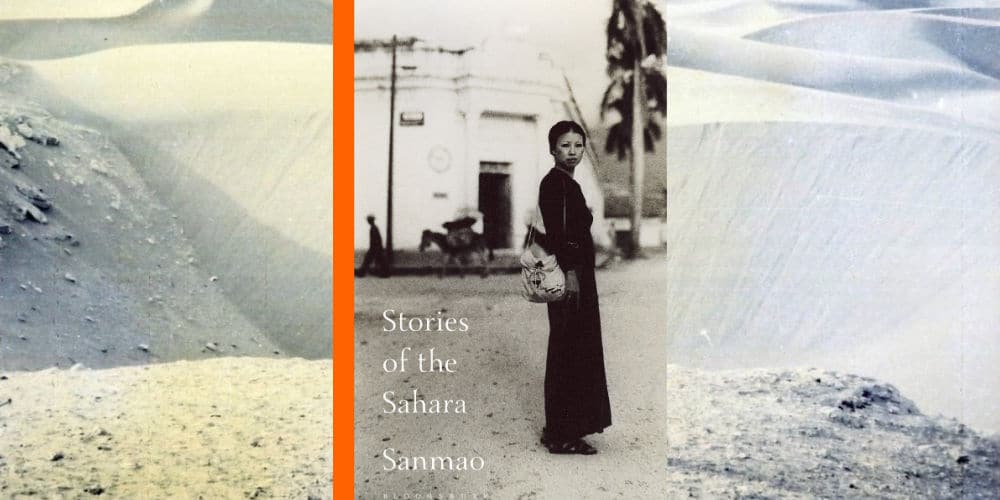 By Sanmao, translated by Mike Fu, 2020
The iconic author 'Sanmao' (real name Chen Maoping 陈懋平) was born in Chongqing, moved to Taiwan, studied in Spain, and settled in the Sahara. Decades after her death, Sanmao still has major appeal to social media users, who still post her quotes, photos, and audio segments on a daily basis. Although San Mao published her first book at the of 19, she did not really gain fame until the release of The Stories of the Sahara (撒哈拉的故事) in 1976, which became her most famous work. The book revolves around San Mao's personal experiences in the Sahara desert together with her Spanish husband Jose Maria Quero Y Ruiz, whom San Mao lovingly called 'He Xi' (荷西) and with whom she spent six years in the desert.
Despite Sanmao's celebrity status in China, none of her works had appeared in English translation. Until early 2020, when The Stories of the Sahara finally came out in English. The book consists of various essays, jumping back and forth over Sanmao's time in the desert. Read more about Sanmao in our feature article here.
Get the book: Stories of the Sahara
#42 ● To Hold Up The Sky (Short Stories)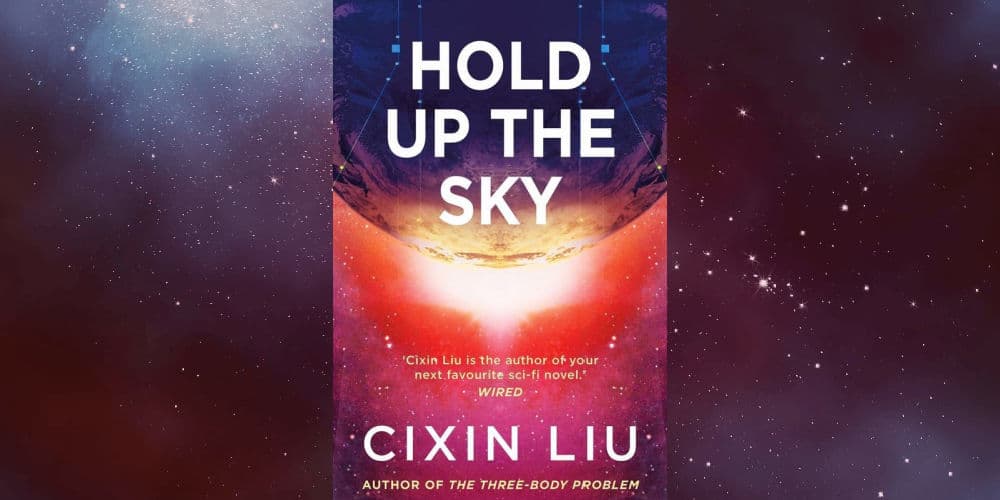 By Liu Cixin, 2020
This is a collection of over ten short stories by Liu Cixin, the same author as The Wandering Earth and The Three-Body Problem – the award-winning science fiction work that became a worldwide sensation and was called a "milestone in Chinese science-fiction" by The New York Times. Over the past few years, Liu has gained international fame for introducing "Chinese science fiction" to the world.
"What makes Chinese science fiction Chinese?", Liu writes in his foreword: "For my part, I have never consciously or deliberately tried to make my sci-fi more Chinese. The stories in this anthology touch on a variety of sci-fi themes, but they all have something in common: They are about things that concern all of humanity, and the challenges and crises they depict are all things humanity faces together."
Get the book: To Hold Up the Sky

★ Also available as audiobook (iTunes) here / or via Audible here
#43 ● Braised Pork
An Yu was born and raised in Beijing, and she left at the age of 18 to study at New York University. Braised Pork is her first novel, which revolves around Jia Jia who finds her husband drowned in their bathroom tub. The young window then sets out on a journey of self-discovery that takes her from whiskey bars to the high plains of Tibet. Along the way, she crosses paths with people experiencing losses of their own, including someone who may be able to offer her the love she had long thought impossible.
Braised Pork is an original debut, which Time called an "engrossing portrait of isolation."
Get the book: Braised Pork: A Novel

★ Also available as audiobook (iTunes) here / or via Audible here
#44 ● Broken Wings
By Jia Pingwa, translated by Nicky Harman, 2019
Jia Pingwa is one of the most prominent names in contemporary Chinese literature. In Broken Wings, he focuses on rural China and the problem of human trafficking – China has one of the highest rates of human trafficking in the world. The novel centers on Butterfly, a young woman abducted and sold into a "marriage" in a mountainous village. The story follows her struggle to keep herself together while being imprisoned and abused.
Get: Broken Wings by Jia Pingwa
#45 ● Strange Beasts of China
By Yan Ge, translated by Jeremy Tiang, Tilted Axis Press 2020
In a fictional industrial Chinese town called Yong'an, an amateur cryptozoologist goes in search of marvelous spirits and monsters, some strongly resembling humans. Each chapter of Yan Ge's novel introduces a new creature. While documenting the stories of the beasts of Yong'an, the cryptozoologist discovers more about herself.
Get: Strange Beasts of China
#46 ● China Dream
By Ma Jian, translated by Flora Drew, 2018
Exiled author Ma Jian has written great works, including Red Dust, Stick Out Your Tongue, and Beijing Coma. His latest satirical work China Dream is about a corrupt senior official in a provincial Chinese city who struggles with his memories of the Cultural Revolution.
Get: China Dream
#47 ● Broken Stars: Contemporary Chinese Science Fiction in Translation
By Ken Liu (ed), Tor Books 2019
This volume contains sixteen short stories with a wide variety of styles from China's groundbreaking science fiction writers, edited and translated by award-winning author Ken Liu.
Buy here: Broken Stars: Contemporary Chinese Science Fiction in Translation
FOR THE KIDS
#48 ● Gobi: A Little Dog with a Big Heart
by Dion Leonard, illustrations by Liza Manuzak, 2017
In 2016, What's on Weibo covered the story of the Australian runner Dion Leonard who found a best friend in a stray dog who joined him on his 155-mile marathon across China; the dog even stayed with the runner at night and never left his side. Determined to bring his loyal friend back home with him to the UK (Leonard is based in Edinburgh), Gobi started his lengthy quarantine process when the heartwarming story took a new turn for the worse: the little dog suddenly went missing in Urumqi. What followed was an intense search that was covered by all international media, and with dozes of Chinese volunteers ready to help and find this little dog in a city of 3,5 million people.
In Finding Gobi, Leonard tells the incredible story of this mission impossible that eventually had a happy ending that had everyone cheering. The book Finding Gobi – The True Story of a Little Dog and an Incredible Journey was published in 2017, and now there is also a children's version and a picture board book for the littlest ones which makes a nice gift for kids who can read and then the youngest kids. (Tip for those studying Chinese! Finding Gobi was also translated into Chinese and came out in 2018. This book, 寻找 Gobi, is a fun read and suitable for upper-intermediate and advanced learners of Chinese.)
Get the book: Gobi: A Little Dog with a Big Heart (picture book)

Young Reader's Edition (2017): Finding Gobi: Young Reader's Edition: The True Story of One Little Dog's Big Journey

Get the original edition (2017): Finding Gobi: A Little Dog with a Very Big Heart
#49 ● Doctor Li and the Crown-Wearing Virus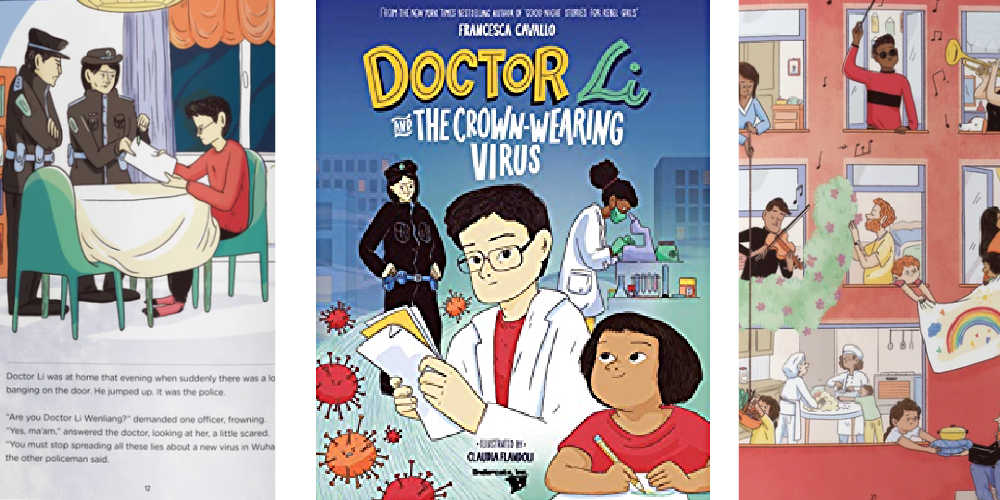 By Francesca Cavallo, Undercats 2020
This children's book was created to combat the rising Anti-Asian sentiment at the start of the pandemic. Writer Francesco Cavallo wanted to let kids around the world know that the first hero of the pandemic was a Chinese doctor named Doctor Li Wenliang who first raised the alarm that a novel coronavirus was spreading in Wuhan. This beautifully illustrated book is about a smart 7-year-old, May, who learns about Doctor Li's courage and, inspired by his example, takes action in her community to cultivate hope, resilience and positivity through a difficult time.
Get: Doctor Li and the Crown-wearing Virus
#50 ● My Beijing: Four Stories of Everyday Wonder
Story and illustration by Nie Jun, translation by Edward Gauvin, 2018
This is a graphic novel, a manga-style illustrated storybook, that follows little Beijing girl Yu'er and her grandpa. They live in a Beijing hutong neighborhood full of big personalities. There's a story around every corner, and each day has a hint of magic. The book has some beautiful sketches that anyone who loves Beijing will appreciate – more than a comic book, this is a piece of art. Although the book is suitable for kids (age 7 and older), adults with a love for Beijing and its charming old neighborhoods will definitely also love this cute book.
Get it here: My Beijing: Four Stories of Everyday Wonder
There's so much reading to do! Where to start?
There are many books in the list above focusing on many different topics, so it all depends on the areas you want to explore the most.
We'll share some of our personal favorites.
They include Rana Mitter's Good War and Helen Zia's Last Boat out of Shanghai in the history section; Wang's Blockchain Chicken Farm and Brennan's Attention Factory in the tech category; Strangio's In the Dragon's Shadow and Roberts' The Myth of Chinese Capitalism in the popular/focus sections, and lastly, Schneider's Staging China and Wang's The Other Digital China in the China Studies section.

EXTRA MENTIONS

We can't fit them all in one list but we'd also really like to point out the following new books since they're worth it!
● Inconvenient Memories – A Personal Account of the Tiananmen Square Incident and the China Before and After by Anna Wang, Purple Pegasus Inc 2019
● Hidden Hand: Exposing How the Chinese Communist Party is Reshaping the World
, by Clive Hamilton and Mareike Ohlberg, Oneworld Publications 2020
● Mao's Third Front: The Militarization of Cold War China by Covell F. Meyskens, Cambridge University Press 2020
● China's Revolutions in the Modern World: A Brief Interpretive History
by Rebecca E. Karl, Verso 2020
● Champions Day: The End of Old Shanghai, by James Carter, WW Norton & Co 2020
● The Book of Shanghai: A City in Short Fiction, Jin Li & Dai Congrong (eds), Comma Press 2020
● An American Bum in China: Featuring the Bumblingly Brilliant Escapades of Expatriate Matthew Evans
, by Tom Carter, illustrations John Dobson, Camphor Press 2019
And lastly, we did not include travel books here, but for those planning to travel to China and looking for the right travel book:
● Travel to China: Everything You Need to Know Before You Go, by Josh Summers, edited by Leeanne Hendrick, Go West Media 2019
Happy reading!
By Manya Koetse
Follow @WhatsOnWeibo
Enjoy this article and like to help keep What's on Weibo going? Please consider donating to the site.
This is not a sponsored post. When you purchase an independently reviewed book through our site, we earn a very small affiliate commission at zero extra cost to you – it helps us in maintaining this site. Spotted a mistake or want to add something? Please let us know in comments below or email us. First-time commenters, please be patient – we will have to manually approve your comment before it appears.
©2020 Whatsonweibo. All rights reserved. Do not reproduce our content without permission – you can contact us at info@whatsonweibo.com.
Full Translation of Peng Shuai's Weibo Post and Timeline of Events
Over the past seven weeks, the whereabouts and safety of Chinese tennis star Peng Shuai have been a matter of constant concern in international (social) media. Here is a timeline of events and a full translation of the Weibo post by Peng Shuai – where it all began.
On the night of November 2nd of 2021, a Weibo post by the 35-year-old Chinese tennis player Peng Shuai (彭帅) sent shockwaves across social media. In her lengthy post, the three-time Olympian describes details surrounding an alleged affair she had with the 75-year-old Zhang Gaoli (张高丽), who served as China's senior Vice-Premier (2013-2018) and was also a member of China's highest ruling council, the Politburo Standing Committee (2012-2017).
Here, we will give you a short timeline of the things that unfolded from the moment Peng Shuai's story was published on Weibo, as well as providing the full text of her post and a translation.
Timeline of Events
November 2nd, 2021
On the night of November 2nd of 2021, 35-year-old tennis player Peng Shuai posts her story on her Weibo account, where she has over 590,000 followers. The post comes online at 22:07 and is sent through a mobile phone.
Although Peng's post was only online for about twenty minutes before it was deleted, its impact was irreversible. Peng Shuai's Weibo account remained online, but the name 'Peng Shuai' started to be censored on Weibo and other Chinese social media platforms, where online discussions about the tennis player and Zhang Gaoli were soon silenced. Peng Shuai's post and the ensuing silence triggered a wave of global concern about her wellbeing and whereabouts.

November 3, 2021
Peng Shuai's story makes headlines in the international media, with many Western media outlets describing the issue as a "#MeToo allegation." within the context of the global #MeToo movement, suggesting Peng's post was a "MeToo post." The tennis star did not mention '#Metoo' in her own writings.

November 16, 2021
Japanese tennis player Naomi Osaka attracts more international attention for Peng's whereabouts when she posts the #WhereisPengShuai hashtag on Twitter. Two days later, tennis star Serena Williams also writes on Twitter: "I am devastated and shocked to hear about the news of my peer, Peng Shuai. I hope she is safe and found as soon as possible. This must be investigated and we must not stay silent."

November 17, 2021
While the issue is still completely silenced in Chinese (social) media, the English-language state media outlet CGTN addresses the commotion on Twitter on November 17, when they share a screenshot of an email allegedly sent by Peng to WTA Chairman Steve Simon, saying she was not actually missing and not unsafe.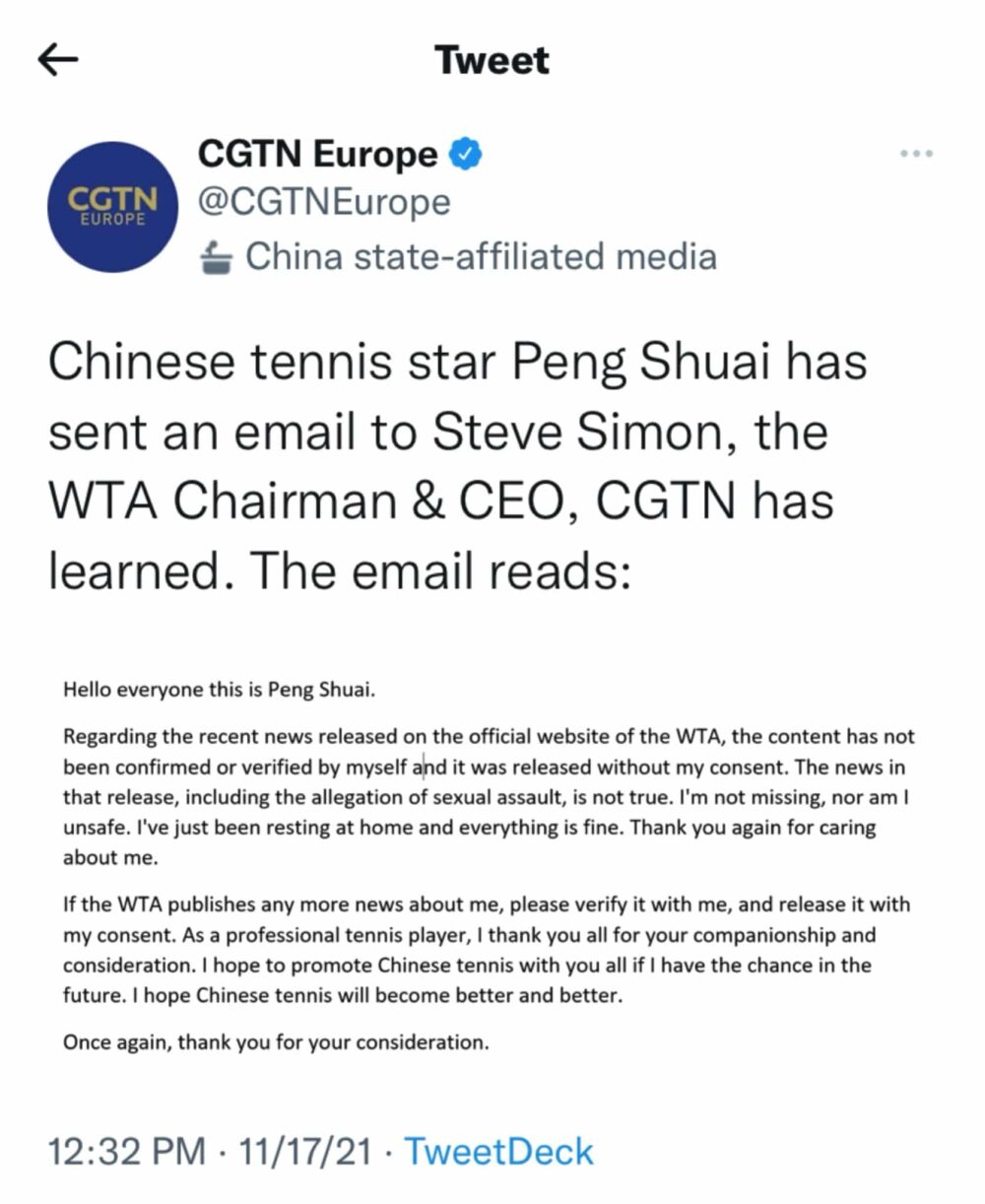 November 19, 2021
While many people still raised their concerns on Twitter – and a White House spokesperson even said the Biden administration was 'deeply concerned' about the reports alleging that Peng Shuai had gone missing – photos of Peng Shuai in her home showed up on November 19th, posted on Twitter by Chinese journalist Shen Shiwei (沈诗伟) claiming the tennis star posted them on her WeChat moments herself.

November 20, 2021
One day later, a video was also shared on Twitter by the same Shen, showing Peng enjoying dinner with friends and having conversations in which it was clearly indicated that the date was November 20, 2021.

November 21, 2021
During that very same weekend of November 20-21, Peng also reappeared in public when she attended the Junior Tennis Finals in Beijing. This was also the very first time in 19 days that she 'reappeared' in mainland China's online media spheres, where photos of her attendance at the games were also shared online.
On that same day, it was announced by the Olympics governing body that International Olympic Committee president Thomas Bach held a 30-minute long video phone call with Peng Shuai. Chinese sports official Li Lingwei and the Chair of the Athletes' Commission, Emma Terho, reportedly were also on the call, during which Peng explained that she was safe and well at her home in Beijing, but would like to have her privacy respected.

November 22, 2021
A Weibo post published by the French embassy in Beijing marks the first time for Peng Shuai's case to be addressed on Chinese social media.
In their post, the French embassy expresses concerns about the lack of information surrounding Peng Shuai, and reiterates its belief in promoting freedom of expression, equality between men and women, and combating sexual and gender-based violence. The post receives many replies, but its comment section is heavily censored.

December 1st, 2021
The WTA (Women's Tennis Association) announces the suspension of all tournaments in China amid concerns about the safety of Peng Shuai.
In a statement by Steve Simon, WTA Chairman & CEO, the immediate suspension of all WTA tournaments in China, including Hong Kong, was said to also be related to concerns about risks that all players and staff could face if the WTA were to hold events in China in 2022.
Due to the Covid19 situation, there were no WTA events scheduled for China in the near future.

December 7, 2021
The US announces a "diplomatic boycott" of the 2022 Winter Olympics in China. American athletes will still compete at the Winter Games. Although this boycott was not necessarily directed linked to Peng Shuai, many media outlets did connect it to concerns over the tennis player.

December 19, 2021
In an interview with Singapore-based media outlet Lianhe Zaobao (联合早报), Peng Shuai claims she did not accuse Zhang Gaoli of sexually assaulting her.
A video issued by Lianhe Zaobao shows a reporter asking Peng questions during a skiing competition event in Shanghai, where Peng could be seen talking to Chinese basketball player Yao Ming. When the reporter asks Peng if she is free, she answers that she has always been free and is not being monitored.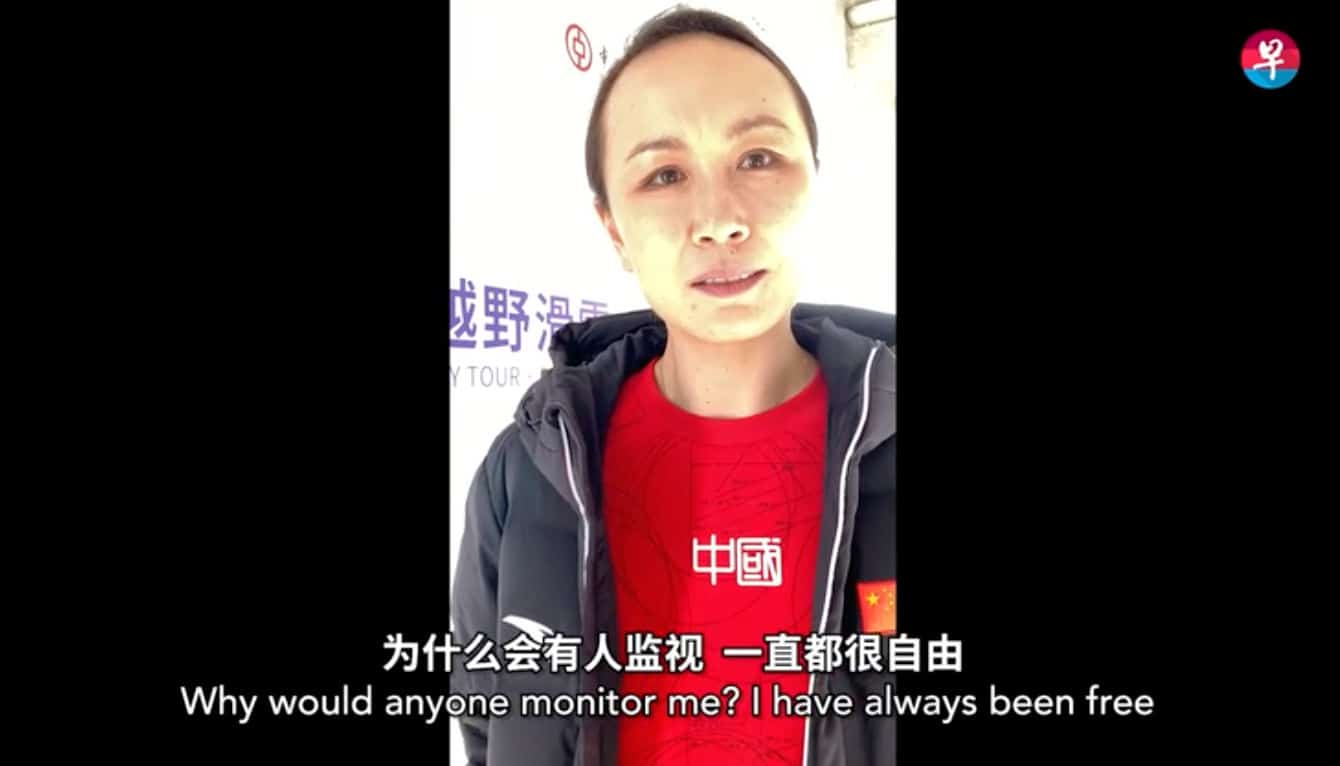 When the reporter addresses the allegations of sexual assault, Peng says:
"First and foremost, I must emphasize. I have never said or written about anyone sexually assaulting me. That's a very important point. On the Weibo post, that's my personal issue."
Peng also confirms that the English email that was screenshotted and published by CGTN on November 17 was written by her in the Chinese version, but that it was translated into English for her since her English language skills aren't good enough to write such an email herself.
Full Text Translation of Peng Shuai's Weibo Post
In a previous post, What's on Weibo gave a partial translation of Peng's Weibo post. Here, we will provide a full translation. Please note that this is a translation provided by What's on Weibo and not an official translation issued by any other party.
我知道说不清楚,说了也没有用。但还是想说出来。我是多么的虚伪不堪,我承认我不是一个好女孩,很坏很坏的女孩。大概三年前张高丽副总理你退休了,找天津网球中心的刘大夫再联系到我,约我打球,在北京的康铭大厦。上午打完球,你和妻子康洁一起带我去了你们家。然后把我带进你家的房间,和十多年前在天津时一样,要和我发生性关系。
"I know I can't say it clearly and that it's useless to say. But I want to say it anyway. I'm such a hypocrite. I'll admit I'm not a good girl, I'm a bad bad girl. About three years ago, Vice Premier Zhang Gaoli, you had retired and asked Dr. Liu from the Tianjin Tennis Center to contact me again to play tennis at the Kang Ming Hotel in Beijing. After we finished playing in the afternoon, you and your wife Kang Jie took me with you to your home. You then took me to your room, and like what happened in Tianjin over ten years ago, you wanted to have sex with me."
那天下午我很怕,根本没想到会是这样,一个人在外帮守着,因为谁都不可能相信老婆会愿意。七年前我们发生过一次性关系,然后你升常委去北京就再没联系过我。原本埋藏了一切在心里,既然你根本不打算负责,为何还要回来找我,带我去你家逼我和你发生关系?是我没有证据,也根本不可能留下证据。后来你一直否认,可确是你先喜欢的我,否则我也不可能接触的到你。
"I was very scared that afternoon, I had not expected things to go this way, someone was guarding outside, because nobody would believe that a wife would allow this. Seven year earlier we had sexual relations once, and then you – promoted as a member of the Standing Committee – went to Beijing and never contacted me again. I had buried it all inside me, and since you were not planning on taking responsibility at all, why did you come and look for me again, take me to your house, and force me [逼 = force, press for] into sex? I have no proof, and it would be impossible for me to keep any evidence. You denied everything afterward, but it is true that you liked me first, or otherwise, I wouldn't have had a way to come into contact with you."
那天下午我原本没有同意一直哭,晚饭是和你还有康洁阿姨一起吃的,你说宇宙很大很大,地球就是宇宙的一粒沙,我们人类连一粒沙都没有,还说了很多很多,就是让我放下思想包袱。晚饭后我也并不愿意,你说恨我!又说你这七年从未忘记过我,会对我好等等……我又怕又慌带着七年前对你的情感同意了……是的就是我们发生性关系了。
"That afternoon I originally did not agree and cried the whole time, and I still had dinner with you and auntie Kang Jie together. You said the universe is so big, that the earth is just a grain of sand in the universe, and that we as mankind are not even a grain of sand, and you said a lot more to alleviate the load on my mind. After dinner I still did not want to, and you said you hated me! You also said that in these seven years, you never forgot me and that you would be good for me etc etc. I was afraid and panicked and carrying the emotions of seven year ago, I agreed…yes, we had sex."
感情这东西很复杂,说不清,从那日后我再次打开了对你的爱,后来与你相处的日子里,单从你人相处你是一个很好很好的人,对我也挺好,我们从近代历史聊到远古时代,你同我讲万物的知识再谈到经济哲学,聊不完的话题。一起下棋,唱歌,打乒乓球,桌球,包括网球我们永远可以打得不亦乐乎,性格是那么的合得来好像一切都很搭。
"The feelings between two people can be very complicated, I can't clearly explain, [but] after that day I again began to open up to your love. In the days I interacted with you afterward, purely from how we got along, you were a very good person and also treated me well. We would talk about anything from modern history to ancient times, you spoke to me about so much knowledge and talked about economic philosophy, [we had] endless talks about topics. We played chess together, sang songs, played ping pong, billiards, and, including tennis, we could always have a good time. Our personalities got along well together, it looked like we were a great match."
自小离家早,内心极度缺爱,面对发生这一切,我从不认为我一个好女孩,我恨我自己,恨我为什么要来到这个世界,经历这一劫。你同我说你爱我,很爱很爱,来生希望在你二十岁我十八岁时我们就遇见。你说你很孤独,一个人很可怜,我们有聊不完的天,讲不完的话,你说你这个位置没有办法离婚,如果你在山东时认识,还可以离婚,可是现在没有办法。我想过默默无闻就这样陪着你,开始还好,可是日子久了慢慢的变了,太多的不公与侮辱。每次你让我去,背着你你妻子对我说过多少难听侮辱的话,各种冷嘲嘲讽。我说喜欢吃鸭舌,康洁阿姨会冲着我说~咿真恶心。冬天北京雾霾我说有时候空气不太好,康洁阿姨会对我说,那是你们郊区,我们这儿没感觉。等等诸如类似的话说了很多很多,你在时候她不这样说,好像和我们一样,两个人相处时是一个样,有旁人时你对我又是一个样。我同你说过,这些话听多了心里特别难受委屈。
"Since I left home early in my childhood, I felt a lack of love in my heart. Facing everything that was happening, I never thought I was a good girl. I really hated myself, hated why I had to come into this world and experience this disaster. You told me that you loved me, very very much, and that in the next life you hoped to meet me when you are 20 and I am 18 years old. You said you were very lonely, that you felt miserable, we had days of endless chats, endless talks, you said there was no way for you to divorce in your position, that if we'd met while you were in Shandong, you could have still divorced, but that there was no way now. I thought about staying with you like this without attracting public attention, which was okay in the beginning, but the days slowly started to change, and there was too much injustice and insult. Every time you let me go, your wife would say many offensive insulting words to me behind your back, [giving me] all kinds of sneers. When I said I like to eat duck tongue, auntie Kang Jie would go and say ~ ugh, how disgusting. During Beijing's winter smog, I said sometimes the air is not very good, and auntie Kang Jie would tell me 'that's just your suburbs, we do not notice a thing here.' And so on, there were many of such talks, but she would never do it when you were there. It was similar to when we were together – when it was just the two of us you'd be this way, when there were others there you'd act that way. I told you that these kinds of words were really painful to hear."
从认识你第一天到现在没用过你一分钱,更没通过你某去过任何利益或者好出,可名分这东西真重要。这一切我活该,自取其辱。从头到尾你都是一直让我保密和你的一切关系,更不可以告诉我妈和你有男女关系,因为每次都是她送我去西什库教堂那儿,然后换你家的车才能进院里。她一直以为我是去打麻将打牌,去你家玩。我们在彼此的生活中都是真实生活中的一个透明人,你的妻子好像甄嬛传的皇后一样,而我无法形容自己多么的不堪,很多时候我觉得我自己还是一个人吗?我觉得自己是一个行尸走肉,装,每一天都在装,哪个我才是真的我?我不该来到这个世界,可又没有勇气去死。我好想可以活的简单点,可事与愿违。
"From the first day I met you up to today, I've never used a penny of yours, and I've never used you for any personal benefits, but a person's status is very important. I deserved all of this, I courted disaster. From beginning to end, you have always asked me to keep my relationship with you secret, let alone tell my mother that we were in a relationship. Every time she brought me to the Xishiku cathedral, I would have to change to your car to be able to enter the courtyard. She always thought I was going to your place to play mahjong and cards. We were transparent individuals in each other's lives. Your wife seemed like the Empress in Empresses of the Palace (甄嬛传), and I can't describe how bad I felt, and how many times I wondered if I was still an actual person myself. I felt like a zombie, I was pretending so much every day that I didn't know who the real me was anymore. I shouldn't have come into this world, but I didn't have the courage to die. I wanted to live a simpler life, but things turned out contrary to what I wanted."
30号那天晚上争议很大,你说2号下午再去你家我们慢慢谈,今天中午打电话来说有事再联系,推脱一切,借口说改天再联系……,就这样和七年前一样"消失了",玩玩想不要就不要了。你说我们之间没有任何交易,是,我们之间的感情和钱,权利没有任何关系,可这三年的感情我无处安放,难以面对。你总怕我带什么录音器,留下证据什么的。是的,除我以外我没留下证据证明,没有录音,没有录像,只有被扭曲的我的真实经历。我知道对于您位高权重的张高丽副总理来说,你说过你不怕。但即使是以卵击石,飞蛾扑火自取灭亡的我也会说出和你的事实。以你的智商某略你一定否认或者可以反扣给我,你可以如此玩世不恭。你总说希望你母亲在天可以保佑你,我是一个坏女孩不配为人母,你为人父也有儿有女,我问过你就算是你的养女你会逼她这么做吗?你今生做的这一切日后心安理得的去面对你的母亲吗?我们都很道貌岸然……
"There was a big dispute on the night of the 30th [October], and you told me to come to your place on the afternoon of the 2nd [November] so we could talk things over. Today a phone call came that something had come up and you'd contact me again. Evading everything, with the excuse that we would get in touch another day ……, this is the same "disappearing act" as seven years ago, getting rid of me after you're done playing with me. You said there were no transactions between us, that's true, with all the feelings and money between us, it had nothing to do with power and wealth. But I have nowhere to leave my feelings of the past three years, it's very hard to face. You were always afraid that I would bring some kind of recorder and leave evidence or something. Apart from myself, there is indeed no evidence left, no recordings, no videos, only my distorted real experiences. I know that for someone of your status, Vice Premier Zhang Gaoli, you've said that you're not afraid. But even it's like striking a stone with an egg, and courting self-destruction like a moth to the flame, I will tell the truth about you. With your intelligence, I'm certain you will deny it or you can blame it on me, or disregard it. You always said you hoped your mother in heaven could bless and protect you. I am a bad woman who doesn't deserve to be a mother, but you are a father with both a son and a daughter. I have asked you this before: if it was your adopted daughter, would you have forced her to do this? Do you still have the courage to face your mother after everything you've done in your lifetime? We sure all like to pose as people with high morals…"
By Manya Koetse
Spotted a mistake or want to add something? Please let us know in comments below or email us. First-time commenters, please be patient – we will have to manually approve your comment before it appears.
©2021 Whatsonweibo. All rights reserved. Do not reproduce our content without permission – you can contact us at info@whatsonweibo.com.
Mainstream, Underground, and Online: Electronic Dance Music in China
A peek into China's electronic dance music scene, from Jean Michel Jarre to the country's post-covid club scene.
China has been called the "promised land for electronic dance music," but some critics say the industry is negatively affected by those prioritizing money over music. Still, the country's mainstream and underground dance scenes are thriving and the pandemic has brought increased recognition of local artists. This is a peek into China's electronic music scene, from Jean Michel Jarre to the country's post-covid dance scene.
This is the "WE…WEI…WHAT?" column by Manya Koetse, original publication in German by Goethe Institut China, visit Yi Magazin: WE…WEI…WHAT? Manya Koetse erklärt das chinesische Internet.

More DJs, more festivals, more fans, more online communities. Over the past few years, China's dance music scene has seen enormous growth in popularity, and electronic music now appears wherever people go, both online and offline, from live music events, night clubs, and fashion shows to reality shows, movies, and social media.
Following the continued explosion of electronic music culture in China's major cities, DJMag, a renowned UK-based platform dedicated to electronic dance music, even launched a special China Awards section in 2021. In this year's Top 100 DJ list there are eight Chinese DJs, the highest number ever since a DJ from China first made the list in 2017.
As an unexpected consequence of the pandemic, China's local dance community has seen heightened popularity of local DJs. While Covid19 has seriously affected the global dance music scene, it has been an ongoing opportunity to shine for local talents in mainland China.
Just five years ago, China-based DJ Spencer Tarring discussed the huge potential of China as "the rising promised land for electronic dance music." But what's the status quo of China's dance and DJ culture? Here we'll explore China's electronic music scene, from mainstream to underground and the online community.
From 'EDM' to 'Haoshi'
Let's first explain some terminology. 'Electronic dance music' is actually a huge umbrella term for percussion-based electronic music produced primarily for nightclubs, raves, and festivals, and performed/presented by DJs. In Europe, electronic dance music is often simply called 'dance' or 'dance music,' with subgenres including techno, house, trance, and many others (deBoni 2018).
There's also the acronym 'EDM.' Although it literally stands for 'Electronic Dance Music,' it is not the same as the overarching 'electronic dance music' genre, as it was adopted in the US to label commercial dance music. It has since been commonly used to solely describe the mainstream electronic dance music that is represented by world-famous DJs such as Tiësto, Martin Garrix, Armin van Buuren, or David Guetta (see Androids 2017; Jori 2021; Magnetic 2021).
In Mandarin Chinese, the term Diànzǐ yīnyuè (电子音乐), often abbreviated as Diànyīn (电音), literally means 'electronic music' and is used as a catch-all term for any music made using electronic instruments or involving electronic processing.
EDM is translated as Diànzǐ wǔqǔ (电子舞曲) ('Electronic Dance Music'), and also refers to commercial dance music. House is generally translated as Hàoshì yīnyuè (浩室音乐), techno as Tiěkènuò yīnyuè (铁克诺音乐), and trance as Chūshén yīnyuè (出神音乐).
Rewind: A Very Short History of Electronic Music in China
The history of electronic dance music in China brings us back to the early 1980s. In the decades and years before, there was strict music censorship under Mao's rule and the influx of Western music was limited. After Mao's death and the start of the Open Door policy, modern music from outside of mainland China became increasingly popular among young Chinese, inspiring local musicians to start writing and recording their own pop, rock, and modern music (Holm 1983; Latham 2007: 336).
China's 'New Wave' movement was partly triggered by 'The Concerts in China' by the French electronic music pioneer Jean Michel Jarre in 1981, who performed in Beijing and Shanghai in October-November of that year for a combined audience of 150,000 people (Billboard 1982).
Following the Jarre concerts, the New Wave movement also became visible at conservatories and music schools across China in the early 1980s when Chinese composers started to experiment with electronic music. While influenced by Western music, many examples of Chinese electronic music created in these years featured Chinese traditional musical elements (Li 2018).
Many Chinese people became more familiar with modern Western music in the 1980s and 1990s through cassette tapes that were shared and copied hundreds of times, and the so-called dakou culture which emerged in the mid-90s.
Dakou (打口) CDs were dumped by Western countries and imported into China as plastic garbage, intended to be recycled, but then flowed into Chinese cities and became available for listeners to buy from black markets.
Dakou CDs (and tapes) have a cut-out, a punch hole, or crack in them to mark them as waste and prevent them from being resold, but people were still able to restore them and listen to most of the music. The dakou culture greatly influenced China's music scene.1
Proper nightclubs first started to open up in big Chinese cities in the early 1990s, a time in which many people in the electronic music scene were more focused on the music rather than the money.
This is also when Ben Huang, who would become one of China's most well-known DJs, started his career. The Shanghai-born Huang was a student of modern dance and fine arts before he became active in the Beijing music scene and kick-started China's club culture.
Other big names emerging around this time are the so-called "godfather of Chinese dance music" Mickey Zhang, DJ Youdai (Zhang Youdai), Yang Bing, and famous electronic musician Weng Weng. They later also started organizing dance parties or setting up their own labels.
Although illegal rave parties emerged in various cities across the country since the mid-90s, China's first big rave party took place in the late 1990s at the Great Wall, organized by the Swiss collective 'Cheese' (Grefer 2016; Yiu & Charrieras 2021: 233). Vice China (2019) writes:
"What was most magical about China's party culture in the 1990s, is that it miraculously united all participants of any subculture. The people coming to these rave parties could come from completely different communities, from doctors to lawyers, from hoodlums to diplomats, local punks and sightseeing exchange students (..), on the dance floor surrounded by electronic music, nobody would talk about ideals and doctrines, actions and problems, everyone put all their conflicts aside and danced."
Nevertheless, much of the scene remained underground and many people in China had not been exposed to electronic dance music yet or did not understand it.
When the renowned British-Canadian electronic musician Richie Hawtin performed in Shanghai at some of the city's earliest techno events in the 1990s, some people wondered if the CD was stuck and if the mixer needed to be fixed.2
The Mainstream Scene: "Tuhai" and Rock Music Envy
Starting in the 2000s, more money-driven clubs started to open and the electronic dance music scene in China started to develop into two separate worlds; the underground with its underground scene and the mainstream with its mainstream scene.
"And there I am in the middle," DJ Ben Huang said in a 2009 interview.
Huang's comment is telling for a market where electronic music has become the second most popular music genre, while the 'real' Chinese fans of electronic dance still complain that there has been too little progress in the scene in recent years.
Online discussions indicate that many think that electronic dance music in China has become too commercialized too quickly and has become all about the money rather than the music – leaving little space for the underground scene to flourish, and lacking breeding ground to boost a stronger development of the local electronic music scene.
In 2016, Jiangsu television aired China's first-ever variety show featuring Electronic Dance Music (EDM) titled Heroes of Remix (盖世英雄remix). The show introduced international electronic dance music genres to a mainstream audience, mixing it with Chinese traditional influences. Two years later, the talent reality show Rave Now (即刻电音) premiered on Tencent Video, further promoting the popularity of EDM in China.
Against the backdrop of an ever-growing EDM industry in China with numerous nightclubs opening up all over the country, the release of the 2021 movie Upcoming Summer (盛夏未来), which focuses on electronic music, further assimilated dance music into China's mainstream pop culture. A hashtag dedicated to the movie on Chinese social media received over 650 million views (#电影盛夏未来#). (Note: the movie can now also be viewed through Netflix.)
While electronic music is divided into many genres, commercial EDM is by far the most popular type of electronic music in China. Some of the music played by Chinese local DJs that is deemed to be of lower quality than 'legitimate' EDM is also called 'Tuhai' (土嗨), a wordplay on 'too high' that refers to unoriginal bounce music with whistles and repetitive melodies.
The more the popularity of electric dance music is growing among the masses, the more music fans speak out, saying that China's mainstream electronic music does not represent authentic electronic dance music, even arguing it that it negatively influences the development of the entire genre; excessive commercialization has neglected the music itself.
The recent surge of Tuhai in Chinese clubs is also a side-effect of the pandemic, during which clubs have started booking far more local DJs with little experience to keep the shows going. To counter the so-called 'Tuhai virus', China's top DJ Carta launched the 'Chinese Bounce Mafia' alias together with trance DJ Luminn and DJ/producer Unity to mock the repetitive music genre.
In an interview with MixMag (Wycech 2020), Carta says:
"We started Chinese Bounce Mafia after seeing the number of shows these guys were doing and what was happening to the market. We all hated the music, so we said 'fuck these guys, if they can get all these shows, so can we'. So Chinese Bounce Mafia is our stand against what we see as a problem within the market. The name is a troll because people thought we've all sold out and given into bounce but we actually play anything from house to trance to big room to techno."
It is not easy to counter the Tuhai trend, which is not just ubiquitous in China's clubs but is also everywhere in the Chinese online music environment, triggering online discussions on how the low-standard music is negatively impacting the overall music quality in the online libraries of platforms such as QQ Music, Kugou, and Tencent Music.
Some Chinese electronic music fans even say they envy China's rock music scene. One article by the Music Economy Official Weibo Account (@音乐财经官方微博) on Sina said:
"As a fan of electronic music, I feel envious [of the rock music scene]. I envy their music festivals, I envy their good musicians, I envy their good fans, and this isn't the first time for me to admire China's rock scene in this way."
The Music Economy author argues that although it's been a bumpy ride for rock music in China, the genre has come a long way over the past four decades and has since been embraced by the general public.
One of the reasons why the author argues that China's dance music community has reason to envy the rock music scene is that there is an alleged pure love for music that draws people into the rock scene, while many people coming to the DJ culture enter the market for the money, not for the music. Because people are prioritizing money over music, too many compromises are often made, resulting in low-effort productions or mediocre festivals.
Another difference between China's dance and DJ culture compared to the rock scene, is that many rock music fans have grown up listening to the music and have followed their favorite musicians for years. China does not (yet) have a greater electronic music history to build on.
The author writes:
"I know it's not very scientific to compare rock to electronic music, but they are both imported products and when I see how rock is finally flourishing after having been through so much, I can't help feeling envious. Electronic dance music and electronic music in China still need to build on more experience. I hope more musicians can stop worrying about income and focus on the music, following their own dreams. I also hope more people will really start caring about electronic music and dance, and that they will start spending money on tickets and records to support their organizers and favorite musicians."
What also plays a role in this, is that DJ culture mostly takes place inside nightclubs and entertainment venues, where drinks and socializing are often considered more important by Chinese clubgoers than whoever is standing behind the DJ table. China's current commercial club culture is not a fruitful breeding ground for the further development of China's electronic dance music scene, the author claims.
Underground & Online Electronic Dance in Post-Covid China
Despite all negative consequences of Covid19 for the music industry, the pandemic has also had an unexpected positive influence on China's dance culture. With no international DJs allowed to travel into China, local DJ talents are getting increased recognition and there is more interest in the domestic dance scene.
As clubs were shutting down across the world in the spring of 2020, China entered its post-lockdown phase and nightclubs came back to life, with more people ready to explore the club scene.
Despite those voices expressing concern about the lower-quality EDM that is dominating China's club scene, there are also those who think it is not necessarily bad for electronic dance to go mainstream this way because it also indirectly creates more acceptance for non-mainstream sub-genres and electronic music at large.
In recent years, new underground nightclubs, festivals and independent labels have mushroomed in China. There is now a flourishing club music scene in various cities across the country: Beijing, Shanghai, Shenzhen, Hangzhou, Wuhan, Kunming, and Guangzhou have all played a pivotal role in the development of China's electro dance music culture, with Chengdu leading the way (Neocha 2021).
Among Chengdu's many electronic music clubs, there's .TAG ('To Another Galaxy'). The club, located on the 21st floor of Chengdu's Poly Centre, was founded by a small group of Chinese and Dutch music lovers and entrepreneurs, taking inspiration from clubs in Amsterdam and Berlin. TAG has become a city hotspot for underground house and techno, with local DJs such as Cora and HAO attracting a young and free-spirited clubbing crowd.
TAG was founded in 2013, the same year in which renowned record label SVBKVLT was established in Shanghai. SVBKVLT has pushed works from many local talents, including the Beijing-based electronic music duo Zaliva-D and Shanghai producer and artist 33EMYBW (Wu Shanmin).
Chengdu's .TAG and Shanghai's SVBKVLT are just some examples of China's thriving underground scene, as there are many other important players, including Beijing's underground techno club Zhao Dai, Shanghai's 3NTRY, club Elevator and ALL, or OIL in Shenzhen, featuring Chinese DJs and electronic music artists such as Slowcook, Yang Yang, Temple Rat, Knopha, Chuan, Max Shen, Luna Li, and many, many more.
China's electro music culture goes beyond clubs and festivals – the online environment is a big part of it. Although the 2021 shutdown of the Xiami Music app from the Chinese market created a vacuum for online electronic music streaming, other online music libraries such as QQ Music, Netease Cloud Music, Kuwo and Kugou are now competing over listeners.
On social media platforms Weibo and Wechat, there are various electronic music blogging accounts with thousands of followers but there are also hundreds of festival accounts, club accounts, label accounts, and DJ/creator accounts.
More in-depth discussions on China's electronic music scene can also be found on Chinese Q&A platform Zhihu.com, the social networking sites QQ and Douban, and on Bilibili. Over the past few years, other smaller online communities, from Moresound to Abletive, have also arrived at the scene for people to discuss the development of Chinese dance music.
Although many online discussions about the state of China's electronic dance music scene are quite critical of how the scene is evolving, it could still be seen as a sign of how the industry and its audience are maturing – growth comes with growing pains.
Despite all hurdles, new China-based talents are gaining traction and electronic music labels are popping up one after another. Covid has posed a major challenge to the scene but has also injected new energy into the domestic market.
Electronic music in China has come a long way since Jean Michel Jarre first made waves in the country, and after all these years, the genre is entering a new era. The next few years will show which direction Chinese electronic music is moving in, but one thing is certain: electronic music is part of China's music scene today and, whether or not everyone agrees on the quality of the beats that are booming, the music is here to stay.
On one online discussion page about Chinese electronic music, someone asked how others feel about Chinese DJ PantaQ arriving in the DJMag Top 100 DJ list. One commenter answered: "This is only the beginning. Chinese electronic music will start to shine on the international stage."
By Manya Koetse
Follow @whatsonweibo
1 Professor Jeroen de Kloet did extensive research into China's dakou culture. For more on China's dakou generation, we recommend reading: Jeroen de Kloet, China with a Cut: Globalisation, Urban Youth and Popular Music (Amsterdam: Amsterdam University Press, 2010).
2 This scene was described by Chinese DJ / producer Ma Haiing (MHP) in the book by Matthew Collin, Rave On: Global Adventures in Electronic Dance Music (London: Profile Books, 2018), Chapter 6.
References
– Androids. 2017. "An Idiot's Guide to EDM Genres." Complex.com, October 13: https://www.complex.com/music/an-idiots-guide-to-edm-genres/ [Oct 11, 2021].
– Billboard. 1982. "Jarre Fame Spreads – Even to China." Billboard Magazine (March 13): page 22.
– Collin, Matthew. 2018. Rave On: Global Adventures in Electronic Dance Music, London: Profile Books.
– De Boni, Luka. 2018. "The Rise of China's Electronic Dance Music Scene: From Underground Culture to Online Communities." What's on Weibo, August 26
https://www.whatsonweibo.com/the-rise-of-chinas-electronic-dance-music-scene-from-underground-culture-to-online-communities/ [Nov 1, 2021].
– De Kloet, Jeroen. 2010. China with a Cut: Globalisation, Urban Youth and Popular Music. Amsterdam: Amsterdam University Press
– Grefer, Philipp. 2016. "Disco(s), Techno and the EDM Storm: A Brief (and Personal) History of Electronic Music in China." The Beijinger, Nov 16 https://www.thebeijinger.com/blog/2016/11/04/discos-techno-and-edm-storm-brief-and-personal-history-electronic-music-china [Nov 12, 2021].
– Holm, David. 1983. "The Difficulty of 'Walking on Two Legs.'" Index on Censorship: 12 (1): 34-37.
– Jori, Anita. 2021 "The Meanings of 'electronic dance music' and EDM." In: The Evolution of Electronic Dance Music , edited by Ewa Mazierska, Tony Rigg and Les Gillon, Chapter 1. New York: Bloomsbury Academic.
– Latham, Kevin. 2007. Pop Culture China! Media, Arts, and Lifestyle. California: ABC-CLIO.
– Li, Qiuxiao. 2018. "Characteristics of Early Electronic Music Composition in China's Mainland," Contemporary Music Review 37:1-2.
– Magnetic. 2021. "STOP CALLING EDM EDM – HERE IS A PROPER DEFINITION." Magnetic Magazine, Jan 13 https://www.magneticmag.com/2015/10/stop-calling-edm-edm-here-is-a-proper-definition/ [Oct 12, 2021].
– Music Economy Official Weibo Account 音乐财经官方微博.2020. "电音圈有什么资格羡慕滚圈." Sina News, August 20 https://k.sina.com.cn/article_5255791141_13945022501900poao.html [Nov 27, 2021].
– Neocha. 2021. "Sleepless in Chengdu." July 5, https://neocha.com/magazine/sleepless-in-chengdu/ [Nov 27, 2021].
– Yiu, Alex and Damien Charrieras. 2021. "On the Fence: Electronic Dance Music Cultures in Hong Kong and Shenzhen." In: Sébastien Darchen, Damien Charrieras, John Willsteed (eds), Electronic Cities – Music, Policies and Space in the 21st Century, 223-243. Singapore: Palgrave Macmillan.
– Vice China. 2019. "触电中国 EP1:从荷东到锐舞,中国电音的起源与脉络." Tencent News, July 30 https://new.qq.com/omn/20190730/20190730A0CTCB00.html?pc [Oct 12, 2021].
– Wycech, Olivia. 2020. "An Edm Club In Taipei Has Unabashedly Banned Bounce Music…But What Even Is Bounce Music?" MixMag, October 20 https://mixmag.asia/feature/what-is-chinese-bounce-music [Nov 17, 2021].
Featured image by Ama for Yi Magazin.
This text was written for Goethe-Institut China under a CC-BY-NC-ND-4.0-DE license (Creative Commons) as part of a monthly column in collaboration with What's On Weibo.
Spotted a mistake or want to add something? Please let us know in comments below or email us. First-time commenters, please be patient – we will have to manually approve your comment before it appears.