Top 10 Buzzwords in Chinese Online Media
From blockchain to hardcore, this is an overview of China's media top buzzwords over the past year.
Some of the expressions and idioms that have been buzzing in Chinese media the past year. What's on Weibo's Jialing Xie explains. 
Last year, we listed China's "top ten buzzwords" for you (link), giving an overview of some noteworthy expressions on Chinese social media and in the media in 2018. Recently, the chief editor of the magazine Yǎowén Jiáozì (咬文嚼字) has again announced the "top ten buzzwords" in China of the past year.
Yǎowén Jiáozì, which literally means "to pay excessive attention to wording," is a monthly publication focused on the Chinese language. Chinese (state) media have been widely propagating the magazine's selection of the top words and terms of the past year in newspapers and on Chinese online media. The ten terms have also become a topic of discussion on Weibo over the past month, with the topic receiving 290 million views.
We've listed them for you here:
1. 文明互鉴 (wénmíng hùjiàn): "Mutual Learning"
Literal Meaning

: "Mutual learning," "Exchanges and mutual learning among different cultures and civilizations."

Original context

: This expression can be traced back to t

he era around and during the

Warring States Period

(475-221 BC), a time of division, bloody battles, and political chaos. The demands for solutions brought forth a broad range of philosophies and schools. During this time, Confucianism, Taoism, Legalism, Mohism and many others were developed leading to the phenomenon known as

the "

Contention of a Hundred Schools of Thought."

What does it mean now?

In 2014, at the 4th summit of the Conference on Interaction and Confidence Building Measures in Asia (CICA), Chinese President Xi Jinping put forward a major initiative to convene a conference on dialogue between Asian countries followed by an introduction emphasizing how "diversity spurs interaction among civilizations, which promotes mutual learning." This sentence and expression were later repeated in speeches during various major events. In May 2019, President Xi once again emphasized the idea during the CICA, making the term pop up across Chinese state media again. 
2. 区块链 (qū kuài liàn): "Blockchain"
Literal Meaning

: Blockchain Technology

Context:

"Blockchain" is no longer a new concept since it was first introduced to the public around a decade ago. Development of the malleable blockchain technology has become an important trend in China's tech market through the years. 

What does it mean now?

 Blockchain was all the buzz in China over the past year. In early 2019, the Cyberspace Administration of China released the

Provisions on the Administration of Blockchain Information Services

. In October, President Xi singled out blockchain technology as an important breaking point in developing China's core innovative technology and emphasized the importance of investing and stepping up research on the standardization of blockchain to increase China's influence and power in the global arena. 
3. 硬核 (yìng hé): "Hardcore"
Literal Meaning

: "Hardcore" – 硬 =

hard

, 核 =

core.

 

Context:

"Hardcore" is known as the abbreviation for Hardcore Punk, a punk rock music genre originated in Southern California during the late 1970s. The term was later used to reference things of a certain level of complexity, such as "hardcore games" (versus casual games). The term started to mean something along the lines of "terrific" (厉害) or "strict"/"rigid" (刚硬)  and in Chinese, started being used in expressions such as "Tiger mom" (硬核妈妈) or "Hardcore game players" (硬核玩家).

What does it mean now?

 As the Chinese science fiction blockbuster

The Wandering Earth

(流浪地球)

was categorized as 'hardcore science fiction' (硬核科幻), the term 'hardcore' resurfaced as a popular word often popping up in (online) conversations.
 4. 融梗 (róng gěng): "Mixing up ideas"
Literal Meaning: "Integrating other people's ideas into one's own work" or "integrating punchlines," "mixing up plots."
Context:

Over the past two decades, many literary works, including a few by prestigious Chinese writers, have been suspected of plagiarism and triggered heated discussions online — when it comes to drawing inspiration from other

art and literary creations, where is the boundary between artistic freedom and plagiarism?

What does it mean now?

 Soon after the Chinese movie

Better Days

(

少年的你)

came out in October (

read more here), the writer of the original novel was accused of plagiarizing parts of Japanese mystery writer Keigo Higashino's work. Many netizens argued that in the field of online literature, borrowing ideas from others (融梗) is ubiquitous and does not necessarily equate plagiarism because the act (融梗) itself requires original work and creativity. From October to now, the term has become a recurring topic in Chinese media. 
 5. "XX 千万条,XX 第一条" (XX qiān wàn tiáo, XX dì yī tiáo): "Out of millions of things,..is the first one"
Literal Meaning

: "Out of ten million things,.. xxx comes first as the rule of thumb." 

Context:

List thinking is prevailing in China; from codes and regulations enacted by the government and laid down by companies, to the way teachers outline their lectures, the usage of "articles" (sometimes used as 'rules')  or "items" (条) to organize ideas and outline objectives is commonly seen in daily life.

What does it mean now?

This phrase caught people's attention after appearing in the aforementioned science fiction film

The Wandering Earth,

where a robot voice reminds a driver of traffic safety in a noteworthy way, saying something along the lines of: "

There are thousands of road rules, but safety rules always come first. If you disregard safety, your loved ones will end up in tears." Despite sounding like a sketch that rhymes poorly in Chinese, the lines stuck around and were later also used by Chinese traffic police across the country. The sentence structure is now also more often applied in various other contexts, for example: "There are thousands of things good for health, but sleep is the most important."
6. 柠檬精 (níngméng jīng): "Lemon monster"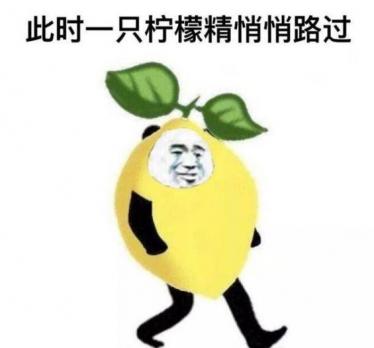 Literal Meaning

: "Lemon mythical spirit" or "Sour lemon goblin"

Context:

In ancient Chinese superstitions, it's believed that animals and non-living objects may have the potential to grow into something with spiritual and immortal characteristics if meeting certain criteria. One of the criteria is to be around long enough, usually hundreds of years – if not thousands. For instance, in the classical work

 Journey to the West

(西游记)

, the four main characters except Tang Sanzang are all spiritual beings derived from animal prototypes. 

What does it mean now?

Lemon tastes sour (酸), which is often used to describe the feeling of envy or jealousy. When lemon becomes a spiritual being, it basically means the lemon has reached the ultimate stage of being a lemon and maximized its characteristics such as being terribly sour. The phrase is used to deride those who feel envious of others' possession and achievement. Lately, the word is more often seen in a self deprecating humoristic context. For instance, when someone says "I'm a lemon jing now/I feel sour now( 我柠檬精了/我酸了)", instead of expressing envy towards others, it's more about acknowledging others more advantageous position compared to one's own. 
7. The 996 work schedule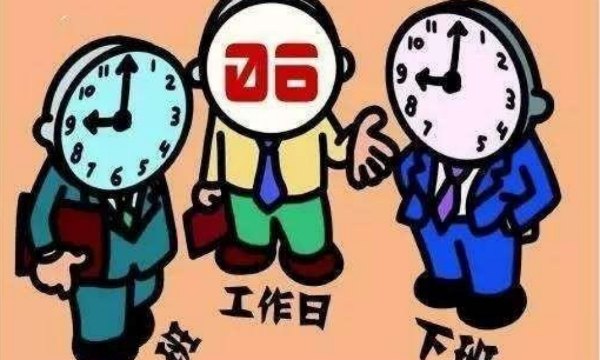 Literal Meaning

: 996 working hour system

Context:

996 is a work schedule commonly practiced by many companies in the internet and tech industry in China. With the 996 schedule, employees are required to work from 9 am to 9  pm, 6 days per week. 

What does it mean now?

In April 2019, Jack Ma, the co-founder and former executive chairman of Alibaba Group,

commented on 996

during an internal meeting with Alibaba employees. Ma's comments seemed to justify how companies and employees can both benefit from the work schedule, however, the comments quickly triggered criticism after widely circulating online for allegedly violating of the Labour Law of the People's Republic of China. 
8. "我太难(南)了" (wǒ tài nán le): "Life is so hard for me" 
Literal Meaning

: "

I'm feeling uneasy"

or "

life is so hard for me" 

Context:

The phrase originated from a

10-second video

self-posted by a user on video-sharing site Kuaishou earlier in 2019. As the video begins, the user – an older Chinese guy –  says to the camera: "I'm feeling uneasy…" followed by sad music. He then continues to say "Lao tie [

bro/guys]

, (I) have been under a lot of stress lately." The video, in which the man dramatically drops his head in his hands and seems to cry without tears, quickly went viral. The phrase "I'm feeling uneasy" was quickly adopted and applied in daily conversations.  

What does it mean now?

The broad circulation of this phrase on the internet reflects that the uneasy feeling about life is relatable to many people. Acknowledging the stress in a self-deprecating humorous tone is in itself a way of relieving stress. To add a sense of humor to this phrase, many replace the initial character "难" (nán, adj. difficult) with "南" (nán, adj.& n. south), which is believed to be taken from the mahjong tile "南风"(south wind).  
9. "我不要你觉得,我要我觉得" (wǒ bùyào nǐ juédé, wǒ yào wǒ juédé): "I don't want to know what you think, I only care about what I think"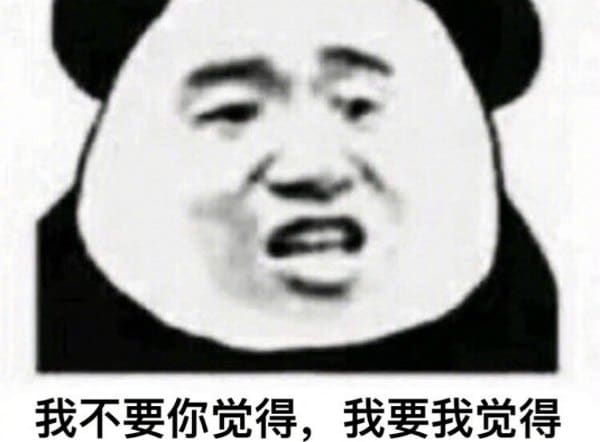 Literal Meaning

: "I don't want to know what you think, I only care about what I think."

Context:

The line was taken from Xiaoming Huang, one of the guests in the third season of the entertainment TV show "Chinese Restaurant", which was broadcasted in the summer of 2019. In the show, Huang, who took the role as the manager of the restaurant, is self-centered, and often disregards the opinions of others in matters such as menu ideas or pricing, showing his blind self-confidence and arrogance.

In addition to this line, Huang's frequently used language includes "There is no need to discuss this matter", "Listen to me, I have the final say" and so on, and it spread quickly on the internet.  

What does it mean now?

The popularity of this line reflects people's ridicule and resentment against arrogant and dominant personalities.
10. 霸凌主义 (bàlíng zhǔyì): "Bully-ism"
Literal Meaning

: "Bully-ism"

Context: The word 霸凌 (bàlíng) comes from the English word "bully." Here, it refers to bullying other countries in the face of conflicts between nations. 
What does it mean now?

As the trade conflict between the US and China was ongoing in 2019, many believed that the current government administration of the United States has been handling international affairs in almost a bullying manner. The slogan "America First" is also often perceived as a declaration in front of the entire world that the interests of the United States come first. As a buzzword, "bullyism" has come to be used by Chinese media in the context of international affairs. 
By Jialing Xie
Follow @whatsonweibo
Spotted a mistake or want to add something? Please let us know in comments below or email us. First-time commenters, please be patient – we will have to manually approve your comment before it appears.
©2020 Whatsonweibo. All rights reserved. Do not reproduce our content without permission – you can contact us at info@whatsonweibo.com.
Press Conference on Chinese Student's Death: Hu Xinyu Left Message on Voice Recorder
These are the most important details shared during the 2.2.23 press conference on the disappearance and death of Hu Xinyu.
The disappearance and death of the Chinese 15-year-old Hu Xinyu has become one of the biggest topics on Chinese social media recently, with dozens of hashtags related to the story receiving millions – sometimes even billions – of views.
Hu Xinyu went missing from school on Oct. 14, 2022. The boy's whereabouts were a mystery for 106 days, during which family, friends, police, and dedicated search teams searched for the student all across the Yanshan County region in Jiangxi Province and beyond.
On Jan 28., 2023, Hu's remains were found by a local guard on the premises of a grain warehouse not far from the school. For a full timeline of Hu's disappearance and the details surrounding his death, see our previous article here.
A voice recorder was also found near Hu's remains, but the data on the small 4GB recorder initially seemed to be unretrievable, and it was sent back to the manufacturer for analysis.
On the morning of Feb. 2, 2023, local authorities and the dedicated task force organized a live-broadcasted press conference on the case and the latest findings.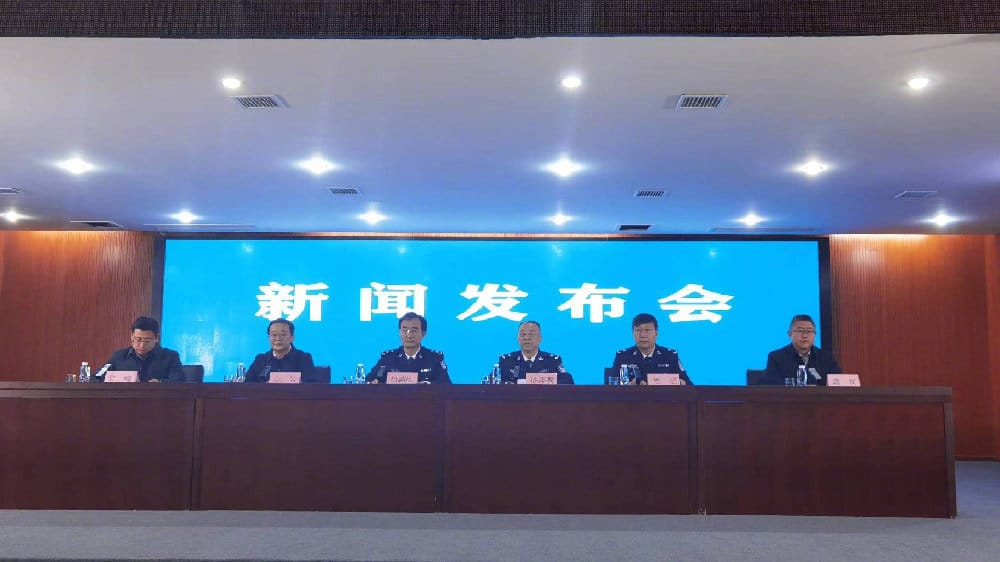 The most important pieces of information provided in the press conference on February 2nd are as follows:
◼︎ Hu Xinyu's death has been ruled a suicide by hanging. Hu used shoelaces, which were removed from the shoes found near Hu's remains.
◼︎ As previously reported, Hu was found at a nearby grain warehouse. It has now been clarified that the area where Hu's remains were found is a grain reserve depot area. The grain reserve depot area is prohibited to enter and is guarded 24/7. It is a very large plot of land that includes a zone (over 8000 square meters) with twenty buildings on it – including warehouses and living quarters, – and a forest area of approximately 9300 square meters. Although the area is encircled by a wall, some parts of the wall are lower due to uneven ground. Hu's body was found in the wooded area, hanging from a tree near the wall, close to one of the spots where the wall height was significantly lower.
◼︎ The location where Hu's remains were found is just 226 meters away from the Zhiyuan Middle School and it had been searched before, not only through the use of thermal drones, but also by search teams on four different occasions in October and November of 2022. Although all the buildings in the area were searched along with other parts of the zone, the specific wooded area where Hu was later found was not searched. There were also no clues that led search teams to believe Hu Xinyu had walked a specific route through dense vegetation surrounding the grain depot area.
◼︎ The voice recorder plays a major role in this case. It was previously known that Hu Xinyu had purchased a voice recorder and that it could not be located after Hu Xinyu went missing. Although earlier reports stated that the data on the recorder could not be retrieved as the device had been exposed to sun, rain, moist, etc., it has now been announced that the audio files have been retrieved and that Hu Xinyu recorded two messages on Oct. 14, 2022, at 17:40 and 23:08, in which he expressed the will to commit suicide.
◼︎ The involved experts in this case have also concluded that through analysis and based on Hu's own notes and other evidence, the 15-year-old boy was struggling with his mental health and emotional disorders related to loneliness, insecurity, and lack of communication. Hu also experienced additional stress when he was getting lower grades, and he suffered from insomnia, difficulty concentrating, abnormal eating patterns, and an overall sense of hopelessness.
This reconstruction, published by People's Daily, clarifies how Hu remains were found, how he was able to access the grain warehouse premises (uneven ground>lower wall), and why it was so hard to find him during all this time. pic.twitter.com/vrXqnsjtQU

— Manya Koetse (@manyapan) February 2, 2023
During the press conference, reporters were allowed to ask questions related to the case. In response to a question related to the many rumors the Hu Xinyu case has attracted over the past months, one official declared that at least two persons have been arrested for fabricating videos and purposely spreading false rumors about the case.
After Thursday's press conference, it has once again become clear just how big the social media attention is for this case. The hashtag "Content of Hu Xinyu Voice Recorder" (#胡鑫宇录音笔内容#) received over 390 million views on Weibo; the hashtag "Hu Xinyu Expressed Will to Commit Suicide on Voice Recorder" (#胡鑫宇录音笔中音频表达自杀意愿#) received over 640 million views; the hashtag "Hu Xinyu Died due to Self-Hanging" (#胡鑫宇系自缢死亡#) received over 950 million views.
Among the many responses, there are those who argue that schools should offer more channels to provide support to students dealing with mental health issues. Others hope that Hu Xinyu can now finally rest in peace.

For information and support on mental health and suicide, international helplines can be found at www.befrienders.org.

By Manya Koetse 
Get the story behind the hashtag. Subscribe to What's on Weibo here to receive our newsletter and get access to our latest articles:
Spotted a mistake or want to add something? Please let us know in comments below or email us. First-time commenters, please be patient – we will have to manually approve your comment before it appears.
©2023 Whatsonweibo. All rights reserved. Do not reproduce our content without permission – you can contact us at info@whatsonweibo.com.
What Happened to Hu Xinyu? Disappearance and Death of 15-Year-Old Student Attracts Widespread Attention in China
Although Hu Xinyu's school had 119 cameras, his disappearance remained a mystery for 106 days. Near Hu's remains, a voice recorder was found.
After 106 days of searching, Hu Xinyu's parents now know their son has passed away. The student's remains were found at a grain warehouse near his school, but questions still linger on what happened to the 15-year-old and why it took so long to find him.
The case of a Chinese 15-year-old student named Hu Xinyu (胡鑫宇) has been trending on Chinese social media over the past few days. Ever since October of 2022, Hu Xinyu's case has been a much-discussed topic.
The young man from Jiangxi was missing for 106 days before his body was discovered, leaving many unanswered questions surrounding his death and why search teams were unable to find Hu in the months before.
One of the reasons why Hu Xinyu's disappearance has been attracting widespread attention is because many people believe there are some details or occurrences surrounding Hu's case that are purposely being hidden or not revealed to the public.

Hu Goes Missing: A Timeline
The story begins on Oct. 14, 2022, when Hu Xinyu, a student at the Zhiyuan Middle School (致远中学), first went missing in Yanshan County, Shangrao City. The Zhiyuan Middle School is a private school where students live in the dorms, only going home to their families on days off. Hu allegedly had good grades as a student at Zhiyuan.
The incident attracted attention due to the peculiar circumstances surrounding it. It was first reported that security cameras allegedly had not recorded the student leaving the school's premises and that Hu's family suspected that the security camera system had been tampered with. The school reportedly has a total of 119 cameras installed on its premises.
Later reports claimed that security cameras did in fact capture how Hu left the dorms at 17:51 that day, but there was no footage of him actually leaving the school premises.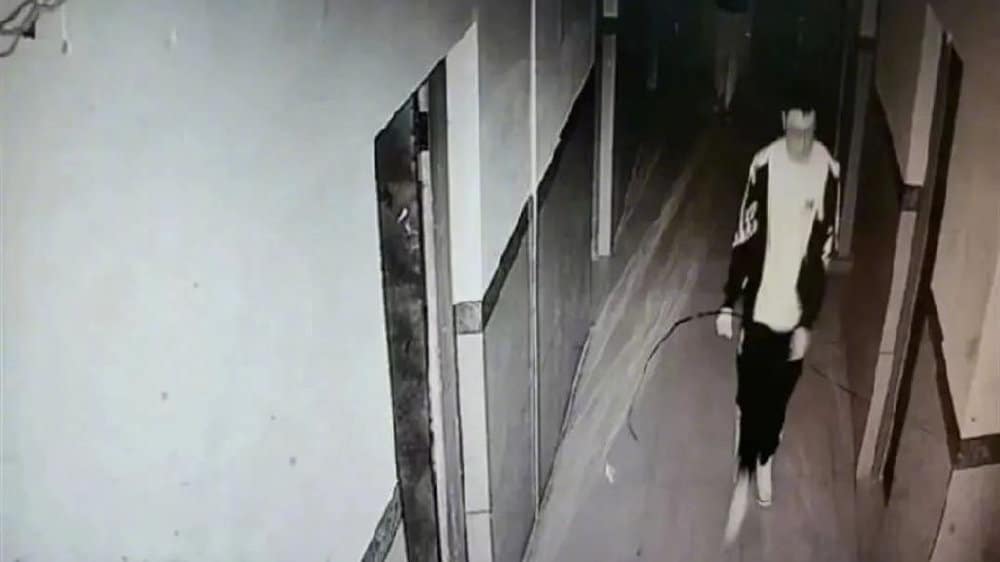 On Oct. 15, after unsuccessful attempts by friends and family to locate Hu Xinyu, he was reported as a missing person at the local police office.
On Nov. 20, when Hu had already been missing for over a month, local authorities set up a joint task force to try and speed up efforts to find Hu and further investigate his disappearance. Hu's social media and bank accounts reportedly had zero activity since he went missing.
On Nov. 22, 2022, Chinese media reported that rescue and search teams still had not found a single clue about where Hu might be. Meanwhile, his parents were gradually losing hope of finding their son back alive.
On Nov. 29, 2022, 46 days since Hu went missing, a chemistry teacher by the name of Wang was called in for questioning but he was later released. Weeks later, on Jan. 1, the police informed Hu's relatives that – despite rumors – they ruled out the possibility of school staff being involved in Hu's disappearance.
On Dec. 25, 2022, Hu Xinyu's mother shared some more information via social media about some contents in her son's old notebooks, in which Hu allegedly had noted how he felt that it was not easy for him to adapt to his living environment at the school and that he felt hindered by his introvert personality. These contents were later deleted again.
After Jan. 7, 2023, the search for Hu continued, including teams with search dogs, and thousands of people volunteered to join.
On Jan. 28, 2023, a body was found hanging near the woods in the Jinji mountain area in the town of Hekou. A voice recorder was also found at the scene.
The body was reportedly found by a local guard who was near the premises with his dog to look for a chicken that had wandered off. The dog started barking at something, and the guard then discovered the remains, which were not immediately clearly visible.
One day later, on Jan. 29, Chinese media reported that DNA research confirmed that the remains belonged to Hu Xinyu. He was wearing his school uniform when his remains were found. Hu's parents decided to have a post-mortem examination of the body to determine the cause of death. The voice recorder found near Hu's body was sent for analysis.
The hashtag "Hu Xinyu's Remains Found" (#胡鑫宇遗体被发现#) was viewed over two billion times on Weibo.

The Latest Details Surrounding Hu Xinyu's Death
Chinese news outlet The Paper reported that the location where Hu's remains were discovered is a large grain warehouse area just about 300 meters or a 5-minute walk southeast of the Zhiyuan Middle School.
According to a spokesperson of the search & rescue team, the area where Hu was found had been previously included in search efforts (#搜救队曾去胡鑫宇被发现地周围搜寻#).
The biggest questions that remain and that are asked by so many on Chinese social media are: how is it possible that search teams previously did not find Hu if this is where he was all along? Is the place where Hu was found a crime scene or not? How is it possible that security cameras did not capture Hu beyond the dorms?
Some details that surfaced over the past few days provide further information on the case.
On Jan. 31, Chinese media reported that one of Hu's teachers had discovered something written down by Hu Xinyu on the last page of his notebook: "What would it be like if I'm not longer here?" (#胡鑫宇曾写如果我不活了将会变得怎么样#).
It has also become known that Hu Xinyu purchased the voice recorder that was found with his remains. He purchased the 4GB-capacity recorder on October 4, 2022.
At the time of writing, the data on the recorder was not able to be retrieved (#胡鑫宇购买录音笔数据删除后无法恢复#). A recording device such as the one found near Hu's body might become damaged due very low or high temperatures or by moist and liquid (#胡鑫宇录音笔已送深圳检测#).
If the original manufacturer would be able to get the data on the recorder, Hu's relatives finally might get some of the answers they have been waiting for for so long.
According to Hu Xinyu's father, search and rescue staff previously had in fact been inside the grain warehouse premises, but apparently did not come to the exact location within the warehouse area where Hu was later found (#胡鑫宇父亲称未到达遗体发现点#).
On February 2nd, 2023, a press conference on the latest developments is planned to take place in Yanshan county in Shangrao at 10:00 AM. (Update: read about the press conference here).

Societal Distrust, Armchair Detectives, and Social Media
There are multiple reasons why the Hu Xinyu case is attracting such wide attention, and in some ways, the case is similar to the 2021 'Chengdu 49 Middle School Incident.'
At the time, the death of 16-year-old Lin Weiqi (林唯麒) also attracted nationwide attention and led to a wave of online rumors and theories on what might have happened to him.
Although Lin never went missing – he fell to his death from the school building, – there was also online speculation about corporal punishment and abuse taking place in the school, with one theory suggesting Lin had been hurt by a chemistry teacher. Just as in the Hu Xinyu case, netizens speculated that the school was trying to cover up the incident.
According to a joint statement later issued by the local propaganda department, police, and the Education Bureau said that they had come to the conclusion that the student had taken his own life due to personal problems.
The Lin Weiqi story sparked concerns at a time when security cameras had become a part of everyday lives. The fact that there were blind spots in the surveillance footage and that cameras never captured how and if Lin actually took his own life triggered doubts among Lin's relatives and netizens alike.
Many reasoned that since there are security cameras all over the school, there must be a cover-up going on if the incident was not captured on camera. A similar thing happened in the case of the Tangshan BBQ Restaurant Incident in which female customers were assaulted and beaten by a group of men. Although the beating incident was captured by security cameras, the last part of the incident occurred at a nearby alley and was not captured by the outdoor security cameras. This led to a lot of speculation on what happened there and if local government officials were covering something up.
Another factor that plays a role is that there have actually been stories about schools or other institutes covering up scandals in recent years, such as in the RYB Education incident of 2017 that shocked the nation and did not help in improving trust in educational institutes.
Social media also plays an important role in how and why the Hu Xinyu case received so much attention. For some online communities of armchair detectives, identifying suspects and uncovering clues becomes like solving a puzzle, while following the latest details in these high-profile cases also becomes like a form of infotainment for others – comparable to the online sleuthing and major attention for the case of Gabby Petito in the U.S.
Furthermore, those who are closely related to the case also use social media to attract more attention. In Hu Xinyu's case, his family members personally turned to social media and media reporters to ask for help or update with information. This also makes social media users more involved since they get the feeling they know the family, and sympathize with them. Very different from just reading a headline in the local newspaper, social media users feel involved and get involved.
For now, many social media users would like to see some clarity in this case and a conclusion so that Hu's family can finally get some of their questions answered.
While many think it is highly likely that local authorities will soon come out with a statement that Hu committed suicide, others think there might still be other outcomes.
"It's lasted long enough now," some Weibo commenters write: "What is most important now is to finally know the truth."
READ UPDATE TO THIS STORY HERE.
By Manya Koetse 
with contributions by Miranda Barnes
Get the story behind the hashtag. Subscribe to What's on Weibo here to receive our newsletter and get access to our latest articles:

For information and support on mental health and suicide, international helplines can be found at www.befrienders.org.

Spotted a mistake or want to add something? Please let us know in comments below or email us. First-time commenters, please be patient – we will have to manually approve your comment before it appears.
©2023 Whatsonweibo. All rights reserved. Do not reproduce our content without permission – you can contact us at info@whatsonweibo.com.