China's Top Ten Buzz Words & Phrases of 2018
According to Chinese (state) media, these are the top buzzwords of the year.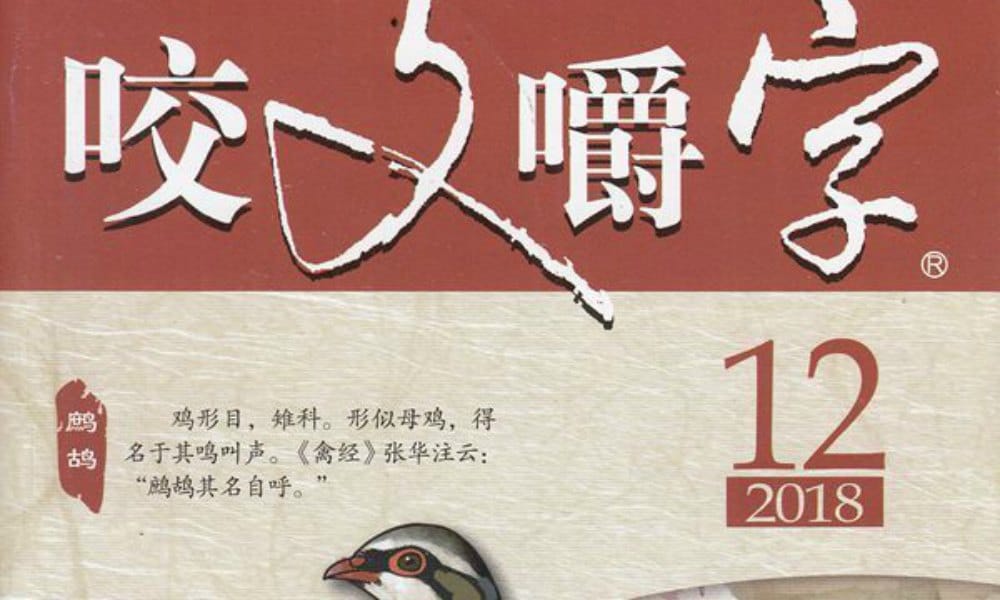 Earlier this month, chief editor Huang Anjing of the magazine Yǎowén Jiáozì (咬文嚼字) announced the "top ten buzzwords" in China of the past year. Yǎowén Jiáozì, which literally means "to pay excessive attention to wording," is a monthly publication focused on Chinese language and common language mistakes made by authors or people in the media.
Chinese (state) media have been widely propagating the magazine's selection of the top words and terms of the past year in newspapers and on Chinese social media.
The ten terms have also become a topic of discussion on Weibo this month. We've listed them for you here:
1. "Community with a Shared Future" 命运共同体 (Mìngyùn Gòngtóngtǐ)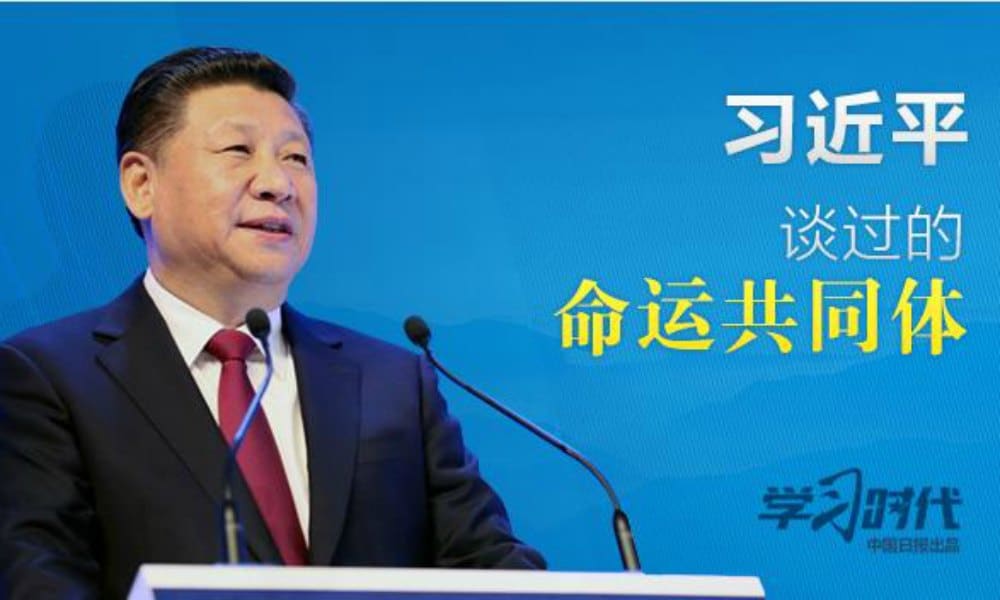 "Community with a Shared Future" (命运共同体) is a political term which is widely used in the domains of foreign relations and national security, and which has often been used by President Xi Jinping since the 18th National Congress. The concept stresses the idea of China's peaceful development and its role in the international community. It's been used both in national as in international contexts.
2. "Koi fish" 锦鲤 (Jǐnlǐ)
Koi fish, which come in a variety of colors such as red, yellow, or orange, are a common symbol in Chinese culture. Chinese netizens like to forward the images of Koi fish to bring luck to themselves or their friends and family members.
This year's 'koi fish' hype started with a lucky draw activity initiated by Alipay during China's National Day. The winner, who was named 'China's Koi Fish' (中国锦鲤), was drawn from millions of netizens who forwarded this post. Afterward, Chinese netizens continued to use the colorful fish to wish others "good luck," and the term also started to be used for those people who win without really trying, thanks to sheer luck.
3. "Waiter" 店小二 (Diànxiǎo'èr)
The original meaning of "Diànxiǎo'èr" is "waiter" or the staff working in hotels, restaurants or shops. The term was commonly used in the past before the term "Fúwùyuán" (服务员) became more common.
According to the news outlet The Paper, a government official from Zhejiang added a new meaning to "Diànxiǎo'èr" in 2013. The official interpretation emphasized that all Chinese government officials and leaders basically need to 'serve.' Following this trend, more and more local governments allegedly started to re-think their role in society and their working relations with the public. According to The Paper, the term since started to appear in government reports and papers, to send off the signal that government bodies are willing to show their 'service-focused' attitude. Nowadays, a wide range of service people, such as employees of Taobao (Alibaba) also call themselves diànxiǎo'èr.
4. "Textbook style" or "Textbook case" 教科书式 (Jiàokēshū shì)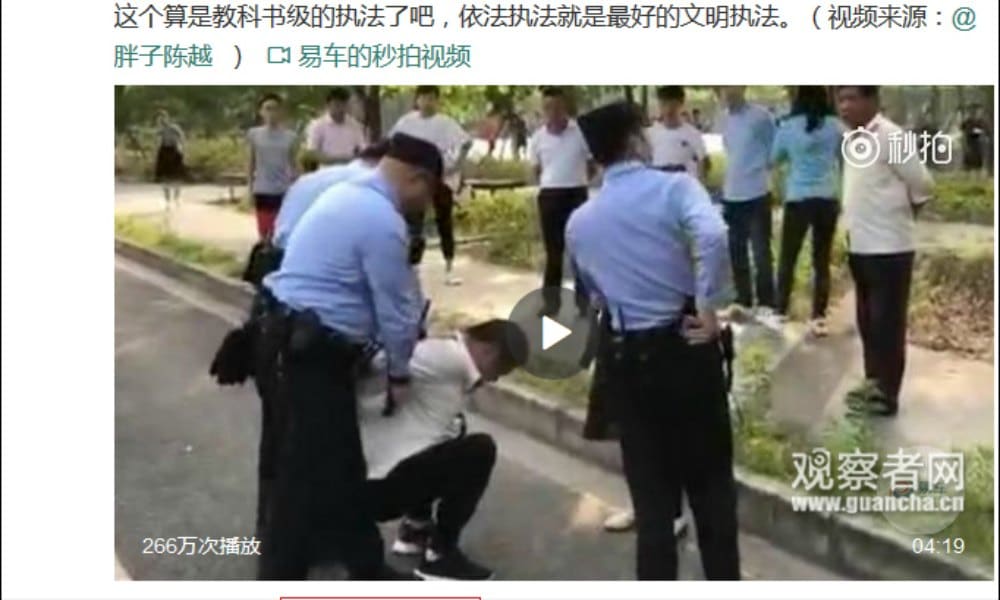 In May of this year, one online video got particularly popular on Chinese social media. In this video, a police officer is handling a suspect completely according to working procedure, clearly giving all orders and informing the suspect why he is being handled the way he is. According to many media sources and netizens, the officer was a 'textbook example' of handling criminals, which is why this became known as "textbook-style law enforcement" (教科书式执法). Now, you can find all kinds of 'textbook styles,' such as 'textbook style performance,' 'textbook style design,' etc. It can also be used in a negative way, talking about 'textbook style scam,' 'textbook style debt collector,' etc.
5. "Official announcement" 官宣 (Guānxuān)
Actress Zhao Liying and actor Feng Shaofeng posted the happy news of their marriage on October 16th of this year, only writing "official announcement" on their post. Thousands of fans then forwarded their announcement, leading to the term "official announcement" becoming a buzzword within a few days. The term uses the character 'official' as in 'official website' (官网), 'official Weibo' (官微). Usually, this full term is only used for formal official government announcements – the fact that it was used for a personal announcement made it special. Now, more and more people have started to announce personal or unofficial news by using the words "official announcement."
6. "Confirmed by one's eyes" 确认过眼神 (Quèrènguò yǎnshén)
This term comes from a Chinese pop song of which the lyrics say "My eyes have confirmed, you are the right person for me" ("确认过眼神,我遇上对的人"). According to Sohu, this phrase first appeared in a netizen's Weibo post around Chinese New Year. The person posted a photo of a red envelope with just one yuan in it, saying: "My eyes have confirmed, you are from Guangdong." This netizen used the phrase to make fun of people from Guangdong, who are often mocked for their stinginess. The running joke is now used in all kinds of ways, as explained by Inkstone, to confirm that something is 'definitely true': "I confirmed with my eyes that you are a jerk."
7. "Leaving a group" 退群 (Tuì qún)
'Tuì' (退) means to leave, retreat, or withdraw. 'Qún' (群) here means group or organization. Apps such as WeChat often have groups of people communicating and exchanging information within a specific interest or work field. At some point, some people will inevitably exit such groups. Nowadays, netizens have extended its meaning to leaving an organization or workgroup in 'real life' too. After Trump became president, America withdrew from a few international organizations and agreements. In China, these actions are also informally addressed as 'Tuì qún' (退群) now.
8. "Buddha-like" 佛系 (Fúxì)
This word comes from Japanese. In 2014, a Japanese magazine described a certain type of men as 'Buddha-like'; they prefer to be alone and focus on their own interests and generally dislike spending time on dating women. The term also started being used in popular media in China some years later to describe young people who are searching for peaceful lives and do not want to compete. Now, you can find many different kinds of 'Buddha styles,' for example 'Buddha-style parents,' 'Buddha-like shopping,' 'Buddha-style relationship,' etc. to describe the kinds of people who prefer to take things slow and calm. It also signals some negativity, describing a passive life attitude of people who are not very interested to improve their current status.
9. "Grown-up baby" 巨婴 (Jùyīng)
'Big baby' in English conveys the meaning of this word, literally describing abnormally large babies, but now meaning adults who act like a baby, are quick to lose their temper, and behave irrationally in certain situations. Over the past year, some incidents receiving massive public attention, such as the infamous 'Train Tyrants' misbehaving on public transport, were labeled as being part of the 'Grown-up baby phenomenon.'
10. "Internet trolls" 杠精 (Gāngjīng)
The Chinese character "杠" literally means "thick stick" and is used in the word "抬杠" (táigàng), which means 'to argue for the sake of arguing.' The second character of this buzzword "精" also has the meaning of 'spirit' or 'goblin.' The combination of the two characters is used to describe 'trolls' who enjoy arguing with people for the sake of it, not really caring about the truth or outcome, very much in the same way the term 'internet troll' is used in English.
Although the list with these ten terms has been making its rounds on Chinese social media, and has been shared many times by state media, not all Weibo users agree that these are the words that were actually 'hottest' in 2018. "They have a strong 'official' flavor," some said: "we actually use different terms in everyday life."
"We'll forget about them soon, and new words will come," others said.
One popular new term that became popular among netizens in late 2018 was the newly invented character 'qiou,' meaning "dirt-poor and ugly" – a term many Weibo users seemingly identify with more than the buzzwords selected by Chinese state media.
By Crystal Fan
Follow @whatsonweibo
edited for clarity by Manya Koetse
Spotted a mistake or want to add something? Please let us know in comments below or email us.
©2018 Whatsonweibo. All rights reserved. Do not reproduce our content without permission – you can contact us at info@whatsonweibo.com
CCTV Calls for Chinese Animal Abuse Laws
"Where's China's animal protection law?" – voices calling for a Chinese animal protection law are growing louder. Now, state media also call for legislation.
Just a day after a horrific story of a Chinese security guard pouring scalding water over a pregnant cat went viral on social media, the call for legislation against animal abuse is top trending on Weibo.
Chinese state broadcaster CCTV initiated the hashtag "CCTV calls for rapid legislation against animal abuse" (#央视呼吁禁止虐动物尽快立法#), which received 510 million views on Thursday.
The state media outlet stated that society is against animal cruelty, but that this opposition can now only exist on a "moral level," rather than legal. "Whenever animal cruelty happens, people can only condemn it," CCTV wrote, adding that they look forward to seeing laws against animal abuse be implemented as soon as possible.
According to CCTV, many delegates already raised the issue of animal cruelty laws during this year's Two Sessions, (lianghui), China's largest annual legislative meetings.
China currently has no laws preventing animal abuse. But over the past few years, the voices calling for the legal protection of animals in China have become louder.
Every now and then, extreme stories of animal abuse become the topic of the day on Chinese social media. Sometimes, Chinese netizens take matters into their own hand; they spread personal information on the animal abusers online. This phenomenon where Internet users hunt down and punish people is known as the 'Human Flesh Search Engine', and it often comes into action in cases connected to animal cruelty.
In one 2016 case of a man abusing a dog, for example, a group of animal welfare activists traced the man down, dragged him out of his house and publicly shamed him and beat him up.
In 2017, netizens cried out for rapid implementation of animal welfare legislation in China after a heartbreaking video of a young girl holding her killed dog went viral on social media. Her dog was shot by a neighborhood guard with an air gun.
Two years ago, another brutal case of pet killing also shocked Chinese social media users, when a Chongqing man threw his golden retriever and a pregnant cat from the 21st floor of his apartment building. The man allegedly committed the cruel act after learning his wife was pregnant and not wanting her to keep pets in the house.
This week, it was captured on video how a security guard in Shandong, Taiyuan, poured boiling water over a pregnant stray cat while she was captured in a cage. The cat was treated at a local animal hospital, where vets found that all of her unborn babies had died. The mother cat died soon after. After the story became trending, Chinese netizens soon exposed the man's address and personal details. The man has since been fired from his job.
Trending on Weibo today is the very cruel incident (captured on video) of a man pouring scalding water over a stray pregnant cat. People are furious, now sharing all his personal information online. Don't fu*k with cats! pic.twitter.com/mIlfp8S2qw

— Manya Koetse (@manyapan) October 21, 2020
As the many social media stories and trends over recent years have shown, this is definitely not the first time for people to call for animal abuse laws. It is more uncommon, however, for a state media outlet to make such a statement.
CCTV also asked Weibo users whether or not they would support an animal welfare law, with virtually all commenters responding that they would also like to see such laws be implemented as soon as possible.
"People who abuse animals have serious problems, legislation is needed," some Weibo users wrote, with others saying: "[These laws] need to come soon, we need them now, and I hope they'll be strict."
However, there is also skepticism about CCTV's call for immediate legislation on animal abuse.
"When I was studying at university this was already called for, but we've waited so many years already," one lawyer writes: "I haven't seen any progress being made."
Others also comment that "the law is always lagging behind."
Read more about discussions on animal rights in China here.
By Manya Koetse
Follow @WhatsOnWeibo
Featured image by author
Spotted a mistake or want to add something? Please let us know in comments below or email us. First-time commenters, please be patient – we will have to manually approve your comment before it appears.
©2020 Whatsonweibo. All rights reserved. Do not reproduce our content without permission – you can contact us at info@whatsonweibo.com.
Girl Brings 23 Relatives on Blind Date, Dinner Bill Comes Down to 20,000 Yuan
The girl said she wanted to test out the generosity of her date.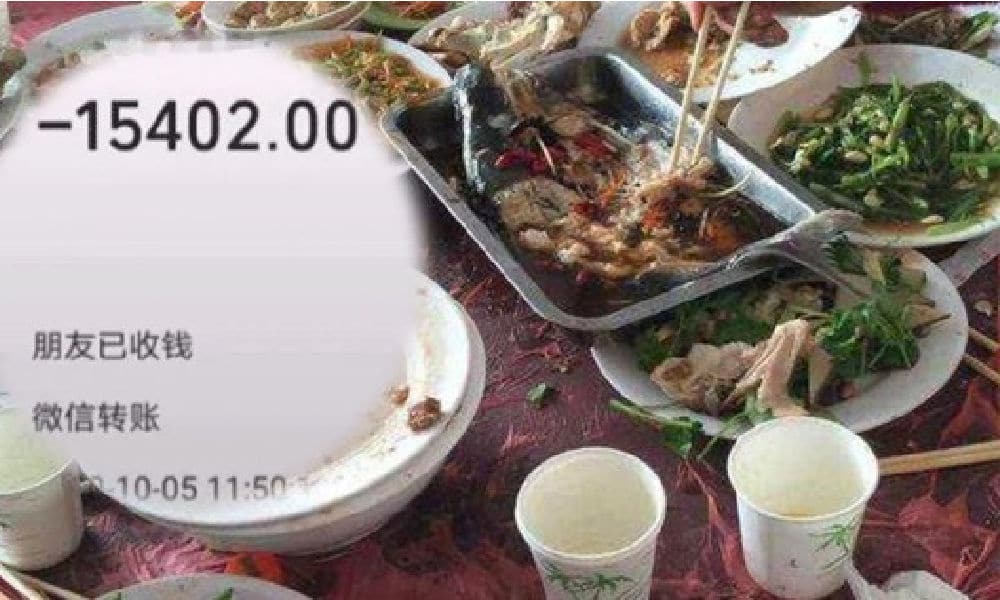 An expensive blind date has become top trending on Chinese social media platform Weibo, after a girl allegedly brought 23 of her relatives and friends to the dinner. The restaurant bill was 20,000 yuan – close to 3000 USD.
According to China Newsweek Magazine (中国新闻周刊), a man by the name of Xiao Liu had asked the young woman out for dinner, saying it would be his treat. The girl then unexpectedly showed up with an entire crew, saying it was to "test out" Liu's generosity.
Xiao Liu is a 29-year-old man from Zhejiang province. Struggling to find the time to date with his busy work schedule, Liu's mother hired a matchmaker to find a suitable potential girlfriend for her single son. The incident happened during a date that was set up by this matchmaker.
The story was originally published by local media outlets Taizhou Evening News (台州晚报) and Qilu Evening News (齐鲁晚报) on WeChat. These sources report that Liu took off without paying once he saw the restaurant bill, quickly turning off his cellphone afterward.
Since Liu left the 'dinner date' without paying, the woman was stuck with the bill.
In an attempt to solve the situation with Liu later on, the young woman said she was "willing to go Dutch" on the bill. Liu refused but was still willing to pay the 4398 yuan bill (660 USD) for two tables, leaving the girl with the rest of the 15,402 yuan bill (2305 USD).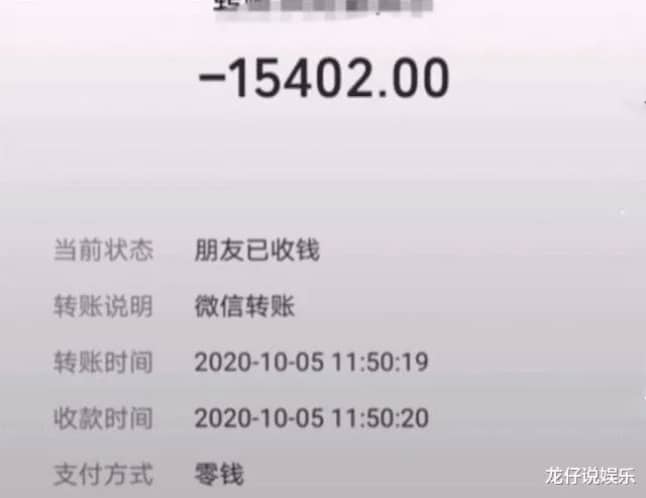 The girl reportedly turned to her relatives for help in paying the bill. Screenshots of the WeChat group chat were apparently leaked online, with some group members showing unwillingness to share in the high bill, saying that they did not smoke nor drink and just had a bite to eat – and that it was her who invited them in the first place.
On Weibo, the topic attracted 260 million views on Tuesday, with most commenters siding with Liu and condemning the girl.
Despite the online interest in the topic, there are also some netizens doubting whether or not the story is real. Although screenshots were shared by online media, the actual source of the story remains unknown. It is also not disclosed where or when the incident took place.
The fact that the story was also shared by some official (local) media makes people think that perhaps it was just posted as clickbait.
"Even an idiot would never bring 23 people to a date," some commenters say.
It is not uncommon for these kinds of interpersonal incidents to go viral on Chinese media.
In 2016, one Shanghai girl was so disappointed about what her boyfriend's parents served her for Chinese New Year, that she ended her relationship because of it. The story went mega-viral, reinforcing the 'demanding leftover woman' media cliché.
By Manya Koetse
Follow @WhatsOnWeibo
Spotted a mistake or want to add something? Please let us know in comments below or email us. First-time commenters, please be patient – we will have to manually approve your comment before it appears.
©2020 Whatsonweibo. All rights reserved. Do not reproduce our content without permission – you can contact us at info@whatsonweibo.com.