China's Top Ten Buzz Words & Phrases of 2018
According to Chinese (state) media, these are the top buzzwords of the year.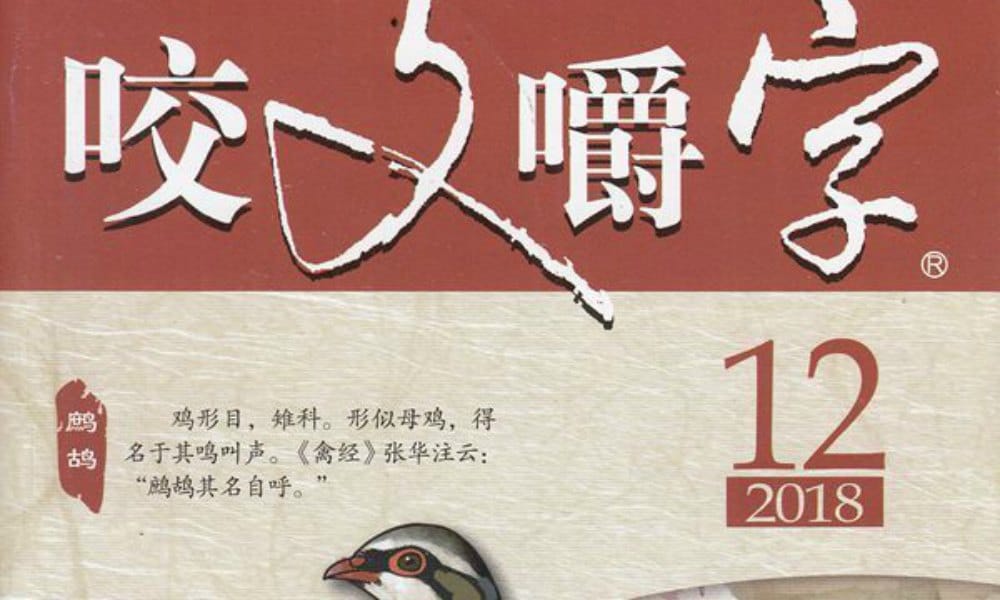 Earlier this month, chief editor Huang Anjing of the magazine Yǎowén Jiáozì (咬文嚼字) announced the "top ten buzzwords" in China of the past year. Yǎowén Jiáozì, which literally means "to pay excessive attention to wording," is a monthly publication focused on Chinese language and common language mistakes made by authors or people in the media.
Chinese (state) media have been widely propagating the magazine's selection of the top words and terms of the past year in newspapers and on Chinese social media.
The ten terms have also become a topic of discussion on Weibo this month. We've listed them for you here:
1. "Community with a Shared Future" 命运共同体 (Mìngyùn Gòngtóngtǐ)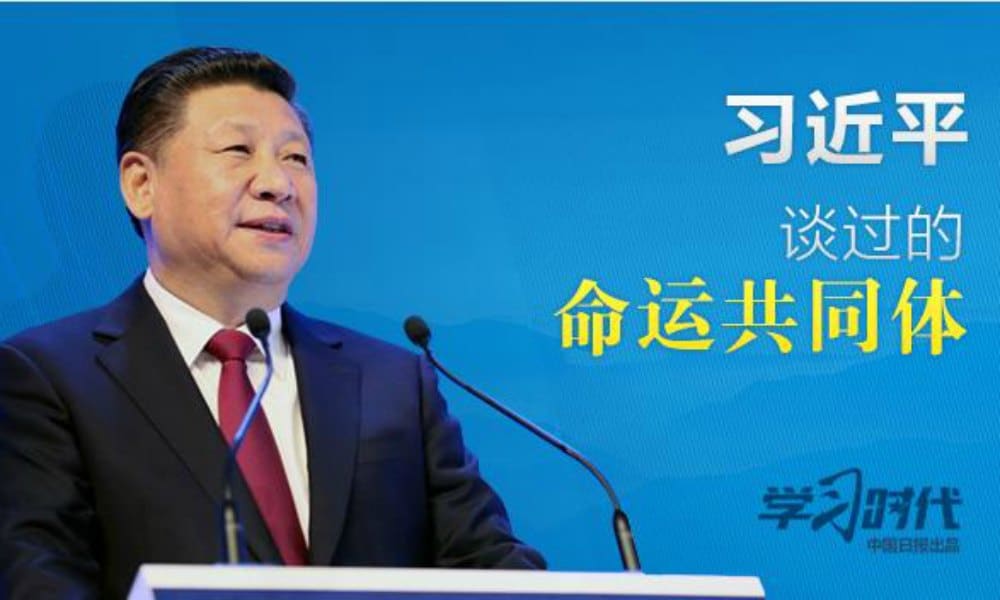 "Community with a Shared Future" (命运共同体) is a political term which is widely used in the domains of foreign relations and national security, and which has often been used by President Xi Jinping since the 18th National Congress. The concept stresses the idea of China's peaceful development and its role in the international community. It's been used both in national as in international contexts.
2. "Koi fish" 锦鲤 (Jǐnlǐ)
Koi fish, which come in a variety of colors such as red, yellow, or orange, are a common symbol in Chinese culture. Chinese netizens like to forward the images of Koi fish to bring luck to themselves or their friends and family members.
This year's 'koi fish' hype started with a lucky draw activity initiated by Alipay during China's National Day. The winner, who was named 'China's Koi Fish' (中国锦鲤), was drawn from millions of netizens who forwarded this post. Afterward, Chinese netizens continued to use the colorful fish to wish others "good luck," and the term also started to be used for those people who win without really trying, thanks to sheer luck.
3. "Waiter" 店小二 (Diànxiǎo'èr)
The original meaning of "Diànxiǎo'èr" is "waiter" or the staff working in hotels, restaurants or shops. The term was commonly used in the past before the term "Fúwùyuán" (服务员) became more common.
According to the news outlet The Paper, a government official from Zhejiang added a new meaning to "Diànxiǎo'èr" in 2013. The official interpretation emphasized that all Chinese government officials and leaders basically need to 'serve.' Following this trend, more and more local governments allegedly started to re-think their role in society and their working relations with the public. According to The Paper, the term since started to appear in government reports and papers, to send off the signal that government bodies are willing to show their 'service-focused' attitude. Nowadays, a wide range of service people, such as employees of Taobao (Alibaba) also call themselves diànxiǎo'èr.
4. "Textbook style" or "Textbook case" 教科书式 (Jiàokēshū shì)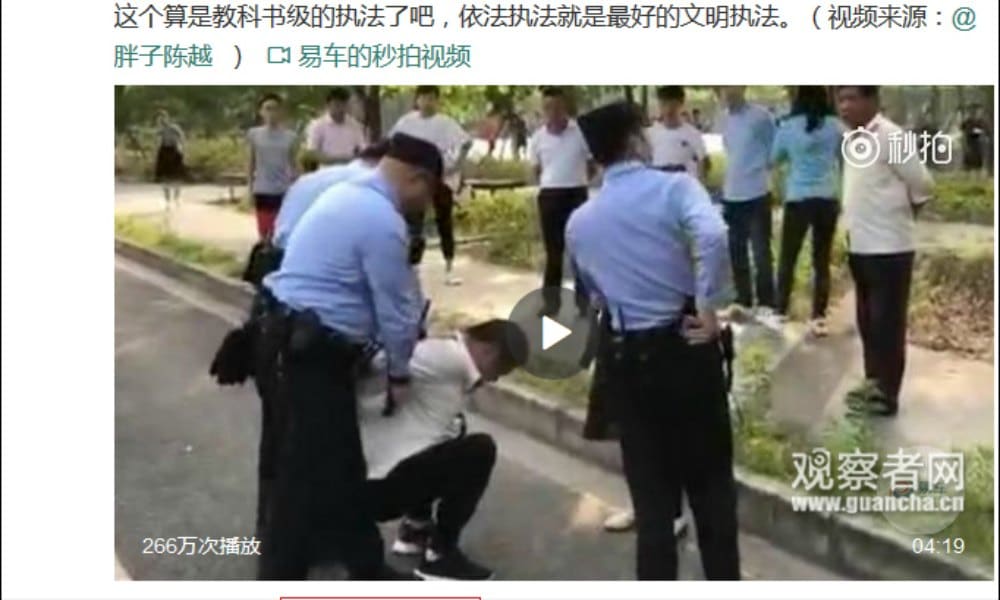 In May of this year, one online video got particularly popular on Chinese social media. In this video, a police officer is handling a suspect completely according to working procedure, clearly giving all orders and informing the suspect why he is being handled the way he is. According to many media sources and netizens, the officer was a 'textbook example' of handling criminals, which is why this became known as "textbook-style law enforcement" (教科书式执法). Now, you can find all kinds of 'textbook styles,' such as 'textbook style performance,' 'textbook style design,' etc. It can also be used in a negative way, talking about 'textbook style scam,' 'textbook style debt collector,' etc.
5. "Official announcement" 官宣 (Guānxuān)
Actress Zhao Liying and actor Feng Shaofeng posted the happy news of their marriage on October 16th of this year, only writing "official announcement" on their post. Thousands of fans then forwarded their announcement, leading to the term "official announcement" becoming a buzzword within a few days. The term uses the character 'official' as in 'official website' (官网), 'official Weibo' (官微). Usually, this full term is only used for formal official government announcements – the fact that it was used for a personal announcement made it special. Now, more and more people have started to announce personal or unofficial news by using the words "official announcement."
6. "Confirmed by one's eyes" 确认过眼神 (Quèrènguò yǎnshén)
This term comes from a Chinese pop song of which the lyrics say "My eyes have confirmed, you are the right person for me" ("确认过眼神,我遇上对的人"). According to Sohu, this phrase first appeared in a netizen's Weibo post around Chinese New Year. The person posted a photo of a red envelope with just one yuan in it, saying: "My eyes have confirmed, you are from Guangdong." This netizen used the phrase to make fun of people from Guangdong, who are often mocked for their stinginess. The running joke is now used in all kinds of ways, as explained by Inkstone, to confirm that something is 'definitely true': "I confirmed with my eyes that you are a jerk."
7. "Leaving a group" 退群 (Tuì qún)
'Tuì' (退) means to leave, retreat, or withdraw. 'Qún' (群) here means group or organization. Apps such as WeChat often have groups of people communicating and exchanging information within a specific interest or work field. At some point, some people will inevitably exit such groups. Nowadays, netizens have extended its meaning to leaving an organization or workgroup in 'real life' too. After Trump became president, America withdrew from a few international organizations and agreements. In China, these actions are also informally addressed as 'Tuì qún' (退群) now.
8. "Buddha-like" 佛系 (Fúxì)
This word comes from Japanese. In 2014, a Japanese magazine described a certain type of men as 'Buddha-like'; they prefer to be alone and focus on their own interests and generally dislike spending time on dating women. The term also started being used in popular media in China some years later to describe young people who are searching for peaceful lives and do not want to compete. Now, you can find many different kinds of 'Buddha styles,' for example 'Buddha-style parents,' 'Buddha-like shopping,' 'Buddha-style relationship,' etc. to describe the kinds of people who prefer to take things slow and calm. It also signals some negativity, describing a passive life attitude of people who are not very interested to improve their current status.
9. "Grown-up baby" 巨婴 (Jùyīng)
'Big baby' in English conveys the meaning of this word, literally describing abnormally large babies, but now meaning adults who act like a baby, are quick to lose their temper, and behave irrationally in certain situations. Over the past year, some incidents receiving massive public attention, such as the infamous 'Train Tyrants' misbehaving on public transport, were labeled as being part of the 'Grown-up baby phenomenon.'
10. "Internet trolls" 杠精 (Gāngjīng)
The Chinese character "杠" literally means "thick stick" and is used in the word "抬杠" (táigàng), which means 'to argue for the sake of arguing.' The second character of this buzzword "精" also has the meaning of 'spirit' or 'goblin.' The combination of the two characters is used to describe 'trolls' who enjoy arguing with people for the sake of it, not really caring about the truth or outcome, very much in the same way the term 'internet troll' is used in English.
Although the list with these ten terms has been making its rounds on Chinese social media, and has been shared many times by state media, not all Weibo users agree that these are the words that were actually 'hottest' in 2018. "They have a strong 'official' flavor," some said: "we actually use different terms in everyday life."
"We'll forget about them soon, and new words will come," others said.
One popular new term that became popular among netizens in late 2018 was the newly invented character 'qiou,' meaning "dirt-poor and ugly" – a term many Weibo users seemingly identify with more than the buzzwords selected by Chinese state media.
By Crystal Fan
Follow @whatsonweibo
edited for clarity by Manya Koetse
Spotted a mistake or want to add something? Please let us know in comments below or email us.
©2018 Whatsonweibo. All rights reserved. Do not reproduce our content without permission – you can contact us at info@whatsonweibo.com
From Hong Kong Protests to 'Bright Future' – The Top 3 Most Popular Posts on Weibo This Week
These are the most-read posts on Weibo this week.
The three most-read posts on Weibo over the past week – an overview by What's on Weibo.
The protests in Hong Kong have been dominating Chinese social media throughout August, and the past week has been no different. Two out of three most-read posts on Weibo, one of China's most popular social media platforms, were about Hong Kong this week.
A wrap-up:
#1 Hundreds of Hong Kong Taxi's Flying Chinese National Flag
While Hong Kong is gearing up for the 13th consecutive weekend of mass anti-government demonstrations, there are no signs of the protests fizzling out any time soon.
The Hong Kong protests started in March and April of this year against an extradition bill that would allow local authorities to detain and extradite people wanted in mainland China, and have intensified over the past weeks.
Although authorities in mainland China initially remained quiet on the topic, the Hong Kong demonstrations have been dominating the trending streams on China's popular social media platforms for all of August.
Through videos, online posters, and slogans, Chinese state media have propagated a clear narrative on the situation in Hong Kong; namely that a group of "separatists" or "bandits" are to blame for the riots that aim to "damage public security" in Hong Kong and are "dividing the nation."
News outlets such as People's Daily and CCTV are sharing many stories that emphasize the One China principle and praise the Hong Kong police force. Those voices in Hong Kong speaking up for the police force and condemning protesters using violence have been amplified in Chinese media.
One story that became the number one trending post on Weibo this week is that of dozens of Hong Kong taxi drivers hanging the Chinese national flag from their cars (video).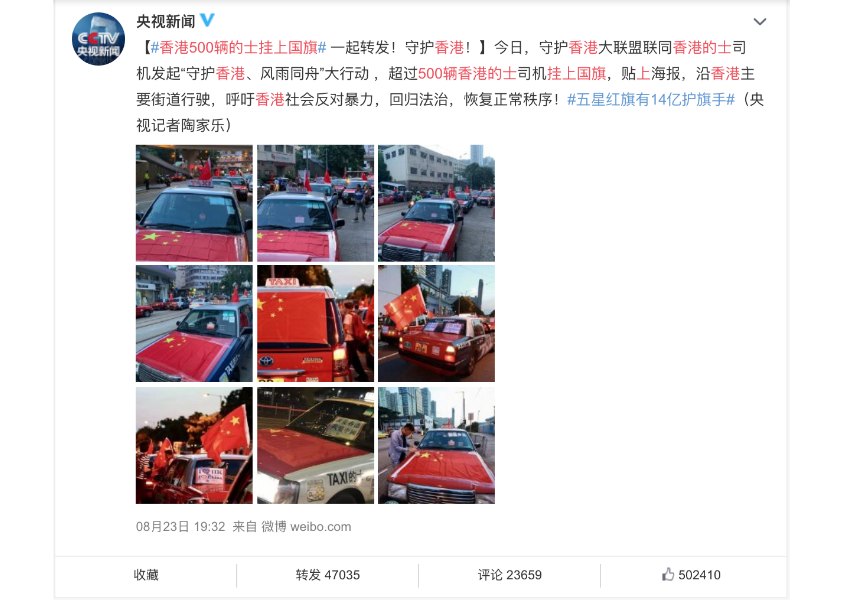 On August 23, the taxi drivers reportedly formed a rally against violence at Tsim Sha Tsui, waving the flags and putting up signs saying "I love HK, I love China."
The hashtag "500 Hong Kong Taxi's Hanging up Chinese National Flags" (#香港500辆的士挂上国旗#), hosted by CCTV, attracted over 700 million views on Weibo. The CCTV post reporting on the event received over half a million likes and 47000 shares.
The commenters mostly praise the Hong Kong taxi drivers for "standing up for Hong Kong" and flying the Chinese flag.
In English-language media, it has mostly been Chinese state media reporting on the rally. Xinhua, Women of China, ECNS, and Global Times all reported on the August 23 peace rally.
CNN only shortly reported how "a number of taxis have been spotted driving around the city displaying Chinese flags — something that has not happened on this scale during previous protests" (link).
#2 'Bright Future' Title Song for Upcoming Movie 'The Moon Remembers All'
Over 266.000 Weibo users have been sharing a post by Chinese actor Li Xian (李现) on the title track for the new Chinese movie The Moon Remembers All or River on a Spring Night (Chinese title: 春江花月夜).
The upcoming movie itself is a very popular topic on Weibo recently, attracting 430 million views on its hashtag page alone. The movie just finished shooting and will be released in 2020.
The song titled "Bright Future" (前程似锦) is sung by Taiwanese singer Chen Linong (陈立农) and Li Xian, who are both the leading actors in the fantasy movie. The song was released on August 29.
The Moon Remembers All is produced by Edko Films and directed by Song Haolin (宋灏霖), also known for Mr. Zhu's Summer (2017) and Fatal Love (2016).
#3 Interview with Hong Kong Pro-Beijing LegCo Member Junius Ho
The third most popular Weibo post of this week comes from Xia Kedao (侠客岛), a popular commentator account for the People's Daily Overseas Edition, and concerns a live broadcasted interview with Hong Kong lawmaker and Legislative Council (LegCo) member Junius Kwan-yiu Ho.
Junius Ho (何君尧) is known as being 'pro-Beijing' and stirred controversy earlier this summer when a viral video showed him shaking hands with men wearing white T-shirts who allegedly were linked to the mob attacking people at the Yuen Long MTR station on July 21.
Xia Kedao describes Junius Ho as a "straightforward" politician who "speaks out for justice" and denounces "reactionaries."
In the August 28 interview, that was live-streamed on Sina Weibo and later also written up, the Hong Kong legislator discussed the background of the protests.
Ho argues that the people with "ulterior motives" used the extradition bill for their own power struggle, distorting and exaggerating the facts behind the regulation.
The politician also partly links the protests to a "weak national consciousness" in Hong Kong due to its education curriculum and says that there have not been enough legal consequences for those participating in illegal activities and riots.
Thousands of commenters on Weibo write that they appreciate Ho for speaking out against the "pro-independence riot youth" and praise him for his "deep understanding" of mainland China.
By now, Junius Ho, who is also active on Weibo with his own account, has gathered more than half a million fans on his page.
By Manya Koetse
Follow @whatsonweibo
Spotted a mistake or want to add something? Please let us know in comments below or email us. Please note that your comment below will need to be manually approved if you're a first-time poster here.
©2019 Whatsonweibo. All rights reserved. Do not reproduce our content without permission – you can contact us at info@whatsonweibo.com
CCTV Launches Dramatic Propaganda Video Condemning Hong Kong Protests, Praising HK Police Force
This CCTV video leaves no doubt about what narrative on the Hong Kong protests it's trying to convey.
This week, while the protests in Hong Kong were intensifying, Chinese state broadcaster CCTV published a video on its social media channels in support of the Hong Kong Police Force. The hashtag used with the video is "HK Police, We Support You!" (香港警察我们挺你#).
"Evil will not press [us] down! A Sir [HK Officers], 1.4 billion compatriots support you!" is the sentence used to promote the video.
The video was initially issued by Xiaoyang Video (小央视频), CCTV's short video platform, on August 13. There is a Cantonese and a Mandarin version of the same video, which is spread on various channels from Weibo to Bilibili, from YouTube to iQiyi.
"Hong Kong is not a place you can do whatever you please with" is the other message promoted in the video, that uses words such as "terrorists" and "bandits" to describe the Hong Kong protesters.
The sentence that Hong Kong is not a place "to do whatever you like with" ("香港,不是你们为所欲为的地方") comes from one of the movie scenes incorporated in the video (Hong Kong movie Cold War 2 / 寒战2).
The video is a compilation of footage using TV dramas and movies combined with actual footage from the recent protests.
By using spectacular images and dramatic film scenes, the video conveys a dramatic narrative on the Hong Kong protests, clearly portraying the Police Force as the good guys fighting against evil.
As the video is being liked and shared by thousands of web users on various platform, one popular comment on video platform Bilibili says: "No matter whether it's a natural disaster, or a man-made disaster, we can overcome this."
Some of the footage used in this video comes from Firestorm, a 2013 Hong Kong action film (the first 3D Hong Kong police action film). Hong Kong police thriller films Cold War and its sequel are also used, along with Hong film The White Storm (2013), Shock Wave (2017), Tactical Unit: Comrades in Arms (2009), Kill Zone (2005), crime drama Line Walker, L Storm (2018), Project Gutenberg (2018), The Menu (2015), and Chasing the Dragon and its sequal (2017/2019).
All of the fictional segments are from made-in-Hong Kong productions.
Watch the propaganda video here.
By Manya Koetse
Follow @whatsonweibo
Spotted a mistake or want to add something? Please let us know in comments below or email us. Please note that your comment below will need to be manually approved if you're a first-time poster here.
©2019 Whatsonweibo. All rights reserved. Do not reproduce our content without permission – you can contact us at info@whatsonweibo.com