From Study Xi to Himalaya FM: Top 5 Popular Chinese Learning & Study Apps
These are some of the most popular study and learning apps for Chinese mobile users.
Study apps are more popular in China than ever before. These are the apps that are favorites among Chinese mobile users, to expand their knowledge and study online.
Just three years ago, we wrote about the booming business of e-learning in China and the increasing popularity of cyber studying. In a time when Chinese mobile users spend more time on their phones than ever, the market has developed a lot since then, and study apps have become more popular than ever before.
The rise of online education (在线教育) has made it possible for people to study any topic they like, no matter how old they are, where they live, or what they do. Moreover, compared to traditional education, online studying is relatively cheap, or even free, making education more accessible to people from all layers of Chinese society. In this way, online education is a source of opportunities – both for mobile users and for companies tapping into the market.
We made our selections in our lists based on the data from the Android app stores Tencent, Baidu, Huawei, and Zhushou360. We tried our best to give you a representative overview of a variety of apps that are currently most used within this category in China, but want to remind you that these lists are no official "top 5" charts.
This article is the last of a series of five articles, listing popular Chinese apps in the categories of short video & live streaming, news, health & sports, and mobile games. We'll list the other categories for you below this article, but let's move over to review these mobile study and learning apps now.
#1 Help with Homework  作业帮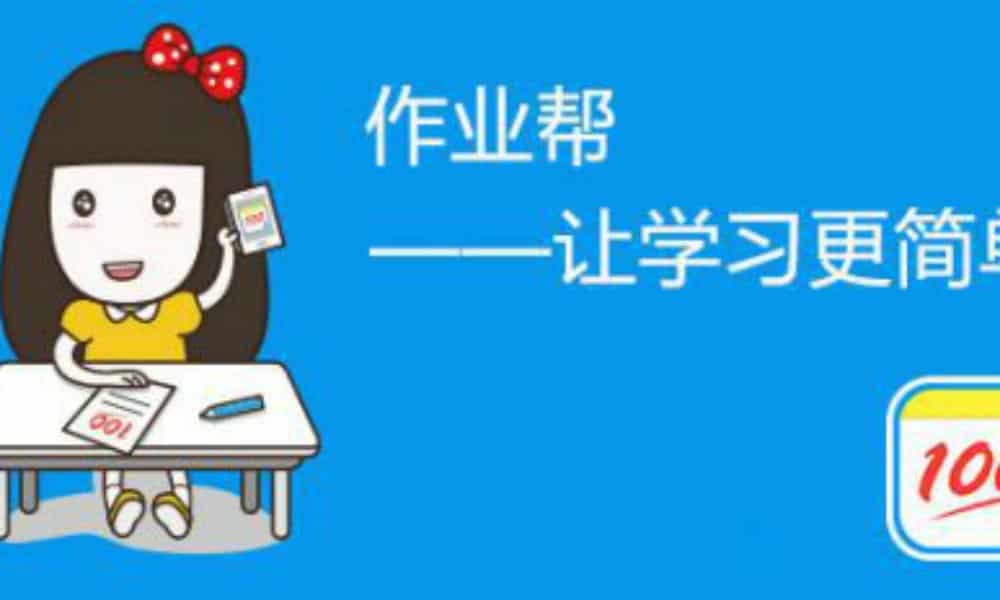 Help with Homework, as the name already suggests, is an app that provides primary and secondary students with study-enhancing features, offering help with courses including Chinese, English, math, history, physics, and chemistry.
In the partly free app, students can take pictures of their homework or tests. The app will then tell them if they made any mistakes. There is also a tutoring function including audio, free lessons, extra study material, a question bank, and a dictionary. It is also possible for users to upload their own essay which will then serve as an example for others.
The app was launched in 2014 by a like-named company in Beijing. Throughout the years, the app won several awards, but more importantly, it became the holy grail of every young student across the country.
According to their own website, Help with Homework has over 400 million users. And according to a report by Jiguang, more than 84 percent of the children up to the age of 15 who have a smartphone have a favorable attitude towards the app. But not only children benefit from the app. More than 82 percent of people in the age category 36 to 45 also showed a positive attitude toward the app.
In the Tencent Appstore and Apple stores, the app currently ranks subsequently first and fifth most popular education app.
#2 Study Xi Strong Country  学习强国
Study Xi is an app that was launched by the Propaganda Department of the Central Committee of the Communist Party. The app was launched on January 1st of this year, and has been a hit ever since.
The app is a multi-functional educational platform that offers users various ways to study Xi Jinping Thought, Party history, Chinese culture, history, and much more. To encourage users to study, the app also awards its users with incentives. There are several ways to earn points, for example through reading articles, watching videos, spending a certain amount of time on the app, sharing or saving articles or getting all the answers right with a quiz. With enough points, users can get discounts or free items online.
For more about this app, check out our 'Everything you need to know about the Study Xi app' article.
In the Apple store, the app currently ranks the most popular app overall.
#3 Himalaya FM 喜马拉雅FM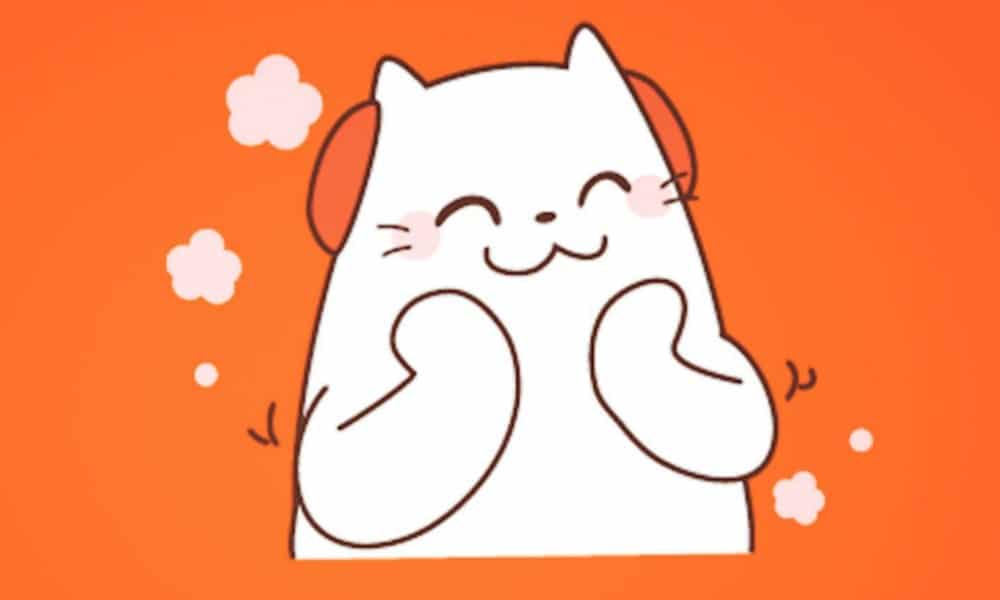 Himalaya is China's most popular audio sharing platform. The app was first launched in 2013 and was an instant success. Within two years, the app reached 200 million users, and continued steady growth. In 2017, Himalaya was selected amongst the 30 most influential Chinese enterprises of the century.
According to the company's website, Himalaya currently caters to 450 million people. They offer users a wide variety of (educational) podcasts, audiobooks, (live) radio, and music. Some audio is free, some features need to be paid for. For most paid features, users can first partly listen to the audio-book before they can decide upon whether or not they want to purchase it.
But Himalaya is not only about audio content. It is also Himalaya's mission to "empower podcast creators." By providing production, distribution, and marketing support, the app also helps creators to connect with their audiences and allow them to earn money.
In the fourth quarter of 2018, Himalaya's daily active users grew from 12 million to 13.4 million, making it the most popular app of 2018 in the category of knowledge.
Himalaya is also available in English. However, the Chinese and International Himalaya are two separate apps and use a different logo.
#4 iReader 掌阅
iReader is amongst the leading digital reading distribution platforms globally. The company was established in 2008, and since then set up cooperations with over 600 copyright collectives. Following the domestic success, iReader went global in 2015, and is now available in more than 150 countries and has 500 million users worldwide.
The Chinese version of the app divides its content in manga and "bookstore or book city" (书城), meaning everything but manga. Both categories, however, offer a wide variety of subjects. At first sight, most content is (partly) paid, but there is also a button for free books, audio books, and podcasts, offering access to a mass of content that helps to build on knowledge and to study.
According to a report by Jiguang, iReader was China's 62nd most successful app in 2018.
#5 Kai Shu Story 凯叔讲故事
Kai Shu Story is both a storytelling app for young children as a publishing house for children's books. The app is mainly focused on children in the kindergarten and primary school age group, offering a wide range of genres including fables and fairy tales, science and history, famous foreign works, and  – perhaps the most popular – Chinese literary works.
Different from most of the apps we covered in our "top 5 selections", the most popular content of Kai Shu Story is has a paywall. Top paid packages include The Three Kingdoms, Poetry is Coming, Journey to the West and Kai Shu Tells History, where China's history starting from the Shang Xia period up to the end of the Qing Dynasty is told in 635 stories.
In order to offer all users the opportunity to explore and learn in a fun way, the app also provides plenty of free content. But that is not all there is to it. Most stories end with a question to readers, who are then free to share their answers or post other remarks in a group chat. And for those whose listening skills are not so strong, most stories come with a written script too – also making this an excellent app for foreigners studying Chinese!
Kai Shu Story is founded by Mr. Wang Kai (王凯), a former host of China's Central Television Station (CCTV) and dubbing artist (see featured image of this article). Kai dubbed thousands of famous TV dramas and movies before he resigned to spend more time with his children.
One afternoon – so the story goes – he accidentally shared a story recording for his daughter with his daughter's kindergarten group-chat. After hearing the audio, Kai immediately received enthusiastic reactions from parents asking him to upload more stories. With his love for telling stories, he continued sharing his readings, and in no-time gathered a small fanbase. The members in the group chat gave him the affectionate name 'Kai Shu,' which literally translates as 'Uncle Kai.'
From 2014 to 2016, the group-chat evolved into an official WeChat account, which subsequently led to the app. Since the launch of the app in 2016, Kai and his team have uploaded more than 8000 stories, which have been played around 3 billion times, adding up to a staggering 229 million hours of listening, according to the official website.
Kai Shu Story is currently ranked among China's top-grossing education apps in the Chinese Apple Store.
Also see:
By Gabi Verberg, edited by Manya Koetse
Spotted a mistake or want to add something? Please let us know in comments below or email us.
©2019 Whatsonweibo. All rights reserved. Do not reproduce our content without permission – you can contact us at info@whatsonweibo.com
Will Weibo Become 30% State-Media Owned?
Alibaba is allegedly ready to give up its Weibo shares to SMG.
Bloomberg recently reported that Chinese e-commerce giant Alibaba is preparing to sell its 30% stake in social media platform Weibo. According to people familiar with the matter, Alibaba is negotiating with the state-owned Shanghai Media Group (SMG).
News about Alibaba planning to sell all of its Weibo shares has triggered some online discussions on the Chinese social media platform. Bloomberg was the first to report that the Chinese e-commerce and IT enterprise is talking to the state-owned Shanghai Media Group (SMG) to sell all of its 30% stake in Weibo.
According to Bloomberg, the move relates to regulators wanting to curb the influence of Chinese tech giants in the media sphere. The Bloomberg article claims that SMG, as one of China's largest state-owned media and cultural conglomerates, stands a higher chance of gaining the approval of Chinese authorities than a private acquirer.
SMG is a large state-owned enterprise with over a dozen TV and radio stations, many newspapers and magazines, various drama & film production and distribution businesses, and more. The company has a major media influence, not only in Shanghai but throughout the country.
According to Weibo's 2020 annual reports, New Wave held a 45% stake in Weibo, followed by Alibaba with its 30%. New Wave is the holding company by Weibo chairman Charles Chao.
"Weibo will change into another channel for SMG," some Weibo users predict, with others also sharing their fear that Weibo would become more and more like a platform for official media ("微博现在越来越官方化").
"This would be a big milestone in the crumbling of Alibaba's media empire," another commenter wrote. Some wonder if the developments have more to do with Weibo as a platform, or with Alibaba and its media influence.
In March of 2021, the Wall Street Journal already reported that the Chinese government asked the Alibaba Group to dispose of its media assets due to concerns over the company's influence in the sensitive media sphere.
"When Alibaba exits and state-owned capital enters, Weibo is expected to magnificently transform into a 'state-owned enterprise'," another Weibo user wrote.
Although some commenters worry that Weibo will change for the worse and that there will be more censorship, others see a sunnier future for the social media platform: "It would be good for Weibo to be 'state-owned' so that it won't be controlled by capital to influence public opinion anymore."
Chinese tech site 36kr also reported about the issue on January 1st, but neither Weibo nor Alibaba or SGM have officially responded yet.
By Manya Koetse
With contributions by Miranda Barnes.
Spotted a mistake or want to add something? Please let us know in comments below or email us. First-time commenters, please be patient – we will have to manually approve your comment before it appears.
©2021 Whatsonweibo. All rights reserved. Do not reproduce our content without permission – you can contact us at info@whatsonweibo.com.
China's Livestreaming Queen Viya Goes Viral for Fraud and Fines, Ordered to Pay $210 Million
Viya, the Queen of Taobao, is under fire for tax evasion.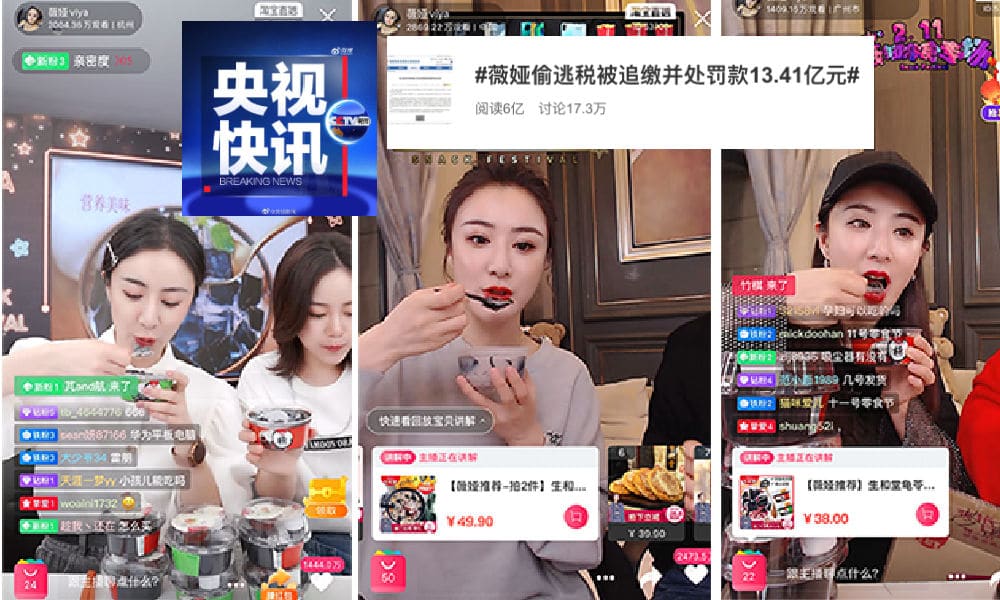 Viya, one of China's most well-known and successful live streamers, is trending today for allegedly committing tax fraud by deliberately providing false information and concealing personal income.
The 'Taobao queen' Viya (薇娅, real name Huang Wei 黄薇) reportedly committed tax fraud from 2019 to 2020, during which she evaded some 643 million yuan ($100 million) in taxes and also failed to pay an additional 60 million yuan ($9.4 million) in taxes.
The Hangzhou Tax Administration Office reportedly ordered Viya to pay an amount of over 1.3 billion yuan ($210 million) in taxes, late payment fees, and other fines. On Monday, a hashtag related to the issue had garnered over 600 million views on Weibo (#薇娅偷逃税被追缴并处罚款13.41亿元#).
Viya made headlines in English-language media earlier this year when she participated in a promotional event for Single's Day on October 20th and managed to sell 20 billion yuan ($3.1 billion) in merchandise in just one live streaming session together with e-commerce superstar Lipstick King.
China has a booming livestreaming e-commerce market, and Viya is one of the top influencers to have joined the thriving online sales industry years ago. When the e-commerce platform Taobao started their Taobao Live initiative (mixing online sales with livestreams), Viya became one of their top sellers as millions of viewers starting joining her channel every single day (she livestreams daily at 7.30 pm).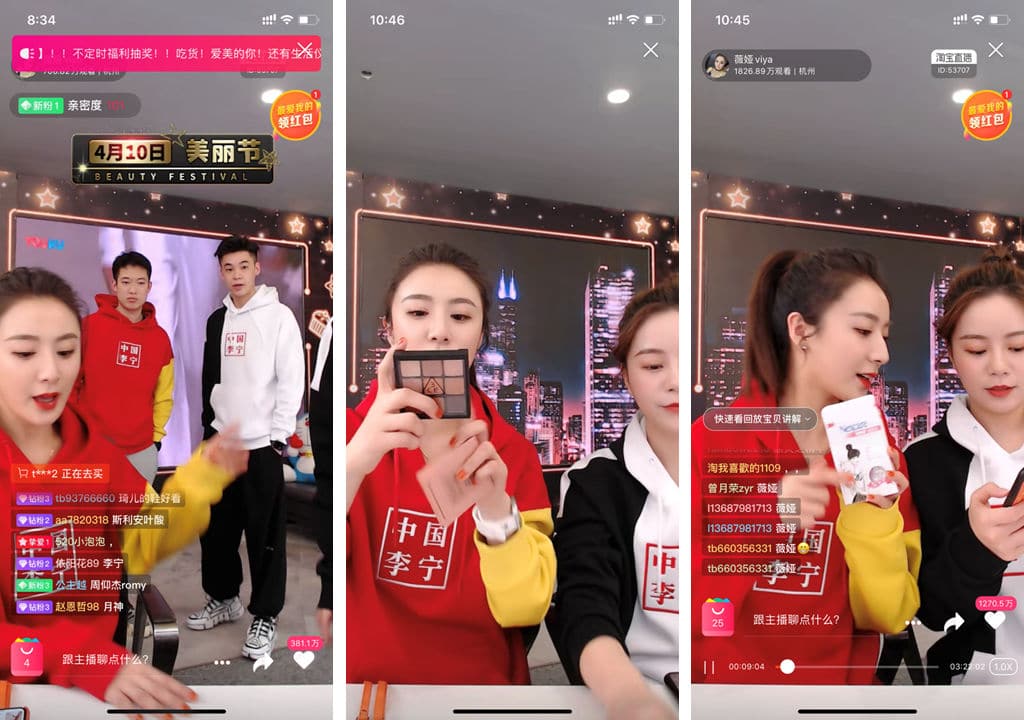 With news about Viya's tax fraud practices and enormous fines going viral on Chinese social media, many are attacking the top influencer, as her tax fraud case seems to be even bigger than that of Chinese actress Fan Bingbing (范冰冰).
Chinese actress Fan Bingbing went "missing" for months back in 2018 when she was at the center of a tax evasion scandal. The actress was ordered to pay taxes and fines worth hundreds of millions of yuan over tax evasion. The famous actress eventually paid approximately $128,5 million in taxes and fines, less than Viya was ordered to pay this month.
Like Fan Bingbing, Viya will also not be held criminally liable if the total amount is paid in time. This was the first time for the e-commerce star to be "administratively punished" for tax evasion.
Around 5pm on Monday, Viya posted a public apology on her Weibo account, saying she takes on full responsibility for the errors she made: "I was wrong, and I will bear all the consequences for my mistakes. I'm so sorry!"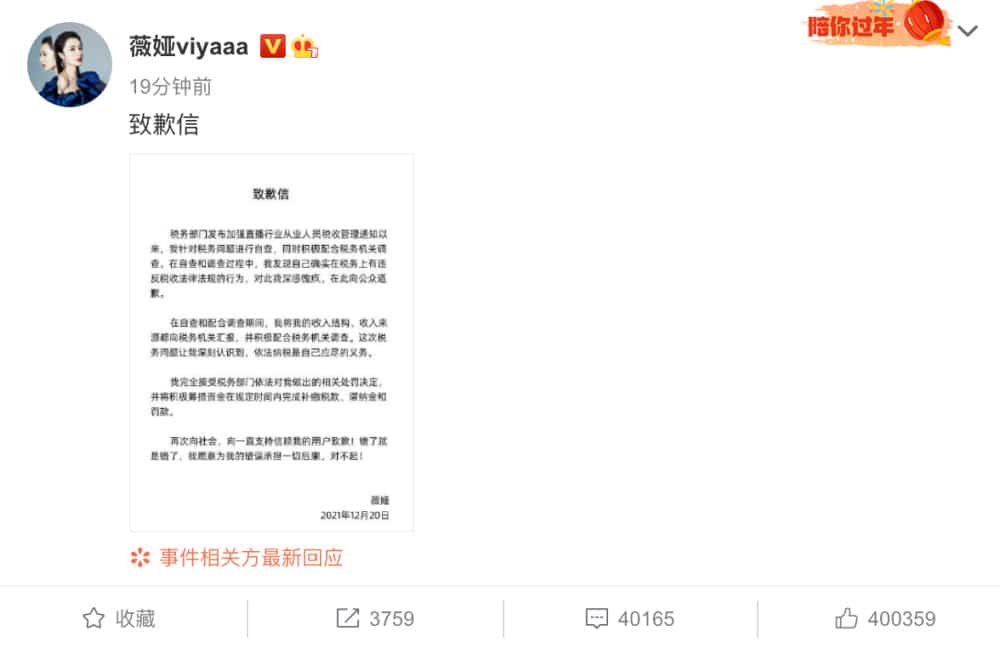 It is not clear if she will still do her daily live stream later today and how this news will impact Viya's future career.
Update: Vaya's live stream was canceled.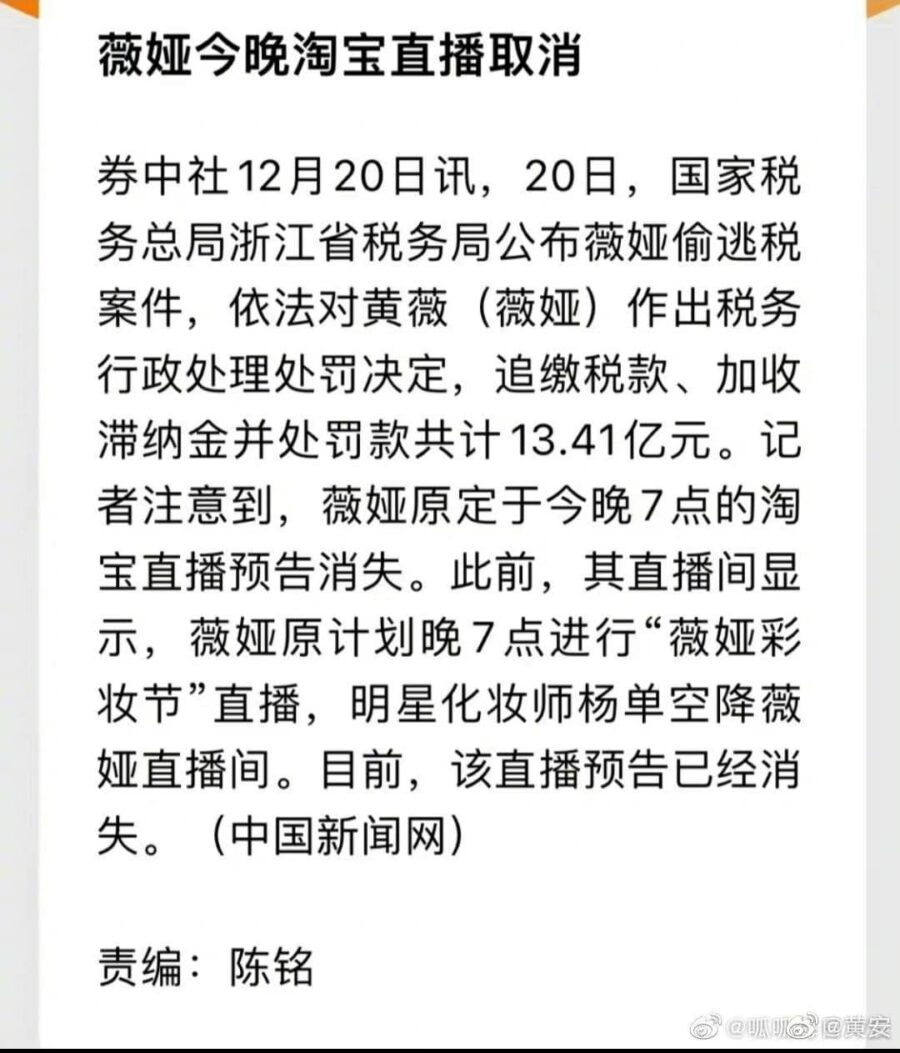 Update 2: Vaya's husband also issued an apology on Weibo.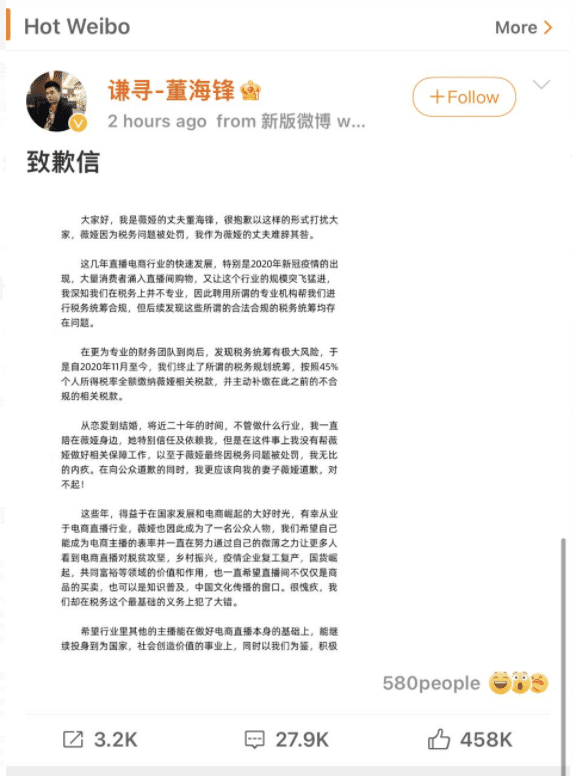 Update 3: Taobao has suspended or 'frozen' ("冻结") Vaya's livestreaming channel. Her Taobao store is still online.
By Manya Koetse
With contributions by Miranda Barnes.
Spotted a mistake or want to add something? Please let us know in comments below or email us. First-time commenters, please be patient – we will have to manually approve your comment before it appears.
©2021 Whatsonweibo. All rights reserved. Do not reproduce our content without permission – you can contact us at info@whatsonweibo.com.