"Tyrant Train Woman" Goes Trending on Weibo and Unleashes Flood of New Memes
The hashtag "High-Speed Tyrant Woman" (#高铁霸座女#) already received a staggering 450 million views on Weibo today.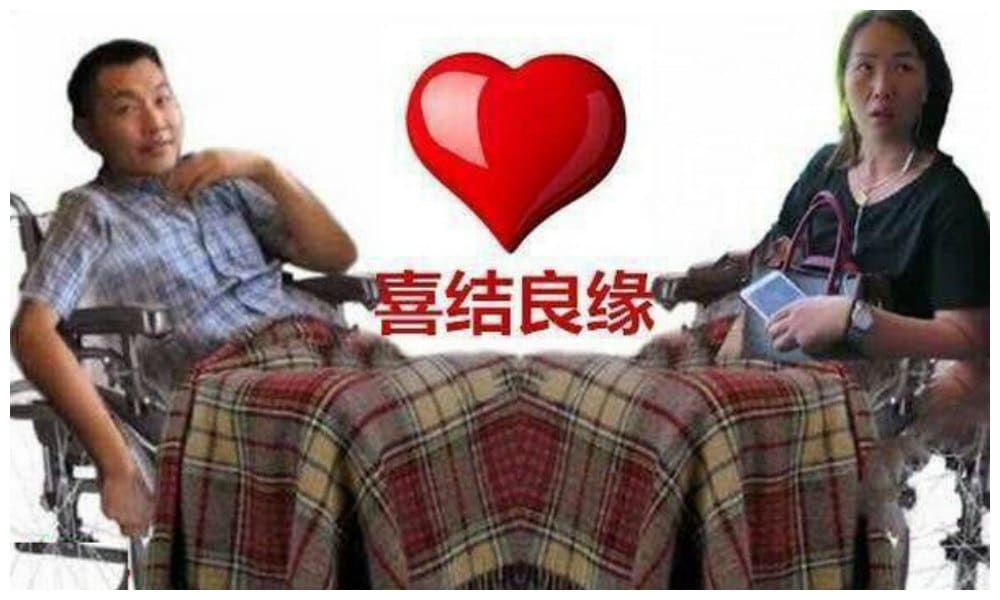 While the bizarre behavior of a male passenger went viral in late August, this time, it is a female passenger's rude behavior that's become trending on Chinese social media. Some netizens think the two 'high-speed train tyrants' (高铁霸座) deserve each other, creating memes putting them together.
In late August of this year, one rude man from Shandong who refused to give up the seat he took from another passenger became known as the "High-Speed Train Tyrant" (高铁霸座男 gāotiě bà zuò nán) on Chinese social media.
A video showing the man's bizarre behavior went viral, and netizens were especially angry because the man pretended he could not get up from the stolen seat and needed a wheelchair – although he did not need one when boarding the train.
The man was later temporarily blacklisted for his actions. Although he apologized in a public video, a newer video (Youtube link) made clear the man was everything but remorseful, as it showed him laughing, using an office chair as a 'wheelchair,' and joking around about his own behavior.
The train bully that is now going viral, is a woman from Hunan who has been dubbed 'High-Speed Train Tyrant Woman' (高铁霸座女 gāotiě bà zuò nǚ") by Weibo netizens. She had taken a seat assigned to another passenger while riding the train from Yongzhou to Shenzhen.
A video (YouTube link here) – that has become one of the most-discussed topics on Weibo today – shows how a woman on a high-speed train makes a scene when the train conductor tells her she is in the wrong seat. She refuses to get up from her window seat to return to her own seat.
Instead, she raises her voice, talks rudely to the conductor, and simply claims she has bought a ticket and will not change to another seat until she has reached her final destination.
The hashtag "High-Speed Tyrant Woman" (#高铁霸座女#) already saw a staggering 450 million views at time of writing.
According to a Weibo statement that has been issued by Hengyang Railway Security (@衡阳铁路公安处) since the topic has become trending, the incident occurred on Wednesday, September 19, on a G6078 train. The stubborn passenger is the 32-year-old Ms. Zhou. She has now been fined 200 RMB (±$30) for "disturbing the order."
"Couldn't you fine these passengers a bit more?", some netizens wonder: "If the fine were higher, it might not happen that often anymore."
Many netizens are simply outraged: "Isn't this a society that is ruled by law? What do we do with these people?"
"How can people be so shameless?", a typical comment says.
While the incident is a source of anger for many, it is a source of banter for some; the incident has triggered a wave of new memes today that put the Shandong train tyrant and the woman together.
Some examples here: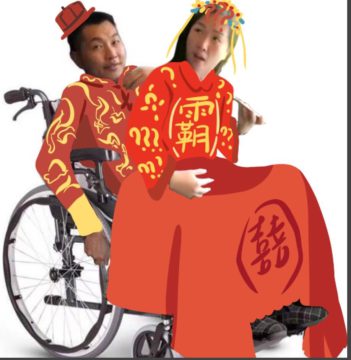 Here: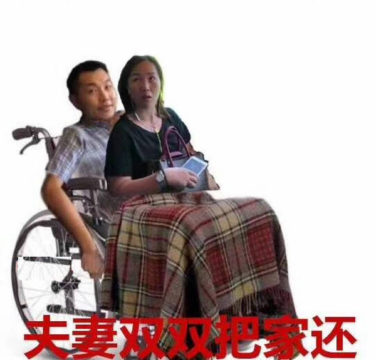 …here: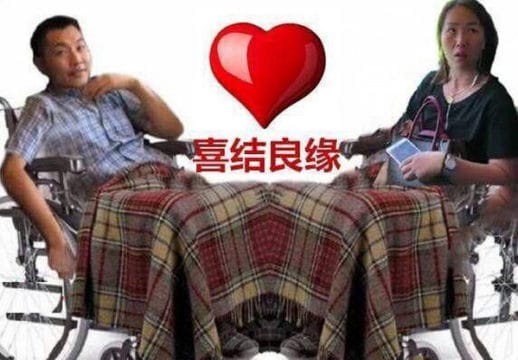 Or here:
Meanwhile, Guangzhou Railways (@广州铁路) has also responded to the issue on Weibo, stating that in cases such as these (when passengers are fined for their behavior), passengers can expect a 180-day ban from purchasing train tickets.
Just as in the case with the male 'train tyrant,' this time as well, the so-called human flesh search engine has come into action once the video went viral, meaning many netizens went digging to reveal the woman's identity. Her personal details have since been exposed on social media – a burden that will probably weigh much heavier on her than a temporary train ban or a 200 RMB fine.
By Manya Koetse
Follow @whatsonweibo
Spotted a mistake or want to add something? Please let us know in comments below or email us.
©2018 Whatsonweibo. All rights reserved. Do not reproduce our content without permission – you can contact us at info@whatsonweibo.com.
Gamifying Propaganda: Everything You Need to Know about China's 'Study Xi' App
Scoring points by doing Xi-focused quizzes and watching 'Xi Time' news: this app takes propaganda to a whole other level.
First published
A new app that encourages China's online population to study Xi Jinping Thought has made headlines, both in and outside of China. Here's everything you need to know about this new interactive propaganda tool. An overview by What's on Weibo.
On January 1st, the Xué Xí Qiáng Guó app was launched on various Chinese app stores. The app is an initiative by the Propaganda Department of the Central Committee of the Communist Party, and is linked to the xuexi.cn platform, which was first set up in 2018.
The app has been making headlines in Chinese and English-language media this week. The BBC referred to the app as a "little red book," and reported that members of the ruling Communist Party, as well as state-owned company employees who are not Party members, have allegedly been required to download and use it on a daily basis (Feb 15).
The Guardian reported that government officials in Fujian province and Qingdao city held workshops last month stressing the political importance of the app, and directing local leaders to promote the app across government departments (Feb 15).
Although some reports claim that the app is making its way to top lists of most downloaded apps in China, it only scored a position 72 in the top 100 list of popular Chinese app store 360app at time of writing. The app store does state that the app has been downloaded 76.99 million times, with app users rating it with 2,5 stars out of 5. The app is only available in Chinese, and is not available from the Google Play store or Apple stores outside of China.
The app's name (学习强国) is translated as the 'Study Xi Strong Country' app in various English-language media reports, but a more suitable translation would perhaps be 'Study Xi, Strengthen China.'1 There's a wordplay in the name, since the Mandarin word for 'studying' is 'xuéxí' which also incorporates the name of Xi, and in this context means both 'Studying' as well as 'Study Xi.'
The main slogan of the 'Study Xi' app is one of Xi's own sayings: "Dreams start with studying, careers start from doing" ("梦想从学习开始,事业从实践起步", loose translation). Both the idea of 'Dreams' and of 'Studying' are concepts that are consistently promoted in the Xi era, with the idea that the common dream of the people is the 'Chinese Dream' of bringing about the "great rejuvenation of the Chinese nation." Within this Chinese dream, studying is generally promoted as a "secret weapon" that will strengthen the Party and the nation (Xiao 2016).
A Multi-Functional Propaganda Tool
So what is the 'Study Xi, Strengthen China' app? It basically is a multi-functional educational platform that offers users various ways to study Xi Jinping Thought, Party history, Chinese culture, history, and much more. Once people are registered on the app, they can also access the platform via PC.
An important part of the app is its news feed: its home page features "recommended" reads that all focus on Xi Jinping and the Party. Another major feature is its 'quiz' page: every week, there are different quizzes that users can do, relating to all sorts of things, from Party ideology to famous Chinese poems.
We've listed some of the app's functions below. It is much more than a media app alone; it also has a social function, that allows users to connect with friends, message them, call them, and even send them 'red envelopes' (money presents).

The 'red envelope' function is made possible through Alipay, the online payment platform that is owned by Ant Financial Services Group, an affiliate company of the Chinese Alibaba Group.
One way for users to verify their identity on the app is also by linking it to their Alipay account. Various media reports also claim that the app is linked to Alibaba's Ding Ding platform, an enterprise chat app that has a multitude of functions, many of which are also incorparated in the 'Study Xi' app (for more about Ding Ding, see our article here).
Given the cooperation with Alibaba, it is perhaps not surprising that upon registering for the app with just my phone number, it already knew my nickname without me putting it in. The app also listed an old smartphone I used some two years ago as a "frequently used" device, although I had just downloaded the app the day before and had never registered for it before.
So I just registered for the first time for the new "Study Xi Strong Country" app, which requires a phone number. It then told me "hi manyapan," and that this phonenumber was already registered for the app. I've never registered before and never put in my manyapan nickname. 🤔 pic.twitter.com/8WQWq3D46T

— Manya Koetse (@manyapan) 16 februari 2019
"Study Xi" app day two. Not only did the app know my nickname upon registering for 1st time, it also lists a HTC phone I used some two years ago under "frequently used devices." Most likely imports data from Alipay app. pic.twitter.com/qQ9Sdgk3Fp

— Manya Koetse (@manyapan) 17 februari 2019
Twitter user @yanshitou12 also noted that, upon using a friend's number to register for the app, her Ding Ding conversations were automatically loaded into the chat history, suggesting that Alibaba's Ding Ding is indeed fully integrated with the app.
My phone cn number expired, so I used friend's number. The app automatically loaded her conversation history from the app 针针, on my phone, without even asking

— 盐石头 (@yanshitou12) 16 februari 2019
Like Ding Ding, the 'Study Xi' app also allows users to set up conference calls, send 'self-deleting' chats (like Snapchat), and use the app's calendar function. Its many practical functions make this an app that is especially convenient for China's 89,5 million Party members to stay close to the Party and its activities.
How to Score with Xi
The app's most noteworthy and perhaps also most appealing feature is its scoring system, since it turns studying Party ideology and Xi Jinping Thought into a game.
Those who accumulate enough points can get an item from the app's 'prize shop.' There are also contests which users can join to compete over a Huawei tablet or other items.
One Weibo user shared that she had just received her Modern Chinese Dictionary by mail through the app's 'gift shop,' another person expressed her surprise that a delivery man came to deliver her prize at her door. "Thank you, Propaganda Department!", she wrote.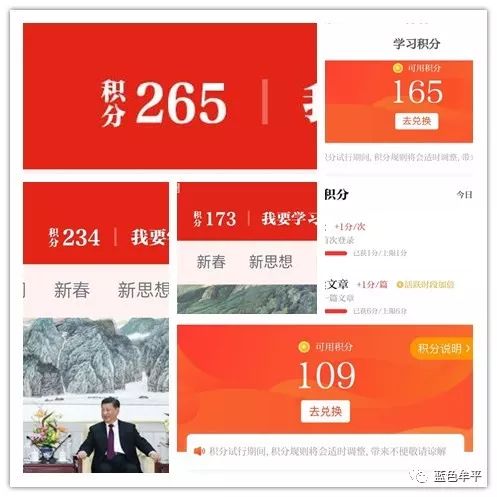 The score system works as follows:
Upon registering for the app, you receive 1 point.
For every article or essay one reads, you get 1 point (one per article, does not work with articles that have already been viewed before).
For every video you watch you get 1 point (the same video won't be credited with an extra point if you see it twice).
The time you spend on the app is also rewarded with points: for every 4 minutes of reading, you get 1 point (max 8 points per day).
For every 5 minutes of watching a video, you get 1 point (max 8 points per day).
You get 1 point for "subscribing" to a media account, which will then show up in your news feed.
If you share two articles with friends, you get 1 point.
You get 1 point for every two articles or essays you 'save' within the app.
If you score 100% on a quiz, you get 10 points.
What is quite remarkable about the app, is that it encourages users to 'Study Xi' at particular times of the day. The morning 6:00-8:30 timeframe, along with the 12:00-14:00 slot and evening 20:00-22:30 times, are designated as so-called "active time slots" during which users can score double points for their activities. Within these time slots, reading an article would, for example, grant a user 2 points instead of 1.
This signals that, in line with good working morale, people are supposed to look into the app during their morning commute, their lunch break, and before bedtime, and are indirectly discouraged from using it during (office) working hours.
The points that are scored on the app will be valid for two years.
On Weibo, some netizens are quite serious about the 'gaming' aspect of this app, and have already found ways to cheat the system. They share tips and tricks on how to score within the app: points are credited within 10 seconds of clicking an article, for example, and watching videos can be easily rewarded with a point if one immediately scrolls to the end.
Through the PC version of the app, it is easy to let certain videos play while scrolling the internet, basically earning points without actually watching the videos.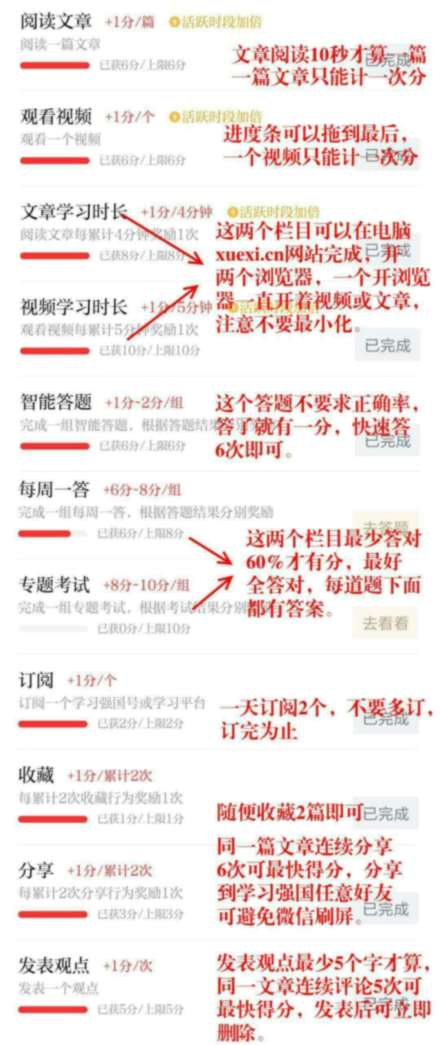 "Thanks," many commenters reply to these cheating tricks: "Just what I was looking for." "I already received 50 points in one day!"
A Library in Your Pocket: Media, Books, Movies
The 'Study Xi' app focuses on some dozen media outlets that users can subscribe to and which also show up in the 'recommended' homepage feed.
Incorporated in the app are state media outlets China Daily (中国日报网), People's Daily (人民网), Xinhua (新华), Qiushi Journal (求是网), China Military Web (中国军网), Economic Daily (经济日报), and others.
The app also incorporates local 'Study Xi' platforms, from Hubei to Jiangxi, from Shandong to Fujian.
Besides these media, the app also has TV channels people can watch videos on, from CCTV News to a special 'Xi Time' news programme, to various TV dramas, including Turbulence of the Mu Clan (木府风云) and Romance of Our Parents (父母爱情).
There is also a movie section within the app, where users can watch classics such as The Long March (长征), The Founding Ceremony of the Nation (开国大典), films on Deng Xiaoping or Zhou Enlai, and various movies that focus on the Second Sino-Japanese War.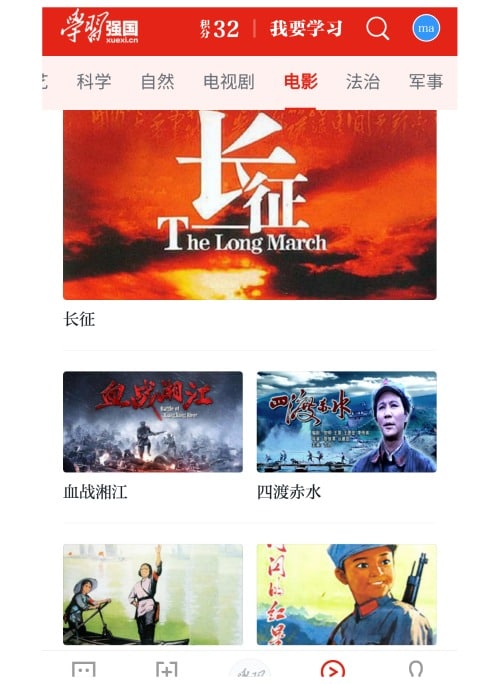 The 'Study Xi' library section grants users access to dozens of books. On the desktop version, the library is shown as an actual office, where you can click on the books that are displayed on the shelves and read them.
Some books are those by Xi Jinping, including The Governance of China (习近平谈治国理政), but there are also books by the famous Chinese author Lu Xun, or the 20th-century classic Rickshaw Boy by Lao She, and various works on calligraphy and poetry.
There is also an entire section of books available from a whole range of topics varying from astronomy to maths, biology, and geography. The books are available for online reading in pdf.
In general, you could say that the selection of media, videos, and books all fall into the categories of Chinese traditional culture and canonical literature, historical themes, science and technology, and the political themes of Party ideology and the Xi Jinping Thought that focuses on 'socialism with Chinese characteristics' (中国特色社会主义).
Those who read enough state media and Party articles will easily be able to do the quizzes and weekly questions in the app. Besides the standard ideological questions, it also draws from popular culture; I came across a question that used a trailer of China's latest sci-fi movie The Wandering Earth that needed to be watched in order to complete the question.
Propaganda in the Xi Era
So how popular is the app, really? If the headlines in Chinese and non-Chinese media are to be believed, the majority of Chinese internet users are getting hooked on the app. That picture is perhaps the rose-colored one the Party would like to envision, but judging from social media comments and app ratings, reactions have been somewhat lukewarm.
On Weibo, there are some commenters who are sharing their 1000-point status on the app, or who say they enjoy looking into the app right before sleeping.
Dozens of commenters indicate that they have to assist their parents in using the app, or that it is not them, but their parents who are 'hooked' on the app – the majority of Weibo users are in the 20-35 years age group.
There are local trainings on making (older) Party members more familiar with the app, how to download it and how to use it. A local Chongqing community Weibo account recently posted the pictures below of their 'Study Xi' gathering.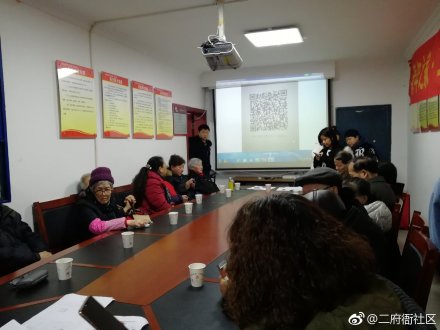 On social media, some commenters complain about the fact that the Chinese Apple store has turned off the review comment sections on the app, despite the fact that it allegedly scored a number one spot in its "educational app" section.
Then there are also quite some commenters who say they often use the app: the score matters to them. In a time when everything is mobile, and online gaming is booming, it seems that 'Study Xi, Strengthen China' has made its app all the more relevant by adding the scoring element.
In doing so, the Propaganda Department of the Communist Party is continuing on the same route it has taken for the past couple of years, which shows a clear break with the propaganda machine before the Xi era.
Not only does the propaganda in the Xi era strengthen the idea of Xi as a political idol, it also fully embraces the Internet, the online media environment, and its related pop culture in doing so (also see Chang & Ren 2018).
Since 2017, various noteworthy propaganda moments, such as the 2017 Xi Clapping Game, the cartoonification of Xi, or the One Belt, One Road media publicity hype, all point in the same direction, namely that the Party propaganda will use the modes of communication and technology that are most popular among China's (younger) online population to reach their audiences.
For now, I am still stuck below 50 points on the 'Study Xi' app. The scoring element is powerful: I feel triggered to get my score up. Maybe watch a few more videos, do better on the quiz, and read some more state media articles. I might just be tempted to go back for some more Xi-studies.
By Manya Koetse
Follow @whatsonweibo
1Translation suggested by Helen Wang @helanwanglondon.
References
Chang, J., & Ren, H. 2018. "The powerful image and the imagination of power: the 'new visual turn' of the CPC's propaganda strategy since its 18th National Congress in 2012. Asian Journal of Communication, 28(1), 1–19.
Xiao Junhua 肖君华. 2016. "Dreams Start with Learning – Studying General Secretary Xi Jinping's Important Discourse on Learning [梦想从学习开始——学习习近平总书记关于学习的重要论述]" Guangming Daily, via CPC News, 7 July http://theory.people.com.cn/n1/2016/0707/c376186-28531506.html [18.1.19].
Directly support Manya Koetse. By supporting this author you make future articles possible and help the maintenance and independence of this site. Donate directly through Paypal here. Also check out the What's on Weibo donations page for donations through creditcard & WeChat and for more information.
Spotted a mistake or want to add something? Please let us know in comments below or email us.
©2019 Whatsonweibo. All rights reserved. Do not reproduce our content without permission – you can contact us at info@whatsonweibo.com.
Mimeng and 'Self-Media' under Attack for Promoting Fake News Stories to Chinese Readers
Chinese 'zimeiti' or 'self media' have become a topic of discussion after this Mimeng scandal.
First published
China's "Queen of Self-media," Mimeng, is under attack after publishing a story that has been labeled 'fake news.' The scandal has triggered discussions on the status-quo of Zimeiti (自媒体/We Media) on the Chinese internet.
It was one of the most-discussed topics on Weibo and WeChat right before the Chinese New Year: the scandal involving Chinese blogging account 'Mimeng' (咪蒙), which sparked discussions on Mimeng herself and on the regulation and responsibility of 'we media' accounts on the Chinese internet.
Who or what is 'Mimeng'? First and foremost, Mimeng is an online social media account with an enormous fanbase: 13 million followers on WeChat, 2.6 followers on Weibo.
The person behind the Mimeng blogging account is Ma Ling (马凌), a Chinese female author and Literature graduate who was born in 1976 in Sichuan's Nanchong.
Over the past few years, 'Mimeng' has grown into a so-called 'we media' or 'self media' platform (zimeiti 自媒体), referring to private, independent, online publishing accounts that get their content across through blogs, podcasts, and other online channels. Mimeng is now more than Ma Ling alone: there's an entire team behind it.
Mimeng has been controversial for years because of its clickbait titles and controversial stances on various issues. The topics most addressed in Mimeng's publications are relationships between men and women, love, marriage, quarreling, and extramarital affairs.
Previous articles published by Mimeng, who is a self-labeled 'feminist' (and often mocked for it), include titles such as "This Is Why You're Poor," "Jealously Means Progress," "I Love Money, It's True," "Men Don't Cheat for Sex," or "How to Kill Your Wife."
Besides its content, there are also other reasons why Mimeng has triggered controversy in the past. The fact that Mimeng charges a staggering amount of money to advertisers, for example, is also something that previously became a topic of discussion – Mimeng allegedly charges some 750,000 yuan ($113,000) for a post mention.
SELLING FAKE STORIES
"As an influential We Media source, we must take on our social responsibility"
This time, however, Mimeng is hit by the biggest controversy thus far. The media group is under attack after publishing a story that turned out to be (partly) fabricated. The story was published on a WeChat account called Talented Limited Youth (才华有限青年), which is registered under the same legal entity as Mimeng. Its primary author, according to Sixth Tone, is a former intern of Ma Ling called Yang Yueduo.
The publication in question is a long story titled "The Death of a Top Scorer from a Poor Family" ("一个出身寒门的状元之死") which allegedly portrayed the short life of the author's old classmate: a young, bright mind, born in an impoverished family in Sichuan province. In the story, the protagonist did all he could to create a better life for him and his family.
He studied hard, got the best university entrance score of his city, and successfully graduated from university. But despite his efforts to start a life in the big city, he failed to succeed and tragically died of cancer at the young age of 24.
Shortly after publication, the moving and tragic story went viral on social media. However, several details made online readers doubt the story's authenticity. It did not take long before readers proved that several aspects of the story were indeed untrue.
In light of the fake news allegations, Talented Limited Youth quickly deleted the story from WeChat. They also issued a statement defending the story's authenticity, explaining that for privacy reasons, various details of the story were altered. According to Beijing News, Talented Limited Youth was then banned from posting on WeChat for 60 days.
In response to the allegations, Mimeng offered its "sincerest apologies" on Weibo on February 1st, saying: "The Mimeng Group has decided to completely withdraw from Weibo and take a two-month break from WeChat. We will use that time to carry out serious and profound self-reflection." The post continued saying that "as an influential We Media source, we must take on our social responsibility and pass on positive energy and values."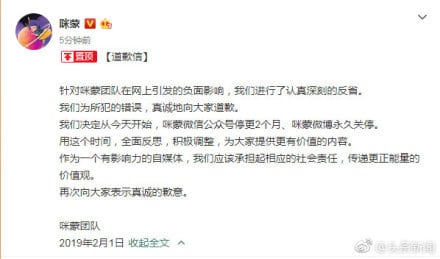 The announcement went trending under the hashtag "Mimeng Shuts Down Weibo Indefinitely" (#咪蒙微博永久关停#), which has received over 210 million views at time of writing.
POISONED CHICKEN SOUP
"Mimeng, for you, patriotism is only business"
On social media, there is a clear divide between those who support and oppose Mimeng. While some are calling for a "complete shutdown" of Mimeng, there are also those who say they will keep on following Mimeng and that they enjoy their publications.
The controversial Mimeng account has even brought about a so-called "Following Mimeng Rate" (含咪率), a number based on how many of your WeChat friends are following Mimeng's public WeChat account (by checking Mimeng's account on WeChat, WeChat users can see how many of their friends are following this account).
Mimeng opposers allege that the more friends you have that follow the Miming account, the more likely you are "to fail in life."
The official Weibo account of the Jiangsu Public Security's Bureau of 'Internet Safety' (@江苏网警) is also a clear Mimeng opposer. Last week, they lashed out against Mimeng in a post titled "Mimeng, for you, patriotism is only business."
The post hints at Mimeng's inconsistent stance on patriotism, and it included screenshots from two earlier Mimeng posts from 2013 and 2016, one in which patriotism is referred to as a kind of "forced love," and the other one saying: "I'll love my country forever, its greatness will forever move me to tears."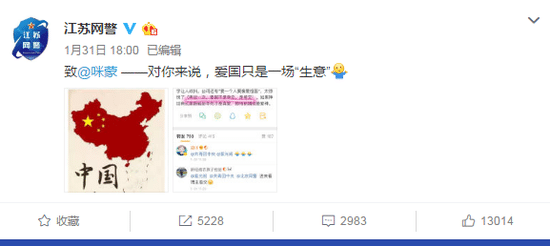 The post by the Jiangsu Bureau itself then also blew up on Weibo, with the hashtag "Jiangsu Internet Police calls out Mimeng" (#江苏网警点名咪蒙#) soon gaining over 210 million views. In the comment sections, many people criticize Mimeng for "deceiving people," "promoting negative values" and "using anything to get clicks."
One person wrote: "These self-regulated media only care about making money, they have no sense of social responsibility."
Others said that the fake news story was nothing but 'poisoned chicken soup' (毒鸡汤).
This is a term that is often used to describe Mimeng's content, and that of other self-media accounts, meaning that from the outside, it looks like "feel-good content" or "chicken soup [for the soul]" while it is actually 'poisonous' content with a marketing strategy or money-making machine behind it.
ZIMEITI CHAOS
"Self- media cannot become a spiritual pyramid scheme"
The Mimeng case has led to discussions in Chinese media on the status of 'we media' or 'self-media' platforms and their influence.
People's Daily responded to the Mimeng scandal with a post on February 1st titled "Self-media Cannot Become a Spiritual Pyramid Scheme" ("自媒体不能搞成精神传销"), which argued that unless self-media accounts such as Mimeng actually work on establishing "healthy social values," their apologies are only a way to temporarily dodge negative public attention.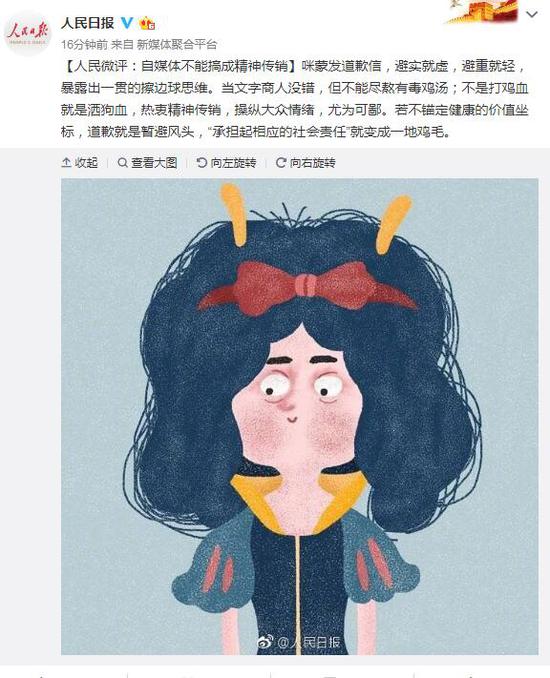 In late January, Chongqing Internet authorities launched an investigation into 48 'self-media' accounts, suspending two for spreading "fake news."
State media outlet China News published an article, also this week, that describes 'self-media' as a 'hypermarket' where publishers will go to extreme measures, such as selling 'fake news' for clicks, spreading negative influences and anxiety among the people.
But these discussions are somewhat blurred, as it is not entirely clear what 'self-media' actually is in this context. Generally speaking, the term could include any micro-blogger who identifies themselves as 'self-media' or 'we media' (zimeiti 自媒体). But in the current discussion, it seems to only relate to those publishing accounts that have a certain influence on social media and the (online) media environment, posing a challenge to traditional news outlets.
Some definitions of Chinese 'we media' say it is basically is "an umbrella term for self-posted content on social media platforms" (Qin 2016; Jiang & Sun 2017) – this suggests that everyone who is active on WeChat and Weibo or elsewhere is basically in 'self-media.'
A clearer description is given by Week in China, writing that "zimeiti typically operate as social media accounts run by individuals or as small firms established by a handful of former journalists."
What makes it different from any other social media account, is that in 'we-media' or 'zimeiti' "the blogging has been professionalized and that the authors can make a living from it" (WiC 2018). It is a trend that has become especially visible in China's online environment since 2012-2014.
This highly commercial side of 'we media' matters. If a publisher, such as Mimeng, charges advertisers exorbitant amounts of money, they also have to maintain a certain number of readers. They don't just post as a hobby, it is serious business.
In a highly competitive online media environment, where hundreds of media outlets are fighting over the clicks of China's online population of over 800 people, clickbait titles have almost become somewhat of a necessity for some of these publishers, with some even resorting to publishing "fake news" to get the attention – and the clicks.
China's Newsweek Magazine (新闻周刊) calls the situation at hand a "self-media chaos" (自媒体乱象) that poses an "unprecedented challenge" for governing society in the 3.0 era. They call for "healthy development of self-media" and better legislation to control the mushrooming zimeiti, that, despite strong online censorship, are not as tightly controlled as China's traditional media.
"Nowadays, we have less and less intellectuals, and more and more 'people selling words.' The chaos of self-media needs to be controlled," one commenter on Weibo says (@ZY盒子).
But other people deem that readers themselves should pick what they read instead of authorities regulating it for them: "The important thing is that every reader must have the independence to judge for themselves [what they read]; just let the 'poisonous chicken soup' [naturally] lose their market."
The Mimeng scandal shows that for social media accounts with a large following, one misstep can have huge consequences. This is something that Papi Jiang, a 'self-media' personality who became huge in 2015/2016, also experienced; she was reprimanded for disseminating "vulgar language and content" in April of 2016.
Very similar to Mimeng's statement, Papi also issued an apology at the time, saying she supported the requirement for correction, and that she would attempt to convey "positive power" (正能量) in the future. "As a media personality," she said, "I will watch my words and my image." Papi's CEO also expressed the company's willingness to produce "healthier contents." At the time, her videos were temporarily taken offline.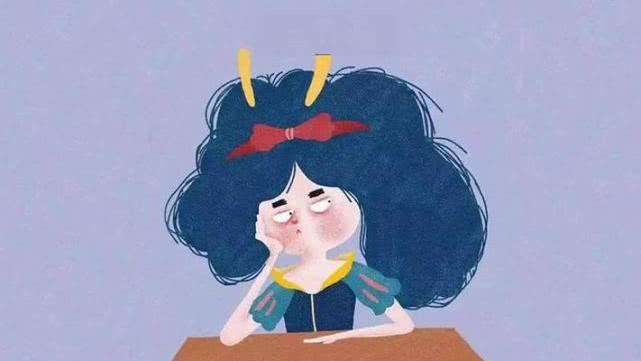 Meanwhile, some people think that the fact that Mimeng will stay silent for the coming two months is not necessarily a bad thing for the publisher: "They can take an extra long Spring Festival holiday." As for Mimeng's Weibo 'holiday' – that one is likely to be permanent.
By Gabi Verberg and Manya Koetse
References
-Qin, Amy. 2016. "China's Viral Idol: Papi Jiang, a Girl Next Door With Attitude." New York Times, 24 Aug https://www.nytimes.com/2016/08/25/arts/international/chinas-viral-idol-papi-jiang-a-girl-next-door-with-attitude.html [2.6.19].
-Sun, Yanran and Jiang. 2017. "A Study on the Effectiveness of We-Media as a Platform for Intercultural Communication." In New Media and Chinese Society, Ke Xue & Mingyang Yu (Eds.), 271-284. Singapore: Springer.
-WiC. 2018. "Headline earnings – Zimeiti hunt media profits but they still need to play by the rules." Week in China, 15 June https://www.weekinchina.com/2018/06/headline-earnings/ [2.6.19].
Spotted a mistake or want to add something? Please let us know in comments below or email us.
©2019 Whatsonweibo. All rights reserved. Do not reproduce our content without permission – you can contact us at info@whatsonweibo.com