WeChat Essay: "The RYB Kindergarten 'Piston Action' Child Abuse Case" (Translation)
"Dear readers, I really cannot write about the RYB Education kindergarten."
It is not often that a case causes so much online commotion in China as the recent exposure of alleged child abuse at the international RYB Education kindergarten in Beijing. Amid a flood of essays, posts, and images, here is a letter of one author representing the feelings of a larger public.
The RYB kindergarten abuse case has sparked rage and anger all across China. While police and local authorities are investigating the matter, netizens express their shock over the kindergarten's intolerable situations revealed in several interviews and videos with parents.
Chinese social media platforms are flooding with essays, articles, posts, and images relating to this case.
Because the heated discussions have been met with wide online censorship, many netizens avoid using 'RYB Education' (the RYB abbreviation stands for Red Yellow Blue), and have started referring to the kindergarten as 'The Three Colours' (#三种颜色#).
Many Chinese netizens are also posting images of these 'three colours' in a circle; the core of the circle forming a black dot ('black' in Chinese also meaning 'secretive' or 'illegal'). Some have started using this image as their profile picture on Weibo.
One essay that made its rounds on WeChat on November 24 addresses the collective indignation of many Chinese netizens – not just over the case itself, but also over the fact that interviews and articles on the topic have been pulled offline.
Here is a partial translation of this article*:
---
2017-11-24 Mo Yan
Yesterday, it was Thanksgiving Day in the United States. In our country many people also celebrated it. The big news that came out during Thanksgiving was the serious child abuse case at the RYB Kindergarten in Beijing's Chaoyang District, in Xintiandi. This area is not far from my home in Beijing. We saw how the building was erected, and how they already started selling stocks at 7000 yuan [1060$] some ten years ago. The fact we had an international kindergarten stationed [there] was something that was promoted.
I could have never imagined how rotten this international kindergarten actually is – giving children medicine, injections, organizing naked health checks for the children, and making them stand and watch some "piston action" (damn, I can't even name the dirty word here). This company was listed in North America; it was praised as "the New Oriental Kindergarten" by Xu Xiaoping; it was launched as an educational flower to the motherland!
01
Someone wrote an article on Douban [online platform], titled "Out Of All Child Abuse Cases, I Dread the One Where Parent's Interviews are Deleted the Most." In this article, the author writes:
"I would like to ask one question. Why would the videos of interviews with the victims' parents be deleted, and why is it not allowed at all to discuss this matter on Zhihu [online discussion forum]? (…)"
This is what I also want to ask. The author is a dinky, he has no relations whatsoever to the kindergarten. My child is all grown up now, the kindergarten he went to was very good. The abuse of children at a kindergarten also has nothing to do with me. However, there is that poem at the New England Holocaust Memorial I sympathize with.
"First they came for the Socialists, and I did not speak out—
Because I was not a Socialist.
Then they came for the Trade Unionists, and I did not speak out—
Because I was not a Trade Unionist.
Then they came for the Jews, and I did not speak out—
Because I was not a Jew.
Then they came for me—and there was no one left to speak for me."
Social justice needs to be protected by everyone. Anyone who stays indifferent because something is not a matter of concern to oneself is taking the side of the evildoer.
02
I did find the two interviews that were deleted online. One interview is that with a father, with a length of 4:50; the other is with a mother, with a length of 16:25.
In the interview with the father, he confirmed: 1. that some young kids were already taken to the hospital for medical check-ups and that they were diagnosed with anal fissures. They could not say what caused this. 2. that three small children were punished by standing still naked – two girls and one boy.
The mother who was interviewed was one of those three children who was stripped naked. It was also her child who was able to tell her this in a clear and complete way, exposing the incident.
It took place about two weeks ago. The child came home crying and said she was made to stand still as punishment. There was an 'uncle' who had threatened them: 'If you do not obey, we'll cut off your head and throw it in the bin.' At that time, the child did not say anything about being undressed, and the mother did not pay much attention to the 'uncle.' The next day, the mom went to the headmaster, just hoping that the teachers would not punish nor threat the children. The headmaster flatly denied it, refusing to let the parent see video surveillance, and blamed it on the child's wild imagination.
Then, a week ago, the child repeatedly talked about receiving injections. Perhaps it was because she'd been injected a few days in a row, that the child said: "Again, I am not sick, then why would they give me an injection?"
The mother asked the kindergarten about it, but they said there had been no injections. She asked her child again, and she said there was a physical examination. That there was a 'grandpa doctor' wearing clothes (..) and a naked 'uncle doctor,' and that the children who were picked were brought into a room by the teacher and were also naked while getting a health check.
Those children and the other children witnessed how the 'uncle doctor' did 'piston action' with a child. Perhaps the reason why she [the daughter] was not assaulted was because she struggled when they wanted to undress her, crying "don't take off my clothes!"
The interviewed mother said: perhaps she was causing too much ruckus, and they lost their interest. The child later recalled (..) that it was the "mummy of the headmaster" who dressed the children.
There are no male teachers in the kindergarten. Then who are 'uncle doctor' and 'grandpa doctor'?
03
That the Ctrip kindergarten articles were deleted, is probably due to the Shanghai Women's Federation. That news about the Daxing fire news was deleted, is probably because of its large number of casualties. So what is the reason that news about the RYB Education case is being deleted?
(..)
If the little girl's memories are completely true, the problem at hand is very grave. Then it would not be an individual action by a bad teacher – it would be an organized crime. Were those adult men free to participate in the "piston action" during those naked 'health checkups'? If not, could we interpret this as some sort of commercial sex trade? And would the children, attending an international kindergarten with monthly fees of more than 5000 yuan [±760$], be their tools for making a profit?
(..)
04
Yesterday when I first started to see the articles on WeChat, some readers asked me to write [about this]. (..) This morning, I read a lot of media reports, including those from The Paper, Xinhua News, and other big media, and it made me really depressed. So I'll write this for you:
"Dear readers, I really cannot write about the RYB Education kindergarten. First, there was Shanghai, now there's Beijing. There are the persons in charge, and the headmaster, there are kindergarten teachers, (..), and now something even bigger has been exposed. The patterns of child abuse keep changing, and if we haven't reached rock bottom then we'll fall through the earth straight into hell.
So many comments have been written, it hurts. Every time we're shocked, another incident blows up again. In the interview video, it was suggested that the headmaster couple had set up a unit for sexual assault (..) – of course, this needs to be determined by the relevant justice departments.
Perhaps it's like ants trying to shake a tree, or like a cup of water on firewood, but I still want to call on the acceleration of legislation and the prohibition of child abuse. And to call for more punishment for sexual assault, and a reinstatement of the death penalty for criminals under these serious circumstances.
At the end of every sleepless night, there is always the next dawn. I can only support the children and their parents with my tears. Please forgive, because I really can not write."
However, these unsophistication expressions and crude emotions were deleted within a second. I rewrote them from my memory. I re-wrote it three times in a row, and it was deleted three times in a row. Now, I cry as I watch the ending of the interview videos, and I also finish writing this article. As for the fate of this article, there's no way of knowing.
After the parents jointly made their report to the police, the kindergarten (..) continued their classes and even organized a Thanksgiving celebration.
The Ministry of Education has already deployed and started a special investigation (..). The government of Chaoyang District in Beijing said that "if this case is found to be true, it will not be tolerated in any way." Hopefully, the Central Discipline Inspection Commission can see this letter and do all they can to counter the toxic forces who endanger the physical and mental health of young children."
---
Also read:
UPDATE: Press Release November 28
By Manya Koetse
@manyapan
Follow @whatsonweibo
* To read the Chinese: (致信中纪委:红黄蓝幼儿园性"活塞运动"虐童事件,什么人的罪恶试图掩盖) [Letter to the Central Commission for Discipline Inspection: The RYB Kindergarten 'Piston Action' Child Abuse Case – Whose Crimes Are Being Concealed?], published on the xiaofuwang07 (零钱袋财经资讯) Wechat Channel.
Spotted a mistake or want to add something? Please let us know in comments below or email us.
©2017 Whatsonweibo. All rights reserved. Do not reproduce our content without permission – you can contact us at info@whatsonweibo.com.
Fangcang Forever: China's Temporary Covid19 Makeshift Hospitals To Become Permanent
China's temporary 'Fangcang' shelter hospitals are here to stay.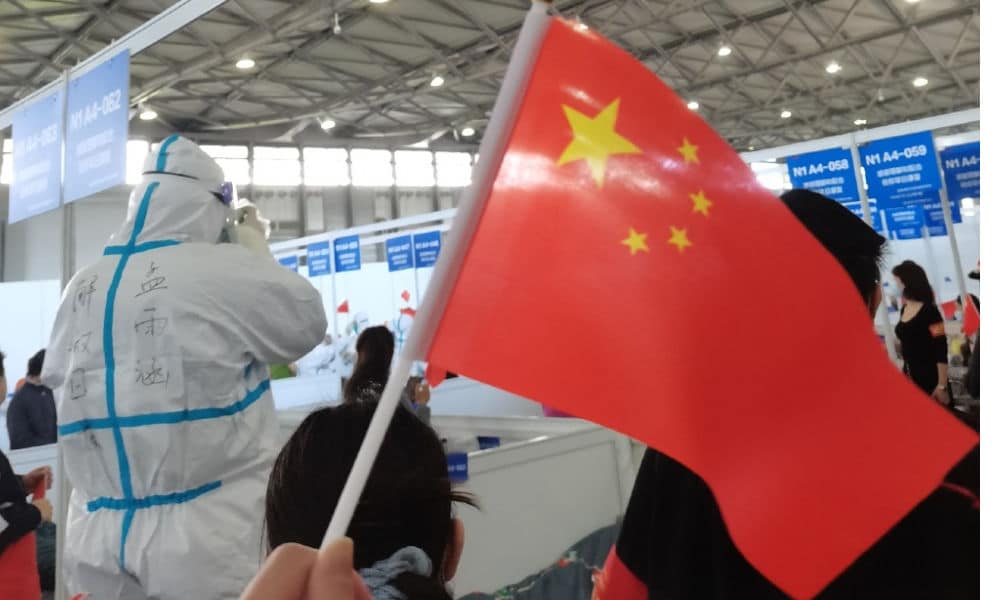 A new term has been added to China's pandemic lexicon today: Permanent Fangcang Hospital. Although China's 'Fangcang' shelter hospitals are, by definition, temporary, these healthcare facilities to isolate and treat Covid patients are now becoming a permanent feature of China's Zero-Covid approach.
Over the past few days, Chinese authorities have emphasized the need for China's bigger cities to build or renovate existing makeshift Covid hospitals, and turn them into permanent sites.
So-called 'Fangcang hospitals' (方舱医院, square cabin hospitals) are large, temporary makeshift shelter hospitals to isolate and treat Covid-19 patients. Fangcang shelter hospitals were first established in China during the Wuhan outbreak as a countermeasure to stop the spread of the virus.
They have since become an important part of China's management of the pandemic and the country's Zero-Covid policy as a place to isolate and treat people who have tested positive for Covid-19, both asymptomatic and mild-to-moderate symptomatic cases. In this way, the Fangcang hospitals alleviate the pressure on (designated) hospitals, so that they have more beds for patients with serious or severe symptoms.
On May 5th, Chinese state media reported about an important top leadership meeting regarding China's Covid-19 situation. In this meeting, the Politburo Standing Committee stressed that China would "unswervingly adhere to the general Zero-Covid policy" and that victory over the virus would come with persistence. At the meeting, chaired by Xi Jinping, the seven-member Politburo Standing Committee also declared that China would fight against any words or acts that "distort, doubt, or deny" the country's dynamic Zero-Covid policy.
Following the meeting, there have been multiple official reports and statements that provide a peek into China's 'zero Covid' future.
On May 13, China's National Health Commission called on all provinces to build or renovate city-level Fangcang hospitals, and to make sure they are equipped with electricity, ventilation systems, medical appliances, toilets, and washing facilities (Weibo hashtag ##以地级市为单位建设或者改造方舱医院#).
On May 16, the term 'Permanent Fangcang Hospital' (Weibo hashtag #永久性方舱医院) became a trending topic on Weibo after Ma Xiaowei (马晓伟), Minister of China's National Health Commission, introduced the term in Qiushi (求是), the leading official theoretical journal of the Chinese Communist Party.
The term is new and is somewhat contradictory as a concept, since 'Fangcang hospitals' are actually defined by their temporary nature.
Ma Xiaowei stressed the need for Chinese bigger cities to be ready for the next stage of China's Covid control. This also includes the need for some central 'Fangcang' makeshift hospitals to become permanent ones.
In order to 'normalize' the control and monitoring that comes with living in Zero-Covid society, Chinese provincial capitals and bigger cities (more than ten million inhabitants) should do more to improve Covid testing capacities and procedures. Ma proposes that there should be nucleic acid sample collection points across the city within a 15-minute walking distance radius, and testing frequency should be increased to maximize efficient control and prevention.
Cities should be prepared to take in patients for isolation and/or treatment at designated hospitals, centralized isolation sites, and the permanent Fangcang hospitals. The recent Covid outbreak in Shanghai showed that local authorities were unprepared to deal with the outbreak, and sites that were used as Fangcang hospitals often lacked proper facilities, leading to chaotic scenes.
The hashtag "Permanent Fangcang Hospitals" received over 140 million views on Weibo on Monday.
One of the Weibo threads by state media reporting on the Permanent Fangcang hospitals and the publication by Ma Xiaowei received nearly 2000 comments, yet the comment section only displayed three comments praising the newly announced measures, leaving out the other 1987 comments.
Elsewhere on Weibo, people shared their views on the Permanent Fangcang Hospitals, and most were not very positive – most commenters shared their worries about China's Covid situation about the stringent measures being a never-ending story.
"We're normalizing nucleic acid test, we're introducing permanent fangcang hospitals, [but] why isn't the third Covid vaccination coming through?" one person wondered.
"If there was still a little bit of passion inside me, it was just killed by reading these words 'Permanent Fangcang Hospital,'" another commenter writes, with one Weibo user adding: "I feel desperate hearing the words 'Permanent Fangcang Hospital.'"
"Building permanent Fangcang? Why? Why don't you use the resources you're now spending on normalizing testing to create more hospital beds, more medical staff and more medications?"
Another commenter wrote: "China itself is one giant permanent Fangcang hospital."
"The forever Fangcang are being built," one Weibo user from Guangdong writes: "This will never end. We'll be locked up like birds in a cage for our entire life."
For more articles on the Covid-19 topics on Chinese social media, check here.
By Manya Koetse, with contributions by Miranda Barnes
Get the story behind the hashtag. Subscribe to What's on Weibo here to receive our weekly newsletter and get access to our latest articles:
Featured image via user tongtong [nickname] Weibo.com.
Spotted a mistake or want to add something? Please let us know in comments below or email us. First-time commenters, please be patient – we will have to manually approve your comment before it appears.
©2022 Whatsonweibo. All rights reserved. Do not reproduce our content without permission – you can contact us at info@whatsonweibo.com.
'Hard Isolation' is Shanghai's New Word of the Day
In line with a new 'hard isolation' measure, the entrances of some Shanghai residential buildings were fenced up.
While some Shanghai households have already endured weeks of isolation, a new word was added to their epidemic vocabulary today: 'hard isolation' or 'strong quarantine' (yìng gélí 硬隔离)
The word popped up on Chinese social media on April 23rd after some Shanghai netizens posted photos of fences being set up around their community building to keep residents from walking out.
"New word: hard isolation. Shanghai is rotten to the core," one commenter wrote.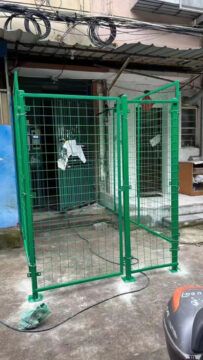 The word soon turned into a hashtag page where people started commenting on the issue of fences being placed around residential buildings, voicing concerns on what a fence around buildings would mean for fire safety, especially after online rumors suggested that there had been a fire at one community in Pudong on Saturday night.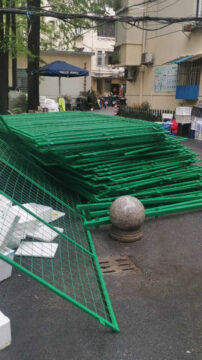 An official document regarding the 'hard isolation' measure was also shared online on Saturday. It is dated April 23, 2022, and its source is the Pudong New Area Office for Epidemic Control.
The document states that in line with the guidelines for the city's epidemic prevention and control, the division between areas or zones that are in certain risk categories should be 'optimized,' with those in the high-risk category requiring a 'hard isolation.' Security guards should also be on duty 24 hours a day at the entrance of the buildings.
Earlier this month, Shanghai adopted "3-level control measures" after its initial phased lockdown. It means that local areas will be classified as "locked-down," "controlled" or "precautionary," based on their Covid19 risk.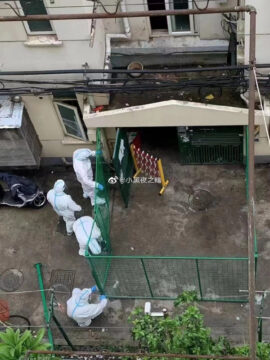 "Could we also put fences around the homes of Shanghai leaders?", one person suggested, while others posted images from the Walking Dead to mock the situation.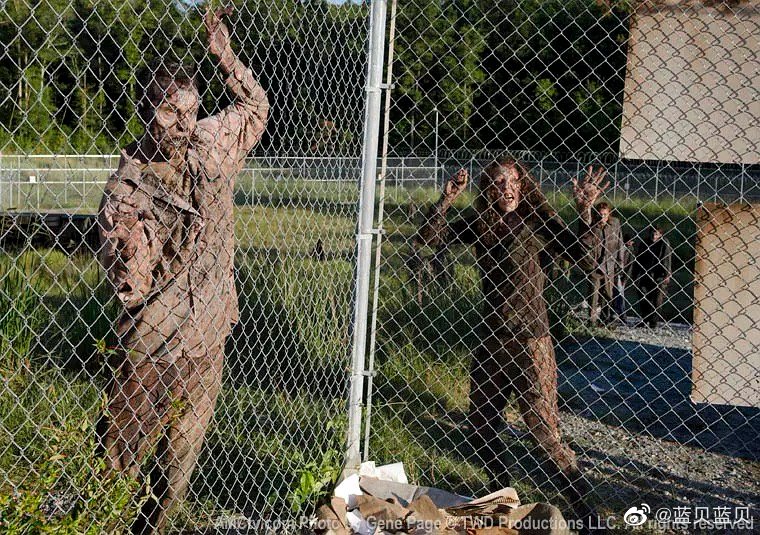 In the hope of Shanghai soon tackling the Covid situation, not everybody disagreed with the decision to fence some buildings or communities in the Pudong area: "I don't disagree with it, as long as there is always someone there to open the fence in case of fire," one person stated.
Although having a fence around their building is currently not a reality for most in Shanghai, the online photos of some communities seeing their buildings being fenced up is a reason to worry for some: "It's been 40 days, and now they start hard isolation? This actually scares me. Before we know it, it's June."
One Weibo user asked: "Why is it possible to implement this hard isolation now? Was this created by the same persons who also implemented the rule to separate children from parents at isolation sites?"
"I truly can't imagine why some people thought this is a good idea," others wrote.
For more articles on the Covid-19 topics on Chinese social media, check here.
By Manya Koetse
Get the story behind the hashtag. Subscribe to What's on Weibo here to receive our weekly newsletter and get access to our latest articles:
Spotted a mistake or want to add something? Please let us know in comments below or email us. First-time commenters, please be patient – we will have to manually approve your comment before it appears.
©2022 Whatsonweibo. All rights reserved. Do not reproduce our content without permission – you can contact us at info@whatsonweibo.com.