Another Kindergarten Abuse Case: Beijing's RYB Education Branch Accused of Drugging and Molesting Children
Parents are accusing RYB Education of drugging and abusing their children. Details surrounding the case are being censored in Chinese media and on Weibo.
After the Ctrip kindergarten scandal, another major kindergarten abuse case is the talk of the day on Chinese social media. Employees of Beijing RYB Education are suspected of drugging and molesting young children.
Another kindergarten child abuse case has sparked indignation on social media in China this week. After the Shanghai wasabi case, it now concerns the Honghuanglan (红黄蓝) kindergarten in Beijing's Chaoyang district (Xintiandi branch).
The kindergarten, also known as the 'Red Yellow Blue (RYB) Education' is a large chain of preschools (2-6 year olds) with hundreds of branches across mainland China. According to China Daily, it operates 80 kindergartens directly and has 175 franchises in 130 cities and towns.
On November 22, the story became trending on Weibo and WeChat when netizens exposed how more than a dozen parents filed a report at the Chaoyang police station against their children's kindergarten.
The parents claim their children were fed unclear white pills and had been injected, providing many photos showing needle punctures in their children's skin in areas on their legs, arms, and buttocks. They suspect that their children have been drugged and molested.
The case began when several parents noticed irregular behavior in their children and then discovered the punctures in their skin. Some parents claim they also found indications of sexual abuse on their child's body. Some children refused to go to school, others pointed out where they had suffered needle pricks.
Several videos recorded by the parents involved made their ways to parental support groups. One video shows two parents asking their toddler son about a white pill they discovered on him. The little boy then answers "the teacher gave it to me to make me sleep." He also says: "We have to take these pills every day." The video was later taken offline.
Other children also told their parents they were fed "white pills" at school. The young pupils said the pills were "not bitter."
The accusations against the kindergarten made headlines in China on Wednesday and Thursday, but many news reports were pulled offline shortly afterward.
Discussions on social media are also censored. The hashtag "Beijing's RYB Centre Suspected of Child Abuse' (#北京红黄蓝涉嫌虐童#) became of the top ten topics on Weibo on Thursday afternoon, but then became inaccessible.
A Beijing Youth Daily journalist reported that on Thursday, November 23, a group of parents gathered at the gate of the kindergarten where a meeting would supposedly be held at the time of writing. Parents demanded to see the center's surveillance videos, but according to reports that came out around 17.30 Beijing time, the police had already confiscated the footage.
Police in Chaoyang district are currently investigating the parents' claims that their children were drugged and abused. Three employees of the company have been temporarily suspended from their duties, a company spokesman stated to reporters on Thursday late afternoon outside the kindergarten.
Several emotional parents spoke to reporters outside the school gates. One mother told reporters that her child had disclosed that teachers had threatened the children not to tell their parents about things occurring at the preschool. They told the young children that they had a "very long telescope" and would be able to watch them, even if they were at home.
"My child is only three-and-a-half years old, and I found needle hole marks on his thighs and buttocks. I am trembling with anger," one other parent told reporters.
In an interview with another parent, a mother tells about her 3-year-old child's account of all the children being subjected to naked "health checks" at school by a "grandpa doctor" and "uncle doctor," who also did not wear any clothes according to the child. Children were allegedly forced to watch one of the pupils being raped (being described as a "piston motion" [活塞运动]) by the "uncle doctor."
A father stated to journalists that one of the children had been taken to the hospital on November 22 for an examination, and that the doctor found there was trauma to the anus area. "I feel like burning down the school," the man said.
Also read:
UPDATE: Press Release November 28
Collective Shock after Exposure of RYB Education Children's Abuse
WeChat Essay: "The RYB Kindergarten 'Piston Action' Child Abuse Case" (Translation)
By Manya Koetse and Miranda Barnes
Follow @whatsonweibo
Spotted a mistake or want to add something? Please let us know in comments below or email us.
©2017 Whatsonweibo. All rights reserved. Do not reproduce our content without permission – you can contact us at info@whatsonweibo.com.
Bakery Boycott over Taiwan Issue: The 85°C Café Controversy
In light of the recent boycott of 85°C Bakery Cafés, some complain: "There's still money left in my customer card!"
A brief visit to Taiwanese bakery 85°C by ROC President Tsai Ing-wen has caused a huge storm on Chinese social media this week, where netizens called for a boycott of the chain.
One brief visit to a Taiwanese bakery turned out to have huge consequences this week amidst discussions over Cross-Strait relations.
On August 12, Taiwan president Tsai Ing-wen paid a visit to a Los Angeles chain of Taiwanese 85°C Bakery Café (85度C) while on her United States trip.
During the brief bakery visit, Tsai reportedly chatted with employees and was offered a small gift. The occasion, captured on photos, triggered controversy among mainland netizens, who tied the event to the 85°C Bakery supposedly supporting Taiwan independence.
The issue drew so much controversy on Chinese social media that netizens called for a boycott of the 85°C chain, with typical comments saying: "[85°C Bakery Cafés] is a company in favor of Taiwanese independence. Your consumption will fund Taiwanese Independence. Let's boycott together!"
Tsai has not endorsed the 1992 consensus or 'One China Consensus', something which has made the polician a controversial figure in mainland China.
Small Visit, Big Consequences
85°C, also called the 'Starbucks of Taiwan' has 1000 locations worldwide, of which 628 outlets are active in mainland China.
On the 15th, the 85°C mainland branch issued an official statement on their WeChat and Weibo account in response to the controversy, saying that the gift Tsai received was a "private matter" and that the company "firmly supports the One China Policy."
But the same statement, that emphasizes the peaceful development of Cross-Strait relations, was not published on the website of Gourmet Master, the 85°C parent company. In a reaction, the 85°C head office stated that the post was an individual action of the 85°C mainland branch and that they would not express any opinions on the matter.
The controversy is deeply affecting the business of 85°C in China. Not only are netizens calling for a large-scale boycott, China's most popular online delivery apps have also removed the chain from their platforms.
Among the major food apps boycotting 85°C are delivery giants Meituan, Ele.me, and Dianping.
The recent developments have led to a sharp drop in stocks of parent company Gourmet Master, hitting its lowest point in 15 months.
Netizens Worried over their 85°C Customer Card
On Weibo, many seemingly see the 85°C boycott as their personal mission, writing things such as: "There are many more tea and bread shops you can choose to go. We, as common workers, can't really fight the big companies, and it's impossible for us to force others not to go [to 85°C), we can only do what we think is right."
Many sarcastically say: "Wanting to make money in Mainland China while also wanting Taiwan to be independent – how nice."
Recently, similar sentiments flooded Weibo when a video clip emerged of Taiwanese actress Vivian Sung, in which she called Taiwan her "favorite country." Sung currently stars in the mainland China's hit movie Hello Mr. Billionaire (西虹市首富).
Although many people on Weibo are in favor of a boycott of the 85°C Bakery, some are somewhat more critical about the issue.
"We actually do not know if this chain is in favor of Taiwan independence," one commenter said: "But if Cai goes to the US in her role as President, her every move will be coordinated. Which is to say that Cai, of course, knew about 85°C before, and they were prepared to welcome her."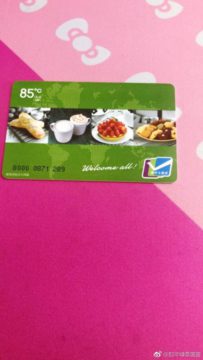 There are also those who seemingly do not care much about the political side to the discussion – they are more worried about what to do with the money they have deposited in their 85°C-customer cards.
"Let's use it up quickly," some say, ignoring the supposed boycott: "We won't be able to use it anymore if they'd close their doors."
"I just hope they won't leave the mainland any time soon," someone else writes: "I still have credit on my customer card.."
By Gabi Verberg and Manya Koetse
Follow @whatsonweibo
Spotted a mistake or want to add something? Please let us know in comments below or email us.
©2018 Whatsonweibo. All rights reserved. Do not reproduce our content without permission – you can contact us at info@whatsonweibo.com.
Princess Syndrome Candidates? Shanghai Kid's Spa "Twinkle" Turns Children into Little Stars
Innocent child's play or raising little princesses?
A recently opened kid's spa in Shanghai is one among many businesses catering to Chinese millennials and their little kids. Although many love these new luxury services for China's youngest, there are also those who say these daughters will end up suffering from 'Princess Syndrome' (公主病)."
Recently, a Shanghai kid's spa has been at the center of an online discussion on 'Little Red Book' (Xiaohongshu/小红书), a popular interactive e-commerce platform focused on fashion and beauty.
The establishment named "Twinkle" is a luxurious "parent-child restaurant" (亲子餐厅) that also includes a playground and the much-discussed children's spa, that seems to be mainly focused on catering to little girls.
A post dedicated to the spa received nearly 4000 likes and 1500 comments on Xiaohongshu within a few days time this week.
Marketing and e-commerce specialist Miro Li discussed the topic on LinkedIn, writing:
"This well decorated "kids spa," with everything in pink, is located in a shopping mall in Pudong. It's very popular among millennial parents and [it's] hard to book a seat. Service fee is RMB 218 (approximately USD 32) for each kid, including a pink bathrobe, a "facial" with cucumber mask, a "foot spa", and a glass of grape juice within [a maximum time of] three hours. The spa also has a restaurant and a small indoor playground."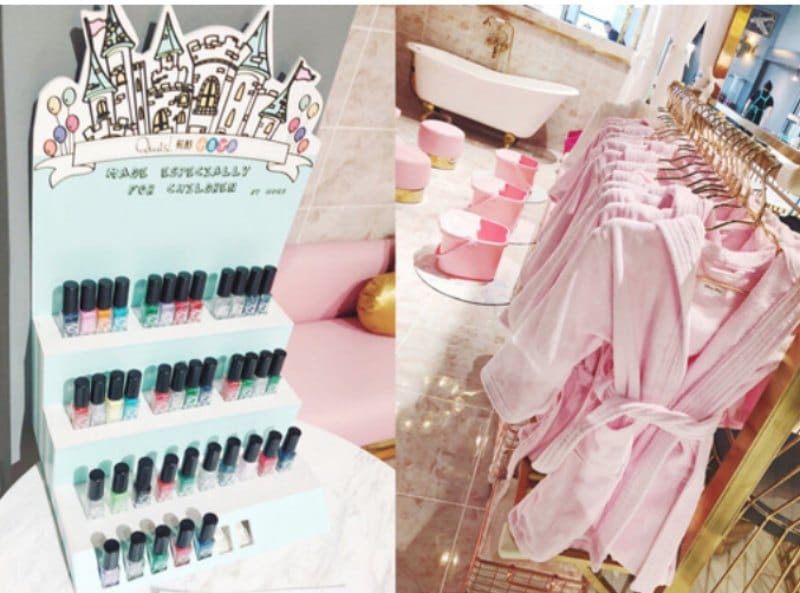 Miro Li further explains:
"This post has got people in the comments [section] split into two groups. One side strongly disagrees with parents who take kids to the spa, saying kids are too spoiled. The other side thinks this is totally normal as long as parents can afford it."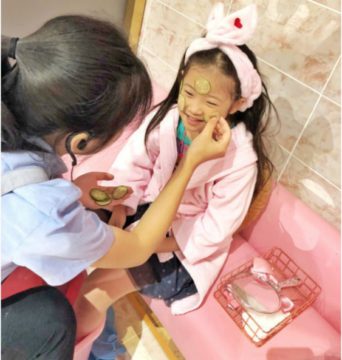 She adds:
"RMB 218 for an afternoon with kids is not too expensive in a first-tier city, but it's also not cheap. Apart from the debate, we can see that many Chinese millennial parents are pursuing the best quality of life for themselves and their kids. They don't care too much about the price like their parents do and they are more willing to spend on lifestyle."
The newly opened Twinkle "premium kid's cafe" and spa, located in Shanghai Pudong's Century Link Tower, is the second shop that has been opened after the success of the first Xintian-based branch.
Chinese parents increasingly spend more money on luxury goods for their children, such as branded wardrobes. Already in 2015, about 60 percent of surveyed Chinese millennial parents spent more than 3,000 yuan ($471) per month on luxury goods for their children, Jing Daily reports.
However, some people think that Chinese parents spoil their (only) children too much, leading to "Princess sickness" (公主病) (also 'Little Emperor Syndrome' 小皇帝病 for boys), a term used in China to describe young women who with a self-centered and high maintenance personality.
The Xiaohongshu comment section has generated some heated debates about the Twinkle kid's spa.
"It's not right!", one person says: "These girls are too young to experience this. (..) It's better to let them study when they're young, and let them read some books." Many other commenters agree, writing: "Children shouldn't do the same stuff as grown-ups do."
"You don't get Princess Syndrome because of a spa treatment."
"It's not because of the price, but I would never let my daughter do this," another female commenter writes: "I hope my daughter can grow up naturally (..) I want her to learn to do good for society and others."
Some even call the spa a "violation of socialist core values."
But there are also many people arguing that commenters criticizing the spa are taking things too seriously.
"What a bunch of sour comments here," one person says: "All that talk of Princess Syndrome – you don't get Princess Syndrome because of a 218 yuan spa treatment, it is something that comes from how parents treat their children. By getting a spa treatment, these children learn the good habit of taking good care of their skin from an early age (..). At the same time, it also teaches them about the kind of life they'd want and that they have to do their best to reach it."
"Everyone is entitled to their own opinions," another Xiaohongshu user says: "But I'd say it's much better to bring your kid out to play like this than to let them play on your phone."
However, it seems that the more critical stance is dominating this debate. The top comment of the section, receiving more than 1000 likes, says: "I just think that it's not right to inject these kind of ideas about what enjoyment is into the minds of kids this small."
"Mums just want to give their kids the very best," one reply reads: "If they can afford it, it's absolutely normal for them to do so."
By Manya Koetse
Follow @whatsonweibo
Spotted a mistake or want to add something? Please let us know in comments below or email us.
©2018 Whatsonweibo. All rights reserved. Do not reproduce our content without permission – you can contact us at info@whatsonweibo.com.