Another Kindergarten Abuse Case: Beijing's RYB Education Branch Accused of Drugging and Molesting Children
Parents are accusing RYB Education of drugging and abusing their children. Details surrounding the case are being censored in Chinese media and on Weibo.
After the Ctrip kindergarten scandal, another major kindergarten abuse case is the talk of the day on Chinese social media. Employees of Beijing RYB Education are suspected of drugging and molesting young children.
Another kindergarten child abuse case has sparked indignation on social media in China this week. After the Shanghai wasabi case, it now concerns the Honghuanglan (红黄蓝) kindergarten in Beijing's Chaoyang district (Xintiandi branch).
The kindergarten, also known as the 'Red Yellow Blue (RYB) Education' is a large chain of preschools (2-6 year olds) with hundreds of branches across mainland China. According to China Daily, it operates 80 kindergartens directly and has 175 franchises in 130 cities and towns.
On November 22, the story became trending on Weibo and WeChat when netizens exposed how more than a dozen parents filed a report at the Chaoyang police station against their children's kindergarten.
The parents claim their children were fed unclear white pills and had been injected, providing many photos showing needle punctures in their children's skin in areas on their legs, arms, and buttocks. They suspect that their children have been drugged and molested.
The case began when several parents noticed irregular behavior in their children and then discovered the punctures in their skin. Some parents claim they also found indications of sexual abuse on their child's body. Some children refused to go to school, others pointed out where they had suffered needle pricks.
Several videos recorded by the parents involved made their ways to parental support groups. One video shows two parents asking their toddler son about a white pill they discovered on him. The little boy then answers "the teacher gave it to me to make me sleep." He also says: "We have to take these pills every day." The video was later taken offline.
Other children also told their parents they were fed "white pills" at school. The young pupils said the pills were "not bitter."
The accusations against the kindergarten made headlines in China on Wednesday and Thursday, but many news reports were pulled offline shortly afterward.
Discussions on social media are also censored. The hashtag "Beijing's RYB Centre Suspected of Child Abuse' (#北京红黄蓝涉嫌虐童#) became of the top ten topics on Weibo on Thursday afternoon, but then became inaccessible.
A Beijing Youth Daily journalist reported that on Thursday, November 23, a group of parents gathered at the gate of the kindergarten where a meeting would supposedly be held at the time of writing. Parents demanded to see the center's surveillance videos, but according to reports that came out around 17.30 Beijing time, the police had already confiscated the footage.
Police in Chaoyang district are currently investigating the parents' claims that their children were drugged and abused. Three employees of the company have been temporarily suspended from their duties, a company spokesman stated to reporters on Thursday late afternoon outside the kindergarten.
Several emotional parents spoke to reporters outside the school gates. One mother told reporters that her child had disclosed that teachers had threatened the children not to tell their parents about things occurring at the preschool. They told the young children that they had a "very long telescope" and would be able to watch them, even if they were at home.
"My child is only three-and-a-half years old, and I found needle hole marks on his thighs and buttocks. I am trembling with anger," one other parent told reporters.
In an interview with another parent, a mother tells about her 3-year-old child's account of all the children being subjected to naked "health checks" at school by a "grandpa doctor" and "uncle doctor," who also did not wear any clothes according to the child. Children were allegedly forced to watch one of the pupils being raped (being described as a "piston motion" [活塞运动]) by the "uncle doctor."
A father stated to journalists that one of the children had been taken to the hospital on November 22 for an examination, and that the doctor found there was trauma to the anus area. "I feel like burning down the school," the man said.
Also read:
UPDATE: Press Release November 28
Collective Shock after Exposure of RYB Education Children's Abuse
WeChat Essay: "The RYB Kindergarten 'Piston Action' Child Abuse Case" (Translation)
By Manya Koetse and Miranda Barnes
Follow @whatsonweibo
Spotted a mistake or want to add something? Please let us know in comments below or email us.
©2017 Whatsonweibo. All rights reserved. Do not reproduce our content without permission – you can contact us at info@whatsonweibo.com.
Mourning Jiang Zemin, Weibo Turns Black and White
Since the rise of Chinese social media, Jiang Zemin became a recurring part of Chinese memes.
Following the announcement that Jiang Zemin (江泽民), the former president of the PRC, has passed away, various Chinese online platforms have turned into 'grey' mode as a sign of mourning. Jiang Zemin died due to leukemia and organ failure. He was 96 years old.
Besides Weibo, the home page of major Chinese websites such as Baidu, Sogou, Taobao, Alipay, Xinhua, People's Daily, The Paper, and many others all turned into black-and-white mourning mode on Wednesday.
On Weibo, one post about Jiang Zemin's passing received a staggering one million reposts and over two million 'likes.' The hashtag "Comrade Jiang Zemin Passed Away at the Age of 96 in Shanghai" (#江泽民同志在上海逝世享年96岁#) had received over 2,5 billion clicks by Wednesday night.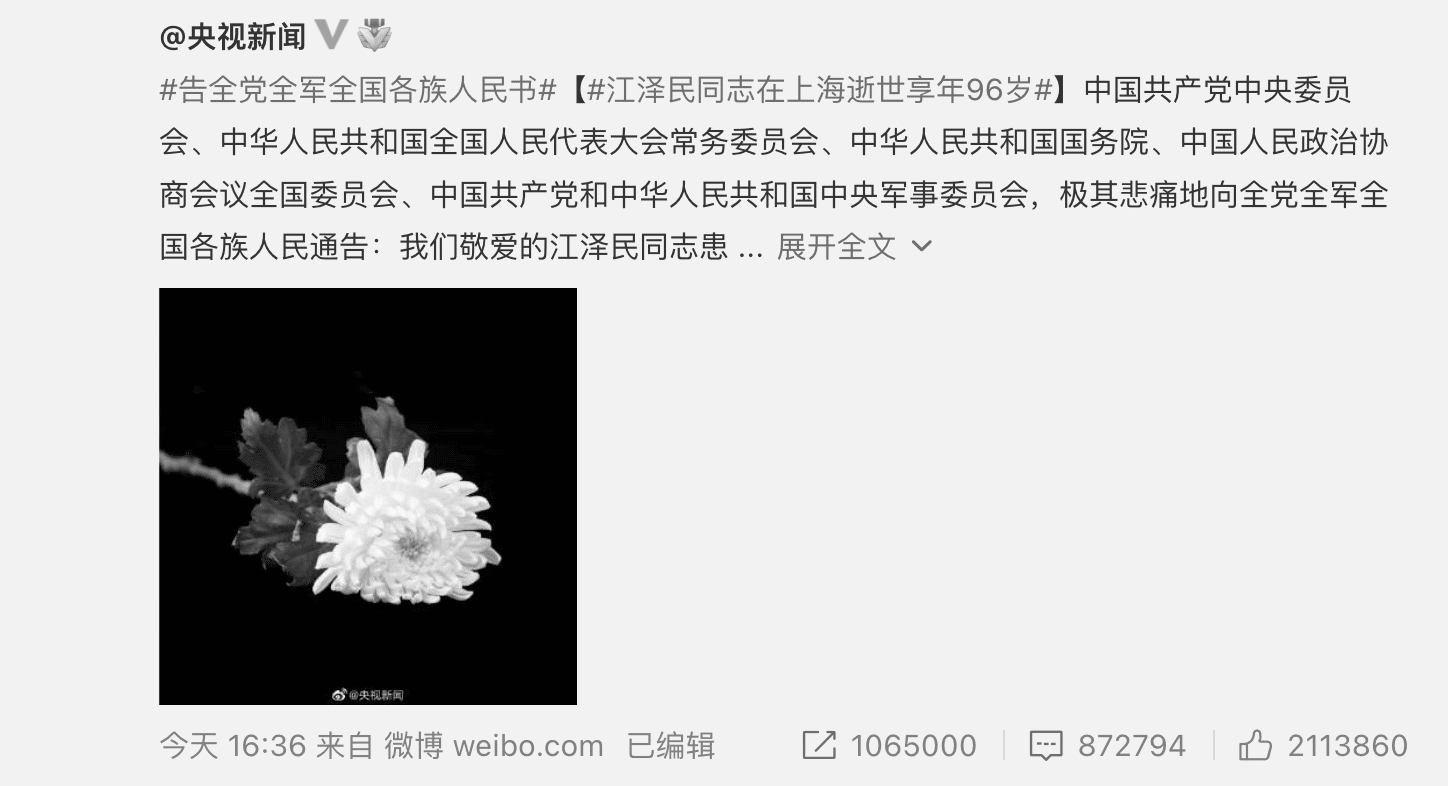 Jiang Zemin was appointed as President of the People's Republic of China in 1993. In the years before, the former Shanghai Party chief already held official positions as the chairman of the Central Military Affairs Commission and general secretary of the Party. In 2003, Jiang Zemin retired and was replaced by Hu Jintao (Sullivan 2012).
Since the rise of Chinese social media, Jiang became a recurring part of Chinese memes. Jiang had created a wide group of online fans, who are commonly referred to as 'toad worshippers' as the online phenomenon of 'worshipping' Jiang Zemin is called mo ha (膜蛤), 'toad worship' (Fang 2020, 38). The entire phenomenon has become its own subculture that is called 'mo ha culture' (móhá wénhuà, 膜蛤文化).
What started as a joke – nicknaming Jiang a 'toad' due to his big glasses, signature pants, and wide smile, – became an actual online movement of people who were appreciative of Jiang Zemin.
They loved him, not only because the former leader spoke many languages and other talents, and because of his unique appearance, but mainly because he was not scared to show his emotions, was very expressive, and good at telling stories.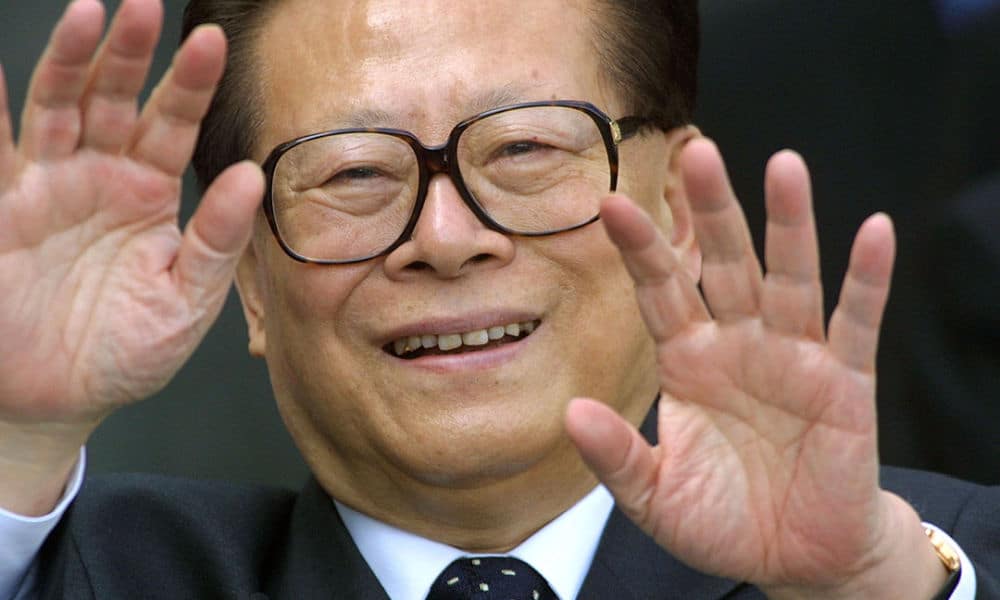 One famous example of this, is when Jiang Zemin got upset with a Hong Kong journalist in 2000 and told them off using three languages (link to video, also here). The much-repeated quote "too young, too simple, sometimes naive" comes from this noteworthy moment as Jiang told journalists that they still had a lot to learn, whereas he had gone through "hundred of battles," saying "I've seen it all." This also led to Jiang later being called 'the Elder' (长者) by netizens.
A famous moment when Jiang did not conceal his personal emotions and told off a HK journalist using three languages https://t.co/kX5Z3e0Goa

— Manya Koetse (@manyapan) November 30, 2022
Another popular Jiang Zemin video is when he met with American journalist Mike Wallace in August of 2000 in Beidaihe. During the interview, the two discussed sensitive topics including the Falun Gong and Tiananmen protests. The interview reportedly was one of the longest ever between an American journalist and a Chinese head of state (watch here).
When Jiang Zemin met Mike Wallace. The interview took place exactly 22 years ago today, August 15 2000, in Beidaihe. Here, Jiang expresses his best wishes to the American people, in English. See part of interview (better quality) here: https://t.co/8NwqYvbzkh pic.twitter.com/V3q3NbrOOJ

— Manya Koetse (@manyapan) August 15, 2022
A study by Kecheng Fang (2020) about 'China's toad worship culture' suggests that for many online fans of Jiang, the cult around him is apolitical, playful, and part of a shared digital cultural tradition.
For some, however, it does hold some political meaning to 'worship' Jiang, who only became a popular online meme around 2014, after Xi Jinping took power as a conservative strongman who is not as emotionally expressive. Fang describes how one meme creator said: "We couldn't express our criticism through normal channels, so we turned to other indrect ways, including lauding Jiang's personality and characteristics in various ways" (2020, 45).
Although Jiang became popular among younger Chinese on online platforms over the past decade, he was not necessarily that popular at the time of his leadership, and opinions vary on the legacy he leaves behind. Jiang continuously pushed for reform and opening-up after Deng Xiaoping's rule.
As summarized by Foreign Policy, Jiang oversaw two crucial transitions that shaped and improved the lives of the people of China: "First, he peacefully guided his country out of the shadow of China's founding revolutionaries, who had spent decades purging one another and at times caused great pain and sorrow for everyone else. Second, although hesitant at first, Jiang came to embrace the market economy."
As various places across China have seen unrest and protests over the past few days, the announcement of Jiang's death comes at a sensitive time.
Many on Chinese social media are burning virtual candles in memory of Jiang Zemin today. "I will fondly recall your style and manners," some say.
By Manya Koetse , with contributions by Miranda Barnes
If you appreciate what we do, please subscribe here or support us by donating.
References:
Fang, Kecheng. 2020. "Turning a communist party leader into an internet meme: the political and apolitical aspects of China's toad worship culture." Information, Communication & Society, 23 (1): 38-58.
Sullivan, Lawrence R. 2012. Historical Dictionary of the Chinese Communist Party. Lanham: The Scarecrow Press. See page: 3-43, 208.
Get the story behind the hashtag. Subscribe to What's on Weibo here to receive our newsletter and get access to our latest articles:
Spotted a mistake or want to add something? Please let us know in comments below or email us. First-time commenters, please be patient – we will have to manually approve your comment before it appears.
©2022 Whatsonweibo. All rights reserved. Do not reproduce our content without permission – you can contact us at info@whatsonweibo.com.
The 'Blank White Paper Protest' in Beijing and Online Discussions on "Outside Forces"
As people in Beijing, Shanghai, and other places take to the streets holding up white papers, some have dubbed this the "A4 Revolution."
A majority of social media commenters support those who have recently taken to the streets, using blank sheets as a sign of protest against censorship and stringent Covid measures. But there are also online voices warning Chinese young people not to be influenced by 'external forces.'
Over the past few days, there have been scenes of unrest and protest movements in various places across China.
While there were protests in Shanghai for the second night in a row, Beijing also saw crowds gathering around the Liangmahe area in the city's Chaoyang District on Sunday night.
Some videos showed crowds softly singing the song "Farewell" (送别) in commemoration of those who lost their lives during the deadly inferno in Urumqi.
Later, people protested against stringent Covid measures.
Scenes from Beijing's Liangmahe where people sang 'Farewell' song (送别) to commemorate those who died in the Urumqi fire on Thursday. pic.twitter.com/raivvbOibp

— Manya Koetse (@manyapan) November 27, 2022
"The crowds at Liangmahe are amazing," some people on Weibo commented.
Photos and videos coming from the area showed how people were holding up blank sheets of white paper.
Earlier this weekend, students in Nanjing and Xi'an also held up blank paper sheets in protest of censorship and as the only 'safe' way to say what could otherwise not be said. This form of protest also popped up during the Hong Kong protests, as also described in the recent book by Louisa Lim (Indelible City: Dispossession and Defiance in Hong Kong).
The recurring use of blank paper sheets led to some dubbing the protests an "A4 Revolution."
"When can we have freedom of speech? Maybe it can start at Beijng's Liangmahe," one person on Weibo wrote on Sunday night.
Another Beijing-based netizen wrote: "Before going to sleep I saw what was happening in Liangmahe on my WeChat Moments and then I looked at Weibo and saw that the Xicheng area had added 279 new Covid cases. I started thinking about my own everyday life and the things I am doing. I can't help but feel a sense of isolation, because I can't fight and do not dare to raise my voice."
"I didn't dare to believe this is happening in 2022. I didn't dare to believe this is happening in Beijing. I do not dare to believe that again it will all have been useless tomorrow morning," one Weibo user commented.
During the night, various people at the scene shouted out things such as "we want to go out and work," and other hopes they have. One person yelled: "I want to go out and see a movie!"
The phrase "I wanna go watch a movie" ("我要看电影") was also picked up on social media, with some people commenting : "I am not interested in political regimes, I just want to be able to freely see a movie." "I want to see a movie! I want to sit in a cinema and watch a movie! I want to watch a movie that is uncensored!"
Despite social media users showing a lot of support for students and locals standing up and making their voices heard, not everyone was supportive of this gathering in Beijing. Some suggested that since Liangmahe is near Beijing's foreign embassy district, there must be some evil "foreign forces" meddling and creating unrest.
Others expressed that people were starting to demand too many different things instead of solely focusing on China's zero Covid policies, losing the momentum of the original intention of the protest.
Political commentator Hu Xijin (胡锡进) also posted about the recent unrest on his Weibo account on Sunday night:
"The people have the right to express their opinions, and you may have good and honest aspirations and have the intention to express legitimate demands. But I want to remind you that many things have their own rules, and when everyone participates in the movement, its direction might become very difficult for ordinary participants to continue to control, and it can easily to be used or even hijacked by separate forces, which may eventually turn into a flood that destroys all of our lives."
Hu also called on people to keep striving to solve existing problems, but to stay clear-headed, suggesting that it is important for the people and the government to maintain unity in this challenging time.
The term "outside forces" or "external forces" (外部势力) increasingly popped up in social media discussions on late Sunday night.
"I worry a lot of meddling by external forces. Let's be vigilant of a color revolution. I just hope things will get better," one netizen from Hubei wrote.
"Young people should not be incited by a few phrases and blindly follow. Everyone will approve of people rationally defending their rights, but stay far away from color revolutions."
The idea that foreign forces meddle in Chinese affairs for their own agenda has come up various times over the past years, during the Hong Kong protests but also during small-scale protests, such as a local student protest in Chengdu in 2021.
The term "color revolution" is recurring in these kind of discussions, with some netizens suggesting that foreign forces, such as the CIA, are trying to get local people to cause unrest through riots or demonstrations to undermine the stability of the government.
"It's not always external forces, it can also just be opposition," one person on Weibo replied: "In every country you'll have different opinions."
"What outside forces?" another commenter said: "I'm not an external force! I am just completely fed up with the Covid measures!"
Read more about the "11.24" unrest in China here.
By Manya Koetse , with contributions by Miranda Barnes
If you appreciate what we do, please subscribe here or support us by donating.
Get the story behind the hashtag. Subscribe to What's on Weibo here to receive our newsletter and get access to our latest articles:
Spotted a mistake or want to add something? Please let us know in comments below or email us. First-time commenters, please be patient – we will have to manually approve your comment before it appears.
©2022 Whatsonweibo. All rights reserved. Do not reproduce our content without permission – you can contact us at info@whatsonweibo.com.