Zhai Tianlin's Alleged Plagiarism Triggers Discussions on Academic Cheating in Chinese Universities
"Colleges and Universities face great corruption problems, that is what you should be looking into."
Earlier this month, Chinese actor Zhai Tianlin (翟天临) drew the public's attention for his appearance at the CCTV Spring Festival Gala, where he starred as a police officer preventing his parents from being scammed. Now, Zhai, again, is at the center of attention: not for his acting skills, but for allegedly committing academic fraud.
The famous actor is a Beijing Film Academy Ph.D. graduate and postdoctoral candidate at Peking University, one of China's most renowned universities.
His alleged academic misconduct has been a topic of discussion for some days now. During a live broadcast with fans, Zhai apparently said he did not know what CNKI (知网) is, an academic database that all scholars in China will be familiar with.
It led to suspicions on Zhai's academic standing, and people on the Quora-like Q&A platform Zhihu accused Zhai of not publishing any academic papers in recognized scholarly journals – something that is mandatory for Ph.D. students in China in order to fulfill their graduation requirements.
Zhai's academic records increasingly became the focus of attention on February 9th, when one Weibo user (PITD亚洲虐待博士组织), a graduate student from Beijing, posted the results of a plagiarism detection test that was run on one of Zhai's papers.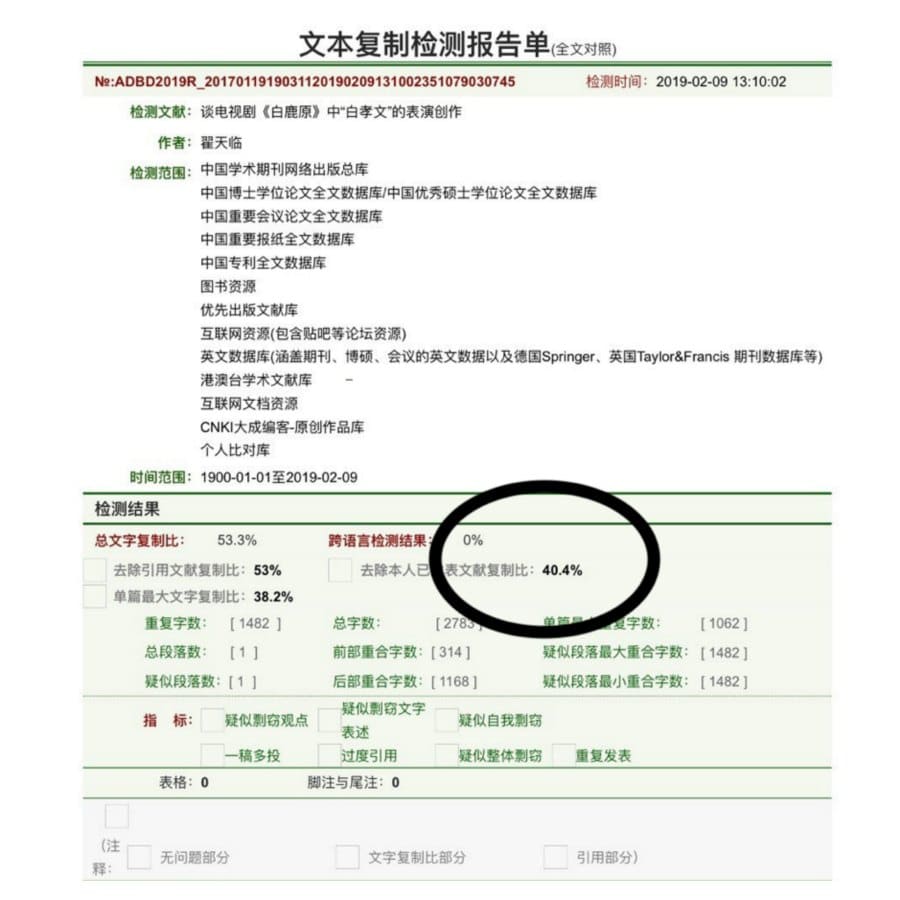 The test result revealed that of the 2783 words used in the paper, that was published last year, 1482 words were copied from other texts, indicating a 40.4% similarity score.
After the Beijing Film Academy released a statement that they would be investigating Zhai Tianlin, state media outlet China Daily posted a message on their Weibo account, stating that "academic standards must be the same for everyone" and that "postdoctoral researchers are a university's greatest honor, " and that "who wants to carry the crown should also carry the weight."
On that same day, Peking University also published a statement saying that they are investigating the incident.
Zhai Tianlin (1987), who is also known as Ronald Zhai, is most known for starring in various popular Chinese TV shows and dramas, such as White Deer Plain and The Advisors Alliance.
The plagiarism allegation case has become a major topic of discussion on Chinese social media this week. The hashtag "Peking University Responds to Zhai Tianlin Case"  (#北大回应翟天临事件#) has been viewed a staggering 650 million times on Weibo at time of writing, while the hashtag "Beijing Film Academy Sets Up Zhai Tianlin Investigation Team" (#北电成立翟天临事件调查组#) received more than 490 million views.
The storm is not likely to blow over soon, as new reports now also allege that Zhai's MA-thesis relies heavily on the scholarly work of Chen Kun, a famous Chinese actor who also attended the Beijing Film Academy.
Although the scandal has triggered countless reactions condemning Zhai, there are also many people on social media who are directing their anger towards the universities and state media, with one typical comment saying: "By solely focusing on Zhai, you are avoiding the real problem. Colleges and universities face great corruption problems, that is what you should be looking into."
Another person wrote: "I feel like the public opinion is focused too much on this case of 'academic misconduct.' What the media should be investigating is: why was the paper not checked for plagiarism before its publication? What the Beijing Film Academy should be looking into is how somebody can graduate with a paper that is not up to standard? And how someone who clearly doesn't hold the appropriate academic abilities has access to its programme."
"Peking University and Beijing Film Academy are both responsible for this fraud. How could they ever enroll such a fraudulent person?!" others wrote. 
Some commenters seem to have no trust in China's academic standard, saying: "Are you telling me you [the universities] didn't know about this when you admitted him? Now you are setting up investigation teams, but it is all just for show."
Academic corruption in the Chinese educational context has been a well-known problem for years. As early as 2002, the Ministry of Education implemented various policies to combat academic misconduct, defining it as an act of academic dishonesty that is punishable, but the problem is still widespread (Kai 2012).
Some studies suggest that one of the factors that play a role in plagiarism in China relate to the fact that 'plagiarism' is something that is often defined in very general terms, with university handbooks nor policies clearly codifying instances of "appropriate and inappropriate source use" (Hu & Lei 2015, 236).
There are also many other factors at play, however, such as the pressure for doctorate students to publish their papers, and the phenomenon of  "publishing cash incentives," which would allegedly trigger more academic fraud.
On Chinese social media, many people express that they hope that the institutions involved will "set an example" for other universities and "be transparent" in the way they'll handle Zhai in case he is found guilty of plagiarism.
Many also pointed out the irony in the fact that it was Zhai who played the police officer that prevented his parents from being scammed during the CCTV New Years' Eve Gala.
"This is just all so embarrassing," some write: "Now it looks like not just Zhai's PhD status should be taken from him, but also his MA title."
Others suggest that this whole scandal would make an excellent topic for another TV drama, starring Zhai Tianlin, doing what he does best: acting. Some voices suggest that people should wait for the investigations into Zhai's work to be completed before condemning him. With the massive online attention for this case, it might not take too long for more facts to surface on the case. We'll keep you updated.
By Gabi Verberg and Manya Koetse
References
Hu, Guangwei and Jun Lei. 2015. "Chinese University Students' Perceptions of Plagiarism." ETHICS & BEHAVIOR 25(3): 233–255.
Kai, Ren. 2012. "Fighting against Academic Corruption: A Critique of Recent Policy Developments in China." Higher Education Policy (25): 19–38.
Spotted a mistake or want to add something? Please let us know in comments below or email us.
©2019 Whatsonweibo. All rights reserved. Do not reproduce our content without permission – you can contact us at info@whatsonweibo.com
Zheng Shuang, Zhang Heng, and 'Surrogacy Gate': A Timeline
One celebrity couple breakup, two children born through surrogacy: this sad and messy topic has exploded on Chinese social media.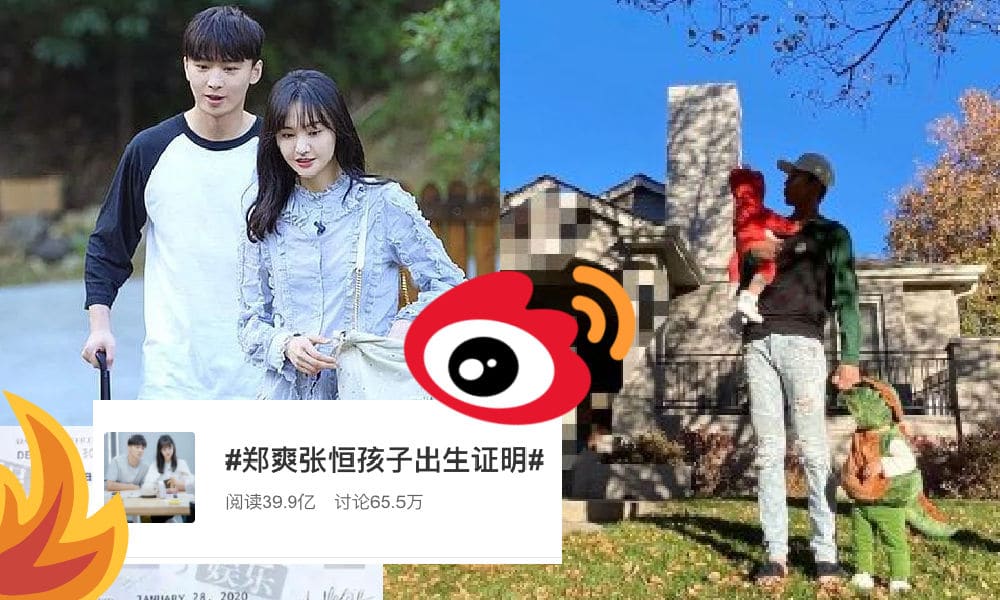 A celebrity surrogacy scandal is dominating discussions on Chinese social media, with one hashtag on the case attracting over 3 4 billion views. The scandal is triggering discussions on the topic of surrogacy in China.
Her name is Zheng Shuang (郑爽, 29), his name is Zhang Heng (张恒, 30). They're both celebrities in China; she is a super famous actress, he is a well-known producer.
This week, it is not their work that made them go viral on Chinese social media, but a surrogacy scandal taking place in the United States that is dominating all trending lists on Weibo.
The social media storm started on Monday, January 18, when rumors surfaced on Weibo and Wechat that the celebrity couple had separated. Some netizens had located a 'dissolution' case concerning the couple through the public access of the US federal court system.
Subsequently, news and rumors began circulating that the couple had two children in the US through a surrogacy arrangement, but that actress Zheng Shuang refused to have them because she and Zhang had broken up – even though her name was on their birth certificate.
The topic soon became known as the Zheng Shuang 'Surrogacy Gate' (郑爽"代孕门").
Chinese media outlet Netease Entertainment published images of the children's birth certificates and confirmed through sources close to producer Zhang Heng that he was stranded in the United States with the two babies, unable to bring them back to China with him since Ms Zheng allegedly did not cooperate with the necessary legal procedures.
It was Zhang Heng himself who spoke out about the situation on his Weibo account (@张恒KN) on January 18. He wrote the following post:
"Hi everyone, I'm Zhang Heng. Long time no see. As everyone has seen, I again hit the hot search lists recently. Since the past year or so, there has been baseless slander, disrespect, and endless online violence against me on the internet. My family is also frustrated, helpless, and mentally exhausted because of my problems. There's no way to lead a normal life or to socialize normally. We're unable to reunite because of this. I really feel so, so bad.   
I realize I can't bury my head in the sand any longer. Because it's not just me facing everything; it's also my cherished family members. I've decided to speak up, for my family and for myself, and to set the record straight. 
The online rumors about me committing fraud, borrowing from loan sharks, evading debts, taking funds and slinking off to America, etc –  they're all rumors and I swear I've never done these things, nor would I ever do them. It is true that I am in America, but my family and I have been in the United States for over a year because we had to take care of and protect our two young and innocent children. We had no choice but to remain here.
I have hired a lawyer to handle related matters, and I believe the actual facts will be restored by the American and Chinese courts. Finally, I hope the media and righteous people can recognize the truth in this matter, and will not be blinded by internet rumors." 
The children caught up in this scandal are one girl, born on January 4 2020, registered in the state of Nevada; and a boy, born on December 19 2019, registered in the state of Colorado. The birth certificates that were leaked to Chinese media show both Ms. Zheng and Mr. Zhang as the legal parents of the two babies.
Also leaked to Chinese media is an older audio recording in which Zheng, Zhang, and both of their parents allegedly discuss what to do with their unborn babies. In the voice recording, Zheng's side argues that the children should be given up for adoption, with Zheng herself even complaining that the babies could not be aborted because the surrogate mothers were already seven months pregnant.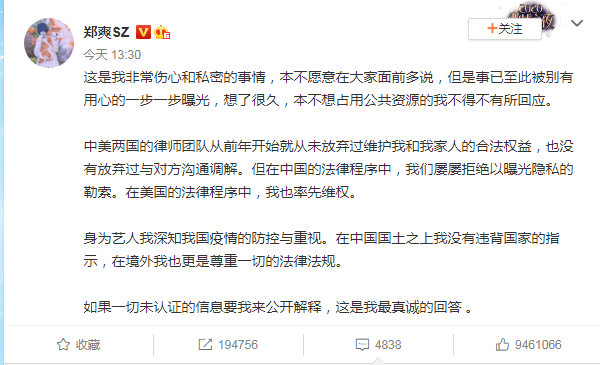 On January 19, Zheng Shuang herself also responded to the matter on Weibo (@郑爽SZ), where she did not address the matter directly but said that this is "a very sad and private matter that I did not want to discuss in front of everybody." She further wrote that legal teams in China and the US "never gave up defending the legal rights of me and my family since last year."
Of the two former partners, Zheng is the most famous celebrity. Born in Shenyang in 1991, she rose to fame when she starred in a popular TV series in 2009 (Meteor Shower 一起来看流星雨). She became an award-winning actress and was chosen as one of the most bankable young actresses of the post-90s generation. On her Weibo account, she has over 12.4 million followers.
'Surrogacy Gate': The Timeline
While this case is unfolding in front of netizens' eyes and through their own research, more and more details are coming up.
Money plays a major role in the falling-out between Zheng and Zhang, and a private lending dispute – involving no less than 20 million yuan (around 3 million dollars) – seems to be one of the reasons for their break-up.
Since the story is somewhat messy and complicated, we will attempt to reconstruct a timeline of events here.

TIMELINE:
2018, May
• Zheng and Zhang meet on the set of the variety show This Is Fighting Robots (这就是铁甲), where Zhang does the show's production. Weeks later, intimate photos of the two surface online.
2018, August
• The couple officially announces their relationship status and start a company together.
2018, November
• Ms Zheng allegedly loans Mr Zhang 20 million yuan ($3 million).
2019, January 19
• Zheng and Zhang 'secretly' get married in the United States on January 19 of 2019. Zheng's dog, "Wolfberry Kris" (@枸杞kris), has its own Weibo account where some 'wedding photos' of the joyous occasion are shared on this day.
2019, Fall/Winter
• Zhang and Zheng both appear on the TV show Meeting Mr. Right (女儿们的恋爱).
• An annual report of Zhang and Zheng's entertainment-meets-tech company, a joint business venture named Shanghai Whale Valley AI Tech (上海鲸谷座人工智能科技有限公司), shows that Zheng Shuang invested over 10 million yuan ($1.5 million) while Zhang – the company's legal representative – only contributed 200,000 yuan ($30,800).
2019, September
• In a Weibo post of January 2021, Zheng Shuang claims that Zhang cheated on her in September of 2019, which is why she left the US and went back to China.
2019, October 31
• Zhang Heng and Zheng Shuang go viral on Chinese social media when Zhang writes a love song for Zheng, and publicly announces his love for her (#张恒给郑爽写歌#).
2019, December 18
• Zhang Heng and Zheng Shuang announce their breakup, and rumors suggest that the two are caught up in a dispute over money.
2019, December 19
• The son of Zhang Heng and Zheng Shuang is born through surrogacy in Colorado.
2020, January
• The daughter of Zhang Heng and Zheng Shuang is born through surrogacy in Nevada on January 4.
• Zheng Shuang files a lawsuit in Shanghai, suing Zhang Heng for borrowing 20 million yuan from high-interest loaners under her name to invest in personal business ventures.
2020, November
• Shanghai Jing'an Court rules that Mr. Zhang needs to pay back 20 million yuan ($3 million) plus overdue interest to Ms. Zheng. Zhang Heng appeals the case, arguing the money involved was never a loan but a financial compensation and advance payment for invested labor, since Zhang also acted as Zheng's manager while they were together.
2020, December
• Zheng Shuang quits as a mentor on the Shine! Super Brothers (追光吧!哥哥) variety TV show after a clip exposing her gossiping about the past relationship of two co-stars circulated online.
2021, January 18
• Zhang posts his story on his Weibo account, stating he is stranded in the United States to take care of his two young children, implying Zheng has abandoned the babies. He also posts a photo of him with the two children.
• A voice recording in which Zheng talks about what to do with her unborn children surfaces in Chinese media, along with the birth certificates. The topic explodes on Chinese social media.
2021, January 19
• Zheng Shuang posts a reply to the matter on her own Weibo account, in which she is vague and evasive about the issue concerning the children. She implies that Zhang has "ulterior motives." She later adds that Zhang cheated on her in the fall of 2019.
• In light of all controversy, Italian fashion brand PRADA cuts ties with Zheng Shuang, with whom they had a cooperation agreement. Zheng was announced as one of the brand's new Chinese ambassadors earlier in 2021.
• London jewelry brand Lola Rose deletes all content including Zheng from their social media.
• Harper Bazaar deletes a feature on Zheng Shuang from their social media.
• Chinese cosmetic brand Chioture also posts a statement on Weibo saying it has terminated its contract with Zheng Shuang, who formerly was a spokesperson for the company.
• The second hearing of the Zheng versus Zhang lawsuit takes place in a Shanghai court over the disputed loan. Zhang and Zheng are both represented by their lawyers. (No news on outcome yet).
• State broadcaster CCTV condemns surrogacy in a post on Weibo.
• Zheng Shuang appears in public in Beijing, where she is followed by paparazzi. She does not respond to any questions, but her appearance still goes viral on social media with over 640 million views (#郑爽风波后首现身#).
2021, January 20
• Huading Awards announces it will revoke the honorary titles of Zheng Shuang, renouncing Zheng's former awards as best actress and favorite TV star. Over 2.2 million people 'liked' this update on Weibo (#华鼎奖取消郑爽荣誉称号#).
• China's State Administration of Radio, Film and Television officially shuts out Zheng Shuang.
• The Weibo hashtag "Birth Certificates of Zheng Shuang and Zhang Heng's Children" (#郑爽张恒孩子出生证明#) reaches a staggering 4 billion views.
2021, March 22
• The hearing for the supposed dissolution of Zheng and Zhang's marriage is scheduled to take place in Denver, US.
Surrogacy Abandonment
Although the timeline of events leading to the current situation might suggest that Ms. Zheng and Mr. Zhang are both at fault for handling matters in an irresponsible way, it is Zheng's "surrogacy abandonment" that mostly triggers the public's anger on social media.
Many people feel that Zheng Shuang is lacking morals for abandoning her children and call her "cold-blooded." There are also those who think the actress has serious mental problems. Despite all backlash, Zheng still has a strong fan base with people who still support her.
The scandal has sparked more discussions on the issue of surrogacy in China, which already was a big topic earlier in January when a story came out on a baby born through surrogacy who had no birth certificate and no legal registration (link here).
Although surrogacy is officially not legal in China, there is a flourishing underground surrogacy market, and many couples who are struggling with fertility issues travel overseas for surrogacy arrangements. It is not clear why Zheng and Zhang used surrogates to have children.
On Weibo, many people speak out against surrogacy practices, arguing that having children is not a business and surrogacy puts vulnerable women at increased risk of exploitation.
The hashtag "Firmly Oppose All Forms of Surrogacy" (#坚决反对一切形式的代孕#) received over 290 million views and thousands of comments.
One person commented: "Children are not a commodity you can buy, sell, or return. They're a life-long responsibility, they are the future of our society."

This story will be updated following the latest developments.

By Manya Koetse, with contributions by Miranda Barnes
Follow @WhatsOnWeibo
Spotted a mistake or want to add something? Please let us know in comments below or email us. First-time commenters, please be patient – we will have to manually approve your comment before it appears.
©2021 Whatsonweibo. All rights reserved. Do not reproduce our content without permission – you can contact us at info@whatsonweibo.com.
Angelababy, Huang Xiaoming, Li Fei'er: Love Triangle Rumors From Decade Ago Revisited
Weibo explodes after Angelababy addresses rumors that have been going on for over ten years.
On Wednesday afternoon, Beijing time, Weibo exploded when Chinese celebrity couple Huang Xiaoming and Angelababy addressed some strong rumors about the start of their relationship.
Their posts resulted in various hashtags and search terms going viral, including the phrases "When Angelababy Met Huang Xiaoming, He Said He Was Single" and "Angelababy Was Not My Mistress." At least three out of today's top trending Weibo topics are related to Angelababy and Huang Xiaoming.
Angelababy (nickname for Yang Ying 杨颖) is practically a household name in China. The famous actress and model married actor Huang Xiaoming (黄晓明) in 2015, and ever since, their marriage and relationship status is a popular gossip topic on social media. The two have a son together.
With Angelababy having over 100 million fans on her Weibo page (@angelababy) and Huang Xiaoming having over 61 million followers on his (@黄晓明), the two are practically Weibo's most followed couple. Their $31 million wedding is probably the most-discussed Chinese weddings of the past decade.
Chinese actress Li Fei'er (李菲儿) previously dated Huang Xiaoming after working with him in the 2008 television series Royal Tramp (鹿鼎记). The two are said to have started a relationship in 2007, and to have broken up in 2010 – the same year when Huang got together with Angelababy. The ending of the relationship with Li and the start of the new love affair with Angelababy has been a source of gossip for over a decade.
In a 2011 interview with a Hong Kong magazine, Li had hinted that Angelababy was previously 'the other woman' during her relationship with Huang.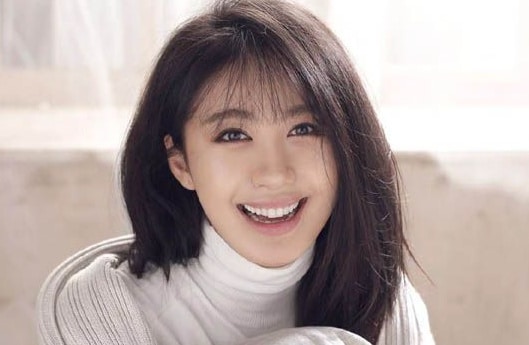 The rumors surrounding that alleged love triangle between Angelababy, Li, and Huang reached a new peak this week when Huang Xiaoming and Li Fei'er shared a stage on the super popular reality series Sisters Who Make Waves 2, which features 30 female celebrities over the age of 30. Huang hosts the show.
Apparently, Angelababy felt that the waves of rumors became too strong for her not to speak out. In the late afternoon of January 6, she posted a Weibo post in which she stated that Huang Xiaoming told her he was single when they first met. When Li made 'groundless' comments about Angelababy in a magazine interview, she asked Huang about it, and "he told me they had broken up."
"A decade has passed by. Today, I've chosen to stand up for myself and to explain the entire thing clearly. I don't want to take the blame anymore," Angelababy writes.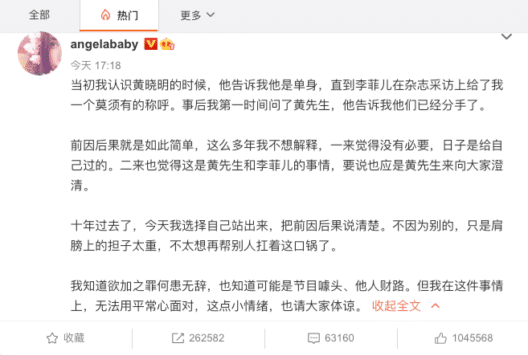 She also added that she felt this is "a matter between Mister Huang and Li Fei'er," suggesting that Huang is the person who needs to clarify the matter to the public.
Angelababy's post was followed up by a post by Huang just an hour later, in which he stated the success of the Sister Who Make Waves tv show lies in the values it conveys to respect women, suggesting that the recent flood of rumors is harmful to the show's central theme, the women participating in it, as well as to his own family.
He further clarifies that Angelababy "was not a mistress," refuting ongoing rumors about the start of their relationship.
The huge attention for this matter seemed to temporarily put a strain on Weibo's servers, with the site momentarily showing a notification that its servers were too busy. In 2017, Weibo servers could no longer handle the peak in traffic after Chinese singer ad actor Lu Han announced his new relationship.
For now, the statements by Angelababy and Huang have only brought about more speculation. The fact that Angelababy refers to her husband as "Mr. Huang" in her post intensifies ongoing rumors that Huang and Angelababy might already be separated.
Meanwhile, Li Fei'er, who has over 11 million followers on her Weibo page (@李菲儿love) has not posted anything about the recent developments. In her last post on January 1st, she wished her followers a happy new year.
By Wednesday night, Beijing time, Angelababy's post had received over 1,3 million likes and 100,000 comments; Huang's post got over 850,000 likes, already making this celebrity news one of the most talked-about topics this week.
By Manya Koetse, with contributions from Miranda Barnes
Follow @WhatsOnWeibo
Spotted a mistake or want to add something? Please let us know in comments below or email us. First-time commenters, please be patient – we will have to manually approve your comment before it appears.
©2021 Whatsonweibo. All rights reserved. Do not reproduce our content without permission – you can contact us at info@whatsonweibo.com.