Zhai Tianlin's Alleged Plagiarism Triggers Discussions on Academic Cheating in Chinese Universities
"Colleges and Universities face great corruption problems, that is what you should be looking into."
Earlier this month, Chinese actor Zhai Tianlin (翟天临) drew the public's attention for his appearance at the CCTV Spring Festival Gala, where he starred as a police officer preventing his parents from being scammed. Now, Zhai, again, is at the center of attention: not for his acting skills, but for allegedly committing academic fraud.
The famous actor is a Beijing Film Academy Ph.D. graduate and postdoctoral candidate at Peking University, one of China's most renowned universities.
His alleged academic misconduct has been a topic of discussion for some days now. During a live broadcast with fans, Zhai apparently said he did not know what CNKI (知网) is, an academic database that all scholars in China will be familiar with.
It led to suspicions on Zhai's academic standing, and people on the Quora-like Q&A platform Zhihu accused Zhai of not publishing any academic papers in recognized scholarly journals – something that is mandatory for Ph.D. students in China in order to fulfill their graduation requirements.
Zhai's academic records increasingly became the focus of attention on February 9th, when one Weibo user (PITD亚洲虐待博士组织), a graduate student from Beijing, posted the results of a plagiarism detection test that was run on one of Zhai's papers.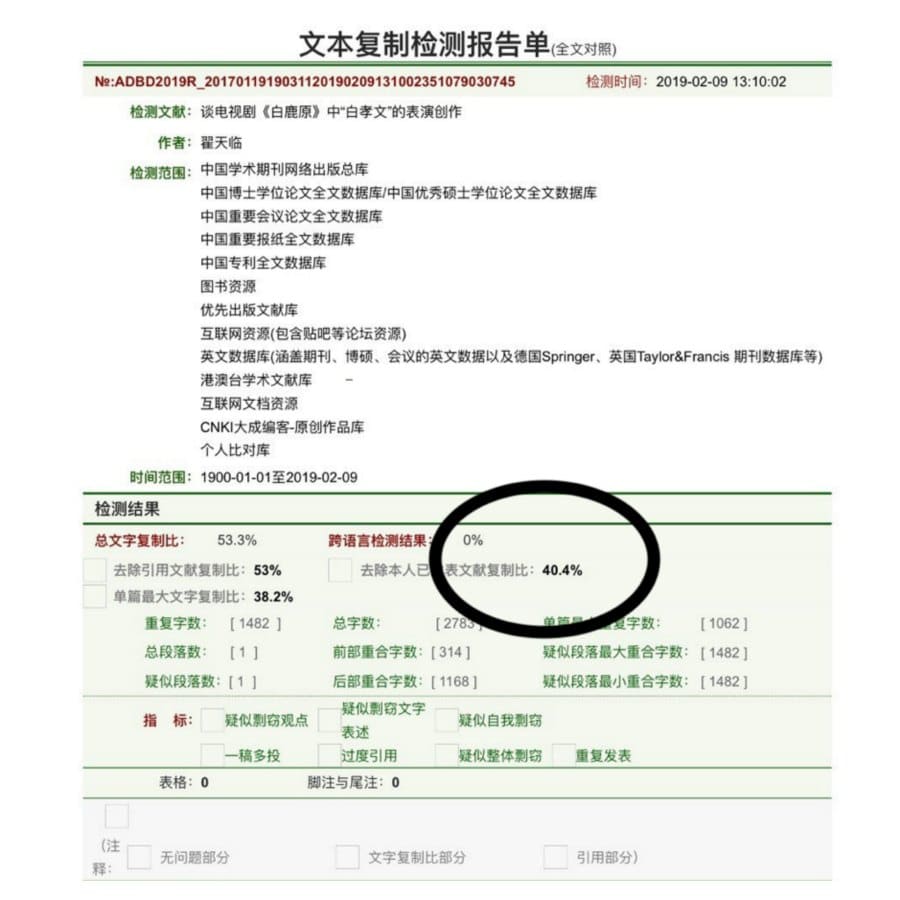 The test result revealed that of the 2783 words used in the paper, that was published last year, 1482 words were copied from other texts, indicating a 40.4% similarity score.
After the Beijing Film Academy released a statement that they would be investigating Zhai Tianlin, state media outlet China Daily posted a message on their Weibo account, stating that "academic standards must be the same for everyone" and that "postdoctoral researchers are a university's greatest honor, " and that "who wants to carry the crown should also carry the weight."
On that same day, Peking University also published a statement saying that they are investigating the incident.
Zhai Tianlin (1987), who is also known as Ronald Zhai, is most known for starring in various popular Chinese TV shows and dramas, such as White Deer Plain and The Advisors Alliance.
The plagiarism allegation case has become a major topic of discussion on Chinese social media this week. The hashtag "Peking University Responds to Zhai Tianlin Case"  (#北大回应翟天临事件#) has been viewed a staggering 650 million times on Weibo at time of writing, while the hashtag "Beijing Film Academy Sets Up Zhai Tianlin Investigation Team" (#北电成立翟天临事件调查组#) received more than 490 million views.
The storm is not likely to blow over soon, as new reports now also allege that Zhai's MA-thesis relies heavily on the scholarly work of Chen Kun, a famous Chinese actor who also attended the Beijing Film Academy.
Although the scandal has triggered countless reactions condemning Zhai, there are also many people on social media who are directing their anger towards the universities and state media, with one typical comment saying: "By solely focusing on Zhai, you are avoiding the real problem. Colleges and universities face great corruption problems, that is what you should be looking into."
Another person wrote: "I feel like the public opinion is focused too much on this case of 'academic misconduct.' What the media should be investigating is: why was the paper not checked for plagiarism before its publication? What the Beijing Film Academy should be looking into is how somebody can graduate with a paper that is not up to standard? And how someone who clearly doesn't hold the appropriate academic abilities has access to its programme."
"Peking University and Beijing Film Academy are both responsible for this fraud. How could they ever enroll such a fraudulent person?!" others wrote. 
Some commenters seem to have no trust in China's academic standard, saying: "Are you telling me you [the universities] didn't know about this when you admitted him? Now you are setting up investigation teams, but it is all just for show."
Academic corruption in the Chinese educational context has been a well-known problem for years. As early as 2002, the Ministry of Education implemented various policies to combat academic misconduct, defining it as an act of academic dishonesty that is punishable, but the problem is still widespread (Kai 2012).
Some studies suggest that one of the factors that play a role in plagiarism in China relate to the fact that 'plagiarism' is something that is often defined in very general terms, with university handbooks nor policies clearly codifying instances of "appropriate and inappropriate source use" (Hu & Lei 2015, 236).
There are also many other factors at play, however, such as the pressure for doctorate students to publish their papers, and the phenomenon of  "publishing cash incentives," which would allegedly trigger more academic fraud.
On Chinese social media, many people express that they hope that the institutions involved will "set an example" for other universities and "be transparent" in the way they'll handle Zhai in case he is found guilty of plagiarism.
Many also pointed out the irony in the fact that it was Zhai who played the police officer that prevented his parents from being scammed during the CCTV New Years' Eve Gala.
"This is just all so embarrassing," some write: "Now it looks like not just Zhai's PhD status should be taken from him, but also his MA title."
Others suggest that this whole scandal would make an excellent topic for another TV drama, starring Zhai Tianlin, doing what he does best: acting. Some voices suggest that people should wait for the investigations into Zhai's work to be completed before condemning him. With the massive online attention for this case, it might not take too long for more facts to surface on the case. We'll keep you updated.
By Gabi Verberg and Manya Koetse
References
Hu, Guangwei and Jun Lei. 2015. "Chinese University Students' Perceptions of Plagiarism." ETHICS & BEHAVIOR 25(3): 233–255.
Kai, Ren. 2012. "Fighting against Academic Corruption: A Critique of Recent Policy Developments in China." Higher Education Policy (25): 19–38.
Spotted a mistake or want to add something? Please let us know in comments below or email us.
©2019 Whatsonweibo. All rights reserved. Do not reproduce our content without permission – you can contact us at info@whatsonweibo.com
Chinese Actor Zhao Lixin Banned from Weibo over Comments on Second Sino-Japanese War
The actor was banned for "downplaying" the Japanese aggression in China during the Second Sino-Japanese War.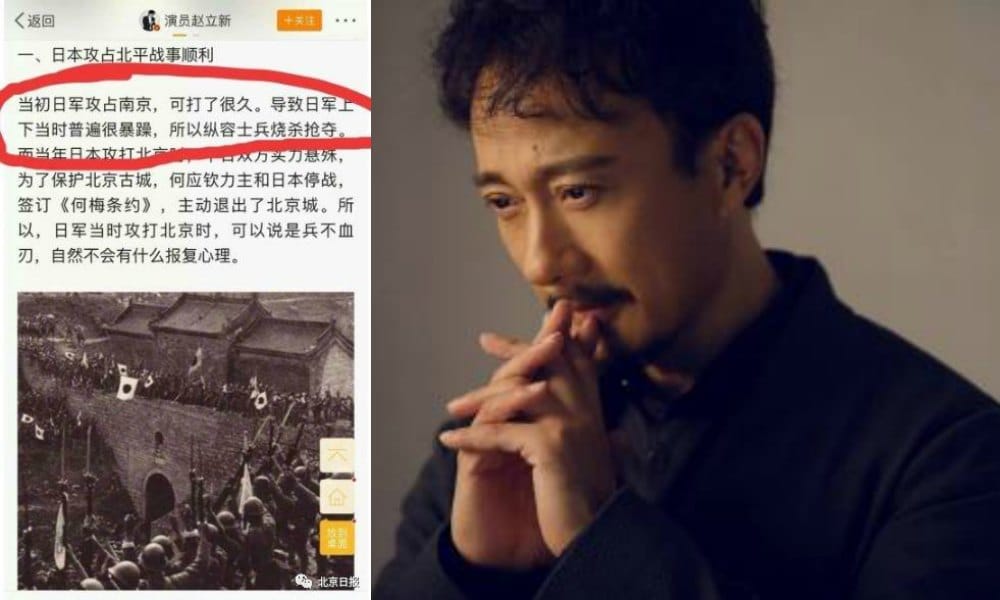 Sina Weibo issued a statement on April 16 that the Weibo account of the Chinese-Swedish actor Zhao Lixin has been terminated following remarks he made about Japan's invasion of China and the Second Sino-Japanese War.
The Weibo account of Zhao Lixin (赵立新, 1968) has been closed after the Chinese-Swedish actor made controversial comments on the Second Sino-Japanese War.
On April 2nd, Zhao Lixin, who had more than 7 million followers, posted a message on Weibo that questioned why the Japanese military did not pillage and destroy the Beijing Palace Museum during the Second Sino-Japanese War:
"The Japanese occupied Beijing for eight years. Why didn't they steal relics from the Palace Museum and burn it down [during that time]? Is this in line with the nature of an invader?"
The actor also commented on the Nanjing Massacre of 1937, suggesting that it was a consequence of Chinese resistance to the Japanese invasion.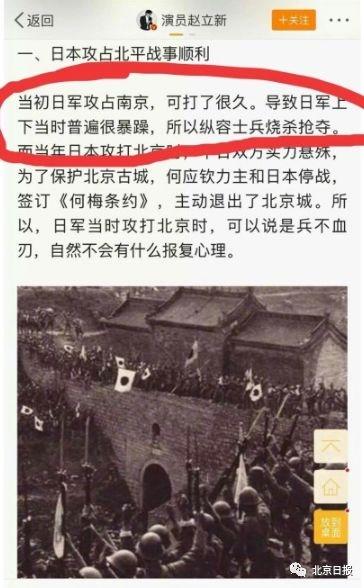 Zhao's post led to much controversy in early April, followed by a lengthy apology statement from the actor on April 3rd, in which he said he did not phrase his comments carefully enough and that he was remorseful over the storm of criticism he had ignited. His controversial Weibo post was soon taken offline.
Many people were mostly angered because they felt Zhao's comments "defended" the Japanese invaders. "Zhao's permit to work in China should be terminated forever!", some commenters posted on Weibo.
The Second Sino-Japanese War is still a highly sensitive topic in China today, with anti-Japanese sentiments often flaring up when Japan-related topics go trending on Chinese social media.
The 'Nanjing massacre' or 'Rape of Nanjing' is an especially sensitive topic within the history of the Second Sino-Japanese War, also because some Japanese politicians and scholars consistently deny it even happened, heightening the tension between the two countries. For a Chinese celebrity to seemingly 'downplay' the aggression and atrocities committed by Japanese invaders in the 1937-1945 period is therefore highly controversial.
Despite Zhao's apologies, Sina Weibo issued a notice on April 16 "Relating to Harmful Political Information" (关于时政有害信息的处理公告), stating that the account of Zhao Lixin, along with some others, had been closed for spreading this kind of information.
The hashtag relating to Zhao's social media suspension received more than 57 million views on Weibo today.
"It's good that his account was taken down," a popular comment said: "It's insulting our country." Others said that Zhao should not have posted something that is "out of line" "considering his position as an actor."
Zhao Lixin is mainly known for his roles in TV dramas such as The Legend of Mi Yue, Memoirs In China, and In the Silence.
Zhao is not the first KOL (Key Opinion Leader) to have been banned from Weibo after making controversial remarks relating to China's history. In 2016 the famous entrepreneur Ren Zhiqiang disappeared from Weibo after publishing various posts on his experience with communism in the past, and the status quo of media in China.
By Manya Koetse , with contributions from Miranda Barnes
Spotted a mistake or want to add something? Please email us.
©2019 Whatsonweibo. All rights reserved. Do not reproduce our content without permission – you can contact us at info@whatsonweibo.com.
Controversy over Chinese Singer Sun Nan Sending His Kids to an Unqualified "Traditional Culture School"
The parents might think it's a good idea, but what about the children's future?
Famous Chinese singer Sun Nan and his wife Pan Wei have left their Beijing life behind and have moved to Xuzhou to send their children to a school that focuses on 'traditional Chinese culture.' The decision has triggered controversy online, where many netizens think that acquiring academic skills is more important for children than attending 'women's virtue' classes.
When news came out that famous Chinese singer Sun Nan (孙楠) is sending his children to the Chung Hwa College of Traditional Culture that, among others, has "women's virtues" in its curriculum, controversy erupted on Chinese social media this week. The hashtag "Sun Nan Sends His Kids to Unqualified School" (#孙楠孩子就读学校无办学资格#) has received more than 260 million views on Weibo at time of writing.
The controversy started over an interview with Sun Nan's wife Pan Wei (潘蔚), who is currently promoting her new book The Art of Artless Life (素心映照).
In the interview with short video platform Yi Tiao (一条), Pan says that the family had decided to move from Beijing to Xuzhou some three years ago, living in a modest 700-yuan-per month (±$100) apartment in order to send their children to a local "traditional culture" school that was allegedly established 28 years ago.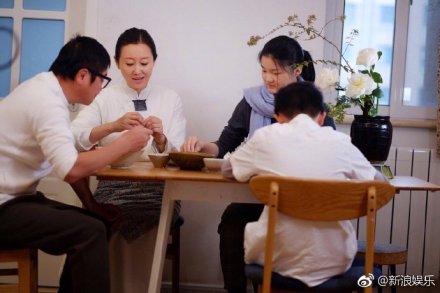 In the interview, Pan stresses the importance of teaching children traditional Chinese cultural values such as filial piety, as she also specifically mentions the value of teaching girls about being "gentle and kind (through needles and threads)" for when they grow up to be wives and mothers.
The interview soon became a big topic of discussion online, where the school in question was identified as the 'Chung Hwa College of Traditional Culture' (华夏学宫) in Xuzhou, that is focused on teaching traditional Chinese culture to its students and has an annual fee for its junior programme of 100,000 yuan (±$15,000). As also featured in the interview, Pan Wei herself teaches needlework at the school.
The heated discussions on Chinese social media focused on the doubted academic qualification of the school and its teachers, as well as on the intentions of Pan and her husband to send the children to such an institute.
On January 23rd, various media reports disclosed that, according to the Education Department of Xuzhou, the Chung Hwa College of Traditional Culture indeed is not qualified as an official educational institution, and that graduates from this institution also cannot obtain verified certificates, nor participate in China's National College Entrance Exams.
The courses that are taught at the school have specifically attracted the attention of online commenters. Besides needlework, which is only taught to girls, the school offers so-called "women's virtue" classes and uses Di Zi Gui (弟子规, Standards for being a Good Pupil and Child) as its main textbook, which was written in the Qing dynasty and is arguably based on the teachings of Confucius.
It is not the first time Chinese "women's virtue" classes receive criticism online for reinforcing gender sterotypes. In 2018, one "female virtue class" was ordered to shut down after it made headlines.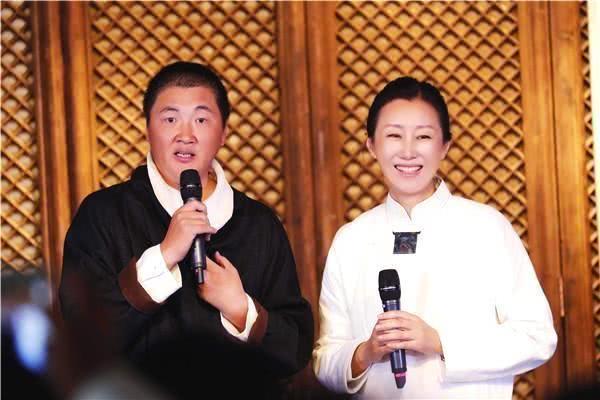 Sun Nan and Pan Wei got married in 2009 after they had both been married before. From their earlier marriages, Sun had one daughter and a son, and Pan had one daughter, who previously studied at an international school. In 2011, the couple had one daughter together.
Singer Sun Nan has been well-known for his Mando-pop songs for years. He released his first album in 1990 and has had a long-lasting career ever since, receiving various awards for his work as a musician. (You might also remember his performance at the 2016 CCTV Spring Gala, where he performed together with 540 dancing robots.)
On Weibo, many netizens express their idea of Pan Wei as an "evil stepmother" who would allegedly send her own biological daughter to a good school, while purposely enrolling her stepchildren into a school that lacks proper credentials. It even led to some Weibo users leaving comments on the social media account of Sun Nan's ex-wife, Mai Hongmei (买红妹), asking her to "save" her children from their current predicament.
"Aren't these children supposed to receive compulsory education?" some wonder, while others worry that the children have been victimized by an "evil cult." Some even say it is "ruthless" to withhold children from a qualified education, potentially leaving them no chance to enroll in college later on in life.
There are also commenters and bloggers who note that Sun and Pan's personal involvement in the school, and the reason for sending their children there, is driven by financial interests, suggesting that the couple might be eager to make money by jumping on the "traditional culture" trend.
The head of the Chung Hwa College of Traditional Culture has since denied that the couple owns any shares in the institute. The school's home page, at time of writing, however, does actively promote Pan Wei's latest book.
"This controversial issue actually has three sides to it," one popular Weibo blogger explains, suggesting that (1) the fact that Pan's own child is enrolled in a qualified school and her step-children are not, makes her look like a bad stepmother with ulterior motives; (2) it is up for debate to what extent parents can choose to send their children to special schools, withholding them from the basic academic education they will need later on in life; (3) it is questionable to what extent it is good for young children to learn about 'women's virtues' and obedience, and one might wonder what motives lie behind sending one's children to such a school.
For now, the Xuzhou Education Department has stated that they will further investigate the matter. According to Chinese law, children must attend primary and junior secondary school for at least nine years in total. Meanwhile, Sun Nan has not responded to the controversy on his official Weibo page yet.
Watch the video of the controversial interview with Pan (with English subtitles) here:
By Boyu Xiao and Manya Koetse
Spotted a mistake or want to add something? Please email us.
©2019 Whatsonweibo. All rights reserved. Do not reproduce our content without permission – you can contact us at info@whatsonweibo.com.