Zhai Tianlin's Alleged Plagiarism Triggers Discussions on Academic Cheating in Chinese Universities
"Colleges and Universities face great corruption problems, that is what you should be looking into."
Earlier this month, Chinese actor Zhai Tianlin (翟天临) drew the public's attention for his appearance at the CCTV Spring Festival Gala, where he starred as a police officer preventing his parents from being scammed. Now, Zhai, again, is at the center of attention: not for his acting skills, but for allegedly committing academic fraud.
The famous actor is a Beijing Film Academy Ph.D. graduate and postdoctoral candidate at Peking University, one of China's most renowned universities.
His alleged academic misconduct has been a topic of discussion for some days now. During a live broadcast with fans, Zhai apparently said he did not know what CNKI (知网) is, an academic database that all scholars in China will be familiar with.
It led to suspicions on Zhai's academic standing, and people on the Quora-like Q&A platform Zhihu accused Zhai of not publishing any academic papers in recognized scholarly journals – something that is mandatory for Ph.D. students in China in order to fulfill their graduation requirements.
Zhai's academic records increasingly became the focus of attention on February 9th, when one Weibo user (PITD亚洲虐待博士组织), a graduate student from Beijing, posted the results of a plagiarism detection test that was run on one of Zhai's papers.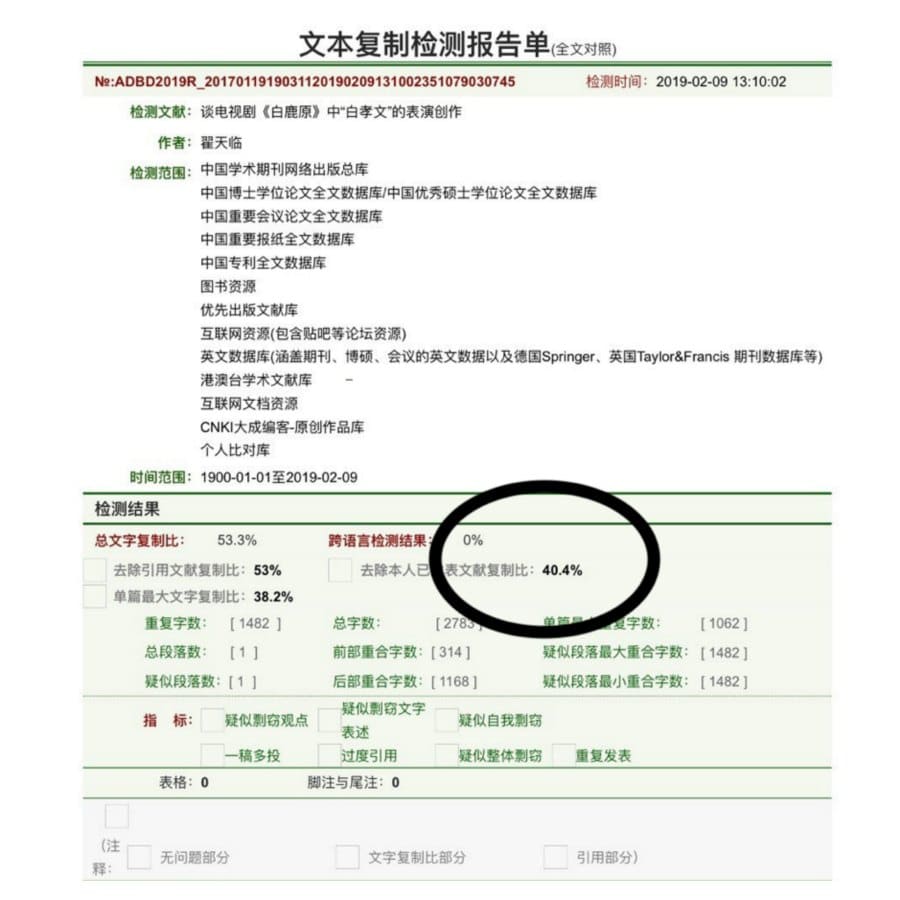 The test result revealed that of the 2783 words used in the paper, that was published last year, 1482 words were copied from other texts, indicating a 40.4% similarity score.
After the Beijing Film Academy released a statement that they would be investigating Zhai Tianlin, state media outlet China Daily posted a message on their Weibo account, stating that "academic standards must be the same for everyone" and that "postdoctoral researchers are a university's greatest honor, " and that "who wants to carry the crown should also carry the weight."
On that same day, Peking University also published a statement saying that they are investigating the incident.
Zhai Tianlin (1987), who is also known as Ronald Zhai, is most known for starring in various popular Chinese TV shows and dramas, such as White Deer Plain and The Advisors Alliance.
The plagiarism allegation case has become a major topic of discussion on Chinese social media this week. The hashtag "Peking University Responds to Zhai Tianlin Case"  (#北大回应翟天临事件#) has been viewed a staggering 650 million times on Weibo at time of writing, while the hashtag "Beijing Film Academy Sets Up Zhai Tianlin Investigation Team" (#北电成立翟天临事件调查组#) received more than 490 million views.
The storm is not likely to blow over soon, as new reports now also allege that Zhai's MA-thesis relies heavily on the scholarly work of Chen Kun, a famous Chinese actor who also attended the Beijing Film Academy.
Although the scandal has triggered countless reactions condemning Zhai, there are also many people on social media who are directing their anger towards the universities and state media, with one typical comment saying: "By solely focusing on Zhai, you are avoiding the real problem. Colleges and universities face great corruption problems, that is what you should be looking into."
Another person wrote: "I feel like the public opinion is focused too much on this case of 'academic misconduct.' What the media should be investigating is: why was the paper not checked for plagiarism before its publication? What the Beijing Film Academy should be looking into is how somebody can graduate with a paper that is not up to standard? And how someone who clearly doesn't hold the appropriate academic abilities has access to its programme."
"Peking University and Beijing Film Academy are both responsible for this fraud. How could they ever enroll such a fraudulent person?!" others wrote. 
Some commenters seem to have no trust in China's academic standard, saying: "Are you telling me you [the universities] didn't know about this when you admitted him? Now you are setting up investigation teams, but it is all just for show."
Academic corruption in the Chinese educational context has been a well-known problem for years. As early as 2002, the Ministry of Education implemented various policies to combat academic misconduct, defining it as an act of academic dishonesty that is punishable, but the problem is still widespread (Kai 2012).
Some studies suggest that one of the factors that play a role in plagiarism in China relate to the fact that 'plagiarism' is something that is often defined in very general terms, with university handbooks nor policies clearly codifying instances of "appropriate and inappropriate source use" (Hu & Lei 2015, 236).
There are also many other factors at play, however, such as the pressure for doctorate students to publish their papers, and the phenomenon of  "publishing cash incentives," which would allegedly trigger more academic fraud.
On Chinese social media, many people express that they hope that the institutions involved will "set an example" for other universities and "be transparent" in the way they'll handle Zhai in case he is found guilty of plagiarism.
Many also pointed out the irony in the fact that it was Zhai who played the police officer that prevented his parents from being scammed during the CCTV New Years' Eve Gala.
"This is just all so embarrassing," some write: "Now it looks like not just Zhai's PhD status should be taken from him, but also his MA title."
Others suggest that this whole scandal would make an excellent topic for another TV drama, starring Zhai Tianlin, doing what he does best: acting. Some voices suggest that people should wait for the investigations into Zhai's work to be completed before condemning him. With the massive online attention for this case, it might not take too long for more facts to surface on the case. We'll keep you updated.
By Gabi Verberg and Manya Koetse
References
Hu, Guangwei and Jun Lei. 2015. "Chinese University Students' Perceptions of Plagiarism." ETHICS & BEHAVIOR 25(3): 233–255.
Kai, Ren. 2012. "Fighting against Academic Corruption: A Critique of Recent Policy Developments in China." Higher Education Policy (25): 19–38.
Spotted a mistake or want to add something? Please let us know in comments below or email us.
©2019 Whatsonweibo. All rights reserved. Do not reproduce our content without permission – you can contact us at info@whatsonweibo.com
King of Workout Livestream: Liu Genghong Has Become an Online Hit During Shanghai Lockdown
Liu Genghong (Will Liu) is leading his best lockdown life.
With their exercise livestreams, Liu and his wife are bringing some positive vibes to Shanghai and the rest of China in Covid times, getting thousands of social media users to jump along with them.
On Friday, April 22, the hashtag "Why Has Liu Genghong Become An Online Hit" (#为什么刘畊宏突然爆火#) was top trending on Chinese social media platform Weibo.
Liu Genghong (刘畊宏, 1972), who is also known as Will Liu, is a Taiwanese singer and actor who is known for playing in dramas (Pandamen 熊貓人), films (True Legend 苏乞儿), and releasing various music albums (Rainbow Heaven 彩虹天堂). He is a devout Christian.
Besides all of his work in the entertainment business, Liu is also a fitness expert. In 2013, Liu participated in the CCTV2 weight loss programme Super Diet King (超级减肥王, aka The Biggest Loser) as a motivational coach, and later also became a fitness instructor for the Jiangsu TV show Changing My Life (减出我人生), in which he also helped overweight people to become fit. After that, more fitness programs followed, including the 2017 Challenge the Limit (全能极限王) show.
During the Covid outbreak in Shanghai, the 50-year-old Liu Genghong has unexpectedly become an online hit for livestreaming fitness routines from his home. Together with his wife Vivi Wang, he streams exercise and dance videos five days of the week via the Xiaohongshu app and Douyin.
In his livestreams, Liu and his wife appear energetic, friendly, happy and super fit. They exercise and dance to up-beat songs while explaining and showing their moves, often encouraging those participating from their own living rooms ("Yeah, very good, you're doing well!"). Some of their livestreams attract up to 400,000 viewers tuning in at the same time.
The couple, both in lockdown at their Shanghai home, try to motivate other Shanghai residents and social media users to stay fit. Sometimes, Liu's 66-year-old mother in law also exercises with them, along with the children.
"I've been exercising watching Liu and his wife for half an hour, they're so energetic and familiar, they've already become my only family in Shanghai," one Weibo user says.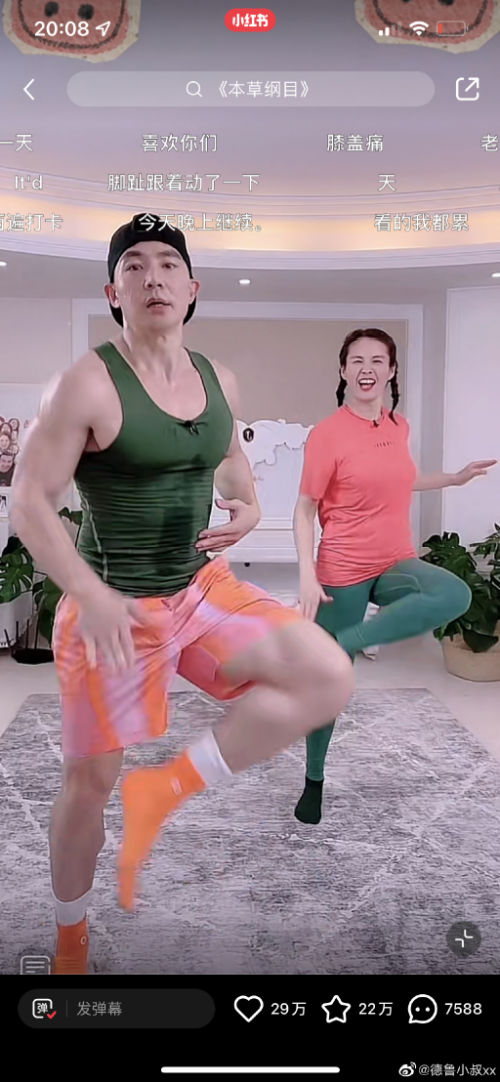 "I never expected Liu Genghong to be a 'winner' during this Covid epidemic in Shanghai," another person writes.
Along with Liu's online success, there's also a renewed interest in the Jay Chou song Herbalist's Manual (本草纲目), which is used as a workout tune, combined with a specific dance routine. Liu is also a good friend and fitness pal to Taiwanese superstar Jay Chou.
This week, various Chinese news outlets such as Fengmian News and The Paper have reported on Liu's sudden lockdown success. Livestreaming workout classes in general have become more popular in China since the start of Covid-19, but there reportedly has been no channel as popular as that of Liu Genghong.
The channel's success is partly because of Liu's fame and contagious enthusiasm, but it is also because of Vivi Wang, whose comical expressions during the workouts have also become an online hit.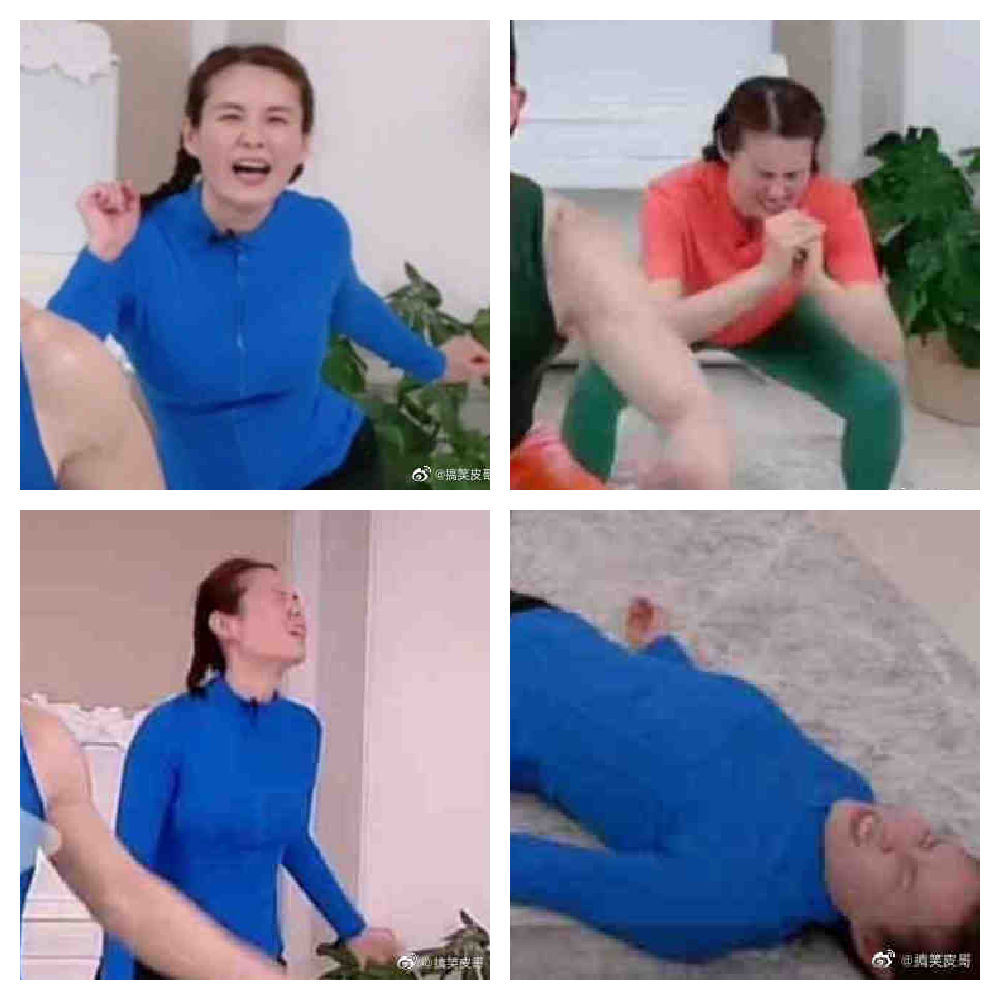 While many netizens are sharing their own videos of exercizing to Liu's videos, there are also some who warn others not to strain themselves too quickly.
"I've been inside for over 40 days with no exercise" one person writes: "I did one of the workouts yesterday and my heart nearly exploded." "I feel fine just watching," others say: "I just can't keep up."
Will Liu (刘畊宏) has become an online sensation in China together with his wife for their livestreamed workout sessions from Shanghai, especially inspiring those in lockdown to break a sweat. This routine to Jay Chou's song Herbalist's Manual (本草纲目) is the hit of the moment. pic.twitter.com/X4VvEBWvFU

— Manya Koetse (@manyapan) April 22, 2022
Watch one of Liu's routines via Youtube here, or here, or here.
For more articles on the Covid-19 topics on Chinese social media, check here.
By Manya Koetse
Get the story behind the hashtag. Subscribe to What's on Weibo here to receive our weekly newsletter and get access to our latest articles:
Spotted a mistake or want to add something? Please let us know in comments below or email us. First-time commenters, please be patient – we will have to manually approve your comment before it appears.
©2022 Whatsonweibo. All rights reserved. Do not reproduce our content without permission – you can contact us at info@whatsonweibo.com.
Weibo Shuts Down Rumors of Tong Liya's Alleged Marriage to CMG President Shen Haixiong
The censorship surrounding the Tong Liya story almost drew more attention than the actual rumors themselves.
The famous actress and dancer Tong Liya (佟丽娅, 1983) has had an eventful year. After hosting the CCTV Spring Festival Gala in 2020, she performed at the CCTV Spring Festival Gala in February of 2021 and in May she announced that after seven years of marriage, she finalized her divorce with actor and director Chen Sicheng (陈思诚).
Tong Liya is of Xibe ethnicity and was born in Xinjiang. The former beauty pageant and award-winning actress is known for her roles in many films and TV series, such as those in The Queens and Beijing Love Story. She also starred in the 2021 Chinese historical film 1921, which focuses on the founding of the Communist Party of China.
This month, online rumors about Tong flooded the internet, alleging that she was recently remarried to Shen Haixiong (慎海雄, 1967), the deputy minister of the Party's Central Propaganda Department and the President of the CMG (China Media Group), which includes CCTV, China National Radio, and China Radio International.
Some of the rumors included those claiming the actress was previously Shen's mistress, or netizens connecting Tong Liya's relations with such an influential and powerful person to her role at the previous CCTV Spring Gala Festival.
But these rumors did not stay online for long, and the quick censorship itself became somewhat of a spectacle. As reported by China Digital Times, the topic 'Tong Liya's Remarriage' ('佟丽娅再婚') was completely taken offline.
Following the rumors and censorship, it first was announced that Tong reported the online rumors about her to the police, with the hashtag "Tong Liya Reports the Case to Authorities" (#佟丽娅报案#) receiving over 310 million clicks. On December 23rd, the hashtag "Beijing Police is Handling Tong Liya's Report" (#北京警方受理佟丽娅报案#) went viral online, attracting over 1.7 billion (!) views on Weibo within three days.
The Beijing Haidian police statement on Weibo is as follows:
"In response to the recent rumors on the Internet, the public security authorities have accepted Tong Liya's report, and the case is now under investigation. The internet is not a place beyond the law, and illegal acts such as starting rumors and provoking trouble will be investigated and punished according to the law."

The statement led to some confused responses among netizens who wanted to know more about what was actually reported and what it is the police are exactly 'investigating.'
On Twitter, Vice reporter Viola Zhou wrote that the censorship "angered many young people," some of whom lost their social media accounts for discussing Tong Liya's second marriage: "It's now prompting a mass pushback against the potential abuse of censorship power."
So Beijing police said the rumor was false, but the full censorship used to stop it has angered many young people, some of whom lost their WeChat/Weibo accounts for talking about it. It's now prompting a mass pushback against the potential abuse of censorship power. pic.twitter.com/EfGnVrRItt

— Viola Zhou (@violazhouyi) December 22, 2021
In an attempt to circumvent censorship, and perhaps also ridicule it, some netizens even resorted to morse code to write about Tong Liya.
One Weibo post about the issue by Legal Daily received over 3000 comments, yet none were displayed at the time of writing.
The case is allegedly still being investigated by Beijing authorities.
By Manya Koetse
With contributions by Miranda Barnes.
Spotted a mistake or want to add something? Please let us know in comments below or email us. First-time commenters, please be patient – we will have to manually approve your comment before it appears.
©2021 Whatsonweibo. All rights reserved. Do not reproduce our content without permission – you can contact us at info@whatsonweibo.com.