Zhai Tianlin's Alleged Plagiarism Triggers Discussions on Academic Cheating in Chinese Universities
"Colleges and Universities face great corruption problems, that is what you should be looking into."
Earlier this month, Chinese actor Zhai Tianlin (翟天临) drew the public's attention for his appearance at the CCTV Spring Festival Gala, where he starred as a police officer preventing his parents from being scammed. Now, Zhai, again, is at the center of attention: not for his acting skills, but for allegedly committing academic fraud.
The famous actor is a Beijing Film Academy Ph.D. graduate and postdoctoral candidate at Peking University, one of China's most renowned universities.
His alleged academic misconduct has been a topic of discussion for some days now. During a live broadcast with fans, Zhai apparently said he did not know what CNKI (知网) is, an academic database that all scholars in China will be familiar with.
It led to suspicions on Zhai's academic standing, and people on the Quora-like Q&A platform Zhihu accused Zhai of not publishing any academic papers in recognized scholarly journals – something that is mandatory for Ph.D. students in China in order to fulfill their graduation requirements.
Zhai's academic records increasingly became the focus of attention on February 9th, when one Weibo user (PITD亚洲虐待博士组织), a graduate student from Beijing, posted the results of a plagiarism detection test that was run on one of Zhai's papers.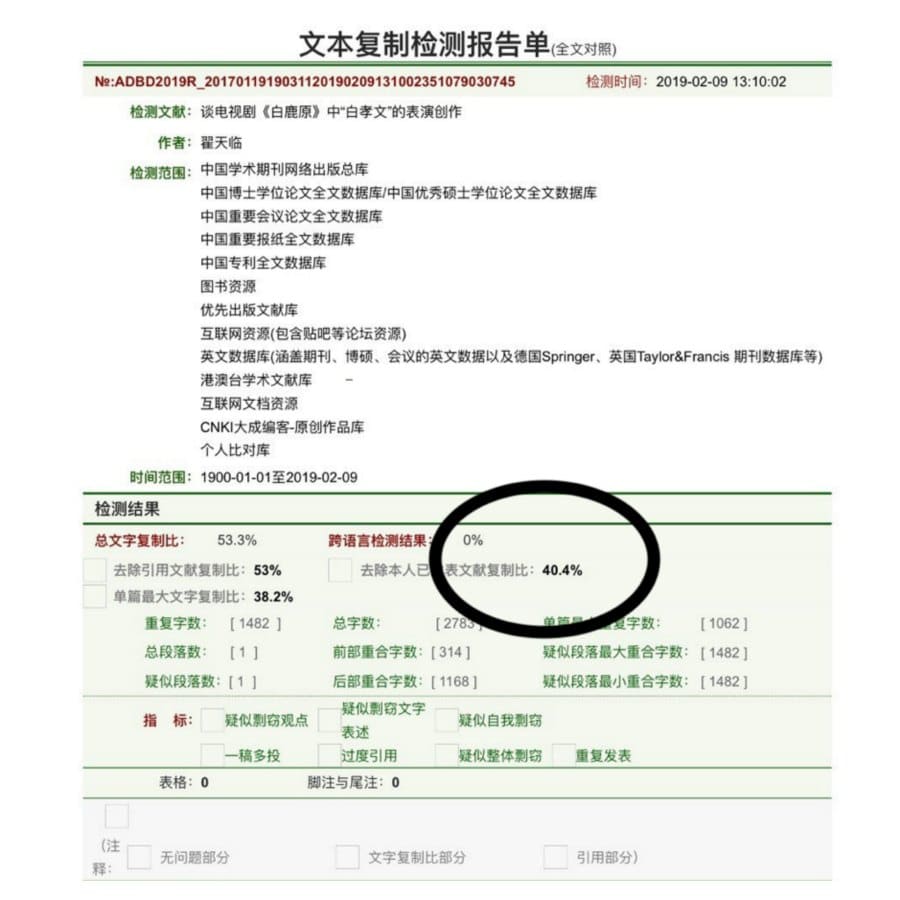 The test result revealed that of the 2783 words used in the paper, that was published last year, 1482 words were copied from other texts, indicating a 40.4% similarity score.
After the Beijing Film Academy released a statement that they would be investigating Zhai Tianlin, state media outlet China Daily posted a message on their Weibo account, stating that "academic standards must be the same for everyone" and that "postdoctoral researchers are a university's greatest honor, " and that "who wants to carry the crown should also carry the weight."
On that same day, Peking University also published a statement saying that they are investigating the incident.
Zhai Tianlin (1987), who is also known as Ronald Zhai, is most known for starring in various popular Chinese TV shows and dramas, such as White Deer Plain and The Advisors Alliance.
The plagiarism allegation case has become a major topic of discussion on Chinese social media this week. The hashtag "Peking University Responds to Zhai Tianlin Case"  (#北大回应翟天临事件#) has been viewed a staggering 650 million times on Weibo at time of writing, while the hashtag "Beijing Film Academy Sets Up Zhai Tianlin Investigation Team" (#北电成立翟天临事件调查组#) received more than 490 million views.
The storm is not likely to blow over soon, as new reports now also allege that Zhai's MA-thesis relies heavily on the scholarly work of Chen Kun, a famous Chinese actor who also attended the Beijing Film Academy.
Although the scandal has triggered countless reactions condemning Zhai, there are also many people on social media who are directing their anger towards the universities and state media, with one typical comment saying: "By solely focusing on Zhai, you are avoiding the real problem. Colleges and universities face great corruption problems, that is what you should be looking into."
Another person wrote: "I feel like the public opinion is focused too much on this case of 'academic misconduct.' What the media should be investigating is: why was the paper not checked for plagiarism before its publication? What the Beijing Film Academy should be looking into is how somebody can graduate with a paper that is not up to standard? And how someone who clearly doesn't hold the appropriate academic abilities has access to its programme."
"Peking University and Beijing Film Academy are both responsible for this fraud. How could they ever enroll such a fraudulent person?!" others wrote. 
Some commenters seem to have no trust in China's academic standard, saying: "Are you telling me you [the universities] didn't know about this when you admitted him? Now you are setting up investigation teams, but it is all just for show."
Academic corruption in the Chinese educational context has been a well-known problem for years. As early as 2002, the Ministry of Education implemented various policies to combat academic misconduct, defining it as an act of academic dishonesty that is punishable, but the problem is still widespread (Kai 2012).
Some studies suggest that one of the factors that play a role in plagiarism in China relate to the fact that 'plagiarism' is something that is often defined in very general terms, with university handbooks nor policies clearly codifying instances of "appropriate and inappropriate source use" (Hu & Lei 2015, 236).
There are also many other factors at play, however, such as the pressure for doctorate students to publish their papers, and the phenomenon of  "publishing cash incentives," which would allegedly trigger more academic fraud.
On Chinese social media, many people express that they hope that the institutions involved will "set an example" for other universities and "be transparent" in the way they'll handle Zhai in case he is found guilty of plagiarism.
Many also pointed out the irony in the fact that it was Zhai who played the police officer that prevented his parents from being scammed during the CCTV New Years' Eve Gala.
"This is just all so embarrassing," some write: "Now it looks like not just Zhai's PhD status should be taken from him, but also his MA title."
Others suggest that this whole scandal would make an excellent topic for another TV drama, starring Zhai Tianlin, doing what he does best: acting. Some voices suggest that people should wait for the investigations into Zhai's work to be completed before condemning him. With the massive online attention for this case, it might not take too long for more facts to surface on the case. We'll keep you updated.
By Gabi Verberg and Manya Koetse
References
Hu, Guangwei and Jun Lei. 2015. "Chinese University Students' Perceptions of Plagiarism." ETHICS & BEHAVIOR 25(3): 233–255.
Kai, Ren. 2012. "Fighting against Academic Corruption: A Critique of Recent Policy Developments in China." Higher Education Policy (25): 19–38.
Spotted a mistake or want to add something? Please let us know in comments below or email us.
©2019 Whatsonweibo. All rights reserved. Do not reproduce our content without permission – you can contact us at info@whatsonweibo.com
Chinese Social Media Users Stand up Against Body Shaming
Recent photos of famous actress Gong Li that showed her curvier figure have gone viral on Sina Weibo, receiving over 850 million clicks. With Gong Li's weight gain becoming all the talk on Weibo, the public's focus on her appearance has sparked an online wave of body positivity posts, with web users rejecting the all-too-common phenomenon of body shaming on Chinese social media.
First, there was the 'A4 Waist' hype, then there was the 'iPhone6 Legs' trend, the 'belly button backhand,' and the online challenge of putting coins in your collarbone to show off how thin you are (锁骨放硬币). Over the past five years, China has seen multiple social media trends that propagated a thin figure as the ruling beauty standard.
But now a different kind of trend is hitting Weibo's hotlists: one that rejects body shaming and promotes the acceptance of a greater diversity in body sizes and shapes in China.
On August 26, Weibo user @_HYIII_ from Shanghai posted several pictures, writing:
"Reject body shaming! Why should we all have the same figure? Tall or short, thin or fat, all have their own characteristics. Embrace yourself, and show off your own unique beauty!"
The post was soon shared over 900 times, receiving more than 32,000 likes, with the "body shame" phrase soon reaching the top keyword trending list of Sina Weibo.
Gong Li Weight Gain
The body positivity post by '_HYIII_' is going viral on the same day that the apparent weight gain of Chinese actress Gong Li (巩俐) is attracting major attention on Chinese social media platforms such as Weibo and Douyin.
The 54-year-old actress, who is known for starring in famous movies such as Farewell My Concubine, To Live, and Memoirs of a Geisha, was spotted taking a walk with her husband in France on August 24. The photos went viral, with media outlets such as Sina Entertainment noting how Gong Li had become "much rounder" and had put on some "happy fat" (幸福肥).
By now, the hashtag page "Gong Li's Figure" (#巩俐身材#) has received more than 850 million (!) views on Weibo, with thousands of people commenting on the appearance of the actress. In the comment sections, there were many who lashed out against the focus on Gong Li's weight gain.
"She just has a regular female body shape. Stop using 'white / skinny / young' as the main beauty standard to assess other people," one commenter said, with another person writing: "Why do you all keep focusing on her figure, did she steal your rice and eat it?!"
"Why do you all keep focusing on her figure, did she steal your rice and eat it?"
Some people suggested that the COVID19 pandemic might have to do with Gong Li's weight gain, with others writing: "If she is healthy is what matters, skinny or fat is not the way to assess her beauty."
What stands out from the discussions flooding social media at this time, is that a majority of web users seem to be fed up with the fact that a skinny body is the common standard of women's beauty in China today – and that accomplished and talented women such as Gong Li are still judged by the size of their waist.
Say No to Body Shaming
In light of the controversy surrounding Gong Li's recent photos and the following discussions, posts on 'body shaming' (身材羞辱) are now flooding Weibo, with many Weibo users calling on people to "reject body shaming" (拒绝#body shame#) and to stop imposing strict beauty standards upon Chinese women.
The pressure to be thin, whether it comes from the media or from others within one's social circle, is very real and can seriously affect one's self-esteem. Various studies have found an association between body dissatisfaction and social pressure to be thin and body shaming in Chinese adolescents and young adults (Yan et al 2018).
The main message in this recent Weibo grassroots campaign against body shaming, is that there are many ways in which women can be beautiful and that their beauty should not be merely defined by limited views on the ideal weight, height, or skin color.
Over the past decades, women's beauty ideals have undergone drastic changes in China, where there has been a traditional preference for "round faces" and "plump bodies." In today's society, thin bodies, sharp faces, and a pointy chin are usually regarded as the standard of female ideal beauty (Jung 2018, 68). China's most popular photo apps, such as Meitu or Pitu, often also include features to make one's face pointier or one's legs more skinny.
This is not the first time Weibo sees a growing trend of women opposing strict beauty standards. Although the word 'body shaming' has not often been included in previous trends, there have been major trends of women opposing popular skinny challenges and even one social media campaign in which young women showed their hairy armpits to trigger discussions on China's female aesthetics.
Especially in times of a pandemic, many netizens now stress the importance of health: "Skinny or fat, it really doesn't matter how much you weigh, as long as you're healthy – that's what counts."
Also read:
By Manya Koetse
Follow @WhatsOnWeibo
References
Jung, Jaehee. 2018. "Young Women's Perceptions of Traditional and Contemporary Female Beauty Ideals in China." Family and Consumer Sciences Research Journal 47 (1): 56-72.
Yan, Hanyi ; Wu, Yingru ; Oniffrey, Theresa ; Brinkley, Jason ; Zhang, Rui ; Zhang, Xinge ; Wang, Yueqiao ; Chen, Guoxun ; Li, Rui ; Moore, Justin. 2018. "Body Weight Misperception and Its Association with Unhealthy Eating Behaviors among Adolescents in China." International Journal of Environmental Research and Public Health 15 (5): 936.
Spotted a mistake or want to add something? Please let us know in comments below or email us. First-time commenters, please be patient – we will have to manually approve your comment before it appears.
©2020 Whatsonweibo. All rights reserved. Do not reproduce our content without permission – you can contact us at info@whatsonweibo.com.
Chinese Idol Survival Shows – The Start of a New 'Idol Era'
Idol reality survival shows are riding a new wave of popularity in China.
China has a vibrant online popular culture media environment, where new trends and genres come and go every single day. Chinese idol survival shows, however, have seen continued success and now seem to go through another major peak in popularity. What's on Weibo's Yin Lin explains.
On May 30, the finale of Chinese online video platform iQIYI's Youth With You 2 (青春有你2) broke the Internet. Official videos on iQIYI's Youtube channel garnered over 300 million views. At the time of writing, the hashtag "Youth With You 2 Finale" (#青春有你2总决赛#) has 3.15 billion views; the hashtag "Youth With You 2" (#青春有你2#) has 14.5 billion views. 
In recent years, China has produced a slew of so-called 'idol survival shows.' They have enjoyed much popularity among local audiences, as well as overseas—more than 393 hashtags related to Youth With You 2 trended in Asia, Europe, South America, and North America. In this overview, we explore the background, status quo, and future of China's idol survival shows.
The Start of The 'Idol Wave' in China 
In China's idol survival reality shows, so-called 'trainees', or aspiring idols, participate in a series of different challenges to compete for a chance to debut.
The 'idol culture' (偶像文化) has been dominating popular culture in Japan and South Korea for many years. An idol is, in short, a heavily commercialized multi-talented entertainer that is marketed – sometimes as a product – for image, attractiveness, and personality, either alone or with a group.
Especially K-pop and the Korean entertainment industry have since long been extremely popular among Chinese youth, heavily influencing pop culture in China today (more about Korean and Japanese idols here and here, and also read our article "Why Korean Idol Groups Got So Big in China and are Conquering the World").
These kinds of shows are ubiquitous in South Korea's popular culture, with Produce 101 (2016) becoming one of the most popular and successful South Korean reality series ever. 
The concept is simple. Every week, viewers vote for their favorite contestant. Trainees with insufficient votes during elimination rounds are eliminated from the competition. 
The group formed from the final trainees then goes on to 'promote' for a period of time, usually one to two years.
This method of creating an idol group, in which the members are basically selected by their own fans, is a major way to bridge existing distances between fans and their idols. Fan participation is a key factor in the success of idol reality shows.
While China has had several idol survival shows, iQIYI's Idol Producer (青春有你, 2018) was the first to reach levels of popularity similar to that of South Korea's Produce 101. 
Idol Producer premiered in January 2018 with Zhang Yixing as the host and Li Ronghao, MC Jin, Cheng Xiao, Zhou Jieqiong, and Jackson Wang serving as mentors.
This first season of Idol Producer brought together a total of hundred trainees. Though most trainees were from China, there were a few from overseas, such as You Zhangjing from Malaysia and Huang Shuhao from Thailand. The younger brother of Chinese actress Fan Bingbing, Fan Chengcheng, also participated in the show.
The first episode of Idol Producer attracted more than 100 million views within the first hour of broadcasting. In the final episode, more than 180 million votes were cast, with first-place winner Cai Xukun raking in more than 47 million votes.  
Two months after Idol Producer, Tencent launched Produce 101 China (创造101) in March 2018. Both shows marked the start of the 'idol wave' in China. 
In the next two years, more idol survival shows would dominate the Chinese entertainment scene. iQIYI released Youth With You 1 (青春有你) and Youth With You 2 (青春有你2) in 2019 and 2020 respectively. Tencent, too, released Produce Camp 2019 (创造营2019) and Produce Camp 2020 (创造营2020), the latter of which is currently airing. 
China's New Idol Survival Show Era 
In 2018, both Produce 101 China and Idol Producer enjoyed overwhelming popularity, accumulating more than 4.73 billion views and 3 billion views respectively. Their sequels, however, have failed to achieve the same level of success.
At the time of writing, 150,000 viewers have completed Youth With You 1 on Chinese community site Douban, versus 470,000 viewers for its predecessor, Idol Producer. Additionally, the number of votes cast for the first episode of Youth With You 1 was much lower compared to its Idol Producer equivalent. 
As for Produce 101 China, 510,000 viewers have completed the show on Douban, but only 340,000 viewers have finished watching its sequel. 
Groups formed from these shows have met with varying amounts of success and have run into problems regarding scheduling conflicts. 
Nine Percent, the boy group formed from Idol Producer in 2018, was known as a group that rarely met. Their second album was a compilation of tracks from solo members. Members had existing contracts with their own companies while simultaneously promoting with Nine Percent; hence, due to scheduling conflicts, members would often forgo Nine Percent activities for those of their own company. 
Rocket Girls, formed from Produce 101 China, also faced problems after debuting. Due to conflicts between Tencent and their management company, Yuehua Entertainment, Meng Meiqi and Wu Xuanyi, who placed first and second respectively, left the group two months after debut.
Despite the problems faced by groups formed from such shows, some idols were able to ride on the momentum they gained from participating.
For instance, Cai Xukun, first-place winner of Idol Producer, swiftly rose to become one of the most popular trainees on the show, consistently ranking first place in every round of elimination. He was also the host of the recently concluded Youth With You 2.
Other trainees have also seen individual success. Liu Yuxin, the first-place winner of Youth With You 2, gained attention for her androgynous look: short hair, a cool personality, and wearing shorts instead of a skirt. Her hashtag "Liu Yuxin" (#刘雨昕#) has been viewed more than 550 million times on Weibo. In the final episode, she received more than 17 million votes.
Despite the lowering audience ratings for other recent idol shows, the success of Youth With You 2 might mark the start of a new 'idol era'. Even Chinese netizens wondered why the show is so popular compared to Youth With You 1.
Just one day after the finale premiered, the hashtag "Youth With You 2 Finale" had already been viewed more than 2.2 billion times on Weibo. On Douban, 580,000 viewers have finished the show—more than any of the previous idol survival shows by iQIYI and Tencent.
The Future of Idol Survival Shows 
Chinese idol survival shows were received with much fanfare when they first entered mainstream popular culture in 2018. But the ensuing conflicts that the resulting groups ran into resulted in netizens doubting the success and effectiveness of these shows. 
This year, however, the popularity of both Youth With You 2 and Produce Camp 2020 might signal a comeback for the idol era in China.
And this time around, Chinese idol survival shows are also gaining more traction outside of the PRC, becoming more and more popular among global audiences. Both Youth With You 2 and Produce Camp 2020 have been well-received by viewers from many different countries.
On social media, online commenters praise the two shows – and Chinese idol survival shows in general – for having a more "laid-back atmosphere" between the trainees and mentors. Web users also comment that they enjoy how the shows highlight the friendship between the trainees, rather than the feuds.
It seems that what sets Chinese idol survival shows apart from the South Korean ones is precisely why some viewers prefer them. The longer running times, for example, makes it possible to give more screen time to the different trainees and to give a deeper understanding of the relations between them.
With the popularity of idols like Liu Yuxin and Wang Ju who challenge conventional beauty standards, shows can also look into moving away from the cookie-cutter aesthetic that idols usually adhere to. 
Furthermore, management companies and broadcasting companies have to come to an agreement regarding what scheduling arrangement would benefit all parties and be conducive towards the idols' physical and mental health. 
It remains to be seen whether THE9, the newly formed group from Youth With You 2, will be able to flourish in the time to come and avoid the troubles that other groups ran into. 
As for Produce Camp 2020, it seems set to enjoy just as much success as Youth With You 2 did – if not more. Only five episodes have been released, but the show's hashtag already has 16.1 billion views.
A reviewer on Douban writes: "The trainees are all confident, taking opportunities to express themselves and actively showcase their talents. So much youthful and positive energy!" 
The latest newcomers to the idol reality show genre further consolidate the success of the format. Recently, Mango TV released Sisters Who Make Waves (乘风波浪的姐姐们, 2020), where female celebrities above 30 years old compete to make it into the final five-member girl group. The first episode was viewed more than 370 million times within the first three days of release and immediately became top trending on Weibo.
The number of survival shows in China right now and their growing popularity shows that audiences seemingly can't get enough of the genre. It is an indication that, despite setbacks in the past, China's idol survival reality show genre is still going strong and might be here to stay.
You can watch the currently airing Produce Camp 2020 and Sisters Who Make Waves here and here.
By Yin Lin Tan
Follow @WhatsOnWeibo
 Spotted a mistake or want to add something? Please let us know in comments below or email us. First-time commenters, please be patient – we will have to manually approve your comment before it appears.
©2020 Whatsonweibo. All rights reserved. Do not reproduce our content without permission – you can contact us at info@whatsonweibo.com.