Zhejiang Daily: 'People First' Does Not Mean 'Anti-Epidemic First'
Many Chinese netizens are showing support for Zhejiang Daily after the Party newspaper published an article that tries to find a middle ground between what authorities want to say and what ordinary people want to hear.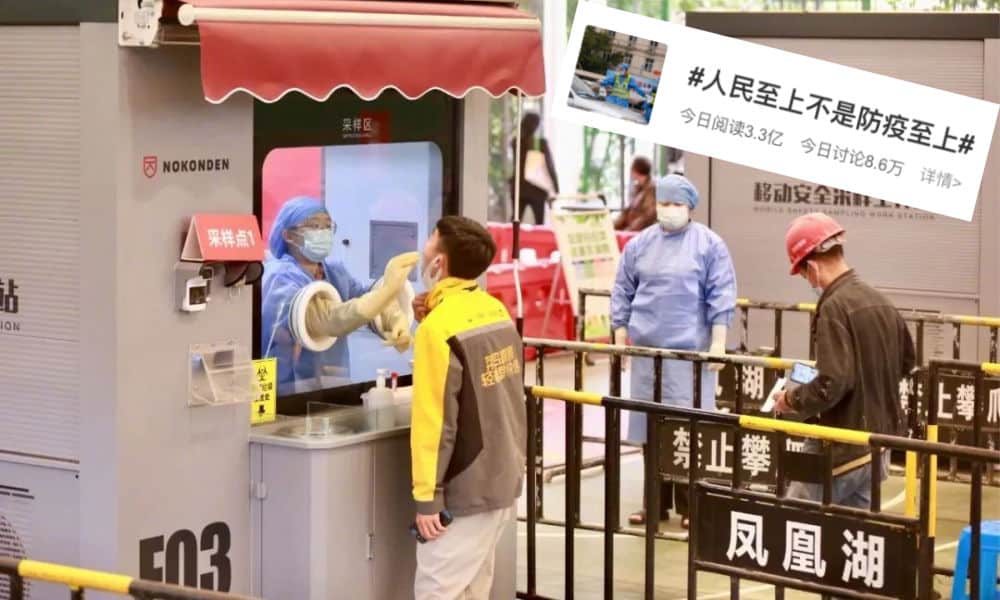 After days of unrest, Party newspaper Zhejiang Daily published an article by the Propaganda Department (aka Publicity Department) that addresses the current problems in China's epidemic situation, talks about the way forward, and stresses the importance of listening to people's demands and "putting the people first." But not everyone is convinced.
On Tuesday, November 29, after days filled with unrest and protests in various places across China, Party newspaper Zhejiang Daily (浙江日报) published a noteworthy article titled "'People First' Is Not 'Anti-Epidemic [Measures] First'" ("人民至上"不是"防疫至上").
The phrase "the people first" (人民至上 rénmín zhìshàng), also "putting the people in the first place," is an important part of the Party's 'people-based, people-oriented' governing concept. The phrase became especially relevant as part of Xi Jinping's now-famous "put people and their life first" slogan (人民至上,生命至上, rénmín zhìshàng, shēngmìng zhìshàng), which became one of the most important official phrases of 2020 in light of the fight against Covid19.
The Zhejiang article starts by addressing the recent unrest surrounding China's zero Covid policy, writing:
Since the outbreak of the novel coronavirus epidemic in late 2019, already three years have passed. As the time of preventing and controlling the epidemic situation is getting stretched, many people's psychological tolerance and endurance level are put to the test, and they are even breaking down little by little. As some netizens say: if the first year was about panic followed by the secret joy of being able to have a good rest at home; the second year began to be more bewildering and was about the hope for a quick end to the epidemic situation; the third year is then more about dissatisfaction, when will this finally end?"
The article mentioned that in addition to growing frustrations about the endless pandemic, various places across China have been intensifying their anti-epidemic efforts in the wrong ways:
"​​"(..) they are abusing their power, and are making things difficult for the people. This has led to epidemic prevention becoming deformed. They will not explicitly say they are locking down, but they are locking down, they are ignoring the interests of the masses and the demands of the people, interrupting the order of normal life at their will, and are even disregarding the lives and safety of the people, harming the image of the Party and the government, and breaking the hearts of the masses. There are even some people who will seize this epidemic situation to make money. Compared to the epidemic, it's these phenomena which are hurting people. The ensuing sense of helplessness and tiredness and anger are all understandable."
The article then stresses:
"Anti-epidemic measures are to guard against the virus, not to guard against the people; it was always [supposed to be] about 'people first,' not about so-called 'epidemic prevention' first. Regardless what kind of prevention and control measures are taken, they should all be aimed at letting society return to normal as soon as possible and getting life back on track as soon as possible. They are all are like "bridges" and "boats" to reach this goal, and are not meant to keep people in place, as blind and rash actions that disregard the costs."
Zhejiang Daily mentions how the World Cup in Qatar has made some people wonder about the crowds in the audience not wearing any masks, as if there was no pandemic at all. If they can, why can't China?
As the foremost reason, the article mentions the relatively low number of hospital beds in China.
Whereas countries such as South Korea or Japan, which are still seeing high numbers of new Covid infections, have about 12.6 beds per 1000 people (12.65 and 12.63 respectively), China only has 6.7.
With the United States being mentioned as an example of a country where Covid-19 patients were using up 32.7% of total nationwide ICU capacity early in 2022, with 7 ICU beds per 100,000 people being occupied by Covid patients, the article suggests that China does not even have this many ICU beds per 100,000 people.
The article further mentions how China, which is a rapidly ageing country, has a relatively large elderly population. With mortality rates being higher in Covid patients over the age of 60, it is estimated that if China would let go of its Covid measures, some 600,000 seniors (60+) catching the virus would die (the article bases this estimation on mortality rates in the Singaporean Covid epidemic.)
Due to Chinese historical, social and traditional values, the protection of the country's eldest is of great importance. Zhejiang Daily suggests that this is different from Western societies: "Some Western countries had nursing homes where hundreds of people passed away during the epidemic – if that would happen in China, it would be unacceptable. If you understand this point, you can also understand all the efforts we are putting out to contain the epidemic situation."
And so, Zhejiang Daily highlights the high price people in many Western countries paid to get to the stage in the epidemic where they are today.
The article repeats some of the arguments that have previously also been included in writings in other newspapers and by political commentator Hu Xijin, namely that with China's current zero-Covid policy and the adjustments that were recently made, the country is now focusing on precise and science-backed epidemic prevention that is meant to put as little strain as possible on society and economy.
However, the latest changes and the essence of China's zero Covid policy are not properly implemented everywhere, the article says, as there is a lack of understanding or an incapability to handle the situation due to a local lack of staff or available methods. Then there is also the issue of some people making money off of to strict epidemic measures. This has all led to tragic situations that should never have happened.
Although the article does not mention any concrete examples, there are many recent incidents where people did not get the help they needed because of excessive Covid measures. We have covered some of the biggest ones on What's on Weibo, including the young girl who passed away after getting gravely ill at a quarantine location in Ruzhou; the toddler who died due to carbon monoxide poisoning and a severe delay in medical help in Lanzhou; and the woman who jumped from the 12th floor of an apartment building in Hohhot, although her daughters had been seeking requesting help for her deteriorating mental state for hours.
The problem at hand, Zhejiang Daily suggests, is that some local authorities are putting epidemic prevention first instead of putting people's lives first. The problem can also not be solved by letting go of all measures, nor by adhering to a 'one-size-fits-all' zero Covid policy ("走出疫情阴霾,不是一句"放"与"不放"就能解决的事情.")
Instead of fighting for 'opening up' versus 'closing down', the point is to find a "soft landing" ("软着陆") way out the "haze of the epidemic situation" ("走出疫情阴霾").
Although the article does not give very concrete answers on what the best way forward is – although it does mention increasing China's vaccination rates, hospital beds, and available medications, – it proposes to look at the exact pain points within the bigger picture, and to deal with them one by one in order to quickly improve epidemic situations across the country.
At the same time, it also advocates that the various systems that are in place across China should be efficiently unified. The health code system in China is not operated nationally, and instead, various regions are each working with their own Health Code apps (see this article).
So, in other words: local problems should be spotlighted and dealt with, while regional innovative tools or effective measures should also be pinpointed and standardized across the country ("一地创新、全国使用").
The article does not explicitly mention the recent unrest across China, but it does hint at it: "The voices and the demands of the people have always been the central point regarding the adjustment and optimization of anti-epidemic policies. There is only one goal in the fight against the virus, and that is to benefit the people, to protect the health and safety of every person. If we hold on to this point, our steps won't be chaotic, and our actions won't stray from the intended line."
On Weibo and WeChat, the article is discussed by many netizens (#浙江宣传发文人民至上不是防疫至上#). One hashtag related to the article received over 350 million views on Weibo on Tuesday (#人民至上不是防疫至上#).
Many people spoke out in support of the article.
"This is a well-written article. It really combines the two components of 'what we want to say' and 'what the ordinary people want to hear,' it brings in some fresh air, clears up some confusion and eases the mood," one commenter from Hubei writes: "But why is only Zhejiang Daily publishing this? The Zhejiang Propaganda [department] is the pride on the propaganda front, the fact that there's just one Zhejiang Propaganda [department] is the sorrow on the propaganda front."
"Finally something that's clear-headed," others wrote. "This article actually moved me. There's been masses of people raising their voice recently because some local epidemic measures are creating problems and are not benefiting the people. No matter how we solve it, the target is unchanged."
"Well put!" others wrote: "So what do we do now?"
But not everyone was convinced that the article is meaningful. "I don't buy it," one person wrote: "This won't do much more than a fart."
"The title is welcomed by the people, the content protects the central authority," another commenter said.
The Zhejiang Daily article suggests that there is nothing wrong with the general zero-Covid policy and the twenty new measures, but instead points at how various places across the country have different interpretations of the policies and sometimes take drastic measures which actually undermine the authority of the central government ("中央定下来的"动态清零"总方针、优化防控二十条措施,一些地方有不同解读,极大降低了中央政策的权威性.")
"It only scratches the outside of the boot," another Weibo user replied: "It does not talk about the main point and avoids taking responsibility by how it's written. It shifts the conflict to ordinary people (..), the fact that we are still reading these kinds of [xxx] articles in 2022 is typical [xxx] socialism."
Regardless of criticism, many people did praise how Zhejiang authorities wrote the article: "Zhejiang has done quite well, and I'll praise their Publicity Department."
Read more about the "11.24" unrest in China here.
By Manya Koetse 
If you appreciate what we do, please subscribe here or support us by donating.
Featured image via Zhejiang Daily.
Get the story behind the hashtag. Subscribe to What's on Weibo here to receive our newsletter and get access to our latest articles:
Spotted a mistake or want to add something? Please let us know in comments below or email us. First-time commenters, please be patient – we will have to manually approve your comment before it appears.
©2022 Whatsonweibo. All rights reserved. Do not reproduce our content without permission – you can contact us at info@whatsonweibo.com.
The "Final Round Players" of China's Covid Outbreak
Those who still haven't had Covid have made it to the "finals," but it's not always easy to stay positive about still testing negative.
This Chinese Lunar New Year period, as millions of people are traveling across the country, Hangzhou Daily (杭州日报) posted a video on Weibo of a 13-year-old boy dressed in full protective clothing at the Hangzhou train station.
The young man told the reporter that he was on his way to visit his grandparents for the Chinese New Year. When asked why he was dressed in protective clothing from head to toe, he answered: "Because I haven't had Covid yet."
According to the video posted by Hangzhou Daily, the boy has made it to the "Final Rounds" (决赛圈) as he has managed to stay Covid-negative at a time when so many people have already been infected with Covid-19 (#挺进决赛圈的男孩穿防护服坐火车#).
Since China 'optimized' the last stringent measures of its 'Zero Covid' policy back in early December – including an end to mandatory mass testing, – a wave of Covid infections spread across the country. The number of infections and emergency department visits reportedly reached its peak in late December of 2022 and in early January of 2023.
According to Wu Zunyou (@吴尊友ChinaCDC), chief epidemiologist of the Chinese Center of Disease Control and Prevention, 80 percent of China's population has now been infected with Covid ("这一波疫情已经使得全国约80%的人感染过").
As it is getting rarer to come across someone who has not had Covid yet, travelers dressed in full hazmat suits and protective gear are bound to stand out. "So many people on the train, and there are still two people in the crowd wearing protective clothing," one Weibo user from Guangdong wrote. Others also post photos on social media of some of the few travelers still fully dressed in protective gear.
One blogger photographed a child wearing protective clothing at Chongqing West Station on Jan. 24, calling the protective attire "exaggerated," and wondering how the child was supposed to go to the toilet.
Hangzhou Daily is not the only media outlet dubbing those who managed to stay negative "final round players" (决赛圈选手). In early January, Beijing Daily (北京日报​​​​) and People's Daily (人民日报) also published a short article using the same phrase. In the article, the Beijing expert physician Dr. Li Dong (李侗) answered some questions about the so-called 'finalists.'
According to Dr. Li Dong, some of the people who claim to have managed to stay 'Covid free' were never infected due to protective measures. But there are also those who may have actually had Covid-19 without realizing it, as they barely had any symptoms or were completely asymptomatic.
"Final round players, protect yourself!" one Weibo commenter writes: "Who else has managed to reach these finals?"
"As a 'final player,' I finally went out to eat and visit the shopping mall today. I'll have to wait and see if I reach the championship level. If I haven't caught [Covid], I can go on and lead a normal life; if I did catch it, I'll need to wait a while, and will also be able to lead a normal life."
Other persons who did not have Covid yet also share on social media that they went out for the first time during this Spring Festival period: "I cautiously went out and saw my first movie in 2023, Wandering Earth II, I picked a morning screening so that the cinema is not so crowded yet."
Now that the Covid infections in China have peaked and the number of infected critically ill patients is quickly dropping, the fears over catching Covid are also seemingly fading among those who were not yet infected.
But some people who have not had Covid yet are still being careful, especially if it concerns elderly family members. It's not always easy to stay positive about still testing negative – also for loved ones who did previously have Covid and want to protect their family.
One Fujian-based social media user writes: "I recovered from Covid and I'm spending the Spring Festival with three 'final round players.' We've been stuck inside the house for days. I've been looking at the lanterns and the lights in the neighborhood, watching them from the balcony, and I really wanted to go down and see."
"Looking at WeChat Moments, all my friends are out traveling, but my family still hasn't had Covid and we're afraid to go out," another netizen writes: "It's sad to celebrate the New Year without going out. Guess we're final-round players now, let's hope it brings good things."
Meanwhile, the group of 'finalists' is still shrinking. One Weibo user from Guangxi wrote: "I've left the finalist circle. It's only been two days since I returned to my hometown and I'm already infected."
By Manya Koetse 
Get the story behind the hashtag. Subscribe to What's on Weibo here to receive our newsletter and get access to our latest articles:
Spotted a mistake or want to add something? Please let us know in comments below or email us. First-time commenters, please be patient – we will have to manually approve your comment before it appears.
©2023 Whatsonweibo. All rights reserved. Do not reproduce our content without permission – you can contact us at info@whatsonweibo.com.
Video Shows Real-Time "Departure" Information Board at Chinese Crematorium
From "cremation in process" to "cooling down," the digital display shows the progress of the cremation to provide information to those waiting in the lobby. The crematorium 'departure' board strikes a chord with many.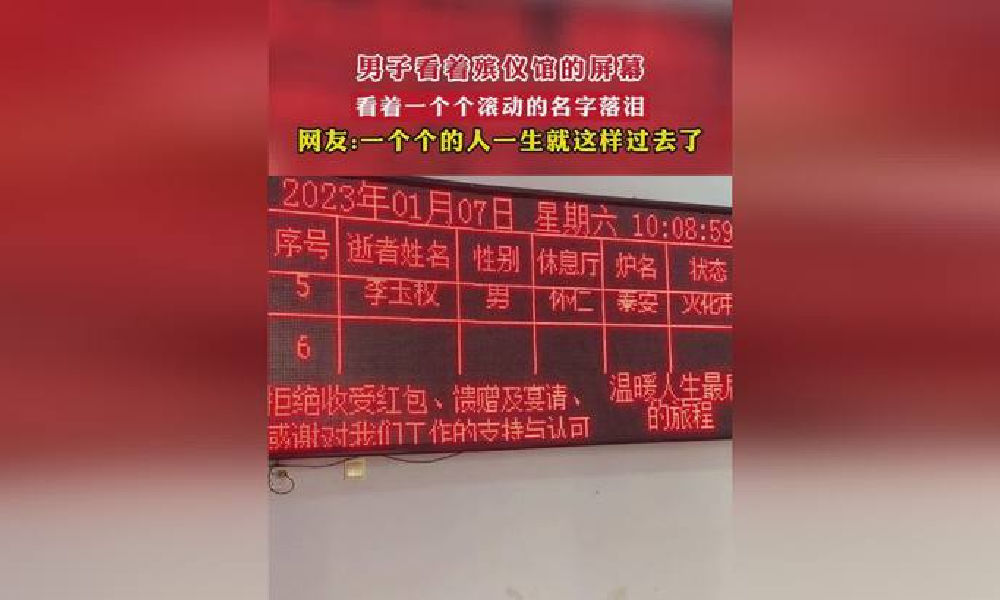 A video showing a live display screen announcing the names and status of the deceased at a Yunnan crematorium has been making its rounds on Chinese social media, from WeChat to Weibo, where one version of the video received over 1,7 million views.
Somewhat similar to a real-time platform departure display on train stations, the screen shows the waiting number of the deceased person, their name, gender, the name of the lounge/room (if any) for families, the name of the crematorium chamber, and the status of the cremation process. Below in the screen, it says "the final journey of a warm life" (温暖人生的最后旅程).
For example, the screen displays the names of a Mr. Chen and a Mr. Li; their bodies were in the process of being cremated (火化中), while other cremations were marked as "completed" (完成) or "cooling down" (降温中).
This video of a real-time "departure" information board in the lobby of a Chinese crematorium is making its rounds on Weibo/Wechat these days. The display shows the name and gender of deceased, which cremation chamber, and the cremation status to inform families of the progress. pic.twitter.com/EA94OWGwdk

— Manya Koetse (@manyapan) January 16, 2023
Through such a screen, located in the crematorium lobby, family members and loved ones can learn about the progress of the cremation of the deceased.
The video, recorded by a local on Jan. 7, received many comments. Among them, some people commented on the information board itself, while others simply expressed grief over those who died and the fragility of life. Many felt the display was confronting and it made them emotional.
"It makes me really sad that this how people's lives end," one commenter said, with another person replying that the display also shows you still need to wait in line even when you're dead.
"I didn't expect the screens [in the crematorium] to be like those in hospitals, where patients are waiting for their turn," another Weibo user wrote. "It would be better if the names were hidden, like in the hospitals, to protect the privacy of the deceased," another person replied.
Others shared their own experiences at funeral parlors also using such information screens.
"My grandfather passed away last September, and when we were at the undertaker's, the display was also jumping from one name to the other and we could only comfort ourselves knowing that he was among those who lived a relatively long life."
"Such a screen, it really makes me sad," another commenter from Guangxi wrote, with others writing: "It's distressing technology."
Although the information screen at the crematorium is a novelty for many commenters, the phenomenon itself is not necessarily related to the Covid outbreak and the number of Covid-related deaths; some people share how they have seen them in crematoriums before, and funeral parlor businesses have used them to provide information to families since at least 2018.
According to an article published by Sohu News, more people – especially younger ones – have visited a funeral home for the first time in their lives recently due to the current Covid wave, also making it the first time for them to come across such a digital display.
The online video of such an information board has made an impact at a time when crematoriums are crowded and families report waiting for days to bury or cremate their loved ones, with especially a large number of elderly people dying due to Covid.
On Jan. 4, one social media user from Liaoning wrote:
"I really suggest that the experts go to the crematoriums to take a look. There is no place to put the deceased, they're parked outside in temporary containers, there's no time left to hold a farewell ceremony and you can only directly cremate, and for those who were able to have a ceremony, they need to finish within ten minutes (..) At the funeral parlor's big screen, there were eight names on every page, and there were ten pages for all the people in line that day, I stood there for half an hour and didn't see the name of the person I was waiting for pop up anymore."
As the video of the display in the crematorium travels around the internet, many commenters suggest that it is not necessarily the real-time 'departure' board itself that bothers them, but how it shows the harsh reality of death by listing the names of the deceased and their cremation status behind it. Perhaps it is the contrast between the technology of the digital display boards and the reality of the human vulnerability that it represents that strikes a chord with people.
One blogger who reposted the video on Jan. 13 wrote: "Life is short, cherish the present, let's cherish what we have and love yourself, love your family, and love this world." Among dozens of replies, some indicate that the video makes them feel uncomfortable.
Another commenter also wrote:
"I just saw a video that showed an electronic display at a crematorium, rolling out the names of the deceased and the stage of the cremation. One name represents the ending of a life. And it just hit me, and my tears started flowing. I'm afraid of parting, I'm afraid of loss, I just want the people I love and who love me to stay by my side forever. I don't want to leave. I'm afraid I'll be alone one day, and that nobody will ever make me feel warm again."
One person captured why the information board perhaps causes such unease: "The final moments that people still spent on this earth take place on the electronic screen in the memorial hall of the funeral home. Then, they are gone without a sound."
Get the story behind the hashtag. Subscribe to What's on Weibo here to receive our newsletter and get unlimited access to all of our articles:
By Manya Koetse 
with contributions by Zilan Qian
Spotted a mistake or want to add something? Please let us know in comments below or email us. First-time commenters, please be patient – we will have to manually approve your comment before it appears.
©2023 Whatsonweibo. All rights reserved. Do not reproduce our content without permission – you can contact us at info@whatsonweibo.com.