The Rise of China's Electronic Dance Music Scene: From Underground Culture to Online Communities
China's electronic dance music: it's status-quo, future, and why social media is key.
While most people would perhaps not expect to find a lively electronic dance music scene in the PRC, the popularity of the club culture is on the rise in China today. Social media plays a major role in its rapid expansion. What's on Weibo talks to Rainbow Gao, an authority in the Chinese dance music world, and looks at the past, present and future of this scene in China.
Perhaps few foreigners would see China as a go-to destination for its electronic dance music scene. Surely, most Chinese also do not see their own country that way. But China's club culture is on the rise.
Although most of the 'dance music capitals' are located in Europe and the US, the online music broadcasting platform Boiler Room – which is focused on electronic music – now lists two Chinese cities among its 100 locations, Beijing and Shanghai.
Created by producers and performed by DJs, 'Electronic dance music' is an umbrella term for percussion-based electronic music made for nightclubs, raves, and festivals. In Europe, electronic dance music is often simply called 'Dance Music,' with subgenres including techno, house, trance, etc. 1
In 2016, DJMag, one of the biggest electronic dance music magazines worldwide, listed a total of four Chinese clubs in its top-20-clubs ranking. And if one would walk around Shanghai or Beijing today, one would find a similar quantity and quality of good nightclubs there as in any major European city – although it might require some more effort to find the right ones.
Nevertheless, electronic dance music is generally still misunderstood, and, more importantly, under-commercialized, in China today.
The 54-year-old Rainbow Gao 2, an important face of Chinese electronic music and founder of the 'The Mansion' nightclub/hostel/concept, tells What's on Weibo that the overarching obstacle to the spread and development of dance music in China is a lack of infrastructure and general awareness.
BACKGROUND: THE ELECTRONIC MUSIC SCENE IN CHINA
"In the 1990s, dance clubs mainly focused on the music itself – they weren't interested in making money."
Since virtually no dance scene existed before Deng Xiaoping's Reform and Opening-up in 1978, a Western 'party culture' only started emerging in China during the 1980s. But at that time, parties were mostly concentrated around Western hotel bars in Beijing, and there were few dancing bars run by locals.
During the early 1990s, proper nightclubs started opening up in the big Chinese cities, mostly located in big hotels or in renovated cinemas. "During this period," Rainbow Gao tells What's on Weibo, "clubs and clubbers mainly focused on the music itself – they weren't so interested in making money."
The development of Chinese dance music continued throughout the 1990s. Through the efforts of Chinese pioneer DJs such as Ben Huang, a real underground scene started to emerge.
The first 'Berlin-Basement-style' clubs were opened 3, and the scene started gathering more attention. Later, DJs such as Weng Weng or Mickey Zhang started throwing their own parties and setting-up their own labels, showing that the spread of electronic dance music was well under way.
Finding an audience was hard at first – according to an interview in the Beijinger with famous Chinese DJ Weng Weng, the first electronic dance music parties were actually organized and attended mainly by foreign exchange students.
But, as more and more young Chinese started appreciating the music, the culture, mixing, and promoting, the local scene slowly started to grow.
In the 2000s, the underground scene experienced a slight setback. A series of money-focused nightclubs started to open, solely driven by commercial motives.
"For these clubs, the music itself is really the last thing they think about. Sales come first; how to sell tables to people, how to make the club look 'busy' by having foreigners drinking for free, hiring actors to attend," Rainbow Gao says: "There is also this show-off culture, so if they buy a bottle of champagne, it is not unusual to light fireworks to make a spectacle out of it. It's really about showing off and making money."
Today, Chinese nightlife is a combination of these big money-focused clubs and smaller music-focused ones. But even in the shadow of these big money-making machines, China's underground dance scene is still thriving.
Most large Chinese cities now have at least one big electronic-music nightclub. Beijing, Shanghai, Chengdu, Shenzhen, Kunming, Guangzhou and Hangzhou are all popular destinations for Chinese DJs.
Hundreds of thousands of Chinese, young and old, go out every weekend to listen to dianzi wuqu (电子舞曲 'electronic dance music'), haoshi yinyue (浩室音乐 'House music'), tie ke nuo (铁克诺音乐, 'techno') or chushe yinyue (出神音乐 'trance music').
THE CHALLENGES OF CHINA'S ELECTRONIC MUSIC SCENE
"Only passionate people invest money in these clubs, and they'll do so from their own pocket."
The rise of the electronic music scene in China has not been without hurdles, and more challenges are lying ahead.
One of these hurdles lies in the fact that China can be a bureaucratic maze for those wanting to open a nightclub or organize a festival or concert. Rents are high, licenses expensive and clubs can be subject to police crackdowns.
The Dutch organizers of the international trance music-focused Transmission festival, which took place in Shanghai last week, apparently were relieved and satisfied about their event – which was an administrative nightmare to prepare. After having been through the whole procedure of organizing a festival in China, Rainbow Gao explains, they will now probably be able to organize a festival anywhere in the world.
"If someone wants to open a club for the love of music, the first obstacle they face is very high rent. Then, as a club, you have to arrange many licenses, from the fire department, for security, police approval, approval from the cultural department – and this process is really difficult. Sometimes there can even be corruption – and sometimes the local leader in charge will not give his approval for fear of causing trouble," Gao says.
Because of the high costs and small commercial appeal, music-focused nightclubs can also find it hard to find finance, unlike their money-focused counterparts.
"Investors won't invest in those clubs: only passionate people invest money, and they do so from their own pocket," states Rainbow, who never got her own initial investment back after founding The Mansion.
Another pressing challenge has to do with the Chinese general public's lack of awareness or understanding of dance music's cultural and commercial potential.
One example is that Chinese parents will rarely regard the jobs of 'DJ' or 'producer' as 'real' jobs, and will thus not always support their children in their artistic ventures. It is an issue not specific to electronic dance; many children growing up in Chinese families will be told that "if you want to be homeless, go get an art degree."
Local governments can also be short-sighted, Rainbow complains: "The thing in China is there is not only the economic problem, i.e. people thinking about money over culture, but the problem is also the government. For example, I have been asking local governments to support ideas like the YinYang festival on the Great Wall, or the China Pavilion all over the world for years, but when I talk about it with them, they say they can only put money in ancient Chinese culture. But I think that it won't really have an audience, while we already have one."
WHY SOCIAL MEDIA IS KEY
"The use of social media is crucial to developing the scene."
Electronic music is alive and kicking on the internet in Europe and North America, where there are thriving online music-sharing platforms such as Soundcloud or Mixcloud, websites for buying music like Beatport or Juno, and, of course, a multitude of other social media platforms such as Facebook, Instagram or Snapchat for DJs and clubs to promote their brands.
China also has domestic equivalents to these online platforms. But, according to online music magazine Factmag, it is key for the Chinese dance music scene to use its local social media more effectively in order to develop a unified presence online, in the same way that Western countries have.
At time of writing, the most popular music sharing websites in China are Xiami 虾米, an online music service providing recommendations and downloads services and belonging to the Alibaba group, and Douban 豆瓣, an independent social-networking platform focusing on the sharing of cinema, literature and music.
Xiami is, by far, the more used resource of the two; DJs such as Mickey Zhang have tens of thousands of listeners on Xiami, but only several thousands on Douban.
Xiami Music has a large music library with more than 3 million tracks, 330 kinds of music styles, tens of thousands of music radios, and over 500 thousand hits packages created entirely by users and self-developed algorithms, which can recommend good music to users. It also boasts a much broader user-base, unlike Douban, which fosters smaller, niche communities.
According to Chinese social media marketing company Chozan, most of the 60 million registered Douban users come from a well-educated, urban, middle-class background.
The platform is more niche-focused than other Chinese social media platforms and fits the needs of Douban users, who use it to view and share specific topics they are interested in; it is an online community based on user-generated content, predominantly focused on books, movies, and other (popular) culture related topics.
Of course, virtually all Chinese DJs and nightclubs also have Weibo accounts, where they often gather more followers than on Douban. But the problem with Weibo is that the range of topics covered is overwhelmingly broad – it can then be very hard to create communities centered around a specific genre of music. "On Weibo, people talk too much about everything, so it can be a little bit of a waste of time..", Rainbow says.
Most music discussion groups (some of which we will list below) on Weibo do not focus on techno, house, or trance but rather on 'underground' music in general, or on all kinds of electronic dance music put together.
This is why, according to Rainbow, the online potential of dance music lies more with the development of Xiami and Douban: "I think that there is a great potential with new technologies for the spread of culture and music. For example, when I use Xiami today, I am so happy to see many young people writing and uploading music."
In this way, social media could provide the infrastructure necessary for the development of a thriving China-based electronic-music scene. Fostering creative online communities and online sharing can give opportunities to new generations of artists to get together, organize events, and share music and knowledge.
Social media could also help in increasing the general public's awareness of different genres of music. According to Rainbow, the problem is not that Chinese people do not like dance music, but rather that many have never been exposed to it.
"The thing is – I have also seen a lot of poor countryside people who listen to music, but not electronic music, simply because they don't know it yet. When we did the YinYang festival on the Great Wall, the first year (out of five) we had some promotional CDs and t-shirts which we gave to villagers who live there. The second year, they came to us asking for more CDs because they all loved it. Within a year, it [electronic music] became extremely popular among them. It's just that they were not aware."
Despite its relatively late beginnings, and the series of obstacles it faces, the electronic dance music scene in China has enormous cultural and commercial potential. And perhaps, social media could be the key to unlock it.
"People don't really have a way to reach out. The use of social media is crucial to developing the scene," Rainbow Gao concludes.
–By Luka de Boni
EXTRA: WHO TO FOLLOW IN THE SCENE
What's on Weibo has compiled a list of DJs, Nightclubs, labels and discussion groups to follow on Chinese social media. Not all artists/nightclubs/labels have pages on all platforms. Because Douban and Xiami don't function on a follower-followee basis, but rather by the number of page visits or music streamings, the number of followers on these platforms have not been listed:
DJs to follow:
Mickey Zhang: Weibo – 2,800 followers. Xiami. Douban.
Weng Weng: Weibo – 4,800 followers. Douban.
Diva Li: Weibo – 13,000 followers. Xiami.
Yang Bing: Xiami.
Nightclubs to follow:
Arkham, Shanghai: Weibo – 19,000 followers. Douban.
Mansion, Shanghai: Weibo – 2,000 followers. Xiami.
Lantern, Beijing: Weibo – 9,000 followers. Douban.
TAG, Chengdu: Weibo – 6,600 followers. Douban.
Labels to follow:
Genome6.66MBP: Weibo – 2,000 followers. Xiami.
Asian Dope boys: Weibo – 5,400 followers.
Discussion groups/pages to follow:
Shanghai Nightclub Guide (上海夜店蹦迪指南): Weibo – 23,600 followers.
No Solution Music Network (无解音乐网): Weibo – 37,000 followers.
Mixmag China: Weibo – 12,000 followers.
Native Instruments China: Weibo – 10,000 followers.
Electronic music live performance equipment application and discussion (电子音乐现场演出设备应用及讨论): Douban – 4000 members.
National electric music musicians contact (全国电子音乐人联系): Douban – 3000 members.
Enjoyed this article? You might also enjoy our interview on The Early Days of Rock in China.

By Luka de Boni
Follow @whatsonweibo
1 In this article, electronic dance music refers to the styles of music which emerged in the 80s in Detroit and in Chicago, such as techno or house. The main components of these genres are 4/4 beats, with the repetitive rhythm of the music more important than the song itself. Note that Electronic Dance Music should not be confused with EDM, which is its own musical genre. EDM is a term given by American journalists in 2010 to commercial electronic music in order to boost the genres commercial appeal. EDM music is more melodic, non-repetitive and focuses on the 'drop', a fast, noisy accumulation of cymbals and hi-hats to give the song a feeling of climax. EDM DJs are world famous – Martin Gaarix, Aviici or David Guetta are well-known representatives. Electronic dance music DJs on the other hand are famous only within their community – names such as Maceo Plex, Pan-pot ir Richie Hawtin will probably not ring a bell.
2A DJ, model and entrepreneur, Rainbow Gao (高天虹) has been engaged in entrepreneurial ventures since the early 1990s. After a modeling career that spanned through the 1980s, she opened one of China's first KTV rooms in 1992, hosted a podcast radio-show in Tianjin, and founded her first establishment 'Sun Garden Bar' in Beijing in 1995. Around this time, she became acquainted with electronic dance music while partying in Beijing. During the 2000s, she founded and managed a modelling agency. Since 2010, Rainbow has been heavily invested in the musical and cultural scenes, mostly through The Mansion, a nightclub and event-place which she owns and manages. The concept of The Mansion is simple: work, and you can sleep and eat there for free. Rainbow Gao explains: "Mansion as a club venue is creative in many ways . It's not just about the music, it's also about the community, the freedom, and not about the money … There is a free DJ school, and even a free bar-tending school."
3The typical Berlin techno/house nightclub is set in a basement, or 'bunker'. The concrete walls improve the sound-quality inside, and reduce the noise heard outside.
Spotted a mistake or want to add something? Please let us know in comments below or email us.
©2018 Whatsonweibo. All rights reserved. Do not reproduce our content without permission – you can contact us at info@whatsonweibo.com.
"What Is Peppa?" – Viral Ad Campaign for 'Peppa Pig' Movie Makes the British Pig More Chinese Than Ever
It's the Chinese new year of Peppa Pig.
A new ad campaign for the upcoming Peppa Pig movie features a grandfather living in rural China who goes on a quest to find out what Peppa is. The commercial is a huge success on Chinese social media, and strikes a chord with netizens for touching upon various societal and cultural issues. Peppa is more Chinese than ever now.
"What is Peppa?" That is the question that is currently going viral on Chinese social media, with the hashtag #WhatisPeppa (#啥是佩奇#) receiving a staggering 400 million times on social media platform Weibo at time of writing.
The reason for the trend is an ad campaign, titled 'What's Peppa', promoting the Peppa Pig Celebrates Chinese New Year film, a production by Entertainment One and China's Alibaba Pictures.
The promotional video (5:39 length, watch featured video), that came out via various online channels on January 17, focuses on a grandfather living in a remote rural village who is anticipating the Spring Festival reunion with his son and his family, who now live in a big city.
The grandfather, named Yu Bao, wants to know what gift to get for his little grandson. When calling his family on a bad connection through his old 2G mobile phone, the word "Peppa" is all he gets from his little grandson before his phone breaks down. But what's Peppa?
Yu Bao then goes on a comical mission to find out what Peppa is: looking it up in the dictionary, asking his friends -who are just as oblivious as he is-, and asking the entire village.
At the local shop, it is suggested that 'Peppa' is some kind of shampoo.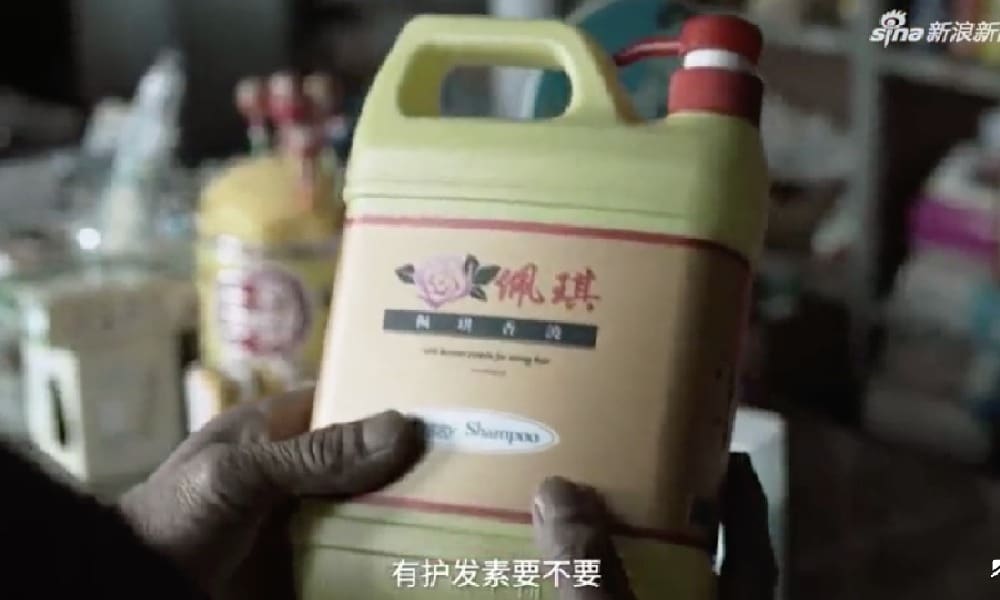 Eventually, one of the female villagers, who used to be a nanny, knows what Peppa is. She tries to explain it to Yu Bao, who now even seems willing to paint his own pig pink for his grandson. She explains that it is a pink cartoon pig whose face looks somewhat like a traditional fire blower.
With some guidance, the grandfather then goes to work and creates a unique 'Peppa Pig' gift from a metal air-blower to surprise his grandson during Chinese New Year.
But much to his disappointment, he then receives a phone call from his son, who tells him they are not coming home for Chinese New Year – before the connection drops again.
As grandpa, sad and lonely, is walking by the side of the road, his son suddenly appears in his car, telling him that the connection dropped too soon; he was not just telling him the family was not coming for Chinese New Year, he was trying to tell him that they invited him to come to their home instead.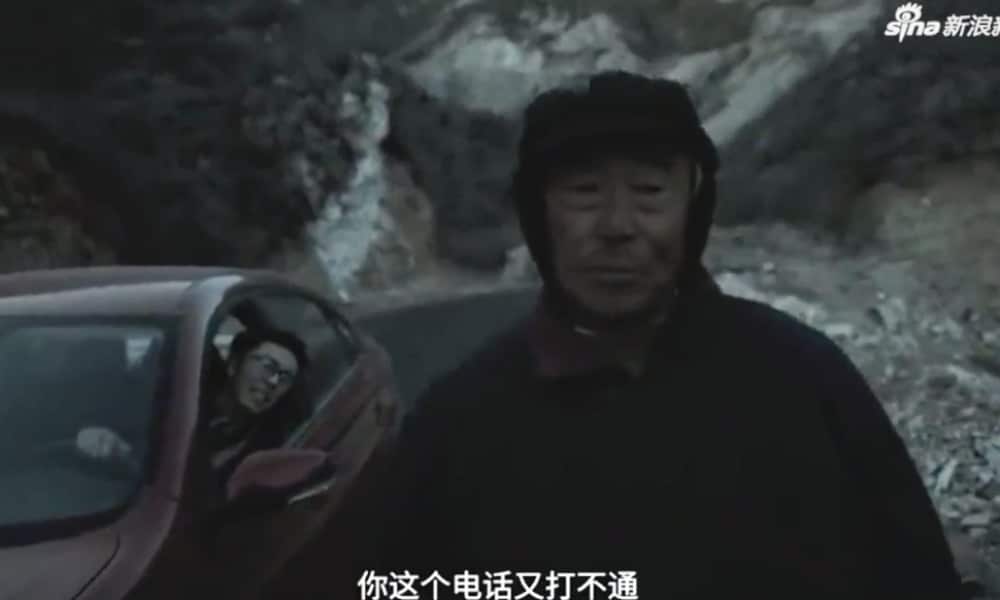 When the family is finally reunited, it is time for the proud grandfather to show the result of his difficult quest for Peppa to his grandson.
The grandpa's mission is complete: he gives his grandson a one-of-a-kind Peppa Pig.
The commercial ends with the entire family enjoying the upcoming Peppa film in the cinema together. When a friend from the village calls the grandfather to let him know he finally found Peppa thanks to his new smartphone, Yu Bao says: "It's okay, I found Peppa already!"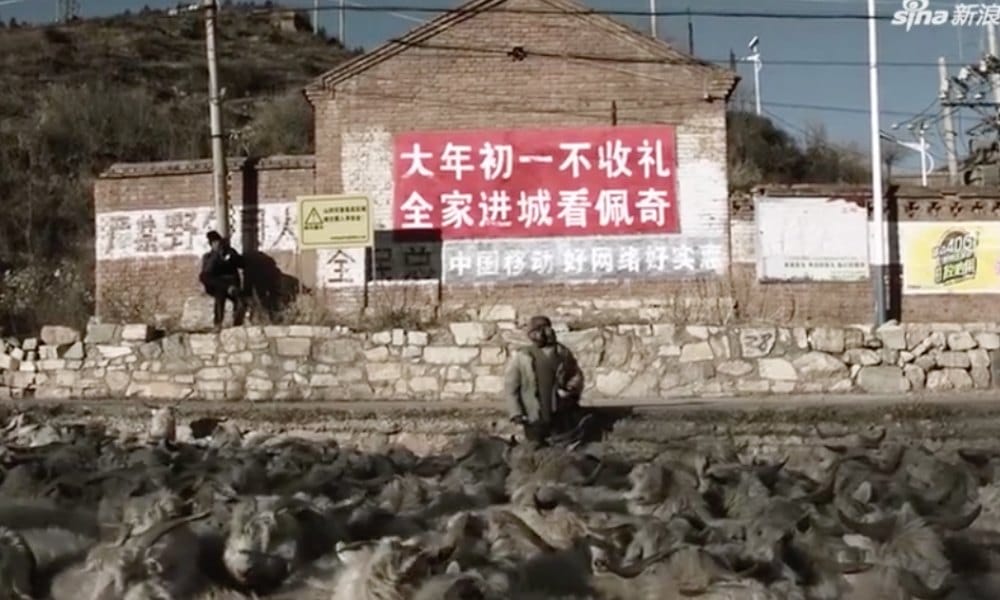 The last shot of the video shows Yu Bao's friend, a sheepherder, standing with his new phone, while someone in the back plays the tune of the Peppa cartoon. The big slogan on the wall is partly based on a popular catchphrase from another Chinese ad, and says: "At the start of the New Year, don't accept gifts; the whole family goes to the city to watch Peppa instead."
What's Peppa Pig?
Peppa Pig is a popular children's cartoon that first aired as a British animated television series (produced by Astley Baker Davies) in May of 2004. It took more than eleven years before the show was officially launched in the PRC (CCTV/June 2015).
Since then, Peppa Pig has become one of the most popular programs for preschoolers in China. But not just preschoolers love the pig; it has also become highly popular among young adults, who wear Peppa t-shirts, Peppa watches, and are major consumers of China's thriving Peppa industry.
In 2018, Chinese popular short video app Douyin (also known in English as Tik Tok) removed approximately 30,000 short videos relating to British cartoon Peppa Pig from its platform, as Peppa had turned into somewhat of a subversive symbol to a Chinese online youth subculture dubbed 'shehuiren' (社会人) (read more here).
This news item led to some confusion in Western media, where it was often suggested that Peppa was completely banned in China. She is, in fact, not banned; she is now more popular than ever.
Peppa the Movie
Amid the huge success of Peppa in China, it was announced in the summer of 2018 that Chinese tech giant Alibaba was working together with Entertainment One on the release of a Peppa Pig movie especially for the Chinese market, as this year's Chinese New Year is the start of the Year of the Pig.
The movie, titled 'Peppa Pig Celebrates New Year' (小猪佩奇过大年), is set for a nationwide release on February 5, the first day of the Chinese Lunar New Year. This is the most popular time for big blockbusters to come out, as many people are free during Chinese New Year and have the time to go out to the cinema together with their families.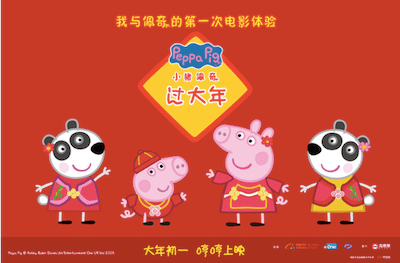 The movie itself revolves around Peppa and little brother George and their parents, who are having a reunion for the Spring Festival. It features various Chinese traditions, and of course, something unexpected will happen.
Why This Peppa Ad Campaign is So Brilliant 
The Peppa ad has really struck a chord on Chinese social media for various reasons. The video was directed by Beijing director Zhang Dapeng (张大鹏, 1984), who also directed the actual Peppa movie, and the campaign is also sponsored by China Mobile.
What this ad campaign does:
– It mixes the love for Peppa with the warm feeling of Chinese family reunions during Chinese New Year.
– It presents a nostalgic idea of the Chinese village community, where neighbors come together and look out for each other.
– It touches upon the issue of China's rapid urbanization, that has caused many villages to become deserted and isolated as younger generations have settled in the cities.
– It highlights how China's digitalization is leaving behind its elderly population (read more here).
– It shows the strong grandparent–grandchild relationship; usually, Chinese grandparents play an active role in raising grandchildren, something that has been changing due to younger generations moving to the city.
In other words; the advertisement completely draws the figure of Peppa Pig into a Chinese socio-cultural context, where it symbolizes the strong connection between Chinese families amid China's rapid urbanization and digitalization.
By now, the Peppa campaign is making its rounds from Weibo to WeChat and elsewhere on the Chinese internet, with some online sellers already offering a remake of the Peppa present for sale as a collector's item. Bloomberg reports that Chinese stocks connected to Peppa Pig have surged after the clip went viral yesterday and today.
"I give this video 100 points!" some commenters on social media write, with others saying it has made them tear up. "This already is the best ad campaign of the year."
Peppa was already a famous figure in China, but with this viral hit and the upcoming movie, the British pig really has become a part of China's popular culture and media environment: it's the Chinese new year of Peppa Pig.
By Manya Koetse and Miranda Barnes
Follow @whatsonweibo
Spotted a mistake or want to add something? Please let us know in comments below or email us.
©2019 Whatsonweibo. All rights reserved. Do not reproduce our content without permission – you can contact us at info@whatsonweibo.com
Living the Dream: Chinese Architect Designs Stunning Six-Story Communal Living Space
This architect from Guangzhou turned her dream of living together with friends in a creative workspace into reality. The building is a hit on Chinese social media.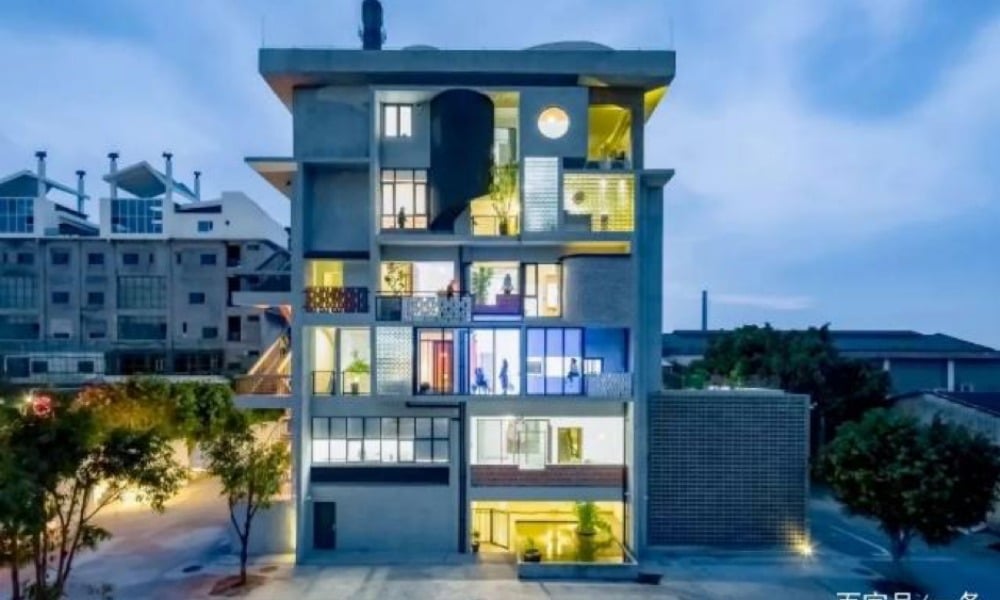 While living together with your best friends in one big house might be a dream of many people, this Chinese architect turned the idea into reality by transforming an old factory into a modern museum-like work- and living space. Through her work, the architect aims to change views on China's urban living spaces.
Guangzhou architect "Michelle" (米歇尔 or Mi Xiao 米笑) and most of her friends work in creative industries. A few years ago, they found that their work and lifestyle required a more flexible and multi-purpose living space; a place where they could live and work together as a small community while also showcasing what they do.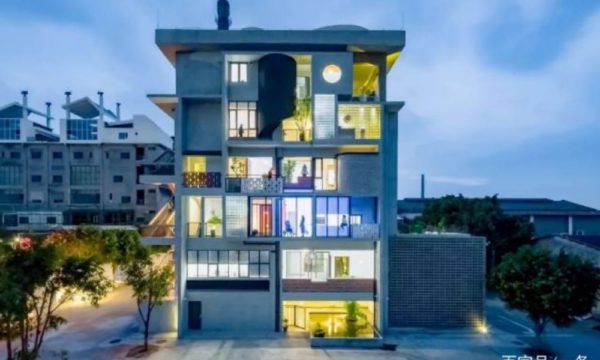 In 2012, the six friends found a workshop in an old abandoned sugar factory, built in the 1950s, located in Guangzhou's Panyu district. More than five years later, they had succeeded in transforming it into a modern six-story work- and living space.
A news story and a video of the building are now attracting major attention on Chinese social media. On Weibo, the hashtag "Six Friends Transform a Building" (#6个好友改造一栋楼#) has been viewed more than 250 million times.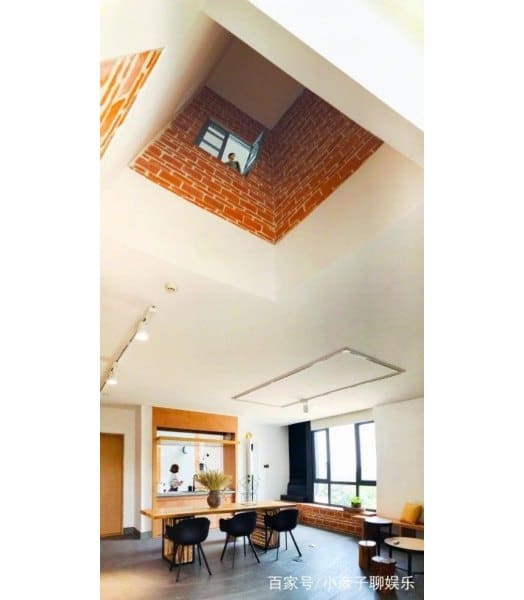 The communal living space, that has been named Boundless Community (无界社区), covers about 1500 square meter and has six completely separate rooms. Originally, the building was made up of only three stories, each with a ceiling height of six to nine meters high.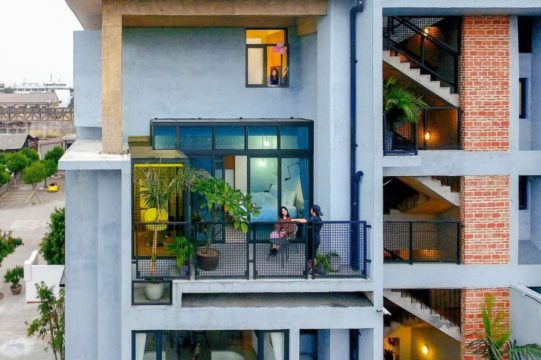 With the reconstruction of the building, the architect reportedly "wanted to break with the traditional urban types of dwellings," where many people live behind locked doors in small spaces. Michelle intended to design the space as a small "village," where people share their living space.
At the same time, the space also allows people to be creative and share their work with the outside world. All of these ideas resulted in a transparent "museum building."
The building itself is almost like a museum by allowing people from outside to look into the various studios.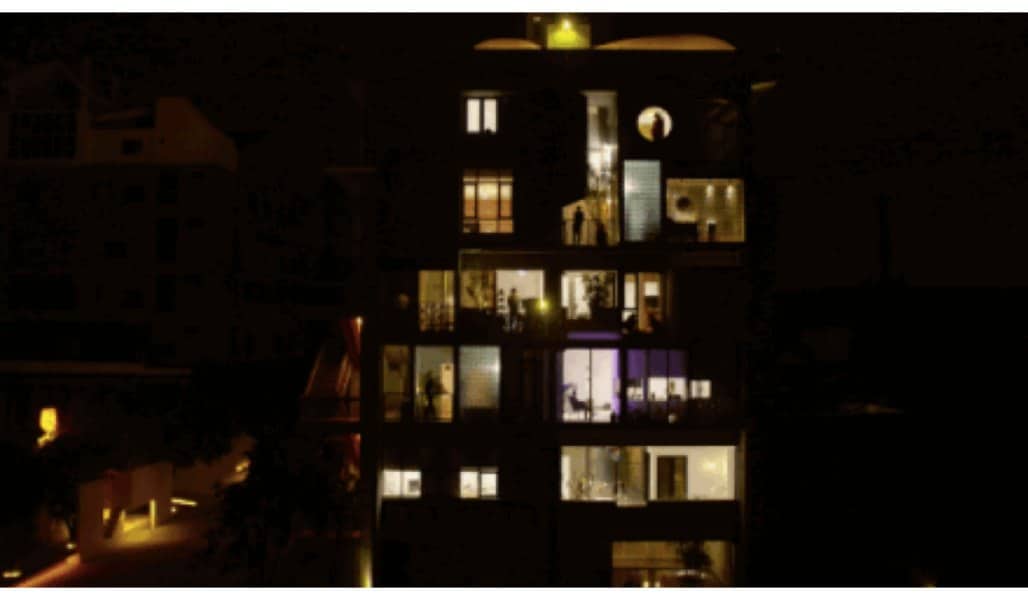 The popular architect is not the only one who is in favor of sharing a living space with her friends. A recent poll on Weibo shows that more than 90% of respondents would also like to live together with their friends; only 10% of the people prefer privacy over a communal living space with good friends.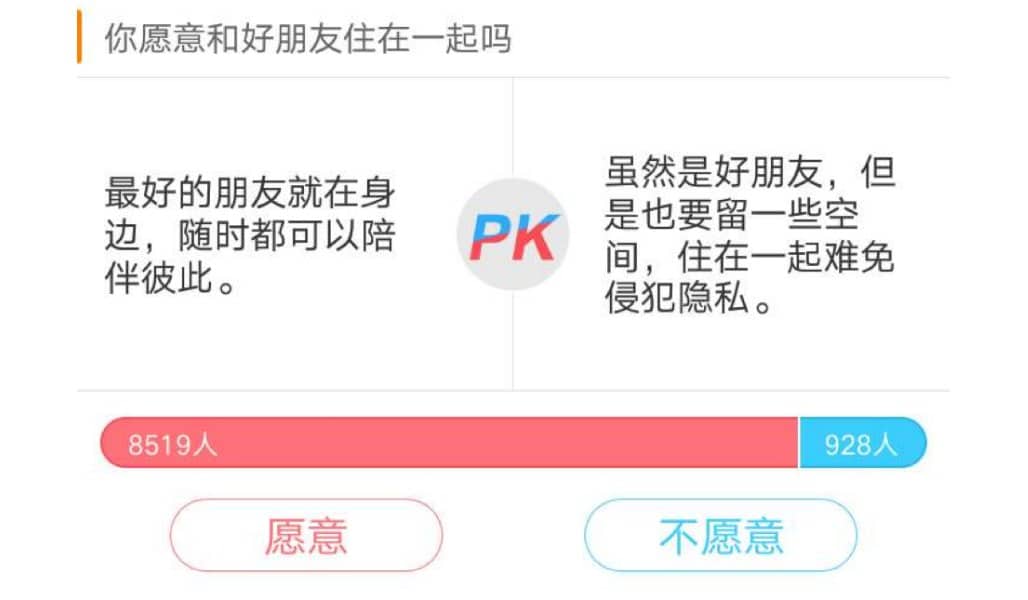 "This is my dream!", many commenters say, with others calling it "simply magical."
To read more about changing attitudes on home and living in China, also check out this article by What's on Weibo. 
By Gabi Verberg
Images via https://sjz.news.fang.com/open/31234746.html.
Spotted a mistake or want to add something? Please let us know in comments below or email us.
©2019 Whatsonweibo. All rights reserved. Do not reproduce our content without permission – you can contact us at info@whatsonweibo.com