Baihang and the Eight Personal Credit Programmes: A Credit Leap Forward
"The personal credit era has arrived," some netizens say.
Baihang Credit has received ample coverage in Chinese press recently as it was launched as "the first unified personal-credit information firm" of the PRC. It joins forces with Alibaba, Tencent, and six other big companies in further building on China's credit-based society. What's on Weibo provides an overview of the developments that have led to the formation of this powerful credit platform.
Three years after eight commercial firms were granted permission by the People's Bank of China (PBOC) to start their pilot programmes in operating personal credit systems in 2015, none of them have received a license.
Instead, they've now become shareholders and active contributors to a new unified platform that has access to an enormous number of personal credit data. At the so-called 'trust alliance' (信联) Baihang Credit (百行征信), state level and commercial organizations join forces in further developing China's credit systems.
How they can share data without harming Chinese recent laws on privacy, however, remains vague.
Some background
An important moment within this development started over twelve years ago (to be precise: on March 20 of 2006), when the People's Bank of China (PBOC) began operating its own independent Credit Reference Center. The goal of the brand-new center was to set up the reliable credit checking platform which China was still lacking at the time.
At its core, it was tasked with managing a national commercial and consumer credit reporting system, to enable financial institutions to assess borrowers' creditworthiness.
In November of 2013, during the Third Plenary Session of the 18th CPC Congress, new plans were adopted to also "establish and improve a social credit system to commend honesty and punish dishonesty" (USC 2013), putting more pressure on the formation of a solid credit checking system in China.
Months later, in 2014, the Chinese State Council issued an official notice concerning the construction of a nationwide Social Credit System that was to be rolled out by 2020 (Creemers 2014).
Three Years of the "Credit Leap Forward"
It is perhaps no coincidence that not too long after the formal announcement of these plans, that would lead to a more credit-based Chinese society, the PBOC Credit Center opened its doors to eight Chinese companies to work on trial programmes to prepare for operating their own personal credit information businesses.
At the time, in 2015, the PBOC's Credit Center had been around for nearly a decade, yet still 'only' covered 25% of the Chinese population, leaving ample risks in the control process of Chinese financial services (Yang 2017).
You could say that 2015 was an important year in which competition for China's multi-billion personal credit investigation market really began, along with the flourishing of China's Internet population and the growing demand for personal online data information (Jun 2015). A recent Caixin column by Xinhai Liu (刘新海), associate researcher at the Credit Reference Center, even calls the 2015-2018 period the "Credit Great Leap Forward" ("征信大跃进的三年").
Besides that new personal credit rating tech firms started to pop up, the year 2015 was also the year when misconceptions arose in foreign media regarding these existing credit systems.* ACLU called it "nightmarish," falsely claiming that all Chinese would be "measured by a score between 350 and 950, which is linked to their national identity card" and that "the government has announced that it will be mandatory by 2020."
As explained in our recent article about this issue, these discussions – that continue in foreign media to this day – often blur the lines between the national Social Credit system and a number of private programs. (To understand more about the difference between the government's Social Credit system and the commercial ones, please read the previous article we featured on this topic.)
These misunderstandings partly come from the fact that both the government's plans on introducing their 'Social Credit System' (社会信用体系) and the Central Bank's endeavors to build a stronger personal credit industry (个人征信行业) were major developments in the period from 2013-2015 up to the present.
The Eight Programmes
With such a strong demand for solid credit rating systems, why have none of the eight approved tech firms received their license, over three years after starting pilot operations?
One of the main problems with commercial services such as the well-known 'Sesame Credit' is, according to PBOC spokesperson Wan Cunzhi, that they are all "isolated islands" ("信息孤岛") of non-shared data, that they are lacking in independence, and that their data management is not strong enough (Yang 2017).
The coming-together of these "islands" solves this problem and forms one solid platform under the 'Baihang' label. Which eight companies does this concern? An overview:
1. Sesame Credit (芝麻信用)
This is the best-known commercial personal credit score programme, implemented by Alibaba's Ant Financial. Sesame Credit already had 520 million users as of 2017.
Sesame Credit was launched in 2015. Because it is part of the Alibaba family, Sesame Credit has an enormous amount of data at its disposal, from e-commerce sites to finance products (Taobao, Tianmao, Alipay, etc), through which it compiles users' own scores, going from 350-950, for those who have opted into the program. The scores are based on a number of things, including people's payment history, their contacts and network, and online behavior.
2. Tencent Credit (腾讯征信)
Since the Tencent company currently hosts 55% of China's mobile internet usage on its platforms (Marr 2018), it has also an enormous amount of data at its disposal. Similar to Sesame Credit, Tencent Credit works with a 300-850 score system. It officially launched a trial of its score programme in January of 2018, but then took it down shortly after.
3. Kaola Credit (考拉征信)
Koala Credit is an independent third-party credit company established by the Shenzhen-based Lakara (拉卡拉) financial services company. Koala Credit was launched in May of 2015, around the same time as Sesame Credit launched its program. Lakara has strategic and powerful partnerships with China Unionpay, five major banks, and hundreds of other financial institutions. Lakara and Koala Credit jointly founded a pioneering lab in China that focuses on big data models. The University of the Chinese Academy of Sciences is involved in this project (Zhuo et al 2016, 299).
4. Pengyuan Credit (鹏元征信)
Established in 2005, Pengyuan Credit is amongst the oldest personal credit investigation firms of the eight selected by the PBOC. The company states on its website that its main goal since 2005 has been to "create a credit reporting ecosphere on the Internet," shifting from traditional credit rating systems to online credit rating methods.
5. Sinoway Credit (华道征信)
The Beijing Sinoway Credit was established in 2013 by four large financial companies. As explained by BJReview (2016), Sinoway is among those companies (such as Zhima and Tencent) that accumulate data from their business rather than using traditional algorithms to collect financial and public data. They have exclusive access to enterprise data (Zhuo et al 2016, 299).
6. Qianhai Credit Service (深圳前海征信)
Another company established in 2013, Qianhai Credit is based in Shenzhen. It was launched by financial giant Pingan. The current CEO is the female big data specialist Qiu Han (邱寒).
7. China Chengxin Credit (中诚信征信)
The Beijing-based China Chengxin Credit company was founded in 2005, established by the China Chengxin Credit Management group. The firm provides personal credit information and companies and market research services. As described by the China Money Network, its database is connected to local administrations for industry and commerce, police, courts, telecom service providers to provide comprehensive credit information.
8. Intellicredit (中智诚征信)
Intellicredit is a Beijing-based independent, third-party credit registry. CEO Li Xuan (李萱) has previously expressed the company's goal to handle any loopholes that let scammers get away with fraud in China's online financial environment. The company is experienced in credit industries both in China and abroad, and its team has also worked on the establishment of the credit reporting system of the PBOC (Zhuo et al 2016, 299).
Baihang & Allies: An Abundance of Personal Data
The formal launch of Baihang Credit (百行征信), the "first unified personal credit information firm" of China, has become big news in Chinese media, with some calling it a personal credit industry game changer.
Baihang Credit is a joint establishment of the aforementioned eight and the China Internet Finance Association.* It received its license in February of this year. The firm officially opened for business on May 23rd of 2018.
While the China Internet Finance association reportedly holds 36% of the Baihang firm, the other eight shareholders each hold 8% (Zhang & Liu 2018).
The eight companies are not just financial investors, but also active contributors and sharers of technology, resources, and data for the Baihang firm. The launch of this joint establishment means that both state-level institutions and commercial enterprises combine their efforts in building a strong personal credit investigation and service platform; the new system now links data collected by these powerful firms such as Tencent to the state-level China Internet Finance Association, which in itself is an initiative by the People's Bank of China.
Besides basic data including personal information, education level, salaries or employer, companies such as Sesame Credit or Tencent also have access to a rich collection of consumer data, ranging from social media, e-commerce purchases, online travel data, to location, phone records and even social connections.
The eight firms will also play an important role in Baihang's management. Sesame Credit, Tencent Credit, Qianhai Credit, Sinoway and Koala Credit have all entered the company's board of directors. The other three companies will join the board of supervisors (Sina Finance 2018). The 57-year-old Zhu Huanqi (朱焕启) will be Baihang's CEO and president; he previously worked at Huida Asset Management.
The PBOC told Caixin Global that all parts of the eight companies that previously dealt with personal credit ratings will now be incorporated into Baihang. The other parts can continue to operate as data service providers. In the future, Sesame Credit, for example, will continue to research commercial credit services.
Many Questions Linger
While the recent alliance has received ample attention in Chinese media as an important moment in China's transforming alleged 'credit-based' society, many questions still linger.
One Nanjing research institute writes on Weibo: "The joining of these companies means they can share big data. This also means that if a person is behind [in payments] on one platform, they will also have no access to loans on any of the others."
But is it all about sharing personal financial credit information, or is this about the sharing of other data as well? What are the legal implications of Baihang operations? And to what extent, if at all, will the system link to the upcoming nationwide Social Credit System?
Caixin Global noted that Baihang Credit will face challenges regarding Chinese Cybersecurity Law, which imposes strict limits on 'secondary uses' of data beyond its original purpose, and requires individual authorization when personal data is transferred from one institution to another (Sacks 2018; Zhang & Liu 2018).
In this Caixin article, the PBOC's spokesperson would not elaborate on how Baihang will collect and use personal data. He was only quoted in saying only that contributions to Baihang will be handled "according to market rules."
"Personal Credit Era has Arrived"
Despite the many articles about Baihang in Chinese media, it has not become a much-discussed topic on social media; netizens discussing Chinese credit systems seem more concerned with the height of their Sesame Credit score.
One Weibo user, however, did write about the Baihang alliance, commenting: "The personal credit era has arrived" ("个人信用时代到来").
Other people worry about the impact of this alliance, saying: "You'll see that if you have a negative balance on your bank account, you won't be able to use the public bathroom anymore." (Recently, various cities in China are upgrading their public toilets, integrating AI features such as facial recognition for people to receive free toilet paper.)
Some commenters simply call the companies that have joined under Baihang "a pile of trash."
Although Sesame Credit will not receive a license to operate its personal credit investigation business, it is highly probable that users of their credit programme will still be able to enjoy the perks of, among many other things, entering libraries for free or riding rental bikes without deposit with a high score.
"I've just arrived in Hangzhou and can do many things for free," one person wrote: "I feel like my Credit Score is omnipotent."
Baihang's recent alliance is about to make Chinese personal credit scores even more omnipotent – the 'Credit Leap Forward' is well underway.
By Manya Koetse
Follow @whatsonweibo
Directly support Manya Koetse. By supporting this author you make future articles possible and help the maintenance and independence of this site. Donate directly through Paypal here. Also check out the What's on Weibo donations page for donations through creditcard & WeChat and for more information.
* In an article from December of 2015, for example, The Independent suggested that "China has created a social tool which gives people a score for how good a citizen they are," describing how "China" had put forward "a concept straight out of a cyberpunk dystopia" named Sesame Credit.
* The Chinese Internet Finance Association, also known as the NIFA (National Internet Finance Association) was established in March of 2015 upon approval by the Chinese State Council and Ministry of Civil Affairs. It is a state-level organization.
References (others linked directly within text)
Creemers, Rogier. 2014. "Planning Outline for the Construction of a Social Credit System (2014-2020)." China Copyright and Media, 14 June China https://chinacopyrightandmedia.wordpress.com/2014/06/14/planning-outline-for-the-construction-of-a-social-credit-system-2014-2020/ [10.6.18].
Creditchina. 2018. "百行征信入场,8家股东剥离个人征信业务." CreditChina.gov, 4 June http://www.creditchina.gov.cn/gerenxinyong/gerenxinyongliebiao/201806/t20180604_117132.html [10.6.18].
Huang, Zhiling. 2016. "Six Obstacles to Producing Reliable Big-Data Credit Reports." BJ Review, 15 December http://www.bjreview.com/Business/201612/t20161212_800074419.html [9.6.18].
Jun, Wang. 2015. "Road to Credit." Beijing Review, 3 August http://www.bjreview.com.cn/business/txt/2015-08/03/content_698269.htm [9.6.18].
Marr, Bernard. 2018. "Artificial Intelligence (AI) In China: The Amazing Ways Tencent Is Driving It's Adoption." Forbes, 4 June https://www.forbes.com/sites/bernardmarr/2018/06/04/artificial-intelligence-ai-in-china-the-amazing-ways-tencent-is-driving-its-adoption/#5130d54b479a [10.6.18].
Sacks, Samm. 2018. "New China Data Privacy Standard Looks More Far-Reaching than GDPR" CSIS, 29 January https://www.csis.org/analysis/new-china-data-privacy-standard-looks-more-far-reaching-gdpr [9.6.18].
Sina Finance. 2018. "百行征信揭开面纱 芝麻信用腾讯征信等五家入董事会." sina Finance, 4 January http://finance.sina.com.cn/money/bank/bank_yhfg/2018-01-05/doc-ifyqinzs8775295.shtml [10.6.18].
USC. 2013. "Decision Of The Central Committee Of The Communist Party Of China On Some Major Issues Concerning Comprehensively Deepening The Reform, November 12, 2013." USC, 12 November https://china.usc.edu/decision-central-committee-communist-party-china-some-major-issues-concerning-comprehensively [10.9.18].
Yang, Felix. 2017. "Is Xinlian the answer to the Individual Credit Checking System in China?" Kapronasia, 25 Aug https://www.kapronasia.com/china-banking-research-category/item/886-is-xinlian-the-answer-to-the-individual-credit-checking-system-in-china.html [10.6.18].
Zhang, Yuzhe, and Liu Xiao. 2018. "Launch of Unified Platform Boots Private Firms From Personal Credit Business." Caixin Global, May 28 https://www.caixinglobal.com/2018-05-28/launch-of-unified-platform-boots-private-firms-from-personal-credit-business-101258187.html [10.6.18].
Zhuo Huang, Yang Lei & Shihan Shen. 2016. "China's personal c>edit reporting system in the internet finance era: challenges and opportunities." China Economic Journal (9:3): 288-303.
Spotted a mistake or want to add something? Please let us know in comments below or email us.
©2018 Whatsonweibo. All rights reserved. Do not reproduce our content without permission – you can contact us at info@whatsonweibo.com.
Why Trump Has Two Different Names in Chinese
Why does 'Trump' have multiple names in Chinese?
First published , updated version published March 7, 2019
It is confusing even for Chinese netizens and journalists: why does Donald Trump have multiple names in Chinese? And which is the right one to use? What's on Weibo explains.
Donald Trump has two most commonly used different names in Chinese. In Mandarin*, they are Tèlǎngpǔ (特朗普) and Chuānpǔ (川普). Both names have been used by Chinese mainstream media and netizens for years.
*(Due to the scope of this article, we'll just use the Mandarin pinyin here.)
In the Chinese translation of Donald Trump's autobiography The Art of the Deal (1987), the 'Tèlǎngpǔ' transliteration is used, whereas the translation of the George Ross book Trump-Style Negotiations (2008) uses 'Chuānpǔ' as the Chinese name for Trump.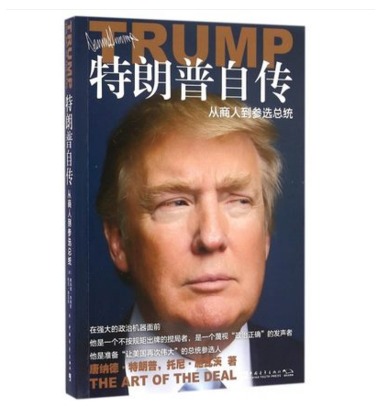 Considering that Trump is making headlines every day, more people are wondering why Trump has two Chinese names, and which one is the correct name to use. There are even discussions about the topic on Chinese social media.
Why are foreign names translated?
Why are non-Chinese names actually translated into Chinese at all? With English and Chinese being such vastly different languages with entirely different phonetics and script, the majority of Chinese people will find it hard to pronounce a foreign name that is written in English.
Writing foreign names or terms in Chinese script has a long history and practical reasons which won't be further elaborated on here. At present, aside from being standardized, it does not just help Chinese speakers to pronounce these words, it also makes it easier to remember them. Most Chinese names usually consist of two or three characters; the first character is the surname, and the last character(s) is the given name.
Translating a name to better adapt to the culture in which it is used does not only happen with English names in China; you often see the same happening with Chinese names in foreign countries.
In that case, the first character (surname) is moved to the back, and the given name changed into an English one. Alibaba's Ma Yun, for example, has become globally known as 'Jack Ma.' Film star Zhao Wei is called 'Vicky Zhao', Tencent's Ma Huateng is known as 'Pony Ma,' and the popular actress Lin Yun is called 'Jelly Lin.'
The right way to translate a foreign name in Chinese
There are multiple ways to translate a foreign name to Chinese. Most commonly, a name is translated into Chinese characters that are phonetically similar to the original name, without necessarily being very meaningful. The transliteration of 'Hillary' (Clinton), for example, is 'Xīlālǐ' (希拉里). 'Bush' is translated as 'Bùshí' (布什).
Another option is to choose a name purely based on meaning rather than phonetics. One example is Elvis Presley, who is called 'Cat King' (Māo Wáng 猫王) in Chinese, which stays close to his nickname "The Hillbilly Cat."
The best option when translating a foreign name into Chinese, however, is to make sure it stays close to its original pronunciation while also using elegant characters. In other words; it is nice when a name's translation makes sense both phonetically and semantically. Marilyn Monroe's last name in Chinese is Mènglù (梦露), for example, which sounds like 'Monroe' and has the characters for 'Dream Dew' – a perfect transliteration for such a dreamy actress.
Even when the characters used for a foreign name in Chinese are not necessarily intended to convey a certain meaning, it is important that they do not have any negative connotations. Nobody wants a character in their name associated with divorce, disease or death – it is believed to bring bad luck.
Another thing is that it is considered helpful for foreign names in Chinese is to maintain a 'foreign flavor' to it, to make it clear that the name is actually a transliteration. To give an example raised in this Nikkei article: President Reagan's name is generally translated as Lǐgēn 里根 in Chinese – the characters being somewhat uncommon for a Chinese name.
The same name could also be written with the characters 李根, very common for a Chinese name, but then it would be difficult to know whether a media report is talking about Reagan the President or just a local Chinese person by the same name. Transliterations of foreign names, therefore, are often easily recognizable as foreign names on purpose.
Trump, Tèlǎngpǔ, and Chuānpǔ
In the case of Trump, his Chinese names are mainly chosen for phonetic reasons, with different sources using different characters. Part of the challenge in deciding the right Chinese translation for his name, is the fact that Chinese does not have consonant cluster 'tr' as one sound.
The Chinese-language Nikkei newspaper dedicated an op-ed written by Chinese scholar Ke Long (柯隆) to the matter, who argues that although it may all seem trivial, it is actually quite confusing and unpractical for president Trump to have more than one name in Chinese.
The Chinese media in Taiwan, Hong Kong, and most overseas Chinese-language media, refer to Trump as 'Chuānpǔ' (川普).* According to the World Journal, the biggest Chinese-language newspaper in the US, it is the only proper way to translate this name, yet most Chinese state media and Chinese-language UK media (such as BBC) all use 'Tèlǎngpǔ.'
* (The Chinese version of The New York Times 纽约时报中文版 is an exception, as 'Tèlǎngpǔ' 特朗普 is generally also used in this publication.)
Author Ke Long explains that Chinese translations of foreign names try to stay as close as possible to the pronunciation of a name in its original language. This is why the name of the city 'Paris' is pronounced 'Bālí' (巴黎) in Mandarin Chinese, staying close to the French pronunciation, and 'Amsterdam' being 'Āmǔsītèdān' (阿姆斯特丹), which follows the city's Dutch pronunciation.
If the British would pronounce 'Trump' as 'te-lan-pu,' then it would thus perhaps be more understandable why media such as the BBC would write Tèlǎngpǔ. But they don't pronounce it like that, Ke Long argues, saying that the use of 'Tèlǎngpǔ' thus does not make sense, and is actually closer to the Japanese way of writing Trump's name ('トランプ': to-ra-n-pu).
More so, the author writes, it does not make sense for Chinese media to take over the British transliteration of the Trump name. Considering Trump is American, Chinese media should follow the translations made by American media. He also notes that if it would be about the Prime Minister of Britain, the Chinese transliteration should follow the one used by the media in the UK.
Although the Nikkei author seems to advocate for a singular use of 'Chuānpǔ' by all media, no Chinese media are necessarily 'wrong' in their transliteration of the name Trump. The 'Tèlǎngpǔ' 特朗普 translation follows the example of outlets such as the BBC, while Chuānpǔ 川普 follows that of other media.
Some Chinese bloggers argue that Chuānpǔ 川普 is the best way to write Trump's name, because the first character, that actually means 'river,' is commonly used in Chinese, making the name sound more 'natural' and easy to pronounce than 'Tèlǎngpǔ.' Moreover, they argue that the Mandarin 'chuan' sound is more appropriate to convey the pronunciation of 'tr' than the 'te-lang' way.
In the end, the reason why Trump has two names most commonly used in Chinese is just a matter of media, with various mainstream outlets adopting different names since Trump first made headlines, and without there being any clear consensus on which Chinese name to use across all these different Chinese-language media platforms around the world.
Chuángpù and Chuángpò?
On Chinese social media, President Trump even has more than two names. There are also netizens referring to him as 床鋪, 闯破 or 床破 (Chuángpù/Chuángpò); these are all transliterations that contain strange or negative characters, making the name unrefined and harsh-sounding on purpose to make the name 'Trump' look and sound bad.
Although there have been online discussions on the right transliteration for the name Trump, it is unlikely that there will be one official Chinese name for the US President in the near future. Xinhua News, China's official state-run press agency, has consistently been using Tèlǎngpǔ 特朗普 for years, and will probably continue to use it.
Many netizens simply use both versions of his name in one post to avoid confusion, and some news reports have even started using both names in its headlines (image below).
Despite the somewhat confusing situation at hand, there are also those who do not seem to mind at all. "Who cares if it is Tèlǎngpǔ or Chuānpǔ anyway?" one netizen says: "In this day and age, we all know who it is we are talking about."
– By Manya Koetse
Follow on Twitter or Like on Facebook
This article first appeared in 2017 and has been republished with various corrections:
– The first version did not properly convey the argument made by author Ke Long in his Nikkei piece, which is more clearly laid out in this version.
– This version has added some extra information coming from sources after 2017.
Spotted a mistake or want to add something? Please email us.
©2019 Whatsonweibo. All rights reserved. Do not reproduce our content without permission – you can contact us at info@whatsonweibo.com
The Chinese Animation Dream: Making Made-in-China 'Donghua' Great Again
The Chinese animation industry is a much-discussed topic in the media and on Weibo. Will China's 'donghua' make a comeback?
First published
The Chinese animation industry is a hot topic these days. With China's rising power and growing influence on global markets, its animation industry is lagging behind and still seems to have limited appeal for audiences inside and outside of mainland China. But there might be big changes on the horizon for the industry. Will the golden days of Chinese animation return? A short overview of the development of the Chinese animation market by What's on Weibo.
The Chinese animated movie White Snake (白蛇:缘起), produced by Light Chaser Animation and Warner Bros, has been under the spotlight since its release on January 11. The fantasy animation, that has raked in 300 million yuan (±$44 million) at the box office, has triggered discussions in the media on the status quo and future of China's animation industry.
Although China is seeing a steady release of domestic animated films and series, there is still much room for improvement. Not only are many 'donghua' (动画) still lacking when it comes to quality and script, but the Chinese animation market is also facing fierce competition from the American and Japanese markets.
'JAPANESE CULTURAL INVASION'
"Making China's own animated heroes become examples for the Chinese youth"
A recent Foreign Policy article by Tanner Greer discusses the great popularity of Japanese manga (comics) and anime (cartoons) in the People's Republic of China. The influence of Japanese popular culture in China is not necessarily appreciated by the Chinese government, which is concerned with maintaining a certain control over matters of cultural dissemination.
Since Japanese comics and films began to gain popularity in China in the early 1990s, there have been various developments that have shown the government's dislike of the 'Japanese cultural invasion' in the country. To counter the impact of foreign animation/cartoon products, the authorities not only attempted to curb the inflow of these products but also to promote the production of its own China-made animations, that should reflect the ideals of the Party.
As early as 1995, President Jiang Zemin wrote a letter to the Shanghai Animation Film Studio (上海美术电影制片厂), writing that "inspiring people through excellent work is an important task of the cultural front,"1 and expressing his wishes that, "under the guidance of the Party's literary and artistic principles, animation art workers will continue to release ideological, artistic and enjoyable art products, providing more and better spiritual sustenance for the youth and for children, making China's own animated heroes become friends and examples for the [Chinese] youth" (1995; Saito 2017, 141).
Twenty-four year later, China's animation industry has seen enormous growth but is still not as well-received by the Chinese public as Jiang had probably hoped for. Meanwhile, the demand for Japanese and other foreign products is still going strong: the animated movies that are in the top 3 of highest box office successes in mainland China are all foreign productions.
The 2018 Chinese animation The King of Football (足球王者) took approximately 60 million yuan ($8.8 million) to make, but became a commercial flop, raking in less than 1.8 million yuan ($267,000) at the box office (Yau 2018).
The new animation White Snake is doing much better than the 2018 Football flop, and has made some Chinese state media note that the overall quality of domestically produced animation is steadily getting better, especially over the past few years. Yet, critics also note that despite several successes since 2015, the Chinese animation has yet to come out of its "low point" (China Daily Culture 2019).
GOLDEN AGE OF CHINESE ANIMATION
"Chinese films should be based on real Chinese traditions and stories"
If the current era marks a certain 'low point' in Chinese animation, then when was its 'high' performing time? The first so-called "golden age" of Chinese animation actually occurred in the 1957-1965 era. Long before that, in the 1920s, China's renowned Wan brothers produced their first animated short, inspired by the success of Disney and the Fleischer brothers (Chen 2017, 175; Lent & Ying 2013, 20-22). It led to the production of China's first fully-animated film Blood Money (血钱) in 1932.
The Nanjing-born Wan brothers (萬氏兄弟) are the twins Wan Laiming and Guchan (1900), Wan Chaochen (1906), and Wan Dihuan (1907), who are generally credited with starting Chinese animation. The first three names are the brothers who later joined the renowned Shanghai Animation Film Studio that was led by cartoonist Te Wei (特伟, 1915).
Te Wei is one of the major names in the Chinese School of Animation; he previously headed the Northeast Film Studio, that was founded in 1949.
Although the Wan brothers were initially inspired by American animation, along with German and Russian styles, they soon focused on finding a more Chinese-oriented style in their work. In a 1936 interview, the brothers stated that Chinese films should be based on "real Chinese traditions and stories," and should also be "educational" besides entertaining (Lent & Ying 2013, 22-23). Focusing more on Chinese artistic traditions was also something that was encouraged by Te Wei.
The Shanghai Animation Film studio started doing just that, and creators began committing themselves to learn from classical Chinese literature, paintings, and art, to build on truly Chinese animation canon that would incorporate a certain 'national identity.' For their 1956 24-minute animation The Conceited General (骄傲的将军), they even invited opera teachers to their work studio to learn from their Peking Opera movements and apply it to their animated characters (Chen 2017, 185; Lent & Ying 2013, 25-26).
The first color animation Why Crows Are Black (乌鸦为什么是黑的, 1956) became the first Chinese animation to be recognized internationally at the 1956 Venice Film Festival. The 1960 success of Where is Momma (小蝌蚪找妈妈) was followed by others, with the 1961/1964 Havoc in Heaven (大闹天宫) winning multiple awards, becoming one of China's most-praised animation classics.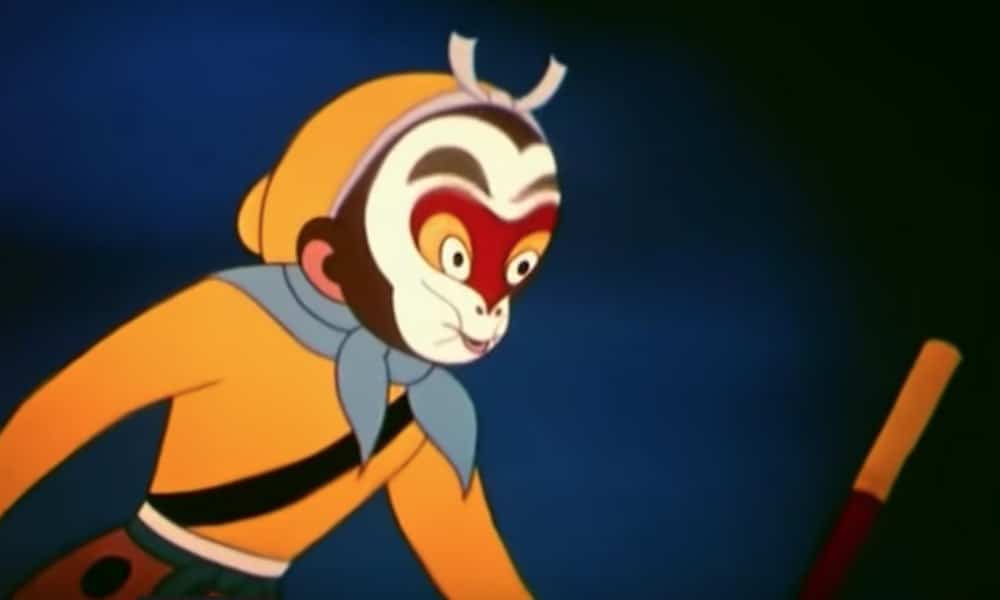 During the political turmoil of the Cultural Revolution (1966-1976), China's animation industry suffered a huge blow and its first boom was halted. Starting from 1977 to the mid-1980s, a "second wave" of success followed, with new films that also carried that distinct style of Chinese animation; works such as the 1980s Three Monks (三个和尚) and the 1988 Feeling from Mountain and Water (山水情) are some example success stories within this second 'golden age' (Chen 2017).
In a 2001 interview, Te Wei stated that there were multiple factors at play that contributed to the success of Chinese animation over the 1960-1980 period. The animation creators at the time, for example, were not pressured for deadlines and had unlimited creative time. There were enough financial resources to fund the studio (state support), little government control, a prosperous production system, and there were multiple generations of animators working together at the studio (Lent & Ying 2013, 27).
LOSING THE MAGIC TOUCH
"You can see Disney in it. But at least they tried"
So what happened to the golden days of Chinese animation? After the Mao era, in 1978, Deng Xiaoping famously initiated China's Reform and Opening, starting the process which transformed the country and also had drastic consequences for China's creative industries.
Following the emergence of the market economy, creators of Chinese animation had to focus more on the commercial value of their works. But while concentrating on consumer-based commerce, they also still had to make sure their productions were politically correct and in line with the (censorship) guidelines.
Starting from the 1990s, Chinese animation was officially defined as an "industry" and became a focus in the development of the national economy, with the government paying close attention (Chen 2017, 158; Wu 2017).
As described by John Lent and Xu Ying, animation studios started to struggle to support themselves and sped up productions to satisfy the rising domestic TV market, while also becoming "workstations" for overseas clients (2013, 27).
Although the number of productions went up, the high production pressure affected creativity and the artistic quality of Chinese animation.
Meanwhile, the market came to be dominated by imported, sometimes pirated, foreign animations. Astro Boy, Doraemon, Chibi Maruko-chan and other Japanese popular culture became more influential among Chinese youth in the 1990s. This also changed viewers' preferences and aesthetic standards, and many Chinese animations adopted more Japanese or American styles in their creations (Ho 2018, 167; Liu 2007, 29).
With the rise of the internet in China, the inflow of (pirated) animations and cartoons from outside of China, and their major impact, began to become much harder to combat.
Some films, such as the 1999 Lotus Lantern (宝莲灯) by Shanghai Animation Film Studio still succeeded in becoming a high-quality commercial success, although Chinese cartoonist Te Wei did note: "You can see Disney in it. But at least they tried" (Lent & Ying 2017).
THE RISE OF CHINA'S ANIMATION?
"Chinese animations keep on getting better and better, and it makes me feel proud"
For the past few years, especially since the propagated concept of the 'Chinese Dream' has popularized within Chinese society, an idea that focuses on 'national rejuvenation,' the 'comeback' of Chinese animation has become a much-discussed topic in state media and on social media.
The main idea disseminated by state media and government, is that Chinese donghua (动画, animation) should be developed with specific Chinese characteristics, should not blindly follow its (foreign) competitors, and should propagate Chinese culture and socialist values. The slogan "Revive the Country's Creativity" (振兴国创) is repeated in dozens of these articles.
Some media claim that Chinese animation is no longer at its low point now, but has reached a stage of "adolescence" (Xinhua 2019). This resonates with earlier government articles proposing that China should become "an internationally strong animation country" by 2023 (GWP 2008).
There are many ways in which a 'healthy development' of China's animation market is now promoted. Since 2010, animation companies in China enjoy certain tax benefits, there have been national award for the best animations since 2011, and since long there have been measures stipulating that a certain percentage of broadcasted animations must be China-made (Saito 2017).
A noteworthy animation that was released in 2018 is The Leader (领风者), a web series that focuses on the live and work of Karl Marx, commemorating the 200th anniversary of Marx's birth.
The idea that was promoted with the release of The Leader was that promoting Chinese 'mainstream values' could also have a broad audience appeal, "as it can also be thrilling and attractive" (Global Times 2018).
The 'rejuvenation' of Chinese animation is not just a cultural and ideological project, there are economic motives at stake too; China's animation industry is a multi-billion dollar industry.
Some media predict that 2019 might be a pivotal year for China's animation. The successes of the 2015 Monkey King: Hero is Back (西游记之大圣归来), the 2016 Big Fish and Begonia (大鱼海棠) and the current White Snake film, might been strong indications that Chinese audiences are ready for more high-quality domestically produced animations that are based on classic literary works or historical themes, and incorporate Chinese traditional culture or socialist values.
The Legend of Nezha (哪吒之魔童降世), Jiang Ziya (姜子牙), and Phoenix (凤凰) are some of the much anticipated made-in-China animated movies to come out this year.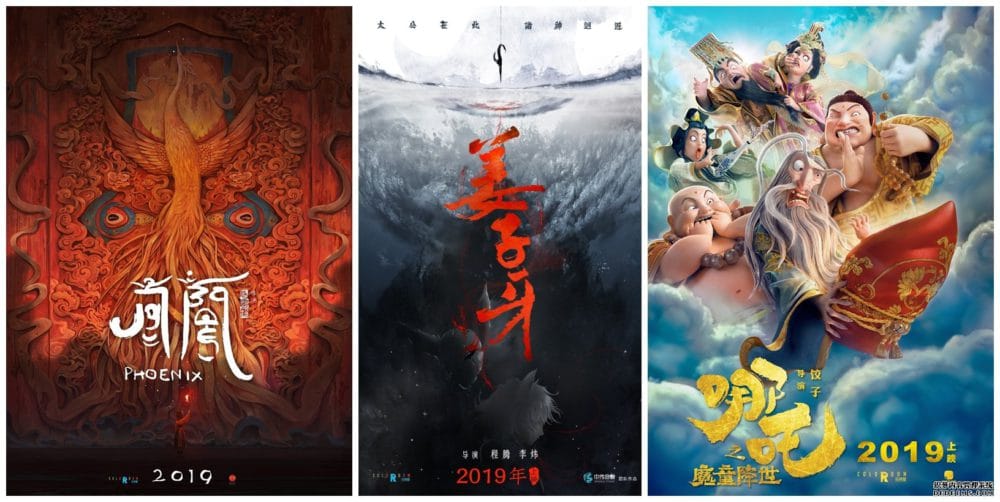 On Weibo, Chinese animations are a daily hot topic, and so is their overall development. The phrase "I support made-in-China animations" frequently pops up, but so do the questions ("when will our animations rise?") and the criticism.
"They are in the stage of imitating and exaggerating to keep up with international standards," some say: "But their scripts are still unclear and somewhat embarrassing."
"The dialogues are still their main problem," others say. Many people on social media express this idea of 'China-made animations' being of a certain low quality, although there are also many who say their views have changed after seeing White Snake in the cinema.
Some commenters write that "Chinese animations keep on getting better and better, and it makes me feel proud." This idea of a strong Chinese animation market also triggers patriotic reactions elsewhere on Weibo.
Many netizens, however, still allege that the animations made during the "golden years" of China's 1960s to 1980s were simply the best. "In those years, the animations they produced were just all classics. Nowadays, I can't even bear to watch anymore."
Others agree, writing: "They were just so Chinese."
By Manya Koetse
References:
CGW Central Government Web Portal. 2008. "文化部发布关于扶持我国动漫产业发展的若干意见." Gov.cn http://www.gov.cn/gzdt/2008-08/19/content_1075077.htm [2.10.19].
Chen, Shaoping. 2017. "Industrial transformation in Chinese animation cinema (1995–2015)." New Cinemas: Journal of Contemporary Film 15(2): 157-174.
Chen, Yuanyuan. 2017. "Old or New Art> Rethinking Classical Animation." Journal of Chinese Cinemas 11 (2): 175-188.
China Culture Daily 中国文化报. 2019. "[国产动画2018:正在蓬勃生长 期待"冲破天际"]. People's Daily, January 8. http://ent.people.com.cn/n1/2019/0108/c1012-30509797.html [1.26.19].
Jiang Zemin. 1995. "为少儿提供更多更好的精神食粮 [Providing the youth with more and better spiritual sustenance]." 中国共产党新闻 [News of the Communist Party of China], August 28. http://dangshi.people.com.cn/GB/242358/242773/242777/17735177.html [Jan 25 2019].
Global Times. 2018. "Nation to release first animation on Karl Marx." Global Times 19 Dec http://www.globaltimes.cn/content/1132690.shtml [10.2.19].
Greer, Tanner. 2019. "Super Patriotic Anime Youth Wars!" Foreign Policy, January 23. https://foreignpolicy.com/2019/01/23/super-patriotic-anime-youth-wars-china-japan-pop-culture/ [Jan 25 2019].
Ho, Wai-Chung. 2018. Culture, Music Education, and the Chinese Dream in Mainland China. Singapore: Springer.
Lent, John A. and Xu Ying. 2013. "Chinese Animation: An historical and contemporary analysis." Journal of Asian Pacific Communication 23(1): 19-40.
– 2017. Comics Art in China. Jackson: University Press of Mississippi.
Liu, Qing Fang. 2007. "When Chinese Animations meet GLobalization." Master Thesis, Cultural Economics and Cultural Entrepreneurship, Erasmus University Rotterdam.
Saito, Asako P. 2017. "Moe and Internet Memes: The Resistance and Accommodation of Japanese Popular Culture in China." Cultural Studies Review 23(1), 136-150.
Yau, Elaine. 2018. "Why Chinese animated films do so badly in China compared to Western ones." South China Morning Post, October 17. https://www.scmp.com/culture/film-tv/article/2168973/why-chinese-animated-films-do-so-badly-china-compared-western-ones
Wu, Weihua. 2017. Chinese Animation, Creative Industries, and Digital Culture. London: Routledge.
Xinhua. 2019. "不再低幼 国漫进入"青春期"." Xinhua Feb 3rd http://www.xinhuanet.com/ent/2019-02/03/c_1124081879.htm [10.2.19].
1"用优秀的作品鼓舞人,是文化战线的重要任务"
*" 当年的动画片和电影几乎部部经典!现在的基本上都不能看了。。"
*"那时候的动画片都很中国"
Other relevant links:
http://www.p5w.net/news/cjxw/201812/t20181219_2237399.htm
http://www.xinhuanet.com/politics/2019-01/03/c_1123941747.htm
http://www.xinhuanet.com/ent/2019-02/03/c_1124081879.htm
http://www.chinanews.com/cul/2018/05-12/8512351.shtml
http://media.people.com.cn/n1/2019/0125/c40606-30590294.html
Spotted a mistake, typo, or want to add something? Please let us know through email.
©2019 Whatsonweibo. All rights reserved. Do not reproduce our content without permission – you can contact us at info@whatsonweibo.com