Behind the Headlines: China's Media Landscape (Liveblog)
Live blog on the The Hague Conference on the Chinese Media on May 15th, at the Netherlands Institute of International Relations, Clingendael.
Conference on The Chinese Media and Relations with Europe
Date: May 15, 2014.
Place: The Hague, Clingendael Institute
By: Dutch think tank Clingendael and the Modern East Asia Research Centre (MEARC)
Blogged by: Manya Koetse 
What's going on behind China's headlines? How have the dramatic reforms in China over the past decades impacted China's media landscape? And how relevant are these changes for Europe's perspective on China? These are questions that will be addressed at this event. Today's conference will give a view on China's current media landscape and the practice of journalism in the PRC. Check out any updates on the conference on this page (Don't forget to 'refresh' the page every now and then by clearing the cache – something new should come up every 30 minutes). Update: live-blog now closed. See the full report below:
Chinese Media in Europe and Media Dialogues (Session One)
10:50-12:45
Chair:
Jan Melissen (Clingendael Insititute)
Speakers:
Vincent Ni (BBC World Service)
Wang Bei (Radio Netherlands Worldwide)
Pal Nyiti (Vrije Universiteit Amsterdam)
Discussant:
Odila Triebel (Institut für Auslandsbeziehungen)
11:00
"Chinese journalists are lagging behind on their international colleagues when it comes down to media coverage on Europe", says Vincent Ni, Multimedia Producer at the BBC Chinese, BBC World Service. There are multiple factors that affect the way Chinese are 'doing' journalism on Europe. There are practical issues, such as language barriers, but there are also flaws in the journalistic system and attitudes towards Europe. Ni explains how some Chinese journalists have the idea that European news is just "not that exciting", making many Chinese people working in the media industry think that American news is just more interesting and important. One factor that might contribute to this idea is that many Chinese journalists have a lack of understanding on how European government systems work and what the EU actually does. There are things that journalists on the European side can do to help Chinese media institutes, but eventually, Chinese media institutes should make a collaborate effort to educate journalists on Europe and its economic and political background. All in all, "Europe deserves more attention from Chinese press," Ni concludes.
"How does one 'sell' news on Europe to a Chinese audience that thinks European news is just 'not so exciting?'"
"Our audience is picky about news," says Bei Wang, Chief Editor at the China Desk Radio Netherlands Worldwide (RNW). That is why RNW works in a way that is appealing to its (young) audience; not just 'story-telling' but 'experience-telling'. RNW does this by using personal stories that give a different perspective on news. Currently, Chinese state media is expanding its presence in the world. They are presenting China to the world, but are also presenting the rest of the world to China. But the information they are giving is limited- there is a lack of authentic and unpolished information about Europe in Chinese language. Although China does need it, Wang agrees with Vincent Ni that news on Europe just does not 'sell' as well as news on, for example, America. So how does one 'sell' news on countries such as the Netherlands to a Chinese audience? By telling them the stories they are interested in. This is why RNW focuses on personal stories and social issues. If the Chinese audience is interested in Dutch healthcare or welfare, then this is the kind of news RNW will bring them.
Pal Nyiri is currently writing a book on Chinese correspondents abroad. Pal talks about Chinese media correspondents in Europe, their backgrounds and news focus. It is clear that the presence of Chinese journalists in the worlds is on a dramatic rise. Nyiri lays out the numbers: People's Daily currently has about 70 overseas bureaus , Xinghua News has 140 international offices and CCTV has 70 foreign locations. China's media bureaus have many European correspondents (some freelancing), and they struggle with a major challenge: how to make European news interesting to China. What one generally sees happening in the news is that Chinese journalists approach Europe as an exotic place where people enjoy life. 'How the Dutch ride their bike' would be a quite funny but realistic example of a Chinese news report on Europe. Due to various circumstances, such as relatively low wages, foreign postings are not as attractive to Chinese journalists as working within the Mainland- this is why many foreign correspondents are rather young. Through their deliverance on the news, a new picture of Europe is emerging in China. What one sees currently happening is that whatever is the news of the day within China, will be the news that is brought on Europe. Issues of environment, welfare and society are particularly popular- these news items are used as a foil to reflect back on what is going on in China.
"Chinese international media are not truly international- there is always a Chinese angle to global news." 
During the after-discussion of this first part of the conference, that has focused on Chinese media in and on Europe, Vincent Ni of the BBC expresses his critique of Chinese international media. "There is not one Chinese official media that is truly international," he says: "Global news is consumed by a global audience. What Chinese media does, is giving a Chinese angle to international news. This is why my current job at BBC is so different from my previous job at Caixin News. At BBC, we are actually reporting news on the world, to the world."
One discussant from the audience remarks that this part of the conference has discussed Chinese correspondents abroad and international news in China, but where is the narrative on the foreign correspondents working in China?
Journalist and researcher Garrie van Pinxteren remarks that the situation for foreign correspondents working in China is getting harder. Not only because of practical issues, such as visa, but also because more Western media are now also working with Chinese correspondents to report from within China, instead of using foreign correspondents working from China.
"In China, I hardly see newspapers, and I only see people playing games online [and not reading the news], so where is all this news actually going?!" 
Another discussant from the audience, Frank Kouwenhoven from Chime Foundation, remarks that if one visits China, one hardly sees any newspapers at all. Upon entering an internet cafe, everybody seems to be playing games. So, the discussant asks, "Where is all this news we have been talking about actually going?"
"There are readers, and there will always be," says Bei Wang from China Desk Radio Netherlands Worlwide: "Chinese citizens are actually bombarded with news every day, and there are always consumers. Think about social media such as Weibo or Weixin (Wechat)- people are increasingly sharing news through social media. The audience is getting more versatile, and so are the ways in which the news is brought to them."
12:50 update: Time for lunch break, will keep you posted again after 13.30.
The State of Chinese Journalism Today (Session Two)
13:30-15:00
Chair:
Jan Melissen (Clingendael Insititute)
Speakers:
Hugo de Burgh (University of Westminster)
Florian Schneider (Leiden University)
Daniela Stockman (Leiden University)
13:40
How can we explain the Chinese media? Hugo de Burgh, director of the China Media Centre and writer on investigative journalism (specializing in Chinese affairs), remarks how Chinese journalism is often perceived negatively by the English-speaking world. "It is as if there are two types of investigative journalism", he says: "The Western and the Chinese way." But according to De Burgh, there are in fact many things the West can learn from Chinese media. Anglophones often demonize Chinese media for various biased reasons. According to De Burgh, Chinese media is actually not a 'flawed' edition within some universal media system. "There is no such thing as Western media," he says. It is not an issue of Chinese media versus Western media, but more so an issue of anglophone media versus non-English media. Chinese media actually have a lot in common with other non-English media. It is useful to make comparisons between the media from different countries- but not when it is continuously approaching the other media form (in this case: Chinese media) in a biased way. Not everything is awful in the Western media, says De Burgh, neither is everything about Chinese media positive. It is about making a more honest balance in the study or critique of the state of Chinese journalism. The best framework for approaching Chinese media? It is a simple "respect for differences".
14:00
"Chinese Media – it's not just a simple narrative, there is an entire network of actors that collaboratively determine the dynamics of Chinese media today."
Florian Schneider, lecturer of Politics of Modern China at Leiden University and editor of Politics East Asia stresses that there is indeed a lot of bias when talking about Chinese media. There are many people who think that the political control over Chinese journalists is so strong that they are nothing more than a mouthpiece for Xi Jinping and the Party. This is not the case, Schneider says. It makes more sense to talk about what is happening in China in the form of governance from the Party to state vis-à-vis society, and the private actors that also influence China's cultural sphere. Schneider shows that the discourse of the state of Chinese journalism is complex, and approaching this subject in a 'political control' framework is not only biased, but also far too narrow. "People assume it's a simple narrative," Schneider says, but leave out all the dynamics that contribute to the state of journalism in China today. Within journalism, there are now a myriad of players besides the State; think of companies as Sina News or Baidu, that have greatly influenced China's mass communication. Schneider advocates for a change in how we think about Chinese media. There is more than the Party and the State- there is an entire network of actors that collaboratively determine the dynamics of Chinese media today.
14:20
Daniela Stockman, writer of Media Commercialization and Authoritarian Rule in China, addresses the question of how Chinese media fits in the political system of today's China. Stockman does not believe in a one-way state-to-society power relation. Instead, she argues that the state and society can mutually reinforce each other, as long as the state can walk the fine line between tolerance and control – the state actually walks this line on a daily basis. There's a myriad of examples on how Chinese government is both maximizing control while bringing about more liberalization. It is the impact of market forces in the media that contribute to this mechanism of control and liberalization, Stockman says. Media marketization has boosted the credibility of today's journalism – because new media sources are branded in a certain way, people assume it is not propaganda and thus have more trust in these types of media. Chinese readers have a preference for 'non-official' papers, because they generally believe these are more credible than the 'official' ones. Note that Stockman says that there actually are no 100% 'non-official' papers, although they are addressed in this way. Stockman's research has pointed out that 'non official' papers are more effective in changing people's opinions due to their credibility, and in this way, somewhat contradictory, do help propagating authoritarian rule in China.
During the audience Q&A, Peter Gries, US-China Issues Director&Professor at University of Oklahoma, addresses his question to Hugo de Burgh, noticing that on one hand De Burgh is advocating for perceiving Chinese media in a balanced way – yet his own frame of reference in doing so is the demonization of Chinese media in the 'western world'. "How do you escape this political space that is central to this type of discourse?" Gries asks. Another attendee talks about how this conference has stressed the anglophone 'demonization' of Chinese journalism, and wonders if there is also such a phenomenon as the Chinese 'demonization' of Western media.
15.10-15.30 break, the final session on China's 21st century journalists will start after the break.
China's 21st Century Journalism: A Chinese View (Keynote Session)
15:30-17:00
Chair:
Garrie van Pinxteren
Speakers:
Wu Gang (The Global Times)
Michael Anti (Blogger & Internet Journalist)
15:40
Michael Anti (also known as Zhao Jing) internet journalist and renowned Twitterer (you can follow him on @mranti), starts off the keynote session by remarking how time is the biggest problem for scholars who write on China and media. Developments in China go too fast for scholars to keep up. "The academic world should work together with bloggers," Anti says.
"Weibo is no longer the Weibo it was. The Golden Days of Chinese social media ended in 2012."
China's Internet policies are getting stricter, Anti states. It has become easier for reporters and bloggers to end up in jail. Nevertheless, social media can change China to a more liberal and democratic society. "Sometimes we have freedom just because someone allows us to. When they don't allow it- the door is closed," says Anti. He explains that it is often allowed for netizens to criticize local governments. As long as one keeps to one rule: do not direct your criticism towards the central government. Anti calls the years up 'til 2012 the "Golden Years" of Chinese media- it was in these times (roughly from 2009-2012) that netizens enjoyed the most freedom to write what they wanted. Weibo is no longer the Weibo it once was- because of the implementation of new laws and online guidelines, people are scared to write what they want; they can be detained if the government decides their social content is not allowed. But China moves fast, Anti says, and we can now see that online movements are shifting from Weibo to Weixin (Wechat), where groups can connect and organize themselves in a more secret way. But, when netizens are quick, the government is quick to follow. Comments within the seemingly private Weixin app are already being checked by censors. This makes it harder for journalists to do their work. "My industry is dying," Anti says. The fear for detainment ("I have a very beautiful wife") has lead Anti to shift his focus towards international news, which is less censored by authorities.
"We are not innovative because of governmental censorship, we are innovative in spite of it."
Anti encourages the western audience to really interact with Chinese media: "We need your support to understand China better. You should not just read China Daily. Get a Wechat account. Engage with the Chinese people. Whatever the government does, Chinese people are nice. Like me." Ending his talk, Anti remarks the inventive nature of Chinese netizens and journalists: "We are not innovative because of governmental censorship, we are innovative in spite of it."
16:10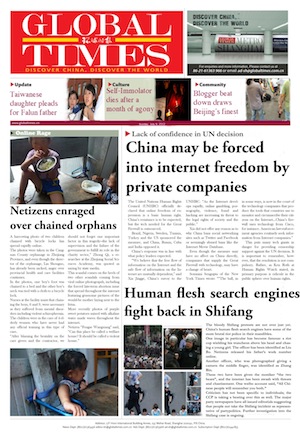 Gang Wu, news editor and deputy director at the English Edition of the Global Times, talks about the development of the Global Times and the complexity of Chinese media- news editors are often walking a fine line in deciding what (not) to cover. Wu tells about an important turning point in the influence of the Global Times in China. The year 1999 was important because of the bombing of the Chinese embassy in Belgrade. The event evoked many angry reactions from Chinese citizens, who threw eggs and stones at the US consulate in Beijing. ("I would've thrown a stone myself," Wu says: "But I couldn't find any.."). Global Times thoroughly reported on the developments of the story. Following the growing circulation of the Global Times, changes have been made in reports and decisions on what to cover, and how to cover it. Wu remarks how the attention is gradually shifting towards domestic news now, which is more controversial. "Talking about domestic politics is really dangerous," Wu states. He explains how writing about national politics, compared to covering international events, is always a tricky matter. In covering Chinese politics, the media source might be perceived as being a mouthpiece for the government, or of speaking against the government- which are both dangerous territories. Global Times does not want to speak for the government or the elite; it aims to speak for China's mainstream audience. 
The reality of Chinese media is that any media office can be closed at any time. Nevertheless, Global Times has had breakthroughs in reporting sensitive topics. Journalists have to be careful with the tone of their narratives, and sensitive news has to be taken step by step- in this way, the government, hopefully, can slowly get used to the pace of China's current media coverage.
16:50
"Who will arrest the government?"
During the Q&A, Wu Gang addresses the difference between himself and Michael Anti when speaking of Chinese media. Wu states that Anti is more critical than him about governmental issues. Wu Gang does have the hope and the belief that Chinese media and the government can collaborate and work side by side within the Chinese media landscape. Since the government is particularly strict about the publication of so-called 'false rumors', Wu feels that journalists need to be especially careful that the news they bring is absolutely factual. Anti expresses his dissatisfaction with China's law on the start of 'false rumors' – "what happens when the government says something which is not true," Anti says: "Who will arrest the government?" Democracy, Anti adds, actually suits any country. There are those who say democracy is not for China. "That is racist," Anti says: "Democracy is just as good for China as it is for any other country."
17:10
Huub Wijfjes, Professor of Journalism Studies and Media History at the University of Groningen, takes on the closing remarks. Today we have learned that from the western view, one tends to discuss Chinese media within one's own framework. 'Chinese media' is often seen as being identical to the governmental voice, and is associated with Party control. "There's more to Chinese media," Wijfjes says. We should look beyond propaganda and think deeper about how the Chinese media system works, without denying the fact that there is still authoritarian rule and dictatorship, deeply affecting the current landscape of Chinese media.
This live blog is now closed. For any remarks or questions, feel free to email at manya@whatsonweibo.com,
or contact the blogger through Twitter at @manyapan.
'Good Doctor', Digital Hospitals: How Mobile Apps Are Alleviating China's Healthcare Problems
With the rapid digitalization of China's healthcare, Chinese patients now have more ways than one to receive medical assistance.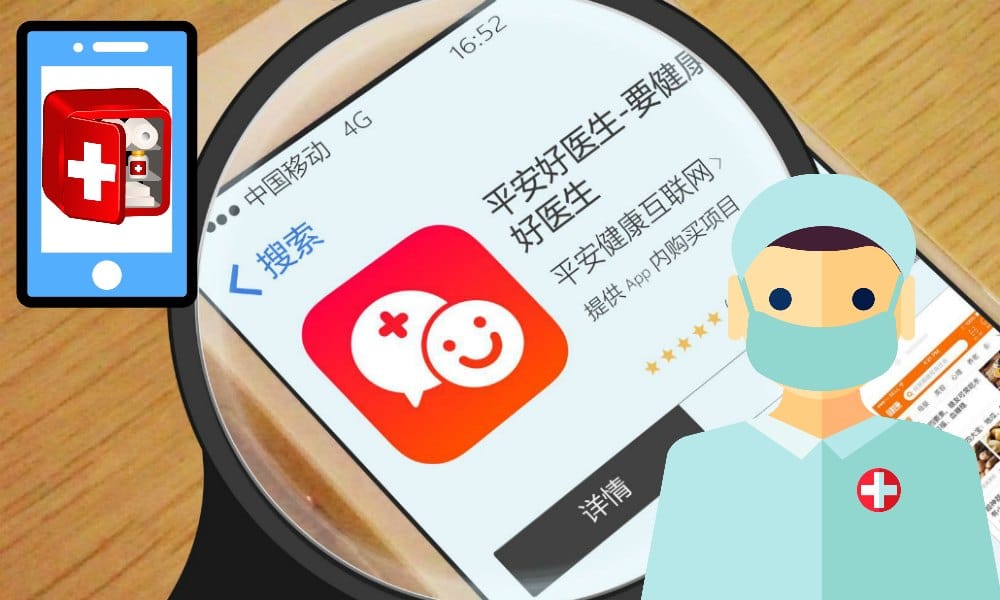 China's healthcare industry is facing some serious challenges. As Chinese society is rapidly digitalizing, mobile apps now provide innovative solutions to alleviate pressing problems in the country's health services sector.

This is the "WE…WEI…WHAT?" column by Manya Koetse, originally published in German by Goethe Institut China on Goethe.de: "Good-Doctor Apps und Digitale Krankenhäuser." 

Social Credit System, artificial intelligence, surveillance cameras; these are some of the hottest topics making headlines in mainstream Western media when discussing China-related developments recently.
With the rapid digitalization of Chinese society, these topics certainly have come to play a more important role in social media discussions within the People's Republic of China (PRC). But if there is one issue that seems to concern Chinese social media users the most, it is not facial recognition nor their 'Sesame score': it is the topic of healthcare.
In December of 2017, a photo showing a crying mother kneeling down beside a toddler on the sidewalk in front of a Shanghai hospital went viral overnight. The moment was captured on camera by a reporter who was visiting Shanghai's Children's Hospital.
The mother, Guo Yinzhen, is a single parent who had traveled from a remote village to seek medical help for her 3-old-son, who was suffering from congenital hydrocephalus or 'water on the brain.' Already having traveled to the city multiple times and spending all her money on medical bills, Guo could not afford the additional 100.000 yuan (€ 12.600) for medical procedures needed to save her son's life.
Guo's story struck a chord with Chinese netizens, who continue to share the heartbreaking photo on social media to this day. It has become emblematic of China's healthcare problems.
Crowded Hospitals and 'Healthcare Disturbance'
The key to an adequate healthcare system, no matter where in the world, is that there is a right balancing in the "iron triangle" of efficiency/cost containment, high quality care, and patient access.[1] China, however, struggles with all three sides of this triangle.
Guo's case is an extreme example, but many people in China dealing with less serious health issues and needing basic medical services also struggle to afford and access the healthcare they need.
Over 95% of people in China have health insurance, but people from different regions do not enjoy the same benefits and their out-of-pocket expenses can vary greatly. Uncovered medical costs can sometimes be catastrophic and simply unaffordable for patients and their families.
As more money flows are going to healthcare facilities in China's cities, there is also the issue of varying levels of providers' medical education and the overall healthcare quality, with the substantial majority of modern hospitals still existing in urban areas.
Easy access to the right kind of healthcare can be especially problematic for China's rural population, as people often need to travel long distances and have to go through the lengthy process of registering and waiting for their doctor's appointment, which sometimes requires them to stay in the city overnight.
For all of these reasons, China's bigger public hospitals can get super crowded, sometimes resembling shopping malls on an end-of-season sales day. On social media, both patients and medical workers often complain about the stress brought about by the huge crowds and the shortage of doctors in hospitals across the country.
Perhaps it is no wonder that China even has a word to describe outbursts of violence between patients and doctors: 'Yī nào' (医闹, literally: "healthcare disturbance").
One major problem within China's healthcare conundrum is the lack of local family or primary-care doctors, which often makes bigger hospitals the first stop to any kind of medical treatment for Chinese patients.
The reasons for this issue are manifold. There is a general lack of trust in private and smaller local healthcare clinics, for example, and patients often choose to go directly to a bigger hospital to avoid making extra costs.
This makes it extra difficult for many community health care centers – that are already struggling – to make enough money and to retain qualified staff. In a society that is rapidly aging, the challenges facing China's healthcare industry are only becoming more pressing.
A Doctor Today, Just an App Away
As China's online environment is thriving, new innovative online apps are popping up on a daily basis. Some of these apps, that have found their ways into China's most popular app rankings, are offering solutions to some of the country's most pressing healthcare problems.
One of these apps is Ping'an Good Doctor (平安好医生), which was developed by health insurance provider Ping'an in 2015 and calls itself China's "one-stop healthcare ecosystem."
Employing some 1000 medical staff in its in-house team, contracting over 5,200 external doctors, and collaborating with 3000 hospitals and thousands of pharmacy outlets across the country, the app is somewhat of an "online hospital."
Through the app, users can look through an online database of medical professionals, order medicine at nearby pharmacies, get 24/7 online medical consultancy, search for information about both Western and Chinese Traditional Medicine, etc., but they can also use Ping'an Good Doctor as a fitness app to track their own health.
When looking for a specific doctor for a one-on-one consult, the app first lets users select an area of expertise (e.g. dermatology or gynecology), and then offers a list of different specialists in various price categories.
Doctors from well-known hospitals, for example, or those with excellent ratings, have a one-time consultation fee of 100 yuan (€ 12,60). Other doctors can be consulted starting from 30 yuan (€3,70). All costs can be paid efficiently via online payment apps.
Ping'an Good Doctor uses an AI-driven system to ask patients various questions about their symptoms and to automatically create a user's medical record to save time. Based on the AI-generated record and the conversation with the patients – files such as photos can also be uploaded to the app -, the doctors can prescribe medicine or refer the patient to a hospital for an offline appointment if needed.
Ping'an recently announced that its number of registered users exceeded 300 million users, with 62 million monthly active users. Because the app keeps building on its AI-driven system, Ping'an Good Doctor can be expected to only become a 'smarter' smart health app the more popular it gets.
Although Ping'an is now leading within China's medical app category, there are many other apps providing similar services, such as Chunyu Yisheng (春雨医生), Haodafu Online (好大夫在线), or DingXiang Doctor (丁香医生).
The emergence of these apps is just one of the many ways in which China's digital developments, online media, and tech giants are impacting the healthcare industry, profoundly changing how patients receive healthcare information and access medical services now and in the future.
In a way, China's medical consultation apps fill the void in offline primary care. Patients who would otherwise turn to hospital care as their first stop can now  access medical consultations any time, any day, at a relatively low cost. Those who suffer from relatively harmless conditions could be diagnosed by a medical specialist via the app and get the medicine they need within a matter of minutes. With the growing popularity of these kinds of apps, many patients no longer need to visit a hospital at all.
Are smart health apps such as Ping'an Good Doctor the solution to China's healthcare problems? No, they're not. Struggling mums like Guo Yinzhen will not find the help they need there. But they do contribute to a more efficient healthcare environment where crowd flows in hospitals can be reduced, and patients do not need to spend a lot of time and money to stand in hour-long queues to get five minutes of their doctor's time.
Although smart health apps could not help Guo Yinzhen and her son, social media apps could. As soon as their story went viral in late 2017, Shanghai Children's Welfare Foundation Xiaoxingxin offered to cover medical treatments for the little boy, with a notable pediatric neurosurgeon operating the child. According to the latest updates, the boy's situation was "looking good."
Hopefully, the same holds true for the challenging sides of China's healthcare industry.
By Manya Koetse
Follow @whatsonweibo
[1] Burns & Liu, 2017: 3-4.
References/Linked Sources
Burns, Lawton Robert, and Gordon G. Liu. 2017. "Introduction." In China's Healthcare Industry: A System Perspective, Lawton Robert Burns and Gordon G. Liu (eds), pp-1-116. Cambridge: Cambridge University Press.
Economist, 2017. "China needs many more primary-care doctors." The Economist, May 11 https://www.economist.com/china/2017/05/11/china-needs-many-more-primary-care-doctors [20.10.19].
Zhou, Viola. 2018. "Does China Have Universal Healthcare? A Long (And Better) Answer." Inkstone, Oct 10 https://www.inkstonenews.com/health/china-translated-does-china-have-universal-health-care/article/2167579
This text was first published by Goethe-Institut China under a CC-BY-NC-ND-4.0-DE license (Creative Commons) as part of a monthly column in collaboration with What's On Weibo.
How Chinese Kuaishou Rebel 'Pangzai' Became a Twitter King
He's been called a 'Twitter king', but how did the unexpected online fame of this 'Hebei Pangzai' start?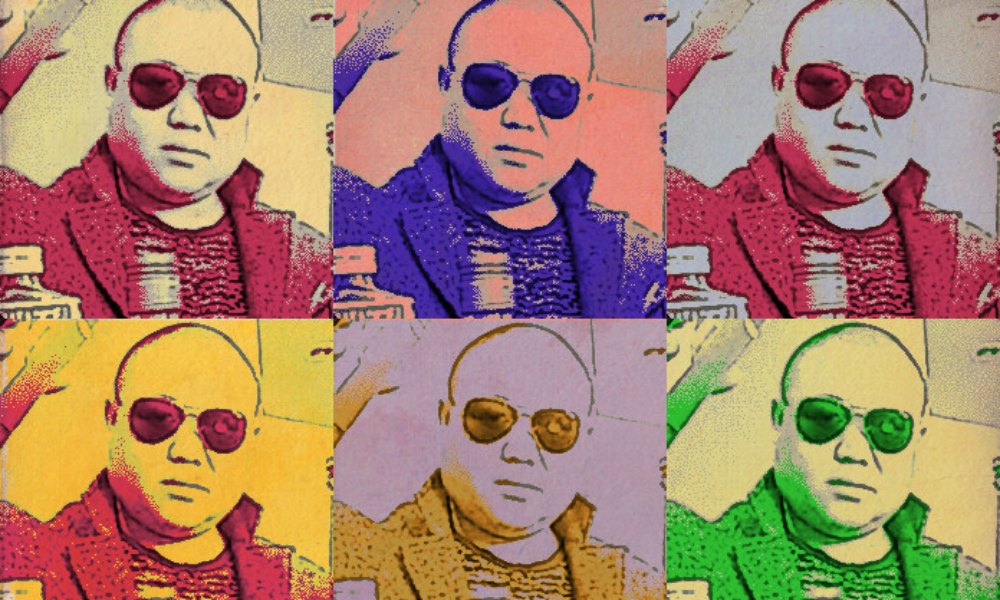 Twitter has fallen in love with a Chinese farmer after his drinking videos on Kuaishou were cross-posted abroad and went viral. He has embraced his new fans and Western social media, arguably becoming one of China's most successful cultural ambassadors of the year.
He describes himself as the "inventor of tornado beer drinking style" and as an "ordinary peasant from China." 'Hebei Pangzai' only joined Twitter in August of 2019, but he already has a Twitter following of more than 111.6K.
Although his account is temporarily restricted by Twitter at time of writing ("due to suspicious activity"), his popularity is only growing. Some Twitterers, such as the China twitterer Carl Zha (@CarlZha), are even initiating a "#FreePangzai campaign" to restore the account of the "one true King."

But where and when did the online fame of 'Hebei Pangzai' start?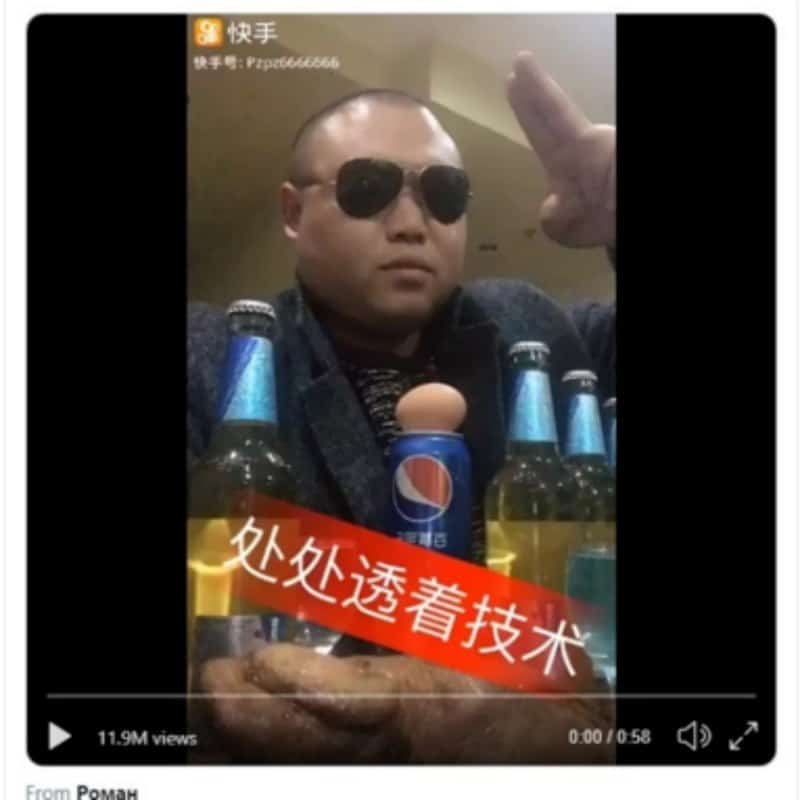 Let's begin our introduction to Pangzai with one tweet from March of this year, when Twitter user 'Hunnaban Trenchboss' posted a video from Chinese short video app Kuaishou (快手) showing a man – 'Pangzai' – wearing sunglasses and smoking a cigarette while preparing an incredible mixed drink.
The man in the video smoothly pops the cap off a bottle of beer with a chopstick, pours some in a large jar, then twirls the bottle and propels the rest of the beer in a tornado of force down his throat.
He follows that up by pouring in more beer, some blue liquor, an egg, some Pepsi, and a hefty glass of baijiu – which he dumps in only after lighting it on fire, igniting his finger, and coolly lighting his cigarette. He then chugs the entire concoction in a matter of seconds.
"How do I become as cool as this guy, The Coolest Guy?", the tweet said.
The same video was shared again in August by a few Russian accounts, was retweeted by an American account, and then went completely viral, racking up millions of views and tens of thousands of retweets.
That video has now been viewed almost 12 million times on Twitter, and has inspired tens of thousands of fans who herald him as 'king.'
The man in the video referred to as 'Pangzai' (胖仔, 'chubby dude') is Liu Shichao (刘世超), a 33-year-old farmer and small-time Chinese internet celebrity from a city called Xingtai in Hebei Province.
According to an interview with Technode, he found out about the video on Twitter when some of his new foreign fans opened Chinese social media accounts to find him and tell him about his overnight online fame.
"One message told me that I was a celebrity now in America," he told Technode: "So I chatted with the person [who sent the message] for a whole day, with the help of translation software."
Within two days of his video going viral, Pangzai had figured out how to use a VPN, opened his own Twitter account and started uploading videos.
He even posted a reply on the original viral video to alert everybody to his account.
Since then, Liu 'Pangzai' has amassed over 111,000 followers and has posted many more videos of everything from drinking, to cooking, to exploring his countryside hometown.
But it was the drinking videos specifically that earned him his following, both abroad and in China.
IT STARTED ON KUAISHOU
"Pangzai epitomizes the typical Kuaishou account."
Liu began his internet career three years ago on Kuaishou, a Chinese short video app massively popular among China's lower-tier cities and countryside.
In contrast to the polished, celeb-heavy platform Douyin, which is most popular among urban youths, Kuaishou is a platform for the masses. Its users are known for their crazy antics and general disregard for personal safety.
Pangzai epitomizes the typical Kuaishou account. Posting under the handle "Chubby Dude from Hebei" (@河北胖仔), he uploads videos of himself eating and drinking in eye-popping combinations, or sometimes smashing things – from bricks to unopened water bottles – with his bare hands.
Liu also gained notoriety, and a couple hundred thousand followers, from his mastery of the so-called 'beer tornado technique' (小旋风 xiǎo xuànfēng).
According to an interview with the BBC, he peaked at 470,000 followers on Kuaishou and was monetizing his online fame with some 10,000 RMB ($1420) per month.
Unfortunately for Liu, China's Cyberspace Administration announced a crackdown on vulgar and illegal content across multiple social media platforms in spring of 2018, with a focus on Douyin, Kuaishou, and its sister news company Jinri Toutiao. Kuaishou was pulled from app stores until it cleaned up its act.
It is unclear just how many videos and accounts have been removed as a result of the cleanup. We can get a rough idea from an announcement by Kuaishou earlier this year that in March of 2019 alone, it removed an average of over 11,000 videos and blocked almost 1,000 accounts every day.
The result for Liu was that his account was suspended for four months and the majority of his most popular videos, including the one that went viral abroad, were removed for promoting 'unhealthy drinking habits.'
When you look at his Kuaishou account today, you won't see many videos focused solely on baijiu and beer chugging.
The videos that remain on his account do include drinking (and his signature tornado move) but it is always accompanied by eating food or some other activity (such as sitting deep in a field of corn, munching on roast duck and dribbling baijiu down a corn leaf into a glass.)
Liu still has 354,000 followers on Kuaishou. His Chinese fans, like his foreign ones, marvel at his cool and collected manner as he eats and drinks all sorts of disgusting things.
Canned herring features heavily in his most popular recent videos, where he can be seen sipping the juice directly from the can.
"This has to be the most unaffected anyone has ever been by eating canned herring," says one fan. "The flavor is disgusting! 99.9% of people who try this would vomit," another online commenter replies.
AN UNEXPECTED TWITTER KING
"Liu is like many young men from the countryside of Northern China: open, friendly, humble, and genuinely excited to share his life."
This year, Liu seems to have embraced his newfound international stardom with grace and savvy.
He uses Twitter's in-app translation to help him communicate with fans and has been highly interactive on the platform.
Liu 'Pangzai' was also quick to open up a Paypal account and share it with followers, and has recently made YouTube and Instagram accounts to prevent scams pretending to be him. He has also collaborated with a Twitter fan to sell T-shirts online in America.
Many online fans have dubbed him 'king', perhaps the highest praise one can receive on the internet today.
But in contrast to the sunglasses and chill demeanor of his videos, Liu does not appear to be an internet celebrity overly obsessed with being cool.
Instead, he is like many young men from the countryside of Northern China: open, friendly, humble, and genuinely excited to share his life (and drinking habits) with the rest of the world.
After reposting all of his old drinking videos from Kuaishou, Liu started asking Twitter fans what they would like to see from him. Many responded that they wanted more about his life in rural China.
He has since followed up with videos showing him fixing a pipe with his friends, exploring his local market, cooking sweet potatoes, and, of course, a tutorial on how to master the 'tornado beer' technique.
Many have expressed concern for his health in light of his drinking habits, but he has assured everybody that everything he does is "within his ability" and that he doesn't drink like that very often.
Liu is grateful for all the support and praise he has received from abroad. "It's crazy to have all of these foreign friends all of a sudden," he recently said in an interview with Deadspin: "I really have to thank them a lot. If I have a chance I will find them and we can drink together."
Seemingly to that end, Liu has recently organized a party to be held near his hometown in China, exciting fans all over the world and spurring many to apply for passports and visas.
The date is set for December 14, 2019 in Zhuamadian City, Hebei Province; too soon for many to make it, but he promises another party in the spring. There is talk also of organizing a visit for Liu 'Pangzai' to go to America.
WINDOW INTO CHINESE SOCIAL MEDIA
"Liu's growing notoriety abroad seems to have flown completely under the radar of the Chinese internet."
Although there are many vloggers like Pangzai in China, he stands out on Twitter as some sort of window into Chinese social media, especially because this online world is usually so separate from the Western realms of social media.
The recent explosive growth of Chinese social media apps such as TikTok has not done much to facilitate this kind of cultural interaction between China and the West.
Although Tiktok is, in fact, a Chinese app (called Douyin 抖音 in China), there are actually two different versions of the same app in mainland China and abroad, meaning that the other 'Pangzais' of the Chinese internet still remain within the social media spheres of the PRC, rarely gaining fame outside of the Great Firewall.
In China, aside from his fans on Kuaishou, Liu's growing notoriety abroad seems to have flown completely under the radar of the Chinese internet. He is mentioned only one or two times across Weibo, and searches for his name and handle on WeChat, Baidu, and various Chinese tech news sites bring up nothing.
Liu is a rare example of genuine soft power coming out of China. A pure, grassroots man of the people with strong cultural appeal who sincerely enjoys sharing his life and his culture with the rest of the world. His tweets are full of affection and appreciation for his fans, as well as frequent prompts for followers to share their own lives and customs of their home countries.
To watch his introduction to Twitter and rise to fame is to see the best of the internet: cultural interaction, genuinely shared delight, and mutual admiration inspired by hilarious antics caught on camera.
His Twitter fans express their hope that Twitter Support will soon lift the temporary ban on their 'Twitter king.' To them, it's perfectly clear: this online king is nowhere near dead, long live Pangzai!
Follow the #FreePangzai hashtag on Twitter.
Update: Panghaizi is out of Twitter jail!

Want to read more about unexpected online celebrities from China? Also see:
The Story of Two Farmers Who Became Internet Celebrities;
The "Vagrant Shanghai Professor";
From Farmgirl to Fashionista: Weibo Celebrity Fairy Wang.

By Jessica Colwell
Follow @whatsonweibo
It's almost Black Friday! We've already listed the best VPN deal for you here.
Spotted a mistake or want to add something? Please let us know in comments below or email us. First-time commenters, please be patient – we will have to manually approve your comment before it appears.
©2019 Whatsonweibo. All rights reserved. Do not reproduce our content without permission – you can contact us at info@whatsonweibo.com.