China Does Not Allow Single Women To Freeze Their Eggs
Since a Chinese actress stated that she had her eggs frozen in the United States, an online discussion has erupted in China about the legality of single women freezing their eggs. Famous writer Han Han responds on Weibo: "Why are women not allowed to use their own eggs?"
Since a Chinese actress stated that she had her eggs frozen in the United States, an online discussion has erupted in Mainland China about the legality of single women freezing their eggs. Famous writer Han Han responds on Weibo: "Why are women not allowed to use their own eggs?"
"Manya, perhaps you should write about this," my Beijing friend Lily texts me on Weixin: "I have been discussing this with some of my friends today, and it is somewhat of a sensitive topic." She sends me an article that has been making its rounds on China's bigger social media platforms, such as Sina Weibo and Weixin. It is titled "China Does Not Allow Single Women to Freeze Their Eggs" (中国禁单身女性用冷冻卵子), and has triggered much controversy.
Lily has passed her 30th birthday and is not married yet. She is also labelled a 'leftover woman' or 'shèngnǚ', and laughs when she calls herself that way. She may want to have a child in the future, but first wants to go abroad and work on her career. For her, the issue of being able to freeze her egg cells, whether she is married or not, is a relevant one.
"Suddenly artificial insemination is an issue of public interest – unmarried women in China cannot carry out this procedure. "
The online discussion about freezing eggs started after Chinese actress and director Xu Jinglei (徐静蕾) stated in an interview that she had nine eggs frozen in the United States in 2013, at the age of 39. She calls her frozen eggs a "back up plan", in case she will not find a suitable husband and regrets not having children. The news of these frozen eggs attracted the attention of many of China's single women who may want to have a child some day. It has suddenly made artificial insemination an issue of public interest, especially because China's National Health and Family Planning Commission stated that unmarried women in China cannot carry out this procedure.
More specifically: although single women in China technically can have their eggs frozen (if they have the money for it), they will not be able to have them inseminated unless they provide three certificates: their identification card, their marriage certificate, and their 'zhunshengzheng' (准生证 ) – the 'Permission to give Birth', which will not be issued without the marriage certificate. In short: single women will not be able to have a baby through artificial insemination, because they will never get the required legal papers to go through with the procedure.
Famous Chinese blogger and writer Han Han (韩寒), one of the most influential people on Weibo, shares his thoughts on the issue. "Is it impossible to want a baby when you are not married? One cannot use one's own eggs?", he writes: "Why can't women decide on their own whether or not they want to have children? And what if an unmarried woman does get pregnant, and they don't get a 'Permission to give Birth'? Then the child cannot even get a residence registration".
"Why should having a baby be bound together with being married?"
With his Weibo post, Han Han strikes a particularly sensitive chord, not just because he addresses the issue of freezing one's eggs and artificial insemination, but also because he raises questions about China's 'Permission to give Birth'. This certificate is necessary for the vast majority of people who want to have a baby in China. Without it, the child will not have a residence permit (hukou 户口), and as a consequence, will not be registered in China's social system – meaning they cannot go to school or have any other societal rights. (For more information, read this excellent blog about giving birth in Chengdu by ChengduLiving.com).
Artificial insemination itself is not illegal in China when it is done by a married couple; it is only against the law when done by those who are not lawfully married.
"Why should having a baby be bound together with marriage? Even I, a simple straight guy, cannot see the logic in this," Han Han writes.
"Women are not men's child-rearing machines or walking wombs."
He later adds another post to this. It says:
"Some people don't agree with my Weibo post, saying that children should have a stable family and that they should be raised with a father, and that they'd be miserable otherwise. Of course, such a mainstream family is best, but we also have to give the right of choice to the people who are not mainstream. Besides that, being married now doesn't mean you will not divorce later, just as unmarried mothers might find a husband. Don't take away the freedom of choice from those who have different ways of thinking than you (…). Women are not men's child-rearing machines or walking wombs."
The issue of being able to freeze one's eggs and Han Han's reaction have become a much-discussed topics on China's social media.
Freezing one's egg cells, like IVF, officially falls under the category of 'human assisted reproductive technology', which is reportedly prohibited for single women according to China's current law. User Zhao Lao Ai refers to a Zhihu message board on the issue, where lawyer Ji Hongwei says that he has not found any legal ground why freezing eggs should be illegal for single women. "After reading into the issue carefully," the lawyer says: "I did not find any one of the conditions for 'human assisted reproductive technology' stating directly, or indirectly, that unmarried single women cannot make use of it." The lawyer therefore wonders who is in charge of the Family Planning Commission, and on which law the conclusion is based that single women cannot have their own eggs inseminated.
The feminist group The Voice of Women's Rights has issued a balanced and nuanced statement on Weibo, saying: "There are many social implications behind the pressure for women to bear children, and they cannot merely be solved through technical procedures. Freezing eggs is a costly and risky operation, with low success rates, and it does not necessarily brings women freedom in terms of child-bearing. However, it should be one of the options that women have."
Some Weibo users are less nuanced, clearly expressing their anger, saying: "Even in ancient times it was not illegal for women to be single mums – now there is family planning or a two-child policy, but you cannot control our wombs by the freezing eggs issue!"
"This is China, deal with it."
Of the ten thousands netizens that responded to the issue, there are also many who disagree with Han Han, and those who simply state that "this is how China works, deal with it."
For my friend Lily, the issue is simple. "I don't know where I will be in five, six years time. I don't know if I'll be married. I don't know if I want children. I don't even know if I would want to freeze my eggs. I only know that I want the freedom to be able to make the decision."
By Manya Koetse
Follow @WhatsOnWeibo
Image by Global Times.

©2015 Whatsonweibo. All rights reserved. Do not reproduce our content without permission – you can contact us at info@whatsonweibo.com.
Online Outrage over Gansu Female Medical Workers Required to Shave Their Heads
Heroes of the coronavirus crisis or victims of visual propaganda? A video showing female medical workers having their heads shaved has triggered controversy.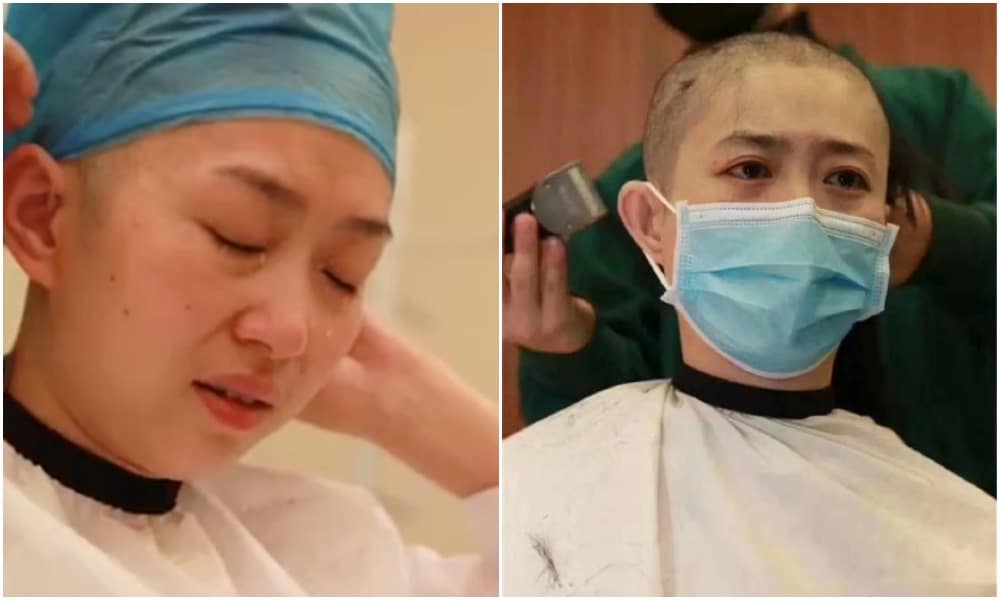 First published
A Chinese media post praising female nurses for having their heads shaved has sparked outrage on Weibo and WeChat. Are these women heroes of the coronavirus crisis or victims of gendered visual propaganda?
A video showing tearful female medical workers having their head shaved before going to COVID-19 epicenter city Wuhan has sparked outrage on Chinese social media.
The video, originally posted by Gansu Daily (每日甘肃网) on February 15, shows how a group of female nurses is standing in line to have their hair shaved off in preparation of their mission to Hubei to assist during the ongoing coronavirus crisis.
In the short segment that has since gone viral on Weibo and WeChat, some women can be seen crying while having all of their hair shaved off.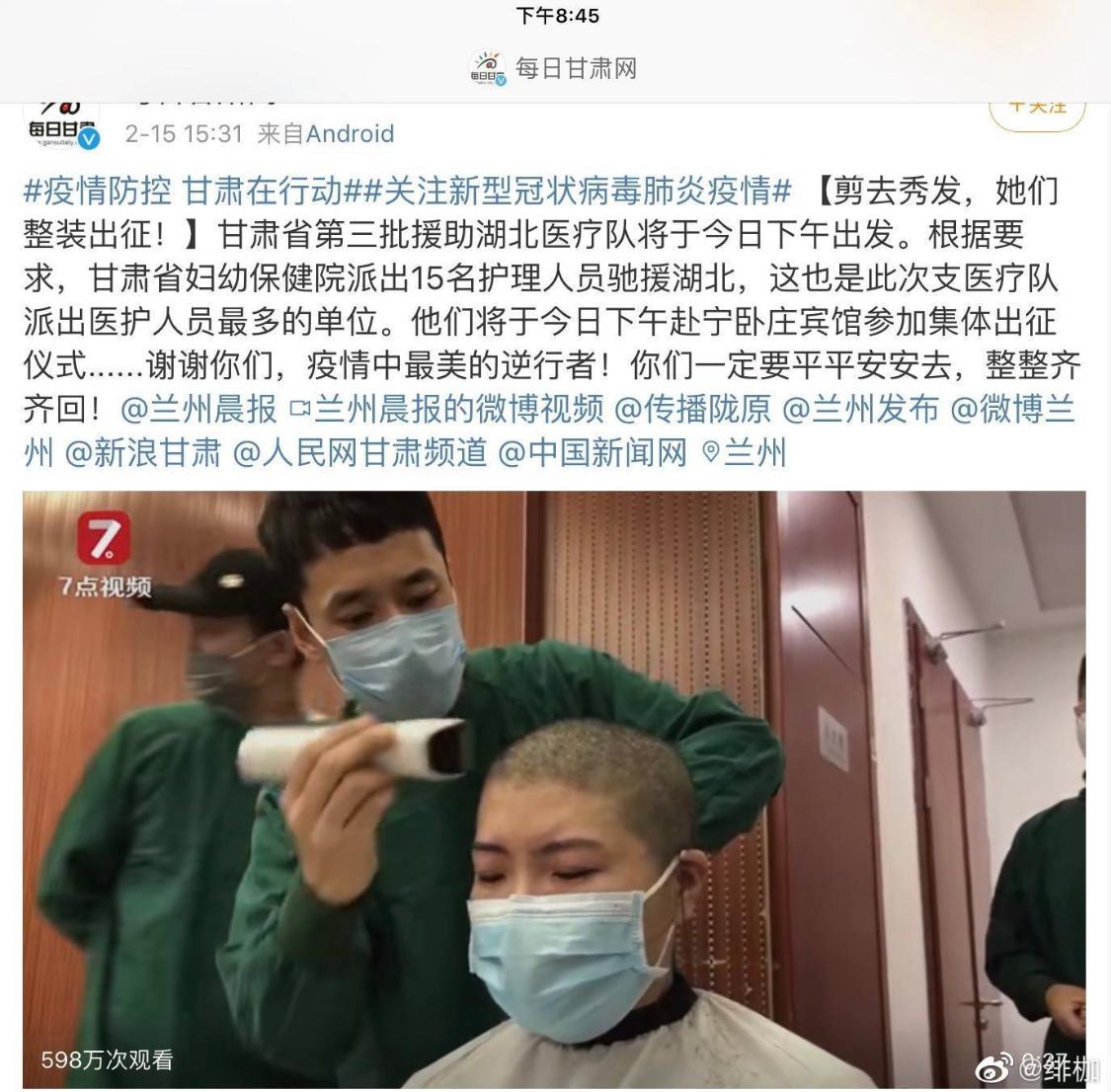 According to Gansu Daily and other Chinese media, the fifteen nurses, including one man, are part of a medical aid group that was sent out to Wuhan this weekend. Their hair was reportedly shaved off "in accordance with requirements" to make their work more efficient and reduce the risk of infection.
The original news post praises the women as "the epidemic's heroes in harm's way" ("疫情中最美的逆行者") – a term also used to describe brave firefighters during the 2015 Tianjin explosions (for more background on this term in Chinese, also see Xinhua and Zhihu).
Although the story praises the female medical workers as heroes and was soon reposted and promoted by many other (state) media, it was not just met with positive reactions from Chinese netizens.
On the contrary: it triggered waves of criticism over the medical team's supervisors requiring the women to shave off their hair, with many deeming the measures unnecessary, humiliating, and sexist.
"Why do they need to shave all of their hair, the men don't even need to do that?!", some Weibo commenters wonder.
Many Weibo users wonder how necessary it actually is for the women to go completely bold for medical work purposes, wondering why the male workers do not need to shave their heads and why the women could not just opt for a shorter hairstyle instead – suggesting the media circus surrounding the shaving of the heads is more about visual propaganda than actually being a necessity.
"I am a medical worker myself," one Weibo user writes: "I consulted an infection control doctor [on this matter] and they said it is not necessary at all to have a bald head. Short hair is convenient enough, and hair has a protective function too to reduce [skin] irritation from the friction of wearing hats and masks. It furthermore also has a function of catching sweat, preventing it from dripping to your eyes. A shaven head does more harm than good."
"Why do people need to bleed and cry in order for them to become heroes?", others say: "This is just cruel."
Adding to the online fury was a photo showing the group of medical workers after their heads were shaved, as the one male nurse in the group not only seemed to wear a better quality face mask, but also appeared to have much more hair left than the female nurses.
The original Gansu Daily post has since been deleted from social media.
On WeChat account Epoch Story ("epochstory2017″/Epoch故事小馆), author Chen Mashu (陈麻薯) posted a critique on February 17th titled "Please Stop Using Female Bodies as Propaganda Tools" ("请停止用女性的身体,作为宣传的工具").
Recent online Chinese visual propaganda in times of the coronavirus crisis has seen a strong focus on Wuhan medical workers.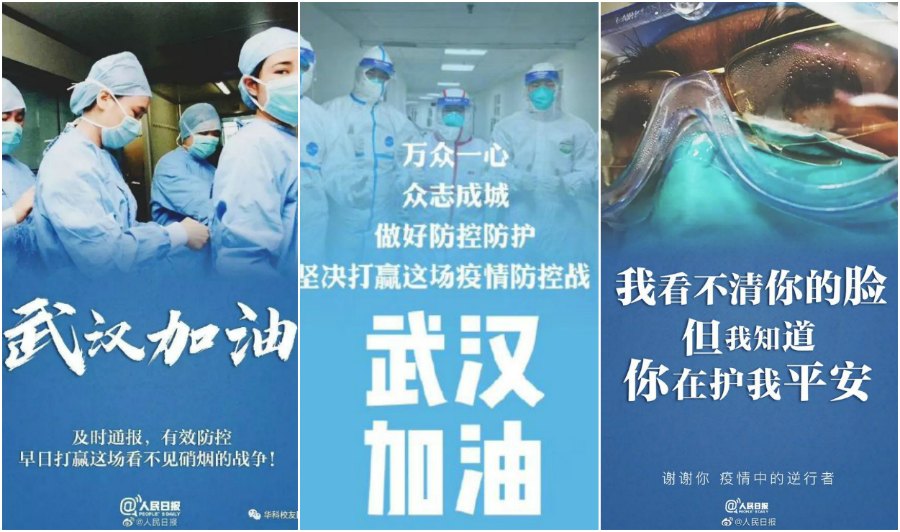 This kind of visual propaganda often highlights the idea of "sacrificing," especially when it comes to women as pretty girls, loving mothers, or good wives.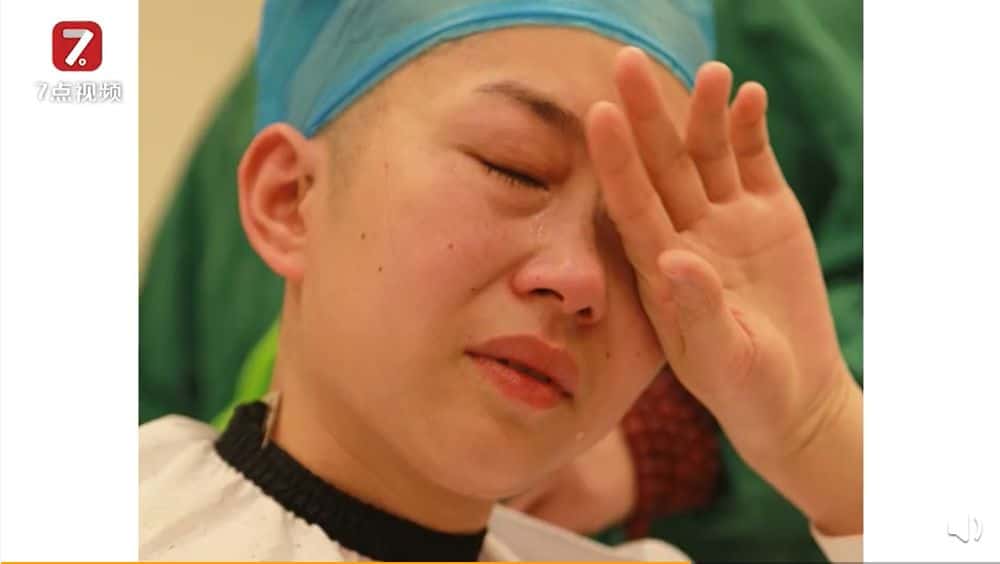 In the WeChat article, author Chen argues that Chinese state media always uses women's bodies as a tool for propaganda, and argues that it should not be necessary for women to endure extra hardship or suffering (in this case, sacrifice their hair) in order to make them admirable 'model workers.' The fact that they are fighting on the front line should be more than enough reason to praise them, Chen writes.
While these women's tears were "used to try to impress the audience" and become an example of some "collectivist spirit," Chen argues, this kind of propaganda backfired because the individual needs and wishes of these women were completely ignored during the process.
Although the original story and visuals may have meant to be empowering in times of coronacrisis, they are actually counterproductive to female empowerment at large.
This is not the first time the role of women in Chinese state media propaganda become a big topic of discussion online.
In 2016, a photo series titled "100.000 soldier-loving girls" (十万恋军女孩) posted by China's Military Web during the Wuhan flood also caused controversy. In the online media campaign, Chinese state media paid a 'tribute' to rescue workers by sharing pictures of girls holding the message "I wish to wash your uniform for you". It triggered online discussions on the submissive female image propagated by Chinese state media.
At time of writing, various posts about the shaved heads of the Gansu medical workers have been taken offline.
For more COVID-19 related articles, please click here.
By Manya Koetse (@manyapan) and Bobby Fung (@bobbyfungmr), with contributions by Miranda Barnes
Spotted a mistake or want to add something? Please let us know in comments below or email us. First-time commenters, please be patient – we will have to manually approve your comment before it appears.
©2020 Whatsonweibo. All rights reserved. Do not reproduce our content without permission – you can contact us at info@whatsonweibo.com.
Girls' Charity Project Funds Boys Instead: Online Anger over 'Spring Buds Program'
The 'Spring Buds' charity supposedly only focused on helping girls, but it turns out this is not the case.
First published
A charity fund that was supposedly dedicated to girls' education in rural China has been found to fund the education of boys, triggering anger online.
The Chinese charity "Spring Buds Program" (春蕾计划), a project meant to advance girls' education launched by the CCTF (China Children and Teenagers' Fund 中国儿童少年基金) has come under fire for providing financial aid to schoolboys in China.
The "Spring Buds" project, which falls under the All-China Women's Federation, has received the China Charity Award in the past for its efforts to promote girls' education. The program was launched in 1989 to help girls in China's impoverished rural areas to go to school, improve literacy rates among China's young girls and women, and empower girls to strengthen their influence in their local communities.
This week, the charity's focus has come under scrutiny after it became known that of the 1267 students receiving financial aid as part of one of 'Spring Buds' scholarship programs, there were 453 male students.
The topic triggered wider online discussions on Chinese social media on gender inequality in China.
Some commenters argued that boys, even in impoverished areas, are generally still better off than girls due to a persisting gender preference for boy children.
Weibo users also pointed out how there are multiple non-gender specific charity programs in China, and that 'Spring Buds' is one of the few focused on girls only – arguing that it should thus also really be assisting solely girls.
As the news about 'Spring Buds' coincided with this week's launch of the Global Gender Gap Index report, some Weibo users also wondered why Chinese official media would quote this report and mention Japan's worsening gender equality, while not mentioning anything about the status quo of gender equality in China.
The CCTF responded to the controversy via their official Weibo account on December 17th, stating that although its program was initially focused solely on girls, this year's project funding was also allocated to impoverished male students who needed "urgent help."
The organization further noted that they will be more transparent to charity donors in the future about how their funds are allocated.
Although the hashtag "Anger over Spring Bud Project Subsidizing School Boys" (#春蕾计划资助男生引质疑#) was used on social media by several Chinese media outlets to report the issue, the hashtag page is no longer accessible on Weibo at time of writing.
By Manya Koetse and Miranda Barnes
Follow @whatsonweibo
Featured image photo by Ray Chan.
Spotted a mistake or want to add something? Please let us know in comments below or email us. First-time commenters, please be patient – we will have to manually approve your comment before it appears.
©2019 Whatsonweibo. All rights reserved. Do not reproduce our content without permission – you can contact us at info@whatsonweibo.com.