Not 'Leftover Women' but 'Leftover Men' Are China's Real Problem
China's single young women have been put in the spotlight by Chinese media for years. But the "leftover men" are China's real problem.
China's single young women have been put in the spotlight by Chinese media for years. But according to the state-run Xinhua News, it is not the women, but the single men that are China's real problem.
"Leftover women are no cause for concern – it is the 'leftover men' that are China's real crisis", Xinhua News and Beijing News write earlier this week.
"Marriage as a traditional institute is of great significance and value, but it should not be the way to measure a woman's worth in today's era," the article states. Although it has been the unmarried young women, often called 'leftover women' (shèngnǚ, 剩女), who have been singled out by Chinese media, the article says that it really is the single men, referred to as 'leftover men' (shèngnán, 剩男) that are at the center of China's "marriage crisis."
"The so-called 'leftover women crisis' is not a crisis at all"
Statistics point out that for China's post 1980s generation, there are tens of millions more men than women of marriageable age. At the peak of the disparity in girls and boys births in 2004, 121.2 boys were born for every 100 girls. Nevertheless, the 'leftover men' problem has not been covered as much by Chinese media, while 'leftover women' have been the targeted by media for years.
The great attention for China's 'leftover women' is because women are perceived differently than men, Xinhua explains. The focus on single women relates to existing ideas in Chinese culture about the 'ideal' marriage age for women (25-28 years old). When a woman is still not married in her late twenties or early thirties, she is already considered a spinster. Single men often do not suffer the same familial and societal pressure as the shengnü, and are less stigmatized in the media. Generally, it is more acceptable for men to get married at an advanced age.
The 'shengnü phenomenon' has turned into a public issue: as these single women are postponing marriage and family life, it gets more difficult for China's unmarried men to find a wife. The leftover women phenomenon has therefore also been labeled a 'shengnü crisis' (Koetse, forthcoming).
But, Beijing News writes, if you leave the gender bias aside, the so-called 'leftover women crisis' is not a crisis at all. If one looks at China's single women and single men, there is a huge gap in their background and situation. The 'leftover woman' generally refers to a relatively successful "urban, professional female in her late twenties or older who is still single" (Fincher 2014, 2), who has the "three highs" (三高): high income, high education and high IQ. But 'leftover men' are at the other side of the social spectrum, as they generally have the so-called "three lows" (三低): low income, low education and low IQ.
If China's 'leftover women' get married late or do not get married at all, they will still be capable of living a prosperous and decent life by relying on their own abilities and efforts. "Women do not need to establish their societal worth through getting married," Xinhua writes, therefore concluding that China's 'leftover women' are "nothing to worry about".
"'Leftover Men' are an important factor threatening the stability of Chinese society"
China's 'leftover men' phenomenon is more worrisome; it is expected that there will be a surplus of 30 million Chinese men of marrying age in 2020. This suggests that one in five men will not be able to find a bride (Lake 2012): a potential crisis.
The 'leftover men' and the Xinhua article have become a hot topic on Sina Weibo under the hashtag of "the leftover men crisis" (#剩男才是危机#). "It seems that the majority of the 'leftover men' are losers," Weibo user Lili Zhouzhou says: "They are an important factor threatening the stability of Chinese society. That is why they require our attention."
Many Weibo netizens argue for more attention for China's 'leftover men problem': "This is a topic that really interests me," user Sisi writes: "In this patriarchal society, it is always women who are targeted when it comes down to marriage. The standard of success for men is measured by their career, for women being successful means being married. This way of thinking is not in line with our current society. If we measure a man's success by also weighing in marriage, and measure a woman's success by also weighing in her career, then we can come to a more equal value system of measuring success".
"The marriage market is cruel," user Huangxiaoguzai28 says. "The topic of 'leftovers' surely is biased, but men are only left behind on the marriage market for one reason: because they are not good enough, and cannot live up to the requirements." Another user adds: "It seems that the majority of single women are single because their standards are too high, and the majority of single men are single because there are too many single women with high standards."
"In this world, nobody is 'leftover' by being unmarried"
Although many Weibo users propagate more media focus on 'leftover men', there are also many who dislike the term. But no matter what you call them, the unmarried men of China are a very real problem, that has mostly emerged as a consequence to China's one-child policy and the traditional preference for boys, that have led to illegal sex-selective abortions.
China has an abnormal absence of women compared to other countries. The government has realized that the surplus of men is forming a real problem, and is reviewing its policies. Sex selective abortions have been illegal in China for over a decade, and clinics and hospitals are tightly controlled now. The Chinese government has launched several propaganda campaigns to convince citizens girls are just as good as boys (such as the 2003 "Care for Girls" campaign) (Hudson 2010, 72).
It is also expected that China's one-child policy will soon turn into a 'two-child policy'. For many couples, those of ethnic minority or those living in rural areas, it was already possible to have a second child if their firstborn is a girl.
Although these policies are promising for China's new generations, the post 80s men will still have to deal with their single status and lack of women. Many of China's single men therefore resort to paying for wives from other Asian countries, such as Vietnam or North Korea.
Weibo user Jay calls for the altogether abandonment of the 'leftover' term: "What's the use of applying these 'leftover men' and 'leftover women' terms? In this world, nobody is 'leftover' by being unmarried. Marriage is not a way to measure people by."
By Manya Koetse
Follow @WhatsOnWeibo
References
– Fincher, Leta Hong. 2014. Leftover Women: The Resurgence of Gender Inequality in China. London & New York: Zed Books.
– Hudson, Valerie. 2010. "The Missing Girls of China and India: What is Being Done." Cumberland Law Review 41:67-78.
– Koetse, Manya [forthcoming]. "From Woman Warrior to Good Wife – Confucian Influences on the Portrayal of Women in China's Television Drama." In Stefania Travagnin (ed), Religion and Media in China. New York: Routledge.
– Lake, Roseann. 2012. "All the Shengnu Ladies." Salon (March 12th). Online at http://www.salon.com/2012/03/12/all_the_shengnu_ladies/ (Accessed March 16, 2013).
– Xinhua News. 2015. ""剩女"不足为虑,"剩男"才是危机." Xinhua News, July 27, http://news.xinhuanet.com/comments/2015-07/27/c_1116044841.htm [28.07.15].
– Image by Manya Koetse, Beijing.
©2015 Whatsonweibo. All rights reserved. Do not reproduce our content without permission – you can contact us at info@whatsonweibo.com.
How Social Media Is Speeding Up Zhengzhou Flooding Rescue Efforts
Chinese social media are speeding up local rescue efforts after Zhengzhou saw the heaviest rain in 1,000 years.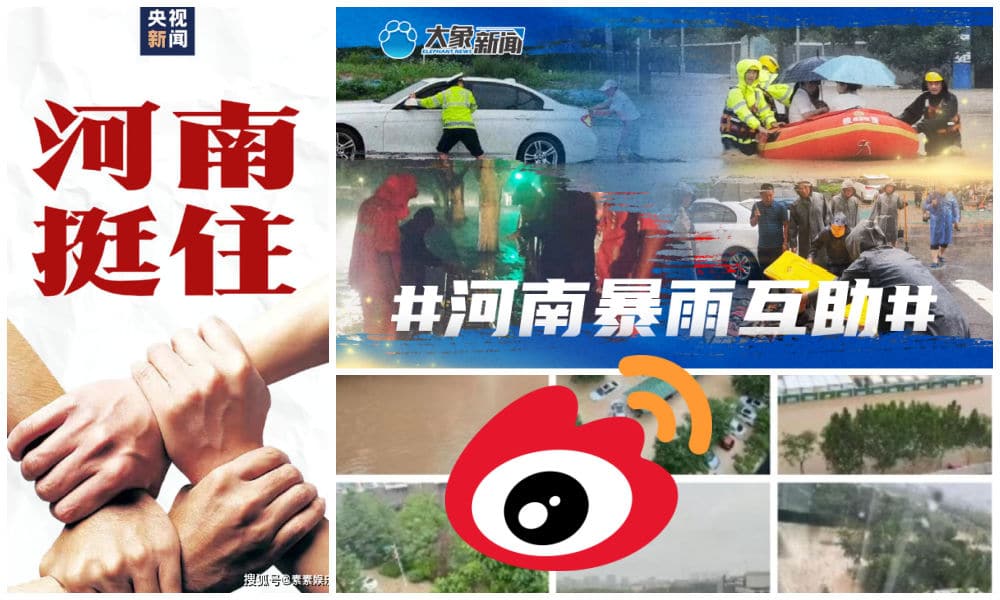 Social media is utilized as a tool in the response to the floodings in Henan province. Once again, Weibo facilitates active public participation to provide immediate assistance to the people facing this natural disaster. 
On Tuesday, July 20, heavy rainfall caused major disruptions in the central province of Henan. The amount of rain over the last three days in Zhengzhou is reported to be the same as what it would usually receive in an entire year.
It is reported that Henan Province has initiated the highest-level emergency response to floods, and China's State Flood Control and Drought Relief Bureau has dispatched a workgroup to Henan, initiating level III emergency response rescue work.
Since the evening of July 20, news and information streams on the heavy rains and floods have been dominating Chinese social media. In the midst of the disastrous events, Weibo has become an online space for people seeking help, those disseminating information on available resources, and for other related activities that help netizens engage in emergency management and accessing information.
The volume of such messages is huge, with thousands of netizens seeking ways to help speed up rescue work and actively contribute to the emergency relief efforts.
The organically improvised response protocol on social media includes the following guidelines:
Verify, summarize, highlight, and spread online help requests posted by people from different locations
Remind people to delete help-seeking posts once they have been rescued or have found assistance.
Disseminate relevant knowledge relating to emergency care and response, and public health information, such as how to deal with different disaster scenarios, warning people about the safety of drinking water during floods, etc.
Share information regarding mental health and psychosocial support during the different phases of the disaster.
When posts of people trapped by the heavy rain started to be published on Weibo, many online influencers, no matter what subject they usually focus on, participated in spreading help-request posts that were not getting a lot of online attention.
Erdi 耳帝, a music influencer with nearly 15 million fans on Weibo, has been retweeting the online posts of people asking for help since the night of July 20.
An example of such an online emergency help request (求助贴) is the following post of July 21st, 17:15 local time:
"Our entire neighborhood is cut off from water and electricity, the water level is rising to chest level, and we currently have no drinking water at the moment. Need help urgently.
Status: Verified, pending rescue.
Seeking help: Wu M**, phone 13*****27
Number of people to be rescued: five or six thousand
Location: Zhengzhou City, Henan Province, Zhengdong New District, Shangdu / Xuzhuang Street intersection, east courtyard of Shangdu Jiayuan Muzhuang district (we can't exit the building, there is no water, no electricity, no supplies, and it's been 24 hours)"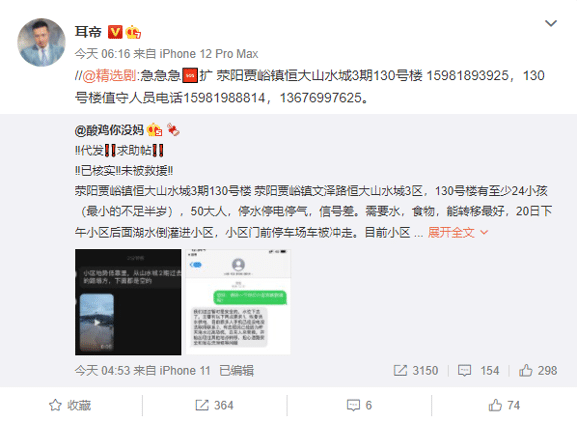 Some Weibo users engage in organizing scattered online information in one single post, e.g. posts regarding local electricity leakage, making this information more accessible and easier to understand.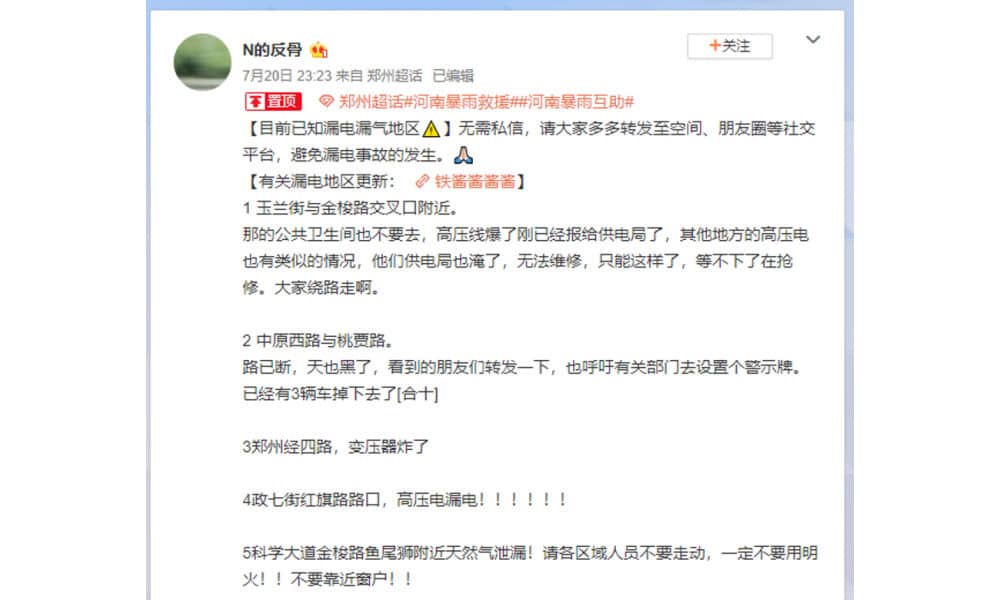 One post that was among the top-shared ones this week, is a picture that includes contact information of rescue teams of both officials and civilians. When realizing that some people were unable to upload the picture due to poor internet connections caused by the heavy rain, an up-to-date and full-text version was quickly shared by netizens.
Some Weibo users listed various methods to get assistance for hearing-impaired and deaf-mute people affected by the floods, advising people to download various apps to help to communicate and translate.
Besides the more general practical advice and emergency action plans shared by Chinese social media users, there are also those who pay attention to the importance of personal hygiene during these times. Some are sending out information about menstrual hygiene needs during floods, reminding women to frequently change sanitary pads and try to keep the genital area clean and dry due to the risk of infection. A hashtag related to menstruation during the flooding momentarily ranked fifth in the top search lists (#河南暴雨 如果你出在经期<).

Information on mental health support is disseminated all across social media.
People also try to provide mental support in other ways. A student orchestra spontaneously performed at the Zhengzhou station, where dozens of passengers were left stranded in the night. The video clips of the performance went viral, with the young musicians playing two widely-known songs, "My People, My Country" (我和我的祖国) and "Ode to the Motherland" (歌唱祖国). Many social media users shared the clips and expressed how the performance moved them to tears.
A kind gesture in these terrible times. This youth orchestra pulled out their instruments and performed for all those other passengers who are stranded at the Zhengzhou East Station tonight ❤️ All trains were suspended after 2am on the 21st. pic.twitter.com/50THGOhy6O

— Manya Koetse (@manyapan) July 20, 2021
Some video clips that show how ordinary people save ordinary people amid such a natural disaster have also been widely shared. One video shows citizens of Zhengzhou standing in a line and use a rope to pull people from an underground floor where they were trapped by the water flooded.
Earlier in this thread there was a video of people helping those trapped in lower levels. There is more footage showing other places in Zhengzhou where citizens also joined forces to help those trapped by the water to get out safely. pic.twitter.com/1R9q1JcUtY

— Manya Koetse (@manyapan) July 20, 2021
In all the aforementioned ways and many more, Weibo has become a public platform for Chinese people to respond to the Henan disaster, efficiently communicate and keep track of help requests, organize and disseminate related information, and provide access to timely knowledge and relevant advice.
With so many online influencers and ordinary netizens voluntarily joining in, the online information flows are quickly circulating, allowing for necessary public communication channels while other resources and communication methods are still overwhelmed or in the making. The last time Weibo was used as an efficient emergency communication tool was during the early days of the COVID19 outbreak in Wuhan.
"Please stand strong, Zhengzhou" and "Hang on, Henan," many commenters write: "Help is underway!"
Also see our previous article on the situation in Zhengzhou here.
By Wendy Huang
Follow @whatsonweibo
Spotted a mistake or want to add something? Please let us know in comments below or email us. Please note that your comment below will need to be manually approved if you're a first-time poster here.
©2021 Whatsonweibo. All rights reserved. Do not reproduce our content without permission – you can contact us at info@whatsonweibo.com
"Zhengzhou, Stand Strong!" – Devastating Henan Floods Send Shockwaves on Social Media
The devastating floodings in China's Henan province are dominating Chinese social media platforms.
On Tuesday, July 20, heavy rainfall caused major disruptions in the central province of Henan. The provincial capital of Zhengzhou was hit especially hard, with footage and images circulating on social media showing people trapped in underground malls and on the subway.
The city already saw heavy rain for the past days and was then hit with a rainfall of over 20cm (7.8in) in one hour – comparable to three days of heavy rain in the flooded areas in Germany earlier this month.
On Tuesday night (7.20) and Wednesday morning (7.21), countless of videos and images circulated on Chinese social media showing the severity of the situation in various parts across the region, where more than 10,000 people were evacuated to shelters.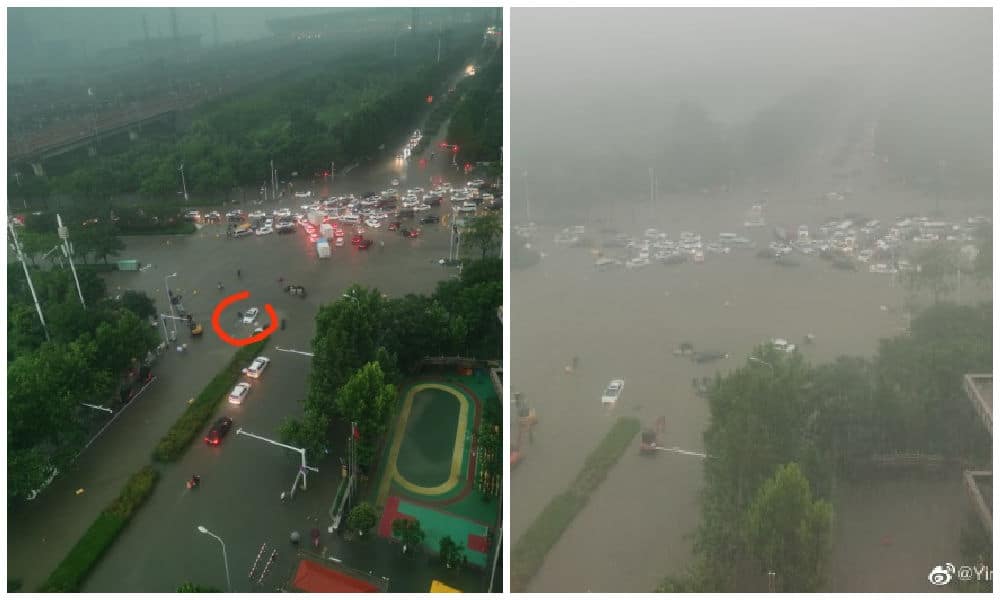 Thousands of people expressed their shock and sadness on social media regarding the unfolding tragic events in Zhengzhou and the surrounding regions. "Zhengzhou, Stay Strong" soon became a social media hashtag, receiving over 120 million views on Weibo alone (#郑州挺住#). The "Henan, Stay Strong" hashtag (#河南挺住#) received over 170 million clicks at the time of writing.
The Twitter thread below shows a collection of some of the flood-related footage that made its rounds on Weibo and WeChat.
The videos shared on Chinese social media about the floodings in Henan following the heavy rain really show the severity of the situation. These are some of them. pic.twitter.com/zZMKxvAGAX

— Manya Koetse (@manyapan) July 20, 2021
In Zhengzhou, dozens of subway passengers were trapped by the water on Tuesday night, shortly after city's line 5 stopped operating at 18:10. Footage showed passengers standing on line 5 with water reaching up to their shoulders.
According to Chinese state media outlet Global Times, the people trapped in Zhengzhou Metro Line 5 were rescued on Tuesday night, with local firefighters evacuating the passengers one by one. Other local news outlets reported that over 500 people were evacuated.
Other footage shared on social media showed how some passengers seemed to be unresponsive once the rescue teams had arrived. Current news reports do not mention how many people died due to the flooding of the subway.
Shortly after midnight, hundreds of people were stranded at Zhengzhou East Station as all train services were suspended.
During the night, more social media posts suggested an emergency situation at the First Affiliated Hospital of Zhengzhou University (郑州大学第一附属医院) regarding a power outage due to floods. The hospital is among the largest hospitals in the world.
In the early morning of July 21st, emergency power supply vehicles kept critical patients stable according to official sources, with more power sources needed to stabilize other patients.
According to the latest reports, at least 12 people have died in the city of Zhengzhou since the flooding began.
Meanwhile, local businesses and facilities are providing food, drinks, and shelter to those in need. A hashtag dedicated to netizens helping each other during the disastrous flooding has attracted nearly two billion views on Weibo (#河南暴雨互助#).
"Please be safe and look after each other!", many people on Weibo write: "Come on, Zhengzhou! Be safe!"
For more on this, also see our article on social media during the Zhengzhou floods and check our Twitter thread.
By Manya Koetse (@manyapan)
With contributions by Miranda Barnes
Spotted a mistake or want to add something? Please let us know in comments below or email us. First-time commenters, please be patient – we will have to manually approve your comment before it appears.
©2021 Whatsonweibo. All rights reserved. Do not reproduce our content without permission – you can contact us at info@whatsonweibo.com.