CNN Question "What Do You Think Is the Main Reason Behind the US Campaign against Huawei?" Goes Trending on Weibo
The fact that the majority of participants in a CNN poll on the Huawei case labels the issue as being "politically motivated" has become top trending on Weibo today.
First published
The Huawei case is an ongoing topic of discussion on Chinese social media. This time, a poll held by CNN is top trending on Weibo: the majority of those participating said the US campaign against Huawei is all about politics.
Trending on Weibo today is a segment of CNN's Quest Means Business, in which news anchor Richard Quest asked the CNN audience "What do you think is the main reason behind the US campaign against Huawei?"
The news item focused on a recent BBC interview with Huawei founder Ren Zhengfei (任正非), who stated that the arrest of Huawei's chief financial officer Meng Wanzhou (孟晚舟) – the founder's own daughter – is politically motivated.
In January of this year, the US Justice Department officially filed charges against Chinese smartphone maker Huawei for allegedly stealing trade secrets from T-Mobile.
Among many other things, US prosecutors allege that Huawei launched a formal policy in which bonuses were offered to employees who succeeded in stealing confidential information from competitors.
The Department also filed criminal charges against Meng Wanzhou, who was detained in Canada on December 1st of 2018 during transit at the Vancouver airport at the request of United States officials. She is now out on bail in Canada.
The Huawei case has triggered worldwide discussions on the security risks posed by Huawei's equipment and mobile networks, with authorities in various countries reassessing Huawei's role in 5G networks.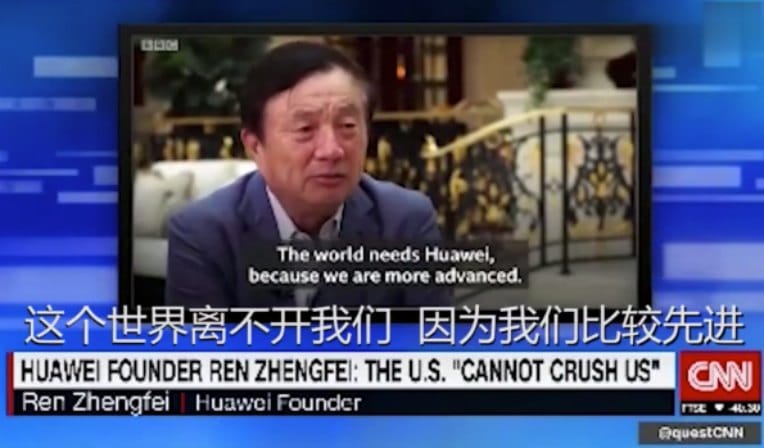 Huawei founder Ren Zhengfei told BBC that "there's no way the US can crush us." He also said: "The world cannot leave us because we are more advanced. Even if they persuade more countries not to use us temporarily, we can always scale things down a bit."
ALL ABOUT POLITICS?
"Your viewers are just as smart as we thought they were"
Quest invited the audience to reply to the question "What do you think is the main reason behind the US campaign against Huawei?" Via CNN.com/join, viewers could choose between the options "security," "politics," "business," and "something else."
The anchor explained the answers to the question as follows: "Is it security, as Donald Trump and the administration claims? Is it politics? Does it have something to do with protecting American business? Or something entirely different?" He later added: "So security concerns? Or politics? In other words: the US just wants to bash China? Or business – the US wants to protect US cooperations?"
As the answers to the question came in, the "politics" box immediately filled up to 100%, with the presenter, seemingly surprised, saying: "So far, 100% of you are saying it is politics!"
The news anchor then briefly spoke with business & technology correspondent Samuel Burke, who stated that if Ren Zhengfei would vote in CNN's poll, he would definitely pick "politics."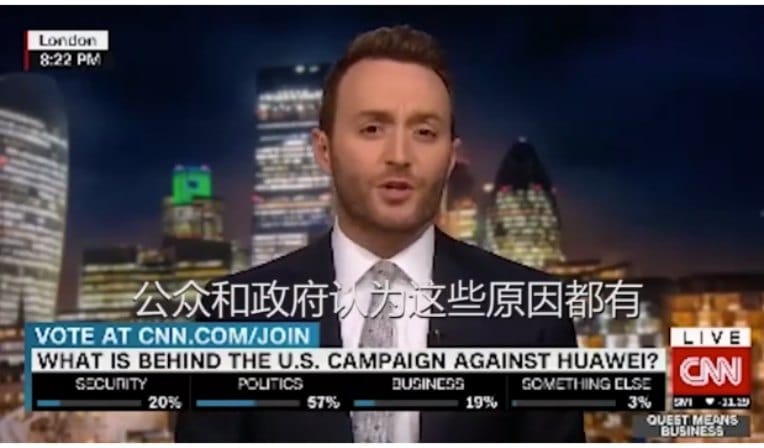 Burke also stated that the US campaign against Huawei might be a mix of all aforementioned motives and that "the lines were completely blurred" after US President Trump stated he might use Meng Wanzhou "as leverage in the negotiations with the Chinese." Trump's statements on using the arrest of the Huawei CFO as a "bargaining chip" were already made in December of last year.
Answering the anchor's question on whether there was a "legitimate risk," Burke responded: "There's always going to be a risk, but you could also argue that there is a risk from American equipment." He later added: "There's always risk, it's just about figuring out how big that risk is."
When the poll then came to a 58% majority of viewers choosing "politics" as the main motive behind the Huawei campaign, Burke noted that "your viewers are just as smart as we thought they were," motivating this comment by arguing that the US has no natural companies to take the spot of Huawei, so that protectionism of American companies is definitely not a reason behind the campaign.
"SMART VIEWERS"
"Anyone could see this is politically motivated"
On Weibo, the hashtag "Even CNN anchors say their viewers are really smart" (#连CNN的主播都说观众真聪明#) came up with 8.5 million 9,8 million views today, ending up in the top 10 trending topics on Weibo. The topic was also promoted by various state media such as Global Times (环球时报).
Many commenters were surprised with the fact that CNN, or its viewers, would 'side with' China in this matter: "They even know it themselves!", some wrote.
"How nice that America has freedom of speech," some netizens noted, while others said: "Foreigners like to critique their own governments, and the media is one method to attack their authorities."
"Of course it is political: America thinks that Huawei and the government cannot be separated."
"This poll is to be trusted," the commenter in the screenshot below said: "This is definitely politically motivated."
"Actually, it is so clear, that anyone could see this is politically motivated," economy expert Yu Fenghui (余丰慧) wrote on Weibo: "Ren Zhengfei's daughter was framed by America, yet he won't yield and lets his strong voice be heard. I really admire that."
But there are also some commenters who say that the fact that CNN suddenly seems so "friendly" towards China has nothing to do with China per se, but more so with the fact that it is Trump who is opposing China in this matter (literally: " CNN has always been unfriendly to China. Is this now because Trump is standing opposite China?").
There are also dozens of Weibo users who, besides rejoicing in the fact that viewers seem to 'support' China, also praise the American TV programme, writing: "This programme is quite daring, and the American people are reasonable. We could never have such an objective programme in China."
"They have no Great Firewall; if they want to understand an issue they can just look it up."
For now, Meng Wanzhou is still out on bail in Canada, reportedly staying at a family residence in Vancouver. In time to come, Canadian courts are expected to hear arguments to decide whether to comply with the US extradition request for Meng to stand trial in the US federal court.
Watch the CNN video here.
By Manya Koetse
Follow @whatsonweibo
Spotted a mistake or want to add something? Please let us know in comments below or email us.
©2019 Whatsonweibo. All rights reserved. Do not reproduce our content without permission – you can contact us at info@whatsonweibo.com.
On Wuhan's 'Reopening Day', Even Traffic Jams Are Celebrated
As the COVID-19 lockdown has ended in Wuhan, many people are happy to see the city's traffic finally getting busy again. "I hated traffic jams before, now it makes me happy to see them."
It was chilly and grey in Wuhan when the coronavirus epicenter city went into a full lockdown on January 23 of this year. On April 8, 76 days later, it is sunny and twenty degrees warmer outside as people leave their homes to resume work or go for a stroll.
The end of the Wuhan lockdown is a special day for many, as the city finally lifted the 11-week-long ban that shut down all travel to and from the city in a radical effort to curb the spread of COVID-19.
On Wednesday, city residents returned to work as public transport started again. Roads, bridges, and tunnels were reopened, and the local airport resumed flights.
On Chinese social media, various hashtags relating to the Wuhan lockdown end have become popular topics. Using hashtags such as "Wuhan Lifts the Ban" (#武汉解封#), "Wuhan Open Again after 76 Days" (#武汉暂停76天后重启#), and "Wuhan Reopens" (#武汉重启#), the end of the coronavirus ban is a much-discussed news item, along with the spectacular midnight light show that was organized to celebrate the city's reopening.
"Today has finally arrived! It's been difficult for the people of Wuhan," some commenters write.
According to China's official statistics, that are disputed, over 3330 people have died from the new coronavirus since its outbreak; 80% of these fatal cases were reported in Wuhan. On April 6, authorities claimed that for the first time since the virus outbreak, there were zero new COVID-19 deaths.
Some state media, including People's Daily, report that the reopening of restaurants and food shops is going smoothly in the city, as people – for the first time since January – are back to buying pan-fried dumplings and noodles from their favorite vendors.
Meanwhile, the fact that the traffic in some Wuhan areas is back to being somewhat congested is something that is widely celebrated on social media.
On Wuhan's 'Reopening Day', even traffic jams are celebrated after 76 days of quiet streets. "I hated traffic congestion before, now it makes me happy" – https://t.co/affNFah073 #Wuhan #COVID19 pic.twitter.com/yhaY3PAi7S

— What's on Weibo (@WhatsOnWeibo) April 8, 2020
Some call the mild traffic congestions "great", viewing it as a sign that the city is coming back to life again after practically turning into a ghost town for all these weeks.
"I hated traffic jams before, now it makes me happy to see them," one Weibo commenter writes.
"I won't complain about congested traffic again, because it's a sign the streets are flourishing," another Weibo user posted.
While netizens and media outlets are celebrating the end of the lockdown, several Chinese media accounts also remind people on social media that although the ban has been lifted, people still need to be vigilant and refrain from gathering in groups and standing close to each other.
For more COVID-19 related articles, please click here.
By Manya Koetse (@manyapan)
Follow @whatsonweibo
Spotted a mistake or want to add something? Please let us know in comments below or email us. First-time commenters, please be patient – we will have to manually approve your comment before it appears.
©2020 Whatsonweibo. All rights reserved. Do not reproduce our content without permission – you can contact us at info@whatsonweibo.com.
Online Anger over "Special Treatment" for Quarantined Foreigners in China
Are foreigners in quarantine being treated better than Chinese nationals? This Nanjing Daily article has triggered controversy.
On March 27, an article titled "For the Good Health of 684 Foreigners" ("为了684个"老外"的安康") sparked controversy online over the alleged special treatment of foreign nationals during their mandatory 14-day quarantine period.
According to the article published by Nanjing Daily, Nanjing's Xianlin Subdistrict set up a special WeChat group for foreign nationals and their families returning to the city after the Spring Festival holiday, which coincided with the outbreak of the new coronavirus.
In special WeChat groups, subdistrict officers, doctors, translators, and property managers provide assistance and daily services to these China-based foreigners. Examples of such "daily services" include delivering fresh bread or contacting pet boarding facilities.
"One young man loved online shopping on Taobao, and once we delivered twenty packages for him within one day," one member of the service group told Nanjing Daily.
Although foreign residents in China and foreigners with previously issued visas are currently no longer allowed to enter China, they needed to undergo a two-week quarantine period upon entry until the travel ban of a few days ago.
Jiangsu Province, of which Nanjing is the capital, tightened quarantine rules on March 23, making every traveler from abroad subject to a centralized quarantine (e.g. in a hotel) for fourteen days.
The special services for returning foreigners reported by Nanjing Daily triggered controversy on Chinese social media this week. Many netizens criticized it as a "supra-nationals treatment" (超国民待遇).
Under one Weibo post by media outlet The Cover (@封面新闻), which received over one million views, many people are criticizing local officers' favorable treatment of foreigners. One commenter writes: "Will they provide the same comprehensive services to their compatriots?"
Another person writes: "Why don't they also adhere to the slogan of 'Serve the People' (..) when dealing with Chinese citizens?"
In discussing the supposed inequality between the treatment of foreigners and Chinese nationals in quarantine, many netizens raise a recent example of a quarantined Chinese student who asked the civil police staff for mineral water. In a video that circulated online in mid-March, the girl quarrels with the police for not being offered mineral water. The student, demanding mineral water over the available boiled tap water, was ridiculed for suggesting that having mineral spring water is a "human right."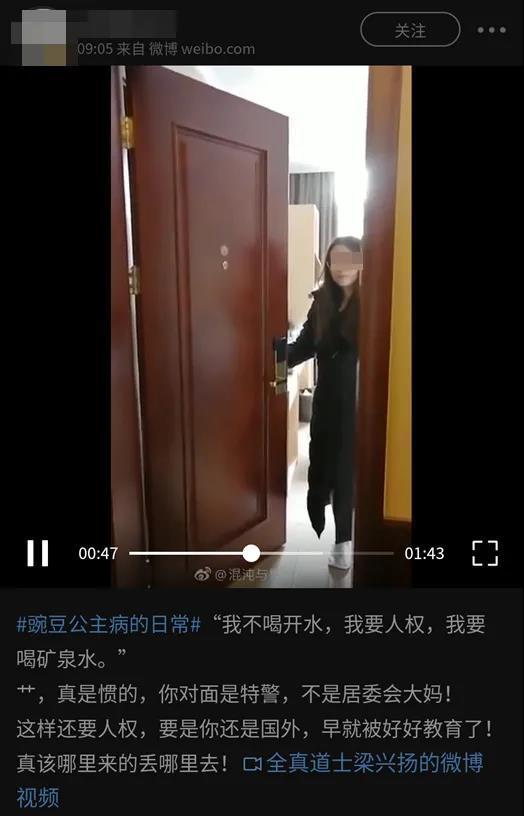 Ironically, the Nanjing Daily article explicitly mentions how the Xianlin Subdistrict deals with foreigners drinking purified water: "[This] Laowai [foreigner] wants to drink bottled purified water, [so] we bought four barrels for him (..) and carried them from the community gate to his apartment."
The contrast in treatment of quarantined foreigners versus Chinese nationals prompted some Weibo users to reflect on their previous remarks on the female student: "I apologize for previously mocking the Chinese student at the quarantine center in Pudong, Shanghai, for demanding to drink mineral water," one commenter writes.
In response to the online controversy, the office of the Xianlin Subdistrict clarified that Chinese nationals would receive "corresponding services" during their quarantine period. Some netizens question what these alleged "corresponding services" exactly entail.
In another media report, the official reply was that "the Subdistrict treats Chinese and foreign citizens the same."
Over recent years, there have been many online controversies on the issue of privilege in China. Earlier this year, there was public outrage over two women driving a Benz SUV into the Palace Museum, where cars are usually not allowed.
The issue of the perceived privileges of foreigners in China has particularly triggered anger among netizens. The "preferential treatment" of overseas students and the "dorm disparities" between Chinese and foreign students in China, for example, previously became major topics of online discussion.
A popular WeChat article that comments on the Nanjing controversy of this week also lists examples of special treatment for foreigners, including cases where foreigners were not fined when breaking rules in China or being "treated better" in other ways. By now, the article has received over 100,000 views.
For more COVID-19 related articles, please click here.
By Bobby Fung (@bobbyfungmr)
Spotted a mistake or want to add something? Please let us know in comments below or email us. First-time commenters, please be patient – we will have to manually approve your comment before it appears.
©2020 Whatsonweibo. All rights reserved. Do not reproduce our content without permission – you can contact us at info@whatsonweibo.com.