CNN Question "What Do You Think Is the Main Reason Behind the US Campaign against Huawei?" Goes Trending on Weibo
The fact that the majority of participants in a CNN poll on the Huawei case labels the issue as being "politically motivated" has become top trending on Weibo today.
First published
The Huawei case is an ongoing topic of discussion on Chinese social media. This time, a poll held by CNN is top trending on Weibo: the majority of those participating said the US campaign against Huawei is all about politics.
Trending on Weibo today is a segment of CNN's Quest Means Business, in which news anchor Richard Quest asked the CNN audience "What do you think is the main reason behind the US campaign against Huawei?"
The news item focused on a recent BBC interview with Huawei founder Ren Zhengfei (任正非), who stated that the arrest of Huawei's chief financial officer Meng Wanzhou (孟晚舟) – the founder's own daughter – is politically motivated.
In January of this year, the US Justice Department officially filed charges against Chinese smartphone maker Huawei for allegedly stealing trade secrets from T-Mobile.
Among many other things, US prosecutors allege that Huawei launched a formal policy in which bonuses were offered to employees who succeeded in stealing confidential information from competitors.
The Department also filed criminal charges against Meng Wanzhou, who was detained in Canada on December 1st of 2018 during transit at the Vancouver airport at the request of United States officials. She is now out on bail in Canada.
The Huawei case has triggered worldwide discussions on the security risks posed by Huawei's equipment and mobile networks, with authorities in various countries reassessing Huawei's role in 5G networks.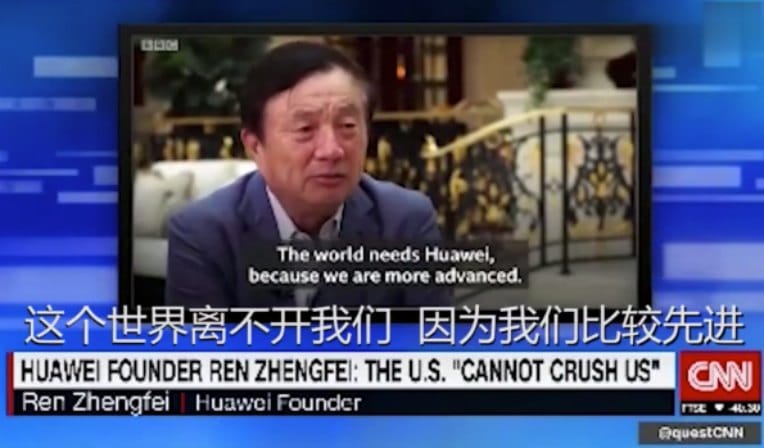 Huawei founder Ren Zhengfei told BBC that "there's no way the US can crush us." He also said: "The world cannot leave us because we are more advanced. Even if they persuade more countries not to use us temporarily, we can always scale things down a bit."
ALL ABOUT POLITICS?
"Your viewers are just as smart as we thought they were"
Quest invited the audience to reply to the question "What do you think is the main reason behind the US campaign against Huawei?" Via CNN.com/join, viewers could choose between the options "security," "politics," "business," and "something else."
The anchor explained the answers to the question as follows: "Is it security, as Donald Trump and the administration claims? Is it politics? Does it have something to do with protecting American business? Or something entirely different?" He later added: "So security concerns? Or politics? In other words: the US just wants to bash China? Or business – the US wants to protect US cooperations?"
As the answers to the question came in, the "politics" box immediately filled up to 100%, with the presenter, seemingly surprised, saying: "So far, 100% of you are saying it is politics!"
The news anchor then briefly spoke with business & technology correspondent Samuel Burke, who stated that if Ren Zhengfei would vote in CNN's poll, he would definitely pick "politics."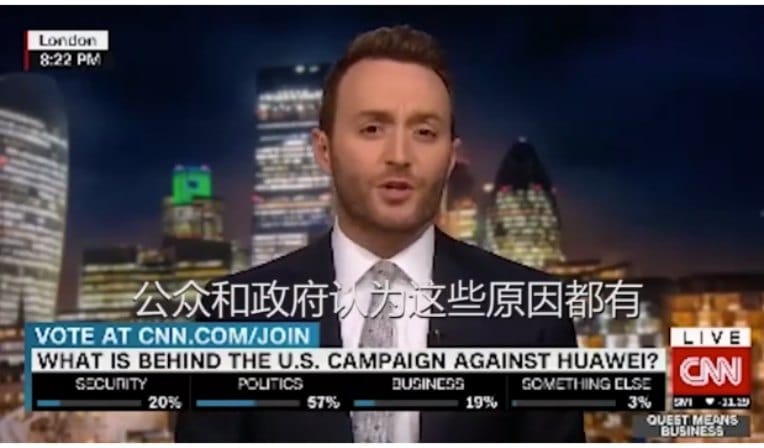 Burke also stated that the US campaign against Huawei might be a mix of all aforementioned motives and that "the lines were completely blurred" after US President Trump stated he might use Meng Wanzhou "as leverage in the negotiations with the Chinese." Trump's statements on using the arrest of the Huawei CFO as a "bargaining chip" were already made in December of last year.
Answering the anchor's question on whether there was a "legitimate risk," Burke responded: "There's always going to be a risk, but you could also argue that there is a risk from American equipment." He later added: "There's always risk, it's just about figuring out how big that risk is."
When the poll then came to a 58% majority of viewers choosing "politics" as the main motive behind the Huawei campaign, Burke noted that "your viewers are just as smart as we thought they were," motivating this comment by arguing that the US has no natural companies to take the spot of Huawei, so that protectionism of American companies is definitely not a reason behind the campaign.
"SMART VIEWERS"
"Anyone could see this is politically motivated"
On Weibo, the hashtag "Even CNN anchors say their viewers are really smart" (#连CNN的主播都说观众真聪明#) came up with 8.5 million 9,8 million views today, ending up in the top 10 trending topics on Weibo. The topic was also promoted by various state media such as Global Times (环球时报).
Many commenters were surprised with the fact that CNN, or its viewers, would 'side with' China in this matter: "They even know it themselves!", some wrote.
"How nice that America has freedom of speech," some netizens noted, while others said: "Foreigners like to critique their own governments, and the media is one method to attack their authorities."
"Of course it is political: America thinks that Huawei and the government cannot be separated."
"This poll is to be trusted," the commenter in the screenshot below said: "This is definitely politically motivated."
"Actually, it is so clear, that anyone could see this is politically motivated," economy expert Yu Fenghui (余丰慧) wrote on Weibo: "Ren Zhengfei's daughter was framed by America, yet he won't yield and lets his strong voice be heard. I really admire that."
But there are also some commenters who say that the fact that CNN suddenly seems so "friendly" towards China has nothing to do with China per se, but more so with the fact that it is Trump who is opposing China in this matter (literally: " CNN has always been unfriendly to China. Is this now because Trump is standing opposite China?").
There are also dozens of Weibo users who, besides rejoicing in the fact that viewers seem to 'support' China, also praise the American TV programme, writing: "This programme is quite daring, and the American people are reasonable. We could never have such an objective programme in China."
"They have no Great Firewall; if they want to understand an issue they can just look it up."
For now, Meng Wanzhou is still out on bail in Canada, reportedly staying at a family residence in Vancouver. In time to come, Canadian courts are expected to hear arguments to decide whether to comply with the US extradition request for Meng to stand trial in the US federal court.
Watch the CNN video here.
By Manya Koetse
Follow @whatsonweibo
Spotted a mistake or want to add something? Please let us know in comments below or email us.
©2019 Whatsonweibo. All rights reserved. Do not reproduce our content without permission – you can contact us at info@whatsonweibo.com.
Zhejiang Daily: 'People First' Does Not Mean 'Anti-Epidemic First'
Many Chinese netizens are showing support for Zhejiang Daily after the Party newspaper published an article that tries to find a middle ground between what authorities want to say and what ordinary people want to hear.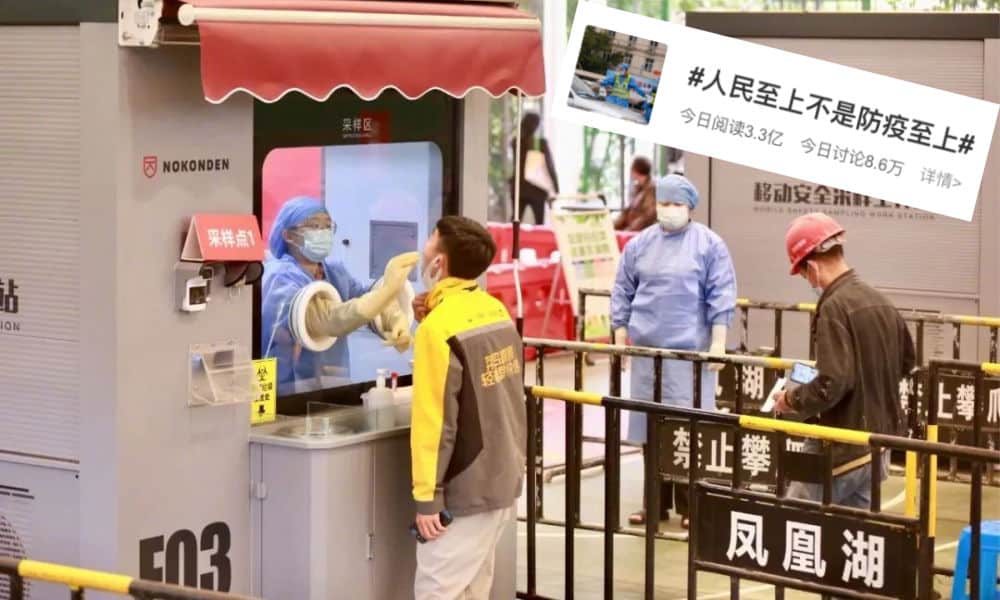 After days of unrest, Party newspaper Zhejiang Daily published an article by the Propaganda Department (aka Publicity Department) that addresses the current problems in China's epidemic situation, talks about the way forward, and stresses the importance of listening to people's demands and "putting the people first." But not everyone is convinced.
On Tuesday, November 29, after days filled with unrest and protests in various places across China, Party newspaper Zhejiang Daily (浙江日报) published a noteworthy article titled "'People First' Is Not 'Anti-Epidemic [Measures] First'" ("人民至上"不是"防疫至上").
The phrase "the people first" (人民至上 rénmín zhìshàng), also "putting the people in the first place," is an important part of the Party's 'people-based, people-oriented' governing concept. The phrase became especially relevant as part of Xi Jinping's now-famous "put people and their life first" slogan (人民至上,生命至上, rénmín zhìshàng, shēngmìng zhìshàng), which became one of the most important official phrases of 2020 in light of the fight against Covid19.
The Zhejiang article starts by addressing the recent unrest surrounding China's zero Covid policy, writing:
Since the outbreak of the novel coronavirus epidemic in late 2019, already three years have passed. As the time of preventing and controlling the epidemic situation is getting stretched, many people's psychological tolerance and endurance level are put to the test, and they are even breaking down little by little. As some netizens say: if the first year was about panic followed by the secret joy of being able to have a good rest at home; the second year began to be more bewildering and was about the hope for a quick end to the epidemic situation; the third year is then more about dissatisfaction, when will this finally end?"
The article mentioned that in addition to growing frustrations about the endless pandemic, various places across China have been intensifying their anti-epidemic efforts in the wrong ways:
"​​"(..) they are abusing their power, and are making things difficult for the people. This has led to epidemic prevention becoming deformed. They will not explicitly say they are locking down, but they are locking down, they are ignoring the interests of the masses and the demands of the people, interrupting the order of normal life at their will, and are even disregarding the lives and safety of the people, harming the image of the Party and the government, and breaking the hearts of the masses. There are even some people who will seize this epidemic situation to make money. Compared to the epidemic, it's these phenomena which are hurting people. The ensuing sense of helplessness and tiredness and anger are all understandable."
The article then stresses:
"Anti-epidemic measures are to guard against the virus, not to guard against the people; it was always [supposed to be] about 'people first,' not about so-called 'epidemic prevention' first. Regardless what kind of prevention and control measures are taken, they should all be aimed at letting society return to normal as soon as possible and getting life back on track as soon as possible. They are all are like "bridges" and "boats" to reach this goal, and are not meant to keep people in place, as blind and rash actions that disregard the costs."
Zhejiang Daily mentions how the World Cup in Qatar has made some people wonder about the crowds in the audience not wearing any masks, as if there was no pandemic at all. If they can, why can't China?
As the foremost reason, the article mentions the relatively low number of hospital beds in China.
Whereas countries such as South Korea or Japan, which are still seeing high numbers of new Covid infections, have about 12.6 beds per 1000 people (12.65 and 12.63 respectively), China only has 6.7.
With the United States being mentioned as an example of a country where Covid-19 patients were using up 32.7% of total nationwide ICU capacity early in 2022, with 7 ICU beds per 100,000 people being occupied by Covid patients, the article suggests that China does not even have this many ICU beds per 100,000 people.
The article further mentions how China, which is a rapidly ageing country, has a relatively large elderly population. With mortality rates being higher in Covid patients over the age of 60, it is estimated that if China would let go of its Covid measures, some 600,000 seniors (60+) catching the virus would die (the article bases this estimation on mortality rates in the Singaporean Covid epidemic.)
Due to Chinese historical, social and traditional values, the protection of the country's eldest is of great importance. Zhejiang Daily suggests that this is different from Western societies: "Some Western countries had nursing homes where hundreds of people passed away during the epidemic – if that would happen in China, it would be unacceptable. If you understand this point, you can also understand all the efforts we are putting out to contain the epidemic situation."
And so, Zhejiang Daily highlights the high price people in many Western countries paid to get to the stage in the epidemic where they are today.
The article repeats some of the arguments that have previously also been included in writings in other newspapers and by political commentator Hu Xijin, namely that with China's current zero-Covid policy and the adjustments that were recently made, the country is now focusing on precise and science-backed epidemic prevention that is meant to put as little strain as possible on society and economy.
However, the latest changes and the essence of China's zero Covid policy are not properly implemented everywhere, the article says, as there is a lack of understanding or an incapability to handle the situation due to a local lack of staff or available methods. Then there is also the issue of some people making money off of to strict epidemic measures. This has all led to tragic situations that should never have happened.
Although the article does not mention any concrete examples, there are many recent incidents where people did not get the help they needed because of excessive Covid measures. We have covered some of the biggest ones on What's on Weibo, including the young girl who passed away after getting gravely ill at a quarantine location in Ruzhou; the toddler who died due to carbon monoxide poisoning and a severe delay in medical help in Lanzhou; and the woman who jumped from the 12th floor of an apartment building in Hohhot, although her daughters had been seeking requesting help for her deteriorating mental state for hours.
The problem at hand, Zhejiang Daily suggests, is that some local authorities are putting epidemic prevention first instead of putting people's lives first. The problem can also not be solved by letting go of all measures, nor by adhering to a 'one-size-fits-all' zero Covid policy ("走出疫情阴霾,不是一句"放"与"不放"就能解决的事情.")
Instead of fighting for 'opening up' versus 'closing down', the point is to find a "soft landing" ("软着陆") way out the "haze of the epidemic situation" ("走出疫情阴霾").
Although the article does not give very concrete answers on what the best way forward is – although it does mention increasing China's vaccination rates, hospital beds, and available medications, – it proposes to look at the exact pain points within the bigger picture, and to deal with them one by one in order to quickly improve epidemic situations across the country.
At the same time, it also advocates that the various systems that are in place across China should be efficiently unified. The health code system in China is not operated nationally, and instead, various regions are each working with their own Health Code apps (see this article).
So, in other words: local problems should be spotlighted and dealt with, while regional innovative tools or effective measures should also be pinpointed and standardized across the country ("一地创新、全国使用").
The article does not explicitly mention the recent unrest across China, but it does hint at it: "The voices and the demands of the people have always been the central point regarding the adjustment and optimization of anti-epidemic policies. There is only one goal in the fight against the virus, and that is to benefit the people, to protect the health and safety of every person. If we hold on to this point, our steps won't be chaotic, and our actions won't stray from the intended line."
On Weibo and WeChat, the article is discussed by many netizens (#浙江宣传发文人民至上不是防疫至上#). One hashtag related to the article received over 350 million views on Weibo on Tuesday (#人民至上不是防疫至上#).
Many people spoke out in support of the article.
"This is a well-written article. It really combines the two components of 'what we want to say' and 'what the ordinary people want to hear,' it brings in some fresh air, clears up some confusion and eases the mood," one commenter from Hubei writes: "But why is only Zhejiang Daily publishing this? The Zhejiang Propaganda [department] is the pride on the propaganda front, the fact that there's just one Zhejiang Propaganda [department] is the sorrow on the propaganda front."
"Finally something that's clear-headed," others wrote. "This article actually moved me. There's been masses of people raising their voice recently because some local epidemic measures are creating problems and are not benefiting the people. No matter how we solve it, the target is unchanged."
"Well put!" others wrote: "So what do we do now?"
But not everyone was convinced that the article is meaningful. "I don't buy it," one person wrote: "This won't do much more than a fart."
"The title is welcomed by the people, the content protects the central authority," another commenter said.
The Zhejiang Daily article suggests that there is nothing wrong with the general zero-Covid policy and the twenty new measures, but instead points at how various places across the country have different interpretations of the policies and sometimes take drastic measures which actually undermine the authority of the central government ("中央定下来的"动态清零"总方针、优化防控二十条措施,一些地方有不同解读,极大降低了中央政策的权威性.")
"It only scratches the outside of the boot," another Weibo user replied: "It does not talk about the main point and avoids taking responsibility by how it's written. It shifts the conflict to ordinary people (..), the fact that we are still reading these kinds of [xxx] articles in 2022 is typical [xxx] socialism."
Regardless of criticism, many people did praise how Zhejiang authorities wrote the article: "Zhejiang has done quite well, and I'll praise their Publicity Department."
Read more about the "11.24" unrest in China here.
By Manya Koetse , with contributions by Miranda Barnes
If you appreciate what we do, please subscribe here or support us by donating.
Featured image via Zhejiang Daily.
Get the story behind the hashtag. Subscribe to What's on Weibo here to receive our newsletter and get access to our latest articles:
Spotted a mistake or want to add something? Please let us know in comments below or email us. First-time commenters, please be patient – we will have to manually approve your comment before it appears.
©2022 Whatsonweibo. All rights reserved. Do not reproduce our content without permission – you can contact us at info@whatsonweibo.com.
Chinese Students Are Making Their Voices Heard, from Nanjing to Xi'an
"Tonight is the night when students are flooding the internet," some on Weibo said during a dark night filled with students' bright lights.
The Communication University of China in Nanjing (南京传媒学院, abbr. CUCN) is trending on Weibo on Saturday night, with one hashtag receiving over 180 million views on Weibo before 23:00 local time.
Students at the university gathered on Saturday evening, chanting slogans such as "long live the people" and turning on the lights on their phone as a tribute to victims of the fire in Urumqi.
Over the past few days, there has been ongoing unrest in various parts of China. The fire that occurred in Urumqi on November 24 triggered waves of anger online (read here), and at the same time there have also been other incidents that further intensified the anger, which some also took to the street.
Another incident that attracted a lot of online attention this week happened in the Shunde District of Foshan, Guangdong, on November 24. Online, the incident was referred to as a "stampede," but the hashtag "Foshan Stampede" (#佛山踩踏#) was soon taken offline. According to China Daily, the incident happened when a crowd of people gathered at a Covid testing place in the Xincheng community of Leliu subdistrict at about 8:30 am. The situation became chaotic when people fell down due to the slippery ground, but nobody reportedly was injured.
Nevertheless, the incident surely did not help to calm the growing tensions, especially this week when we also saw protests and unrest at Foxconn in Zhengzhou and the third consecutive daily record for new Covid cases in mainland China following by local (semi-) lockdowns across the country.
Meanwhile, on Saturday night, Weibo flooded with comments in support of the students who stood up to make their voices be heard.
"I'm not there with you, but I'm there with you," one commenter wrote, with others posting: "Brave young people. This society is no longer giving them a way to live. History is repeating itself. If we don't do this now, it's our children who will have to struggle."
"CUCN come on!" some cheered, while others wrote: "We're proud of you."
Some screenshots claiming to come from people at the scene said that it was the students' intention to show solidarity with the people who passed away in the Urumqi fire and those in Xinjiang who were treated unfairly in light of the ongoing lockdowns the region saw since August of this year.
An anonymous poster warned people not to believe rumors regarding the protest being a conflict between the school leadership and the students: "The school is protecting its students, although some on the internet would like you to believe otherwise."
Lights at the CUCN scene were allegedly turned off to prevent students from being identifiable on videos and photos.
As soon as the live commenting section on the CUCN protests was shut down by Weibo, another topic came up before midnight.
Students at the Xi'an Academy of Fine Arts (西安美术学院) were also taking their anger to the campus streets, where they allegedly demanded for freedom amid Covid lockdowns.
One commenter wrote: "Tonight is the night when students are flooding the internet, their fire [torch] will burn forever, what a magnificent night!"
"The students are very brave, they are the first to stand up. I hope the workers will stand up, and finally, all people will stand up."
Many people on Chinese social media posted references to La Jeunesse (New Youth), a Chinese literary magazine that was founded in 1915 by Chen Duxiu and also influenced China's May Fourth Movement (sometimes referred to as the Chinese Enlightenment), which was all about the Chinese youth being the catalyst for transformation.
"You are the heroes of the awakening,' others wrote.
Read more about the "11.24" unrest in China here.
For more articles on the Covid situation in China, check here. If you appreciate what we do, please support us by subscribing for just a small annual fee.
By Manya Koetse , with contributions by Miranda Barnes
Get the story behind the hashtag. Subscribe to What's on Weibo here to receive our newsletter and get access to our latest articles:
Spotted a mistake or want to add something? Please let us know in comments below or email us. First-time commenters, please be patient – we will have to manually approve your comment before it appears.
©2022 Whatsonweibo. All rights reserved. Do not reproduce our content without permission – you can contact us at info@whatsonweibo.com.