"Support China's New Era" Campaign Goes Viral on Chinese Social Media
China's propaganda machine has been running at full speed this week – now Weibo's celebrities also pitch in.
On the day of the conclusion of the 19th National Congress in Beijing, Party newspaper People's Daily launched a new hashtag. With #SupporttheNewEra, Chinese celebrities show that they stand behind Xi Jinping and his "new era" philosophy.
The 19th CPC National Congress concluded on Tuesday in Beijing. The occurrence of the major twice-a-decade meeting, from October 18 to October 24, went hand in hand with an online propaganda campaign and strict censorship of social media comments.
The National Congress online propaganda campaign took on many forms this week, with different Chinese media outlets spreading pictures with highlighted slogans, short clips of the event, rap videos explaining China's 'New Era', interactive games that made users clap for Xi Jinping, or even vocabulary lists underlining China's modernization.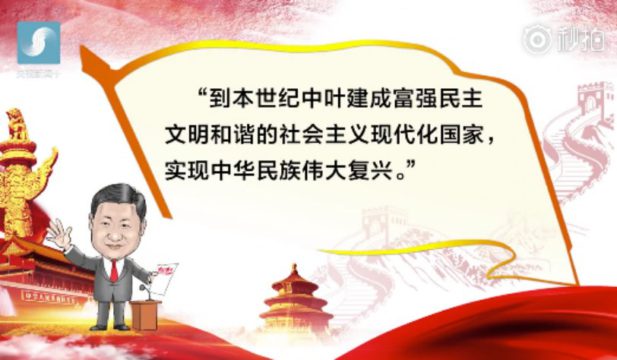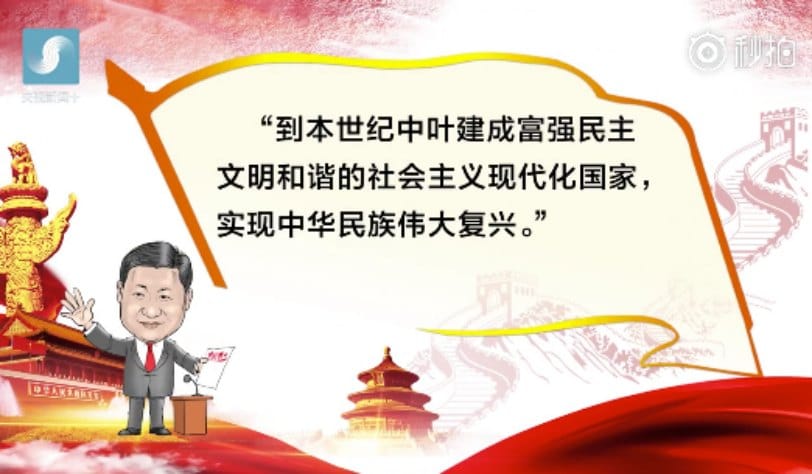 On Tuesday, Party newspaper People's Daily initiated Weibo hashtag 'Wèi xīn shídài dǎ call' #为新时代打call#, roughly meaning 'give a shout-out to the new era' or 'show support for the new era,' with a brief explanatory sentence saying: "In the new era, it is our turn to strive to make China really strong!"
By Tuesday night, the topic had received over 440 million views and more than 1,5 million comments.
The participation of big celebrities turned the campaign into an online hit.
Chinese actress Wang Ziwen, a.k.a. Olivia Wang, who has more than 11 million fans on her Weibo page (@王子文Olivia), posted a 4-second clip in which she gave a 'shout out' to China's new era.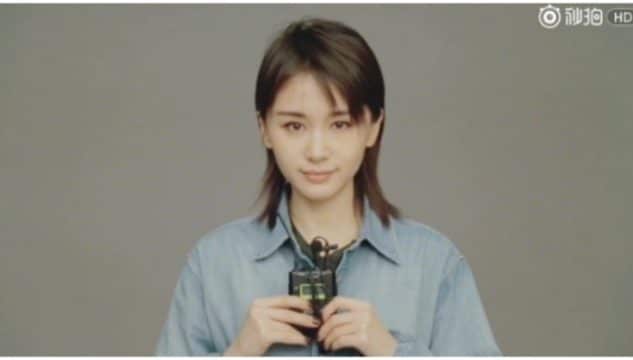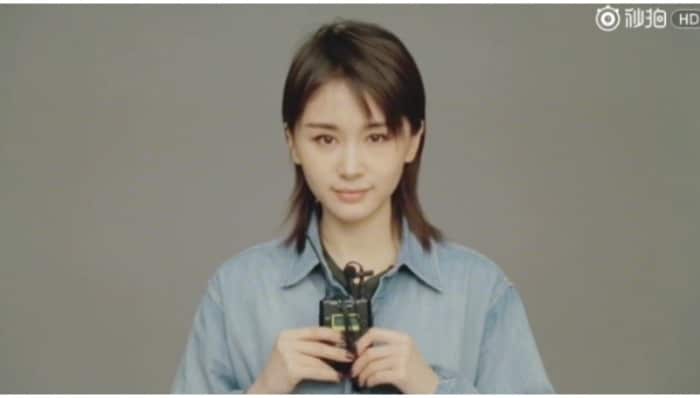 Celebrities such as pianist Lang Lang (郎朗 11.8 million Weibo fans), singer Zhang Yixing (张艺兴, 27 million fans on Weibo), singer Jike Junyi (吉克隽逸, 4+ million followers), and many others also posted similar ±5-second-videos in which they speak out in support of China's 'new era.'
The closing session of the 19th National Congress passed a resolution to incorporate Xi Jinping's 'Thought on Socialism with Chinese Characteristics for a New Era' (习近平新时代中国特色社会主义思想) into the Party's constitution. 'Modernization' is the keyword for China's 'new era.'
The wave of celebrity videos on China's new era triggered thousands of reactions from Weibo's netizens and celebrity fans who then also expressed their support for the Party's new plans.
This latest campaign could be the answer to an issue addressed in the Japan Times, which suggested that Chinese authorities struggle to get propaganda messages across in era of extreme celebrity culture.
Willy Lam, an expert on Chinese politics at the Chinese University of Hong Kong, said that "Chinese people are increasingly ignoring party propaganda and are much more interested in movie stars, who represent a new lifestyle and more exciting aspirations."
By mobilizing dozens of big Weibo celebrities, and with millions of commenters interacting with the hashtag, People's Daily's campaign could be called a major success.
However, many commenters seem to be much more interested in the celebrity videos than the message it contains. "I just wanna give a shout out to you, baby," many responded to Oliva Wang's video.
With the flood of National-Congress-focused hypes this week, other netizens say that "it's just been enough." "I just wanna give a shoutout to myself now," one commenter says.
By Manya Koetse
Follow @whatsonweibo
Spotted a mistake or want to add something? Please let us know in comments below or email us.
©2017 Whatsonweibo. All rights reserved. Do not reproduce our content without permission – you can contact us at info@whatsonweibo.com.
Mixing Chinese Opera With Pop Music, Jason Zhang Becomes a Social Media Hit
A classic Chinese opera song has become a viral hit.
A song that mixes pop and rap with traditional Yue opera has become a viral hit on Chinese social media. Despite the praise for the song, some people say pop and opera should not be mixed.
In the second episode of Battle For the Heavenly Voice, Dragon TV's new music contest show featuring celebrity singers, pop singer Jason Zhang (张杰) recently took the Internet by storm.
Zhang performed a rearranged Chinese Yue opera piece titled "Sister Lin Fallen From Heaven" (天上掉下林妹妹), mixing elements of pop, rock, and rap music with traditional Chinese opera.
Jason Zhang, also known as Zhang Jie (张杰), is a Chinese mainland pop singer. In 2007, Zhang rose to fame after taking fourth place on Hunan Channel's singing competition show Super Boy.
His popularity has increased over the past two years: having made it into the final round of I Am a Singer, Zhang is widely recognized in China as a talented singer with a hard-working, down-to-earth attitude.
Earlier this week, Jason's pop music rendition of the famous opera song debuted on the new music show and went viral almost immediately. The hashtag 'Zhang Jie Sister Lin Fallen From Heaven" (#张杰天上掉下个林妹妹#) has thus far received more than 170 million views on Weibo.
The hashtag page's introduces the song as "a blend of traditional Chinese opera, rock, and R&B music, full of originality and freshness, showing the young singer's willingness to preserve our traditional culture as a responsibility."
Check the video here:

Yue opera (越剧), one of the five main types of traditional folk opera in China, is characterized by its lyricism and prized particularly for its intimate portrayal of emotion. "Sister Lin Fallen From Heaven" originally is a duet song from Yue opera's adaptation of thee Dream of the Red Mansion, one of China's Four Great Classical Novels.
The song is sung at the beginning of the story, when protagonists Jia Baoyu and Lin Daiyu first meet. They both have the same strange feeling that they have been close friends for a long time and have met again after a long separation. Using an emotional melody, the duet shows the affection Baoyu and Lin Daiyu feel in such a lyrical way that it has become the most well-known song representing Yue opera.
"A disgrace to the art of Yue opera."
Yue opera mostly uses Wu dialect in singing and speech. The Wu dialect's vowels and consonants are quite different from standard Mandarin. Zhang, not a native speaker of Wu dialect, memorized the standard Yue opera pronunciations of lyrics with both alphabet combinations and Mandarin word substitutes.
The version of the song as performed in this 1962 special opera cinema with leading actress Xu Yulan:

Given its courageous mixing of music styles, "Sister Lin Fallen from Heaven" has been praised as extraordinary, with netizens applauding Zhang for his experimentation. On Weibo, there are many positive comments, such as: "I appreciate your act of promoting Chinese opera culture so much. Hope there will be more surprises like this in the future."
However, a few passionate Yue opera lovers did not seem to approve of Zhang's Yue opera singing: "His Yue opera singing is so unprofessional. It doesn't sound like Yue opera at all. His song is a disgrace to the art of Yue opera."
A netizen named Kou Li Dao has one of the most upvoted comments under the video:
"Some will praise Jason Zhang for singing a Chinese opera song, and some will criticize him for not 'respecting' our traditional folk music. Indeed, Zhang did not sing Yue opera in the most 'orthodox' way, but he is showing his efforts to introduce and spread Chinese opera culture to the younger generations in his audience. We should all embrace his act of integrating Chinese traditional with contemporary music, because only by constantly experimenting with new styles of modern music, Yue opera will not remain an isolated art – it will be an ever-developing art."
By Susanna Sun
Follow @whatsonweibo
Spotted a mistake or want to add something? Please let us know in comments below or email us.
©2017 Whatsonweibo. All rights reserved. Do not reproduce our content without permission – you can contact us at info@whatsonweibo.com.
Video of Chinese Football Celebrity Causing Havoc on Cancelled Flight Stirs Discussion
A video of a violent altercation between footballer Li Lei and local police on an Air China aircraft is going viral on WeChat and Weibo.
A video showing how a famous Chinese footballer is forcefully dragged off an aircraft in Hainan together with his wife is going viral on Chinese social media.
A video has emerged on Chinese social media on October 26 of a Beijing football celebrity and his wife forcefully being taken off an Air China flight.
The incident, which reportedly took place on October 5, occurred when flight CA1356 from Hainan got canceled due to bad weather conditions after passengers had already been waiting on the plane for five hours.
After the announcement, some angered passengers, including Li Lei and his wife, refused to get off the plane. Police were called on the aircraft when the couple got into a dispute with flight attendants. According to the flight attendant, the footballer allegedly threw a bottle of hot water on the ground.
The video shows how Li Lei gets into a violent altercation with local police. When he refuses to comply with them, both he and his wife are forcefully taken off the aircraft. Li Lei can be heard screaming: "You would all lose your head over this" ("你们一个个都要掉脑袋").
Li Lei (李磊, 1992) is a well-known Chinese footballer who plays as a midfielder for Beijing Guoan of the Chinese Super League.
Lawyer Zhang Qihuai (@张起淮) was amongst the first persons on social media to expose the story. It is not clear why the story, which occurred three weeks ago, only surfaced on social media now.
The video has stirred commotion on social media, where some people question the police's actions for resorting to violence: "The police only acts based upon what he knows from the flight attendant. They do not even question the passenger," some say.
But there are also many who condemn the footballer for causing unrest on the plane: "Nobody wants a plane to be delayed, but there's no reason to bully the flight attendents and to throw things around."
"We don't know what exactly happened, but I just know Li Lei is a good man – he was just trying to protect his wife," one commenter says.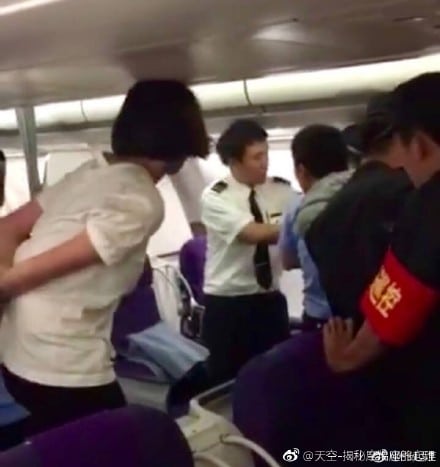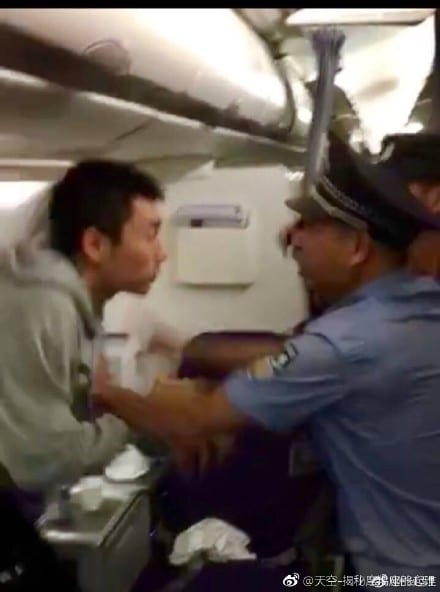 Air China has responded to the controversy on October 27, saying that it is the police's duty to take passengers off the aircraft when they refuse to do so.
By Miranda Barnes and Manya Koetse
Follow @whatsonweibo
Spotted a mistake or want to add something? Please let us know in comments below or email us.
©2017 Whatsonweibo. All rights reserved. Do not reproduce our content without permission – you can contact us at info@whatsonweibo.com.