"Support China's New Era" Campaign Goes Viral on Chinese Social Media
China's propaganda machine has been running at full speed this week – now Weibo's celebrities also pitch in.
On the day of the conclusion of the 19th National Congress in Beijing, Party newspaper People's Daily launched a new hashtag. With #SupporttheNewEra, Chinese celebrities show that they stand behind Xi Jinping and his "new era" philosophy.
The 19th CPC National Congress concluded on Tuesday in Beijing. The occurrence of the major twice-a-decade meeting, from October 18 to October 24, went hand in hand with an online propaganda campaign and strict censorship of social media comments.
The National Congress online propaganda campaign took on many forms this week, with different Chinese media outlets spreading pictures with highlighted slogans, short clips of the event, rap videos explaining China's 'New Era', interactive games that made users clap for Xi Jinping, or even vocabulary lists underlining China's modernization.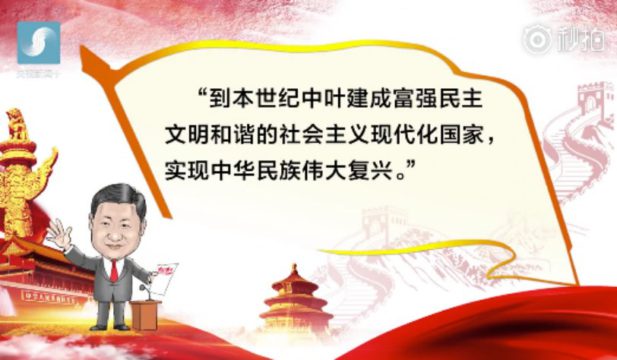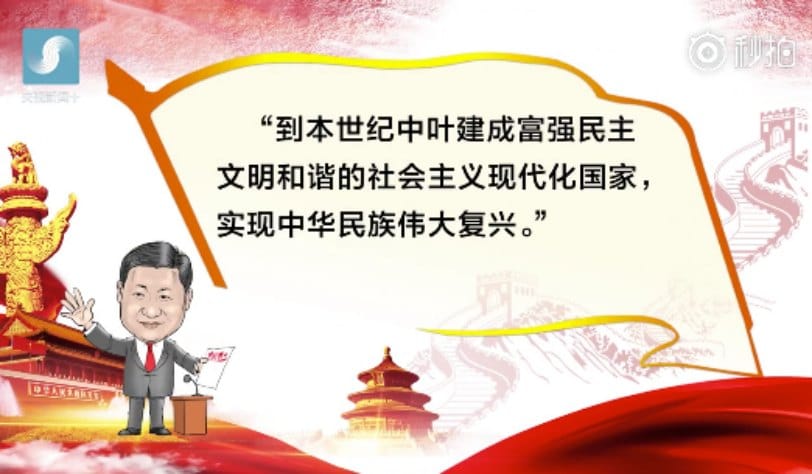 On Tuesday, Party newspaper People's Daily initiated Weibo hashtag 'Wèi xīn shídài dǎ call' #为新时代打call#, roughly meaning 'give a shout-out to the new era' or 'show support for the new era,' with a brief explanatory sentence saying: "In the new era, it is our turn to strive to make China really strong!"
By Tuesday night, the topic had received over 440 million views and more than 1,5 million comments.
The participation of big celebrities turned the campaign into an online hit.
Chinese actress Wang Ziwen, a.k.a. Olivia Wang, who has more than 11 million fans on her Weibo page (@王子文Olivia), posted a 4-second clip in which she gave a 'shout out' to China's new era.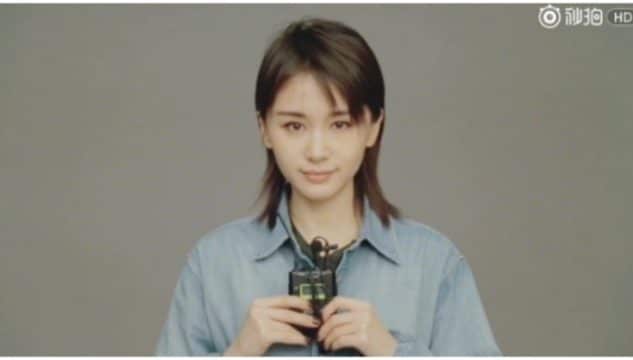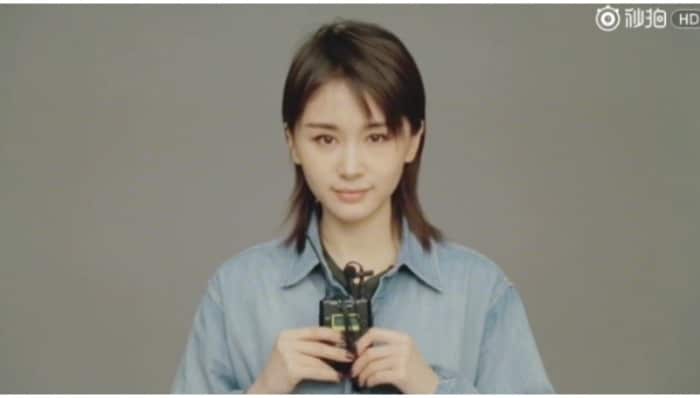 Celebrities such as pianist Lang Lang (郎朗 11.8 million Weibo fans), singer Zhang Yixing (张艺兴, 27 million fans on Weibo), singer Jike Junyi (吉克隽逸, 4+ million followers), and many others also posted similar ±5-second-videos in which they speak out in support of China's 'new era.'
The closing session of the 19th National Congress passed a resolution to incorporate Xi Jinping's 'Thought on Socialism with Chinese Characteristics for a New Era' (习近平新时代中国特色社会主义思想) into the Party's constitution. 'Modernization' is the keyword for China's 'new era.'
The wave of celebrity videos on China's new era triggered thousands of reactions from Weibo's netizens and celebrity fans who then also expressed their support for the Party's new plans.
This latest campaign could be the answer to an issue addressed in the Japan Times, which suggested that Chinese authorities struggle to get propaganda messages across in era of extreme celebrity culture.
Willy Lam, an expert on Chinese politics at the Chinese University of Hong Kong, said that "Chinese people are increasingly ignoring party propaganda and are much more interested in movie stars, who represent a new lifestyle and more exciting aspirations."
By mobilizing dozens of big Weibo celebrities, and with millions of commenters interacting with the hashtag, People's Daily's campaign could be called a major success.
However, many commenters seem to be much more interested in the celebrity videos than the message it contains. "I just wanna give a shout out to you, baby," many responded to Oliva Wang's video.
With the flood of National-Congress-focused hypes this week, other netizens say that "it's just been enough." "I just wanna give a shoutout to myself now," one commenter says.
By Manya Koetse
Follow @whatsonweibo
Spotted a mistake or want to add something? Please let us know in comments below or email us.
©2017 Whatsonweibo. All rights reserved. Do not reproduce our content without permission – you can contact us at info@whatsonweibo.com.
"No Place Like Italy Innit" – Young Beckham's Instagram Post Sparks Controversy on Weibo
Much ado about nothing? This Instagram post by Beckham has angered Chinese netizens.
A social media post by the young Beckham son commenting on the many Asian tourists in Italy this week did not go down well on Weibo today.
Brooklyn Beckham, the 19-year-old son of celebrity couple David and Victoria Beckham, has triggered controversy on Weibo today for posting photos of Chinese or Asian tourists in Italy.
The young Beckham posted several photos of Asian tourists on his Instagram account, where he has 11,5 million followers, simply writing: "No place like Italy innit" as a caption.
Popular Weibo gossip account Bage Zhuanyong (@ba哥专用), 7+ million fans, published screenshots of the post on Weibo, writing:
"Brooklyn, the Beckhams' young son, has photographed Chinese tourists in Italy without their permission, writing: 'This simply isn't Italy anymore [这里简直不像意大利].' It has been the PRC National Day [holiday] recently, with many people going abroad to travel. As a result, Brooklyn has even secretly photographed Chinese tourists in the supermarket. In the comments below, many people also demand that he should show some tolerance and explain himself, and shouldn't secretly photograph people and use such a disgusted tone."
The Weibo post on Beckham was reposted more than 3000 times today, attracting some angry comments about him 'secretly' photographing Chinese tourists and seemingly sounding discriminatory against Chinese. Similar sentiments could be found under Brooklyn's post.
Other Weibo posts about Beckham also attracted thousands of comments on the platform today, and several Chinese media also covered the 'incident'.
"He has no inner quality," some said: "He is nothing without his dad."
"Before he starts discriminating other people, he'd better finish college first," others wrote.
"He himself is in Italy too, and he's no Italian, innit?" others wrote.
"We welcomed the Beckhams to China to come and make money here," one Weibo user said.
On Weibo, David Beckham has his own official account, where he has over six million fans who nicknamed him 'Little Beck' (小贝). The footballer was previously assigned as a global ambassador for Chinese football.
Many netizens also left messages on David Beckham's account, telling him not to bring his son to China.
The comment that the young Beckham would be a 'baizuo', a Chinese derogatory term refer to Western leftist liberal elites, is also a recurring one. "If I see women with headscarves in Germany everywhere, I'd also say that it doesn't look like Germany to me," some say, writing that Beckham would not dare to say anything about immigrants in Europe, but apparently not finding it problematic to comment on the ubiquity of Asian tourists.
But amidst all criticism, there were also voices encouraging others to show some more tolerance themselves, saying: During the National Holiday, the crowds are flocking to Beijing, or Shanghai, and we also say 'This doesn't look like Shanghai anymore', there's nothing wrong with that."
By Miranda Barnes & Manya Koetse
Follow @whatsonweibo
Spotted a mistake or want to add something? Please let us know in comments below or email us.
©2018 Whatsonweibo. All rights reserved. Do not reproduce our content without permission – you can contact us at info@whatsonweibo.com
Alleged Accuser in Richard Liu Case: "This Has Nothing to Do with Me"
The woman became an overnight celebrity when dozens of her private photos went viral in connection to the Richard Liu case.
Jiang Pingting became an overnight celebrity when dozens of her glamorous private photos went viral on Weibo, with strong rumors suggesting she was the woman accusing Chinese billionaire businessman Richard Liu of rape. She has now come forward denying these claims.
Ever since news has come out on the brief arrest of JD.com CEO Richard Liu (刘强东) in Minneapolis last weekend, the mug shot and arrest of the Chinese tech mogul have been a major topic of discussion on Chinese social media.
Liu was arrested on August 31st in connection to a suspected rape, after he had dinner with a group of people at a Japanese restaurant during his business trip in the USA.
Photos of the night show that a woman is seated next to Liu, with Chinese netizens and media alleging that this woman is the Chinese exchange student who accused Liu of assaulting her after the banquet.
Although Liu was released without charges the next day (status: "released pending complaint") with JD.com officially stating that all accusations were "false," the case continued to ignite rumors. Many netizens sided with Liu and claimed that he had been "trapped."
One particularly strong rumor concerned the identity of the female student accusing Liu, with dozens of photos of a young, curvy woman going viral in connection to this case.
One person spreading photos of the supposed accuser is the internet celebrity Luo Yufeng (@罗玉凤), better known as Sister Feng, who has a fanbase of more than 9 million Weibo users.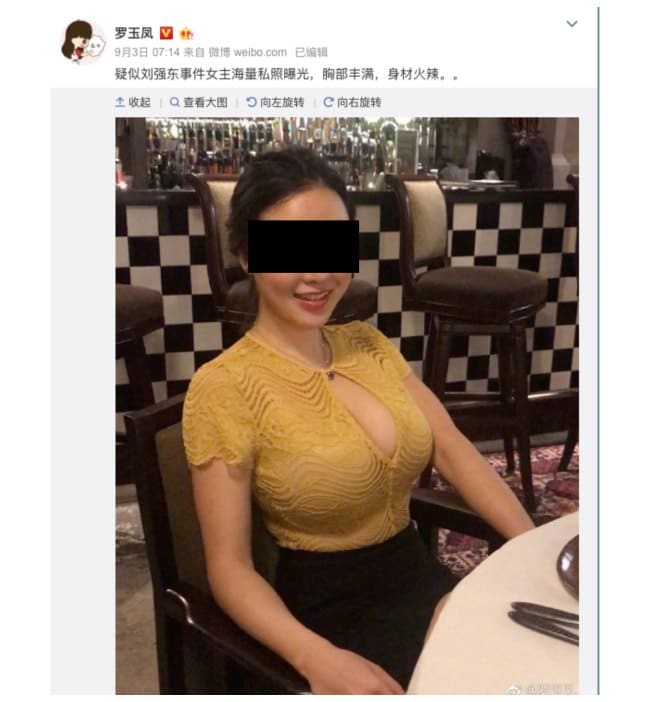 "Many private photos have been exposed of the woman involved in the Richard Liu case," she posted: "She has a big bosom and she looks hot."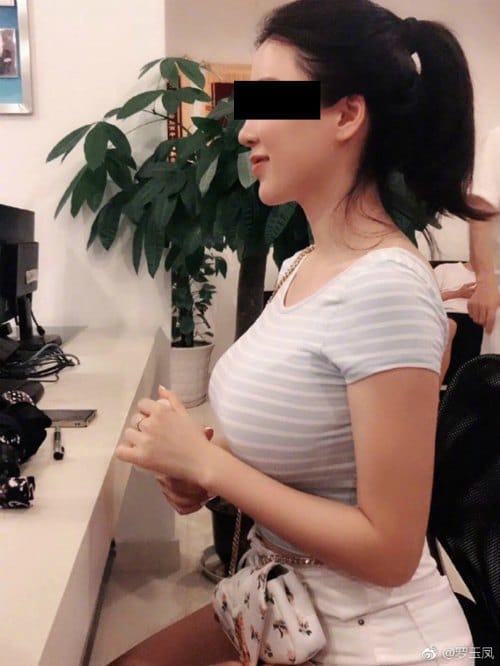 The many photos making their rounds on Chinese social media for the past days show the woman going out for dinners, relaxing on the beach, or posing while golfing.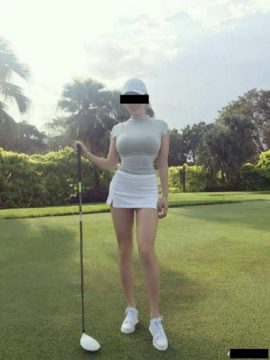 The photos soon became popular on Weibo, with people comparing the woman with Richard Liu's wife Zhang Zetian (章泽天).
Rather than discussing the alleged rape case, many netizens seemed more concerned with the appearance and life-style of the woman, and how her body shape compares to Liu's wife.
The female, a yoga fanatic named Jiang Pingting (蒋娉婷), became an overnight celebrity.
But now, days after her name and photos were first connected to the case, she has issued a statement on her Weibo account saying:
"I am Jiang Pinting! The fact that several large media websites, without verifying, have distributed my personal details and photos assuming I am the female involved in the Richard Liu Minneapolis arrest case, has greatly impacted my reputation and has invaded on my personality rights."
She further states that her personal life has been turned upside down by the incident.
Since 2010, Jiang writes, she has been residing in Singapore and only recently returned to mainland China. Jiang states:
"I do not know Richard Liu at all. We have never met. I've not even been to the US recently. This incident has absolutely no connection to me."
It is not clear why Jiang was brought in connection with the case in the first place.
Some people are critical as to why Jiang only responded to the rumors days after they first went viral. "You first waited to become famous before refuting the rumors," one person wrote.
"I still think you're hot," some among thousands of commenters wrote.
By Manya Koetse
Follow @whatsonweibo
Spotted a mistake or want to add something? Please let us know in comments below or email us.
©2018 Whatsonweibo. All rights reserved. Do not reproduce our content without permission – you can contact us at info@whatsonweibo.com.