Meng Wanzhou "Back to the Motherland," Michael Kovrig and Michael Spavor Return to Canada
Meng Wanzhou is coming home to China.
Meng Wanzhou (孟晚舟) is coming home to China. It has been nearly three years since the CFO of Huawei, and the daughter of Huawei founder Ren Zhengfei (任正非), was first detained in Canada during transit at Vancouver airport at the request of United States officials.
Meng Wangzhou was accused of fraud charges for violating US sanctions on Iran. Ever since late 2018, Chinese officials have been demanding Meng's release and called the arrest "a violation of a person's human rights." Meng was under house arrest in Vancouver while battling extradition to the United States.
At the same time, in December of 2018, Canadian national Michael Kovrig was detained in the Chinese capital by the Beijing Bureau of Chinese State Security. Kovrig, who is known as Kang Mingkai (康明凯) in Chinese, served as a diplomat in Beijing and Hong Kong until 2016, and then became a Hong Kong-based Senior Adviser at the International Crisis Group, where he worked on foreign affairs and global security issues in Northeast Asia.
Kovrig was accused of espionage in China, although many called the arrest a case of "hostage diplomacy" ("人质外交"). In late 2018, Kovrig's case went trending on Chinese social media. Although many online discussions were censored, popular comments said: "You take one of ours, we take one of yours" (more here).
Also detained in December of 2018 was the Canadian Michael Spavor (迈克尔‧斯帕弗), a China-based consultant and director of Paektu Cultural Exchange, an organization promoting investment and tourism in North Korea. In August of this year, a Chinese court sentenced Spavor to 11 years in prison after declaring him guilty of spying, while Kovrig had still been awaiting a verdict in his case.
Now, as announced by Canadian PM Trudeau on Friday night, the two Michaels and Meng are free and on their way home. Meng was discharged by the Supreme Court in British Columbia after an agreement was reached with American authorities to resolve the criminal charges against her. While Meng boarded a flight to Shenzhen, Kovrig and Spavor were heading back to Canada.
On the Chinese social media platform Weibo, Meng's return to China became the top trending topic of the day. "Meng Wanzhou About to Return to the Motherland" became the no 1 hashtag (#孟晚舟即将回到祖国#), receiving 1.5 billion views by Saturday afternoon (CST).
State media outlet People's Daily was one of the main accounts pushing hashtags related to Meng. They also released the hashtag "Meng Wanzhou Just Updated her Moments" (#孟晚舟刚刚更新朋友圈#), referring to a social media post by Meng on WeChat, in which she wrote that she was on her way home to China and just crossing the North Pole, adding "under the leadership of the Communist Party of China, our motherland is becoming glorious and flourishing; without a strong motherland, I would not have had my freedom today."
State media also issued online images featuring Meng, welcoming her back home after 1028 days.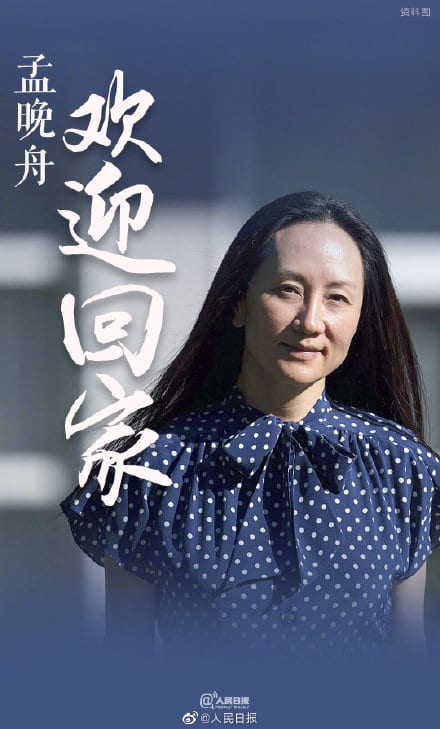 While Meng's return triggered thousands of posts and comments on Weibo, the release of Kovrig and Spavor did not get nearly as much attention on Chinese social media – it also was not reported on social media by any Chinese official media accounts at time of writing.
In some online discussions on Weibo, commenters called the release of Kovrig and Spavor an "exchange" or "a business deal," with others writing: "This is better, as long as Meng returns home, it's alright."
Meng Wanzhou's detainment became one of the biggest topics on Chinese social media back in 2018, and it sparked anti-American sentiments – many netizens expressed how the United States was allegedly using the judicial system in a battle that was actually all about politics.
A political satire image of Meng Wanzhou being rescued by the Chinese authorities as an American shark is trying to eat her alive also circulated on Chinese social media this weekend. The image ("归舟") was created and posted by digital artist Wuheqilin (乌合麒麟), who also welcomed Meng back home.
Meanwhile, some social media users in China have started a countdown to Meng's arrival, tracking the flight on live tracking maps. Her CA552 plane is scheduled to arrive in Shenzhen at 21:14 local time, September 25.
By Manya Koetse (@manyapan)
Spotted a mistake or want to add something? Please let us know in comments below or email us. First-time commenters, please be patient – we will have to manually approve your comment before it appears.
©2021 Whatsonweibo. All rights reserved. Do not reproduce our content without permission – you can contact us at info@whatsonweibo.com.
Chinese State Media Features German Twitterer "Defamed by Evil Western Forces"
European media call the 21-year-old Heyden a CCP propagandist, Chinese media call her a victim of the Western media agenda.
The German influencer Navina Heyden has been labeled "a propagandist for the Chinese government" by European media outlets. She is now featured by Global Times for preparing a lawsuit against German newspaper Die Welt for "defaming" her.
A 21-year-old woman from Germany has been attracting attention on Chinese social media this week after state media outlet Global Times published an article about her battle against "biased journalism" in Europe.
She is known by her Chinese name of Hǎiwénnà 海雯娜 on Weibo, but also by her German name, Navina Heyden. On Twitter (@NavinaHeyden) she has around 34K followers, on Weibo (@海雯娜NavinaHeyden) she has over 15800 fans.
According to the Global Times story, which is titled "21-year-old German Girl Debunking China's Defamation Is Tragically Strangled by Evil Western Forces" ["21岁德国女孩驳斥对中国抹黑,惨遭西方恶势力绞杀"], Heyden has been on a mission to "refute Western media's smear campaign against China" for the past year.
The same article was also published by other Chinese state media outlets this week, including Xinhua, Xinmin, and Beijing Times.
Recently, various European news outlets reporting about Heyden's online activities described her as a Twitter influencer acting as an advocate for "pro-CCP narratives."
It started with the German newspaper Welt am Sonntag publishing an article on June 15 of 2021 titled "China's Secret Propagandists" ["Chinas Heimliche Propagandisten"], in which Heyden was accused of being a propagandist. That same story was translated into French and published by Le Soir on June 23.
An article by London-based think tank ISD (Institute for Strategic Dialogue) dated June 10, titled "How a Pro-CCP Twitter Network is Boosting the Popularity of Western Influencers" (link), also featured Heyden and her alleged role in a coordinated Chinese online propaganda campaign.
The article focuses on Heyden's Twitter activity and her supposedly inorganic follower growth, using data research to support the claim that she is more than just a young woman siding with Chinese official views.
Heyden claims that she agreed to do the initial interview with Die Welt about her views on China and the online harassment she experienced by anti-China activists, but that the reporters eventually published something that was very different from the actual interview content, describing Heyden as a Chinese government propagandist and disclosing names and locations without her consent.
Heyden says she is now preparing a lawsuit against the newspaper and its three journalists for violating her rights. In order to do so, she started a crowdfunding campaign to help her fight media defamation. That 'Go Fund Me' campaign was also promoted on Weibo on July 5th, and she soon reached over 13,000 euros in donations.
The main take-away of the Global Times story is that Heyden is an active social media user who has bravely refuted Western bias on China and exposed the supposed media hysteria regarding the rise of China, and that she has been purposely targeted by European media outlets for doing so.
Heyden joined Twitter in March of 2020 with her bio describing her as a "German amateur manga drawer, studying business economy, grown up within Chinese community since age 15."
Since then, she has tweeted over 1000 times and has spoken out about many issues involving China, including the Covid-19 pandemic, the situation in Xinjiang, the national security law in Hong Kong, the India-China border conflict, and the status of Taiwan. She sometimes also tweets out more personal information, such as the time when she shared photos of herself and her Chinese partner.
Her very first tweet on the platform – one about China not falsifying Covid-19 numbers – was sent out on April 1st of 2020 and received 52 likes. Over the past year, her account has only gained more likes and followers.
A later tweet in which Heyden wrote "I can testify that Chinese Muslims are not persecuted like what western media claimed" (link) received over 870 likes.
In another tweet, Heyden wrote: "China is unfairly treated because she's always put in a trial without chances to defend. Her words must be propaganda, her people must be brainwashed. After confirmation with Chinese sources and my experiences, I'm enraged about how wrong our media is. This is harmful to us all." That tweet received over 1.4K likes.
Besides the fact that Heyden's tweets are often retweeted by the Twitter accounts of Chinese diplomats and other prominent Chinese channels – sometimes within just a few seconds of one another, – the aforementioned ISD article claims that Heyden's account has grown in a relatively short time due to sudden spikes in followership by accounts that were created in batches at specific times and in short sequence.
For a Twitter post of August 2020, Heyden recorded a video in which she explained why she wanted to open up her Twitter account in the first place and counter those accusing her of being a "CCP agent" or a "fake account". She said:
"I'm not getting paid by anyone so stop wasting your time on proving something which I am not. A lot of people may wonder why I say so many positive things about China in the first place. The reason is that when I was around 15 years old I was introduced into the Chinese community and I got to learn a lot of Chinese people, what they think about China, and also what they think about their government. And I found that the China I visited is so much different from the China that the media is describing. It's almost as if the media is describing a whole different country. Now, it wouldn't be so bad if only people would not buy those false narratives, and I'm having a problem with it, because a lot of my close friends and also my family are believing all those false narratives. And this is causing me to have some conflicts with them from time to time. So I've decided to open this Twitter account to debunk all those false narratives."
At this time, Heyden describes her own Twitter account as "one of the most influential ones to show people what real China is like."
The story about Heyden's online activities seems to suit some ongoing narratives in both European and Chinese newspapers. For the first, it upholds the idea of China secretly attempting to infiltrate and influence democratic societies in new ways; for the latter, it confirms the belief that biased Western media will do anything to defile China while serving the interests of their political parties.
Meanwhile, on Weibo, hundreds of netizens have praised Heyden for defending China and standing up against Western media.
"China has 1.4 billion people, Germany just has [tens] millions, of course, you're gonna get a lot of fans if you support China," one popular comment on Weibo said.
One influential Weibo blogger (@文创客) wrote about Heyden, calling her a victim of a "deranged" situation where Western media outlets have used her for their anti-China narratives.
"When will you come and live in China," some people on Weibo ask, with various other commenters saying: "Just come to China!"
Plans to move to China seem to be on the horizon for the German influencer. In an earlier tweet, she confirmed: "We are already on the path to live in China PERMANENTLY. Really feel much safer there."
Despite sharing her strong support for China on Twitter, the 21-year-old recently also expressed some frustrations with the Chinese social media climate when she encountered censorship on Sina Weibo and experienced some difficulties posting on Bilibili and Toutiao.
On Twitter, she wrote: "To CPC, you can't lock your citizens in an information greenhouse forever."

Sharing some of her frustrations regarding the Chinese social media sphere on Weibo, where she even admitted to missing Twitter, some Weibo users offered their support: "We're on your side."
By Manya Koetse (@manyapan)
With contributions by Miranda Barnes
Spotted a mistake or want to add something? Please let us know in comments below or email us. First-time commenters, please be patient – we will have to manually approve your comment before it appears.
©2021 Whatsonweibo. All rights reserved. Do not reproduce our content without permission – you can contact us at info@whatsonweibo.com.
Viral Politics: Next-Stage Investigation Into Covid-19 Origins Discussed on Weibo
Many Weibo users agree with Chinese officials that the U.S. re-investigation of the Covid-19 origin is about "political manipulation" and "blame-shifting."
While President Biden ordered a closer review into the origins of the Covid-19 and more countries are calling for action on a next phase study, Chinese officials demand that the U.S. thoroughly investigates the source of the epidemic within America's own borders and biological labs.
Fifteen months after the WHO declared the novel coronavirus (Covid-19) outbreak a global pandemic, the origin of the virus is still unclear. After the Wuhan field visit of the international WHO research team earlier in 2021, all hypotheses on the origin of the virus remain on the table.
As the efforts to get more people vaccinated continue and the outlook on containing Covid-19 are more positive, the question of where the virus that causes Covid-19 came from is attracting attention again. The issue of the 'origin investigation problem' ("溯源问题") is also generating discussions on Chinese social media.
The U.S. Side: "Looking for a Definitive Conclusion"
On May 26, the White House released President Joe Biden's statement calling for further investigation into the origins of Covid-19.
The statement says that there is still no definitive conclusion on the origins of the virus, with two scenarios being most likely: human contact with an infected animal or a laboratory accident. Biden writes that he has asked the Intelligence Community to "redouble their efforts to collect and analyze information that could bring us closer to a definitive conclusion," asking for a follow-up within 90 days, with a special focus on China.
Speculation that the coronavirus may have emerged from a laboratory in Wuhan was first raised in early 2020, before being refuted and sidelined as a "conspiracy theory" by many scientists.
A statement in The Lancet published in February of 2020 condemned any rumors on the virus origins, claiming that scientific research "overwhelmingly" concludes that the new coronavirus originated in wildlife. The WHO research team investigating the origins of Covid-19 also called it "extremely unlikely" that the virus leaked from a lab in China.
The American Dr. Anthony Fauci, the director of the National Institute of Allergy and Infectious Diseases, was among those scientists who originally refuted the 'lab leak' theory. But in May of 2021, Fauci said he was "no longer convinced" that the Covid-19 pandemic originated naturally.
In American media, reports on the 'lab leak theory' have also seen shifting narratives, going from a 'conspiracy theory' to a seemingly credible one. Last month, a Wall Street Journal published an opinion article titled 'The Science Suggests a Wuhan Lab Leak,' which claims that the pathogen of the novel coronavirus has a genetic footprint that has never been observed in a natural coronavirus.
The Wall Street Journal also reported on a study by the Lawrence Livermore National Laboratory in California, which concluded that the hypothesis of a virus leak from a Chinese lab in Wuhan is plausible and deserves further investigation. The report by Wall Street Journal included an alleged American State Department's assertion that the U.S. government has reason to believe that several researchers inside the Wuhan Institute of Virology became sick in autumn 2019, "with symptoms that were consistent with Covid-19 or a seasonal flu."
The Chinese Side: "It's All about Blame-Shifting"
Chinese officials have repeatedly denied a possible leak from a Chinese laboratory and have emphasized their cooperation with international efforts to find the origins of the pandemic.
On May 27 of this year, a day after Biden's statement was released, Zhao Lijian (赵立坚), spokesperson for the Foreign Ministry, responded to the reinvestigation of China regarding the origins of the novel coronavirus.
Zhao argued that the US is not actually interested in the scientific origin of the virus, but that its determination to reinvestigate China despite previous scientific conclusions is all about "political manipulation" and "blame-shifting." He further said that the US – with over 33 million confirmed Covid-19 cases and 600,000 deaths from Covid-19 – should examine its own behavior, instead of "attempting to scapegoat China."
Although China was the first country to report Covid-19 infections, the official stance has been that this does not necessarily mean that the new coronavirus "patient zero" was also in China.
Prior to the Wuhan lab leak theory, China had been questioning the US military base Fort Detrick in Fredrick, Maryland, about the leak of Covid-19 as an agent of biochemical warfare. In May of last year, China's Foreign Ministry Spokesperson Hua Chunying asked for an international review of Fort Detrick and other bio-labs.
The #US keeps calling for transparency & investigation. Why not open up Fort Detrick & other bio-labs for international review? Why not invite #WHO & int'l experts to the US to look into #COVID19 source & response?

— Hua Chunying 华春莹 (@SpokespersonCHN) May 8, 2020
In light of recent developments, Chinese Foreign Ministry spokesperson Wang Wenbin (汪文斌) also, again, suggested that the U.S. should invite an international team of scientists to conduct an independent investigation on Fort Detrick on its potential link to the origin of Covid-19.
This stance was again reiterated by Zhao Lijian in a June 17 press conference, where the MFA spokesperson asked the U.S. to explain why, being the most medically country in the world, their COVID19 death toll was so high and why nobody would take responsibility for this and give more transparency on Fort Detrick.
On June 22, China's Ministry of Foreign Affairs turned the tables on the U.S. and demanded a thorough investigation of (1) the source of the epidemic in the United States, a (2) thorough investigation of the why's and who's of the American inadequate response in fighting the epidemic, and then also (3) an investigation into the safety concerns at Fort Detrick other biological labs (#赵立坚请美国赶紧回答3个问题#).
Weibo Discussions and Hashtags
On Chinese social media, various discussions and hashtags have come up in response to the recent developments regarding the research into the COVID19 origins. Most commenters agree on one thing, namely that the next stage of Covid-19 origin investigations is seemingly more about politics than about the virus itself.
A hashtag titled "Biden Ordered US Intelligence to Investigate the Origins of Covid-19" (#拜登令美情报部门调查新冠病毒起源) appeared on the same day as the White House statement was released and immediately attracted over 35 million views. Another relating hashtag on Weibo is "U.S. Specialists Have Changed Their Tune Regarding COVID19 Origin" (#美国专家在新冠病毒的来源上改口了#).
On Weibo, the most common reaction to Biden's investigation and American media coverage of the origins of the virus is one of suspicion towards their true intentions, ranging from intense emotions to sarcastic humor. Weibo users suggest that Biden's call to action is a politically charged move to further blame China for the pandemic amidst growing China-US tensions. Most netizens commenting under this hashtag feel that the U.S. is deliberately hyping the issue to discredit China, turning the COVID19 origins issue into a geopolitical issue, rather than a scientific one.
One popular comment (@乐隐灯清) said: "If I say you have it, then you have it – [this is] the second season of 'Laundry Detergent'!" This sarcastic comment refers to the famous UN meeting where US Secretary of State Colin Powell presented a vial containing white powder, supposedly proving that Saddam Hussein was stockpiling anthrax, in order to justify the US's invasion of Iraq. Putin fired back by calling this vial of powder "laundry detergent."
There are also web users who are concerned with the 90-day limit of Biden's announced investigation, questioning whether such a relatively short time would be enough for a thorough and fair study. One user, whose profile image is the Chinese national flag, wrote: "90 days? If you investigated Fort Detrick starting in the morning, you would already have the conclusion before lunchtime!"
One user questioned the US President's move to trace Covid-19's origin in China instead of in his own country: "Are they giving 90 days to investigate the origin or 90 days to fabricate a rumor?"
Another hashtag is "Where did the new coronavirus originate?" (#新冠肺炎病毒起源于哪里#). On this hashtag page, most discussions revolve around the fact that COVID19 was already found in various countries outside of China during or just before the early days of the Wuhan outbreak. Various studies suggest that the coronavirus might have been circulating in the US and France a month before it was officially confirmed.
"The fact that Chinese scientists were the first to discover the genetic sequence of the new coronavirus does not mean that Wuhan is the source of Covid-19, and it certainly cannot be used as a pretext to conclude that the virus was made by Chinese scientists," one Weibo blogger (@侠骨一点情) wrote.
There are those who believe it is probable that the virus did come from the U.S., saying that the American investigation into China is an issue of "zéi hǎn zhuō zéi" (贼喊捉贼), an idiom that literally means 'a thief crying "Stop Thief!",' conveying the idea that it is easy for someone to accuse another in order to cover up one's own misdeeds.
In response to the investigation, the computer graphics artist @半桶老阿汤 / 'Half Can of Old Soup' also released a cartoon, showing President Biden blocking the entrance to Fort Detrick, with a WHO research team standing in front of the entrance.
Many web users support the Chinese official reaction that it is time for America to investigate the epidemic within its own borders. "First, discrediting and framing China regarding the virus origin has become a 'national policy' of the U.S. government to get rid of their [own] predicaments," Chinese economist Tao Yongyi (@陶永谊) wrote on Weibo: "Now, the best defense is a good offense."
By Susanna Sun & Manya Koetse
Follow @whatsonweibo
Spotted a mistake or want to add something? Please let us know in comments below or email us.
©2021 Whatsonweibo. All rights reserved. Do not reproduce our content without permission – you can contact us at info@whatsonweibo.com.