No More Online Anti-Islam Terms Allowed on Weibo – but Discussions Continue Anyway
After various controversies, Chinese authorities have now blocked various Islam-related words by Chinese netizens on Weibo.
Chinese authorities have recently blocked various Islam-related words invented by Chinese netizens. The ban comes after consecutive online controversies on the topic of Chinese Muslims and Islam in China; the tone of the discussions reportedly "undermines ethnic unity."
Posts containing terms such as "green religion" and "peaceful religion," or any other online terms relating to Islam or Muslims invented by Chinese netizens, are currently banned from Chinese social media.
Chinese state media outlet Global Times reports that the ban comes amid an online backlash against national policies which some deem "overly favorable to Muslim minorities."
Anti-Islamic Sentiments on Weibo
Anti-Islamic sentiments have been on the rise on Weibo over recent years, and often peak when people disagree with alleged "affirmative discrimination policies" toward Chinese Muslim minorities. China has an estimated 23 million Muslims.
One such incident occurred in 2016, when a Chinese university introduced separate shower cabins for Muslim students that offered complete privacy, while the ordinary dorm showers are usually open.
The case triggered anger online, especially among students, of whom some wrote: "I also have the f**cking rule that nobody should see me shower, am I going to have an exclusive shower cabin now?"
In July, online reports about the introduction of 'Halal Only' food delivery boxes also evoked anger as it sparked discussions about the 'halalifaction' of food in China.
A very recent incident involved a case where a girl was harassed by a Muslim man on the Bund in Shanghai. When her online report was taken offline, and police did not give out any background details about the suspect, Weibo users complained that religious sensitivities were placed above personal safety.
Another incident took place in Tangshan in early September, where an alleged altercation took place between Muslim minorities and local staff at a toll station. Online rumors about the incident triggered a wave of anti-Islam comments, and videos of the incident were soon after deleted from Chinese social media.
"The Green Religion"
On Chinese social media, Islam is often referred to as the "peaceful religion" (和平教) or the "green religion" (绿教). While the first is mostly meant sarcastically, the second comes from the importance of the color green in Islam and is meant to refer to the religion in a negative way.
In the same type of derisive, derogatory online speak, Muslims are often referred to as "the greens" (绿绿) on Weibo. 'Greenification' (绿化) is another online word, meaning 'Islamization.'
At the time of writing, abovementioned online terms such as "green religion" or "peaceful religion" were all banned from Weibo's search function and showed no results.
In its recent article, Global Times quoted a Beijing professor in saying that "it is necessary to timely remove radical phrases that discriminate against Islam and are biased against Muslims to prevent worsening online hatred towards the group" and that these online terms "severely undermine religious harmony and ethnic unity."
In a Global Times column earlier this week, editor Shan Renpin conveyed a similar message in saying that there "might be negative consequences" to the government's "protection of the harmony with minority groups and religions," but that "overall, if the authorities would not do it this way, the other negative consequences are likely to be more serious." ("这样做确实有时会有负面效果,但是综合起来看,如果官方不这样做,另外的负面效果很可能更大.")
Ongoing discussions: Halal Mooncake
Despite the recent ban on certain terms, Chinese netizens still find ways to discuss Islam-related controversies. On Friday, another topic triggered heated discussions regarding halal mooncakes.
With the Chinese national Mid-Autumn Festival (中秋节) holiday nearing, many people discussed how a Chinese university stated that all of their mooncakes (the traditional snack for this festival) will be halal in consideration for their Muslim students.
Beijing's University Of International Business And Economics (对外贸易经济大学) issued a notice on September 22 (see below) regarding the mooncakes, saying "to respect the traditions of our Muslim students, all our mooncakes will be made from halal ingredients."
The issue attracted hundreds of comments, with many saying: "Don't these schools know that Muslims don't even celebrate Mid-Autumn Festival?"
"Respect the Muslims – for this minority, we all have to eat halal."
"Since when did the Chinese Mid-Autumn Festival become a Muslim festival?"
Although much of the anger in this discussion is directed more so at the school's organization ("Why does 99% of the people have to adapt for the 1%?") than at its Muslim students, it does also include much hate speech towards Muslims in general.
One thing the latest controversy shows is that despite the fact that these discussions are now more heavily censored, their tone and terms are the same as before.
Although Global Times asserts that China's "favorable policies" are intended to maintain 'social harmony' and accelerate 'greater ethnic unity,' most netizens commenting on these issues do not seem to be on the same page. Typical comments said: "How can they say we're harming national unity by talking about Muslims?" and "I just don't understand [..]. When did religion become a minority? Can a religion represent minorities?"
By Manya Koetse
Follow @whatsonweibo
Spotted a mistake or want to add something? Please let us know in comments below or email us.
©2017 Whatsonweibo. All rights reserved. Do not reproduce our content without permission – you can contact us at info@whatsonweibo.com.
Chinese State Media Launch 'Hold Your Mother's Hand' Campaign with Xi Jinping at Forefront
"Go back home often and hold your mother's hand, as Xi Jinping does too."
With the online 'hold your mother's hand' campaign, various Chinese state media stress the idea of 'homecoming' and the importance of family ties. President Xi Jinping is represented as the perfect 'family man' leader.
During the Lunar New Year Holiday, the 'coming home' theme is always an important one on Chinese social media. For many people, the Spring Festival is the only time of the year to reunite with their families, something which is annually highlighted by media and social media users.
This year, however, it seems that Chinese state media outlets such as People's Daily, China Daily, and CCTV have a special focus on the 'homecoming' theme. Besides subjects such as 'China's new era', the Belt & Road Initiative, and the 40th anniversary of China's Reform and Opening-up policy, the idea of people 'coming home' and being home in China was an important subject woven throughout the 2018 CCTV New Year Gala last Thursday.
The New Year Gala, that is China's biggest live televised event, is produced by the CCTV and is an important opportunity for Chinese authorities to propagate political ideas and concepts.
This time, the show featured a comical sketch about a Taiwanese couple in the PRC, which was literally called 'homecoming' (回家). A special part of the show featured the 'homecoming' of a 'national treasure' painting to the Palace Museum. A public service ad broadcasted during the show also stressed the idea that there is 'no place like home.'
But the 'homecoming' idea is also propagated beyond the Gala, as various online campaigns are now themed around 'homecoming' and family ties. One of them, featuring an image of Xi Jinping and his mother, was published by various official state media Weibo accounts.
"How long has it been since you spoke to your mum?"
On February 19, People's Daily started its "Hold Mother's Hand" (#牵妈妈的手#) social media campaign by posting a video about urban white-collar workers who are "too busy" to visit their mother.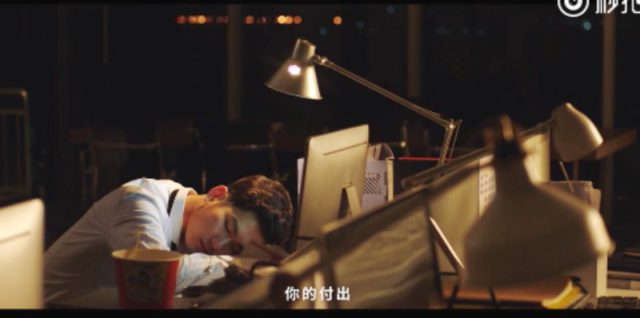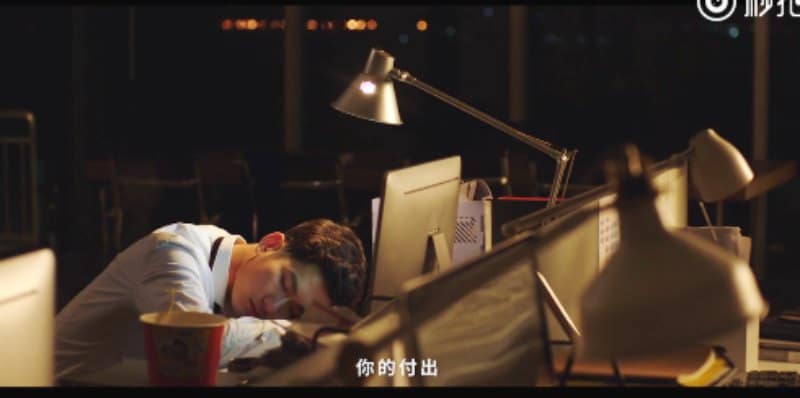 The video first shows images of people at working, going into meetings, and sleeping at their desk. The voiceover says: "You want a stable job. You want to succeed in life. Be acknowledged by others. You want to stay ahead of others, or at least, you don't wanna fall behind. You want a better future than the hard times in the present. You're busy, super busy. (..)"
The video then shifts to images of several older women, waiting by the phone, or sitting at the kitchen table. "How long has it been since you spoke to your mother about what's on your mind?" the voiceover asks: "How long has it been since you had a taste of your mother's cooking? Or since you went together on a walk? How long has it been since you held her hand?"
Then we see a woman at her desk, scrolling through her phone and looking at a picture of Xi Jinping walking hand in hand with his mother, with a Tang poem depicted beside it and read aloud by Xi ("慈母手中線,遊子身上衣"). The first part of the poem loosely translates as "The threads coming from a caring mother's hand, are in the clothes of a traveling son."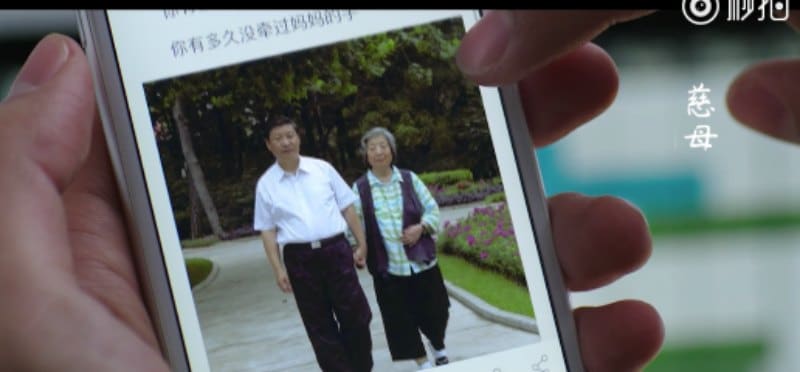 The smiles appear on people's faces when they pick up the phone to call their mother and then go to visit her. "Go home for Spring Festival. Give your mum a hug, give yourself some warmth," the final slogan says.
'Daddy Xi' as the "People's Leader"
The campaign video was promoted online through the "Hold Your Mum's Hand" hashtag #牵妈妈的手#, which had received 500 million views on Weibo by Monday night.
The photo of President Xi Jinping holding the hand of his mother, Qi Xin, was used in the campaign 'profile' photo. This image reiterates the idea of Xi as the 'People's Leader' ("人民领袖"), an idea that was recently also propagated through another video by People's Daily and CCTV, as described by Sinocism editor-in-chief Bill Bishop in "The People's "Leader" Xi Jinping Gets A New Propaganda Title."
New York Times reporter Chris Buckley (@ChuBailiang) noted that the new propaganda about Xi Jinping promotes the term "family-state realm" (家国天下), with Xi as the "father of the nation."
The new CCTV propaganda about Xi Jinping is interesting not only because it hints that he may come from another planet, but also because it promotes the term "family-state realm" (家国天下) with Xi as the father of the nation. https://t.co/fQR5UfdrSC pic.twitter.com/ie6Sqb4aFZ

— Chris Buckley 储百亮 (@ChuBailiang) 18 februari 2018
President Xi Jinping is also nicknamed "Xi Dada" or "Big Daddy Xi" because of his approachable and friendly image (although that moniker was banned from Chinese media in 2016).
Strong nation built on strong family ties
It is not the first time that 'homecoming' and taking care of one's parents is an important subject in state media propaganda; not just for the sake of promoting the image of China as a strong nation built on strong family ties, but also to actually encourage children to look after their parents.
China faces an aging population, and because of the One-Child Policy and the huge migration from rural to urban areas, there is a problem in providing sufficient care for China's senior citizens. It is one of the reasons why children are spurred to visit their parents often – it was even stipulated in a 2013 law.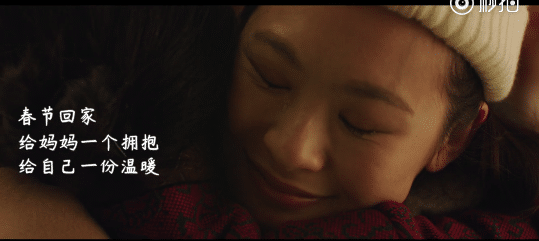 "Now People's Daily is also encouraging us to show filial piety," one commenter wrote.
But there are also people who were seemingly affected by the campaign: "My mum is the best mother in the world. She's invested so much in me. Now I feel so guilty," one netizen said.
"I'm happy I could go home and see my parent's this Chinese New Year," another person commented below the video: "Their hair has turned white, but we get along better now – our bond is stronger than before."
There are also commenters, however, who have different – more practical -concerns on the issue: "My mum doesn't like holding my hand. She thinks it's too mushy and says it feels like she's holding a rat."
By Manya Koetse
Follow @whatsonweibo
Spotted a mistake or want to add something? Please let us know in comments below or email us.
©2018 Whatsonweibo. All rights reserved. Do not reproduce our content without permission – you can contact us at info@whatsonweibo.com.
CCTV Spring Festival Gala 2018 (Live Blog)
It's time for the CCTV 2018 New Year's Gala – follow the highlights and the low points here.
It is time for the CCTV Spring Festival Gala, one of the most-watched, most-discussed, and most mocked lived television events in the world, taking place on the Lunar New Year's Eve. What's on Weibo discusses the ins & outs of the 2018 edition and the social media frenzy surrounding it in this live blog.
The biggest live televised event in the world, the CCTV New Year's Gala, also known as the Spring Festival Gala or Chunwan (春晚), is a true social media spectacle. On February 15th 2018, the 36th edition of the 4-hour-long live production is taking place.
The show, that is organized and produced by the state-run CCTV since 1983, is not just a way for millions of viewers to celebrate the Lunar New Year (除夕); it is also an important opportunity for the Communist Party to communicate official ideology to the people and to showcase the nation's top performers.
Watch the live stream here on What's on Weibo (if you have no access to YouTube, please check the CCTV live stream here).
What's on Weibo provides you with the ins & outs of the 2018 Gala and its social media frenzy, with updates before, during and after the show. Follow our liveblog below (we recommend you keep your browser open – you'll hear a 'beep' when updated). (Note: this live blog is now closed, thank you!).
By Manya Koetse, with contributions via WeChat from Boyu Xiao, Diandian Guo, and Tim Peng
Follow @whatsonweibo
Spotted a mistake or want to add something? Please let us know in comments below or email us.
If you enjoy What's on Weibo and support the way we report the latest trends in China, we would appreciate your donation. It does not need to be much; we can use every penny to help pay for the upkeep, maintenance, and betterment of this site. See this page for more information.
©2018 Whatsonweibo. All rights reserved. Do not reproduce our content without permission – you can contact us at info@whatsonweibo.com.