Over 300 Children Sent to Hospital after Eating Expired Food in Kindergarten, Netizens Express Disbelief
After complaints of 'smelly chicken,' parents went to see for themselves what their children get to eat at school.
After eating expired rice vinegar, rice full of insects, and spoiled chicken legs at kindergarten, more than 300 children were sent to hospitals in Anhui and Jiangsu last week. The latest food scandal has led to disbelief among netizens.
Over the past week, the hashtag "Kindergarten's Use of Expired Food Exposed" (#幼儿园被曝使用过期食品#) received over 39 million views on Chinese social media site Weibo. People are not just angered about yet another food scandal – they are especially shaken because it is young children that have become the victim of contaminated and expired food.
The food scandal occurred at kindergartens Tongxin (童馨) and Dedebei (得得贝) in Wuhu, Anhui province. Both kindergartens were led by the same principal, Mrs. Liang (梁).
During an on-the-spot investigation by several parents, some serious problems were discovered with the food served at the school, which later led to at least 300 children being sent to the hospital. Nine of these children were found to have health problems and were further examined at the Nanjing Children's Hospital.
Parents first started noticing there was something wrong at their children's school just after mid-September, when some children complained of stomach ache and the "smelly chicken legs" they ate at school. Several parents then went to inspect the food at the school canteen themselves, and discovered their children were served substandard food, including expired rice vinegar, refrigerated meat with a 2017 expiry date, and rice full of bugs. They immediately went to the school principal for an explanation and reported the incident to the local police station.
The discovery caused a great uproar among the parents of the kindergarten pupils. Many parents were reportedly unwilling to send their children back to school.
The kindergartens' school board soon issued an apology letter, stating that the school would comply with any investigations. They also sent out a message to parents that the school would continue to stay open, and that they would make sure that the food would meet safety requirements.
Following a news conference on Sunday, Chinese state media reported on Tuesday, September 25, that police had detained the school principal for her role in the use of expired food in the school canteens.
Online, many netizens expressed their disbelief about the umpteenth time children have become the victim of safety scandals in China. "Do we even dare to send our children to kindergartens anymore?", a popular comment said: "Do we even dare to have children at all?"
Besides various food scandals, Chinese parents have been particularly worried after other scandals were exposed over the last year, such as the various vaccine controversies, the RYB kindergarten abuse scandal, and the scandal involving a Ctrip kindergarten where children were force-fed wasabi.
One Weibo user said: "How can people treat children like this? How would they feel if their own children would be treated like this?" Another Weibo user wondered: "How far are people willing to go to make some extra money?"
"This is not the first time children are the victim of food scandals, and it won't be the last time either," one Weibo user wrote: "I just hope that the concerning institutes will try their best to protect our children."
There were also many netizens referring to health safety scandals concerning children in earlier years, writing: "The milk powder scandal, the vaccine scandal, and now infected rice full of insects. Our children must be tired already; it might be better for them to grow up as soon as possible."
According to news reports, investigations by the China Food and Drug Administration into this matter are still ongoing. All children who have been examined at the hospital, including those who have been admitted, are currently in stable condition.
By Gabi Verberg
Follow @whatsonweibo
Spotted a mistake or want to add something? Please let us know in comments below or email us.
©2018 Whatsonweibo. All rights reserved. Do not reproduce our content without permission – you can contact us at info@whatsonweibo.com.
Schools in China Are Reopening, But Will Lunch Breaks Ever Be the Same Again?
Chinese students are back to school, but school life is not back to normal.
As most schools across China are opening their doors again, social media users are sharing photos of what school life looks like in the post-COVID-19 outbreak era this week.
Some videos and images that are circulating on Weibo and Wechat show somewhat dystopian images of the post-COVID-19 school life at primary and (senior) high schools – students eating while standing outside in straight lines, or pupils wearing face masks taking turns to eat their lunch (supposedly to reduce the chances of contagion via respiratory droplets, see tweeted video below).
Many Chinese students are back to school, but school life is not back to normal. #seenonwechat #covid19 pic.twitter.com/EQqyU4LG4Z

— Manya Koetse (@manyapan) April 10, 2020
Most schools in China have already started or will open later this month. Only Hubei province and Beijing have not yet announced school reopening plans, Caixin reports.
But although China is gradually back to business after its weeks-long coronavirus lockdown, daily life is far from normal as the country remains on high alert for a possible second wave of COVID-19 infections.
Schools are therefore also taking strict precautions to reduce infection risks both in and outside of the classroom.
Lunch break policy and procedures are just one of the many things that have changed at Chinese schools now.
On Weibo, 'Henan Education' is one of many accounts posting about the dramatically different way of eating at China's school canteens in these post-COVID-19-outbreak times.
In Xingyang city, for example, special supervisors have been allocated to high schools to maintain the order and reduce the number of students gathering at the school entrances and assist students with lunch break seatings at the canteen.
At a senior high school in Kaifeng, all students have their lunch breaks in the canteen at one side of the table only, leaving enough space in between the other students.
Other schools have set up their canteens like examination rooms, only allowing one student per table, only facing one direction.
One Weibo user posts how her Tianjin school is preparing for the lunch break arrangements, with indicators on the floor marking the direction students should walk in and the distance they have to keep from each other.
One other school in Jiangsu's Huai'an has put dividers on all lunch tables to separate students while having their lunch break.
"It feels like taking exams," some commenters write about the new lunch break policies. "We can no longer look around and whisper in each other's ear."
One school board in the city of Beihai has decided to make use of its new separating screens to stimulate more studying during lunch breaks; they have printed study material for the upcoming 'gaokao' exams on the dividers.
Some netizens think that other schools will follow this example if it appears to be effective. In that way, the post-COVID-19 lunch break will turn into just another study opportunity.
For more COVID-19 related articles, please click here.
By Manya Koetse (@manyapan)
With contributions from Miranda Barnes
Follow @whatsonweibo
Spotted a mistake or want to add something? Please let us know in comments below or email us. First-time commenters, please be patient – we will have to manually approve your comment before it appears.
©2020 Whatsonweibo. All rights reserved. Do not reproduce our content without permission – you can contact us at info@whatsonweibo.com.
Distrust and Despair on WeChat and Weibo after Death of Wuhan Whistleblower
Dr. Li is now the face of the coronavirus crisis.
First published
The confusing information flows on the tragic death of Dr. Li are emblematic of the deeper problems behind the Wuhan pneumonia outbreak. Li is now the face of the Coronavirus crisis.
Many Chinese netizens had a sleepless night tonight as reports and posts poured in on the passing of Li Wenliang, one of the doctors who first tried to raise the alarm about the coronavirus outbreak in late December.
Individual posts expressing anger, distrust, and despair flooded Chinese social media after various sources, including the Party news outlet Global Times, first reported that Li had died earlier on Thursday, then later claimed that the young doctor was still alive but in critical condition, only to be followed by more reports stating that Li had passed away at 2:58 AM on Friday.
The 34-year-old doctor Li Wenliang was one of the eight 'whistleblowers' who tried to warn his colleagues about the Wuhan virus outbreak in late 2019, but was censored and reprimanded by local police for making "false comments."
He later became infected with the virus himself while working at the Wuhan Central Hospital.
At a certain moment on early Friday morning, both the hashtags "Li Wenliang Is Still Being Rescued" (#李文亮仍在抢救#) and the hashtag "Dr. Li Wenliang Has Passed Away" (#李文亮医生去世#) were trending on Chinese social media at the same time, with netizens' anger and confusion growing.
The Wuhan Central Hospital confirmed Li's death in an online announcement the early hours of Friday morning.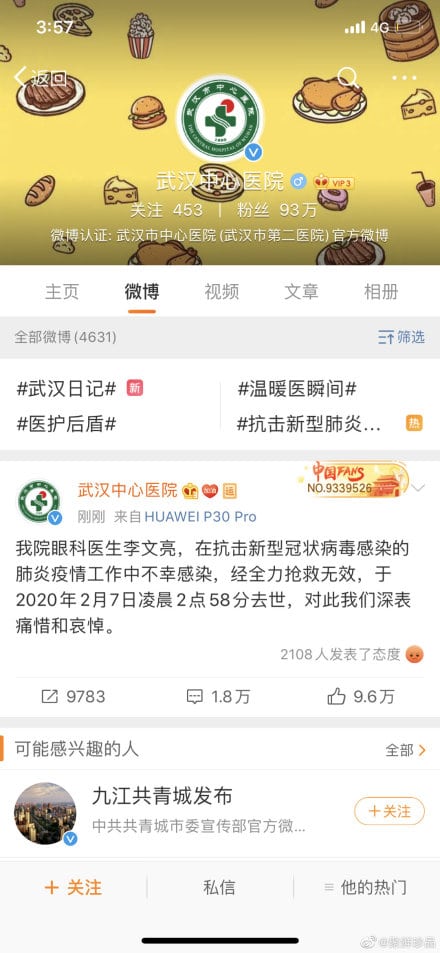 As discussions flared up on Weibo, netizens soon discovered that many posts were deleted, that only "blue V" Weibo accounts (verified official government, media, website, business etc accounts) were able to publish posts about Li's passing, and that news relating to Li was seemingly kept out of the top search lists on Weibo.
In response to this, the hashtag "Can You Manage, Do You Understand?" (#你能做到吗?你听明白了吗#) surfaced on Weibo, which is a reference to the letter Li was forced to sign earlier this year for "disturbing public order."
"Can you manage? Do you understand?

"I don't understand, fuck off." pic.twitter.com/zNBw93f5Rg

— Frankie Huang 🐯 (@ourobororoboruo) February 6, 2020
Many netizens are not just expressing their anger and sadness over the death of Li, but also about the way it was reported and the distrust in media, authorities, and social media platforms that comes with it.
By early Friday morning, the phrase "Can You Manage, Do You Understand?" seems to have become a protest slogan for freedom of speech.
The messiness of Chinese media first reporting his death, then claiming Li was still on life support, and then the definite news of his passing has struck a nerve among netizens as it also epitomizes the handling of the Wuhan virus outbreak itself.
Some Weibo users suggest that official media purposely changed the narrative on Li's passing to control the public opinion on the issue.
Many people express their frustration about not being able to trust supposedly trustworthy sources.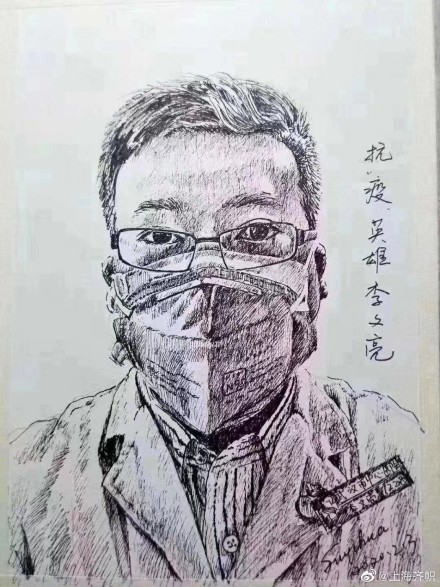 "They wouldn't let him live when he was alive, they wouldn't let him die when he was dead," some write.
"We know they're lying, they know they're lying, they know we know they're lying, we also know they know we know they're lying,..

but they still lie."

– one of the many popular Weibo posts on #LiWenliang under now censored #你能做到吗你听明白了吗 hashtag. pic.twitter.com/dG4DCFqpwi

— Manya Koetse (@manyapan) February 7, 2020
"Our hero, rest in peace," many commenters say.
Dr. Li is survived by his pregnant wife and their first child.
For more information about the main social media trends in China regarding the coronavirus, also see our article on the 8 Major Trends in Times of 2019-nCoV.
By Manya Koetse, additional research by Miranda Barnes
Follow @whatsonweibo
Spotted a mistake or want to add something? Please let us know in comments below or email us. First-time commenters, please be patient – we will have to manually approve your comment before it appears.
©2020 Whatsonweibo. All rights reserved. Do not reproduce our content without permission – you can contact us at info@whatsonweibo.com.