Satirical Swedish TV Show Making Fun of Chinese Adds Fuel to Fire after Tourist Row
The show, that tells Chinese tourists not to defecate in the streets, has been denounced by the Chinese Embassy in Sweden.
After a controversial incident involving Chinese tourists in Stockholm, this time it is a Swedish TV show that is triggering waves of comments on Chinese social media for "insulting Chinese." Diplomatic tensions between Beijing and Stockholm seem to rise as the Chinese embassy has published another safety alert for Chinese citizens in Sweden today.
A satirical Swedish TV show is accused of "insulting Chinese" by Chinese media and netizens for a sketch that was featured its most recent episode. (Youtube link here).
The sketch was themed around the topic of 'welcoming Chinese people to Sweden,' listing a number of do's and don'ts for Chinese tourists in a satirical 'information video' that was published on Chinese video streaming site Youku. The video was accompanied by a dubbed voice speaking in Chinese.
In the video, "taking a poo outside of a historical place," for example, is said to be a "no do" -referring back to Chinese tourists allegedly pooing in public (there's a Chinese sign outside the Louvre Museum that forbids people from defecating). The host also says that Chinese tourists should not mistake pet dogs that are being walked in Sweden for lunch.
The Swedish TV show in question is called 'Swedish News' (Svenska Nyheter/瑞典新闻), and makes satire out of recent (political) news. The controversial episode was aired on Friday night, September 21st.
Another issue, one that particularly seemed to have struck a nerve among Chinese netizens, is that the show also calls Chinese people "racist," and says that Sweden is a multicultural society that protects the rights of everybody – believing in the equality of everybody no matter where they are from -, "unless they come from China."
The satirical comment makes fun of the idea that Swedes would supposedly be racist towards Chinese. The alleged "abuse" of a Chinese family in Stockholm and its aftermath generated a lot of negative news attention on Sweden over the past month.
The Chinese embassy in Sweden even issued a safety alert, stating that recently, there are more cases where Chinese tourists have been victims of theft and robbery, as well as cases where victims were treated poorly by Swedish police.
Another particularly sensitive issue, is that the show featured a map of China that did not show Taiwan nor parts of Tibet. What makes matters 'worse,' as reported by Chinese media, is that the video was uploaded to a Chinese video streaming site. The segment featured in the show also had the 'Youku' watermark in it.
"A gross insult to and vicious attack on China and the Chinese people."
On September 23, Chinese media outlet The Observer wrote about "the Swedish TV show that insults China" ("辱华的瑞典节目"), suggesting that the show depicts Chinese as racist, calling it a "defamation of Chinese people."
The Chinese Embassy in Sweden strongly denounced the TV show's contents on Saturday, September 22, for "maliciously attacking China and Chinese people," publishing an official statement on their website.
The full statement is a follows:
"In the evening of 21 September, the SVT broadcast a Swedish News program which outrageously insulted China. The program leader Jesper Rönndahl made comments that amount to a gross insult to and vicious attack on China and the Chinese people. We strongly condemn it, and have lodged a strong protest to SVT.
The SVT program and Jesper Rönndahl spread and advocate racism and xenophobia outright, and openly provoke and instigate racial hatred and confrontation targeting at China and some other ethnic groups. The program also referred to a wrong map of China where China's Taiwan province and some part of the Tibet region were missing, which severely infringes on China's sovereignty and territorial integrity. The program breaks the basic moral principles of mankind, and gravely challenges human conscience and is a serious violation of media professional ethics. To think that such things could happen in Sweden, an advocate of ethnic equality!
Relevant program staff from SVT argued that this is an entertainment program, an argument which is totally unacceptable and we firmly reject. We urge SVT and the program to immediately give an apology. We reserve the rights to take further actions."
"This is low. It is making Sweden look bad."
On social media site Sina Weibo, the hashtag "Swedish TV Show Insults China" (#瑞典辱华节目#) has over 20,5 million views at time of writing, and it is also included in the top 10 of most popular topics.
Many netizens write the TV show is "excessively hurtful" towards China. Although a majority of those who previously commented on the tourist row said that the Chinese family was at fault, a seeming majority now says on Weibo that it is unfair to stigmatize all of China over that one family row.
"This is low. It is making Sweden look bad," one popular comment read.
"Sweden can no longer distinguish right from wrong," another top comment said: "They take in many refugees as if they're family, but these migrants have low basic morals and go vandalizing everywhere, but the Swedish government is too afraid to even fart [at them]; they'd rather go scolding Chinese to get some sense of existentialism."
"They think worse of Chinese than they do of refugees," one person replied.
"We remind Chinese citizens in Sweden to pay extra attention to their safety."
Over the past month, the relations between China and Sweden have become somewhat strained. An overview of the incidents:
◙ September 12: The Dalai Lama visits Sweden.
◙ September 14-16: Sweden and China end up in a diplomatic row after three Chinese tourists are thrown out of a hostel in Stockholm after an argument over their check-in time. It is noteworthy that this incident happened on in early September, but only received massive attention in Chinese media in mid-September. State media denied the criticism had any connection to the Dalai Lama's visit to Sweden.
◙ September 14: The Chinese Embassy in Sweden issues a safety alert stating that recently, there are more cases where Chinese tourists have been victims of theft and robbery, as well as cases where victims have been treated poorly by Swedish police.
◙ September 20: Official Chinese newspaper (or 'Party tabloid') Global Times publishes a column titled "Tolerant Chinese hotels", which argues that Chinese hotels are "lenient and understanding", and that "this good-hearted treatment isn't the same for some Chinese tourists in Sweden who were violently thrown out of a hostel in the heart of the country's metropolis."
◙ September 21: The controversial Swedish satirical TV show airs, which allegedly "insults" China and Chinese people.
◙ September 22: The Swedish Migration Board decides to temporarily stop carrying out deportations of Uyghurs and other minorities back to China. According to InBeijing.se: "This also applies to cases were asylum have already been denied, such as the above mentioned family, who will not be forced to return to Xinjiang and the almost certain repression awaiting them there." Also read about the earlier news on this insightful site involving the Uyghur family that risked deportation from Sweden.
◙ September 22: The Chinese Embassy in Sweden issues a statement denouncing the satirical Swedish TV show for "maliciously attacking" China.
◙ September 23: The Chinese Embassy in Stockholm issues another safety alert for Chinese in Sweden, warning Chinese to pay extra attention to their safety in China, saying: "We remind Chinese citizens in Sweden to pay attention to their safety. Since April of this year, we have received daily reports from Chinese about being robbed, having things stolen and losing documents, but the Swedish police so far have not investigated any cases. We cannot effectively guarantuee the legal rights of Chinese citizens [here]."
Note that the case of Gui Minhai (桂民海), a Chinese-born Swedish scholar and prolific book publisher who has been in custody or under close surveillance in mainland China for the past two years, also continues to be an important point of disagreement between China and Sweden.
After all controversy, some people on Weibo now write: "Just don't go to Sweden." Many others say: "I wouldn't even want to go anymore."
By Manya Koetse, Richard Barnes, Miranda Barnes
Follow @whatsonweibo
Spotted a mistake or want to add something? Please let us know in comments below or email us.
©2018 Whatsonweibo. All rights reserved. Do not reproduce our content without permission – you can contact us at info@whatsonweibo.com.
Clean Your Plate, Waste No Food – China's Anti Food Waste Campaign Is Sweeping the Nation
These are the main trends and topics in the context of China's nationwide 'Clean Plate campaign.'
Empty plates, small orders, stop promoting excessive eating – China's anti-food waste campaign is alive and kicking all across the country. These are some of the main social media topics and trends in the context of the 'Clean Plate campaign.'
Since the call by President Xi Jinping to fight against food waste earlier this month, new regulations, initiatives and trends are popping up all over the nation to curb the problem of food loss.
Following China's COVID-19 crisis, the ongoing trade war with the US, and mass flooding, President Xi called the issue of food waste "shocking and distressing," as he stressed that the country needs to "maintain a sense of crisis about food security."
According to numbers posted in online information sheets by state media, some 38% of the food at Chinese banquets goes to waste. In 2015 alone, an estimated 17 million to 18 million tons of food was wasted.
This is the second time in a decade for China to launch a 'Clean Plate' campaign (光盘行动). There was a previous campaign in 2013 that used the slogan "I'm proud of my clear plate." The estimated annual wastage of grain in China at the time was estimated to be 50 million tons.
On Chinese social media, the 2020 "Operation Clean Plate" is receiving a lot of attention. These are some of the trending topics we have seen on Weibo in relation to the anti-food waste campaign.
RESTAURANTS
"N-1" Is the Way to Order, the "Waste Prevention Supervisor" Will Help You
One way restaurants are now addressing the problem of food waste is implementing the "N-1 ordering mode" (N-1点餐模式) which basically means that instead of a group of ten people ordering eleven dishes (N+1), they are advised to only order nine.
Famous Peking roast duck restaurant company Quanjude (全聚德) now advises groups of, for example, seven people to either take their set meal or to order no more than five or six dishes from the menu to avoid wasting food.
They have even appointed a "Waste Prevention Supervisor" (制止浪费监督员) in their restaurants to oversee customers' orders.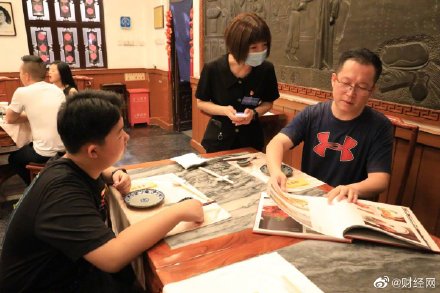 The "N-1" idea is now being implemented in various cities across China.
Earlier this month, Sixth Tone reported that the Wuhan Catering Industry Association (武汉餐饮行业协会) was taking measures to limit the number of portions restaurant patrons can order. Now, the same measures are also being taken in other cities, like in Shijiazhuang (Hebei), Xianning (Hubei), Xinyang (Henan), Guangzhou (Guangdong), Quanzhou (Fujian), and other places.
One restaurant in Changsha got a bit too carried away recently, as it encouraged customers to weigh themselves and order food accordingly. The restaurant apologized after causing some controversy on social media.
TRAINS
Smaller Portions on the Gaotie
In line with the country's anti-food waste campaign, some Chinese highspeed railway trains have also started introducing smaller portions for their in-train food services.
Instead of larger portioned rice meals or noodles, the Nanchang Highspeed Train now offers customers different small size portions in 'blue and white porcelain' bowls.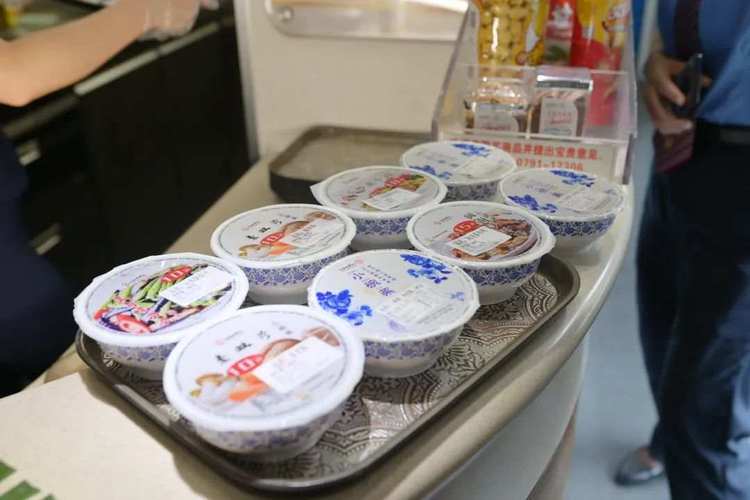 The initiative became a topic of discussion on Weibo (#南昌高铁推出青花瓷小碗菜#), where some applauded it while others complained that the meals were still relatively expensive while being small.
SCHOOLS
Be an "Empty Plate Hero"
China's anti-food waste campaign is also actively promoted in schools across the country. Hundred primary schools in Jinan, for example, teach their students about combating food waste with a slogan along the lines of "Don't leave food behind, be a 'clean plate' hero" (*the original slogan "不做"必剩客",争做"光盘侠"" also has some word jokes in it).
The schools have also set up various activities to raise awareness of food waste.
ONLINE MEDIA
Operation Clean Plate: Empty Plates Snapshot
"Operation Clean Plate" is not just actively promoted in Chinese restaurants and in schools; Chinese state media and official (government) accounts are also promoting the campaign through social media.
The Weibo hashtag "Operation Clean Plate" (#光盘行动#), initiated by the Chinese Communist Youth League, had over 610 million views by August 21st, promoting the idea of "treasuring food, and refusing to waste it."
Besides the Communist Youth League, other official accounts including China Youth Daily and People's Daily also actively promote awareness on wasting food and encourage people to empty their plates. China Youth Daily even initiated the online trend of posting a pic of your own empty plate under the hashtag "Clean Plate Snapshots" (#光盘随手拍#)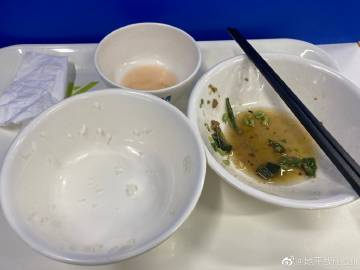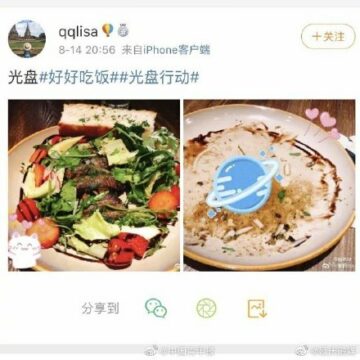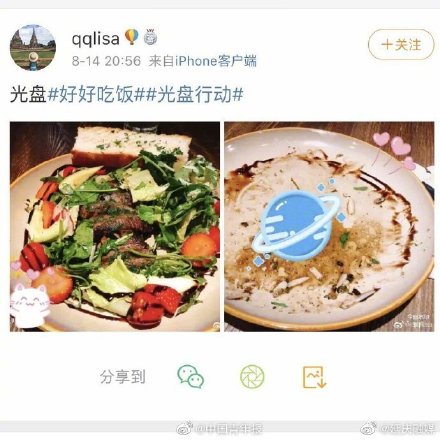 Another hashtag, the Big Clean Plate Challenge (#光盘挑战大赛#), initiated by People's Daily, had 290 million views by August 21, with hundreds of netizens posting photos of their before and after dinner plates.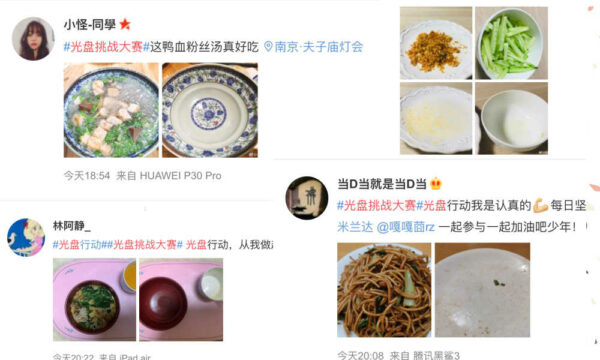 Using the "clean plate" hashtags, many netizens are posting evidence that they are not squandering food.
EATING INFLUENCERS
Big Stomach Stars Need to Turn it Down a Notch
In 2018, we wrote about the trend of China's "big stomach stars" (大胃王) or "eating vloggers' (吃播女博主), an online video genre in which hosts will consume extremely large amounts of food (also known as the 'mukbang' phenomenon in South Korea).
Since attempting to eat 17 kg (35 pounds) of meat by oneself – something that is actually done on camera by these kinds of vloggers – does not exactly fit the idea of China's anti-food waste campaign, these eating vloggers are now being criticized in Chinese media.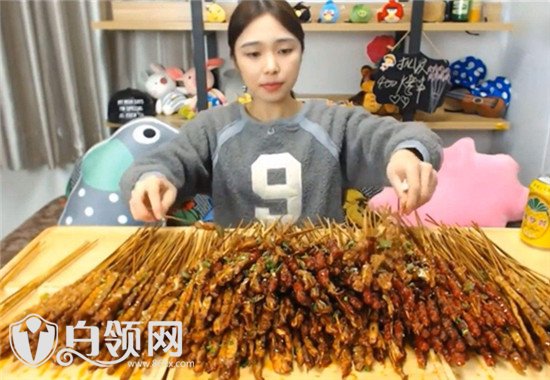 Social media platforms such as Douyin (the Chinese Tiktok) have also taken action against the 'big stomach stars.' On August 12, the Douyin Safety Center published a video saying the app will not allow any behavior on its platform showing food-wasting or otherwise promoting activities that lead to food loss.
For now, popular Chinese eating influencers will have to adjust the content of their videos. Little Pigs Can Eat (逛吃小猪猪) is one of these influencers who recently has showed smaller portions and more empty plates in her videos.
By Manya Koetse, with contributions by Miranda Barnes
Follow @WhatsOnWeibo
Spotted a mistake or want to add something? Please let us know in comments below or email us. First-time commenters, please be patient – we will have to manually approve your comment before it appears.
©2020 Whatsonweibo. All rights reserved. Do not reproduce our content without permission – you can contact us at info@whatsonweibo.com.
Chinese Online Responses to the 'TikTok Problem'
Trump's TikTok and WeChat bans have been all the talk over the past weeks. These are the main viewpoints on the issue as recently discussed on Chinese social media.
News of US President Trump signing executive orders on August 6th to prohibit transactions with TikTok and WeChat parent companies Bytedance and Tencent remains a hot topic of discussion on social media.
Both apps have been described as posing a threat to America's national security, with President Trump claiming that the app's use in the United States heightens the risk of potential espionage and blackmailing practices. The apps are also accused of censoring content that is deemed politically sensitive to the Chinese government, and of being channels for disinformation campaigns.
Over the past three years, Bytedance's Tik Tok app has become super popular in the United States, where it has approximately 100 million active users. Tencent's WeChat has 19 million daily active users in the United States.
Until Trump's executive orders go into effect (the September 20th deadline has been moved to November 12th), much is still unclear about the possible consequences of such a ban – and what the (vague) orders actually mean.
Will Tik Tok be sold to an American company? Will TikTok and WeChat be banned from Apple and Google app stores? How will the ban affect those for whom Wechat is an important communication tool in their everyday personal and business life? Will iPhone users in China still be able to use China's number one app?
While news developments are still unfolding, the "TikTok problem" remains to be a hot topic on Chinese social media, with hashtags such as "How Do You See the TikTok Storm?" (#如何看待tiktok风波#) and "What's the Main Goal of Trump Banning TikTok?" (#特朗普封禁TikTok的核心目标是什么#) receiving thousands of views and comments.
These are the main takes on the issue in the Chinese online media spheres recently.
"It's all about US (technological) hegemony"
During a press conference on August 12, China's Ministry of Foreign Affairs spokesperson Zhao Lijian (赵立坚) expressed that America was showing "bad table manners" for pressing down on "non-American companies," and that the Tik Tok app had "nothing to do with national security."
The fragment went viral on Chinese social media and was reposted many times by media accounts and Chinese web users.
Under the hashtag "Zhao Lijian Responds to the Tik Tok Problem" (#赵立坚回应涉TikTok问题#, 87 million views on Weibo), many Weibo users noted how Zhao did not say that the US was pressing down on 'Chinese' companies, but that it is suppressing 'non-American' companies ("非美国企业"), suggesting that it is all about American power and hegemony.
A few days earlier, Chinese state media outlet Global Times also published an article stating that, according to legal experts, the US government will be able to order Apple and Google to remove all products owned by ByteDance from app stores around the world based on the recent executive orders.
Similar to the statement issued by China's MOFA, Global Times also writes that the Trump administration "has displayed its ugly face that prevents any non-US company to break the US technological hegemony." The issue of Chinese apps threatening US "national security" is called "a shameless excuse" that is used to "destroy China's most successful globalized internet company."
The phrase 'non-American companies' was probably also used by Zhao to emphasize that Bytedance has stepped up efforts over the past year to separate its international Tik Tok business from its China-based operations.
The company took on Disney's head of streaming efforts Kevin Mayer to become its CEO of TikTok, an app that is different from its Chinese version, Douyin (抖音).  TikTok claims that all US user data is stored in the United States, with backup redundancy in Singapore, and that their data is not subject to Chinese law.
Other media outlets, such as Sina Tech, also stress the fact that any claims of TikTok or WeChat posing a risk to US national security are completely unsubstantiated and are merely another excuse to target Chinese products.
"The success of TikTok undermines the absolute American influence on the internet," one Weibo commenter (@财务琳姐) writes: "They've nothing left to do but to discredit China." Others say: "They're beating down on China's entire internet business to contain China's developments."
The same sentiments were reiterated by Zhao Lijian in a press conference on August 18, where he said that the US is engaging in a deliberate attempt to "discredit and suppress" Chinese companies.
"Shooting themselves in the foot"
A recurring way of responding to executive orders on WeChat and Tik Tok in Chinese online media, is that a possible ban on these Chinese apps would only have negative consequences for the United States.
Directly after news came out on Trump's executive orders, the question "Apple or WeChat" started trending on Chinese social media, with many assuming that a possible ban would mean that Apple phones will no longer allow WeChat on its phones.
For the majority of people, the question is not a difficult one. As a messaging, social media, payment app and more, WeChat has become virtually indispensable for Chinese web users – they would simply stop buying iPhones.
The hashtag "US Shutting Down WeChat Will Affect iPhone Sales" (#美国封杀微信将影响iphone出货量#) discusses the stance of analyst expert Guo Mingji (郭明錤), who recently said that the ban on WeChat will have major impact on iPhone sales and could possibly lead to a drop of 25-30% in its sales volume.
One Weibo user (@赵皓阳) commented: "For the Chinese market, not using an iPhone could have some impact, but not using WeChat would mean cutting yourself off from society."
"Ban it, just ban it, Chinese people will just switch to the high-end Huawei phones, and it will beat down Apple – great," another netizen (@黄多多成长记) wrote.
"Shifting public attention away from COVID19 crisis"
The COVID19 crisis in the US has been receiving a lot of attention in Chinese media recently, and the American struggle to contain the virus is often linked to Trump's mission to crack down on Tik Tok, WeChat, and Huawei.
"Focus on your own COVID19 epidemic, instead of trying to divert the attention all the time," one Weibo user (@凯MrsL) writes. Similar comments surface all over Chinese social media, suggesting that the 'anti-China' strategy is just a way to distract the attention from the continuing spread of the coronavirus in the US.
Others write that Trump has made "a terrible mess," and that "beating China" is the only card he has left to play. "This all about the upcoming elections," some suggest.
The People's Daily wrote on August 18 that, since the US is confronted with the severest situation of COVID-19, it should make "greater efforts than any country in the world to cope with the pandemic," adding: "Surprisingly, it seems that such normal logic doesn't exist in the minds of certain U.S. politicians."
"An eye for an eye"
Amid all different perspectives in which the recent Tik Tok/WeChat ban developments are discussed, there is also one other recurring sentiment that stands out.
Reflecting on the Chinese online environment, there are also multiple Weibo users who argue that China virtually blocked so many American companies from thriving in the Chinese digital market (unless they would be willing to transform their products to comply with China's strict cyber regulations), that it is not surprising that the US would also strike back to make sure Chinese companies cannot thrive in the American digital environment.
China has already banned so many American products, from Google to Facebook, from Instagram to Pinterest and Twitter, that "there is nothing left to ban" for China: "We have few countermeasures left to take."
By Manya Koetse
Follow @WhatsOnWeibo
Spotted a mistake or want to add something? Please let us know in comments below or email us. First-time commenters, please be patient – we will have to manually approve your comment before it appears.
©2020 Whatsonweibo. All rights reserved. Do not reproduce our content without permission – you can contact us at info@whatsonweibo.com.