Six Years After Becoming a Viral Hit, "Little Jack Ma" is Not Doing Well At All
Recent videos of 'Little Jack Ma' have caused concern among netizens. They are angry at those who exploited and abandoned him.
He became famous overnight for looking like a mini-version of Jack Ma. Now, he's worse off than before he became an online sensation.
Six years after he became famous for looking like Alibaba founder Jack Ma (Ma Yun 马云), the young boy known as 'Little Jack Ma' seems to be struggling and lagging behind his peers.
The boy's name is Fan Xiaoqin (范小勤) and he is from a rural village in Yongfeng County in Jiangxi Province. In November of 2015, at eight years old, he became an online sensation for resembling Jack Ma. After his photo went viral – one of his cousins initially posted it online – he was nicknamed 'Little Jack Ma' (also 'Mini Ma Yun', 小马云).
Fan Xiaoqin's resemblance to Jack Ma is so striking, that there have even been persistent fake news posts including a photo of Fan, claiming it is Jack Ma as a young boy.
Fan Xiaoqin was all the rage – he even became a meme. People wanted to take a photograph with him, companies wanted him to promote their business, and social media influencers wanted to share a moment with him for clout-chasing reasons. 'Little Jack Ma' traveled the country to attend banquets and fashion shows and to meet with celebrities.
After Jack Ma himself even acknowledged the resemblance between him and Xiaoqin in a Weibo post, Chinese state media claimed Alibaba was funding Fan Xiaoqin's education until university graduation, something that was soon denied by the company's spokesperson.
At the time, the boy's sudden fame was already a cause of concern to some. Just a year after becoming famous, it became known that Fan was not doing well at school and that his parents, who are poor and struggling with health issues -his mum has polio and his dad is handicapped -, did not know who to trust or how to deal with their son's rise to fame.
A Tragic Story Behind a Famous Meme
At the height of his fame, Xiaoqin was managed by a company that arranged his gigs and he also had his own nanny to accompany him during his travels and performances. At events and dinners, Xiaoqin was often constantly playing a role and shouting out Alibaba slogans.
Now, Fan Xiaoqin is once again a topic of online conversation as recent videos and a live stream on the boy came out, showing the boy is back with his family in the village.
He was previously let go by the company that managed him. His former official Weibo account and Kuaishou account, where he was known as 'Chairman Little Jack Ma' (小马云总裁) are no longer online, and there have been no new updates on his activities since the launch of a Mini Jack Ma schoolbag in 2019.
The video shows that the boy, both physically and mentally, appears to be much younger than his actual age. At the age of 14, his physique is more similar to a 6 or 7-year-old child and he suffers from painful legs. Another video also shows that the boy falls behind in language development and struggles to answer the most basic math questions.
The moment that Xiaoqin is approached by the (self-media) reporters live streaming their visit, he walks up in dirty clothes and says: "Money, do you have money?"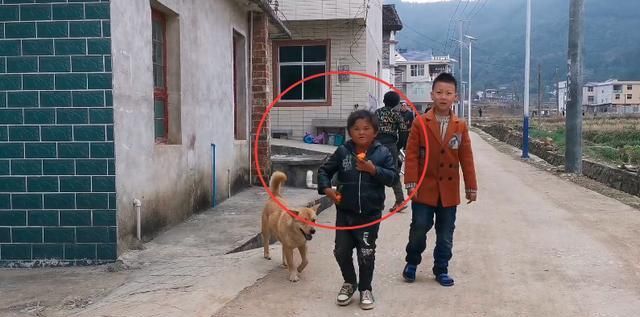 According to an article on Sohu by author Li Honghuo (李洪伙), the company that managed Xiaoqin promised to send the family 2000 yuan ($310) every month, but they have stopped issuing payments seven months ago.
News about Fan Xiaoqin's current situation triggered anger online, with many people saying Fan Xiaoqin is a victim of greedy people who exploited the boy and then abandoned him. The recent video shows the boy has small spots on his skin; some claim it is because the boy was given hormones to slow down his growth.
What commenters are most upset about is how Xiaoqin did not get the chance to properly go to school together with his peers, and that the most important years of his childhood were taken away from him for a piece of fame that eventually left him empty-handed. He now seems to be worse off than before he became 'Little Jack Ma.'
"They abandoned him once he was no longer of value to them," some say. "They destroyed him, let's hope he can still lead a happy life."
Some people also wonder if the child has an intellectual disability, with his situation only getting worse during the years he was exploited. They blame his parents for allowing their son to be taken away from them.
But there are also those who criticize the people who now visited Xiaoqin and filmed him, questioning their intentions and calling on people to leave the child in peace.
Overall, the majority of commenters still hope that Xiaoqin can receive a proper education and enjoy what is left of his childhood.

By Manya Koetse
Follow @whatsonweibo
Spotted a mistake or want to add something? Please let us know in comments below or email us. First-time commenters, please be patient – we will have to manually approve your comment before it appears.
©2021 Whatsonweibo. All rights reserved. Do not reproduce our content without permission – you can contact us at info@whatsonweibo.com.
Top 10 Chinese Celebrities with the Most Followers on Weibo in 2021
The top celebrities with the most followers on social media – who are they, why are they famous, and what do they do?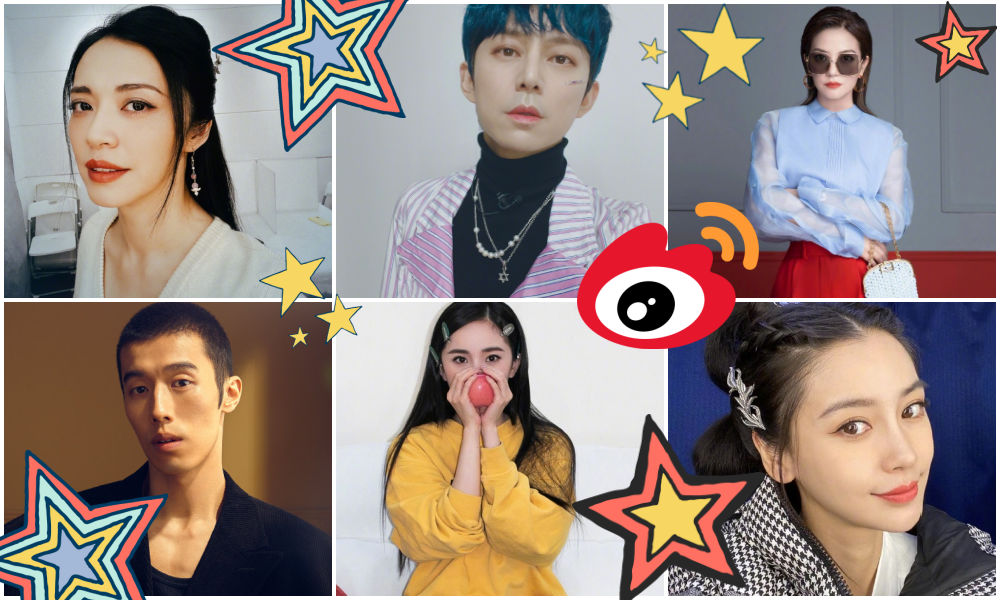 They are the crème de la crème of China's giant pop entertainment scene. These are the top celebrities and influencers on Weibo in early 2021.

This is the "WE…WEI…WHAT?" column by Manya Koetse, original publication in German by Goethe Institut China, see Goethe.de: WE…WEI…WHAT? Manya Koetse erklärt das chinesische Internet.

While celebrities such as Justin Bieber, Barack Obama, and Katy Perry are the leaders of Twitter in terms of followers, there are Chinese celebrities with an equally large fanbase on the country's biggest social media platform Weibo, yet these are names that are generally less well-known outside of China.
Although China's social media landscape has seen the rising popularity of new social apps and sites, Weibo is still the number one platform for the entertainment industry. This is a list of Weibo celebrities with the most followers as of early 2021.
There are some things worth noting about this list. First, it does not contain any 'internet celebrities' (网红 wanghong), meaning people who have become self-made online influencers through the internet. The biggest Weibo stars are still the 'traditional celebrities' in the sense that they have made their big breakthrough through TV drama, cinema, or the mainstream pop music scene.
Second, although the top list of Chinese celebrities with the most followers on Weibo has changed somewhat throughout the years, many of these celebrities have been at the top for a long time already. Some of them simply have become so big on Weibo because they were among the first celebrities to join the platform since its beginning in 2009. Celebrities such as Yao Chen or Chen Kun already had over 50 million followers on Weibo in 2013. This indicates that while China's social media landscape is becoming more diverse, it is also more difficult for new social media superstars to emerge and become bigger than the long-time Weibo champions.
Third, the most-followed celebrities on Chinese social media are often true 'superstars' in the sense that they are all incredibly versatile. They often do acting, singing, presenting, but also have their own (restaurant) business or engage in other activities as 'celebrity entrepreneurs.' Virtually all celebrities in this list are also active contributors to charity or represent a good cause, as well as being brand ambassadors – they often have lucrative deals to do advertisements for world-renowned brands, from fashion brands to cosmetics or high-end spirits. This multidimensionality makes these celebrities all the more appealing to fans: they are talented, beautiful, wealthy, fashionable, virtuous and successful in business.
This article first introduces the ten Weibo accounts with the highest number of followers, and then also includes some newer accounts with the highest "influence rate" (博主影响力) according to Weibo Charts, meaning they have high network interaction and follower growth.
1. Xie Na 谢娜 – The Queen of Weibo
Fans on Weibo: 129.4 million followers, @谢娜
Main occupation: TV host
Date of birth: 6 May 1981
Birthplace: Deyang, Sichuan
Xie Na (1981), also nicknamed 'Nana,' is an extremely popular Chinese presenter, singer, actress and designer who is also known as 'the Queen of Weibo.'
One of the reasons she has become so famous in mainland China is that she is the co-host of Hunan Satellite TV's Happy Camp (快乐大本管), one of China's most popular variety shows that has been running since 1997. She presents the show together with, amongst others, colleague He Jiong, who also appears in this list.
But 'Nana' is also very popular because she is such a versatile celebrity. Besides hosting various variety TV shows and starring in many popular Chinese films and television series, she has also released several albums, founded a personal clothing line, and published two books. Xie Na made headlines in March 2017 when she announced she would go to Italy as an overseas student to study design.
The TV host also stars in various commercials. She is, for example, the Chinese brand ambassador for American skin care brand Olay.
Xie Na holds the official Guinness World Record as the First Person to Accumulate 100 Million Followers on Weibo and for having the Most followers on Weibo.
In January of 2021, the 39-year-old Xie Na announced her second pregnancy together with her husband Zhang Jie, with whom she has been together for ten years. If you're not on Weibo, you can also find Xie Na on Instagram here, where she has 485.000 followers.
2. He Jiong 何炅 – Key Figure in China's Entertainment Industry
Fans on Weibo: 120.6 million followers, @何炅
Main occupation: TV host
Date of birth: 28 April 1974
Birthplace: Changsha, Hunan
He Jiong has been the host of China's popular Happy Camp TV show for over two decades. He is also a singer, actor, writer, and used to be an Arabic teacher at Beijing's Foreign Studies University, which is why he is often nicknamed 'Professor He' (何老师). Chinese media have called He Jiong "a key figure in China's entertainment industry."
Like Xie Na, He Jiong made it to the Guinness Book of Records for being the male celebrity with the most Weibo followers.
He Jiong recently was criticized for 'exploiting his fame' when it became known that he was accepting lavish gifts from fans, together with other hosts at Hunan Satellite TV. The broadcaster later stated that they would no longer allow any of their staff to receive gifts from fans, and He Jiong also wrote on Weibo that he would decline all presents in the future.
3. Yang Mi 杨幂 – One of the Most Bankable Female Stars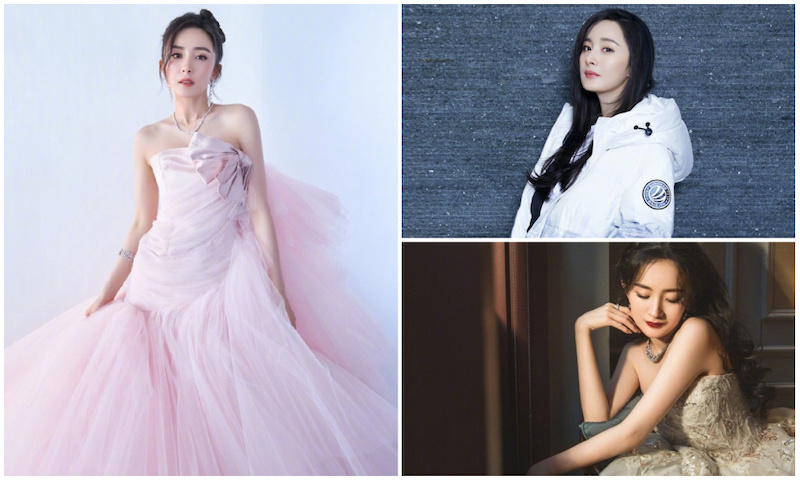 Fans on Weibo: 109.8 million fans on Weibo @杨幂
Main occupation: Actress
Date of birth: 12 September 1986
Birthplace: Beijing
The beautiful actress and singer Yang Mi (1986) gained fame and popularity through her various roles in Chinese hit TV dramas. Born in Beijing, Yang started her acting career at the age of 4. Yang starred in many successful films and tv dramas, including hit shows such as Eternal Love (三生三世十里桃花) and The Interpreters (亲爱的翻译官), which happen to be produced by Yang's own media company Jay Walk Studio.
Yang is now seen as one of Chinas biggest actresses, and also as one with the most commercial value; she was listed in the Top 10 Forbes Chinese Celebrities of 2020. Yang was previously named as one of China's "New Four Dan Actresses" (the 'top 4' actresses).
Besides her acting career, entrepreneurship, and charity efforts, Yang Mi is also active as a brand ambassador for various renowned fashion and skincare brands, including Estee Lauder, Michael Kors and Victoria's Secret.
This year, the actress will star in the live action movie A Writer's Odyssey by director Lu Yang.
Yang has a daughter and was previously married to Hong Kong actor and singer Hawick Lau How-wai, with whom she co-starred in various productions. They announced their divorce in 2018. Fun fact: Yang Mi's dad is also active on Weibo (@休闲小林哥), where he rebutted ongoing rumors about Yang undergoing plastic surgery by sharing her childhood photos. Though not as impressive as his daughter's, his fanbase of 364,000 followers is still relatively big. Yang Mi is also active on Instagram here.
4. Angelababy 杨颖 – A Household Name
Fans on Weibo: 103.3 million followers @angelababy
Main occupation: Actress
Date of birth: 28 February 1989
Birthplace: Shanghai
'Angelababy' (nickname for Yang Ying aka Angela Yeung Wing) has practically become a household name in China over the past years. The award-winning actress, model, and singer started her acting career in 2007 and has taken on many roles in different movies and TV dramas since.
The famous actress married actor Huang Xiaoming (黄晓明) in 2015, with whom she has a son. Their lavish $31 million wedding is the most-discussed Chinese weddings of the past decade, and their marriage and relationship status is a popular gossip topic on social media. There are ongoing rumors that the two might already have separated.
Angelababy is the brand ambassador for Dior. She recently opened her own hotpot restaurant named 'Douliu Hotpot' (斗鎏火锅) in Chengdu. She is also involved in charity and has previously donated to hospital relief efforts related to the COVID19 crisis in Hubei.
You can also find Angelababy on Instagram, where she has 8.1 million followers.
5. Chen Kun 陈坤 – With Love from Chongqing
Fans on Weibo: 93.3 million fans @陈坤
Main occupation: Actor and singer
Date of birth: 4 February 1976
Birthplace: Chongqing
Chinese top actor, singer and writer Chen Kun, sometimes also credited as Aloys Chen, is known for his roles in many television dramas and movies. The award-winning actor starred in popular TV dramas such as Love Story in Shanghai (像雾像雨又像风) and The Story of a Noble Family (金粉世家), as well as many movies including the 2016 comedy Chongqing Hotpot (火锅英雄) that is set in his hometown. Internationally, he mainly gained recognition for his role in Painted Skin (2008).
Chen belongs to the same generation of Beijing Film Academy graduates as his former classmate Vicki Zhao, who also appears in this list, and Huang Xiaoming, Angelababy's husband.
Chen Kun is not only popular because of his acting work, but also for his looks – he is known to have a large gay fanbase. He is not shy about his looks, and likes to post a lot of photos of himself on his Weibo page.
Chen is a brand ambassador for Braun, Italian fashion house Prada, and was recently also featured in the campaign for French Cognac brand Martell Noblige. He is also active in charity and is a global ambassador for WildAid. He also founded 'Power to Go,' an initiative that aims to encourage people to improve their health and spirit by leading a more energetic lifestyle.
6. Zhao Liying 赵丽颖 – An Audience Favorite
Fans on Weibo: 88.4 million followers on Weibo @赵丽颖
Main occupation: Actress
Date of birth: 16 October 1987
Birthplace: Langfang, Hebei
The award-winning actress and singer Zhao Liying, also known as Zanilia Zhao, is an audience favorite in China. Her acting career started some fifteen years ago but Zhao mainly gained recognition when she starred in 2010 Chinese television series The Dream of Red Mansions (红楼梦) and then played the main role in the 2013 popular series Legend of Lu Zhen (陆贞传奇). In 2017, she starred in the film Duckweed (乘风破浪), directed by Han Han.
Zhao is a tourism ambassador for her home province of Hebei, and she is the brand ambassador for fashion house Dior. Like others in this list, the actress was included in the top 10 of Forbes China Top Celebrity List for 2020.
7. Jackson Yee 易烊千玺 – Teen Idol with Power Star Status
Fans on Weibo: 86.9 million followers on Weibo @TFBOYS-易烊千玺
Main occupation: Singer/dancer with boyband TF Boys
Date of birth: 28 November 2000
Birthplace: Huaihua, Hunan
Although he is a 'newcomer' compared to other celebrities in this list, Jackson Yee (Yi Yangqianxi) is one of the most popular Chinese celebrities of the moment. Debuting as a child star, he is a member of China's hugely popular band TFBoys and was recently included in the Forbes list of "Asia's 100 Digital Stars" and ranked first in the 2020 Forbes Chinese Celebrity list. The 19-year-old singer-actor also is the number one blogger with the most influence on Weibo at the time of writing, according to Chinese social media data platform Xiguaji.
Besides a band member and solo singer, he is also an actor ad starred in the movie Better Days (2019), for which he won the Hong Kong Film Award for Best New Performer. He also stars in the box office hit A Little Red Flower (2020).
Yee is the global brand ambassador for Armani, and also works for brands such as Bulgari, Tiffany & Co, and Adidas.
8. Vicki Zhao 赵薇 – China's Billionaire Actress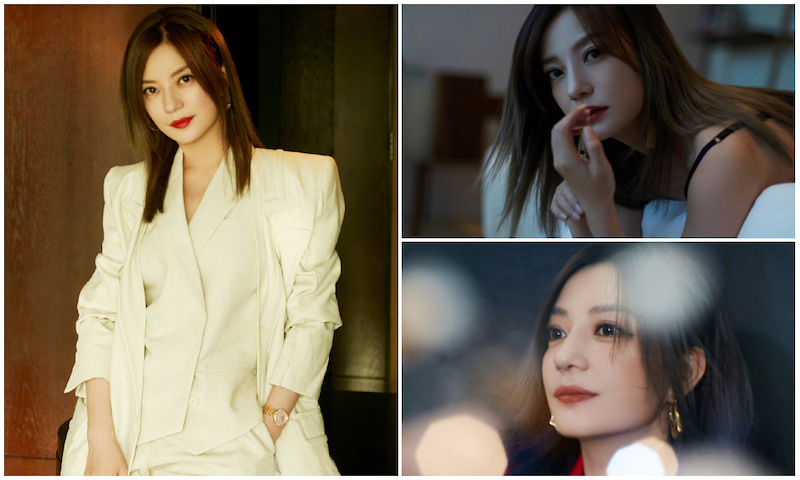 Fans on Weibo: 85.8 million followers on Weibo @赵薇
Main occupation: Actress
Date of birth: 12 March 1976
Birthplace: Wuhui, Anhui
Vicki Zhao is a Chinese film star, singer, entrepreneur, and director. She is also known for her work as the face for various brands (Samsung, Burberry, Fendi), which has added to her wealth: she was previously named as China's richest actress and even as one of the world's wealthiest working actresses.
But above all, Zhao is one of China's most famous actresses. She starred in the highly successful Chinese costume television show My Fair Princess (還珠格格) which first aired in 1998, after which she went on to star in many TV series and big films, including Painted Skin (2008) and Lost in Hong Kong (2015). Together with actresses Zhang Ziyi, Zhou Xun and Xu Jinglei, Zhao was named as one of China's 'Four Dan Actresses' (四大花旦, the four greatest actresses of mainland China) in the early 2000s.
Zhao is known for her work in charity and her efforts for good causes. She is a goodwill ambassador for the United Nations. Zhao is married to Chinese businessman Huang You Long (黄有龙) with whom she has a daughter.
9. Yao Chen 姚晨 – "China's Answer to Angelina Jolie"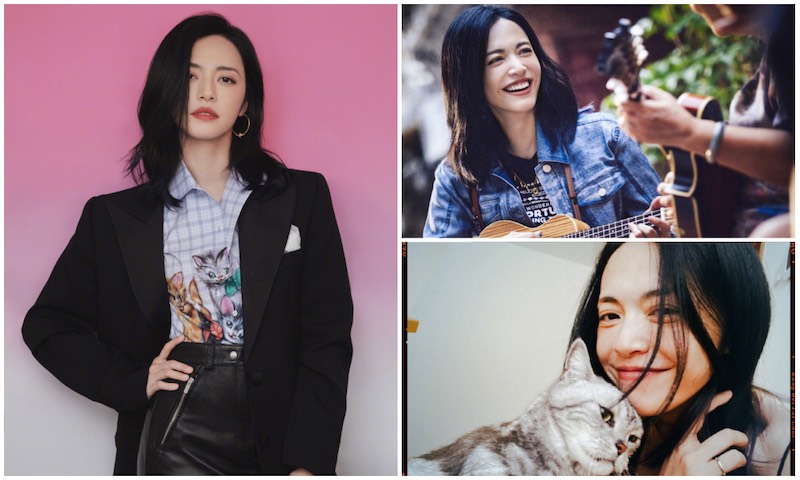 Fans on Weibo: 84.6 million followers @姚晨
Main occupation: Actress
Date of birth: 5 October 1979
Birthplace: Quanzhou, Fujian
Fujian-born Yao Chen is a Chinese actress and Weibo celebrity, who was previously mentioned as one of the 100 most powerful women in the world by Forbes magazine. Speaking out about social issues and being the first-ever Chinese UNHCR Goodwill Ambassador, she has also been called 'China's answer to Angelina Jolie.'
Yao Chen is not necessarily China's number one actress, but she was one of the first celebrities to share her personal life on Weibo since 2009, and interact with her fans. On Weibo, she talks about her everyday life, family, news-related issues, work, and fashion. She posts personal pictures every day. Yao Chen's popularity as an actress and philanthropist combined with her frequent Weibo updates and closeness to her fans have made her a huge Weibo celebrity.
Yao has acted as an ambassador for various brands, including Miu Miu, Fendi, and Lululemon.
10. Deng Chao 邓超 – Box Office Hit
Fans on Weibo: 81,6 million followers on Weibo @邓超
Main occupation: Actor
Date of birth: 8 February 1979
Birthplace: Nanchang, Jiangxi
Deng Chao is an award-winning Chinese actor, director, and singer. He is, amongst others, known for his role in the popular variety program Keep Running (奔跑吧). Many films in which Deng played, such as The Breakup Guru (2014), The Mermaid (2016), Duckweed (2017), and The Sacrifice (2020) have been box-office hits. Deng is one of China's most favorite actors.
Deng is married to Chinese actress Sun Li (孙俪), also known as Susan Sun, with whom he has two children. Like many other celebrities, the two donated money to contribute to China's fight against COVID19 in 2020, but received some online criticism when some thought their donation was 'stingy' compared to those of others.
Top Influencer: Wang Yibo 王一博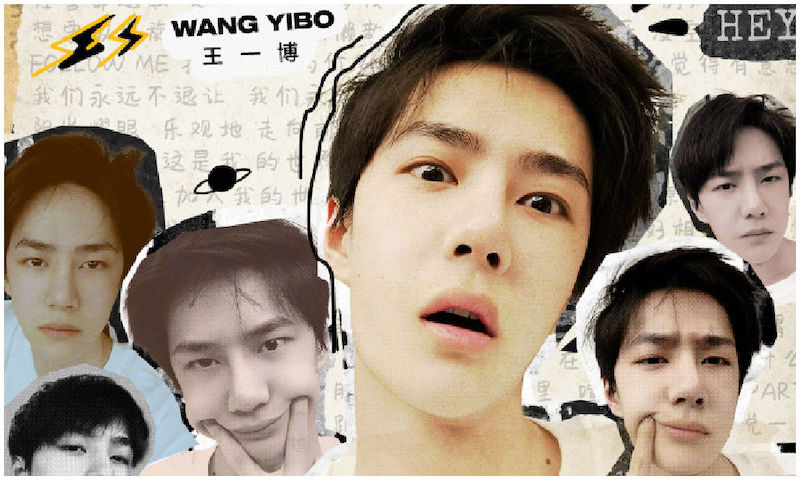 37.3 million followers @UNIQ-王一博
Wang Yibo (1997) is a Chinese actor, singer, dancer, and rapper who debuted as a member of the South Korean-Chinese boyband UNIQ in 2014 and starred in the 2019 Chinese TV series The Untamed (陈情令). On Sina Weibo, the celebrity was the champion of Weibo's 'Most Influential Celebrity' charts in December of 2020 – he has a huge fanbase. Like many other Chinese celebrities, Wang often features in various commercials and represents various brands, including Audi and Swarovski. He also has an Instagram account with 1.9 million followers.
Top Influencer: Wang Junkai 王俊凯
79.4 million followers @TFBOYS-王俊凯
Wang Junkai (1999), also called Karry Wang, is a singer and actor who debuted as the lead member of the super popular group TFBoys in 2013. The boy band consists of three members; besides Wang, there's Jackson Yee, who is also in this list, and Wang Yuan (王源also known as Roy Wang). The band recently won a Guinness World Record for most-viewed paid concert, which was their live NetEase cloud music concert for which 786,000 fans bought a virtual ticket. Wang Junkai, who also has a thriving career as a solo singer and represent brands like Swatch and Dior, is one of China's wealthiest people born after 1990.
Top Influencer: Xiao Zhan 肖战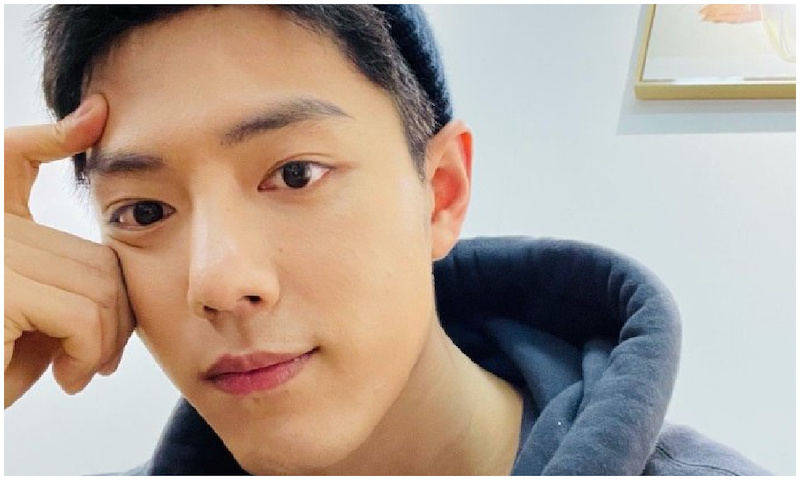 28.2 million followers @X玖少年团肖战DAYTOY
Xiao Zhan (1991), also known as Sean Xiao, is one of the hottest Weibo bloggers at this time who consistently ranks first lately in daily ranking concerning most influential and most interaction. Xiao is an actor and singer who co-stars in The Untamed (陈情令) together with Wang Yibo. Xiao Zhan and Wang Yibo are super popular within fan fiction communities, where boys' love fans imagine a romantic relationship between the two – which is not always appreciated by fans of Xiao Zhan.
By Manya Koetse
Follow @whatsonweibo

This text was written for Goethe-Institut China under a CC-BY-NC-ND-4.0-DE license (Creative Commons) as part of a monthly column in collaboration with What's On Weibo.

Spotted a mistake or want to add something? Please let us know in comments below or email us. First-time commenters, please be patient – we will have to manually approve your comment before it appears.
Zheng Shuang, Zhang Heng, and 'Surrogacy Gate': A Timeline
One celebrity couple breakup, two children born through surrogacy: this sad and messy topic has exploded on Chinese social media.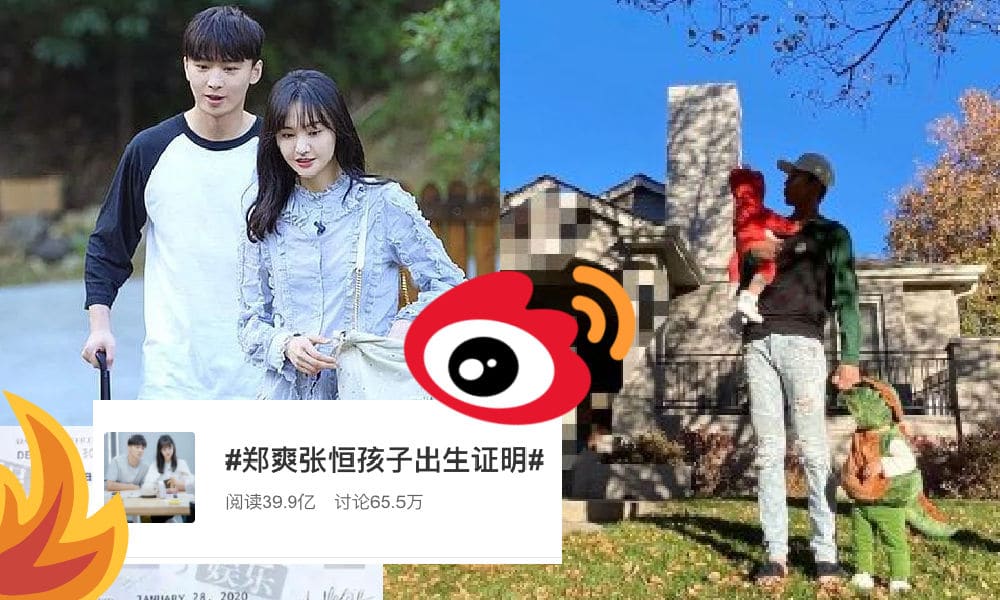 A celebrity surrogacy scandal is dominating discussions on Chinese social media, with one hashtag on the case attracting over 3 4 billion views. The scandal is triggering discussions on the topic of surrogacy in China.
Her name is Zheng Shuang (郑爽, 29), his name is Zhang Heng (张恒, 30). They're both celebrities in China; she is a super famous actress, he is a well-known producer.
This week, it is not their work that made them go viral on Chinese social media, but a surrogacy scandal taking place in the United States that is dominating all trending lists on Weibo.
The social media storm started on Monday, January 18, when rumors surfaced on Weibo and Wechat that the celebrity couple had separated. Some netizens had located a 'dissolution' case concerning the couple through the public access of the US federal court system.
Subsequently, news and rumors began circulating that the couple had two children in the US through a surrogacy arrangement, but that actress Zheng Shuang refused to have them because she and Zhang had broken up – even though her name was on their birth certificate.
The topic soon became known as the Zheng Shuang 'Surrogacy Gate' (郑爽"代孕门").
Chinese media outlet Netease Entertainment published images of the children's birth certificates and confirmed through sources close to producer Zhang Heng that he was stranded in the United States with the two babies, unable to bring them back to China with him since Ms Zheng allegedly did not cooperate with the necessary legal procedures.
It was Zhang Heng himself who spoke out about the situation on his Weibo account (@张恒KN) on January 18. He wrote the following post:
"Hi everyone, I'm Zhang Heng. Long time no see. As everyone has seen, I again hit the hot search lists recently. Since the past year or so, there has been baseless slander, disrespect, and endless online violence against me on the internet. My family is also frustrated, helpless, and mentally exhausted because of my problems. There's no way to lead a normal life or to socialize normally. We're unable to reunite because of this. I really feel so, so bad.   
I realize I can't bury my head in the sand any longer. Because it's not just me facing everything; it's also my cherished family members. I've decided to speak up, for my family and for myself, and to set the record straight. 
The online rumors about me committing fraud, borrowing from loan sharks, evading debts, taking funds and slinking off to America, etc –  they're all rumors and I swear I've never done these things, nor would I ever do them. It is true that I am in America, but my family and I have been in the United States for over a year because we had to take care of and protect our two young and innocent children. We had no choice but to remain here.
I have hired a lawyer to handle related matters, and I believe the actual facts will be restored by the American and Chinese courts. Finally, I hope the media and righteous people can recognize the truth in this matter, and will not be blinded by internet rumors." 
The children caught up in this scandal are one girl, born on January 4 2020, registered in the state of Nevada; and a boy, born on December 19 2019, registered in the state of Colorado. The birth certificates that were leaked to Chinese media show both Ms. Zheng and Mr. Zhang as the legal parents of the two babies.
Also leaked to Chinese media is an older audio recording in which Zheng, Zhang, and both of their parents allegedly discuss what to do with their unborn babies. In the voice recording, Zheng's side argues that the children should be given up for adoption, with Zheng herself even complaining that the babies could not be aborted because the surrogate mothers were already seven months pregnant.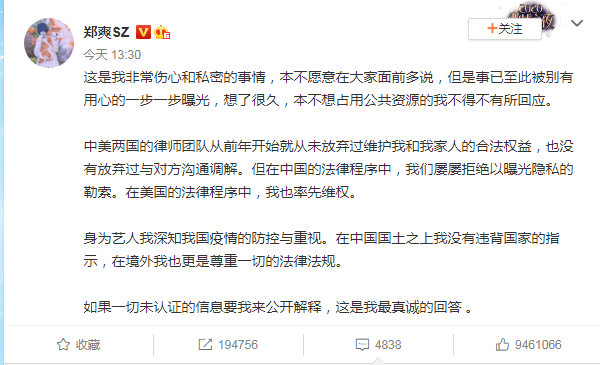 On January 19, Zheng Shuang herself also responded to the matter on Weibo (@郑爽SZ), where she did not address the matter directly but said that this is "a very sad and private matter that I did not want to discuss in front of everybody." She further wrote that legal teams in China and the US "never gave up defending the legal rights of me and my family since last year."
Of the two former partners, Zheng is the most famous celebrity. Born in Shenyang in 1991, she rose to fame when she starred in a popular TV series in 2009 (Meteor Shower 一起来看流星雨). She became an award-winning actress and was chosen as one of the most bankable young actresses of the post-90s generation. On her Weibo account, she has over 12.4 million followers.
'Surrogacy Gate': The Timeline
While this case is unfolding in front of netizens' eyes and through their own research, more and more details are coming up.
Money plays a major role in the falling-out between Zheng and Zhang, and a private lending dispute – involving no less than 20 million yuan (around 3 million dollars) – seems to be one of the reasons for their break-up.
Since the story is somewhat messy and complicated, we will attempt to reconstruct a timeline of events here.

TIMELINE:
2018, May
• Zheng and Zhang meet on the set of the variety show This Is Fighting Robots (这就是铁甲), where Zhang does the show's production. Weeks later, intimate photos of the two surface online.
2018, August
• The couple officially announces their relationship status and start a company together.
2018, November
• Ms Zheng allegedly loans Mr Zhang 20 million yuan ($3 million).
2019, January 19
• Zheng and Zhang 'secretly' get married in the United States on January 19 of 2019. Zheng's dog, "Wolfberry Kris" (@枸杞kris), has its own Weibo account where some 'wedding photos' of the joyous occasion are shared on this day.
2019, Fall/Winter
• Zhang and Zheng both appear on the TV show Meeting Mr. Right (女儿们的恋爱).
• An annual report of Zhang and Zheng's entertainment-meets-tech company, a joint business venture named Shanghai Whale Valley AI Tech (上海鲸谷座人工智能科技有限公司), shows that Zheng Shuang invested over 10 million yuan ($1.5 million) while Zhang – the company's legal representative – only contributed 200,000 yuan ($30,800).
2019, September
• In a Weibo post of January 2021, Zheng Shuang claims that Zhang cheated on her in September of 2019, which is why she left the US and went back to China.
2019, October 31
• Zhang Heng and Zheng Shuang go viral on Chinese social media when Zhang writes a love song for Zheng, and publicly announces his love for her (#张恒给郑爽写歌#).
2019, December 18
• Zhang Heng and Zheng Shuang announce their breakup, and rumors suggest that the two are caught up in a dispute over money.
2019, December 19
• The son of Zhang Heng and Zheng Shuang is born through surrogacy in Colorado.
2020, January
• The daughter of Zhang Heng and Zheng Shuang is born through surrogacy in Nevada on January 4.
• Zheng Shuang files a lawsuit in Shanghai, suing Zhang Heng for borrowing 20 million yuan from high-interest loaners under her name to invest in personal business ventures.
2020, November
• Shanghai Jing'an Court rules that Mr. Zhang needs to pay back 20 million yuan ($3 million) plus overdue interest to Ms. Zheng. Zhang Heng appeals the case, arguing the money involved was never a loan but a financial compensation and advance payment for invested labor, since Zhang also acted as Zheng's manager while they were together.
2020, December
• Zheng Shuang quits as a mentor on the Shine! Super Brothers (追光吧!哥哥) variety TV show after a clip exposing her gossiping about the past relationship of two co-stars circulated online.
2021, January 18
• Zhang posts his story on his Weibo account, stating he is stranded in the United States to take care of his two young children, implying Zheng has abandoned the babies. He also posts a photo of him with the two children.
• A voice recording in which Zheng talks about what to do with her unborn children surfaces in Chinese media, along with the birth certificates. The topic explodes on Chinese social media.
2021, January 19
• Zheng Shuang posts a reply to the matter on her own Weibo account, in which she is vague and evasive about the issue concerning the children. She implies that Zhang has "ulterior motives." She later adds that Zhang cheated on her in the fall of 2019.
• In light of all controversy, Italian fashion brand PRADA cuts ties with Zheng Shuang, with whom they had a cooperation agreement. Zheng was announced as one of the brand's new Chinese ambassadors earlier in 2021.
• London jewelry brand Lola Rose deletes all content including Zheng from their social media.
• Harper Bazaar deletes a feature on Zheng Shuang from their social media.
• Chinese cosmetic brand Chioture also posts a statement on Weibo saying it has terminated its contract with Zheng Shuang, who formerly was a spokesperson for the company.
• The second hearing of the Zheng versus Zhang lawsuit takes place in a Shanghai court over the disputed loan. Zhang and Zheng are both represented by their lawyers. (No news on outcome yet).
• State broadcaster CCTV condemns surrogacy in a post on Weibo.
• Zheng Shuang appears in public in Beijing, where she is followed by paparazzi. She does not respond to any questions, but her appearance still goes viral on social media with over 640 million views (#郑爽风波后首现身#).
2021, January 20
• Huading Awards announces it will revoke the honorary titles of Zheng Shuang, renouncing Zheng's former awards as best actress and favorite TV star. Over 2.2 million people 'liked' this update on Weibo (#华鼎奖取消郑爽荣誉称号#).
• China's State Administration of Radio, Film and Television officially shuts out Zheng Shuang.
• The Weibo hashtag "Birth Certificates of Zheng Shuang and Zhang Heng's Children" (#郑爽张恒孩子出生证明#) reaches a staggering 4 billion views.
2021, March 22
• The hearing for the supposed dissolution of Zheng and Zhang's marriage is scheduled to take place in Denver, US.
Surrogacy Abandonment
Although the timeline of events leading to the current situation might suggest that Ms. Zheng and Mr. Zhang are both at fault for handling matters in an irresponsible way, it is Zheng's "surrogacy abandonment" that mostly triggers the public's anger on social media.
Many people feel that Zheng Shuang is lacking morals for abandoning her children and call her "cold-blooded." There are also those who think the actress has serious mental problems. Despite all backlash, Zheng still has a strong fan base with people who still support her.
The scandal has sparked more discussions on the issue of surrogacy in China, which already was a big topic earlier in January when a story came out on a baby born through surrogacy who had no birth certificate and no legal registration (link here).
Although surrogacy is officially not legal in China, there is a flourishing underground surrogacy market, and many couples who are struggling with fertility issues travel overseas for surrogacy arrangements. It is not clear why Zheng and Zhang used surrogates to have children.
On Weibo, many people speak out against surrogacy practices, arguing that having children is not a business and surrogacy puts vulnerable women at increased risk of exploitation.
The hashtag "Firmly Oppose All Forms of Surrogacy" (#坚决反对一切形式的代孕#) received over 290 million views and thousands of comments.
One person commented: "Children are not a commodity you can buy, sell, or return. They're a life-long responsibility, they are the future of our society."
By Manya Koetse, with contributions by Miranda Barnes
Follow @WhatsOnWeibo
Spotted a mistake or want to add something? Please let us know in comments below or email us. First-time commenters, please be patient – we will have to manually approve your comment before it appears.
©2021 Whatsonweibo. All rights reserved. Do not reproduce our content without permission – you can contact us at info@whatsonweibo.com.