This Is the Weibo Post with the Most Comments Ever (Well, Almost)
One of Weibo's hottest posts ever is all about the money.
It's all about the money? When billionaire Wang Sicong announced he would be giving away more than $160,000 to Weibo users, his post generated over 63 million reactions.
The victory of Chinese esports team Invictus Gaming (IG) was one of the biggest trending topics on Weibo the past week, with the joy among China's younger generations over winning the League of Legends World Championship being noticeable both online and offline.
Amid cheering crowds on campuses and celebratory posts flooding WeChat and Weibo, there was one post that especially stood out this week: that of Chinese billionaire Wang Sicong (王思聪).
Wang Sicong, who now has over 41 million followers on his Weibo account (@王思聪), is one of China's most famous fu'erdai (富二代), the term that refers to the 'second generation rich': the children of the nouveau riche in China. Wang is the son of Chinese tycoon Wang Jianlin (王健林), who is known as one of the richest persons in Asia.
On November 6, three days after Invictus Gaming's League of Legends victory, Wang posted on Weibo:
"To celebrate IG's championship, I will do a championship month event; this month, I will draw prizes in four waves. Today is the first one, and out of everyone who comments/likes/forwards this post, I'll draw 113 people (to celebrate the awesome day of 11.3 [when IG won]), and those people will all get 10,000 yuan [±$1437] in cash.
At the time of writing, the post has received more than 24 million shares, over 20 million comments, and 19 million likes.
On November 11, Single's Day, Wang announced that the winners had been picked through Weibo's lottery picking system (@微博抽奖平台).
Besides that it is likely that Wang's post is a collaboration with Sina Weibo, Wang has more reasons for this noteworthy prize drawing. Wang himself is the founder of the current 'Invictus Gaming' team; he acquired the top Chinese gaming club 'Catastrophic Cruel Memories' in 2011, in order to promote professional esports in China.
The 'lottery' has also boosted Wang's online fanbase, which grew by two million fans within several days time.
Biggest Posts on Weibo
Although it is very rare to see this big of a number of reactions and shares for one post on Weibo, Wang's post officially is not the 'number one' popular post of all times on Weibo.
In 2016, Guinness World Records actually announced a world record for "Most comments on a Weibo™ post." The record holder is the Chinese singer and actor Lu Han (鹿晗), whose 2012 post about his favourite soccer team, Manchester United, had received 100,899,012 comments.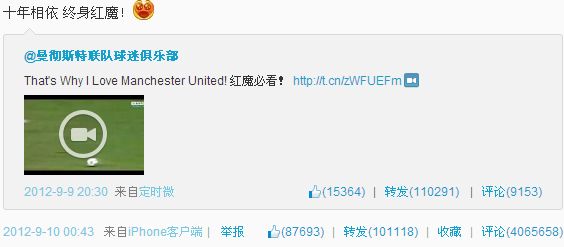 What is a bit misleading about the record, however, is that the comments were accumulated over a period of multiple years.
To put into perspective how popular Wang Sicong's recent post really is, we will line up some examples of posts that became booming on Weibo.
Last year, one post by Lu Han in which he announced his new relationship actually led to a temporary breakdown of Weibo's servers. A day later, the post had received 2,4 million comments – far less than the amount of comments Wang's post received over the past week.
Another noteworthy post that made social media blow up was that of Chinese actor Wang Baoqiang, who announced on Weibo in 2016 that he was divorcing his wife and firing his agent because of their secret love affair. That post received over 1,5 million comments within 24 hours.
The apology post by Chinese actress Fan Bingbing, who was caught up in what has become the most controversial tax scandal of 2018, had its comments disabled, but received over 340,000 shares and some two million likes.
According to Time, the most popular post on Twitter of 2017 was that of Carter Wilkinson who asked American fast food chain Wendy's "how many retweets for a year of free chicken nuggets?", which received a reply from the chain saying "18 million."
By now, Carter's tweet "HELP ME PLEASE. A MAN NEEDS HIS NUGGS" has received more than 3,5 million retweets. (Although he did not make it to 18 million, he still got his year-long supply of nuggets.)
It is clear that by accumulating more than 60 million reactions (shares, comments, likes) within seven days, Wang Sicong's post is now among the top scoring posts of all time on Weibo. (Do you know of other posts that set Weibo booming, please let us know in the comment section below – we might make a list later).
To find out who the most popular Weibo celebrities are, check our recent top 10 here.
By Manya Koetse
Follow @whatsonweibo
Spotted a mistake or want to add something? Please let us know in comments below or email us.
©2018 Whatsonweibo. All rights reserved. Do not reproduce our content without permission – you can contact us at info@whatsonweibo.com
Chinese Comedian Li Dan under Fire for Promoting Lingerie Brand with Sexist Slogan
Underwear so good that it can "help women lie to win in the workplace"? Sexist and offensive, according to many Weibo users.
Popular talk show host and comedian Li Dan (李诞) has sparked controversy on Chinese social media this week for a statement he made while promoting female underwear brand Ubras.
The statement was "让女性轻松躺赢职场", which loosely translates to "make it easy for women to win in the workplace lying down" or "make women win over the workplace without doing anything," a slogan with which Li Dan seemed to imply that women could use their body and sex to their advantage at work. According to the underwear brand, the idea allegedly was to convey how comfortable their bras are. (The full sentence being "一个让女性躺赢职场的装备": "equipment that can help women lie to win in the workplace").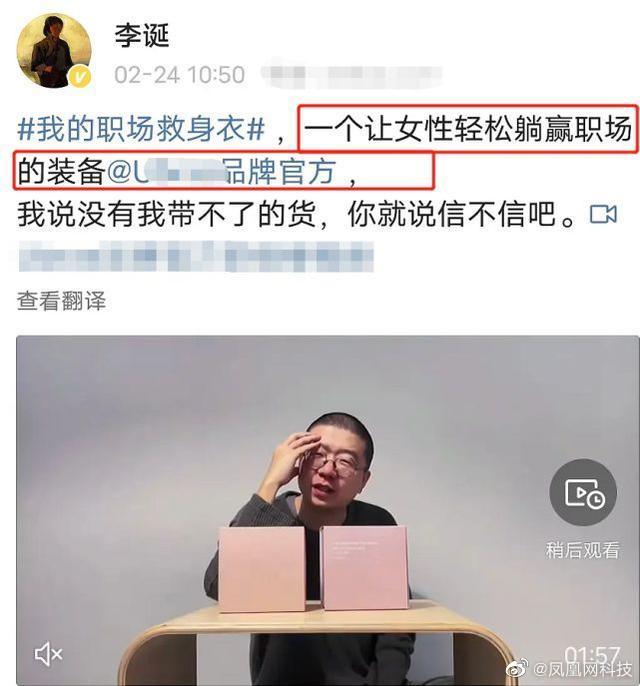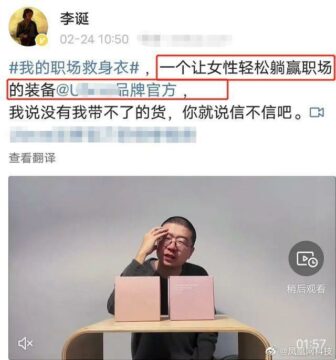 Li Dan immediately triggered anger among Chinese netizens after the controversial content was posted on his Weibo page on February 24. Not only did many people feel that it was inappropriate for a male celebrity to promote female underwear, they also took offense at the statement. What do lingerie and workplace success have to do with each other at all, many people wondered. Others also thought the wording was ambiguous on purpose, and was still meant in a sexist way.
Various state media outlets covered the incident, including the English-language Global Times.
By now, the Ubras underwear brand has issued an apology on Weibo for the "inappropriate wording" in their promotion campaign, and all related content has been removed.
The brand still suggested that the slogan was not meant in a sexist way, writing: "Ubras is a women's team-oriented brand. We've always stressed 'comfort and wearability as the essence of [our] lingerie, and we're committed to providing women with close-fitting clothing solutions that are unrestrained and more comfortable so that more women can deal with fatigue in their life and work with a more relaxed state of mind and body."
Li Dan also wrote an apology on Weibo on February 25, saying his statement was inappropriate. Li Dan has over 9 million followers on his Weibo account.
The objectification of women by brands and media has been getting more attention on Chinese social media lately. Earlier this month, the Spring Festival Gala was criticized for including jokes and sketches that were deemed insensitive to women. Last month, an ad by Purcotton also sparked controversy for showing a woman wiping away her makeup to scare off a male stalker, with many finding the ad sexist and hurtful to women.

By Manya Koetse
with contributions by Miranda Barnes
Follow @whatsonweibo
Spotted a mistake or want to add something? Please let us know in comments below or email us. First-time commenters, please be patient – we will have to manually approve your comment before it appears.
©2021 Whatsonweibo. All rights reserved. Do not reproduce our content without permission – you can contact us at info@whatsonweibo.com.
"Hi, Mom!" Box Office Hit Sparks 'When My Mum Was Younger' Trend on Weibo
The touching Chinese hit movie "Hi, Mom" has sparked an emotional trend on Weibo.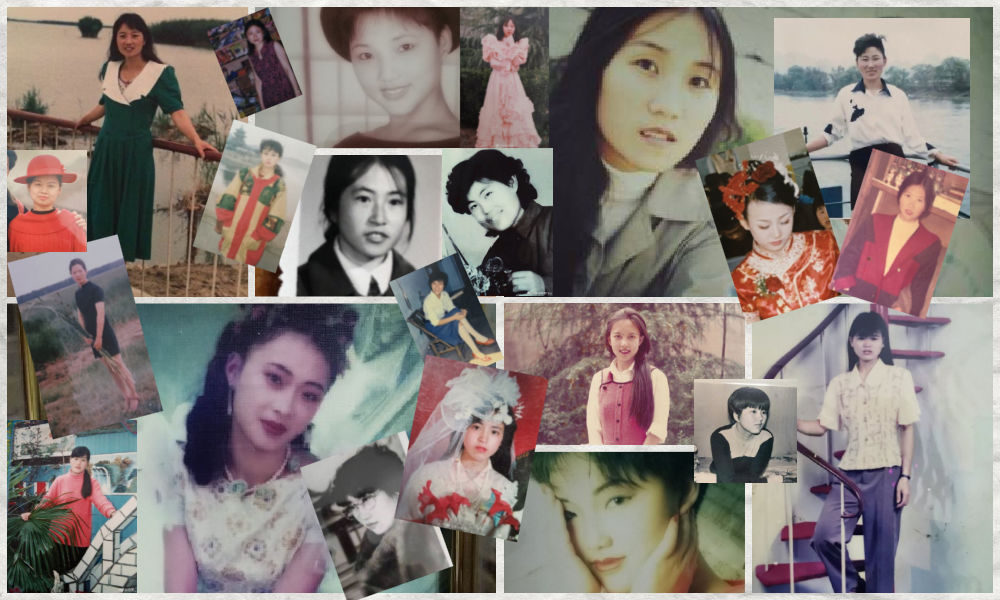 The movie Hi, Mom is all the rage in China, where social media is flooding with hashtags, photos, and texts celebrating moms and the bond between mothers and daughters. One big discussion is focused on all the things daughters would tell their younger moms: "Please don't marry dad."
If you could travel back in time and meet your mum before she had you, what would you say to her? What would you do?
This question is the idea behind Hi, Mom (Chinese title Hi, Li Huanying 你好,李焕英), the box office favorite in China this Spring Festival. The movie is directed by Jia Ling (贾玲), who also plays the female protagonist. For comedian Jia Ling, who is mostly known for her sketches during the Spring Festival Gala, this movie is her directorial debut.
Hi, Mom tells the story of Jia Xiaoling (Jia Ling) who is devastated when her mother Li Huanying has a serious accident one day. Jia is especially grief-stricken because she feels she has not become the daughter she wanted to be for her mother. When she finds herself transported back in time to the year 1981, she meets her young mother before she was her mum, and becomes her friend in the hopes of making her happy and change her life for the better.
Li Huanying is also the name of Jia Ling's own mother, who passed away when Jia was just 19 years old. Jia Ling reportedly did not make the movie because she wanted to be a director, but because she wanted to tell her mother's story.
The film has become super popular since its debut on February 12 and raked in 2.6 billion yuan (over $400 million) within five days. On day five alone, the movie earned $90 million.
The movie has sparked various trends on Chinese social media. One of them is an online 'challenge' for daughters to post pictures of mothers when they were young. The hashtag "Photo of My Mother When She Was Young" (#妈妈年轻时的照片#) received 120 million views on Weibo by Wednesday. Another hashtag used for this 'challenge' is "This is My Li Huanying" (#这是我的李焕英#). The hashtags have motivated thousands of netizens to post photos of their mother before she became a mom.
The trend has not just sparked an online movement to celebrate and appreciate mothers – it also offers an intimate glance into the lives of Chinese older women and shows just how different the times were when they were young. This also gave many daughters a new appreciation of their mothers.
"I used to have many wishes," one female Weibo user wrote: "But now I just hope to make my mum happy." Others praised their mother's beauty ("My mum is so pretty!") and said that they are proud to look like their mom, although some also complained that they had not inherited their mother's looks.
The trend has also provided an opportunity for a moment of self-reflection for some. Seeing the unedited photos of their younger mothers, some called on female web users to stop losing themselves in 'beautifying' photo apps that alter their facial features, saying they will not have normal photos of themselves in the future that show their true (and unedited) natural beauty.
"Don't marry dad, don't believe his sweet talk."
There is also another hashtag trending in light of Hi, Mum. It is "If You Could Go Back to Before Your Mum Married" (#如果穿越回妈妈结婚前#) and started with one popular fashion influencer (@一扣酥) asking her followers what they would want to tell her.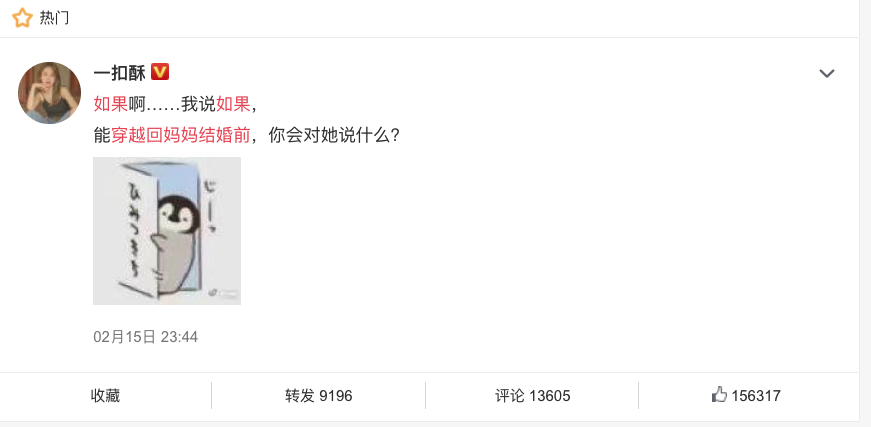 "Don't marry dad. Don't believe his sweet talk," one person replied, with many others also writing that they would want to tell their younger mom not to marry their fathers: "I would tell her to look for someone who loves her, and not for someone she loves," one person responded.
"Please leave dad," another Weibo user writes, adding that her father drank too much and would hit her mother.
"Don't feel like you need to marry because you're older," another daughter writes: "Don't get into a 'lightning wedding' and don't care so much about what other people say."
"Live for yourself for once," a blogger named 'Zhi Zhi El' wrote, with another young woman named Yumiko writing: "Don't close your bookshop, be independent and confident, don't listen to everything dad says, and don't become a housewife."
But there are also those who are happy with the way things turned out: "Mum! Marry dad! He's good!"
In the end, most commenters just want one thing. As this Weibo user (@·__弑天) writes: "Mum, I just hope you have a happy life."

By Manya Koetse
with contributions by Miranda Barnes
Follow @whatsonweibo
Spotted a mistake or want to add something? Please let us know in comments below or email us. First-time commenters, please be patient – we will have to manually approve your comment before it appears.
©2021 Whatsonweibo. All rights reserved. Do not reproduce our content without permission – you can contact us at info@whatsonweibo.com.