This Is the Weibo Post with the Most Comments Ever (Well, Almost)
One of Weibo's hottest posts ever is all about the money.
It's all about the money? When billionaire Wang Sicong announced he would be giving away more than $160,000 to Weibo users, his post generated over 63 million reactions.
The victory of Chinese esports team Invictus Gaming (IG) was one of the biggest trending topics on Weibo the past week, with the joy among China's younger generations over winning the League of Legends World Championship being noticeable both online and offline.
Amid cheering crowds on campuses and celebratory posts flooding WeChat and Weibo, there was one post that especially stood out this week: that of Chinese billionaire Wang Sicong (王思聪).
Wang Sicong, who now has over 41 million followers on his Weibo account (@王思聪), is one of China's most famous fu'erdai (富二代), the term that refers to the 'second generation rich': the children of the nouveau riche in China. Wang is the son of Chinese tycoon Wang Jianlin (王健林), who is known as one of the richest persons in Asia.
On November 6, three days after Invictus Gaming's League of Legends victory, Wang posted on Weibo:
"To celebrate IG's championship, I will do a championship month event; this month, I will draw prizes in four waves. Today is the first one, and out of everyone who comments/likes/forwards this post, I'll draw 113 people (to celebrate the awesome day of 11.3 [when IG won]), and those people will all get 10,000 yuan [±$1437] in cash.
At the time of writing, the post has received more than 24 million shares, over 20 million comments, and 19 million likes.
On November 11, Single's Day, Wang announced that the winners had been picked through Weibo's lottery picking system (@微博抽奖平台).
Besides that it is likely that Wang's post is a collaboration with Sina Weibo, Wang has more reasons for this noteworthy prize drawing. Wang himself is the founder of the current 'Invictus Gaming' team; he acquired the top Chinese gaming club 'Catastrophic Cruel Memories' in 2011, in order to promote professional esports in China.
The 'lottery' has also boosted Wang's online fanbase, which grew by two million fans within several days time.
Biggest Posts on Weibo
Although it is very rare to see this big of a number of reactions and shares for one post on Weibo, Wang's post officially is not the 'number one' popular post of all times on Weibo.
In 2016, Guinness World Records actually announced a world record for "Most comments on a Weibo™ post." The record holder is the Chinese singer and actor Lu Han (鹿晗), whose 2012 post about his favourite soccer team, Manchester United, had received 100,899,012 comments.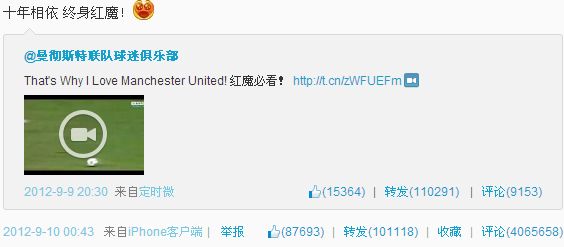 What is a bit misleading about the record, however, is that the comments were accumulated over a period of multiple years.
To put into perspective how popular Wang Sicong's recent post really is, we will line up some examples of posts that became booming on Weibo.
Last year, one post by Lu Han in which he announced his new relationship actually led to a temporary breakdown of Weibo's servers. A day later, the post had received 2,4 million comments – far less than the amount of comments Wang's post received over the past week.
Another noteworthy post that made social media blow up was that of Chinese actor Wang Baoqiang, who announced on Weibo in 2016 that he was divorcing his wife and firing his agent because of their secret love affair. That post received over 1,5 million comments within 24 hours.
The apology post by Chinese actress Fan Bingbing, who was caught up in what has become the most controversial tax scandal of 2018, had its comments disabled, but received over 340,000 shares and some two million likes.
According to Time, the most popular post on Twitter of 2017 was that of Carter Wilkinson who asked American fast food chain Wendy's "how many retweets for a year of free chicken nuggets?", which received a reply from the chain saying "18 million."
By now, Carter's tweet "HELP ME PLEASE. A MAN NEEDS HIS NUGGS" has received more than 3,5 million retweets. (Although he did not make it to 18 million, he still got his year-long supply of nuggets.)
It is clear that by accumulating more than 60 million reactions (shares, comments, likes) within seven days, Wang Sicong's post is now among the top scoring posts of all time on Weibo. (Do you know of other posts that set Weibo booming, please let us know in the comment section below – we might make a list later).
To find out who the most popular Weibo celebrities are, check our recent top 10 here.
By Manya Koetse
Follow @whatsonweibo
Spotted a mistake or want to add something? Please let us know in comments below or email us.
©2018 Whatsonweibo. All rights reserved. Do not reproduce our content without permission – you can contact us at info@whatsonweibo.com
China's Top Mobile Gaming Apps
In a booming online gaming market, these are some of the apps most appreciated by Chinese online gamers today.
China has the largest mobile gaming market in the world. It's an exciting market not just for game-lovers, but also for those into marketing and advertising.
One of the key drivers behind this online gaming environment is the fact that China is a mobile-first country. China's average mobile user owns a relatively cheap but high-performance mobile phone, which enables them to play mobile games. As the quality of China's smartphones keeps on rising, so are the possibilities and developments within China's mobile gaming market.
The Chinese gaming industry is flourishing, but also highly controlled. Online games are allowed to be imported, but have to pass the content censorship procedures and must be 'ideologically compatible' for the Chinese market. Many games, such as this year's Resident Evil 2, are not allowed into mainland China.
To gain more insights in this enormous market, we list five of the mobile apps that currently play an important role in the mobile gaming industry. We made our selection based on the data from the Android app stores Tencent, Baidu, Huawei, and Zhushou360. We tried our best to give you a representative overview of a variety of apps that are currently most used in China, but want to remind you that these lists are by no official "top 5" charts.
This article is part of a series of five articles, listing popular Chinese apps in the categories of short video & live streaming, news, health & sports, and knowledge & education. We'll list the other categories for you below this article, but let's move over to review these popular mobile gaming apps now.
#1 PlayerUnknown's Battlegrounds 绝地求生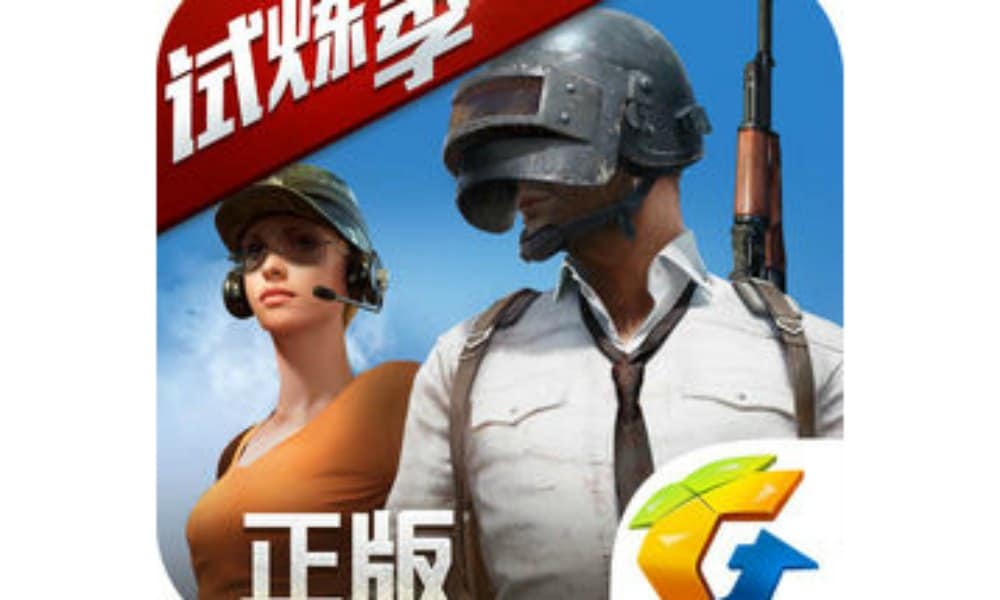 PlayersUnknown's Battleground (PUGB) is a so-called 'sandbox style' survival game, which basically means that gamers are allowed to freely roam and change the game, that does not have a set storyline, and that they are required to do all they can to survive as long as possible by eliminating its competitors.
In this online multiplayer game, that is called a Fortnite rival, players are placed together with up to 100 other players on an island. As the game proceeds, the battlefield gradually shrinks, putting more pressure on its players. The users have to assemble weapons and other necessities, and in doing so, need to kill their competitors and take their possessions. The last person left is the winner.
PUBG, which is currently the most popular mobile phone game app in China, was created by the South Korean Bluehole. In 2017, Chinese gaming giant Tencent launched the mobile app version of the game. The Chinese version is not entirely the same: it has been adapted to make sure it aligns with 'socialist values.'
At the moment, there are two versions of PUGB games: Exciting Battlefield (刺激战场) and Full Ahead (全军出击). The games Exciting Battlefield and Full Ahead subsequently ranked most and third most popular game app in the Chinese Apple stores in 2018, with Exciting Battlefield reaching 14,9 million daily active users at the end of 2018. Currently, Exciting Battlefield still ranks the most popular game app in both the Tencent and Zhushou360 app stores.
#2 Honor of Kings or Kings of Glory 王者荣耀
Honor of Kings is a game developed and published by Tencent which was first launched in 2015. The game is a multiplayer online battle arena game, where players have to team up for a five-to-five battle.
Every user can personally assemble their hero and equip it with certain features such as appearance, powers, etc. The goal of the game is to destroy the opponent's base.
In 2018, Honor of Kings was the second most popular game app in the Chinese Apple store with 53,8 million daily active users in the last quarter. This year, the game especially rose in popularity during the Chinese Lunar New Year: in the week from 4-10 February, Honor of Kings reached 92 million daily active users.
But the game's popularity isn't limited to China. In 2017, Tencent launched an international adaption of the game called Arena of Valor. The game was adopted as one of the games at the eSport Demonstration Event at the 2018 Asian Games, where the Chinese team won the gold medal.
#3 Speed QQ / QQ飞车
Speed QQ is a 3D game that combines both casual and competitive racing. The game has three kingdoms: wind, fire, and fantasy.
In each kingdom, there are different kinds of races, and players can move up levels if they beat other players. In the end, the strongest player of all will be crowned 'king.' To prove their skills, the best players of each kingdom can also race against each other in races played on racetracks on the border of the several kingdoms.
The game can be played by either a single player or multiplayer, with a maximum of six players.
Speed QQ, just as Honor of Kings and PUBG, is a game by Tencent  – it is the world's largest game distributor by revenue. Speed QQ was first launched in January 2008 as a PC version, and it was not until 2017 that the mobile app version was released.
In 2018, it became the fourth most popular game app in Chinese Apple stores, with nearly 25 million downloads in that same year.
#4 Identity V 第5人格  
Identity V is a so-called asymmetric warfare game, meaning that the game is a wargame between individuals or a group of players and their hostile opponent.
The horror game, designed in gothic art style, is a one-versus-four multiplayer game. Later in the game, players can decide whether they want to play either the hunter or one of the four survivors.
However, the game is mainly a survivor-based game. The player first enters the game as a detective who receives a mysterious letter inviting the player to investigate an abandoned estate and search for a missing girl. As the player is searching for clues about the missing girl, a hunter will try to catch the player and strap it to a rocket ready for blast off. This is where the three other survivors come in; those are the ones who can free their fellow-survivor from the racket. But if they are too late, the player will be fired off and lose.
Identity V is the newest game app in our selection as it was launched in April of last year by NetEase. Despite its short period on the market, the game gained significant success. The app was the fifth most popular game app in Chinese Apple stores in 2018, with over 26 million downloads.
#5 Mini World 迷你世界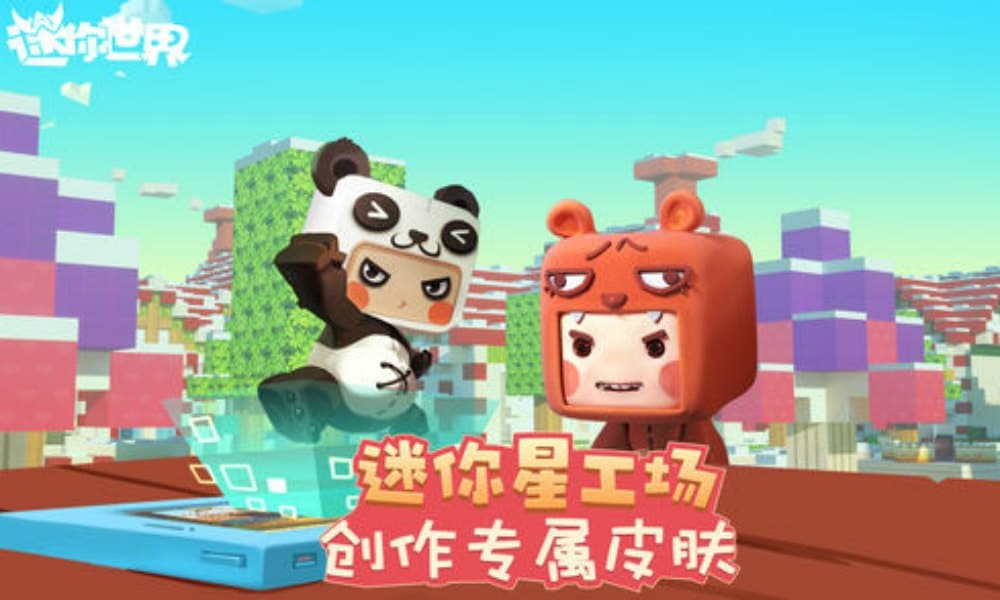 Mini World is a 3D sandbox style game, allowing its users to roam around in the virtual world of the game.
Mini World, also called a block art game, allows its players to build their world by moving around blocks and placing other elements. They can do this alone, but they can also invite friends and create a dream world together. The game closely resembles the Swedish game Minecraft (我的世界), which is also available in China.
Mini World was first launched in December 2015 by a Shenzhen based company. A couple of years later, the game was available in both Android and Apple stores. In 2018, Mini World became the fourth most popular game app in China with 3.7 million daily active users in the third quarter.
At the beginning of this year, Mini World released a new version of its game, which brings it back in the top ten most popular apps in both the Zhushou360 Appstore and Baidu Appstore.
Also see:
By Gabi Verberg, edited by Manya Koetse
Spotted a mistake or want to add something? Please let us know in comments below or email us.
©2019 Whatsonweibo. All rights reserved. Do not reproduce our content without permission – you can contact us at info@whatsonweibo.com
Here Comes Trump the Chinese Opera, Starring Mao Zedong and Kim Jong-un
In "Trump the Opera", Trump sings and plays ping pong.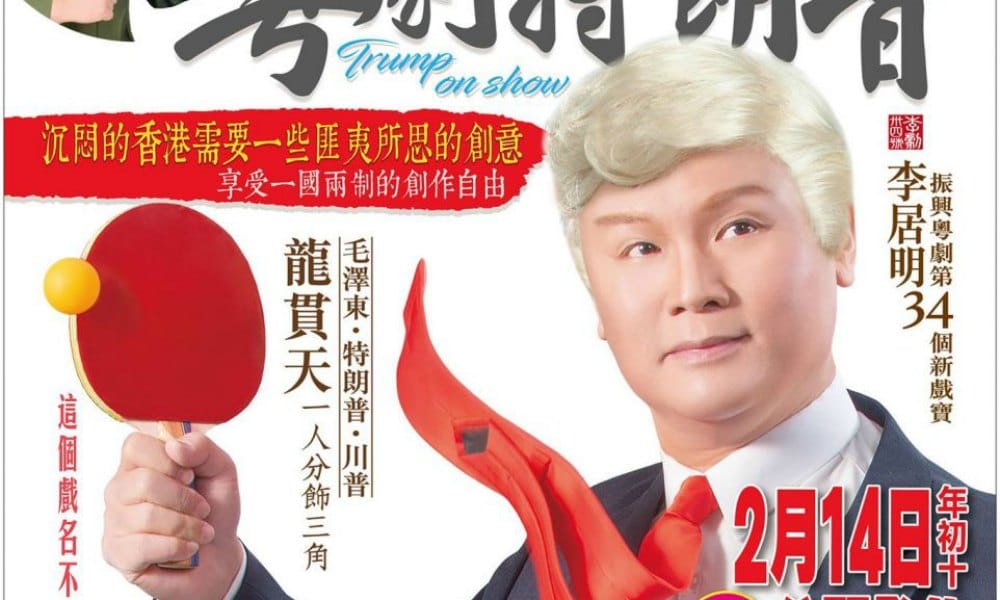 First published
Hong Kong playwright Li Kuiming is not afraid to take on sensitive topics in his productions. After an opera about Mao Zedong, this upcoming Cantonese opera focuses on US President Trump and explores China-US relations.
"Enjoy this 'one country, two systems' creative freedom," is one of the slogans promoting a new Hong Kong opera production that features US President Trump – played by the same actor who also played Mao Zedong – and North-Korean leader Kim Jong-un, presenting a story revolving around the modern history and current situation of China-US relations and international politics in the form of traditional Chinese art.
The opera, titled "Cantonese Opera Trump" (粵劇特朗普) was written by Fengshui master and playwright Li Kuiming (李居明), who likes to mix up traditional opera with creative new storylines. In this production, 'Trump' allegedly will not just be singing; he'll be playing ping-pong, too.
Promotion posters for the show have attracted the attention of some Weibo netizens, with some calling it "unimaginable."
This opera is the 34th production made by Li Kuiming, who has some 1,4 million fans on Weibo. Three years ago, Li made headlines for his controversial Chairman Mao opera that explored the private life of Mao Zedong and also featured a scene in which Mao comes back from the dead to talk to Chiang Kai-shek.
The current opera is a sequel to the 2016 production, featuring the same actor, Long Guantian (龍貫天), as President Trump. The role of Kim Jong-un will be performed by Chen Hongjin (陳鴻進).
The press conference for the new opera took place on March 1st, just after the Trump-Kim summit in Hanoi ended without a deal. The actors taking on the roles of Trump and Kim, however, posed together shaking hands.
Despite the somewhat controversial theme of the opera, the Singtao Daily writes that Li Kuiming's production "avoids politically sensitive topics as much as possible."
"Through this opera, I want to analyze China-USA relations," Li told reporters: "China and the US have had very good relations for a long time (..), Nixon's [1972] visit to China marked the friendship between the two countries. At present, the China-US friendship has turned into a struggle."
Li called it "a gift from heaven" that he was able to get performer Long Guantian to play Mao Zedong previously, praising his "enormous flexibility" in the roles he is able to take on. "For [his] role of Trump, I've read many books and thoroughly researched the life and thinking of Trump."
One reason for the opera to stir some discussions on Chinese social media, is the fact that its promotional poster states that the "three roles" of "Trump, Trump, and Mao Zedong" are all performed by the same actor (Long Guantian).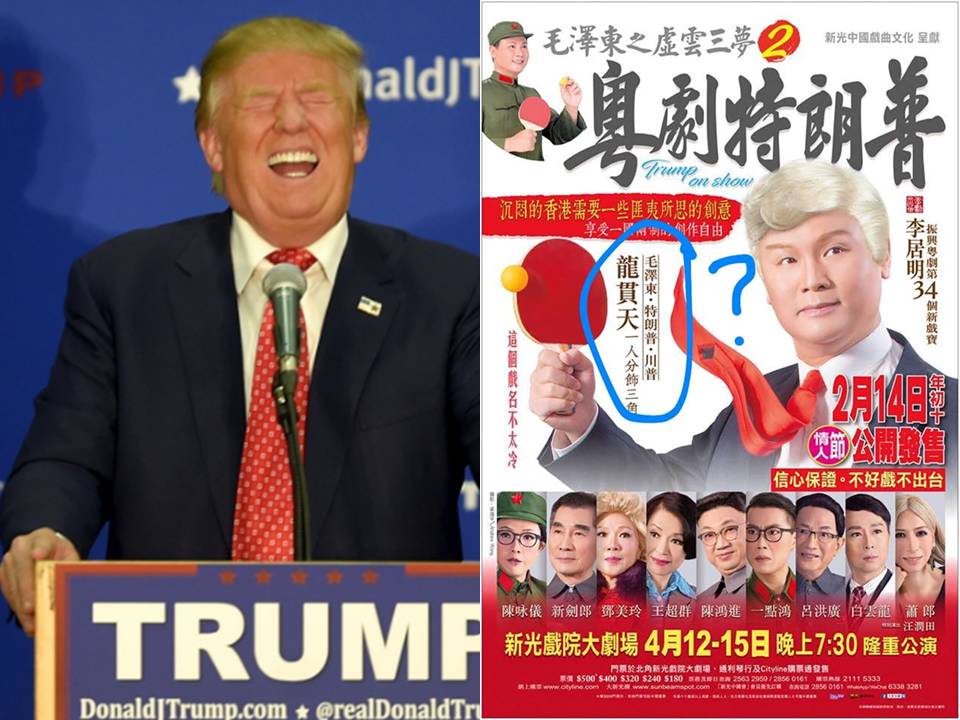 The name of 'Trump' is written in two different ways on the poster, causing much confusion among netizens, who write: "I thought there was only one Trump?!" (To understand more about the two Chinese names of Trump, check this article).  It is not clear if there will indeed be two 'Trumps' starring in the production or why the poster mentions the name of Trump two times.
The Mingpao newspaper reported that Li has high hopes for this production, quoting: "I have a friend who knows Trump, and who suggested bringing this opera to the White House so that Trump can enjoy it. We could translate it. If I'd ever be invited, of course, I wouldn't say no." He also added that he "wouldn't have the courage" to perform the opera in North Korea.
The opera will be performed at the Hong Kong Sunbeam Theatre from April 12 to April 15. "I guarantee it will be good," Li says: "If it wouldn't be good, I wouldn't put it on stage."
By Manya Koetse 
Spotted a mistake or want to add something? Please email us.
©2019 Whatsonweibo. All rights reserved. Do not reproduce our content without permission – you can contact us at info@whatsonweibo.com.