China's Top TV Dramas to Watch This Winter 2017/2018
China's top television dramas to binge on this winter – by What's on Weibo.
From historical dramas to military series – a list of the latest, most-watched television dramas in China shows that Chinese television dramas are not just hot & happening – they are also diverse when it comes to themes and genres.
It has been over 27 years since China's first television drama aired and caused a national craze. Although China's media industry has greatly changed through the times, one thing has remained the same: Chinese TV viewers still love watching television dramas – a dominant form of media entertainment. In fact, the Chinese TV drama industry is booming and among the most vibrant in the world, with no signs of slowing down.
As the days are getting colder and darker, it is time to curl up on the couch to do some tv drama (binge) watching. China has seen a myriad of new television dramas this year, with some of the more popular ones airing this winter.
This is a top 10 of most popular new dramas according to Weibo's charts and the Sohu hot charts at the time of writing. We have added various links on where to watch these series, but they might change overtime – please post relevant links in the comment section below.
Some dramas are only licensed for certain regions. For those who wish to switch between regions on their desktop or mobile, you can use a VPN. Our friends at NordVPN offer excellent services (check out here).
For weekly updates on the top online ratings of Chinese television series, check out Cdramabase.com, an excellent website run by Alice Craciun providing insights into the world of Chinese drama.
#10. Peacekeeping Infantry Battalion #维和步兵营#
Genre: Military drama
Release date: October 10, 2017 (35 episodes)
Network: Jiangsu TV
Directed by: Ning Haiqiang (宁海强), Yi Xiang (翌翔)
'Peacekeeping Infantry Battalion' is a different military drama than the mainstream series within this genre; it is not focused on Sino-Japanese War, but on modern-day conflicts. This drama has received much praise from Chinese experts.
Its airing comes at a time when China's role in UN peacekeeping is becoming increasingly crucial, not just as a contributor of troops, but also as a financial provider. The drama, attracting large audiences across China, plays an important role in the current shaping of the image of China's peacekeeping troops.
The drama was co-directed by director Ning Haiqiang, who is also known for multiple military productions such as The Hundred Regiments Offensive (百团大战), and aims to show how Chinese peacekeeping forces are selected, trained, and go abroad. The drama mainly focuses on the tumultuous story of people in the Peacekeeping Infantry Battalion, who are risking their own lives to evacuate citizens from Libya during a dangerous mission. And, of course, it would not be a proper Chinese drama without some romance amidst all the military developments.
To check out the drama (in Chinese) see this YouTube channel.
Starring: Du Chen (杜淳), Jia Qing (贾青), Xu Honghao (徐洪浩), He Da (何达), Liu Runnan (刘润南), Shen Hao (沈浩).
#9. Detective Dee #通天狄仁杰#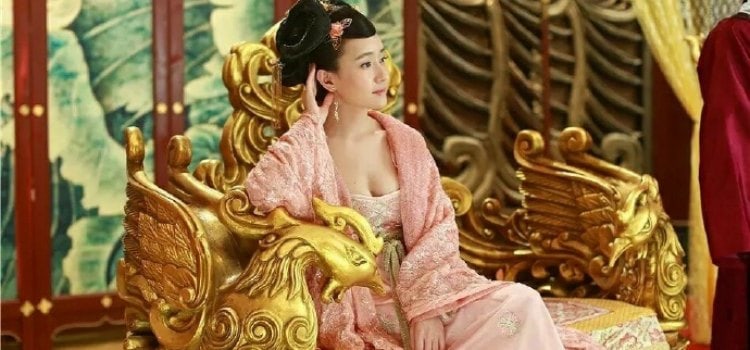 Genre: Costume drama, detective
Release date: August 21 2017 (46 episodes)
Network: Beijing TV, Anhui TV
Directed by: Xie Zhaoyi (叶昭仪)
This is a large-scale costume drama that was already produced back in 2014. It focuses on the main character Di Renjie, which is played by actor Ren Jialun, who also starred in the drama Noble Aspirations (青云志).
Drama blog DramaPanda describes Detective Dee as a "Chinese equivalent to Sherlock Holmes" who actually lived during the reign of Empress Wu Zetian (624-705). He's become a widely fictionalized character.
The drama shows the trials and tribulations of Di Renjie, as he is falsely accused of a crime he did not commit and then discovers he has special talents for solving cases.
Watch it on CCAsian here.
Starring: Ren Jialun (任嘉伦, also known as Allen Ren), Kan Qingzi (阚清子), Jiao Junyan (焦俊艳), Chen Yi (陈奕), Miao Junjie (缪俊杰).
#8. Green Love 青恋
Genre: Romance, family, rural
Release date: October 18, 2017 (26 episodes)
Network: CCTV-1, Zhejiang TV (where it started airing October 31st)
Directed by: Ma Jin (马进)
'Green Love' (Qinglian) is the only tv drama in this list that is themed around rural life in China – although it is about urban youth at the same time. It tells the story of the 28-year-old man Lin Shen (starring Guo Jingfei) who returns to his hometown of Yunshe village after establishing his own company in Shanghai.
As described by Cdramabase, he is not the only one turning to this village after building on a career in the big city. Investor Chen Ling (by Che Xiao) wants to escape the busy city and visits Lin Shen's village, where she learns to appreciate Chinese village life.
Starring: Guo Jingfei (郭京飞), Che Xiao (车晓), Una You (尤靖茹).
#7. The Legendary Tycoon #传奇大亨#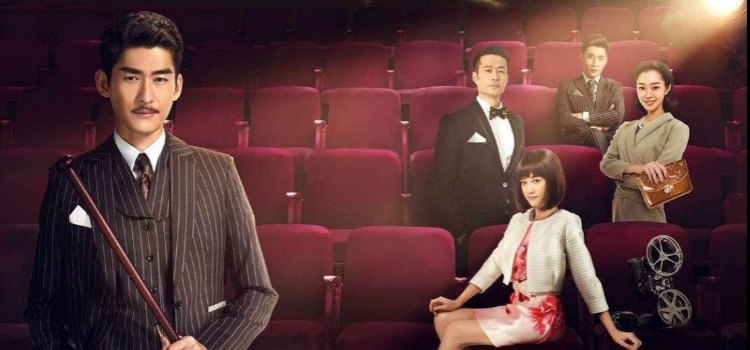 Genre: Period drama
Release date: October 9, 2017
Network: Zhejiang TV, Tencent, iQiYi, Youku
Directed by: Zhuang Xunxin (庄训鑫)
With 110 million views on Weibo #传奇大亨#, this is a popular Chinese drama and a quite original one because it is based on a real-life story.
This drama takes place in Shanghai during the 1930s, when the brothers of the 'Gu family' join the movie industry. Gu Yanmei, played by actor Zhang Han, is the youngest brother, who follows his older brother Gu Ruoxia to Singapore to start their own film business there. When war breaks out, the brothers decide to move their film production base to Hong Kong – the start of a tumultuous and flourishing career.
The Legendary Tycoon is based on the story of the Shaw Brothers, of whom the youngest, Run Shaw, passed away in 2014, at the age of 107 (Find a short history of the Shaw Brothers & Chinese cinema here).
See the first episode of this drama here (in Chinese), or through Viki with English subtitles here.
Starring: Zhang Han (张翰), Jia Qing (贾青), Chen Qiao'en (陈乔恩), Song Yi (宋轶) Tan Kai (谭凯), Liu Changde (刘长德) Guo Ziqian (郭子千) Yao Zhuojun (姚卓君) Sun Wei (孙玮).
#6. Xuan Yuan Sword: Legend of the Han Clouds #轩辕剑之汉之云#
Genre: Fantasy, sci-fi, costume
Release date: August 8 2017 (58 episodes)
Network: Dragon TV
Directed by: Pan Wenjie (潘文杰), Jin Sha (金沙)
'Xuan Yuan Sword: Legend of the Han Clouds' is set during a fantasy era and revolves around three opposing kingdoms and the heroic accomplishments of the young protagonists. That these kinds of fantasy spectacles are still very popular amongst netizens can be viewed on this drama's Weibo hashtag page, which had received 2,2 billion views by the time of writing.
The show can be viewed with English subs on Youtube here or through Viki.
Starring: Zhang Yunlong (张云龙), Yu Menglong (于朦胧), Guan Xiaotong (关晓彤), Zhang Jiazhu (张佳宁).
#5. My! Physical Education Teacher #我的!体育老师#
Genre: Romance, comedy
Release date: 11 November 2017 (38 episodes)
Network: Hunan TV
Directed by: Lin Yan (林妍)
The pretty Wang Xiaomi had always dreamed of being treated like a princess by her future husband. The much older Mark (Zhang Jiayi), who is facing a mid-life crisis, is her ideal candidate. But dealing with her new stepdaughter and restless husband is not the pampered life Wang had hoped for.
The drama comically features the generational differences between those born in the post-70s, post-80s, post-90s, and those born after 2000.
The drama can be watched online through CCAsian here.
Starring: Zhang Jiayi (张嘉译), Wang Xiaochen (王晓晨), Wang Weiwei (王维维), Zhang Zijian (张子健), Zhao Jinmai (赵今麦)
#4. Ordinary Person #凡人的品格#
Genre: Urban drama, workplace
Release date: October 28, (45 episodes)
Alternative title: Ordinary Person Character
Network: Jiangsu TV, Zhejiang TV
Directed by: Xu Zongzheng (徐宗政)
This drama's narrative follows the story of several people who work together at a media company. While war reporter-turned-producer Zhan Dapeng (played by Lin Yongjian) is facing a crisis both in his working and personal life, the pretty industry newbie Chang Ge (Jiang Xin) is an admirer of Zhan. The two encounter many challenges while working on a new program together – they're both partners and enemies at the same time.
Check it out (in Chinese) on Youtube here.
Starring: Lin Yongjian (林永健), Jiang Xin (蒋欣), Tong Lei (童蕾), Liang Zhenlun (梁振伦), Bai Zhidi (白志迪).
#3. The Endless Love #路从今夜白#
Genre: Romance
Release date: 11 November 2017 (32 episodes)
Alternative title: The Journey from Tonight is White
Network: Hunan TV, Mango TV
Directed by: Gu Yunyun (顾贇贇)
This drama, that is based on a novel by Mo Wu Bi Ge, revolves around the love story of the talented painter Gu Yebai (played by Chen Ruoxuan) and the amiable Lu Youyan (An Yuexi). When Gu is getting ready to prepare for a major art competition, psychological problems are challenging his journey. A new love blossoms when Lu Youyan helps him overcome his problems, but their relationship faces more obstacles as the drama unfolds.
This drama can be watched through Viki.com with subtitles (if it is licensed for your region).
Starring: Chen Ruoxuan (陈若轩), An Yuexi (安悦溪), Wei Miles (魏哲鸣), Luo Yutong (罗玉通), Clinton Kuang (匡牧野).
#2. ER Doctors ##急诊科医生##
Genre: Hospital drama
Release date: October 30, 2017 (43 episodes)
Network: Dragon TV, Beijing TV
Directed by: Zheng Xiaolong (郑晓龙), Liu Xuesong (刘雪松)
The television drama 'ER Doctors' (#急诊科医生#) is not just one of the highest-ranking tv dramas this winter, but also one of the most viewed and discussed topics on Weibo.
ER Doctors is a realistic drama that centers around a group of doctors at a hospital's emergency department.
It tells the story of the ER room head doctor of the emergency department He Jian Yi (Zhang Jiayi) and the new Ph.D. advisor, who just returned from America, Jiang Xiaoqi (by Wang Luodan). At first, these two are wary of each other, but they come to understand each other and rescue not only patients side by side but also themselves in the end (Cdramabase).
According to Shanghai Daily, director Zheng attached great importance to the details in every scene, which is why he visited a Shanghai hospital with the drama's cast to learn basic ER training.
Starring: Zhang Jiayi (张嘉译), Wang Luodan (王珞丹), Jiang Shan (江珊)
#1. Game of Hunting #猎场#
Genre: Romance, workplace
Release date: November 6, 2017 (52 episodes)
Alternative title: Hunting Ground
Network: Hunan TV, Youku, LeTv and more.
Directed by: Jiang Wei (姜伟) (also screenplay)
The Game of Hunting is the absolute number 1 of this list, currently topping the top lists of most popular dramas on Weibo and Sogu, and receiving a 9.0 rating from viewers.
The drama's narrative revolves around headhunter Zheng Qiudong (played by Hu Ge) as he struggles to climb up in the financial world – a "hunting ground" full of enemies and immoral characters. When his business falls apart, he has to start anew with the help of this new alliances.
The show is heavily sponsored by One Plus (一加手机), one of China's most popular domestic smartphone brands.
Game of Hunting can be watched online through multiple channels, including YouTube.
Starring: Hu Ge 胡歌, Chen Long 陈龙, Sun Honglei 孙红雷, Zhang Jiayi 张嘉译, Zu Feng 祖峰.
Want to know more? Also see
– Top 5 Chinese TV Dramas of Summer 2017
– Top 10 Chinese Television Dramas Early 2017
– Top 10 TV dramas in China 2016
By Manya Koetse
Follow @whatsonweibo
Spotted a mistake or want to add something? Please let us know in comments below or email us.
©2017 Whatsonweibo. All rights reserved. Do not reproduce our content without permission – you can contact us at info@whatsonweibo.com.
Famous Chinese Nursery Song "One Penny" Inflates to "One Yuan"
One penny becomes one yuan in this children's song. What's next – changing it to QR codes?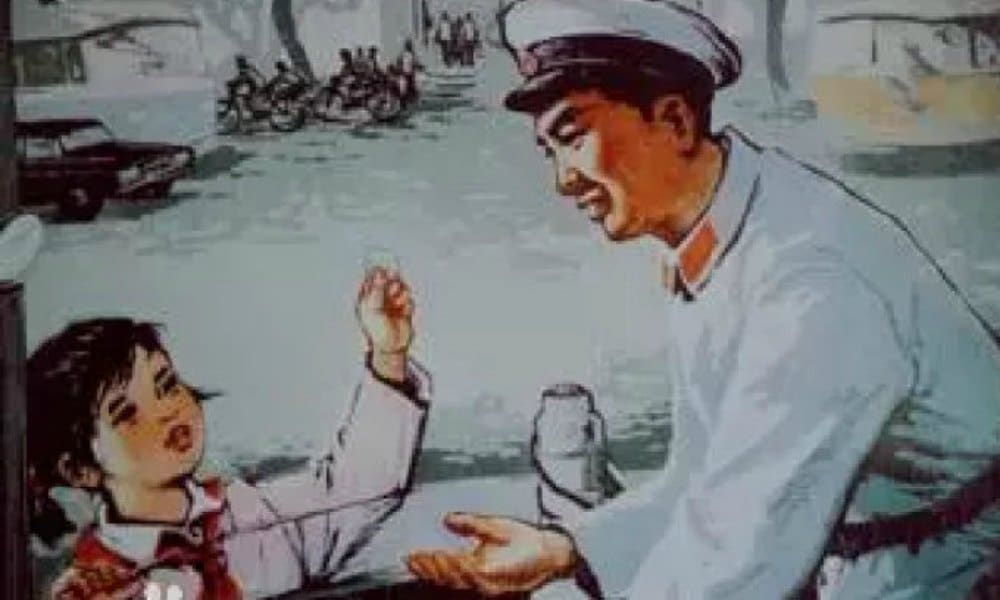 Famous Chinese children's song "One Penny" (一分钱) has changed its penny to a Chinese yuan ($0.15).
The lyrics to the song are now published online and in children's books with the different lyrics, Chinese news platform City Bulletin (@都市快报) reports on Weibo.
The classic song, in translation, says:
"I found a penny on the street,
And handed it over to Uncle Policeman.
The Uncle Policeman took the penny,
And nodded his head at me.
I happily said: "Uncle, goodbye!"
The song, by Chinese composer Pan Zhensheng (潘振声), is known throughout China. It came out in 1963.
Apparently, in present-day China, nobody would go through so much hassle for a penny anymore, and so the text was altered (although it is very doubtful people would go through the trouble for one yuan either).
The penny coin (0.01) in renminbi was first issued in 1957, and is somewhat rare to come across these days. "It's probably even worth more than one yuan now," some netizens argue.
Chinese media report that composer Pan Zhensheng said the song is just an innocent children's song, and that it should not be affected by price inflation. Sina News also quoted the composer in saying that changing the text is "not respectful."
Although some Chinese netizens think the change in the song is just normal modern development, others do not agree at all. In Hangzhou, some say, all you can find on the streets nowadays is QR codes rather than coins. Surely the song should not incorporate those new developments either?
Some commenters on Weibo say the song would never be realistic in China's current cashless society anyway: "Kids nowadays are not finding cash money at all anymore!"
By Manya Koetse
Follow @whatsonweibo
Spotted a mistake or want to add something? Please let us know in comments below or email us. Please note that your comment below will need to be manually approved if you're a first-time poster here.
©2019 Whatsonweibo. All rights reserved. Do not reproduce our content without permission – you can contact us at info@whatsonweibo.com
Controversy over Scene in Anti-Japanese War Drama Featuring Black U.S. Soldier and Chinese Nurse
Some scenes from this anti-Japanese war drama have angered Chinese netizens over 'historical nihilism.'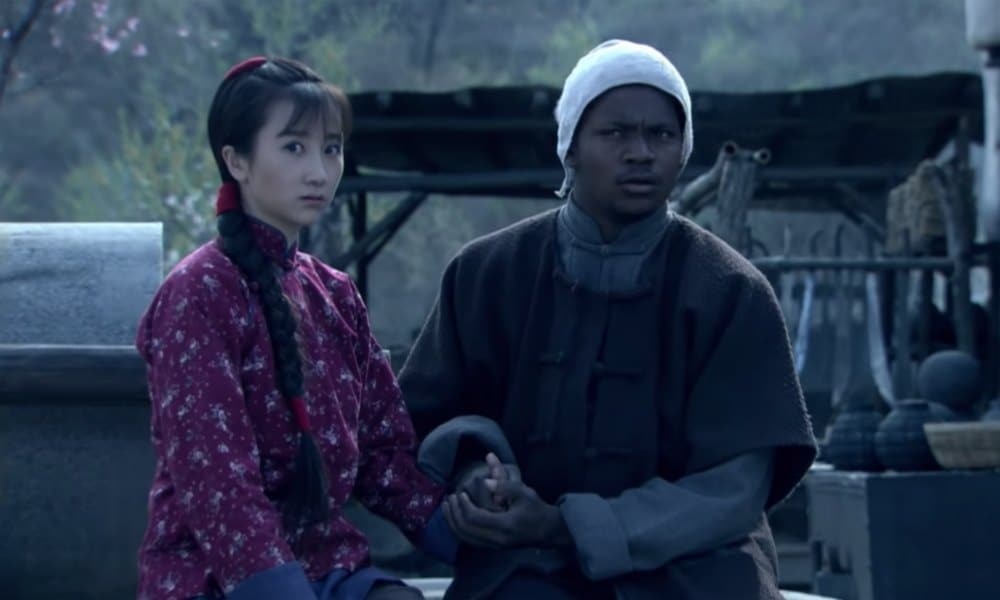 A black soldier comes to China from afar during WWII and falls in love with a Chinese villager who sacrifices her life for him. This war drama is sensationalizing the Sino-Japanese War in the wrong way, many netizens say.
"I love you, I love China," a black man tells a Chinese woman in a clip of an anti-Japanese war drama that has gone viral on Chinese social media over the past few days (watch clip in embedded tweet below).
This scene from a Chinese Anti-Japanese war drama is stirring controversy on Chinese social media this week. "I love you, I love China," the foreigner says. "Love me, love China," the Chinese woman says, before sacrificing her life for him and getting killed by Japanese shooters.

— Manya Koetse (@manyapan) September 5, 2019
The scene is set on a mountain, where the man and woman hold hands when she tells him to flee from the "Japanese devils." She repeats: "Remember: love me, love China."
The love scene takes a dramatic turn when the two get ambushed by the Japanese army. The Chinese woman immediately pushes the man off the mountain to bring him to safety. While she cries out "love me, love China" she is attacked by Japanese soldiers and dies.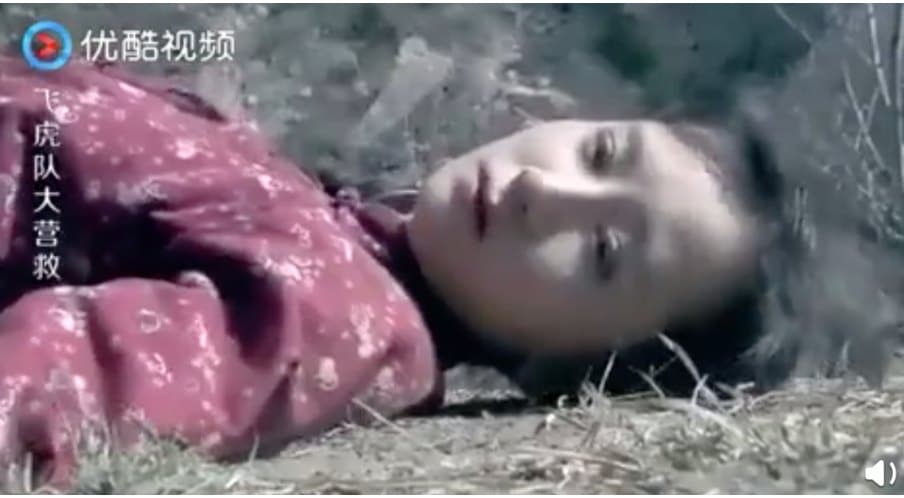 The scene comes from a 2016 TV drama titled The Great Rescue of The Flying Tigers (飞虎队大营救). The drama tells the story of Japanese soldiers chasing surviving members of a Flying Tigers aircraft after they shot it down. Various soldiers and army staff on the Chinese side try to rescue the fighters from the hands of the Japanese.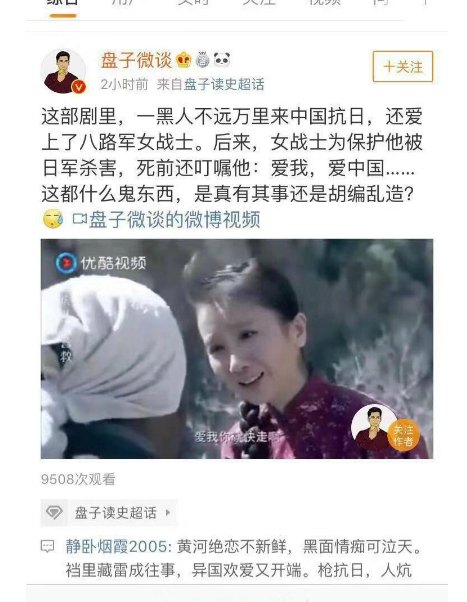 The drama's portrayal of a romance between the foreign soldier and a Chinese woman, on the side of the Communist Eighth Route Army, has stirred controversy on Weibo this week.
"The director is retarded, this is historical nihilism," one Weibo blogger writes.
Hundreds of netizens also criticize the drama's director and screenwriters: "This is not even funny, what kind of scriptwriter comes up with this trash? This should be thoroughly investigated."
The Flying Tigers (飞虎队) were a group of US fighter pilots who went to China during the final three years of the Second Sino-Japanese War to fight the Japanese invaders and defend China.
The people behind the Flying Tigers belonged to the organization of the American Volunteer Group (AVG), who came together in 1941 to strengthen the Chinese Air Force.
In the now controversial TV drama The Great Rescue of The Flying Tigers, the black soldier is 'Carl' (Cedric Beugre), a surviving member of the Flying Tigers aircraft shut down by Japanese forces. The Chinese woman is 'Xinghua,' a female nurse who sacrifices her own life to save Carl.
The dialogues between Carl and Xinghua are pretty simple and at times almost ridiculous. While Xinghua does not speak a word of English and appears clueless, Carl is depicted as a stubborn, crude and somewhat silly character, who also seems to understand very little of what is happening around him and does all he can to be with his Xinghua after a brief meeting in the Chinese base camp (also see this scene or here).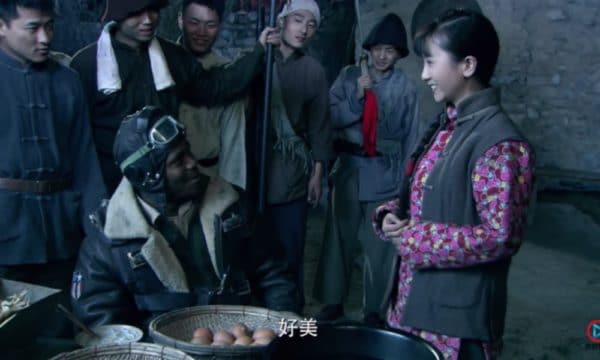 On Chinese social media, the drama is critiqued for being a so-called 'divine Anti-Japanese drama' (抗日神剧): Chinese war dramas that sensationalize the history of the war by making up unrealistic and overly dramatic or funny scenes and storylines.
In 2015, China's State Administration of Press, Publication, Radio, Film, and Television (SAPPRFT) announced a limit on these kinds of TV dramas that sensationalize the history of war, and in doing so 'misrepresent history' and 'disrespect' the Chinese soldiers who fought to defend the nation (read more).
TV series focusing on war are part of China's every day (prime time) TV schedules. These Chinese war dramas are called "Anti-Japanese War Dramas" (抗日电视剧), literally referring to the period of 'resisting Japan' during WWII (in China, the 1937-1945 war is called The War of Resistance against Japanese Aggression 中国抗日战争).
The 40-episode series The Great Rescue of the Flying Tigers was aired by Yunnan City Channel but is also available online. Since there are countless reruns of Anti-Japanese war dramas on Chinese tv, it is possible that some viewers only now viewed the 2016 drama for the first time.
Some netizens call this a "new kind of fantasy war drama", summarizing: "A black man comes from far away to China to fight Japan, falls in love with a Chinese nurse who sacrifices her own life for him and yells 'Love me love China' before she dies."
Many on social media call the script "idiotic," others question if black soldiers ever joined the Flying Tigers in the first place.
There seems to be more to the controversy than sensationalizing history alone though – relationships between foreign men and Chinese women, especially black men and Chinese women, are often met with prejudice and racism on Chinese social media. Mixing such a narrative in a drama about the Second Sino-Japanese war makes it all the more controversial.
Some see the narrative of the love between a foreign soldier and a Chinese woman as a way of 'beautifying' the war and 'adoring everything that's foreign.'
"This is not respecting history at all!", one among hundreds of commenters says.
In the TV drama, the sentence "Love me, Love China" does have some extra meaning in the end. Although Xinghua sacrifices her life for Carl in episode 19, he eventually chooses to fight side by side against the Japanese 'devils' with the Chinese army, keeping his promise to "love China" like he loved Xinghua.
By Manya Koetse , with contributions from Miranda Barnes
Follow @whatsonweibo
Spotted a mistake or want to add something? Please let us know in comments below or email us. Please note that your comment below will need to be manually approved if you're a first-time poster here.
©2019 Whatsonweibo. All rights reserved. Do not reproduce our content without permission – you can contact us at info@whatsonweibo.com