China's Top TV Dramas to Watch This Winter 2017/2018
China's top television dramas to binge on this winter – by What's on Weibo.
From historical dramas to military series – a list of the latest, most-watched television dramas in China shows that Chinese television dramas are not just hot & happening – they are also diverse when it comes to themes and genres.
It has been over 27 years since China's first television drama aired and caused a national craze. Although China's media industry has greatly changed through the times, one thing has remained the same: Chinese TV viewers still love watching television dramas – a dominant form of media entertainment. In fact, the Chinese TV drama industry is booming and among the most vibrant in the world, with no signs of slowing down.
As the days are getting colder and darker, it is time to curl up on the couch to do some tv drama (binge) watching. China has seen a myriad of new television dramas this year, with some of the more popular ones airing this winter.
This is a top 10 of most popular new dramas according to Weibo's charts and the Sohu hot charts at the time of writing. We have added various links on where to watch these series, but they might change overtime – please post relevant links in the comment section below.
Some dramas are only licensed for certain regions. For those who wish to switch between regions on their desktop or mobile, you can use a VPN. Our friends at NordVPN offer excellent services (check out here).
For weekly updates on the top online ratings of Chinese television series, check out Cdramabase.com, an excellent website run by Alice Craciun providing insights into the world of Chinese drama.
#10. Peacekeeping Infantry Battalion #维和步兵营#
Genre: Military drama
Release date: October 10, 2017 (35 episodes)
Network: Jiangsu TV
Directed by: Ning Haiqiang (宁海强), Yi Xiang (翌翔)
'Peacekeeping Infantry Battalion' is a different military drama than the mainstream series within this genre; it is not focused on Sino-Japanese War, but on modern-day conflicts. This drama has received much praise from Chinese experts.
Its airing comes at a time when China's role in UN peacekeeping is becoming increasingly crucial, not just as a contributor of troops, but also as a financial provider. The drama, attracting large audiences across China, plays an important role in the current shaping of the image of China's peacekeeping troops.
The drama was co-directed by director Ning Haiqiang, who is also known for multiple military productions such as The Hundred Regiments Offensive (百团大战), and aims to show how Chinese peacekeeping forces are selected, trained, and go abroad. The drama mainly focuses on the tumultuous story of people in the Peacekeeping Infantry Battalion, who are risking their own lives to evacuate citizens from Libya during a dangerous mission. And, of course, it would not be a proper Chinese drama without some romance amidst all the military developments.
To check out the drama (in Chinese) see this YouTube channel.
Starring: Du Chen (杜淳), Jia Qing (贾青), Xu Honghao (徐洪浩), He Da (何达), Liu Runnan (刘润南), Shen Hao (沈浩).
#9. Detective Dee #通天狄仁杰#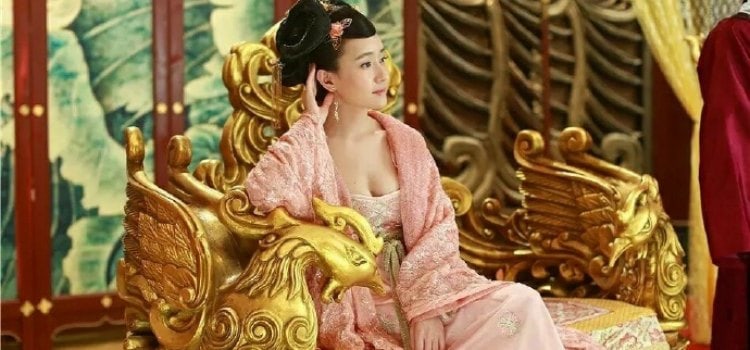 Genre: Costume drama, detective
Release date: August 21 2017 (46 episodes)
Network: Beijing TV, Anhui TV
Directed by: Xie Zhaoyi (叶昭仪)
This is a large-scale costume drama that was already produced back in 2014. It focuses on the main character Di Renjie, which is played by actor Ren Jialun, who also starred in the drama Noble Aspirations (青云志).
Drama blog DramaPanda describes Detective Dee as a "Chinese equivalent to Sherlock Holmes" who actually lived during the reign of Empress Wu Zetian (624-705). He's become a widely fictionalized character.
The drama shows the trials and tribulations of Di Renjie, as he is falsely accused of a crime he did not commit and then discovers he has special talents for solving cases.
Watch it on CCAsian here.
Starring: Ren Jialun (任嘉伦, also known as Allen Ren), Kan Qingzi (阚清子), Jiao Junyan (焦俊艳), Chen Yi (陈奕), Miao Junjie (缪俊杰).
#8. Green Love 青恋
Genre: Romance, family, rural
Release date: October 18, 2017 (26 episodes)
Network: CCTV-1, Zhejiang TV (where it started airing October 31st)
Directed by: Ma Jin (马进)
'Green Love' (Qinglian) is the only tv drama in this list that is themed around rural life in China – although it is about urban youth at the same time. It tells the story of the 28-year-old man Lin Shen (starring Guo Jingfei) who returns to his hometown of Yunshe village after establishing his own company in Shanghai.
As described by Cdramabase, he is not the only one turning to this village after building on a career in the big city. Investor Chen Ling (by Che Xiao) wants to escape the busy city and visits Lin Shen's village, where she learns to appreciate Chinese village life.
Starring: Guo Jingfei (郭京飞), Che Xiao (车晓), Una You (尤靖茹).
#7. The Legendary Tycoon #传奇大亨#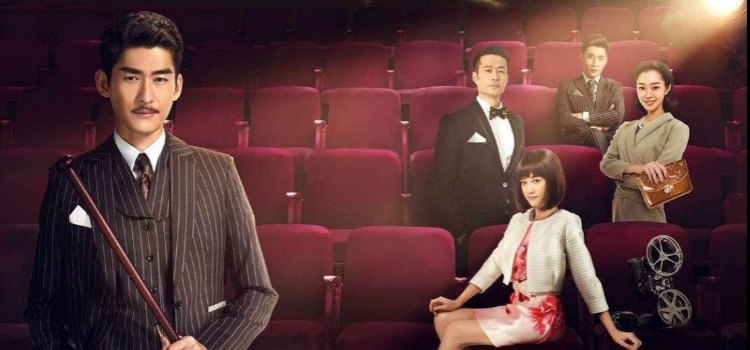 Genre: Period drama
Release date: October 9, 2017
Network: Zhejiang TV, Tencent, iQiYi, Youku
Directed by: Zhuang Xunxin (庄训鑫)
With 110 million views on Weibo #传奇大亨#, this is a popular Chinese drama and a quite original one because it is based on a real-life story.
This drama takes place in Shanghai during the 1930s, when the brothers of the 'Gu family' join the movie industry. Gu Yanmei, played by actor Zhang Han, is the youngest brother, who follows his older brother Gu Ruoxia to Singapore to start their own film business there. When war breaks out, the brothers decide to move their film production base to Hong Kong – the start of a tumultuous and flourishing career.
The Legendary Tycoon is based on the story of the Shaw Brothers, of whom the youngest, Run Shaw, passed away in 2014, at the age of 107 (Find a short history of the Shaw Brothers & Chinese cinema here).
See the first episode of this drama here (in Chinese), or through Viki with English subtitles here.
Starring: Zhang Han (张翰), Jia Qing (贾青), Chen Qiao'en (陈乔恩), Song Yi (宋轶) Tan Kai (谭凯), Liu Changde (刘长德) Guo Ziqian (郭子千) Yao Zhuojun (姚卓君) Sun Wei (孙玮).
#6. Xuan Yuan Sword: Legend of the Han Clouds #轩辕剑之汉之云#
Genre: Fantasy, sci-fi, costume
Release date: August 8 2017 (58 episodes)
Network: Dragon TV
Directed by: Pan Wenjie (潘文杰), Jin Sha (金沙)
'Xuan Yuan Sword: Legend of the Han Clouds' is set during a fantasy era and revolves around three opposing kingdoms and the heroic accomplishments of the young protagonists. That these kinds of fantasy spectacles are still very popular amongst netizens can be viewed on this drama's Weibo hashtag page, which had received 2,2 billion views by the time of writing.
The show can be viewed with English subs on Youtube here or through Viki.
Starring: Zhang Yunlong (张云龙), Yu Menglong (于朦胧), Guan Xiaotong (关晓彤), Zhang Jiazhu (张佳宁).
#5. My! Physical Education Teacher #我的!体育老师#
Genre: Romance, comedy
Release date: 11 November 2017 (38 episodes)
Network: Hunan TV
Directed by: Lin Yan (林妍)
The pretty Wang Xiaomi had always dreamed of being treated like a princess by her future husband. The much older Mark (Zhang Jiayi), who is facing a mid-life crisis, is her ideal candidate. But dealing with her new stepdaughter and restless husband is not the pampered life Wang had hoped for.
The drama comically features the generational differences between those born in the post-70s, post-80s, post-90s, and those born after 2000.
The drama can be watched online through CCAsian here.
Starring: Zhang Jiayi (张嘉译), Wang Xiaochen (王晓晨), Wang Weiwei (王维维), Zhang Zijian (张子健), Zhao Jinmai (赵今麦)
#4. Ordinary Person #凡人的品格#
Genre: Urban drama, workplace
Release date: October 28, (45 episodes)
Alternative title: Ordinary Person Character
Network: Jiangsu TV, Zhejiang TV
Directed by: Xu Zongzheng (徐宗政)
This drama's narrative follows the story of several people who work together at a media company. While war reporter-turned-producer Zhan Dapeng (played by Lin Yongjian) is facing a crisis both in his working and personal life, the pretty industry newbie Chang Ge (Jiang Xin) is an admirer of Zhan. The two encounter many challenges while working on a new program together – they're both partners and enemies at the same time.
Check it out (in Chinese) on Youtube here.
Starring: Lin Yongjian (林永健), Jiang Xin (蒋欣), Tong Lei (童蕾), Liang Zhenlun (梁振伦), Bai Zhidi (白志迪).
#3. The Endless Love #路从今夜白#
Genre: Romance
Release date: 11 November 2017 (32 episodes)
Alternative title: The Journey from Tonight is White
Network: Hunan TV, Mango TV
Directed by: Gu Yunyun (顾贇贇)
This drama, that is based on a novel by Mo Wu Bi Ge, revolves around the love story of the talented painter Gu Yebai (played by Chen Ruoxuan) and the amiable Lu Youyan (An Yuexi). When Gu is getting ready to prepare for a major art competition, psychological problems are challenging his journey. A new love blossoms when Lu Youyan helps him overcome his problems, but their relationship faces more obstacles as the drama unfolds.
This drama can be watched through Viki.com with subtitles (if it is licensed for your region).
Starring: Chen Ruoxuan (陈若轩), An Yuexi (安悦溪), Wei Miles (魏哲鸣), Luo Yutong (罗玉通), Clinton Kuang (匡牧野).
#2. ER Doctors ##急诊科医生##
Genre: Hospital drama
Release date: October 30, 2017 (43 episodes)
Network: Dragon TV, Beijing TV
Directed by: Zheng Xiaolong (郑晓龙), Liu Xuesong (刘雪松)
The television drama 'ER Doctors' (#急诊科医生#) is not just one of the highest-ranking tv dramas this winter, but also one of the most viewed and discussed topics on Weibo.
ER Doctors is a realistic drama that centers around a group of doctors at a hospital's emergency department.
It tells the story of the ER room head doctor of the emergency department He Jian Yi (Zhang Jiayi) and the new Ph.D. advisor, who just returned from America, Jiang Xiaoqi (by Wang Luodan). At first, these two are wary of each other, but they come to understand each other and rescue not only patients side by side but also themselves in the end (Cdramabase).
According to Shanghai Daily, director Zheng attached great importance to the details in every scene, which is why he visited a Shanghai hospital with the drama's cast to learn basic ER training.
Starring: Zhang Jiayi (张嘉译), Wang Luodan (王珞丹), Jiang Shan (江珊)
#1. Game of Hunting #猎场#
Genre: Romance, workplace
Release date: November 6, 2017 (52 episodes)
Alternative title: Hunting Ground
Network: Hunan TV, Youku, LeTv and more.
Directed by: Jiang Wei (姜伟) (also screenplay)
The Game of Hunting is the absolute number 1 of this list, currently topping the top lists of most popular dramas on Weibo and Sogu, and receiving a 9.0 rating from viewers.
The drama's narrative revolves around headhunter Zheng Qiudong (played by Hu Ge) as he struggles to climb up in the financial world – a "hunting ground" full of enemies and immoral characters. When his business falls apart, he has to start anew with the help of this new alliances.
The show is heavily sponsored by One Plus (一加手机), one of China's most popular domestic smartphone brands.
Game of Hunting can be watched online through multiple channels, including YouTube.
Starring: Hu Ge 胡歌, Chen Long 陈龙, Sun Honglei 孙红雷, Zhang Jiayi 张嘉译, Zu Feng 祖峰.
Want to know more? Also see
– Top 5 Chinese TV Dramas of Summer 2017
– Top 10 Chinese Television Dramas Early 2017
– Top 10 TV dramas in China 2016
By Manya Koetse
Follow @whatsonweibo
Spotted a mistake or want to add something? Please let us know in comments below or email us.
©2017 Whatsonweibo. All rights reserved. Do not reproduce our content without permission – you can contact us at info@whatsonweibo.com.
Meet Ding Zhen: Khampa Tibetan "Horse Prince" Becomes Social Media Sensation
Ding Zhen's quiet life out in the grasslands is seemingly over.
A Khampa Tibetan farmer has become an online sensation in China due to his handsome features. His overnight fame, which comes with legions of adoring fans and TV show invitations, has sparked discussions about the often-overwhelming loss of privacy that can accompany online stardom.
The recent rise to internet fame of a young man named Ding Zhen (丁真) has sparked controversy over the benefits and downsides of e-celebdom.
The 20-year-old farmer, who lives in Litang in the Kham region of Tibet, found accidental online fame after being captured in a blogger's photography session in Nyima County, according to a Haixia News article.
His handsome features attracted online attention, snowballing out of control after his appearance on a livestream. The young man shyly admitted to having little proficiency in reading or speaking Mandarin, but managed to express his love for raising horses.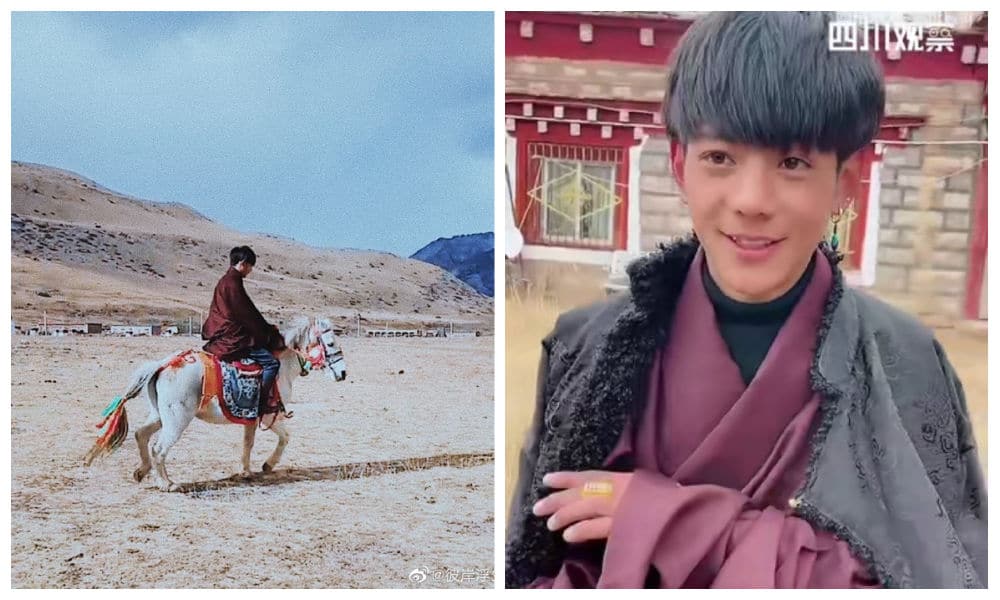 The cameraman and other villagers apparently later publicized Ding Zhen's name, address, and other personal info, soliciting gifts and leading some netizens to mock Ding Zhen's village neighbors as "blood-sucking vampires."
Ding, still unaware of his own fame, mentioned with some difficulty on the livestream that his dream was simply to become a "horse prince" (马王子) by winning his local horse races. His dream after that? To raise more horses, of course much to the delight of many Weibo users, some of whom have begun creating fan art in the young man's honor.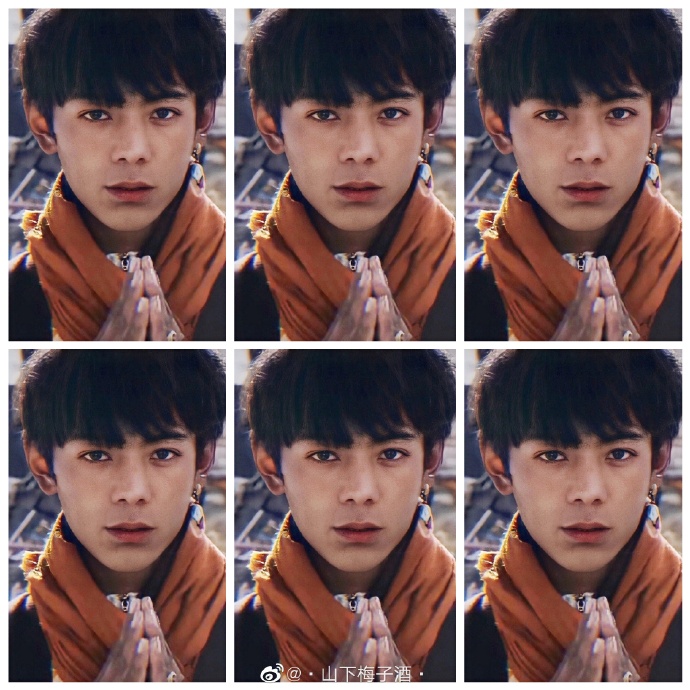 Calls for Ding Zhen to open a Douyin account of his own, or even to appear on reality television shows such as The Coming One (明日之子) and Produce Camp (创造营), have inspired heated debate.
"This kind of person," wrote one Weibo commenter, "should be riding horses and shooting arrows out on the grasslands; he shouldn't be imprisoned in Vanity Fair by your fan club's cultural values."
Others worried that this young man, "uncorrupted by the world," might be taken advantage of by others for financial gain.
This concern over the invasiveness of online fans likely stems from previous incidents where ordinary Chinese citizens became extraordinarily famous overnight, such as in the cases of 'Brother Sharp,' a homeless man similarly inundated with adoring praise online for his good looks and stylish appearance, and Shanghai's 'Vagrant Professor,' both of whom found their privacy constantly invaded by fans seeking photos or just a chance to meet the new stars. Soon both men could hardly walk outside without being swarmed as their private life had been effectively ended- all because they happened to become popular online.
Two phenomena unique to the Chinese internet seem to place these e-celebrities at a higher risk of being tracked down offline by their fans. One of them is the "human flesh search engine" (人肉搜索,) a massive online effort tapping into the knowledge and offline connections of netizens to track down and identify a person, often for shaming or as justice for perceived wrongdoing. The other is the highly-organized "super fan club" phenomenon prevalent in Chinese e-celeb culture, some of which boast structures rivaling the biggest corporations, with PR and financial departments. It's no wonder then that some netizens fear for Ding Zhen's personal life.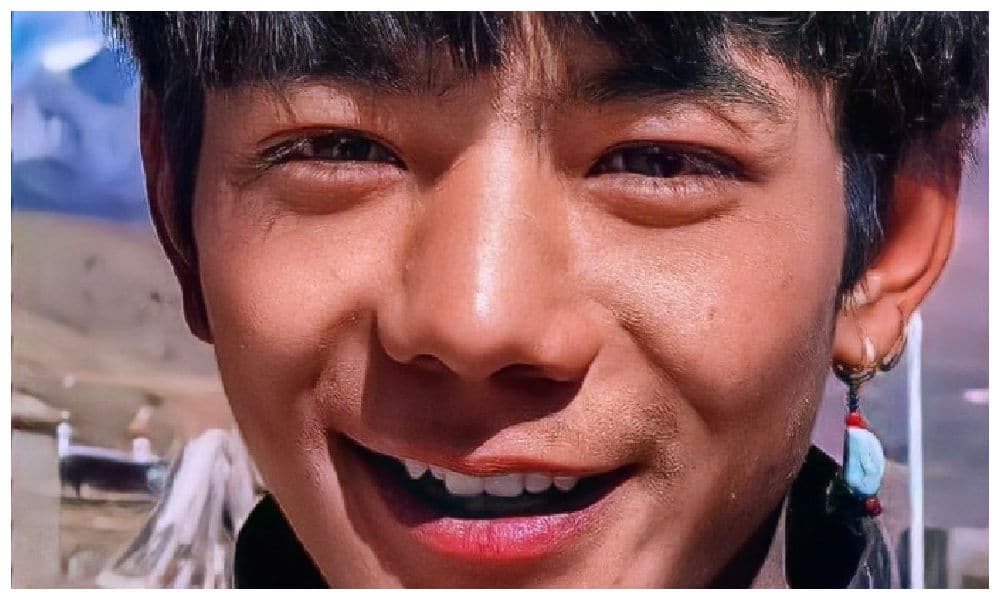 Many of these concerned netizens seem to particularly admire the simple, pastoral lifestyle of the "grasslands" (草原) which Ding leads, one which has been popularized in novels like Jin Yong's Legends of the Condor Heroes (射鵰英雄傳), which details the adventures of the young Guo Jing, a Chinese boy who joins the court of Genghis Khan. The novel has been read by millions across China and has become a prominent source of political metaphors on the Chinese web. One commenter exhorted others to "Let him become his own hero, a horse prince! Don't let the worst impulses of the internet corrupt him."
With the question "Should Ding Zhen leave the grasslands?" (#丁真该不该离开草原发展#) becoming a trending topic all of its own, it seems opinions about his popularity are fiercely divided. "I hope this handsome guy can make his own choices," writes one Weibo user: "..and no matter whether he becomes a star or not, I hope he can keep such an innocent heart!"
According to the latest reports, Ding has received a job offer from a Chinese state-owned company since his unexpected rise to online fame. CGTN writes that the 'horse prince' has now signed the contract, but they do not mention if this new job will allow him to do what he loves most – raising horses and being out in the grasslands.

By Luke Jacobus
Follow @whatsonweibo
Spotted a mistake or want to add something? Please let us know in comments below or email us. First-time commenters, please be patient – we will have to manually approve your comment before it appears.
©2020 Whatsonweibo. All rights reserved. Do not reproduce our content without permission – you can contact us at info@whatsonweibo.com.
Oh, the Drama! Chinese Opera Performance Turns into Stage Fight as Drunken Man Attacks Actors
This local traditional opera performance unexpectedly turned into a stage fight.
On October 9 in Zhejiang's Lishui city (Laozhu Town), a theatrical performance unexpectedly turned very dramatic when a drunken man stormed on stage to fight with the performers.
A video showing the Chinese opera performance being disturbed by the drunkard, turning it into a chaotic stage scene, is gaining major attention on Chinese social media.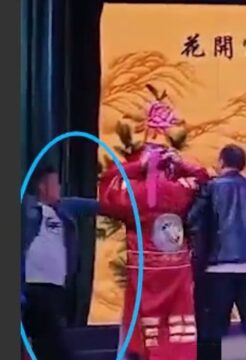 The incident occurred Friday night around 9 pm, when the Laozhu Theatrical Troupe was performing.
Videos of the incident that are circulating online show how one man comes on stage, attacking one of the actors. The scene escalates into a big fight when others try to intervene. The police were quick to arrive at the scene.
Oh, the drama! A Peking Opera performance turned into an explosive fight this weekend when a drunken village chief's son stormed on stage. He was allegedly rejected by one of the (Huadan) actresses.

Can't help but think the audience still got a spectacular show. pic.twitter.com/DPg3Q6QGOh

— Manya Koetse (@manyapan) October 11, 2020
Various news reports suggest the man started to act out after getting into an argument with one of the 'Huadan' (花旦) performers of the troupe. In traditional Chinese opera, the Huadan characters are young female roles, often seductive in appearance and quick with their words.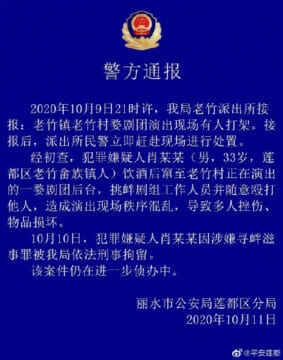 Local police posted on Weibo that the chaos was caused by a 33-year-old local who started to become aggressive after he had too much to drink. The man is charged with disorderly conduct and is currently detained.
The case received even more attention on social media when it turned out that the 33-year old troublemaker is the son of the head of a neighboring village.
Many Chinese netizens feel that the man is spared by Chinese news media outlets, which only report about a "drunken man" who was "causing trouble." They insist that the real story should be properly reported.
"The son of the village chief took liberties with a huadan actress who rejected him, and then he kicked her, causing her to lose consciousness. He then beat up other actors," some commenters explain.
"He is not just a 'drunkard', he's the son of the village secretary."
"What an explosive performance it was!" one Weibo blogger writes.
By Manya Koetse
Follow @WhatsOnWeibo
Spotted a mistake or want to add something? Please let us know in comments below or email us. First-time commenters, please be patient – we will have to manually approve your comment before it appears.
©2020 Whatsonweibo. All rights reserved. Do not reproduce our content without permission – you can contact us at info@whatsonweibo.com.