"Congratulations, It's a Boy!" – China's (Mixed) Reactions to President Trump's Election Victory
In the morning of November 9 (Beijing time), the whole world received the news of Donald Trump winning the American presidential election. What's on Weibo offers an insight into Chinese responses to the election of American's unconventional new president. From Chinese (official) media to Weibo's netizens, the reactions to Trump's triumph are favorable, critical, humorous, but most of all: mixed.
Chinese media have been closely following and reporting the American presidential election through social media over the past two days.
Although most media reports appear to be factual, they are not completely unbiased; their construction and tone reveal their attitude toward the newly-elected President Trump.
While most official Chinese state media reports put America's new "unconventional" president in a subtle favorable light, economic newspaper The Observer responded with a critical view, while Sina Weibo netizens mostly responded with banter, with many of them expressing a favorable view of Trump presidency.
OFFICIAL STATE MEDIA
"What Chinese Americans Say About Trump's Victory: 'Now I can finally safely go to the toilet'"
State broadcaster CCTV News (@央视新闻) and People's Daily (@人民日报, official newspaper of the Chinese Communist Party) released the news of Trump's victory as a factual newsflash, writing that Republican candidate Donald Trump has defeated Democrat candidate Hilary Clinton, and has become the 45th President of the United States of America.
Both news outlets used a relatively neutral image of Trump, who appears to be speaking in front of a red background.
Some Chinese media also compare the somewhat unexpected outcome of America's elections to that of the Brexit referendum, after which voters later expressed regret over the outcome (the 'Brexit regret').
Global Times (@环球时报, China's state 'tabloid') is more explicit in its attitude towards Trump. Shortly after the election results were out, Global Times released an article titled "What Chinese Americans Say About Trump's Victory: 'Now I can finally safely go to the toilet'" ("特朗普赢了,美国华人怎么说?——终于可以安全上厕所了").
The overall tone of the article shows a favorable view of Trump, as it features a female interviewee who expresses her joy that Trump will allegedly abandon Obama's liberal policy for the LGBT [Lesbian, gay, bisexual, and transgender] community, so that she "does not need to go to the same toilet as a man (..) who believes he is a woman."
The article also features another interviewee who believes Trump will bring more equality in society due to his crusade against political correctness.
Two other Global Times articles argue that the victory of Trump, as a businessman who knows what pragmatism is, will not radically change the future of Sino-American relations. They also state that present-day China is steady and flexible enough to not to be affected by this presidential change (see: Refuse to Talk about South China See- what is Trump's Attitude; Wholesale victory of Trump- a hard lash on traditional American politics).
Global Times uses a "strong" image of Trump for their news posts- one of them shows Trump holding his fist in a gesture of resolution and victory, with American flags on the background.
THE OBSERVER
"American ordinary people are simple and closed-minded; they are not interested in international affairs and have very little knowledge about it."
The Observer (观察 – influential Chinese economics newspaper backed by Shanghai think-tank) features a lengthy column about Trump, titled "Eight Reasons Why Trump Has the Last Laugh" (八大因素令特朗普笑到最后), written by commentator Song Luzheng (宋鲁郑). Different from the majority of reports from Chinese official media, the column suggests a general disapproval of Trump's victory.
In the column, Song argues that Trump's unexpected victory can be explained in various ways. He starts off by pointing out that as unlikely as Trump's victory may be, considering his background and media portrayal, it statistically is unsurprising for the mere fact that it is very rare for American parties to win a presidential election after they have been the ruling party for the previous 8 years.
Song also speaks from his own personal experiences in the USA, saying that Trump's triumph can be explained through the growing rich-poor divide that, for the first time in history, has made the American middle class a minority. This has led to huge changes in public opinion, Song argues. With people being dissatisfied with America's current economic system, and the rise of terrorism and influx of illegal immigrants, it is mainly white people who support Trump, Song says: "I personally went to the American election (..) and those who publicly oppose Trump are black people and Muslims, while there are very few white people opposing him."
The author goes on to say that America's 'one-person-one-vote' democratic system cannot avoid the emergence of populist political figures, and he implicitly compares the current situation to that of Hitler being elected in the 1930s. He points out the dangers of democracy, stating: "To drive, you must have a driver's license and understand the traffic laws. But the democratic system gives each person the power [to vote], but does not require the responsibility that comes with it."
He further emphasizes this point by writing: "The last time I went to the United States I found the ordinary people to be very simple and closed-minded; they are not interested in international affairs and have very little knowledge about it. This creates the conditions for the rise of such characters as Trump."
Song makes some clear points about Trump's election in The Observer, but a poll underneath the article shows that the majority of readers do not agree with his stance, calling it "absurd."
SOCIAL MEDIA REACTIONS
"Congratulations, it's a boy!"
The American elections became the number one trending topic (#美国大选#) on Sina Weibo on November 9.
Many netizens understand Trump's triumph, saying they support him: "This shows that the [rural] country overlays the cities, they've finally won national victory the revolutionary way," one happy netizen responds.
"I speak for the entire Weibo population," one netizen writes: "and I would like to express sincere congratulations, and would like to welcome you to Chinese social media."
For a majority of Weibo users, the election outcome is a source of banter. Some commenters said: "Congratulations! It's a boy!" Another netizen said: "Hi, I am Hillary, and now that I've lost I have no money to go home. Could someone wire me 2000 dollars?"
Xinhua (@新华网), the official media outlet of the People's Republic of China, joined in the banter by publishing a humorous post on Weibo that asked whether American people would change their mind and be willing to exchange Trump for the three baby pandas that are leaving the USA for China.
"The American people would probably want to [trade in Trump], but we'd refuse," one netizen responds. Another person commented: "If Trump would stay in the zoo, I'd be willing to!"
The humorous social media reactions in China about the Trump triumph are similar to those after Brexit, when netizens also used humour and entertainment to discuss the situation. We can expect more Trump memes and jokes to come up on Chinese social media in the coming few weeks.
– By Manya Koetse and Diandian Guo
Follow on Twitter or Like on Facebook
©2016 Whatsonweibo. All rights reserved. Do not reproduce our content without permission – you can contact us at info@whatsonweibo.com.
From Hong Kong Protests to 'Bright Future' – The Top 3 Most Popular Posts on Weibo This Week
These are the most-read posts on Weibo this week.
The three most-read posts on Weibo over the past week – an overview by What's on Weibo.
The protests in Hong Kong have been dominating Chinese social media throughout August, and the past week has been no different. Two out of three most-read posts on Weibo, one of China's most popular social media platforms, were about Hong Kong this week.
A wrap-up:
#1 Hundreds of Hong Kong Taxi's Flying Chinese National Flag
While Hong Kong is gearing up for the 13th consecutive weekend of mass anti-government demonstrations, there are no signs of the protests fizzling out any time soon.
The Hong Kong protests started in March and April of this year against an extradition bill that would allow local authorities to detain and extradite people wanted in mainland China, and have intensified over the past weeks.
Although authorities in mainland China initially remained quiet on the topic, the Hong Kong demonstrations have been dominating the trending streams on China's popular social media platforms for all of August.
Through videos, online posters, and slogans, Chinese state media have propagated a clear narrative on the situation in Hong Kong; namely that a group of "separatists" or "bandits" are to blame for the riots that aim to "damage public security" in Hong Kong and are "dividing the nation."
News outlets such as People's Daily and CCTV are sharing many stories that emphasize the One China principle and praise the Hong Kong police force. Those voices in Hong Kong speaking up for the police force and condemning protesters using violence have been amplified in Chinese media.
One story that became the number one trending post on Weibo this week is that of dozens of Hong Kong taxi drivers hanging the Chinese national flag from their cars (video).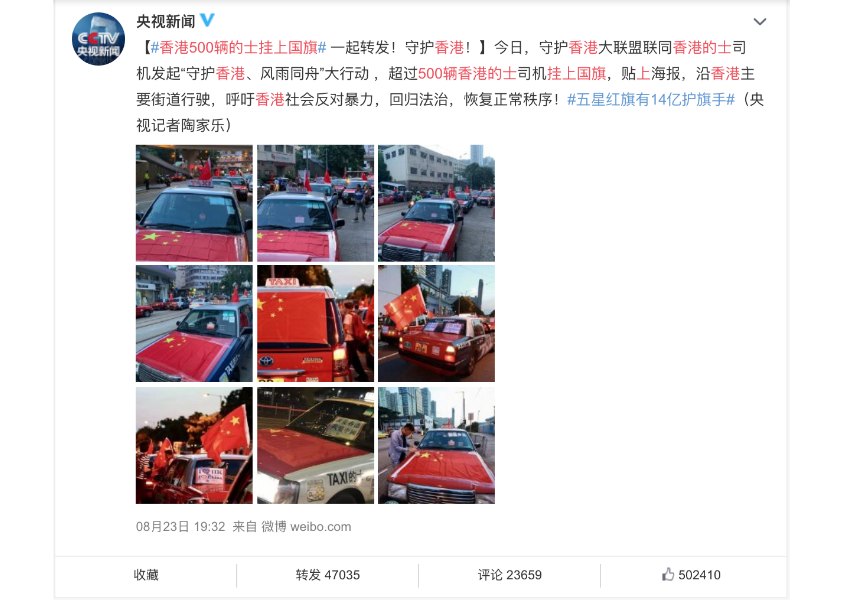 On August 23, the taxi drivers reportedly formed a rally against violence at Tsim Sha Tsui, waving the flags and putting up signs saying "I love HK, I love China."
The hashtag "500 Hong Kong Taxi's Hanging up Chinese National Flags" (#香港500辆的士挂上国旗#), hosted by CCTV, attracted over 700 million views on Weibo. The CCTV post reporting on the event received over half a million likes and 47000 shares.
The commenters mostly praise the Hong Kong taxi drivers for "standing up for Hong Kong" and flying the Chinese flag.
In English-language media, it has mostly been Chinese state media reporting on the rally. Xinhua, Women of China, ECNS, and Global Times all reported on the August 23 peace rally.
CNN only shortly reported how "a number of taxis have been spotted driving around the city displaying Chinese flags — something that has not happened on this scale during previous protests" (link).
#2 'Bright Future' Title Song for Upcoming Movie 'The Moon Remembers All'
Over 266.000 Weibo users have been sharing a post by Chinese actor Li Xian (李现) on the title track for the new Chinese movie The Moon Remembers All or River on a Spring Night (Chinese title: 春江花月夜).
The upcoming movie itself is a very popular topic on Weibo recently, attracting 430 million views on its hashtag page alone. The movie just finished shooting and will be released in 2020.
The song titled "Bright Future" (前程似锦) is sung by Taiwanese singer Chen Linong (陈立农) and Li Xian, who are both the leading actors in the fantasy movie. The song was released on August 29.
The Moon Remembers All is produced by Edko Films and directed by Song Haolin (宋灏霖), also known for Mr. Zhu's Summer (2017) and Fatal Love (2016).
#3 Interview with Hong Kong Pro-Beijing LegCo Member Junius Ho
The third most popular Weibo post of this week comes from Xia Kedao (侠客岛), a popular commentator account for the People's Daily Overseas Edition, and concerns a live broadcasted interview with Hong Kong lawmaker and Legislative Council (LegCo) member Junius Kwan-yiu Ho.
Junius Ho (何君尧) is known as being 'pro-Beijing' and stirred controversy earlier this summer when a viral video showed him shaking hands with men wearing white T-shirts who allegedly were linked to the mob attacking people at the Yuen Long MTR station on July 21.
Xia Kedao describes Junius Ho as a "straightforward" politician who "speaks out for justice" and denounces "reactionaries."
In the August 28 interview, that was live-streamed on Sina Weibo and later also written up, the Hong Kong legislator discussed the background of the protests.
Ho argues that the people with "ulterior motives" used the extradition bill for their own power struggle, distorting and exaggerating the facts behind the regulation.
The politician also partly links the protests to a "weak national consciousness" in Hong Kong due to its education curriculum and says that there have not been enough legal consequences for those participating in illegal activities and riots.
Thousands of commenters on Weibo write that they appreciate Ho for speaking out against the "pro-independence riot youth" and praise him for his "deep understanding" of mainland China.
By now, Junius Ho, who is also active on Weibo with his own account, has gathered more than half a million fans on his page.
By Manya Koetse
Follow @whatsonweibo
Spotted a mistake or want to add something? Please let us know in comments below or email us. Please note that your comment below will need to be manually approved if you're a first-time poster here.
©2019 Whatsonweibo. All rights reserved. Do not reproduce our content without permission – you can contact us at info@whatsonweibo.com
Exchange Student to Be Deported from China for Harassing Young Woman at University
An exchange student studying at the Hebei University of Engineering has been expelled and will soon be deported after harassing a female student.
An exchange student from Pakistan who was studying at the Hebei University of Engineering (河北工程大学) has been expelled and detained after harassing a female student at the same university.
The incident, that is attracting much attention on Chinese social media this week, adds to the wave of recent controversies over the behavior and status of overseas students in mainland China.
On July 31, a female student at the Hebei university filed a police report against a Pakistani student who allegedly harassed her and attempted to forcefully kiss her and touch her breasts.
Screenshots of a supposed WeChat conversation between the exchange student and the female student, in which the man apologizes and claims the interaction is a "requirement for friendship," are being shared on social media.
According to various reports, the police initially tried to mediate between the two students, which the female student refused.
Together with the school principal, the police then further investigated the case and found ample evidence of harassment after examining the university's surveillance system.
On August 1st, the Hebei University of Engineering announced that they had expelled the student and that he will be deported from China. The announcement received more than 14,000 reactions and 150,000 'likes' on Weibo.
The student is now detained at the local Public Security Bureau and is awaiting his deportation.
A photo of two officers together with a man in front of the detention center in Handan is circulating on social media in relation to this incident.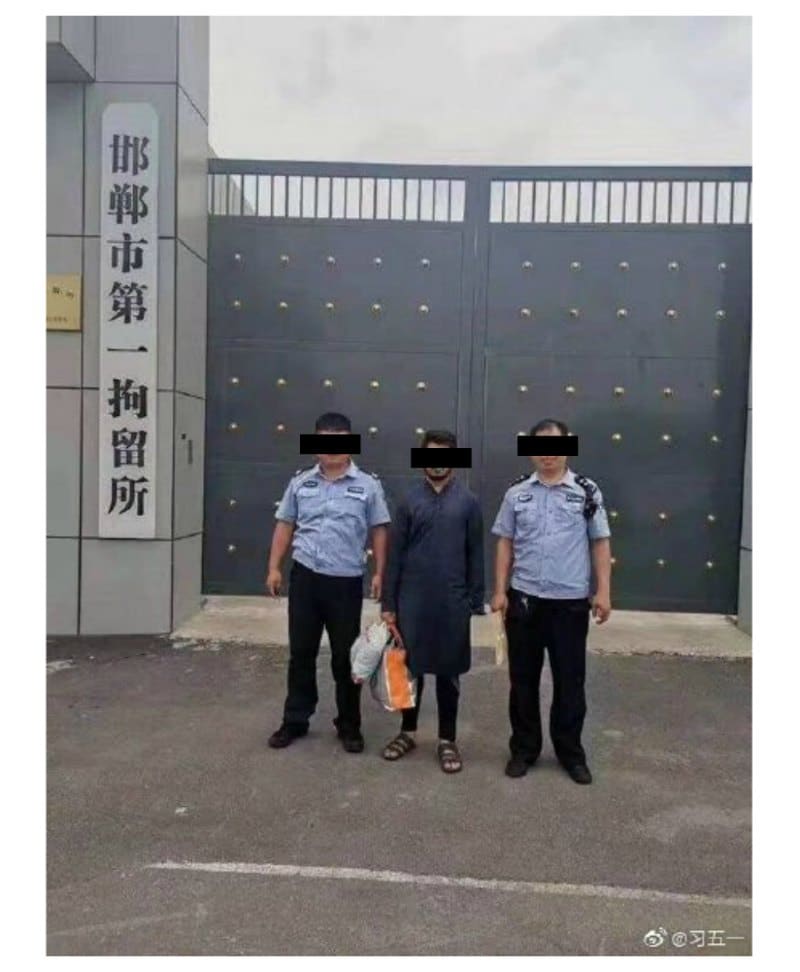 At time of writing, the hashtag page "Exchange Student to Be Deported after Molesting Female Student" (#留学生猥亵女学生将被遣送出境#) has been viewed over 310 million times on Weibo.
Among thousands of reactions, there are many who praise the Hebei university for supporting the female student after she reported the exchange student to the police.
"This may not be the best university, but at least they stand behind their students!", some say, with others calling the university "awesome."
Many say that the Hebei university should serve as an example for other Chinese universities to follow, with Shandong University being specifically mentioned by Weibo users.
Shandong University was widely criticized earlier this summer for its "buddy exchange program," which was accused of being a way to arrange Chinese "girlfriends" for male foreign students.
Another incident that is mentioned in relation to this trending story is that of an exchange student who displayed aggressive behavior towards a Chinese police officer in July of this year. The student was not punished for his actions, which sparked anger on Chinese social media.
By Manya Koetse
Follow @whatsonweibo
Spotted a mistake or want to add something? Please let us know in comments below or email us. Please note that your comment below will need to be manually approved if you're a first-time poster here.
©2019 Whatsonweibo. All rights reserved. Do not reproduce our content without permission – you can contact us at info@whatsonweibo.com