"Congratulations, It's a Boy!" – China's (Mixed) Reactions to President Trump's Election Victory
In the morning of November 9 (Beijing time), the whole world received the news of Donald Trump winning the American presidential election. What's on Weibo offers an insight into Chinese responses to the election of American's unconventional new president. From Chinese (official) media to Weibo's netizens, the reactions to Trump's triumph are favorable, critical, humorous, but most of all: mixed.
Chinese media have been closely following and reporting the American presidential election through social media over the past two days.
Although most media reports appear to be factual, they are not completely unbiased; their construction and tone reveal their attitude toward the newly-elected President Trump.
While most official Chinese state media reports put America's new "unconventional" president in a subtle favorable light, economic newspaper The Observer responded with a critical view, while Sina Weibo netizens mostly responded with banter, with many of them expressing a favorable view of Trump presidency.
OFFICIAL STATE MEDIA
"What Chinese Americans Say About Trump's Victory: 'Now I can finally safely go to the toilet'"
State broadcaster CCTV News (@央视新闻) and People's Daily (@人民日报, official newspaper of the Chinese Communist Party) released the news of Trump's victory as a factual newsflash, writing that Republican candidate Donald Trump has defeated Democrat candidate Hilary Clinton, and has become the 45th President of the United States of America.
Both news outlets used a relatively neutral image of Trump, who appears to be speaking in front of a red background.
Some Chinese media also compare the somewhat unexpected outcome of America's elections to that of the Brexit referendum, after which voters later expressed regret over the outcome (the 'Brexit regret').
Global Times (@环球时报, China's state 'tabloid') is more explicit in its attitude towards Trump. Shortly after the election results were out, Global Times released an article titled "What Chinese Americans Say About Trump's Victory: 'Now I can finally safely go to the toilet'" ("特朗普赢了,美国华人怎么说?——终于可以安全上厕所了").
The overall tone of the article shows a favorable view of Trump, as it features a female interviewee who expresses her joy that Trump will allegedly abandon Obama's liberal policy for the LGBT [Lesbian, gay, bisexual, and transgender] community, so that she "does not need to go to the same toilet as a man (..) who believes he is a woman."
The article also features another interviewee who believes Trump will bring more equality in society due to his crusade against political correctness.
Two other Global Times articles argue that the victory of Trump, as a businessman who knows what pragmatism is, will not radically change the future of Sino-American relations. They also state that present-day China is steady and flexible enough to not to be affected by this presidential change (see: Refuse to Talk about South China See- what is Trump's Attitude; Wholesale victory of Trump- a hard lash on traditional American politics).
Global Times uses a "strong" image of Trump for their news posts- one of them shows Trump holding his fist in a gesture of resolution and victory, with American flags on the background.
THE OBSERVER
"American ordinary people are simple and closed-minded; they are not interested in international affairs and have very little knowledge about it."
The Observer (观察 – influential Chinese economics newspaper backed by Shanghai think-tank) features a lengthy column about Trump, titled "Eight Reasons Why Trump Has the Last Laugh" (八大因素令特朗普笑到最后), written by commentator Song Luzheng (宋鲁郑). Different from the majority of reports from Chinese official media, the column suggests a general disapproval of Trump's victory.
In the column, Song argues that Trump's unexpected victory can be explained in various ways. He starts off by pointing out that as unlikely as Trump's victory may be, considering his background and media portrayal, it statistically is unsurprising for the mere fact that it is very rare for American parties to win a presidential election after they have been the ruling party for the previous 8 years.
Song also speaks from his own personal experiences in the USA, saying that Trump's triumph can be explained through the growing rich-poor divide that, for the first time in history, has made the American middle class a minority. This has led to huge changes in public opinion, Song argues. With people being dissatisfied with America's current economic system, and the rise of terrorism and influx of illegal immigrants, it is mainly white people who support Trump, Song says: "I personally went to the American election (..) and those who publicly oppose Trump are black people and Muslims, while there are very few white people opposing him."
The author goes on to say that America's 'one-person-one-vote' democratic system cannot avoid the emergence of populist political figures, and he implicitly compares the current situation to that of Hitler being elected in the 1930s. He points out the dangers of democracy, stating: "To drive, you must have a driver's license and understand the traffic laws. But the democratic system gives each person the power [to vote], but does not require the responsibility that comes with it."
He further emphasizes this point by writing: "The last time I went to the United States I found the ordinary people to be very simple and closed-minded; they are not interested in international affairs and have very little knowledge about it. This creates the conditions for the rise of such characters as Trump."
Song makes some clear points about Trump's election in The Observer, but a poll underneath the article shows that the majority of readers do not agree with his stance, calling it "absurd."
SOCIAL MEDIA REACTIONS
"Congratulations, it's a boy!"
The American elections became the number one trending topic (#美国大选#) on Sina Weibo on November 9.
Many netizens understand Trump's triumph, saying they support him: "This shows that the [rural] country overlays the cities, they've finally won national victory the revolutionary way," one happy netizen responds.
"I speak for the entire Weibo population," one netizen writes: "and I would like to express sincere congratulations, and would like to welcome you to Chinese social media."
For a majority of Weibo users, the election outcome is a source of banter. Some commenters said: "Congratulations! It's a boy!" Another netizen said: "Hi, I am Hillary, and now that I've lost I have no money to go home. Could someone wire me 2000 dollars?"
Xinhua (@新华网), the official media outlet of the People's Republic of China, joined in the banter by publishing a humorous post on Weibo that asked whether American people would change their mind and be willing to exchange Trump for the three baby pandas that are leaving the USA for China.
"The American people would probably want to [trade in Trump], but we'd refuse," one netizen responds. Another person commented: "If Trump would stay in the zoo, I'd be willing to!"
The humorous social media reactions in China about the Trump triumph are similar to those after Brexit, when netizens also used humour and entertainment to discuss the situation. We can expect more Trump memes and jokes to come up on Chinese social media in the coming few weeks.
– By Manya Koetse and Diandian Guo
Follow on Twitter or Like on Facebook
©2016 Whatsonweibo. All rights reserved. Do not reproduce our content without permission – you can contact us at info@whatsonweibo.com.
"What's Modernisation?" – Chinese State Media Explain China's 'New Era' With a Rap Video
No three-and-a-half-hour speech, but a three-and-a-half minute video explains China's new strategies in this latest propaganda clip on social media.
No three-and-a-half-hour speech, but a three-and-a-half minute video – Chinese state media explain China's new strategies through catchy rap music and trendy graphics.
The much-anticipated 19th Party Congress opened last Wednesday in Beijing with Xi Jinping's three-and-a-half-hour speech on "Thoughts on Socialism with Chinese Characteristics for a New Era" (新时代中国特色社会主义思想), which presented the Party's new concepts, thoughts and strategies – with Xi himself at its core.
Shi-jiu-da (十九大, 'big 19') is the popular abbreviation for the 19th Congress of the Communist Party of China. This Plenum is held once every five years and is the highest level political meeting in the Chinese calendar. The meeting is also a big topic on Chinese social media; the Weibo hashtag for the 'big 19' event #十九大# was viewed over 3,6 billion times on Friday.
As with previous major political gatherings, speeches and rhetoric are not the only means by which the Party and state media seek to convey their message to the wider population. A video titled "What is modernization? Let us tell you in a rap!" ("现代化"是什么化?一段嘻哈告诉你!) is the latest in a series produced by state broadcaster CCTV. The video is being spread through social media.
The clip (click link or see embedded video below), that lays out the government's stategies for China's 'new era' through rap music with bright graphics, was widely distributed on Chinese social media this week by various media platforms and institutions, from the Economic Observer (@经济观察报) to the Ministry of Public Security.
The translation of the video's full text* is as follows:
Let's go!
This October in Beijing
…will all be arriving!
The time has come for 十九大(shi-jiu-da)
Listen out for the important voices
十九大 (shi-jiu-da) let's say a little about it
There is a lot of information here
So, listen out carefully and I'll speak slowly
In the past, China has always advanced courageously
As we have said before,
When difficult problems are solved then great things can be established!
Our nation is full of vigor and vitality!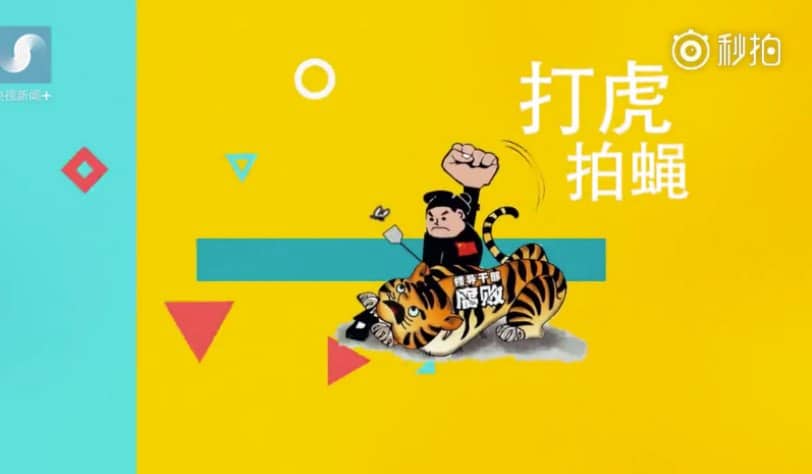 Anti-corruption efforts are strong
Many tigers have been taken down
From rocket lift-offs to submarine exercises,
Technology is changing our lives
Haha, Haha, Haha,
As I'm going to show up next, we have plans going forward…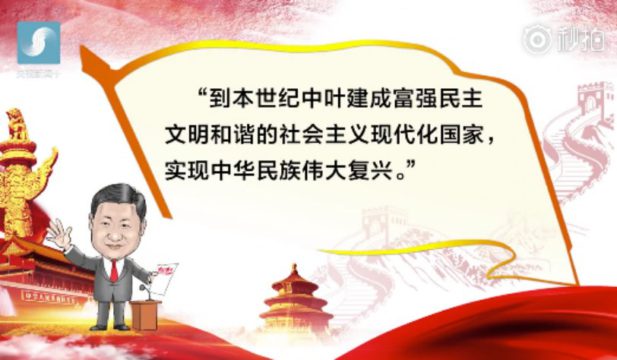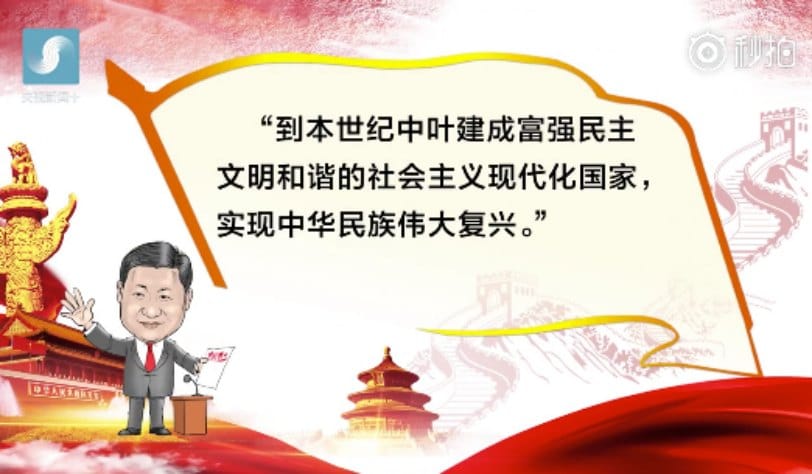 [Xi Jinping's voice speaking:]
By the time we reach the middle period of this century, we will have built a modern socialist state which is rich and powerful, democratic, civilised, and harmonious. In this way, we will have realized the great rejuvenation of the Chinese people.
[Rap continues:]
But, building in accordance with the needs of modernization
What even is modernization?
Let me tell you:
[End of rap, start of explanation by lecturer:]
100 years ago, Sun Yat-sen set out a blueprint for modernization in 'Strategy for Building a Nation': build train tracks, repair the roads, construct large ports. At that time, this was still considered fantastical and unrealistic.
But today, train lines criss-cross the whole nation! They run N-S between Beijing-Guangdong-Shanghai, as well as across the well-trodden route of Lanzhou-Chengdu-Chongqing. The length of the journey on the bullet trains just keeps reducing!
Again, at the time the People's Republic was founded, not even a tractor could be built! Thus, building a modern, industrial socialist nation became our aim.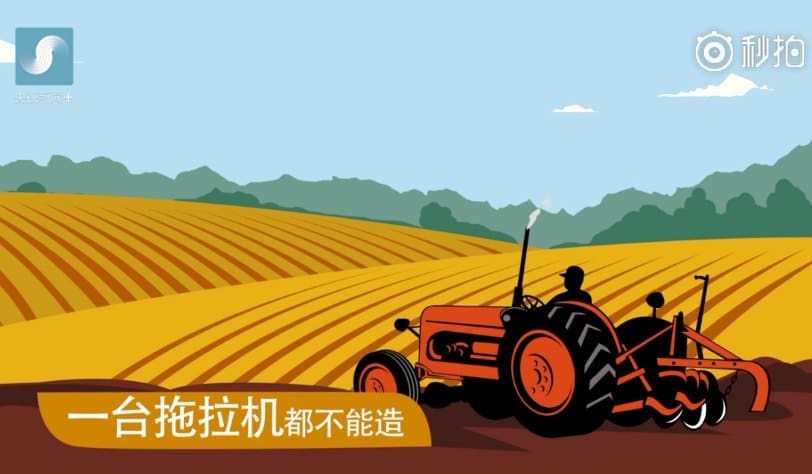 In 1954, the first National People's Congress was held.  This was the first time the aim of achieving the Four Modernizations was clearly referenced. In just the next few years, factory after factory was built, including those of Anshan Steel works and Changchun car manufacturers.
Our workers are powerful!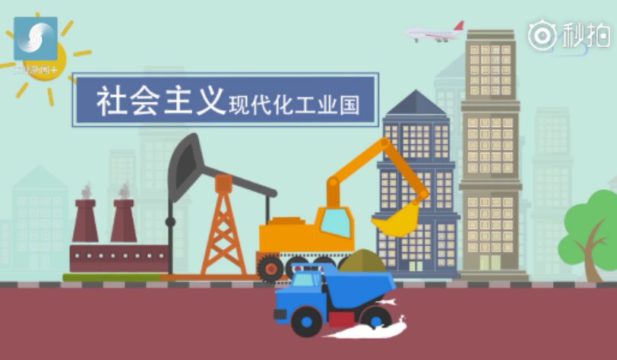 This was a song I would listen to when I was young, and hearing it I would know my dad would soon finish work for the day and so I would quickly pack away all my marbles. Entering the period of opening and reform, Deng Xiaoping named the Four Modernizations as the way to 'Chinese Modernization', as well as wanting to become a middle-income nation.
In the 1970s, when people married, the three major durable consumer goods were still watches, bicycles and sewing machines. In the 80s, this became fridges, color TVs, and washing machines, and by the 90s changed again into air conditioning, cameras, and camcorders.
[Xi Jinping's voice:]
Now, information technologies such as the internet are changing with each passing day. This is leading a new revolution in society and bringing new dimensions into human lives.
[Presenter continues:]
A report from the 18th Party Congress, published on 8th November 2012, mentioned the '4 New Modernisations.' This has led to the implementation of an innovation-driven development strategy. Over the last 5 years, the major technological developments we have made have accumulated further and further. The computing in the Sunway Taihu Light is the most advanced in the world.
The quantum satellite Mozi Hao is unparalleled. The Tiangong 2 satellite has been sent off smoothly. Each of these wondrous engineering projects is a feat of its own! What a country!
In 2013, General Secretary Xi Jinping then added one more modernization into the fold, that being to 'continue to advance the nation's governing system, and to modernize our governing capabilities.'
Modernisation as a whole is very impressive. Frankly speaking, only this modernization of the inner qualities of officials and organizations will enable them to govern the country and change the civilized norms.We don't take a break from modernization!
[Rap continues:]
Yeah, now that we have become a middle-class society
We have reached the most important section of our reform agenda
What are the issues that affect the lives of the middle class?
At this stage in the development of Socialism with Chinese Characteristics,
People are heading in the direction of a better life
The Party must remember
This is a new beginning!
In what direction is the bullet train heading?
After 200 years, will the Chinese dream have been realized?
What expectations do Chinese families have for their future?
Will the 十九大 (shi-jiu-da) answer these questions for you?
Of course!
Both the design and the genre of the new clip show some resemblance to clips launched during the Belt and Road Summit earlier this year.
On Weibo, a platform that is heavily controlled during the 19th National Congress, the video was shared hundreds of times. Although discussions on the video are limited due to current restrictions, one surprised netizen just posted: "Can I actually comment on this?!"
By Alice Mingay
Follow @whatsonweibo
* Full Text:
Let's go!
在十月里的北京
。。。。都到这里 (3-4)
十九大要来了
听听到重要的声音
十九大,说点嘛?
这里信息有点多
你听我慢慢说
过去砥砺奋进
也我们互相说过
难提解决大事办成
祖国朝气蓬勃
反腐力度很大
打掉的老虎很多
胖五升空,蛟龙下水
科技改变生活
哈哈,哈哈,哈哈
接下来,我们还有个目标
[习近平的声音:]
到本世纪中叶建成富强民主
文明和谐的社会主义现代化国家,
实现中华民族伟大复兴。
–中共中烟总书记、国家主席、中央军委主席习近平
建设现代化
那现代化是什么?
来,听我跟你说
百年前,孙中山在[建国方略]里描绘了现代化的蓝图
建铁路、修公路、建造水平大海港
这些的当时,还被认为是'空想'
而如今,京广、京沪穿南北
兰渝铁路通蜀道
复兴号路途时间再修短
再说,新中国刚成立时
一台拖拉机都不能造
建成社会主义现代化工业国就是我们的目标
1954年,第一届全国人民代表大会
第一次明确提出要实现四个现代化
随后的几年里,鞍山无缝钢管厂、长春第一汽车制造厂一个厂接一个厂
咱们工人有力量
'咱们工人有力量'
小时候一听到这首歌就知道爸爸要下班了,赶紧把玻璃球收起来
迈入改革开放新时期,邓小平把实现四个现代化的目标称为'中国式的现代化',也就是'小康之家'。
70年代,人们结婚, '三大件'还是手表自行车缝纫机
80年代,冰箱、彩电、洗衣机
90年代变成空调、音像、录像机
现在以互联网为代表的信息技术日新月异
引领了社会生产新变革
创造了人类生活新空间
2012年11月8号的中共十八大报告提出了 '新四化'
实施创新驱动发展战略
这五年,祖国的科技发展硕果累累
超级计算机"神威-太湖之光"世界第一
量子卫星'墨子号'世界独一无二
'天宫二号'顺利发射
奇迹工程一个个,厉害了,我的国
2013年习近平总书记又给这新四化加了一化
不断推进国家治理体系和治理能力现代化
整个现代化,有点厉害了
说白了,就是国家机构官员素质的现代化是治理国家变得文明规范
建设现代化,我们不放假
Yeah, 如今全面建成小康社会
到最关键的议程
小康心内还是什么事关你我的生活
中国特色社会主义进行的发展阶段
人民群众向往的美好生活
党中要记得
这是一个新的起点
复兴号驶向哪儿?
两个一百年后,中国梦实现了吗?
对于祖国家庭未来,还有那些期待?
来过这十九大,还为你来解答?
必须的
Edited by Manya Koetse
Spotted a mistake or want to add something? Please let us know in comments below or email us.
©2017 Whatsonweibo. All rights reserved. Do not reproduce our content without permission – you can contact us at info@whatsonweibo.com.
These are the 100 Terms the Communist Party Wants You to Know for the 19th CPC National Congress
100 "must-know" terms for the 19th National Congress, propagated by People's Daily.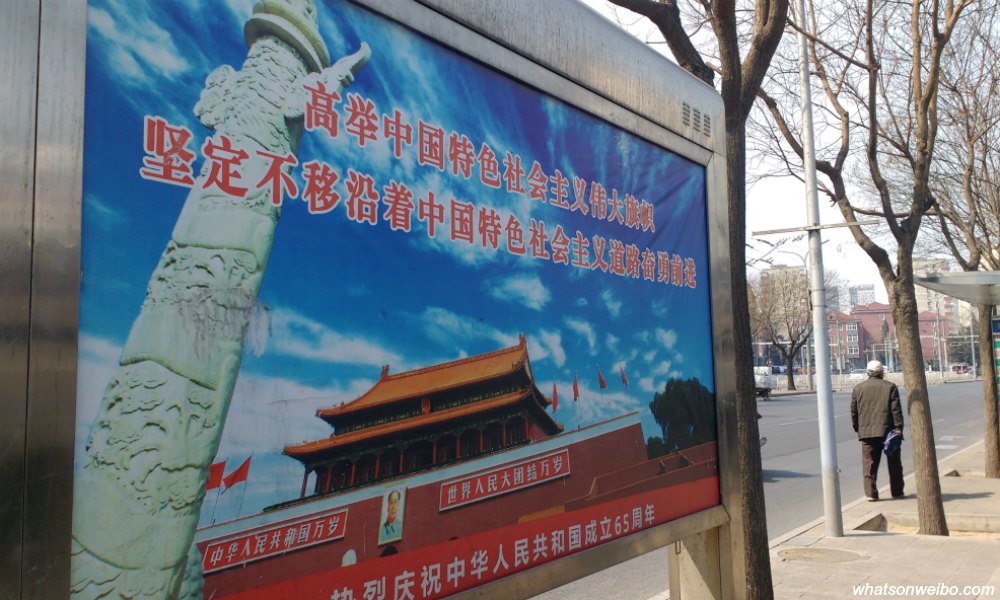 These are the 100 terms to know for the 19th CPC National Congress – propagated by People's Daily, the mouthpiece of China's ruling Communist Party, on Weibo.
It is the week of the 19th National Congress of the Communist Party of China (CPC), better known as the "19th Party Congress." This meeting, that takes place from October 18 to October 24, is a major event that takes place every five years.
On Chinese social media, Communist Party newspaper People's Daily (@人民日报) presented a vocabulary list for people to know before the huge political event.
During the 19th Party Congress approximately 2280 delegates from across the nation officially come together to select the party's top leadership for the next five years. The event is also called a "celebration of decisions that have already been taken," as the key points of the meeting have mostly already been settled behind closed doors.
It is these key decisions for China that will be discussed during the CPC National Congress and then officially announced, representing "new governance concepts, thoughts and strategies proposed by the CPC Central Committee with Xi Jinping at its core" (Xinhua).
In a recent report by APCO Worldwide, Gary Li summarizes what to look out for during the 19th National Congress, writing that it is likely for President Xi Jinping to "consolidate his power further by making changes to the party apparatus," influencing regulators in various sectors from finance to trade and cybersecurity.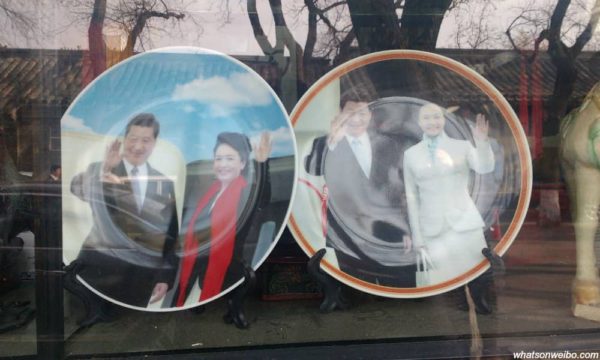 Posting the 9-page list of a total of 100 terms on Weibo, People's Daily (@人民日报) writes:
"Study time! We want to teach you the translation of 100 hot terms for the 19th CPC National Congress (..) Do you know how to say these things in English? This is how to avoid using Chinglish and to express [these terms] in a more authentic way. They are all useful for CET-4 & CET-6 [national English level tests in China] and other exams. Let's learn these!"
By October 18, the list was shared 19000 times on Weibo and received many comments.
One netizen said: "With these 100 words you can understand a new China." Others complained that they still think the English translation of these Chinese terms "sounds like Chinglish."
Relevant Words: Policy Trends & Digital Focus
The vocabulary list, which was selected from China Daily's "Little Red Book of Hot Words" (热词红宝书), is an interesting combination of terms that says a lot about the focal points of the National Congress and the trends that are emphasized for the coming five years.
In the recent APCO report, Gary Li mentions Ideological Tightening as a crucial policy trend. This promotion of "Chinese values" is clearly visible in the vocabularly list, that includes terms such as "the Chinese Dream" (中国梦), "Stay true to the mission" (不忘初心), and "cultural confidence" (文化自信).
Another important policy trend on the government agenda is Anti-Corruption, which is represented by the term "anti-corruption TV series" (反腐剧).
The list also includes some Internet slang terms such as "give a like" (点赞) or "phubber"/"bowed head clan" (低头族), referring to people who constantly look down to their smartphone.
It also includes a catchphrase that became especially popular on Chinese social media in 2016 when it was used by Chinese swimming champion Fu Yuanhui during an interview about her winning medal during the Olympics – ("用了洪荒之力"), which can be translated as "I've used my primeval powers!", basically meaning "to give one's full play."
The inclusion of some typical internet catchphrases is especially noteworthy because in 2014, Chinese state media published that programs and commercials should not use Internet language to preserve traditional expressions.
The entire list has a clear Digital Focus when it comes to different industries, including government, media, finance, and traveling, introducing words such as "in-flight Wifi services" (空中上网服务), "face scan payment" (扫脸支付), 5G era (5G时代), and taxi-hailing app (打车软件).
The list also includes words that emphasize the Belt and Road Initiative and China-centric Relations for Economy and Trade, such as the "New type of major-power relationship" (新型大国关系).
The List: 100 Hot Words for the 19th National Congress
This is the full list of the 100 terms as shared by the People's Daily through screenshots, typed out by What's on Weibo. The pinyin and tones are also provided by What's on Weibo.
1. 中国梦
Zhōngguó mèng
China dream
2. 不忘初心
Bù wàng chūxīn
Stay true to the mission
3. 两个一百年
Liǎng gè yībǎi nián
Two centenary goals
4. 新常态
Xīn chángtài
New normal
5. 中国制造2025
Zhōngguó zhìzào 2025
Made in China 2025
6. "双一流"
Shuāng yīliú
Double First-Class initiative
7. 工匠精神
Gōngjiàng jīngshén
Craftsmanship spirit
8. 中国天眼:500米口径球面射电望远镜(FAST)
Zhōngguó tiānyǎn:500 Mǐ kǒujìng qiúmiàn shèdiàn wàngyuǎnjìng (FAST)
China's Eye of Heaven: The 500-meter Aperture Spherical Telescope
9. 歼-20战斗机
Jiān-20 zhàndòujī
J-20 Stealth Fighter
10. 国产航母
Guóchǎn hángmǔ
Domestically built aircraft carrier
11. 国产客机
Guóchǎn kèjī
Homemade passenger jet
12. 可燃冰试采
Kěrán bīng shì cǎi
Sampling of combustible ice
13. 量子卫星"墨子号"
Liàngzǐ wèixīng "mò zi hào"
Quantum satellite "Micius"
14. 北斗卫星导航系统
Běidǒu wèixīng dǎoháng xìtǒng
Beidou navigation system
15. 风云四号A星卫星
Fēngyún sì hào A xīng wèixīng
Fengyun-4A satellite
16. 重型运载火箭
Zhòngxíng yùnzài huǒjiàn
Heavy-lift Carrier Rocket
17. 沪港通
Hù gǎng tōng
Shanghai-Hong Kong Stock Connect
18. 深港通
Shēn gǎng tōng
Shenzhen-Hong Kong Stock Connect
19. 京津冀一体化
Jīng jīn jì yītǐ huà
Beijing-Tianjin-Hebei integration
20. 雄安新区
Xióng ān xīnqū
Xiong'an New Area
21. 自贸实验区
Zì mào shíyàn qū
Pilot Free Trade Zones
22. 医疗改革
Yīliáo gǎigé
Medical Reform
23. 供给侧改革
Gōngjǐ cè gǎigé
Supply-side reform
24. 扫脸支付
Sǎo liǎn zhīfù
Face scan payment
25. 二维码支付
Èr wéi mǎ zhīfù
Two-dimensional barcode payment
26. 人工智能
Réngōng zhìnéng
Artificial intelligence
27. 虚拟现实
Xūnǐ xiànshí
Virtual reality
28. 5G时代
5G shídài
5G era
29. 分享经济
Fēnxiǎng jīngjì
Sharing economy
30. 互联网金融
Hùliánwǎng jīnróng
Online finance
31. 亚投行
Yà tóuháng
Asia Infrastructure Investment Bank
32. 低碳城市
Dī tàn chéngshì
Low-carbon cities
33. 一小时通通勤圈
Yī xiǎoshí tōng tōngqín quān
One-hour commuting circle
34. 蓝色经济
Lán sè jīngjì
Blue economy
35. 纵向横向经济轴带
Zòngxiàng héngxiàng jīngjì zhóu dài
North-south and east-west intersecting economic belts
36. 众创、众包、众扶、众筹
Zhòng chuàng, zhòng bāo, zhòng fú, zhòng chóu
Crowd innovation, crowdsourcing,crowd support and crowdfunding.
37. 战略性新兴产业
Zhànlüè xìng xīnxīng chǎnyè
Emerging sectors of strategic importance
38. 香港回归祖国20周年
Xiānggǎng huíguī zǔguó 20 zhōunián
The 20th anniversary of Hong-Kong's return to China
39. 点赞
Diǎn zàn
Give a like
40.自媒体
Zì méitǐ
We-Media
41. 实名认证
Shímíng rènzhèng
Real name authentication
42. 精准扶贫
Jīngzhǔn fúpín
Targeted poverty reduction
43. 精准医疗
Jīngzhǔn yīliáo
Precision medicine
44. 利益共同体
Lìyì gòngtóngtǐ
Community of shared interests
45. 轨道交通
Guǐdào jiāotōng
Rail traffic
46. 动车
Dòngchē
Bullet train
47. 城际列车
Chéng jì lièchē
Inter-city transport
48. "一带一路"倡议
"Yīdài yīlù"chàngyì
Belt and Road Initiative
49. "丝绸之路经济带"
"Sīchóu zhī lù jīngjì dài"
The Silk Road Economic Belt
50. 21世纪海上丝绸之路
21 Shìjì hǎishàng sīchóu zhī lù
21st- Century Maritime Silk Road
51. 古丝绸之路
Gǔ sīchóu zhī lù
The Ancient Silk Road
52. 互联互通
Hùlián hùtōng
Establish and Strengthen Partnerships/Connectivity
53. 文化自信
Wénhuà zìxìn
Cultural confidence
54. 新型大国关系
Xīnxíng dàguó guānxì
New type of major-power relationship
55. 可替代能源汽车
Kě tìdài néngyuán qìchē
Alternative energy vehicle
56. 可载人无人机
Kě zài rén wú rén jī
Passenger-carrying drone
57. 空中上网服务
Kōngzhōng shàngwǎng fúwù
In-flight Wifi services
58. 海外购外
Hǎiwài gòu wài
Overseas shopping representative
59. 海淘
Hǎi táo
Cross-border online shopping
60. 多次往返签证
Duō cì wǎngfǎn qiānzhèng
Multiple entry visa
61. 散客
Sǎn kè
Individual traveler
62. 自由行
Zìyóu xíng
Independent travel
63. 跟团游
Gēn tuán yóu
Package tour
64.深度游
Shēndù yóu
In-depth travel
65. 自驾游
Zìjià yóu
Self-driving tours
66. 免税店
Miǎnshuì diàn
Duty-free store
67. 无现金支付
Wú xiànjīn zhīfù
Cashless payment
68. 旺季
Wàngjì
Peak season
69. 淡季
Dànjì
Offseason
70. 反腐剧
Fǎnfǔ jù
Anti-corruption TV series
71. 合拍片
Hépāi piàn
Co-production
72. 打车软件
Dǎchē ruǎnjiàn
Taxi-hailing app
73. 代驾服务业
Dài jià fúwù yè
Designated driver business
74. 单双号银行
Dān shuāng hào yínháng
Traffic restrictions based on even- and odd-numbered license plates
75. 共享汽车
Gòngxiǎng qìchē
Car-sharing
76. 绿色金融改革新试验区
Lǜsè jīnróng gǎigé xīn shìyàn qū
Pilot zones for green finance reform and innovations
77. 超国民待遇
Chāo guómín dàiyù
Super-national treatment
78. 现代医院管理制度
Xiàndài yīyuàn guǎnlǐ zhìdù
Modern hospital management system
79. 机遇之城
Jīyù zhī chéng
Cities of opportunities
80.直播经济
Zhíbò jīngjì
Live stream economy
81. 互联网+政府服务
Hùliánwǎng +zhèngfǔ fúwù
Internet Plus government services
82. 创新型政府
Chuàngxīn xíng zhèngfǔ
Pro-innovation government
83. 无人机紧急救援队
Wú rén jī jǐnjí jiùyuán duì
UAV (unmanned aerial vehicle) emergency rescue team
84. 二孩经济
Èr hái jīngjì
Second-child economy
85.父亲假;陪产假
Fùqīn jià; péi chǎnjià
Paternity leave
86. 带薪休假
Dài xīn xiūjià
Paid leave
87. 低头族
Dītóu zú
Phubber
88. 副中心
Fù zhōngxīn
Subcenter
89. 用了洪荒之力
Yòngle hónghuāng zhī lì
Give one's full play
90. 营改增
Yíng gǎi zēng
Replace business tax with value-add tax (VAT)
91. 创新型人才
Chuàngxīn xíng réncái
Innovative talent
92. 积分落户制度
Jīfēn luòhù zhìdù
Points-based hukou system
93. 混合所有制改革
Hùnhé suǒyǒuzhì gǎigé
Mixed-ownership reform
94. 税收减免
Shuìshōu jiǎnmiǎn
Tax reduction and exemption
95. 生态保护红线
Shēngtài bǎohù hóngxiàn
Ecological wealth
96. 网约车
Wǎng yuē chē
Online car-hailing
97. 宜居城市
Yí jū chéngshì
Habitable city
98. 移动支付
Yídòng zhīfù
Mobile payment
99. 电子竞技
Diànzǐ jìngjì
E-sports
100. 双创人才
Shuāng chuàng réncái
Innovative and entrepreneutrial talent
By Manya Koetse
Follow @whatsonweibo
Spotted a mistake or want to add something? Please let us know in comments below or email us.
©2017 Whatsonweibo. All rights reserved. Do not reproduce our content without permission – you can contact us at info@whatsonweibo.com.