WeChat for the Workplace: The Rising Popularity of Enterprise App Ding Ding
A nightmare or handy work tool? Alibaba's Ding Ding is gaining popularity across China.
While some call it a wonder tool, others say it's a nightmare for employees. Ding Ding, Alibaba's mobile and desktop app for companies, is gaining popularity across China. With its GPS-based features and other nifty functions, companies can now monitor the whereabouts of their employees.
It has been over 2,5 years since Alibaba launched its 'enterprise app' Ding Ding (钉钉). In February of 2015, websites such as TechCrunch and TechinAsia described the app as a new mobile and desktop program for businesses that aimed to compete with Tencent's WeChat – China's top messaging app.
At the time, Ding Ding (also known as DingTalk) was only available in Chinese. But the app, now updated to the 3.5.3 version, has become readily available in English on Chinese app stores, Google Play, and Apple stores.
Its use by companies across China is picking up. The app has now been downloaded 50.5 million times on the Huawei store, 27 million times on the Tencent app store, 20+ million times on the Oppo app store, 12 million times on the Baidu app store, and 8.5 million times on the 360 Mobile Assistant app store.
Smart mobile office
More companies across China are now using the app as a 'smart mobile office': it functions as a messaging app among colleagues, a tool for making conference calls, but more importantly, as a program that makes it easy for employees to clock in and out of work and for employers to check their whereabouts.
"Our company just started implementing it. Nobody gave us any warning," an employee named Bryan Lee (alias) of a middle-sized Beijing educational company told What's on Weibo this week: "I've spoken to many people of other companies here who also started to use it recently."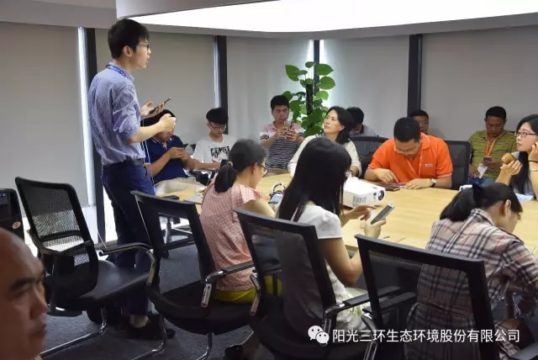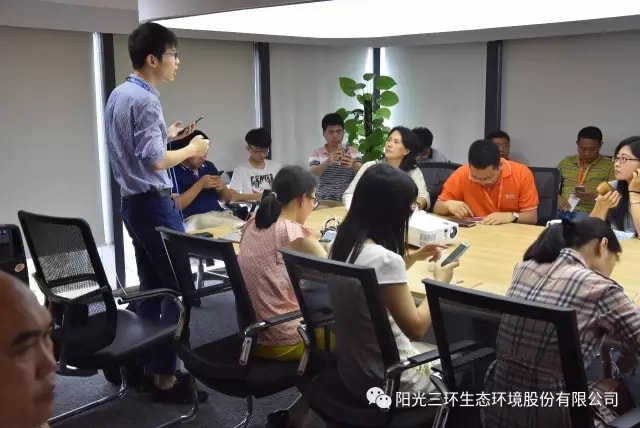 Ding Ding has many functions, and in some ways is meant to replace WeChat as a work tool. The app allows users to create team groups, and also functions as an address book that shows the organizational structure of the company. Users can directly contact the HR group or other colleagues through Ding Ding.
According to Alibaba, 'DingTalk' is a "multi-sided platform" that "empowers small and medium-sized business to communicate effectively." The app's functions include, amongst others, the following features:
– Ding Ding is a global address book that allows users to view the organization's structure in a glance and contact everyone, but also shows contacts outside of the company (suppliers, business partners, etc.) and functions as a customer information management system.
– The program is also a calendar for creating tasks and meetings.
– Ding Ding is an instant messaging app designed for office use, supporting both private and group chats and supporting file transfers. To improve communication efficiency, all types of messaging display read/unread statuses.
– The app's 'Ding It' function makes sure recipients never miss a message by alerting them through phone, SMS, or in-app notification. Companies can also send out a voice message or hold a conference call to make sure their message is heard.
– The Secret Chat function works like SnapChat, making messages traceless and self-deleting for ultimate privacy and protection.
– Through its Smart Attendance System companies can keep track of employee's attendance and overtime records; employees can clock-in and out of work in an instant. The software also automatically generates attendance reports.
– Ding Ding can process approvals by electronically dealing with request for leaves, business trips or reimbursements. Approvals for business trips and leave are automatically linked with attendance records.
– DingTalk is also a high-definition video conferencing system and allows users to also start free individual calls.
– Ding Ding has its own business cloud (or "Ding drive") feature, making file saving and sharing a quick and easy task, also between PC and mobile.
– DingTalk's email inbox also makes it possible to receive email notifications in chats.

Despite the myriad of functions, or actually because of them, some employees call the app a 'catastrophe' for office staff.
Big boss is watching you
"Since Ding Ding is GPS-activated, I will be signed in when I get to work. And when I leave work, it will clock me out," Lee says.
The app's clocking system is one of its most used functions and allows companies to track whether their employees arrive late at work or whether they are working overtime.
There is a positive side to it for employees since there is much less paperwork to fill out when, for example, asking compensation for overtime work. Lee notes that people can also electronically apply for a leave of absence through Ding Ding.
But the downside is that there is no room for white lies anymore. Because of the app's geotagging function, the employer can actually check if you really are seeing the doctor (as you said you were going to).
"Through Ding Ding you can report where you are for your company. If you requested a leave of absence to go to the hospital, for example, you can bookmark the location so that your company knows you really are at the location where you are supposed to be. Same goes for business-related appointments – if your company requires it, you tag the location so they can see that you are where you said you were going, so they won't deduct your salary for that."
"People have a lot of different views on it," Lee says: "I am always at work when I need to be and I never cheat the system. So I think it is very convenient that I no longer need to take my phone and scan a QR code every day to log in to work, which used to be mafan [trouble] – this is much easier. But a lot of people think it is somewhat Orwellian. They do not monitor your everyday moves but if you actually go drinking with your friends instead of going to a doctor as you told your boss, then that might get you in trouble."
Apart from the location-tagging function, which may or may not be required/activated by the company, there are also other functions that many people do not like. Ding Ding, unlike WeChat, automatically shows that your message has been delivered and read. It also allows a company to send out a 'Ding alert' (which notifies recipients through phone call/SMS/In-App alerts) to make sure everybody gets the message.
On Q&A platform Zhihu.com, user 'Aurora', who works at a HR company, tells how this has made life more troublesome for office staff:
"The rapid growth of Ding Ding lies in the fact that it meets the requirements of its user – the boss. Just imagine: you're in the midst of finishing a proposal when the boss sends you a message saying you need to come over to bring them a certain file.
1. You see the message. You finish the last part of your proposal before bringing over the file to your boss a bit later.
2. You don't see the message. You finish your task and take a break. You then see the message and take care of it.
3. No matter if you see did or did not see the message, the boss notices you did not respond and gives you a call.
1. You see the message. Your boss gets a 'message read' (已读) confirmation and you have no other option than to break off your work and immediately take care of it.
2. You haven't seen it. So your boss sends you a 'ding alert' and you have no other option but to read it, break off your work, and immediately take care of it."

Aurora also writes that Ding Ding is completely made to comply with the demands of the company's managers rather than their staff. For office staff, it is not convenient to have to respond to the boss's wishes immediately – it can disturb their everyday tasks and adds stress to their job. For the manager, on the other hand, it has become very easy to reach the staff: they do not even need to pick up the phone anymore, and can reach whoever they want right away.
Unhappy Dingers
On Weibo, many people share Aurora's views and are not too happy with Ding Ding. "I've had enough with this app! It reminds me every single morning to clock in to work!"
Others also complain that the app only adds to the time they spend looking at their phone: "If it's not my QQ group, then it's my WeChat group or my Ding Ding group – it seems I am looking at my phone screen all day," one Weibo user says.
There are also people who note that they are hardly ever really free from work anymore. As one Xiamen worker writes: "I had the morning off. But I had hundreds of WeChat messages, dozens of Ding Ding messages, and three missed phone calls. This is ruining me."
"With this Ding Ding app it seems like no matter what time it is or where you are, you're just always at work," another complaint said.
"It looks like they are going to implement Ding Ding at my office. I just want to punch the person who invented this app."
But despite all the backlash and complaints, Ding Ding's popularity as an office solution for immediate workplace communication and registering employee's working hours is on the rise.
On the app's review page on the Huawei store, some call it "the best office application." Others also note that the app is not just convenient, but also free: "It is very practical, and it has saved me the costs for other office management software."
Other reviewers also seem much more enthusiastic than the complaining netizens on Weibo: "In our office, it's become an essential tool – and its functions just keep getting better and better."
By Manya Koetse
Follow @whatsonweibo
Spotted a mistake or want to add something? Please let us know in comments below or email us.
©2017 Whatsonweibo. All rights reserved. Do not reproduce our content without permission – you can contact us at info@whatsonweibo.com.
After More Than a Decade, the Human Flesh Search Engine Is Still Raging Across Chinese Social Media
At times unjust, excessive, or even illegal – but the Human Flesh Search still is an inherent part of Weibo.
Since the early years of microblogging in China, the so-called 'Human Flesh Search Engine', a phenomenon in which Internet users hunt down and punish people, has repeatedly attracted the attention of the media. More than 10 years later, the 'Human Flesh Search Engine' is still raging on Chinese social media.
While surfing Weibo, a Changsha police officer named Hu Hanlin (@老囧货) recently came across an article titled "Violent Murder of Golden Retriever." The article discussed a video posted on the afternoon of December 31st, 2017, showing a Changsha police officer bludgeoning a golden retriever. The article caught Hu off guard – it was about him.
As Hu wrote in a January 2nd Weibo post; "I was surprised to find that [the article] included my official position, work photo, name, phone number, and even described me as this event's perpetrator."
Hu Hanlin is a victim of what has been called the "Human Flesh Search Engine" (renrou sousuo yinqing 人肉搜索引擎), the Chinese term for the phenomenon of netizens distributing the personal information of individuals people feel 'deserve' public interest or scorn.
In Hu Hanlin's case, the attack was unjust. As Hu wrote on his Weibo account: "I was not at all involved (..) For quite some time I have only investigated crimes through video footage, I have never directly responded to 110 calls." In Hu's case, as with many other instances of Human-Flesh-Searching, a viral online video had instigated netizen's search for the culprit, at which point they mistook Hu's picture for the man in the video.

Human-Flesh-Searching: Identifying the 'Culprit'

'Human-Flesh-Searching' is a group endeavor to reveal someone's identity and personal details online. Targets are often individuals who have disrupted public order in some way and have angered netizens for their behavior and actions; such as a Ms. Luo, who was recently caught on camera blocking a train door and fighting off a conductor as she refused to allow a high-speed train to depart from Hefei station – she was determined to let her tardy husband get on board.
While online outcry directed at the individual is the norm, the result of a Human Flesh Search can also come to personal confrontations, or to netizens sending unsavory items, such as cockroaches or funerary objects, to a person's personal address.
Media have been reporting about the Human Flesh Search phenomenon since the early beginnings of Chinese social media. One of the first big cases from 2006 involved a video that spread through chatrooms of a woman purposely killing a kitten with the sharp point of her high heel. Enraged netizens soon came into action to search for the identity and personal information of this so-called 'Hangzhou Kitten Killer,' and discovered she was a 41-year-old nurse named Wang Jue. She was later suspended from her job.
Digging further back into China's internet history, Human-Flesh-Searching first became popular in 2001 on MOP, one of China's most influential online forums, when a netizen posted a photo of his alleged girlfriend that turned out to be model Chen Ziyao. Her personal information was publicized to prove he was lying.
One explanation of the practice's jarring name is that it originally referred not to the hunt for an individual per se, but to how the information is collected. Instead of entering their question into a search engine, netizens who want to 'activate' the 'Human Flesh Search Engine' call on the online community to find the answers for them in a collective effort. Online community members usually gather this kind of information from their personal resources and networks. "Human Flesh" therefore actually refers to the searchers – not the searched.

From Animal Cruelty to Media Bias

Human Flesh Searches are often used in cases involving animal cruelty. A case that recently made headlines occurred in the capital of Sichuan province. On December 12th, a woman's Corgi dog 'Lion' went missing and was found by another woman named He Hengli who then blackmailed the owner over its release.
When the 'hostage' negotiations reached a deadlock, the dog's owner finally went to He's apartment to fetch her dog with police offers and reporters. While they knocked the door, Lion was thrown to his death from He's sixth story apartment.
The story caused huge outrage on Chinese social media, where details of He were released online, including her phone number and (work) address, leading to netizens harassing and threatening her at her home.
But besides coming into action with cases that involve animal cruelty, there are countless of other types of cases in which it also happens.
Just last week, the huge 'Tang Lanlan' case on Weibo ignited an 'online war' between netizens and the media over reports of a decade-old sexual abuse case. When many netizens felt that journalists reporting the case were biased and favored the suspects over the victim, personal details of the reporters were gathered by netizens and leaked online.

Voices Calling for More Privacy Laws

While 2018 has already seen several viral cases of Human-Flesh-Searching, these fly in the face of current Chinese internet privacy laws.
Voices calling for more privacy laws grew stronger in late 2014, when a Guangzhou shopkeeper named Ms. Cai was sentenced to one year in prison for instigating a Human-Flesh-Searching campaign over an alleged case of theft that resulted in the suicide of an 18-year-old high schooler.
Becoming the (unjust) target of a Human Flesh Search can ruin people's lives and careers, as well as jeopardize their safety. Whether it concerns alleged theft, animal abuse, or an extramarital affair, the 'culprits' will be hit equally hard by the impact of the 'online mob'.
Ma Rong, the ex-wife of Chinese celebrity Wang Baoqian, was slandered online in 2016, with people exposing her phone and address when news of her secret love affair went viral. Do a thief, an unfaithful wife, and a kitten killer all deserve the same scorn, and should it be up to the online community to punish them for their alleged deeds? While some support the human-flesh-search-engine approach for those who abuse animals and show off their violence, others point out its dangers.
In a further effort to limit Human Flesh Searching, legal punishment for the practice grew stricter last year. The Supreme People's Court and Supreme People's Procuratorate released a joint statement clarifying that, depending upon the severity of the invasion and dispersion of personal information, a perpetrator could be sentenced to up to 7 years in jail.

An Alternative Punishment

These previous legal warnings, however, have not seemed to stop individuals from exposing other people's personal information; neither has it stopped individuals from acting upon available details. Some argue that Human Flesh Searching plays a valuable societal role in China's online community.
One Weibo blogger (@灰鸽叔叔) concluded a post on the subject by writing: "Some people don't do bad things because they have a kind heart. Some people don't do bad things because they are unwilling to bear the responsibilities of doing bad things. If you don't allow people to suffer [the humiliation of Human Flesh Searching] they will begin to feel that they are above the consequences…If the law is momentarily unable to solve this problem, then netizens using human-flesh-searching, or even collectively speaking ill of them surely can supply this kind of punishment."
This blogger is not the only one arguing that Human Flesh Searching is an important way to battle social injustice; many other netizens also say that when the law cannot punish people for their deeds (f.e. China lacks a solid legislation against animal cruelty), a Human Flesh Search is an alternative form of retribution.
As for the case of Officer Hu – in the two days after being falsely accused he received more than a thousand texts. The texts contained messages such as "I wish Hu Hanlin a 2018 full of death for him and his whole family by evisceration…," or "Hu Hanlin's body should fester in the wilderness, to be slowly consumed by wild dogs."
On Weibo, meanwhile, despite a seeming majority of people supporting the practice of the Human Flesh Search Engine, there are more and more voices opposing it. One netizen pleads: "No matter for what purpose you do it, no matter what kind of evidence you are trying to get, the Human Flesh Search method is undoubtedly the most stupid and the most dangerous – please stop this crazy criminal behavior."
For Hu, however, any movements against the practice come too late. For him, the Human Flesh Search has even resulted in netizens coming to his house. The funeral flowers and funeral money on his doorstep are a reminder of how far the Human Flesh Search Engine can go.
By Brydon Bracart, edited by Manya Koetse
Follow @whatsonweibo
Spotted a mistake or want to add something? Please let us know in comments below or email us.
©2018 Whatsonweibo. All rights reserved. Do not reproduce our content without permission – you can contact us at info@whatsonweibo.com.
Growing Virtual Bamboo for Real Pandas: Weibo's Panda Movement
There is a giant panda movement happening on Weibo, and there are two sides to it.
Watching panda livestreams online, sharing worries over pandas in captivity, and now raising a virtual panda to help grow bamboo – Weibo has a panda movement going on, and it is a giant one.
Last month, the account 'Panda Guardians' (@熊猫守护者) sent out a video on Weibo focused on the topic of saving pandas in Shaanxi by planting more bamboo. In a month, the video gained around 1,5 million views and much online support.
The video by the 'Panda Guardians' was the follow-up to a Weibo-based game where users can gain points which can be used for "growing bamboo" for a virtual panda – which actually funds the planting of real bamboo in Shaanxi.
In the game, which received much online appreciation, a virtual panda pet gets 'fed' with the bamboo grown by the points users receive by getting registered for the game, posting it on Weibo, inviting friends, etc. Players also get a cute panda badge on their Weibo account for 'raising' their own virtual panda.
For every 10,000 hours of time Weibo netizens collectively raise their virtual panda, the China Virescence Foundation (中国绿化基金会, China's organization for planting trees) promises to foster and plant actual bamboo trees in the Qinling mountain range in Shaanxi, one of the regions where most of China's remaining wild pandas live.*
"Chinese netizens can play a role in giant panda conservation – even if the scientific community may not be fully onboard."
The panda game is just one of many ways in which Weibo's 'panda movement' manifests itself. Weibo user Kyle Obermann (@欧阳凯kyle), an environmental photographer in China, recently posted a short documentary on Weibo about panda conservation in the forests of Sichuan, which gained over 500,000 views in a few days time.
"The whole issue of panda conservation and what it means to be a 'panda guardian' in real life and online is all over Weibo right now," Obermann told What's on Weibo: "It's an interesting example of how Chinese netizens can play a role in giant panda conservation – even if the scientific community may not be fully onboard."
What Obermann refers to, is that besides the positive comments to online initiatives taken by organizations as the 'Panda Guardians' and their Weibo game, there is also some criticism from the environmental community for the focus on "planting bamboo" as a solution for the problem of the panda's vulnerability of extinction.
"It is not so much the lack of bamboo that is the panda's problem, it is the lack of a natural living environment that is undisturbed by human intervention," they said.
But, according to Obermann, the online 'panda movement' does make a difference in raising awareness for the protection of the wild giant panda, and also in creating a wider understanding amongst social media users for those people who spend their time plowing through the forests through wind and rain in doing their jobs monitoring and protecting the giant panda.
"There are dozens of accounts on Weibo dedicated to the giant panda and its conservation."
Besides the 'Panda Guardians' and people such as Obermann, there are dozens of other accounts on Weibo dedicated to the giant panda and its conservation. On the iPanda channel (@iPanda熊猫频道), people can watch live streams and videos of the pandas at the China Conservation and Research Center for the Giant Panda (@中国大熊猫保护研究中心).
The great interest in pandas on Chinese social media just shows that the giant panda really is China's most beloved animal. It the cultural symbol of China, and is generally called a 'national treasure' (国宝).
Its well-being and protection, both in the wilderness as in captivity, has been a state priority since the 1960s, when China's first wild animal protection reserve focused on panda protection was opened in northern Sichuan (Wanglang Reserve, 1965).
Apart from the pandas that are kept at China's various panda reserves, there are also pandas in zoos across China, from Beijing to Chongqing, and from Guilin to Guangzhou.
Over the past few years, it is the circumstances of some of the pandas in Chinese zoos that have caused multiple controversies. Previously in 2013, 2015, 2016 and 2017, netizens posted photos of the apparent unhealthy pandas at specifically the Lanzhou Zoo, and expressed concerns and outrage over their well-being.
"I'm furious to see some netizens even slandering our base for not providing enough food for the pandas."
At times, the love of Weibo's fierce and protective panda might go too far. This week, the famous Chengdu Giant Panda Breeding Research Base was collectively accused of cruelty on social media networks when visitors claimed its bears were ill and mistreated.
The accusations started when people posted images online that showed some pandas at the Research Base with white scabs around their eyes.
The Straits Times reports that an article that went viral on January 23 also accused the Chengdu base of using their pandas for commercial gains, not giving them enough food, and that it violated the wellbeing of the animals by allowing visitors to take pictures and hug with a giant panda in exchange for donations.
On January 24, the research base denied all rumors of mistreatment of its pandas and explained that three of its pandas recently contracted an eye disease that is now being treated by its experts. It also denied that its pandas were being used for commercial gains.
The Straits Times quotes Zhang Zhihe, chief of the Chengdu Research Base, in saying: "I'm furious to see some netizens even slandering our base for not providing enough food for the pandas."
Zhang also said it was not true that the research base allows people to hug pandas and charge money for it. "That never happened once," he said.
"We understand your love for the giant pandas, but we all have our own way of expressing it."
There are two sides to Weibo's 'panda movement'. On one side, the love of Chinese netizens for their 'national treasure' goes so far that everybody seems to have become a panda expert – quick to point their fingers at researchers and shout abuse when a panda seems unwell to them.
In January of 2017, the China Conservation and Research Center for Giant Panda (中国大熊猫保护研究中心) addressed this kind of criticism on Weibo in January. While they thanked Chinese online panda lovers for their concerns, they also asked them to stop posting abusive comments towards them and their employees. They wrote:
"We understand your love for the giant pandas, everyone here at the China Giant Panda Conservation Research Center loves them, but we all have our own way of expressing it. For you it means you raise your concerns by posting blogs in the middle of the night, for us it means that our employees work night shifts taking care of the pandas, watching the monitors and keeping records."
Despite that these online movements at times arguably may go too far, the silver lining is that they help in making people more aware of the importance of the conservation of the panda and environmental protection at large.
The Weibo-game by the 'Panda Guardians,' also backed by popular celebrities such as the members of Chinese boy band TFBoys (12.9 million fans on Weibo), has succeeded in creating an online buzz in which Weibo users are trying to reach a collective goal that helps the panda conservation movement.
By now, the hashtag 'Panda Guardians' (#熊猫守护者#) has reached the top three of top public causes on Weibo.
"Together we can do it, help grow bamboo and help the pandas," many netizens post. If anything, this kind of panda movement at the very minumum shows that netizens are hopeful that their online efforts will actually make an offline change.
By Manya Koetse
Follow @whatsonweibo
* How the money for this 'virtual to actual bamboo' campaign is actually raised is not explained by the organization, although it might make sense that both Sina Weibo and its advertisers are involved as they profit from social media users spending more hours on the Weibo platform by playing this game. If you have more insights into this specific topic, we would like to hear from you.
Spotted a mistake or want to add something? Please let us know in comments below or email us.
©2018 Whatsonweibo. All rights reserved. Do not reproduce our content without permission – you can contact us at info@whatsonweibo.com.