WeChat for the Workplace: The Rising Popularity of Enterprise App Ding Ding
A nightmare or handy work tool? Alibaba's Ding Ding is gaining popularity across China.
While some call it a wonder tool, others say it's a nightmare for employees. Ding Ding, Alibaba's mobile and desktop app for companies, is gaining popularity across China. With its GPS-based features and other nifty functions, companies can now monitor the whereabouts of their employees.
It has been over 2,5 years since Alibaba launched its 'enterprise app' Ding Ding (钉钉). In February of 2015, websites such as TechCrunch and TechinAsia described the app as a new mobile and desktop program for businesses that aimed to compete with Tencent's WeChat – China's top messaging app.
At the time, Ding Ding (also known as DingTalk) was only available in Chinese. But the app, now updated to the 3.5.3 version, has become readily available in English on Chinese app stores, Google Play, and Apple stores.
Its use by companies across China is picking up. The app has now been downloaded 50.5 million times on the Huawei store, 27 million times on the Tencent app store, 20+ million times on the Oppo app store, 12 million times on the Baidu app store, and 8.5 million times on the 360 Mobile Assistant app store.
Smart mobile office
More companies across China are now using the app as a 'smart mobile office': it functions as a messaging app among colleagues, a tool for making conference calls, but more importantly, as a program that makes it easy for employees to clock in and out of work and for employers to check their whereabouts.
"Our company just started implementing it. Nobody gave us any warning," an employee named Bryan Lee (alias) of a middle-sized Beijing educational company told What's on Weibo this week: "I've spoken to many people of other companies here who also started to use it recently."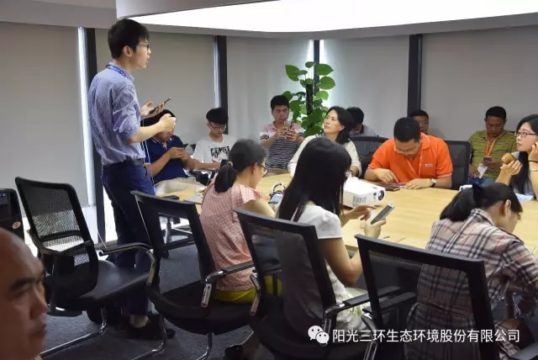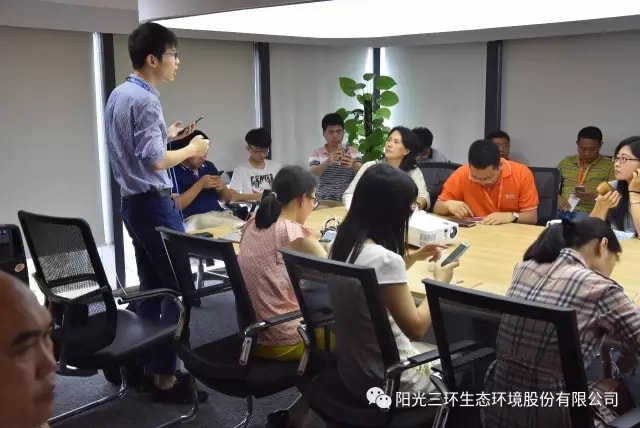 Ding Ding has many functions, and in some ways is meant to replace WeChat as a work tool. The app allows users to create team groups, and also functions as an address book that shows the organizational structure of the company. Users can directly contact the HR group or other colleagues through Ding Ding.
According to Alibaba, 'DingTalk' is a "multi-sided platform" that "empowers small and medium-sized business to communicate effectively." The app's functions include, amongst others, the following features:
– Ding Ding is a global address book that allows users to view the organization's structure in a glance and contact everyone, but also shows contacts outside of the company (suppliers, business partners, etc.) and functions as a customer information management system.
– The program is also a calendar for creating tasks and meetings.
– Ding Ding is an instant messaging app designed for office use, supporting both private and group chats and supporting file transfers. To improve communication efficiency, all types of messaging display read/unread statuses.
– The app's 'Ding It' function makes sure recipients never miss a message by alerting them through phone, SMS, or in-app notification. Companies can also send out a voice message or hold a conference call to make sure their message is heard.
– The Secret Chat function works like SnapChat, making messages traceless and self-deleting for ultimate privacy and protection.
– Through its Smart Attendance System companies can keep track of employee's attendance and overtime records; employees can clock-in and out of work in an instant. The software also automatically generates attendance reports.
– Ding Ding can process approvals by electronically dealing with request for leaves, business trips or reimbursements. Approvals for business trips and leave are automatically linked with attendance records.
– DingTalk is also a high-definition video conferencing system and allows users to also start free individual calls.
– Ding Ding has its own business cloud (or "Ding drive") feature, making file saving and sharing a quick and easy task, also between PC and mobile.
– DingTalk's email inbox also makes it possible to receive email notifications in chats.

Despite the myriad of functions, or actually because of them, some employees call the app a 'catastrophe' for office staff.
Big boss is watching you
"Since Ding Ding is GPS-activated, I will be signed in when I get to work. And when I leave work, it will clock me out," Lee says.
The app's clocking system is one of its most used functions and allows companies to track whether their employees arrive late at work or whether they are working overtime.
There is a positive side to it for employees since there is much less paperwork to fill out when, for example, asking compensation for overtime work. Lee notes that people can also electronically apply for a leave of absence through Ding Ding.
But the downside is that there is no room for white lies anymore. Because of the app's geotagging function, the employer can actually check if you really are seeing the doctor (as you said you were going to).
"Through Ding Ding you can report where you are for your company. If you requested a leave of absence to go to the hospital, for example, you can bookmark the location so that your company knows you really are at the location where you are supposed to be. Same goes for business-related appointments – if your company requires it, you tag the location so they can see that you are where you said you were going, so they won't deduct your salary for that."
"People have a lot of different views on it," Lee says: "I am always at work when I need to be and I never cheat the system. So I think it is very convenient that I no longer need to take my phone and scan a QR code every day to log in to work, which used to be mafan [trouble] – this is much easier. But a lot of people think it is somewhat Orwellian. They do not monitor your everyday moves but if you actually go drinking with your friends instead of going to a doctor as you told your boss, then that might get you in trouble."
Apart from the location-tagging function, which may or may not be required/activated by the company, there are also other functions that many people do not like. Ding Ding, unlike WeChat, automatically shows that your message has been delivered and read. It also allows a company to send out a 'Ding alert' (which notifies recipients through phone call/SMS/In-App alerts) to make sure everybody gets the message.
On Q&A platform Zhihu.com, user 'Aurora', who works at a HR company, tells how this has made life more troublesome for office staff:
"The rapid growth of Ding Ding lies in the fact that it meets the requirements of its user – the boss. Just imagine: you're in the midst of finishing a proposal when the boss sends you a message saying you need to come over to bring them a certain file.
1. You see the message. You finish the last part of your proposal before bringing over the file to your boss a bit later.
2. You don't see the message. You finish your task and take a break. You then see the message and take care of it.
3. No matter if you see did or did not see the message, the boss notices you did not respond and gives you a call.
1. You see the message. Your boss gets a 'message read' (已读) confirmation and you have no other option than to break off your work and immediately take care of it.
2. You haven't seen it. So your boss sends you a 'ding alert' and you have no other option but to read it, break off your work, and immediately take care of it."

Aurora also writes that Ding Ding is completely made to comply with the demands of the company's managers rather than their staff. For office staff, it is not convenient to have to respond to the boss's wishes immediately – it can disturb their everyday tasks and adds stress to their job. For the manager, on the other hand, it has become very easy to reach the staff: they do not even need to pick up the phone anymore, and can reach whoever they want right away.
Unhappy Dingers
On Weibo, many people share Aurora's views and are not too happy with Ding Ding. "I've had enough with this app! It reminds me every single morning to clock in to work!"
Others also complain that the app only adds to the time they spend looking at their phone: "If it's not my QQ group, then it's my WeChat group or my Ding Ding group – it seems I am looking at my phone screen all day," one Weibo user says.
There are also people who note that they are hardly ever really free from work anymore. As one Xiamen worker writes: "I had the morning off. But I had hundreds of WeChat messages, dozens of Ding Ding messages, and three missed phone calls. This is ruining me."
"With this Ding Ding app it seems like no matter what time it is or where you are, you're just always at work," another complaint said.
"It looks like they are going to implement Ding Ding at my office. I just want to punch the person who invented this app."
But despite all the backlash and complaints, Ding Ding's popularity as an office solution for immediate workplace communication and registering employee's working hours is on the rise.
On the app's review page on the Huawei store, some call it "the best office application." Others also note that the app is not just convenient, but also free: "It is very practical, and it has saved me the costs for other office management software."
Other reviewers also seem much more enthusiastic than the complaining netizens on Weibo: "In our office, it's become an essential tool – and its functions just keep getting better and better."
By Manya Koetse
Follow @whatsonweibo
Spotted a mistake or want to add something? Please let us know in comments below or email us.
©2017 Whatsonweibo. All rights reserved. Do not reproduce our content without permission – you can contact us at info@whatsonweibo.com.
What Are Weibo's "Super Topics"?
Explaining Weibo's "Super Topics"
What are Weibo's "Super Topics" (超级话题) and what makes them different from normal hashtags?
Over the past year, Weibo's so-called "Super Topics" (超级话题) have become more popular on the social media platform as online spaces for people to connect and share information.
Weibo's "super topic" function has been around since 2016. The function allows Weibo users to create and join interest-based content community pages that are online groups separated from the main Weibo space. One could perhaps compare these Weibo Super Groups to 'mega-threads' or 'subreddits' on Reddit.
These are the most important things to know about Weibo's Super Topics:
#1 A Super Topic is Not the Same as a Hashtag
Similar to Twitter, hashtags make it possible for Weibo users to tag a topic they are addressing in their post so that their content pops up whenever other people search for that hashtag.
Different from Twitter, Weibo hashtags also have their own page where the hashtag is displayed on top, displaying how many people have viewed the hashtag, how many comments the hashtag is tagged in, and allowing users to share the hashtag page with others.
A Super Topic goes beyond the hashtag. It basically is a community account where all sort of information is shared and organized. People can 'follow' (关注) a Super Topic and can also 'sign in' (签到).
On the main page of every Super Topic page, the main subject or purpose of the super topic is briefly explained, and the number of views, followers, and posts are displayed.
A super topic-page can be created by any Weibo user and can have up to three major hosts, and ten sub-hosts. The main host(s) can decide which content will be featured as essential, they can place sticky notes, and post links to suggested topics.
#2 A Super Topic Is a Way to Organize Content
Super Topic pages allow hosts to organize relevant content in the way they want. Besides the comment area, the page consists of multiple tabs.
A tab right underneath the main featured information on the page, for example, shows the "sticky posts" (置顶帖) that the host(s) of the page have placed there, linking to relevant information or trending hashtag pages. Below the sticky notes, all the posts posted in the Super Topic community are displayed.
One of the most important tabs within the Super Topic page is called "essential content" (精花), which only shows the content that is manually selected by the host(s). This is often where opinion pieces, articles, official news, or photos, etc. are collected and separated from all the other posts.
Another tab is the "Hall of Fame" (名人堂), which mainly functions as a reference page. It features links to the personal Weibo pages of the super topic page host(s), links to the Weibo pages of top contributors, and shows a list of the biggest fans of the Super Topic. Who the biggest fan of the page is, is decided by the number of consecutive days a person has "checked-in" on the page.
#3 Super Topics Are a Place for Fans to Gather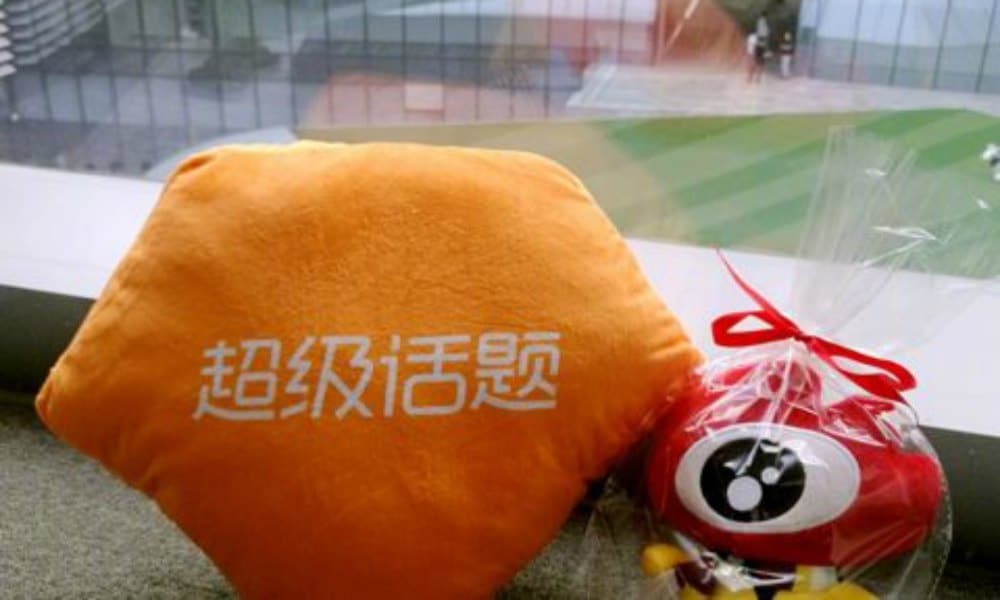 Although a Super Topic could basically be about anything, from cities to products or hobbies, Super Topics are often created for Chinese celebrities, video games, football clubs, or TV dramas.
Through Super Topic pages, a sense of community can be created. People can be ranked for being the most contributive or for checking in daily, and comment on each other's posts, making it a home base for many fan clubs across China.
The host(s) can also help somebody's page (e.g. a celebrity account) grow by proposing them to others within the group.
Super Groups are ranked on Weibo based on their popularity. This also gives fans more reason to stay active in the group, making their Super Topic top ranking within their specific category (TV drama, food, photography, sports, games, etc).
What makes the Super Topic group more 'private' than the common Weibo area, is that people posting within the Super Topic can decide whether or not they also want their comment shared on their own Weibo page or not. If they choose not to, their comments or posts will only be visible within the Super Topic community.
By Manya Koetse & Gabi Verberg, with contributions from Boyu Xiao
Spotted a mistake or want to add something? Please let us know in comments below or email us.
©2019 Whatsonweibo. All rights reserved. Do not reproduce our content without permission – you can contact us at info@whatsonweibo.com
Online Controversy over Mandatory GPS Tracking Smartwatches for Chinese Street Cleaners
Being a street cleaner in 2019 China now involves wearing a mandatory smartwatch with GPS tracking.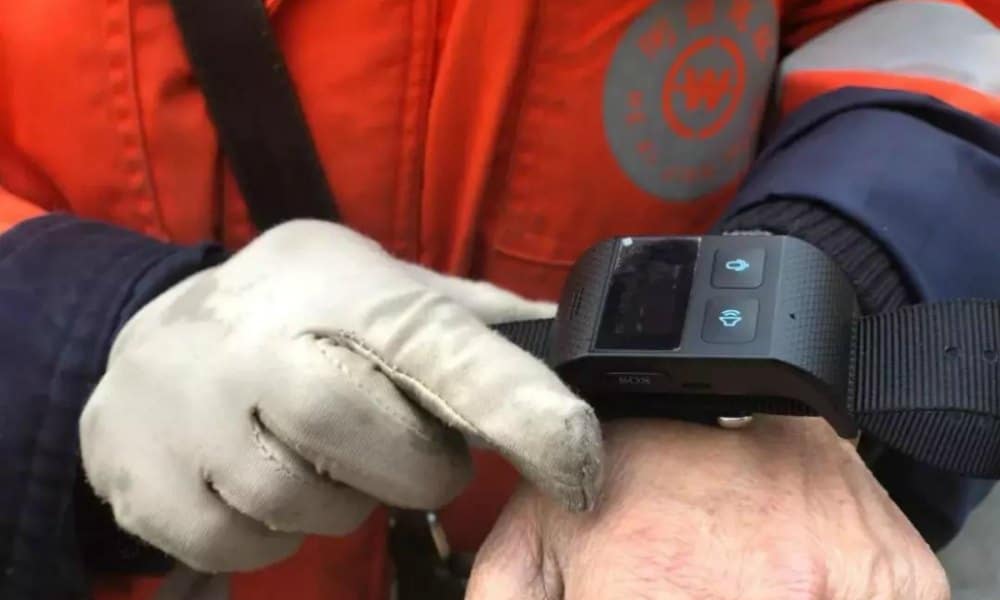 The times of chatting with the neighbors, taking a break, or doing some shopping during work hours are seemingly over for Nanjing's street cleaners now that their every move is monitored through a special smartwatch. News of the mandatory GPS tracking bracelets for sanitary workers triggered public outcry earlier this month. But it's not just Nanjing street cleaners that are subjected to this policy.
Earlier this month, the introduction of smartwatches tracking the movements of street cleaners in Nanjing attracted the attention of Chinese netizens and international media after the new policy was made public on April 3rd.
In March of this year, the sanitation department in the Hexi area of Nanjing, Jiangsu, started a pilot with a smartwatch that sanitation workers are obliged to wear. The watch has a built-in real-time GPS tracking system, allowing the Nanjing Hexi Smart Sanitation Center to monitor workers' movements.
In a short video published by Toutiao News, a spokesperson of the Smart Sanitation Command Center* explained that the smartwatch currently allows the company to assess the workers in three ways: they can register workers' attendance, collect statistics of workers leaving their designated work area, and report on workers that remain in the same position exceeding the allowed amount of time.
Sanitation workers also commented on their new working system. One person interviewed said: "Why wouldn't I be allowed to have a half-an-hour break? Look, the street is all clean, there is nothing to be cleaned up. They are crazy for making us move up and down the street for no reason."
Street cleaners also said that the system would automatically report them if they had been in the same spot for more than twenty minutes. The smartwatch would then subsequently encourage them to move, calling out "Jiayou! Jiayou!" ("Come on! Come on!").
That particular function was reportedly removed shortly after public outcry on the policy.
On Weibo, the hashtag "Smartwatch Automatically Yells 'Jiayou'" (#智能手表自动喊加油#) received over 2,5 million views, with the majority of commenters strongly rejecting the new approach.
Most commenters on this issue argued that the implementation of the smartwatch is "immoral" and that the Nanjing workers are "treated as criminals." Many others also pointed out that the workers, often senior citizens, should be able to rest for more than 20 minutes.
In light of the new policy, many people on social media also referred to the infamous fictional character Zhou "Bapi" (周扒皮). In the novel The Killing Wind, this landlord Zhou would stick his head into the henhouse stirring up the roosters to wake his laborers up earlier, so they would start working.
Some netizens came with an alternative solution, suggesting that the leaders of the company should wear the smartwatches themselves instead.
While the controversial function was eliminated, the GPS tracking function still stands.
Nanjing is not the first city to introduce GPS tracking smartwatches for its sanitary workers. Other cities where the same policy has been introduced are, for example, Chengdu, Hangzhou, Guangzhou, and Qingdao, according to Chinese media outlet Global Times.
In the summer of 2018, various Chinese media outlets already reported about the introduction of smartwatches for street cleaners in Guangzhou. At the time, the smartwatch policy was described as an innovative way to solve staff deployment and management problems, giving team leaders more insights into the real-time position of the street cleaners.
Whether or not the smartwatches do indeed improve work efficiency of street cleaners is still unclear, but there are no indications that the smartwatch policy will be changed at this point.
The tough work conditions of Chinese street cleaners, who work long hours and receive minimal pay, regularly become an issue of debate on Chinese social media. Besides praising the hard work of China's public cleaners, Chinese netizens often express their sympathy for the bad circumstances under which street sweepers have to work.
By Gabi Verberg
* (南京河西建环"智能环卫"综合调度监控指挥中心 Nanjing Hexi Jianhuan "Intelligent Sanitation" Integrated Dispatching Monitoring Command Center)
Spotted a mistake or want to add something? Please let us know in comments below or email us.
©2019 Whatsonweibo. All rights reserved. Do not reproduce our content without permission – you can contact us at info@whatsonweibo.com