WeChat for the Workplace: The Rising Popularity of Enterprise App Ding Ding
A nightmare or handy work tool? Alibaba's Ding Ding is gaining popularity across China.
While some call it a wonder tool, others say it's a nightmare for employees. Ding Ding, Alibaba's mobile and desktop app for companies, is gaining popularity across China. With its GPS-based features and other nifty functions, companies can now monitor the whereabouts of their employees.
It has been over 2,5 years since Alibaba launched its 'enterprise app' Ding Ding (钉钉). In February of 2015, websites such as TechCrunch and TechinAsia described the app as a new mobile and desktop program for businesses that aimed to compete with Tencent's WeChat – China's top messaging app.
At the time, Ding Ding (also known as DingTalk) was only available in Chinese. But the app, now updated to the 3.5.3 version, has become readily available in English on Chinese app stores, Google Play, and Apple stores.
Its use by companies across China is picking up. The app has now been downloaded 50.5 million times on the Huawei store, 27 million times on the Tencent app store, 20+ million times on the Oppo app store, 12 million times on the Baidu app store, and 8.5 million times on the 360 Mobile Assistant app store.
Smart mobile office
More companies across China are now using the app as a 'smart mobile office': it functions as a messaging app among colleagues, a tool for making conference calls, but more importantly, as a program that makes it easy for employees to clock in and out of work and for employers to check their whereabouts.
"Our company just started implementing it. Nobody gave us any warning," an employee named Bryan Lee (alias) of a middle-sized Beijing educational company told What's on Weibo this week: "I've spoken to many people of other companies here who also started to use it recently."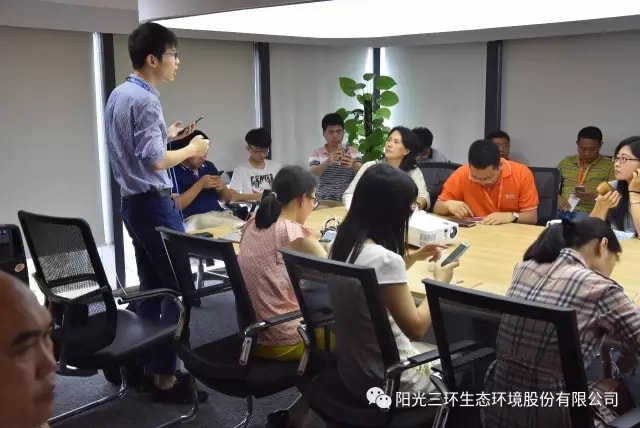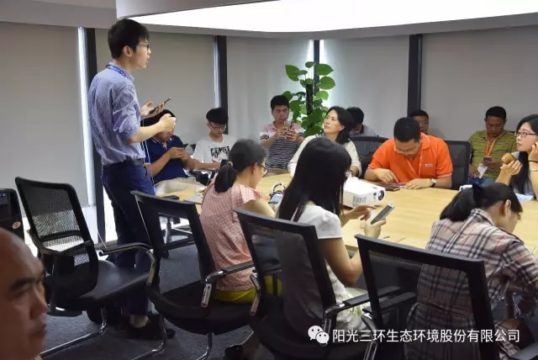 Ding Ding has many functions, and in some ways is meant to replace WeChat as a work tool. The app allows users to create team groups, and also functions as an address book that shows the organizational structure of the company. Users can directly contact the HR group or other colleagues through Ding Ding.
According to Alibaba, 'DingTalk' is a "multi-sided platform" that "empowers small and medium-sized business to communicate effectively." The app's functions include, amongst others, the following features:
– Ding Ding is a global address book that allows users to view the organization's structure in a glance and contact everyone, but also shows contacts outside of the company (suppliers, business partners, etc.) and functions as a customer information management system.
– The program is also a calendar for creating tasks and meetings.
– Ding Ding is an instant messaging app designed for office use, supporting both private and group chats and supporting file transfers. To improve communication efficiency, all types of messaging display read/unread statuses.
– The app's 'Ding It' function makes sure recipients never miss a message by alerting them through phone, SMS, or in-app notification. Companies can also send out a voice message or hold a conference call to make sure their message is heard.
– The Secret Chat function works like SnapChat, making messages traceless and self-deleting for ultimate privacy and protection.
– Through its Smart Attendance System companies can keep track of employee's attendance and overtime records; employees can clock-in and out of work in an instant. The software also automatically generates attendance reports.
– Ding Ding can process approvals by electronically dealing with request for leaves, business trips or reimbursements. Approvals for business trips and leave are automatically linked with attendance records.
– DingTalk is also a high-definition video conferencing system and allows users to also start free individual calls.
– Ding Ding has its own business cloud (or "Ding drive") feature, making file saving and sharing a quick and easy task, also between PC and mobile.
– DingTalk's email inbox also makes it possible to receive email notifications in chats.

Despite the myriad of functions, or actually because of them, some employees call the app a 'catastrophe' for office staff.
Big boss is watching you
"Since Ding Ding is GPS-activated, I will be signed in when I get to work. And when I leave work, it will clock me out," Lee says.
The app's clocking system is one of its most used functions and allows companies to track whether their employees arrive late at work or whether they are working overtime.
There is a positive side to it for employees since there is much less paperwork to fill out when, for example, asking compensation for overtime work. Lee notes that people can also electronically apply for a leave of absence through Ding Ding.
But the downside is that there is no room for white lies anymore. Because of the app's geotagging function, the employer can actually check if you really are seeing the doctor (as you said you were going to).
"Through Ding Ding you can report where you are for your company. If you requested a leave of absence to go to the hospital, for example, you can bookmark the location so that your company knows you really are at the location where you are supposed to be. Same goes for business-related appointments – if your company requires it, you tag the location so they can see that you are where you said you were going, so they won't deduct your salary for that."
"People have a lot of different views on it," Lee says: "I am always at work when I need to be and I never cheat the system. So I think it is very convenient that I no longer need to take my phone and scan a QR code every day to log in to work, which used to be mafan [trouble] – this is much easier. But a lot of people think it is somewhat Orwellian. They do not monitor your everyday moves but if you actually go drinking with your friends instead of going to a doctor as you told your boss, then that might get you in trouble."
Apart from the location-tagging function, which may or may not be required/activated by the company, there are also other functions that many people do not like. Ding Ding, unlike WeChat, automatically shows that your message has been delivered and read. It also allows a company to send out a 'Ding alert' (which notifies recipients through phone call/SMS/In-App alerts) to make sure everybody gets the message.
On Q&A platform Zhihu.com, user 'Aurora', who works at a HR company, tells how this has made life more troublesome for office staff:
"The rapid growth of Ding Ding lies in the fact that it meets the requirements of its user – the boss. Just imagine: you're in the midst of finishing a proposal when the boss sends you a message saying you need to come over to bring them a certain file.
1. You see the message. You finish the last part of your proposal before bringing over the file to your boss a bit later.
2. You don't see the message. You finish your task and take a break. You then see the message and take care of it.
3. No matter if you see did or did not see the message, the boss notices you did not respond and gives you a call.
1. You see the message. Your boss gets a 'message read' (已读) confirmation and you have no other option than to break off your work and immediately take care of it.
2. You haven't seen it. So your boss sends you a 'ding alert' and you have no other option but to read it, break off your work, and immediately take care of it."

Aurora also writes that Ding Ding is completely made to comply with the demands of the company's managers rather than their staff. For office staff, it is not convenient to have to respond to the boss's wishes immediately – it can disturb their everyday tasks and adds stress to their job. For the manager, on the other hand, it has become very easy to reach the staff: they do not even need to pick up the phone anymore, and can reach whoever they want right away.
Unhappy Dingers
On Weibo, many people share Aurora's views and are not too happy with Ding Ding. "I've had enough with this app! It reminds me every single morning to clock in to work!"
Others also complain that the app only adds to the time they spend looking at their phone: "If it's not my QQ group, then it's my WeChat group or my Ding Ding group – it seems I am looking at my phone screen all day," one Weibo user says.
There are also people who note that they are hardly ever really free from work anymore. As one Xiamen worker writes: "I had the morning off. But I had hundreds of WeChat messages, dozens of Ding Ding messages, and three missed phone calls. This is ruining me."
"With this Ding Ding app it seems like no matter what time it is or where you are, you're just always at work," another complaint said.
"It looks like they are going to implement Ding Ding at my office. I just want to punch the person who invented this app."
But despite all the backlash and complaints, Ding Ding's popularity as an office solution for immediate workplace communication and registering employee's working hours is on the rise.
On the app's review page on the Huawei store, some call it "the best office application." Others also note that the app is not just convenient, but also free: "It is very practical, and it has saved me the costs for other office management software."
Other reviewers also seem much more enthusiastic than the complaining netizens on Weibo: "In our office, it's become an essential tool – and its functions just keep getting better and better."
By Manya Koetse
Follow @whatsonweibo
Spotted a mistake or want to add something? Please let us know in comments below or email us.
©2017 Whatsonweibo. All rights reserved. Do not reproduce our content without permission – you can contact us at info@whatsonweibo.com.
Will Weibo Become 30% State-Media Owned?
Alibaba is allegedly ready to give up its Weibo shares to SMG.
Bloomberg recently reported that Chinese e-commerce giant Alibaba is preparing to sell its 30% stake in social media platform Weibo. According to people familiar with the matter, Alibaba is negotiating with the state-owned Shanghai Media Group (SMG).
News about Alibaba planning to sell all of its Weibo shares has triggered some online discussions on the Chinese social media platform. Bloomberg was the first to report that the Chinese e-commerce and IT enterprise is talking to the state-owned Shanghai Media Group (SMG) to sell all of its 30% stake in Weibo.
According to Bloomberg, the move relates to regulators wanting to curb the influence of Chinese tech giants in the media sphere. The Bloomberg article claims that SMG, as one of China's largest state-owned media and cultural conglomerates, stands a higher chance of gaining the approval of Chinese authorities than a private acquirer.
SMG is a large state-owned enterprise with over a dozen TV and radio stations, many newspapers and magazines, various drama & film production and distribution businesses, and more. The company has a major media influence, not only in Shanghai but throughout the country.
According to Weibo's 2020 annual reports, New Wave held a 45% stake in Weibo, followed by Alibaba with its 30%. New Wave is the holding company by Weibo chairman Charles Chao.
"Weibo will change into another channel for SMG," some Weibo users predict, with others also sharing their fear that Weibo would become more and more like a platform for official media ("微博现在越来越官方化").
"This would be a big milestone in the crumbling of Alibaba's media empire," another commenter wrote. Some wonder if the developments have more to do with Weibo as a platform, or with Alibaba and its media influence.
In March of 2021, the Wall Street Journal already reported that the Chinese government asked the Alibaba Group to dispose of its media assets due to concerns over the company's influence in the sensitive media sphere.
"When Alibaba exits and state-owned capital enters, Weibo is expected to magnificently transform into a 'state-owned enterprise'," another Weibo user wrote.
Although some commenters worry that Weibo will change for the worse and that there will be more censorship, others see a sunnier future for the social media platform: "It would be good for Weibo to be 'state-owned' so that it won't be controlled by capital to influence public opinion anymore."
Chinese tech site 36kr also reported about the issue on January 1st, but neither Weibo nor Alibaba or SGM have officially responded yet.
By Manya Koetse
With contributions by Miranda Barnes.
Spotted a mistake or want to add something? Please let us know in comments below or email us. First-time commenters, please be patient – we will have to manually approve your comment before it appears.
©2021 Whatsonweibo. All rights reserved. Do not reproduce our content without permission – you can contact us at info@whatsonweibo.com.
China's Livestreaming Queen Viya Goes Viral for Fraud and Fines, Ordered to Pay $210 Million
Viya, the Queen of Taobao, is under fire for tax evasion.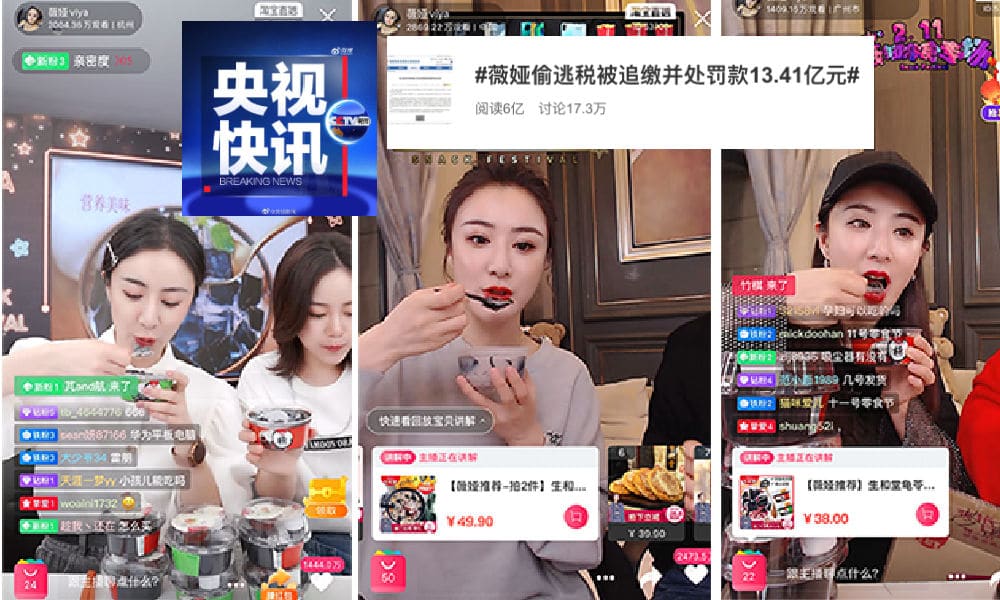 Viya, one of China's most well-known and successful live streamers, is trending today for allegedly committing tax fraud by deliberately providing false information and concealing personal income.
The 'Taobao queen' Viya (薇娅, real name Huang Wei 黄薇) reportedly committed tax fraud from 2019 to 2020, during which she evaded some 643 million yuan ($100 million) in taxes and also failed to pay an additional 60 million yuan ($9.4 million) in taxes.
The Hangzhou Tax Administration Office reportedly ordered Viya to pay an amount of over 1.3 billion yuan ($210 million) in taxes, late payment fees, and other fines. On Monday, a hashtag related to the issue had garnered over 600 million views on Weibo (#薇娅偷逃税被追缴并处罚款13.41亿元#).
Viya made headlines in English-language media earlier this year when she participated in a promotional event for Single's Day on October 20th and managed to sell 20 billion yuan ($3.1 billion) in merchandise in just one live streaming session together with e-commerce superstar Lipstick King.
China has a booming livestreaming e-commerce market, and Viya is one of the top influencers to have joined the thriving online sales industry years ago. When the e-commerce platform Taobao started their Taobao Live initiative (mixing online sales with livestreams), Viya became one of their top sellers as millions of viewers starting joining her channel every single day (she livestreams daily at 7.30 pm).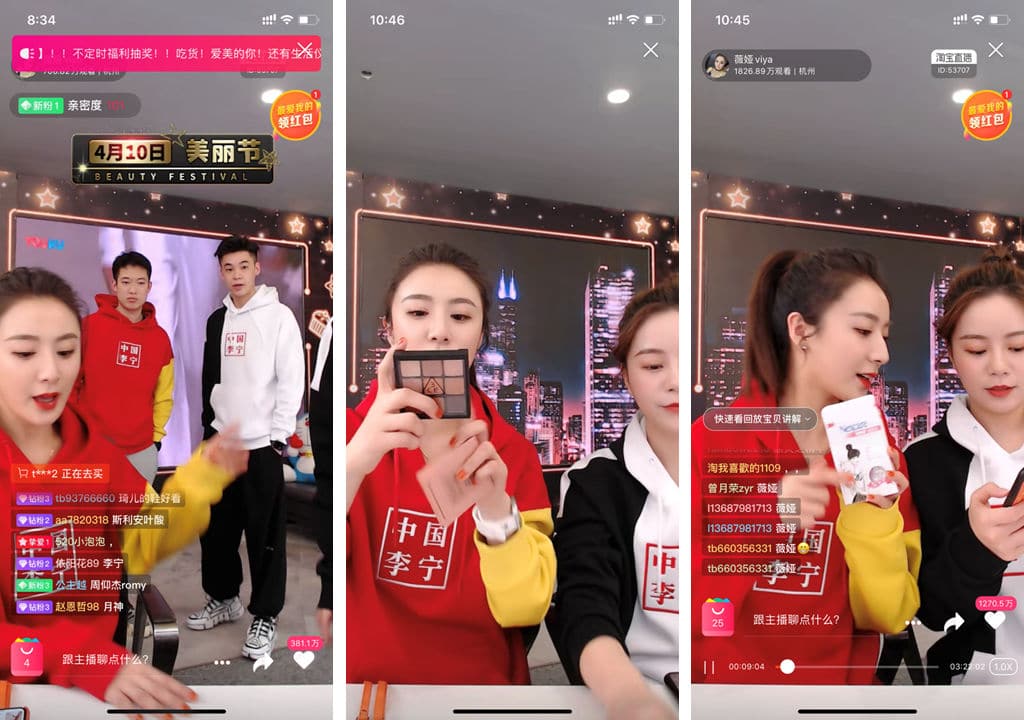 With news about Viya's tax fraud practices and enormous fines going viral on Chinese social media, many are attacking the top influencer, as her tax fraud case seems to be even bigger than that of Chinese actress Fan Bingbing (范冰冰).
Chinese actress Fan Bingbing went "missing" for months back in 2018 when she was at the center of a tax evasion scandal. The actress was ordered to pay taxes and fines worth hundreds of millions of yuan over tax evasion. The famous actress eventually paid approximately $128,5 million in taxes and fines, less than Viya was ordered to pay this month.
Like Fan Bingbing, Viya will also not be held criminally liable if the total amount is paid in time. This was the first time for the e-commerce star to be "administratively punished" for tax evasion.
Around 5pm on Monday, Viya posted a public apology on her Weibo account, saying she takes on full responsibility for the errors she made: "I was wrong, and I will bear all the consequences for my mistakes. I'm so sorry!"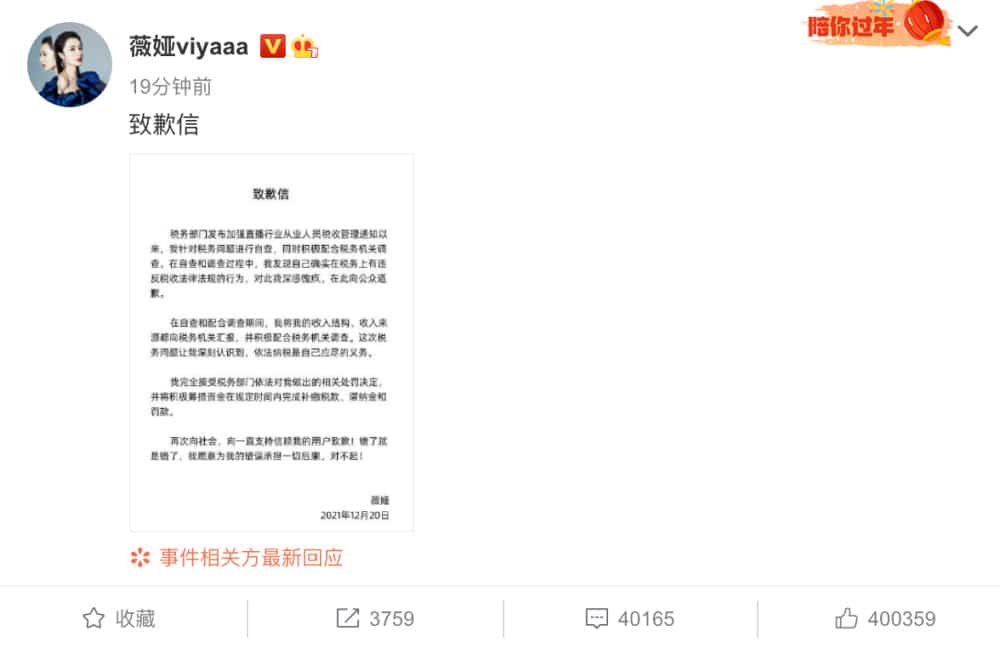 It is not clear if she will still do her daily live stream later today and how this news will impact Viya's future career.
Update: Vaya's live stream was canceled.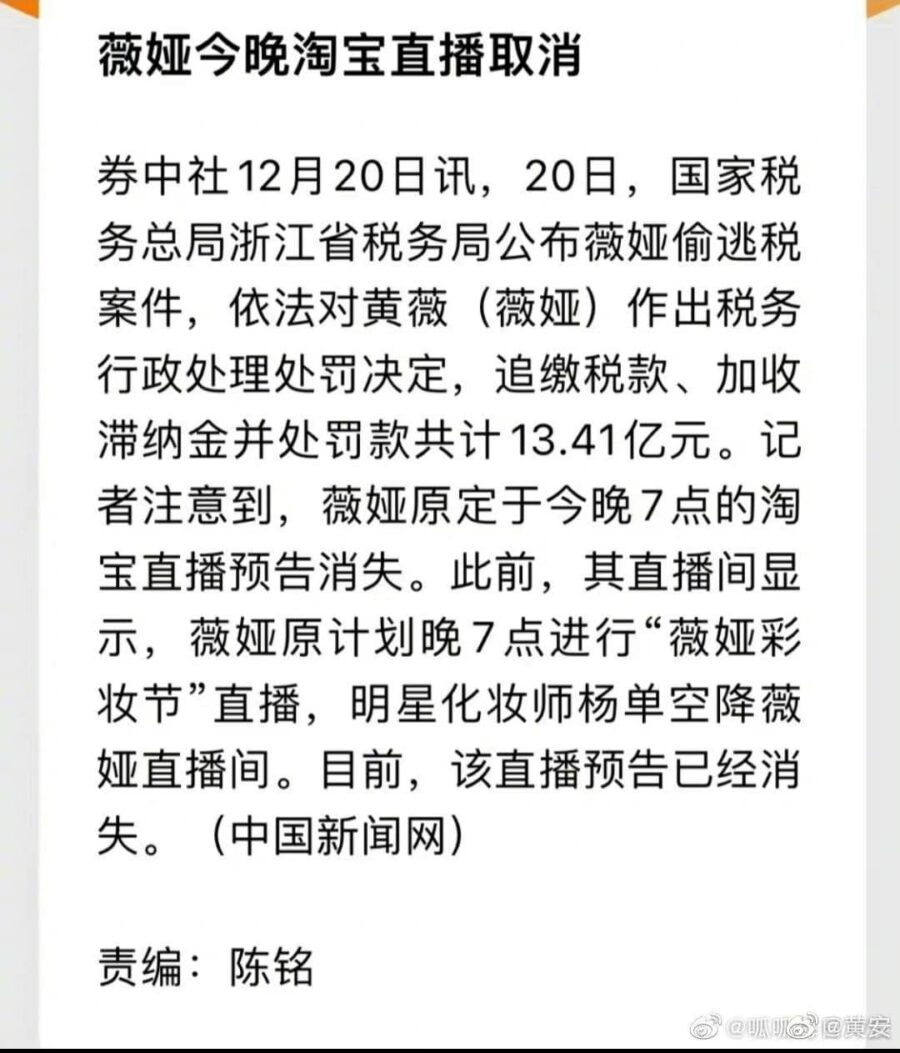 Update 2: Vaya's husband also issued an apology on Weibo.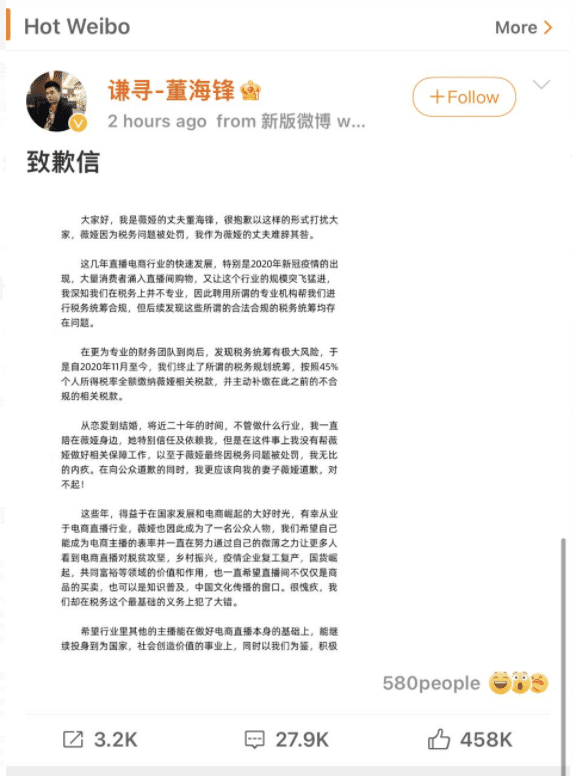 Update 3: Taobao has suspended or 'frozen' ("冻结") Vaya's livestreaming channel. Her Taobao store is still online.
By Manya Koetse
With contributions by Miranda Barnes.
Spotted a mistake or want to add something? Please let us know in comments below or email us. First-time commenters, please be patient – we will have to manually approve your comment before it appears.
©2021 Whatsonweibo. All rights reserved. Do not reproduce our content without permission – you can contact us at info@whatsonweibo.com.