Weibo Netizens Show Support for Shanghai Restaurant Harassed By Muslim "Noodle Gang"
What was supposed to be a celebratory opening of a new Hui noodle restaurant in Shanghai turned into a weeklong nightmare as a local "noodle gang" (拉面帮) harassed the owner and threatened him to close his business. Chinese netizens played an important role in supporting the restaurant to continue its business.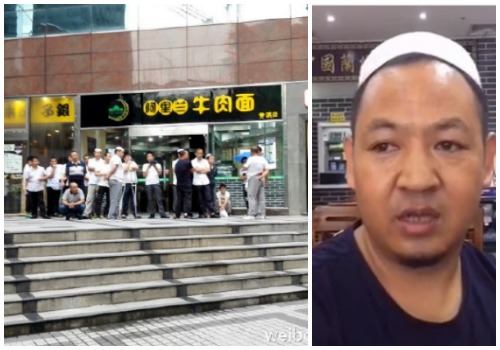 What was supposed to be a celebratory opening of a new Hui noodle restaurant in Shanghai, turned into a weeklong nightmare as a local "noodle gang" (拉面帮) harassed the owner and threatened him to close his business. Chinese netizens played an important role in supporting the restaurant to continue its business.
On July 1st, halal restaurant Alilan Beef Noodles (阿里兰牛肉面) opened its doors on Shanghai's famous East Nanjing Road. What was supposed to be a celebratory first day turned into a nightmare when more than 100 angry people, allegedly from the Hui ethnic group, surrounded the restaurant and blocked customers from coming in while threatening the staff. The Hui people are a predominantly muslim ethnic group in China.
In an interview published on video platform Miaopai, Alilan owner Xian Guolin, a Hui muslim himself, stated that he was offered 300,000 RMB (±45,000$) to close his business – a small amount compared to the 1,5 million RMB (±224,700$) he invested in it.
The people who harassed him claimed to be muslim representatives of Shanghai's beef noodle shops and demanded the owner to leave. According to owner Xian, he was told that his own life and that of his family would be in danger if he would not close his business.
As reported by Sixth Tone, the people told him he needed to shut down his business because it allegedly violated the so-called "Shaanxi-Gansu-Ningxia treaty", which claims that there should be no other beef noodles restaurant within 400 meters of a Hui muslim restaurant.
The 'agreement', that alleges to promote a "harmonious and stable" noodle market, states that those who do not abide by the rules will have to face the consequences and accept any financial losses. The document also states it is meant to protect 'ethnic solidarity'.
The noodle agreement is highly controversial as it does not have any legal standing, with some calling it "ridiculous". A similar conflict erupted in the south of China last summer when Lanzhou beef noodles where at the center of a huge noodle war also evolving around a local noodle contract.
[rp4wp]
In the weeks following the opening of Alilan, the group of people remained to stand in front of the restaurant. According to the owner, this caused a daily loss of around 4500 RMB (±670 US$) to his business.
The topic became popular on Chinese social media under the hashtag of "Beef Noodle Gate" (#拉面风云) as owner Xian (@阿里兰牛肉面) shared the turbulence with his followers. It soon attracted 400 million views and 90,000 discussions on Sina Weibo.
With people like Weibo VIP user and editor Hey-Xiaodiao (@嗨-小刁) closely following the event and writing about it, the affair became a social media hype that resulted in many Shanghai residents showing their support for Alilan by dining there despite the presence of the noodle gang.
The Alilan restaurant kept its followers up to date on recent developments through its official Weibo account. On July 18, they posted the following pictures, writing: "They were chased away by the police today but then came back during the night with over 40 persons. There were netizens who confronted them while smoking. Because smoking is not allowed according to Islamic religion, this then led to an argument between them, and all our customers were also driven away."
Large numbers of Weibo netizens offered their support to Alilan and rejected the noodle gang for their actions. Many Weibo users also expressed their worry that such a thing could happen in one of China's most famous city centers: "Is this Shanghai or is this Islam territory?!"
But over the past few days, netizens' help seemed to bring an end to the blockade, as one diner wrote on July 22: "No more people standing in front of the door, and 50% discount thanks to netizens' support", and: "Business is quite good. Many things are sold out. Support Alilan and oppose white hats!" ('White hats' refers to Hui Muslims, who usually wear the taqiyah white cap for religious purposes.)
"Come over, food is good," others wrote, posting pictures of the noodles and themselves having dinner at the restaurant.
The Alilan restaurant thanked Chinese netizens for their overwhelming support through Weibo, and shared that it even had supporters coming from as far as Nanjing and Hangzhou to have dinner at their restaurant.
Although the Alilan owner and staff expressed their joy and gratefulness, many netizens were not satisfied with how the affair was handled as the actions of the "noodle gang" went unpunished.
"The 'noodle gang' has won", one Weibo user (@霜叶不活跃) writes: "This shows all noodle gangs around the country that even if they cause huge problems in cities like Shanghai against their fellow ethnic minorities, they will not be punished for it. If they succeed, they earn loads of money, if they fail, they just need to walk away and find another victim. Nothing serious."
Other netizens stressed that everyone should be equal before the law , and that there should be no excemptions made for conflicts taking place within ethnic or religious groups: "The Alilan issue seems be to a conflict among muslims ("穆斯林内部冲突"), but if you look at it from another side, it is also a collision and compromise between Han Chinese and muslims, and a manifestation of a culture clash between our national ethnic groups", writes one netizen.
For now, the Alilan restaurant is seemingly doing good business as many netizens point out its tasty dishes and ignore the negativity of the past few weeks. "We will resist all people who attempt to dominate the market under the flag of religion," one Weibo user writes.
"I congratulate Alilan noodles," one netizen writes: "You have now become a famous Shanghai brand."
-By Diandian Guo and Manya Koetse
Follow @WhatsOnWeibo
©2016 Whatsonweibo. All rights reserved. Do not reproduce our content without permission – you can contact us at info@whatsonweibo.com.
From Peaches to Pears: 3 Natural Food Remedies Trending on Chinese Social Media in Times of Covid Outbreak
Even though experts suggest that natural food remedies won't prevent or cure Covid, Chinese netizens believe in the power of peaches.
Coughing, fever, sore throat; during China's current Covid outbreak, the ways to alleviate the most common symptoms have become an everyday topic on Chinese social media. Food remedies are a recurring trending topic. Here are three natural food remedies that have become popular (again) over the past few weeks.
In December of 2022, during the rapid spread of Covid-19 across China after the country let go of its 'zero Covid' policy, fever and cough medicine were selling out fast. Some Covid patients turned to foods and drinks to help soothe Covid symptoms.
The following types of food have become especially popular on Chinese social media over the past few weeks.
1. Canned Yellow Peaches (黄桃罐头)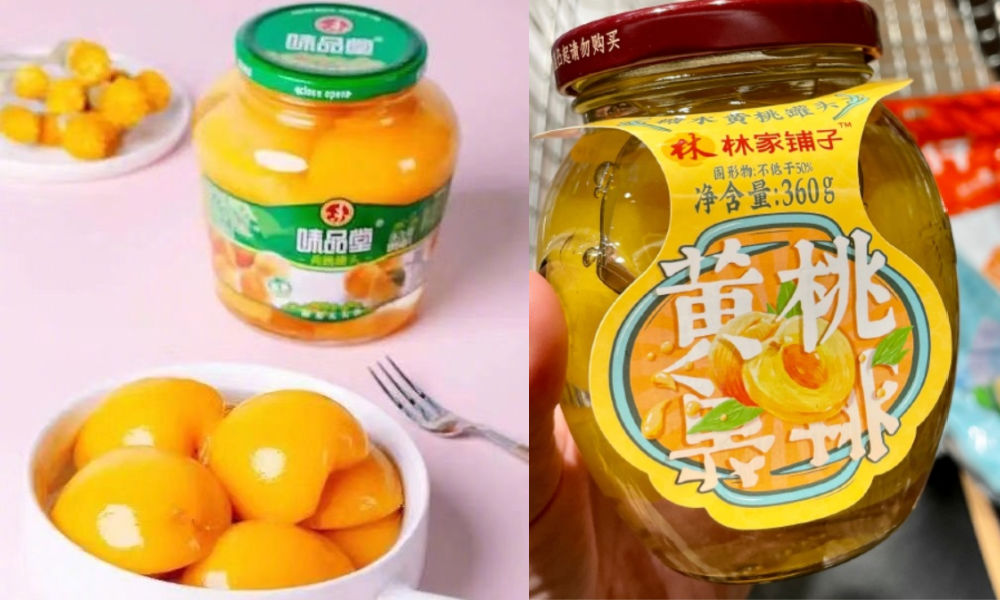 In December, when the number of Covid-19 infections spiked throughout China, canned yellow peaches suddenly received significant attention. Under the Weibo hashtag "Canned Yellow Peaches, the Mysterious Power from the East" (#东方神秘力量黄桃罐头#), netizens shared how canned yellow peaches helped them recover from Covid-19, describing it as "the god of children from Northeastern China" that "blessed every Northeastern Chinese child." Some even joked that the government should include canned yellow peaches in the public health insurance package.
Although many state media quoted experts' claims that canned yellow peaches cannot fight Covid-19 symptoms and might even worsen coughing, most netizens still believe in the power of peaches.
While most people acknowledge that natural food remedies aren't always effective, they are seemingly unanimously against the "experts' advice." Under Pengpai News' Weibo post and hashtag "Experts Claim Canned Yellow Peaches Might Worsen Cough" (#专家称黄桃罐头或加重咳嗽#)," some Weibo users commented that experts would not dare to discuss the supposed ineffectiveness of Lianhuaqingwen (traditional Chinese medicine that has become hot-selling during Covid outbreak) and thus criticize canned peaches instead.
Another commenter wrote: "Who would actually believe that canned yellow peaches can cure diseases? It is just like a placebo when we're sick."
One popular image compared the effectiveness of canned yellow peaches and Lianhuaqingwen. According to the image, the former is tasty and hydrates, while also containing electrolytes and calories and serving as comfort food to people, whereas the latter is only capable of potentially having side effects for the kidney and liver.
Canned yellow peaches are a nostalgic comfort food, especially for people from Northeastern China. For the generations growing up during the 1970s and 1980s, canned yellow peaches are known as a 'cure-all.' In an era of food scarcity, canned yellow peaches were a sweet luxury that most children could only get when they were ill.
One commenter on Q&A platform Zhihu wrote: "Eating canned yellow peaches is a ritual." Other netizens shared their childhood memories about the food – one commenter recalled how eating canned yellow peaches at the hospital after a car accident left a deep impression on them.
Moreover, the name of the food has also come to be associated with recovering from Covid. As the character '桃' (peach) sounds the same as the character '逃' (escape), eating canned yellow peaches is also jokingly used in the context of 'escaping' from the epidemic.
2. Steamed Orange with Salt (盐蒸橙子)
Another food that gained popularity during the Covid-19 outbreak is steamed orange with salt, which is considered a more medicinal food remedy than canned yellow peaches. The food has since long been used as a Chinese folk prescription for sore throat. The widespread Covid-19 symptom of severe sore throat, sometimes also described as "swallowing blades" (喉咙吞刀片)," has made the folk prescription popular again.
Here is the cooking procedure according to many online posts: wash and soak the orange in salted water; cut the orange at ⅕ point from the top; spread ⅓ spoon of salt onto the remaining ⅘ oranges; put two parts of the orange together and steam (steaming time varies between posts from 20 min up to two hours); eat the orange with the peel and the rest of the water.
Contrary to canned yellow peaches, experts have acknowledged the benefits of eating salt-steamed oranges. According to a post released by Youth Hunan (青年湖南), the official Weibo account of the Communist Youth League of Hunan Province, some 'experts' state that the peel of salt-steamed oranges help alleviate discomforts in the throat, and the vitamin C can prevent and alleviate viral infections. In reports by other mainstream media, such as CCTV News, it is also claimed that salt-steamed oranges might be helpful, and that the salt can make the natural sugar taste sweeter.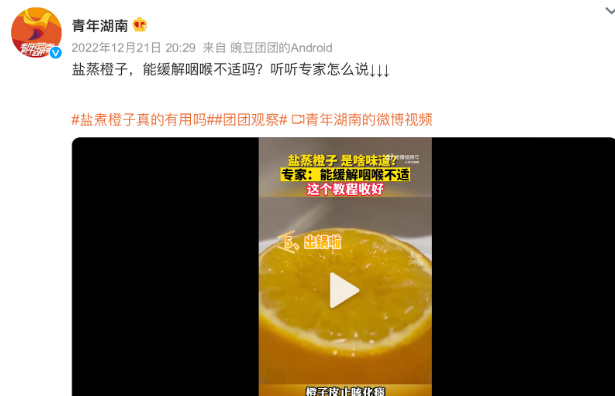 However, steamed oranges with salt are not as beloved among the public as canned yellow peaches. People's comments on the effectiveness of salty steamed oranges vary. Some share that they stopped coughing after eating them, while others criticize it as having "no use at all," or even exacerbating the pain.
Despite the disagreement on its effectiveness, most Weibo posts agree that steamed oranges with salt are just "not tasty" at all. Contrary to the CCTV report that suggested that salt brings out the sweetness of oranges, many describe the food as extremely bitter and sour to the extent of "crying while eating."
In online discussions about steamed oranges with salt, the distrust in expert opinions surfaced again. Although experts claim that the food is beneficial and alleviates symptoms, some netizens seem annoyed that it does not do anything for them at all: "I've been eating this for three days, not a damn change and it tastes disgusting."
3. Stewed Pear with Rock Sugar (冰糖炖梨)
Besides canned yellow peaches and salty steamed oranges, many other kinds of food and folk prescriptions have also become trends during the Covid-19 outbreak. There's salt-steamed lemons (盐蒸柠檬), boiled scallion water (葱白煮水), roasted oranges (烤橘子), white radish soup (萝卜汤), honeysuckle chrysanthemum tea (金銀花菊花茶) or brown sugar ginger tea (红糖姜茶), which is also commonly used to alleviate menstrual pain.
Among them, you'll also find stewed pear with rock sugar (冰糖炖梨), which is commonly eaten to alleviate symptoms like sore throat and coughing as well reducing excessive phlegm. Many netizens indicate that it is something their parents made for them, and that it is sweet, warm, and comforting.
Recipes vary, but the pears, generally yellow pears (雪梨), can be either cooked or boiled and its core is then removed and filled with rock sugar as well as other optional ingredients, such as Chinese dates, dried Goji berries, or Sichuan peppers (see a recipe here).
Despite many people expressing their love for stewed pear with rock sugar, a recent article by the Taiwanese 'Health 2.0' site claimed that the food remedy is somewhat outdated as other ingredients are supposedly more effective against a persistent cough, such as daikon (combined with honey, rock sugar), which is also used as a home remedy for its antibacterial properties.
The advantages of many foods and folk prescriptions are still up for debate. However, recent related online discussions show that the comfort or even the placebo effect of certain food remedies are very important in the Covid-19 experience of many Chinese people. Some are 100% sure they work.
"One bite and it instantly made me feel better," one commenter wrote about their homemade stewed pear. Some people admit they do not necessarily even mind if it really alleviates their symptoms or not: "It's just so tasty!"
By Zilan Qian
with contributions by Manya Koetse
Follow @WhatsOnWeibo
Get the story behind the hashtag. Subscribe to What's on Weibo here to receive our newsletter and get unlimited access to all of our articles:
Spotted a mistake or want to add something? Please let us know in comments below or email us. First-time commenters, please be patient – we will have to manually approve your comment before it appears.
©2023 Whatsonweibo. All rights reserved. Do not reproduce our content without permission – you can contact us at info@whatsonweibo.com.
The Price is Not Right: Corn Controversy Takes over Chinese Social Media
It's corn! The "6 yuan corn" debate just keeps going.
Recently there have been fierce discussions on Chinese social media about the price of corn after e-commerce platform Oriental Selection (东方甄选) started selling ears of corn for 6 yuan ($0.80) per piece.
The controversy caught the public's attention when the famous Kuaishou livestreamer Simba (辛巴, real name Xin Youzhi), who has labeled himself as a 'farmer's son,' criticized Oriental Selection for their corn prices.
Founded in 2021, Oriental Selection is an agricultural products e-commerce platform under New Oriental Online. In its company mission statement, Oriental Selection says its intention is to "help farmers" by providing the channels to sell their high-quality agricultural goods to online consumers.
Simba suggested that Oriental Selection was being deceitful by promising to help farmers while selling their corn for a relatively high price. According to Simba, they were just scamming ordinary people by selling an ear of corn that is worth 0.70 yuan ($0.10) for 6 yuan ($0.80), and also not really helping the farmers while taking 40% of their profits.
During one of the following livestreams, Oriental Selection's host Dong Yuhui (董宇辉) – who also happens to be a farmer's son – responded to the remarks and said there was a valid reason for their corn to be priced "on the high side." Simba was talking about corn in general, including the kind being fed to animals, while this is high-quality corn that is already worth 2 yuan ($0.30) the moment it is harvested.
Despite the explanation, the issue only triggered more discussions on the right price for corn and about the fuzzy structure of the agricultural e-commerce livestreaming business.
Is it really too expensive to sell corn for 6 yuan via livestreaming?
The corn supplier, the Chinese 'Northeast Peasant Madame' brand (东北农嫂), is actually selling their own product for 3.6 yuan ($0.50) – is that an honest price? What amount of that price actually goes to the farmers themselves?
One person responding to this issue via her Tiktok channel is the young farmer Liu Meina (刘美娜), who explained that Simba's suggested "0.70 yuan per corn" was simply unrealistic, saying since it does not take the entire production process into account, including maintenance, packaging, transportation, and delivery.
Another factor mentioned by netizens is the entertainment value added to e-commerce by livestreaming channels. Earlier this year, Oriental Selection's host Dong Yuhui and his colleagues became an online hit for adding an educational component to their livestreaming sessions.
These hosts were actually previously teachers at New Oriental. Facing a crackdown on China's after-school tutoring, the company ventured into different business industries and let these former teachers go online to sell anything from peaches to shrimp via livestreaming, teaching some English while doing so (read more here). So this additional value of livestream hosts entertaining and educating their viewers should also be taken into account when debating the price of corn. Some call it "Dong Yuhui Premium" ("董宇辉溢价").
In light of all the online discussions and controversy, netizens discovered that Oriental Selection is currently no longer selling corn (#东方甄选回应下架玉米#), which also became a trending topic on Weibo on September 29.
But the corn controversy does not end here. On September 28, Chinese netizens discovered that corn by the 'Northeast Peasant Madame' brand (东北农嫂) was being sold for no less than 8.5 yuan ($1.2) at the Pangdonglai supermarket chain (胖东来), going well beyond the price of Oriental Selection.
Trying to avoid a marketing crisis, the Pangdonglai chain quickly recalled its corn, stating there had been an issue with the supply price that led to its final store price becoming too high. That topic received over 160 million views on Weibo on Friday (#胖东来召回8.5元玉米#).
Behind all these online discussions are consumer frustrations about an untransparent market where the field of agricultural products has become more crowded and with more people taking a share, including retailers, e-commerce platforms, and livestreaming apps. Moreover, they often say they are "helping farmers" while they are actually just making money themselves.
One Weibo user commented: "Currently, 'helping farmers' is completely different from the original intention of 'helping farmers.' Right now, it's not about helping farmers anymore, but about helping the companies who have made agricultural products their business."
"I bought a corn at a street shop today for 4 yuan ($0.55)," one Weibo blogger wrote: "It was big, sweet, and juicy, the quality was good and it was tasty – and people are still making money off of it. So yes, 6 yuan for a corn is certainly too expensive."
By Manya Koetse 
Get the story behind the hashtag. Subscribe to What's on Weibo here to receive our weekly newsletter and get access to our latest articles:
Spotted a mistake or want to add something? Please let us know in comments below or email us. First-time commenters, please be patient – we will have to manually approve your comment before it appears.
©2022 Whatsonweibo. All rights reserved. Do not reproduce our content without permission – you can contact us at info@whatsonweibo.com.