Weibo Watch: Forgotten Allies
Chinese online reactions to the war in the Middle East are intertwined with echoes of China's own national suffering and its modern history.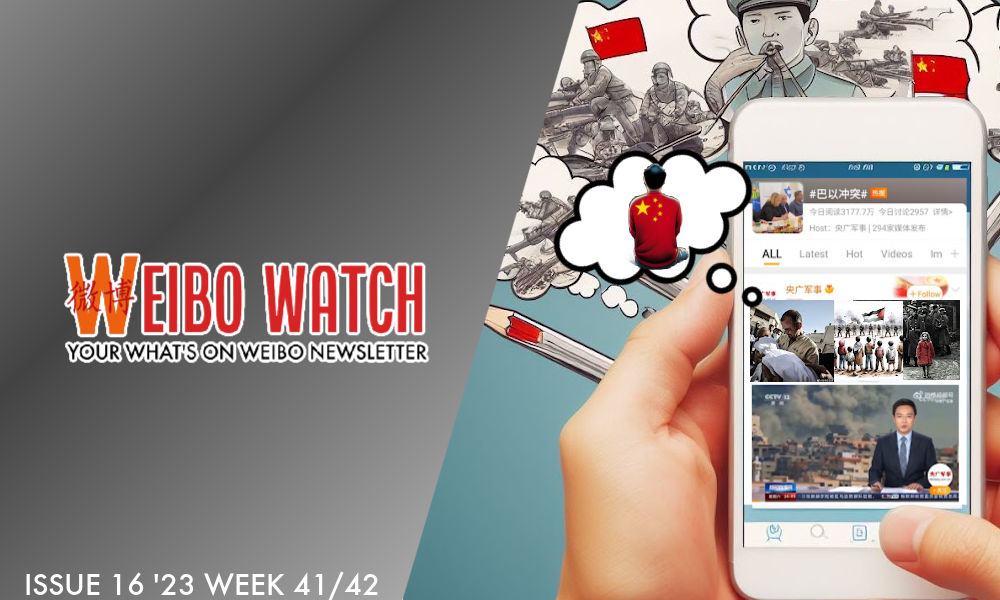 PREMIUM NEWSLETTER | ISSUE #16
This week's newsletter:
◼︎ 1. Editor's Note – Forgotten allies
◼︎ 2. What's Trending – A closer look at the featured stories
◼︎ 3. What More to Know – Highlighting 8 hot topics
◼︎ 4. What's Noteworthy – Taiwanese Chatbot or Made in Mainland?
◼︎ 5. What's Popular – Baidu's AI-Native Map
◼︎ 6. What's Memorable – The Jewish refugees of Shanghai
◼︎ 7. Weibo Word of the Week – "Reverse Consumption"
Dear Reader,
'The past is never dead. It's not even past.' This Faulkner quote is timeless, and it's particularly relevant in these times marked by global conflicts and wars, where complicated histories are interwoven with complex present realities. While the whole world is watching as the Israel-Hamas war rages, the positions taken by different nations, social groups, and international organizations are deeply entwined with religion, geo-politics, and, perhaps most significantly, with the weight of history.
Over the past two weeks, a noticeable pro-Palestine sentiment has emerged on Chinese social media, which is closely tied to the alignment of Chinese scholars and the government's position. In a 2013 article, Yiyi Chen, Director of the Institute for Hebrew and Jewish Studies at Peking University, predicted that China's pro-Palestine stance would increasingly work against Israel in the long term – in contrast to the strong pro-Israel stance of the United States.*
Chen's 2013 article is especially relevant because many of the observations he made a decade ago are now manifesting themselves in clear ways. For instance, he highlighted the significant increase in China's pro-Palestine articles, a trend that is evident today. His prediction that China would take on a more proactive role in seeking a resolution to the Israel-Palestine conflict has also proven accurate.
A central point raised in Yiyi Chen's article is that China's leaning toward supporting the Arab side can also be attributed to some factors that are deeply rooted in China's national history. First, he argues that the national mentality of being a "victim of imperialism" plays an important role in shaping the country's foreign policy, and is reflected in China's present-day sympathy for Palestinians, as they too are seen as sufferers from imperialism. In this view, the State of Israel was established with the backing of imperial powers of the time.
Second, Chen suggests that China's pro-Palestine stance is also driven by a sense of reciprocity. The Chinese, he argues, show favoritism toward Palestinians because Arab countries supported China on the international stage during the 1960s and 1970s, a period when China was otherwise isolated due to strained relations with the West.
Alongside the recent surge in pro-Palestine sentiments on Chinese social media, there has also been a clear rise in anti-Semitic expressions, including hate-filled comments and images targeting Jews, often referencing to Nazi Germany or the Holocaust. This online anti-Jewish sentiment is surprising given the historical ties that China shares with the Jewish community, a connection that has experienced a "memory revival" both in China and Israel over the past two decades, coinciding with the blossoming of China-Israel bilateral relations.
In 1938, when Europe became increasingly perilous for Jews, around 20,000 Jewish refugees sought sanctuary in Shanghai, and the great majority survived the war. The history of Jews in Shanghai during World War II is preceded by a long history of the Jewish diaspora in China. China is the only country in East Asia where Jews have consecutively lived for the last 1000 years. Although the first Jewish population in Shanghai arrived much later in history, it rapidly grew into one of China's most vibrant Jewish communities.
While portions of the old Jewish neighborhood in Shanghai have now disappeared, new initiatives are keeping its memories alive. The former synagogue in the neighborhood now houses the Shanghai Jewish Refugees Museum, established in 2007 to commemorate the Jewish refugees who sought shelter in Shanghai. The museum frequently hosts new exhibits and events to engage the public. The historical revival of Shanghai's Jewish history also takes place outside museums, as stories of war are narrated in popular culture and in online media.
Beyond China's historical role in providing a safe haven for Jewish refugees during the war, the Jewish-Chinese friendship also has a deeper dimension. Similar to how Chinese link their own scars of national humiliation to the present realities of Palestians, many Chinese also align the historical sufferings of China with the hardships endured by the Jewish community.
In light of the recent Israel-Hamas conflict, some Chinese commenters posting anti-Semitic comments and sharing hateful WWII-related images appear to have forgotten their Jewish friends and warm relations with Israel. The suffering they now mock is something that China has related to before. Simultaneously, these commenters are shifting their focus to the struggles of their other 'forgotten' allies on the opposing side of the conflict.
Chinese online reactions to the ongoing war in the Middle East, and the shifting alliances they remember or forget, are deeply intertwined with echoes of China's own national suffering and its modern history, and reflects the intricate interplay of factors such as collective memory, foreign policy, and reciprocity. As these dynamics play out all over the world in different ways and national contexts, in a moment marked by confusion, anger, and intense emotions, it becomes increasingly important to recognize that while historical parallels and associations matter, these perspectives, preconceptions, and reflections also obstruct nuanced understandings that can actually contribute to less black-and-white thinking and more constructive discussions.
For more about this, also check out our feature article on Chinese reactions to the Israel-Hamas War. Miranda Barnes contributed to this week's newsletter. As always: please don't hesitate to reach out to me about the latest China trends you spotted and would like to know more about. Contact me via email or DM, or follow me on X for the latest news and trends (or on Instagram here and here).
Best,
Manya
* Chen, Yiyi. 2013. "The Basis of China's Pro-Palestine Stance and the Current Status of Its Implementation." Digest of Middle East Studies 22 (2): 215-228.
What's Trending
A closer look at the top stories
1. Pro-Palestine Sentiments | The Israel-Hamas war has been dominating discussions on Weibo. Amid the different Chinese responses to what's happening in Israel and Gaza, recurring trends and narratives highlight how social media reactions and their pro-Palestine stance are connected to China's own historical context and perceived global role, as well as Chinese anti-Jewish prejudices. We explore these dynamics in this latest (premium) article.
Read more
2: Singapore Slang | Interesting debate on terminology: is it time to rethink how Singapore is nicknamed in Chinese? In a recent column for Lianhe Zaobao, prominent author Wang Huidi argued that it's time to stop referring to Singapore as "坡县" (Pōxiàn), which means "Slope County". The Chinese slang term implies that Singapore is a small part of China. Wang highlights the power of words, suggesting that such terminology can negatively impact both Singapore and those who use it.
Read more
3: A Leak at Tsingtao | A video that has circulated on Chinese social media since October 19 shows how an alleged worker at a Tsingtao Beer factory climbs over a wall at the raw material production site and starts to urinate. On Weibo, many people think it's an undercover operation orchestrated by a rivaling company: one person peed, another leaked the video?
Read more
4: Featured by VOA | What's on Weibo was featured on Voice of America News earlier this week. This article, by Liam Scott, focuses on the mission of What's on Weibo, which celebrates a decade since its launch this year. This article highlights how it all started, the focus of our work, and the transformation of Chinese social media.
Read more
What More to Know
Highlighting 8 hot topics
◼︎ 🌐 1. Belt and Road Forum. The third Belt and Road Forum was held in Beijing this week, with the One Belt, One Road Initiative celebrating its 10th anniversary. On October 17th, various foreign heads of state and government leaders who were attending the forum arrived at the Great Hall of the People. The next day, Xi Jinping delivered his opening speech on "Building an Open, Inclusive and Interconnected World For Common Development" (link). While the two-day global gathering was enthusiastically promoted on Chinese social media, it was overshadowed by the ongoing major crisis in the Middle East. The event was attended by 23 heads of state and government. (Hashtag:"10 Years of Belt and Road" #一带一路十周年# , 51+ million views; Belt and Road International Cooperation Forum #一带一路国际合作高峰论坛#, 83 million views).  
◼︎ 🇷🇺 2. Putin in China . On the morning of October 17th, Russian President Putin landed at Beijing Capital International Airport, marking his arrival for the Belt and Road Forum. His visit was highly anticipated, and various details surrounding his trip received close scrutiny on Chinese social media. One such detail was the alleged 'nuclear suitcase' that accompanied him during his trip, carried by officers, and which was caught on camera. Another moment that drew widespread attention was the news conference Putin gave at Diaoyutai. With the backdrop of red lanterns, that news conference had a strong Chinese ambiance. The uncommon and unique moment of seeing the Russian leader at this historic state guesthouse made many netizens feel proud of China and its role on the world stage. (Hashtag Putin Arrives in China #普京总统抵达北京#, 280 million views on Weibo).
◼︎ 🦸 3. Real Name Influencers. Chinese social media has been buzzing with discussions regarding a rumored upcoming implementation of a real-name system for Weibo influencers. If such a system were implemented, it would mean that the 'Big Vs', social media influencers with a substantial following and a verified account, would have to display their real name on their Weibo account page. This system appears to be on the verge of becoming a reality, as Weibo's CEO, Wang Gaofei, personally tested it on his own page, stating that the rule would only apply to those influential self-media accounts with more than a million fans. Weibo already had a back-end real name registration policy, but this would be the first time that people would be obliged to also show their actual names on the front end. (Various discussions without hashtags, one Weibo hashtag is "It's Time for Big Vs to Take Their Masks Off" #大V早该卸马甲了#, 36.4 million views).
◼︎ 🐕 4. Dog Bite Incident. One topic that has emerged as a major social concern in China recently is the issue of dog safety and the increasing incidence of dogs biting humans. Although the topic is a recurring one on Chinese social media over the years, it has now again garnered considerable attention due to an incident in Chengdu's Chongzhou, Sichuan Province, where a two-year-old girl was severely bitten by a dog on October 16. While the girl is being treated for her serious injuries at a local injuries, her family has crowdfunded 2 million yuan for her medical costs ($273.5k). As a result of this incident, other places in China, such as Hefei, have also increased their law enforcement efforts and punish dog owners who walk their dogs without a leash, either by capturing the dogs or imposing fines. (Various weibo hashtags, including "Police Notification Regarding Young Girl Bitten by Dog" #警方通报女童被狗咬伤#, 200 million views; #Family of the Girl Bitten by a Dog in Sichuan Has Raised 2 Million Yuan# #四川被狗咬伤女童家属已筹得200万元#, 170 million views).
◼︎ 🐣 5. Social Media Influencer Faking her Cheap Breakfast. A Chinese social media influencer named Zhang Tianqi (4+ million fans) triggered some online controversy this week for a video she did on doing a challenge by using only 100 yuan ($13.6) to have all kinds of breakfast at a traditional Dongbei Morning Market in Heilongjiang. However, people soon pointed out that the vlogger was misleading by making it seem that all the products she consumed were much cheaper than they actually are, and she was accused of hyping the market's "low prices" for clout – which could be damaging to local stall owners and negatively impact local tourism. Zhang later admitted that she only got such low prices because she got a discount and got some items for free, and she soon deleted the video. But many commenters were not as forgiving, and suggested she should be banned for misleading the public. (Weibo hashtag "Apologies for 100 Yuan Breakfasts All over Dongbei Morning Market" #100元吃遍东北早市当事人道歉#, 96 million views).
◼︎ 🐺 6. "Celebrity Wolf". A wolf in Kekexili, a natural reserve in Qinghai Province, bordering Tibet, has become known as a 'celebrity wolf' recently. The wolf was first known as an injured, lonely and skinny wolf who was separated from his pack. He rose to fame after he was fed by tourists who came across the wolf, lying by the side of the road, and felt bad for him. The wolf then seemingly discovered a new way of living and started begging other tourists for food, even wagging its tail when it sees cars arriving. The wolf is now looking well-fed and shiny as new, and his transformation has become a social media sensation. (Hashtag Kekexili Celebrity Wolf Fed by Tourists #可可西里网红狼被游客投喂# 5,3 million views; Kekexili Wild Wolf Famous after Being Fed #可可西里一头野狼被投喂成网红#, 4,8 million views).
◼︎ 🕊 7. Coco Lee's Final Resting Place. On October 21, Chinese-American superstar Coco Lee, who passed away in July of this year, was buried in Wuhan, her ancestral hometown. A commemorative exhibition celebrating the life of the singer was held on the same day, drawing groups of devoted fans who came to bid their final farewell. Coco Lee started her career in Hong Kong in the 1990s but also achieved international recognition in the United States and beyond after recording her debut English-language album. Lee, who suffered from health issues and depression, took her own life at the age of 48. One trending topic that captured significant attention on Saturday revolved around the speech delivered by Lee's mother, in which she openly denounced her former son-in-law for cheating on her daughter for "many years." (Hashtags "Coco Lee Buried in Wuhan Today" #李玟今日将安葬于武汉#, 22 million views;
"Coco Lee's mother strongly condemns Li Wen's husband's affair" #李玟母亲痛斥李玟丈夫出轨#, 260 million views).
◼︎ 🏃🏽‍♂️ 8. A Controversial Marathon Finish. The 33rd Dalian Marathon, held on October 15, gained widespread attention on Weibo due to a controversial incident involving Chinese marathon runner Yin Shunjin. During the race, Yin Shunjin appeared to be intentionally obstructed by a support vehicle, forcing him to navigate around it and costing him valuable time in the crucial final two minutes of the marathon. He ultimately finished in 7th place, with just seconds separating him from those who finished ahead of him. Many netizens expressed suspicions that this incident was a deliberate act, suggesting the possibility of marathon fraud. However, the event's organizers and those responsible for the support vehicles have since maintained that it was an unfortunate mistake and not a deliberate act. This incident was not isolated, as several other marathons have also faced suspicious incidents and bizarre behavior. In response to these concerns, the Chinese Athletics Association has issued an emergency notice to standardize and regulate China's national marathon and running events more effectively in order to prevent such incidents in the future. (Weibo hashtag "Dalian Marathon Responds to Yin Shunjin Being Obstructed by Car" #大连马拉松回应尹顺金被车挡#, 25 million views).
What's Noteworthy
Small news with big impact
Taiwanese "Self-Developed" AI Claims It's from Mainland China. | Earlier this month, Taiwan's Academia Sinica (中央硏究院), the national academy, launched an AI chat model, the CKIP-Llama-2-7b chat AI, that had been promoted by several Taiwanese media outlets as a "new generation product independently developed by Taiwan."
However, when users started asking the chatbot some particular questions, it gave unexpected answers. Upon asking which nationality it had, the bot stated it was from China and that Taiwan is part of China. Asked to name the national anthem, it replied "The March of the Volunteers" – China's communist anthem.
In response to these issues, Academia Sinica in Taiwan stated that the model experienced "hallucinations" and took down the test version of the model. According to a report by RFA, party lawmaker Fan Yun commented on that the AI issue was "an information security issue and an issue of cognitive warfare." Meanwhile on Chinese social media, the story caused some banter, and people humorously praised the AI model for staying true to its alleged Chinese roots.
What's Popular
The latest buzz in arts, marketing & pop culture
Bad at reading maps? Baidu's got you covered | Baidu has been getting a lot of traction this week as it launched its "Prompt the World" flagship event at Beijing's Shougang Park on October 17, where it unveiled multiple AI-native applications.
It was its first offline event since Covid-19, and a much-anticipated one since the tech giant announced its ambitious plan to reconstruct all of its products with AI-native thinking. Apart from announcing its new Ernie Bot 4 (文心大模型4.0), which allegedly is no longer inferior in performance compared to Open AI's ChatGPT, and its renewed Baidu Wangpan (Baidu Cloud Drive) and other products, the announcement of its AI-native map powered by Ernie was especially well-received as "the world's first artificial intelligence map" (#全球首个AI原生地图即将面世#, Weibo hashtag received 23+ million views).
The AI map comes with a personalized digital human image and is equipped with natural language interaction capability, offering flexible answers that claim to mimic "real human communication," promising to enhance travel and decision-making efficiency. As the map learns as you go, it will also get to know you and predict where you're going and which road to take. Even those who are bad at using other (digital) maps and navigation apps should be able to use it effectively. The application will be available on the market before the end of the year.
What's Memorable
Best reads from the archive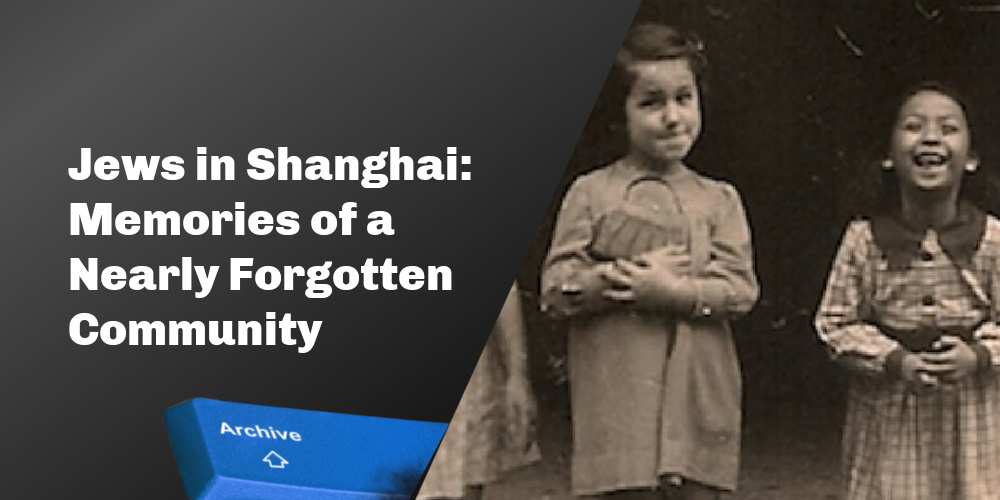 Shanghai's Jewish history | In light of this week's surge of anti-Semitic sentiments on Weibo, we've selected this pick from our archives which highlights a very different perspective on Chinese-Jewish relations and the shared Chinese-Jewish history. As modern buildings mushroom and old neighborhoods disappear, the traces of Jewish history are fading in today's Shanghai. But the past decade a seen a series of initiatives, such as a Jews in Shanghai musical and the launch of a Shanghai Jewish diaspora website, to keep the memories of China's Jewish heritage more alive than ever. This is a very short history of Jews in Shanghai and how their history is remembered in 21st century China.
Read more
Weibo Word of the Week
The catchword to know
"Reverse Consumption" | Our Weibo Word of the Week is "反向消费" (fǎnxiàng xiāofèi), meaning 'reverse consumption.'
As China's biggest online shopping festival is coming up on 11.11 (Single's Day), with pre-sales starting soon, the concept of Chinese young people engaging in 'reverse spending' or 'reverse consumption' – also known as 'rational consumption,' – became a hot topic on Weibo this week, with one related hashtag attracting over 380 million views (#年轻人开始反向消费了#).
'Reverse consumption' is a recent trend that is especially popular among Chinese young people, and that is all about pursuing sustainable and cost-effective products instead of focusing on consuming for the sake of buying brands or spending money. The trend does not necessarily suggest a focus on cheap products, but rather a refusal to celebrate consumerism and overpay for products that lack value for the price.
Some Weibo users view this trend as a reaction to the constant shopping festivals and the pressure on young people to keep buying more in the thriving Chinese e-commerce market, leading to increased luxury consumption. As consumer attitudes gradually begin to change, young people no longer simply believe that "expensive means good," and are now being more rational in their shopping behavior that is more about 'value for money.'
Chinese companies are responding to this trend. For instance, JD.com has themed this year's online shopping festival around "Truly Affordable," assuring customers of the best prices and a promise not to overcharge. Tmall is also adjusting to changing consumer sentiments and buying behavior by offering ways to save money on purchases and introducing a one-click price guarantee. This means that even if sellers fluctuate their prices during the festival, buyers will receive a refund for the price difference if they notice a drop in the price of an item they've already purchased.
This is an on-site version of the Weibo Watch newsletter by What's on Weibo. Missed last week's newsletter? Find it here. If you are already subscribed to What's on Weibo but are not yet receiving this newsletter in your inbox, please contact us directly to let us know.
Weibo Watch: Doing Homework at the Hospital
Much lies behind the image of Chinese kids doing their homework in hospitals. We discuss that powerful image, the latest film about Zhang Guimei, the Three Subject Dance, and the Weibo hashtags to know.
PREMIUM NEWSLETTER | ISSUE #19
This week's newsletter:
◼︎ 1. Editor's Note – Homework at hospitals
◼︎ 2. What's Featured – A closer look at the featured stories
◼︎ 3. What More to Know – Highlighting 8 hot topics
◼︎ 4. What Lies Behind – Observations beyond the headlines, by Miranda Barnes
◼︎ 5. What's Noteworthy – Much ado about fried eggs
◼︎ 6. What's Popular – Shaoxing opera draws in a new kind of audience
◼︎ 7. What's Memorable – One year since the 'White Paper Protests'
◼︎ 8. Weibo Word of the Week – "Subject Three Dance", a viral hit
Dear Reader,
'What is this mysterious illness coming from China?' 'I heard Chinese hospitals are filled with kids?' 'Are face masks mandatory again?' 'Is the Health Code coming back?' Over the past two weeks, while I was lying in bed with a fever of 39 degrees, I received numerous messages from non-Chinese friends expressing concern about images circulating online showing parents and their sick kids lining up in Chinese hospitals. For some, these scenes evoked memories of the early days of the pandemic and worries about an unknown virus.
While attracting global attention, the recent surge in China's respiratory illnesses even prompted the World Health Organization to request more information from China about the clusters of pneumonia in children. Chinese health authorities reported no detection of unusual or novel pathogens. This current wave, occurring as China enters its first full winter season since the end of its 'zero Covid' restrictions, appears to be a mix of Mycoplasma infections, influenza, Covid-19, Norovirus, and Adenovirus. Coughs, colds, and fevers are notably affecting school-aged children.
A particular image that went viral recently showed Chinese school children doing homework while hooked up to an IV in the hospital. To some on the X platform, the image seemed so bizarre that they questioned its authenticity, suggesting it was fake or AI-generated. The English-language state media outlet SHINE (Shanghai Daily) clarified in one of its recent articles that the image was, in fact, real, and that study areas at some hospital infusion centers have been around since at least 2019.
However, that particular article, titled "AI-generated? Photo of Chinese students doing homework in hospital stirs X debate" was later taken offline and now leads to a 404 page.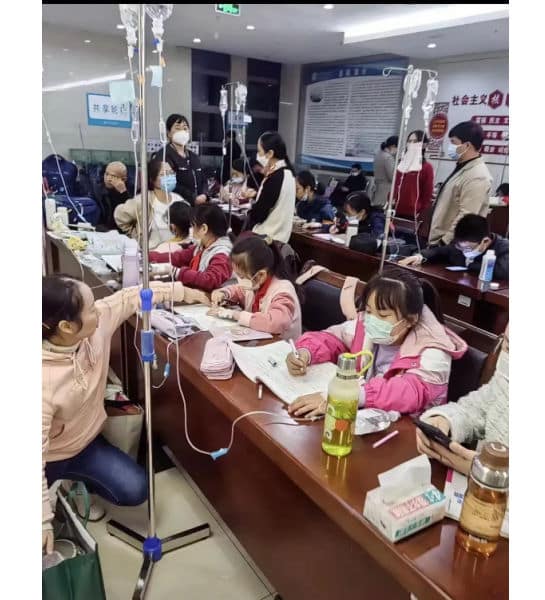 Perhaps the disappearance of the article reflects the discomfort surrounding the scenes of Chinese schoolkids doing homework at hospitals. For many, seeing children in hospitals is already disheartening, but the sight of them doing homework in that setting –gasp– is the most dreadful thing they can imagine while also feeding into prejudiced ideas some foreigners may hold about life in China.
One thing I noticed about those messages I received about the images and videos depicting the surge in respiratory illnesses in China is that many people, especially those speaking from a European perspective, assume that children receiving IV fluids at the hospital must be seriously ill. The idea of letting such children do their homework is simply inconceivable.
In reality, it doesn't necessarily take much to receive IV fluids in many Chinese hospitals or clinics. Unfortunately, part of China's healthcare culture involves a profit-driven approach that can lead to over-prescriptions, excessive antibiotic use, unnecessary admissions, and the administration of intravenous fluids. Coupled with patients' preference for hospital-based services and widespread expectations that IV infusions will make them feel better and speed up recovery, it's not surprising that the practice of administering IV therapy has become routine among Chinese patients, even when their symptoms are mild.
Despite the prevalence of IV use and the many concerned parents who (partly also due to a lack in General Practictioners) are quick to take their sick kids to hospitals and clinics, the image and news articles of children doing their homework in hospitals also triggered discussions on Chinese social media.
The main point of discussion was not that the kids were too ill to do their homework nor that it was bizarre (many people actually praised local hospitals for setting up special study corners); the main focus was how these images embodied the concept of nèijuǎn 内卷, "involution."
This buzzword has been generating discussions on Chinese social media for years now, and represents the competitive circumstances in academic or professional settings in China where individuals are compelled to overwork because of the standard raised by their peers who appear to be even more hardworking. One popular slogan used by a Chinese cram school showed that this societal rat-race already starts at a very young age: "If you come to us, we will train your kids, if you don't come to us, we will train the competitors of your kids."
Chinese clinics and hospitals offering special study rooms or homework corners for kids are actually also part of this 'rat race.' One hospital in Nantong, Jiangsu, recently opened up its brand-new study corner in the IV area (输液区一角"学习区"). A spokesperson argued that the hospital does not encourage parents to let their sick kids do homework at the hospital while hooked onto an IV. Still, without such spaces, kids would end up doing homework on floors and in dimly-lit hallways, creating a messy situation and making them even more uncomfortable.
Similarly, schools in Beijing have clarified that students who are ill are not required to finish their homework. Parents have also voiced their opinions, saying they don't want their kids to do school work when they are ill, but the pressure is simply too much to avoid it.
Much lies behind the image of Chinese kids doing their homework at a hospital, but there's also a lesson in how quickly people jump to conclusions without understanding the context. While that powerful image is interpreted differently in various contexts, one thing most people seem to agree on is that it's never a bad idea to take things slow when feeling ill, especially for kids who could use a break.
As I pour myself another hot water with honey and ginger, I hope you also take care of your health during this cold and flu season and remember to take a pause from the everyday rat race, no matter your age or location.
Best,
Manya
What's Trending
A closer look at the top stories
1: The Challenges of an Ordinary Chinese Couple | Two years after they first started sharing their story on Chinese social media, millions of netizens are engrossed in the struggles of the Chinese young parents Li Jun and Liang Liang, whose journey of starting a family and buying an apartment in the city at a time of economic downturn turned into an emotional rollercoaster.
Read more
2: Overwhelming Success of a Haidian Food Vendor | A Beijing food vendor, affectionately known as 'Auntie Goose Legs,' has become a viral sensation after becoming super popular among the city's student community. However, this beloved 'auntie' has caused quite a commotion recently after relocating her stall, triggering debates among local students over which university she truly 'belongs' to.
Read more
3: Hu Xijin and Others Discuss Dutch Politics | The Dutch general elections on Tuesday, November 2022, resulted in a victory for the right-wing Freedom Party (PVV). The party, established in 2006, is led by the 60-year-old Dutch politician Geert Wilders who is known for his outspoken populist rhetoric and anti-establishment sentiments. On Chinese social media, the Dutch election outcome became a topic discussed by some well-known bloggers.
Read more
4: Hospitals Flooded during Wave of 'Flu' Cases | Recent discussions on Chinese social media platforms have highlighted a notable surge in flu cases. The ongoing flu season is particularly impacting children, with multiple viruses concurrently circulating and contributing to a high incidence of respiratory infections. Among the prevalent respiratory infections affecting children are Mycoplasma pneumoniae infections, influenza, and Adenovirus infection. The spike in flu cases has resulted in overcrowded children's hospitals in Beijing and other Chinese cities. Parents sometimes have to wait in line for hours to get an appointment or pick up medication.
Read more
What More to Know
Highlighting 8 hot topics
◼︎ 1. "OLD FRIEND OF CHINA" KISSINGER DIES AGED 100 | The death of the 100-year-old Henry Kissinger made international headlines this week. In China, the former US Secretary of State is mostly remembered as "an old friend" of the country. His lifelong connection to China started in 1971, when he traveled to Beijing for a private meeting with Premier Zhou Enlai to plan the details of the significant and groundbreaking visit by President Nixon, which eventually took place in February 1972. Kissinger would eventually visit China over a 100 times, even after his retirement. His last visit to China took place in July of 2023, when he attended a meeting with President Xi Jinping. This week, Xi sent a condolence message to President Biden and extended sincere condolences to Kissinger's family. Kissinger's book On China is still a much-read classic in China.
Besides grieving over the death of Kissinger, Chinese netizens also mourned the loss of another American this week, namely Charlie Munger. The legendary investor, who had many fans in China, died at the age of 99. (Weibo hashtag "Kissinger Passes Away" #基辛格逝世#, 680 million views).
◼︎ 2. GETTING FINED IN SICHUAN'S PUGE | In November, the leaders of a village in Puge, a county in southern Sichuan Province, sparked heated debates by introducing new regulations. According to these rules, local residents could potentially face fines for maintaining a 'dirty and disordered' ('脏乱差') living environment. Examples of offenses include leaving spider webs in the home, having an untidy bed, or neglecting to do the dishes. The fines range from 3 yuan to 30 yuan ($0.42-$4.20). While some commenters believe that these regulations reflect the village's attempt to promote cleanliness and order, an online poll revealed that the majority of respondents disagree with the idea of local village leaders imposing fines for personal messiness. (Weibo hastag "Place in Sichuan Gives 10 Yuan Fine for Not Folding Blanket" #四川一地规定不叠被子罚10元#, 140 million views).
◼︎ 3. VISA-FREE CHINA TRAVEL FOR 5 EU COUNTRIES + MALAYSIA | On November 24, China's Foreign Ministry announced that, starting from December 1st 2023, individuals holding ordinary passports from France, Germany, Italy, the Netherlands, Spain, and Malaysia can enjoy visa-free entry to China for business, tourism, family visits, and transit, as long as their stay does not exceed 15 days. This initiative, which aligns with China's broader efforts to boost tourism and promote international exchanges, will continue until November 30, 2024. On Weibo, many netizens expressed disappointment that the visa-free travel regulation was unilateral; Chinese travelers still need a visa to enter these countries. (Weibo hashtag "China Tries Out Visa-Free Policy for France, Germany, Netherlands, Italy, Spain, and Malaysia" #中方将对法德意荷西马六国试行免签政策#, 110 million views.)
◼︎ 4. CIVIL SERVANTS EXAMS | The yearly national public servant exams in China began last Sunday. With over 3 million candidates, this year marks a historically high number of candidates who are vying for the available 39,600 job openings in central government agencies and affiliated institutions – twice the amount of positions that were available in 2019. (Weibo hashtag "Average of 77 People Competing for One Position for 2024 National Exam" #2024国考平均约77人竞争一岗位#, 34 million views).
◼︎ 5. PINDUODUO'S 11-11-6 WORK SCHEDULE | As news circulated on November 29 that Pinduoduo, the Chinese online retailer, was on the verge of surpassing Alibaba as China's most valuable e-commerce firm (spoiler: Alibaba remained the largest by day's end), discussions about the company's demanding work schedule gained traction on Weibo. According to insiders, employees are required to follow an "11-11-6" work system: start work at 11:00 a.m., get off at 11:00 p.m., and work six days a week. Sometimes they allegedly also work overtime until the early hours of the morning, making 70-hour work weeks. The harsh work culture at Pinduoduo already triggered national debates in 2021 after the sudden death of a 22-year-old female employee. (Weibo hashtag "Pinduoduo Work System" ##拼多多 工作制##, 50.9 million views).
◼︎ 6. COTTI COFFEE GOES TEA CAT | Cotti Coffee (库迪咖啡), founded by Charles Lu and Jenny Qian, former Luckin Coffee executives who departed in 2020, has expanded to over 5,000 locations across more than 300 cities in five countries. The brand gained attention last week with the announcement of its entry into the tea market. Starting from January 2024, Cotti is set to unveil its Milk Tea brand "Tea Cat" (茶猫), which is now in its pilot store testing phase. Given Cotti's remarkable growth over the past 2 years, we can anticipate a surge in the number of 'Tea Cat' outlets in Chinese cities in the near future. (Weibo hashtag "Cotti Coffee Marches into the Tea [Industry]" #库迪咖啡进军奶茶#, 42,5 million views).
◼︎ 7. CHINESE BILLIONAIRE BUSINESSMAN REUNITED WITH SON | On December 1st, Jie Kefeng (解克锋), a wealthy Chinese entrepreneur from Hebei who had offered a million yuan reward to find his missing son, Jie Qingshuai (解清帅), finally reunited with him after 25 years. Jie Kefeng and his wife held a thank-you banquet on December 2nd, which attracted considerable attention online. Jie Qingshuai, the couple's second son, was abducted in 1998 when his mother left him at home to run a quick errand. The couple never gave up on finding their son and finally, through the help of anti-child trafficking authorities and technology, they found their son, who was sold by human traffickers as a child. The people responsible for his kidnapping have since been arrested. (Weibo hashtag: "Billionaire Family Throws 26th Birthday Party for Abducted Son" #亿万富翁全家为被拐儿子补过26岁生日#, 32.2 million views).
◼︎ 8. YANG MING'S LOVE STRUGGLES | The renowned Chinese basketball player and head coach of the Liaoning Flying Leopards, Yang Ming (杨鸣), took center stage on Chinese social media this week due to rumors about his divorce from his wife Tang Jialiang, with whom he has two children. Despite Yang Ming being a prominent figure in the sports realm rather than in the Chinese entertainment circle, the private aspects of his life, particularly his romantic relationships, continue to captivate netizens who have been following the gossip surrounding the handsome coach for years. This heightened interest is fueled by past speculations of Yang Ming being involved with a female college student. His current romantic interest supposedly is a 45-year-old music teacher. (Weibo hashtag "Exposed: Yang Ming Divorced" ##杨鸣被曝离婚##, 430 million views).
What Lies Behind
Observations beyond the headlines, by Miranda
Discussions over 'True Feminism'
Beyond the Clouds (我本是高山) is a biographical film that premiered in China on November 24. Directed by Zheng Dasheng (郑大圣) and Yang Jin (杨锦), the film portrays the life of Zhang Guimei (张桂梅, 1957), a nationally renowned female principal who manages a girls' school in the impoverished Huaping County, Lijiang, Yunnan province.
As a teacher in Huaping County, Zhang noticed many girls dropping out of school, forced into marriage or work. In many underprivileged areas of China, where sons are often favored over daughters, girls' education takes a hit when finances are tight. Driven by her commitment to the higher Communist cause and the belief in the pivotal role of female education in shaping the nation's future, Zhang established the first free girls' school in China in 2008 with the help of donations. Over the past 15 years, this school has sent over 2000 girls to universities, setting them on diverse career paths.
Over the past decade, Zhang Guimei's selfless work has been praised by the people and recognised by the authorities. In 2021, she even received a medal from Xi Jinping for her lifelong dedication to girls' education in rural China, precisely where women's emancipation is most crucial. Despite her popularity as a feminist championing girls' education in China, the film has faced criticism for distorting elements of her story.
For instance, the film portrayed Zhang's motivation to sustain the school as a personal response to mourning her husband's early death. Feminist supporters of Zhang argue that this narrative transforms her commitment to a higher cause into a personal and romantic motive: 'Can't she just be doing this because she believes in the importance of female power? Why does everything have to be motivated by a man?' they challenged.
Another point of discussion is how the film portrays female students skipping school to go shopping or hang out at internet cafes. Many commenters argued that this is far from the reality, "do you know how much these girls value their opportunity to continue school? Why do you portray them like that?" Another reason why some argued the movie was actually not supporting the feminist cause is how it changed a real story relating to an abusive alcoholic father into one about an alcoholic mother instead. Outraged, some fans of Zhang's work see these kinds of seemingly trivial changes as an attack on Chinese women, going against the nature of Zhang's lifework.
Although Chinese state media is promoting Beyond the Clouds through online platforms and news articles, the voices criticizing the adaptation will not be silenced. While official channels mostly emphasize how Zhang is a true communist, many of her fans mostly see her as a true feminist – and they vehemently resist any attempts to frame Zhang or her story within a patriarchal narrative.
What's Noteworthy
Small news with big impact
Much Ado About Fried Eggs
Mao Anying, Chinese military officer and the son of Mao Zedong, died on November 25 in 1950. Every year, there are some sensitivities surrounding this date because of fried egg rice. One part of Mao Anying's death that has become an ongoing, urban-legend-kind-of online story is that he supposedly disobeyed army rules and cooked egg fried rice at the Chinese headquarters in the North Korean battlefield. The smoke of the fire supposedly alerted the enemy and led to the bombing in which he would lose his life. The anniversary of Mao Anying's death has therefore come to be mocked and celebrated by some netizens as "Egg Fried Rice Day" (蛋炒饭节) or "Chinese Thanksgiving" (中国感恩节), since it's close to the American Thanksgiving.
A few years ago, the sensitive nature of this meme became clear when Chinese celebrity chef Wang Gang (王刚), with many social media followers, uploaded a video on how to prepare Yangzhou-style fried rice. As described by Dennis E. Yi (2020), the chef was accused of "humiliating China" due to the alleged – and perhaps unintentional – connection to Mao Anying.
This year, Wang Gang once again found himself apologizing for sharing an egg fried rice tutorial around the anniversary of Mao Anying's death, sparking allegations of disrespect towards Mao Zedong's son. As this marked the third instance of Wang Gang facing backlash over fried rice, he has now pledged to refrain from making egg fried rice in the future ("作为厨子,以后再也不做炒饭"). Relevant hashtag pages have since been removed from Weibo.
If you want to know more about a renewed focus on Mao Anying in Chinese online media, where official voices communicate why – and in which way – Mao Anying needs to be remembered by the Chinese people, do read this feature article we published in 2022.
Read more
What's Popular
The latest buzz in arts & pop culture, by Ruixin
Why Shaoxing Opera is Popular Among Chinese Youth
Yue opera (越剧), also known as Shaoxing opera, is a Chinese opera genre that originated in Zhejiang Province and is particularly popular in Shanghai. Although Chinese opera is generally mostly loved by China's older generations, new adaptations of classic plays or films featuring a fresh generation of opera performers have now also generated a buzz among China's younger audiences.
Recently, it's Yue opera New Dragon Gate Inn (新龙门客栈) that has gone viral, featuring six actresses (they also play the roles of men) of the Zhejiang Xiaobaihua (小百花) troupe. The play is actually an adaptation of the 1992 martial arts film. One actress in particular has become popular online for her cross-gender acting (女扮男装), namely Chen Lijun (陈丽君), who plays the role of Jia Ting. She joined the Xiaobaihua troupe in 2013, right after her graduation.
The online succes of this show (and other ones, including Butterfly Lovers 梁祝) and their performers has led to a run on opera tickets and has cultivated a new kind of theater audience. New Dragon Gate Inn is performed at the Butterfly studio theater in Hangzhou (杭州蝴蝶剧场) and uses immersive theater styles to break away from traditional forms of opera performance. If you want to grab a ticket, you'll have to really try since you'll join thousands of others who are eagerly waiting to attend one of the shows in real life.
What's Memorable
Best reads from the archive
One Year Since White Paper Protests
Exactly one year ago, news of protest movements popping up in various cities across China went buzzing around the internet. After enduring months of stringent Covid measures, students in Nanjing and Xi'an gathered around campus and held up blank paper sheets in protest of censorship. Their white papers said what could not be expressed, and so the movement was soon dubbed the "white paper protest" or the "A4 Revolution."
Unrest and protests happened from Urumqi to Nanjing, from Beijing to Shanghai. People sang the 'Farewell' song (送别) to commemorate those who died in the tragic 11.24 Urumqi fire and who spent the last 100 days of their lives in lockdown. Online, people used various hashtags and posted clips of 'Do you Hear the People Sing' from Les Misérables.
But while news of the protests made global headlines, the terms "outside forces" or "external forces" (外部势力) increasingly popped up in Chinese social media discussions. Boosted by nationalistic bloggers, the idea that foreign forces were meddling in China's affairs became more prevalent as a way to explain the sudden wave of protests . Read more in this newsletter's pick from our archive below.
Read more
Weibo Word of the Week
The catchword to know
"Subject Three" | Our Weibo Word of the Week is "Subject Three" (kē mù sān 科目三).
Recently, 'Subject Three' has become a buzzword on Chinese social media in connection with a viral dance, the Subject Three Dance (科目三舞蹈). From Douyin to Bilibili, the dance is super popular online and is performed by various people, from online influencers to virtual vloggers. The dance has become especially big since the renowned Chinese hotpot chain, Haidilao, allowed its staff to perform this viral dance for diners upon request, leading to amusing and occasionally awkward situations. On November 28, one customer even turned violent when he found the Subject Three performance at a local Huai'an restaurant too noisy and annoying.
The term 'Subject Three' allegedly first gained traction in 2022 or early 2023 following a video showcasing the jubilant atmosphere of a Guangxi wedding. Subsequently, 'Guangxi Subject Three' (广西科目三) became a popular reference, originating from a humorous joke. Although traditionally associated with the third part of a driver's license exam, people playfully suggested that Guangxi locals undergo three significant "exams" in their lifetime: one for singing folk songs, one for mastering the art of slurping rice noodles, and the third for dancing ("广西人一生中会经历三场考试,科目一唱山歌,科目二嗦米粉,科目三跳舞").
By now, the dance has transcended its original context of Guangxi weddings and Haidilao staff dances, as it's turned into a true social media hype where people create and share videos of themselves and others performing the Subject Three Dance, which is characterized by playful and exaggerated movements accompanied by the background music of "江湖一笑" (Jianghu Smile), making it entertaining, humorous, and, most of all, meme-worthy.

This is an on-site version of the Weibo Watch newsletter by What's on Weibo. Missed last week's newsletter? Find it here. If you are already subscribed to What's on Weibo but are not yet receiving this newsletter in your inbox, please contact us directly to let us know.
Weibo Watch: Ghost Scales
From national pride to social distrust, these are the most noteworthy trends and topics dominating Chinese social media recently.
PREMIUM NEWSLETTER | ISSUE #18
This week's newsletter:
◼︎ 1. Editor's Note – Ghost Scales
◼︎ 2. What's Featured – A closer look at the featured stories
◼︎ 3. What More to Know – Highlighting 8 hot topics
◼︎ 4. What Lies Behind – Observations beyond the headlines, by Miranda Barnes
◼︎ 5. What's Noteworthy – Lu Xun turning in his grave?
◼︎ 6. What's Popular – China's very own 'pride walk'
◼︎ 7. What's Memorable – The school in Changzhou that made students ill
◼︎ 8. Weibo Word of the Week – "Toxic Fangirling", by Ruixin Zhang
Dear Reader,
'Ghost scales' have been all the talk on Weibo lately. The term, guǐ chèng (鬼秤), refers to inaccurate scales used to cheat customers by providing less than the actual quantity for the price paid.
The topic of ghost scales came up when a well-known Chinese blogger recently exposed how many sellers in Dalian markets were actually using deceptive weighing scales, duping ordinary customers buying their vegetables, fruit, or seafood. On Weibo alone, one related hashtag page garnered nearly 250 million views.
Despite local authorities stepping up to investigate and punish fraudulent sellers tampering with scales, the incident ignited anger beyond Dalian. People questioned why it took an internet influencer to advocate for consumer rights and why there aren't better regulations in place to combat fraud. Rather than blaming the fraudulent sellers, online anger was mostly directed at the systems allowing them to operate.
The ghost scale story does not stand by itself. Much smaller stories have gone viral before, such as the customer who discovered that the 200g of tripe he ordered for 72rmb ($11) at a local Haidilao restaurant was actually only 138g. A related hashtag received over 260 million views on Weibo in 2021. "Next time I'm bringing my own scale," some commenters replied.
Is it much ado about nothing? Not really. Although the stories differ, the common theme behind many of these online discussions is distrust. Recently, various topics highlighting low societal trust have trended.
One revolved around the Heilongjiang gym collapse. Three Chinese middle school students died in November when their gymnasium roof collapsed after heavy snowfall. It was the second gym collapse incident in the province this year. Netizens argued that better inspections, quality checks, and stricter public safety regulations could have prevented the tragedy.
Another example is the recent controversy about fake birthing certificates being sold by a hospital in Xiangyang for use by human trafficking brokers. The head of the hospital and five others were soon detained after the story, exposed by a Chinese investigative vlogger, went viral. Many questioned how such a thing could still happen in 2023.
The recurring idea in these online discussions is that existing constructions at various levels in Chinese society allow such practices to happen, with people supposedly covering for each other and turning a blind eye during inspections. While a market might have actual 'ghost scales,' similar deceptive operations could occur at a hospital management level, at a construction site, or within a coal mine company.
A few years ago, the development of China's Social Credit System was often portrayed as a gloomy sci-fi storyline by many Western media outlets. Even today, there are many people who think that China has a system in place as depicted in the American Black Mirror series, which shows a dystopian society where people are judged by a numeric rating given to them by their interactions with other people.
Many people and media outlets not only misunderstood the Chinese 'Social Credit System'; they also overlooked the historical, social, and culturally rooted factors that play a crucial role in understanding how such a system, designed to enhance societal trust, could actually be embraced. (For accurate and nuanced perspectives on the social credit system, Vincent Brussee has just published a new book that delves into these complexities.)
In making a distinction between 'high-trust societies' and 'low-trust societies,' Francis Fukuyama (1995) classified China as a 'low trust society,' where people have very little trust in people outside their family or close groups. Though not everyone agrees with Fukuyama, the idea of being cheated or becoming a victim of fraudulent practices regularly trends on China's internet. Small incidents represent more significant issues.
After the Dalian ghost scale incident went viral, multiple people took the initiative to test scales in their own neighborhoods. A student from Henan University, a livestreamer from Shenyang, a reporter from Nanchang—each contributed to exposing local street vendors or restaurant owners using ghost scales to cheat customers.
The domino effect of ghost scales being exposed demonstrates the powerful dynamic of Chinese social media. Untrustworthy individuals lacking integrity can be swiftly exposed, and their fraudulent businesses crumble within hours. Chinese influencers, vloggers, and commentators play a major role in addressing various social issues, from scamming sellers to corrupt doctors, and actually make a change.
Some netizens recently commented that their local market sellers would not dare to use ghost scales anymore. In the meantime, however, while the fight for consumer rights and social injustice continues, it could never hurt to bring your own trustworthy scale.
Miranda Barnes and Ruixin Zhang have contributed to this week's newsletter.
Best,
Manya (@manyapan)
* Francis Fukuyama. 1995. Trust: The Social Virtues and the Creation of Prosperity. New York: Free Press
What's Trending
A closer look at the top stories
1: National Pride and Shifting Dynamics in Sino-American Relations | The Xi-Biden meeting was one of the biggest topics of the week. After the much anticipated face-to-face talk in California, one noteworthy detail quickly hit Weibo's top trending topics, namely Biden's apparent admiration for Xi Jinping's Hongqi car. The recognition of the decades-old Chinese Hongqi brand by a U.S. president was a promotion-worthy moment for Chinese official channels, resonating with netizens.
Read more
2: 'Sleepy Joe' and 'Revive the Country' Biden | From positive portrayals by official channels to online banter and critical voices discussing Biden's global policies and his health, there are various sentiments on Chinese social media surrounding US President Joe Biden. At a time when anti-American sentiments are on the rise, some netizens view Biden as embodying the negative stereotypes prevalent on social media about the United States or the Western world in general. But in the days leading up the Xi-Biden meeting Chinese official channels are promoting more positive portrayals of the U.S. leader.
Read more
3: The Sun-Yat Sen Hospital Controversy | Several medical workers who all worked at the same renowned oncology lab in Guangzhou recently were diagnosed with cancer. Although there are many concerns about whether or not their cancer is related to their working environment, the primary source of public outrage revolves around the handling of the controversy by the affiliated hospital.
Read more
4: Douyin Introduces Paywalls | The introduction of a Douyin novel feature, that would enable content creators to impose a fee for accessing their short video content, has sparked discussions across Chinese social media. Although the feature would benefit creators, many Douyin users are skeptical. Would this be a new beginning for the Chinese TikTok, or would it be the end?
Read more
What More to Know
Highlighting 8 hot topics
◼︎ 1. TAOBAO CRASHES DURING SINGLE'S DAY SALES | China's largest online shopping event of the year, Single's Day, took place on November 11 for the 15th time. Despite concerns over China's economy, Chinese e-commerce giants Alibaba and JD.com once again saw record sales, although, similar to last year, they did not release their full results. One topic that generated enormous attention on the day itself was Taobao, Alibaba's e-commerce platform, becoming unreachable before the end of the day, leaving millions of online shoppers clicking and refreshing as the platform kept crashing due to the surge in traffic. (Weibo hashtag "Taobao Down" #淘宝崩了#, 2.6 billion views).
◼︎ 2. SIMBA DOUYIN ACCOUNT BLOCKED | Earlier this month, Chinese famous Kuaishou livestreamer Simba (辛巴, real name Xin Youzhi) became a top trending topic after his Douyin account, where he had over four million followers, was banned. Although the official reason for his suspension was not explicitly stated, it reportedly related to the fact that Simba, among others, had scolded the Douyin platform. Simba, the king of Kuaishou, is known for getting into controversies and arguing with other livestreamers and companies. Now, he can add 'arguing with platforms' on his list as well. (Weibo hastag "Simba Douyin Account Banned" #辛巴抖音账号被封禁#, 390 million views).
◼︎ 3. MURDER IN MATSUDO | In the morning of November 9, Japanese police Matsudo discovered a woman covered in blood on the streets of the city's Kogasaki district. She was later pronounced dead at the hospital. The woman was a 33-year-old Chinese national who reportedly resided in the Japanese city. She was fatally attacked and beaten by two men in the early hours of the morning and was left to die in the streets in a pool of blood. (Weibo hashtag "Chinese Woman Murdered on Streets in Japan" #一中国女子在日本街头被杀害#, 350 million views, read more here)
◼︎ 4. CHINESE CROWDS CHEERING IN SAN FRANCISCO | Apart from the Xi-Biden talks and APEC in general, what caught significant attention on Chinese social media this week was the enthusiastic reception of Xi Jinping by Chinese crowds in San Francisco. On November 14, the day of his arrival in the US, flag-waving crowds gathered along Xi Jinping's route from the airport to the hotel. Chinese official media actively shared news about their presence, while protests critical of Xi and addressing human rights issues in China went unreported. In contrast, the pro-Palestine protests during APEC did receive media attention, highlighting a media bias in determining which public voices and flag-waving actions were deemed hashtag-worthy and which were silenced. (Weibo hashtag "Crowds of Chinese/Overseas Chinese Form Welcome Crowd in San Francisco," #华人华侨在旧金山组成欢迎人群#, 170 million views.)
◼︎ 5. CHINESE INTERNET CELEBRITY DROWNS | News about a Chinese national drowning in Bali became top trending on Weibo on November 9 when it was revealed that the 34-year-old man was the popular Chinese influencer Jhony Huang (仲尼), also known as XFJ or Huang Xiaofeng (黄小沣). The tragic incident reportedly occurred when Huang was swept away by waves and struck by a large wooden object while swimming with his wife at Batu Belig Beach during their vacation. His wife, the Ukrainian Karina Melynychuk, was also hospitalized but did not sustain serious injuries. According to local reports, Huang's lifeless body was discovered floating approximately 100 meters from the Petitenget Beach shoreline. (Weibo hashtag "34-Year-Old Chinese Male Drowns in Bali" #一名34岁中国男性在巴厘岛遇难#, 910 million views; "Jhony Drowns After Hit by a Large Log" #仲尼系遭大木头撞击溺亡#, 140 million views).
◼︎ 6. BIRTH CERTIFICATE SCANDAL | A hospital director and seven staff members are currently being investigated for reportedly selling counterfeit birth certificates for trafficked babies. The controversy emerged when a Chinese anti-human trafficking campaigner posted a video on Douyin, accusing Jianqiao Hospital in Xiangyang (襄阳健桥医院) of fabricating birth certificates and charging approximately 96,000 yuan ($13,165) for them. On social media, netizens expressed shock that such practices are still occurring in 2023, and there was surprise that the case was brought to light by a volunteer rather than being uncovered by authorities (Weibo hashtag "Xiangyang Announcement on Jianqiao Hospital Selling Birth Certificates Problems" #襄阳通报健桥医院贩卖出生证问题#, 27,8 million views).
◼︎ 7. FIRE IN SHANXI | A fire that broke out on the morning of November 16 in a coal firm office building in Lüliang, Shanxi province, claimed the lives of at least 26 people and resulted in 38 injuries. The blaze ignited in the four-story building containing offices and dormitories. The incident adds to a series of safety concerns in China's coal industry – the building in question is affiliated with the Yongju Coal Group (永聚煤矿), a mayor player in the region's coal mining sector. By now, 13 people related to the company, including executives, are facing criminal measures for their responsibility in the incident. (Weibo hashtag "Shanxi Yongju Coal Company Fire Claims 26 Lives" #山西永聚煤业火灾已致26人遇难#, 65 million views).
◼︎ 8. WOMAN SPENDS FORTUNE ON HOTPOT | A 32-year-old woman from Nanjing, China, grabbed attention on Weibo this weekend by revealing that she had spent nearly 270,000 yuan (over $37,400) at China's renowned hotpot chain, Haidilao, in the past nine years. The hotpot enthusiast, named Kong, joined Haidilao as a member in 2014, and in that time, she indulged in over 627 hotpot dinners. Occasionally, her cravings led her to visit the restaurant more than 12 times a week, even enjoying hotpot for breakfast. (Weibo hashtag "32-Year-Old Woman Spent 270k at Haidilao in 9 Years" #32岁女子9年花费近27万吃海底捞#, 150 million views).
What Lies Behind
Observations beyond the headlines, by Miranda
The Story of Li Jun and Liang Liang
In recent days, the challenges faced by an ordinary young Chinese couple who purchased an unfinished property have sparked extensive discussions on Chinese social media, shedding light on broader trends that lead some young people to seek an escape from the urban struggle and striving for a better everything (better housing, better jobs, better education) – they just want to "lie flat" (躺平) instead.
Last year, the couple, Li Jun (丽君) and Liang Liang (亮亮), first became popular on Chinese social media as they shared their journey of buying a property and building a life in Zhengzhou, Henan Province. They put a deposit on an off-planned apartment, eagerly anticipating its delivery in three years. Excited about their new home, they regularly updated their progress on Douyin, showcasing their savings efforts and monthly visits to the construction site.
However, after eight months, the developer faced financial issues, causing a halt in construction. In later videos, the couple appeared frustrated and disillusioned. Their daughter was born during this time, adding to the financial strain of rent and mortgage payments without a clear timeline for moving into their future home. Many others faced similar challenges. Authorities intervened, promising a delayed delivery. The initial contract included a 20,000 RMB ($2775) rebate for buyers, but the couple faced rejection and insults when demanding payment. In a recent altercation, the husband was beaten by developer personnel, and the wife's phone was snatched as she tried to record the situation.
Their Douyin videos reflected the emotional rollercoaster of an ordinary Chinese couple facing setbacks despite following the traditional path of education, hard work, marriage, saving, property ownership, and starting a family. They are one of thousands of millions of ordinary Chinese people, who give their best effort despite all the struggles. Many were asking, would their life have been different if they had decided to 'lie flat' instead? And who is to blame for the fact that, despite all of their hard work and commitment, their 'Chinese dream' is taken away from them?
What's Noteworthy
Small news with big impact
Lu Xun Turning in His Grave? | Lu Xun (魯迅, 1881-1936) stands out as one of China's most notable and influential authors of the twentieth century. This esteemed Chinese writer, essayist, and literary critic unexpectedly found himself at the center of China's social media discussions this week following an interview with his grandson, Zhou Lingfei (周令飞), during the Mao Dun Literature Award ceremony (茅盾文学奖) on November 17 in Wuzhen.
During the interview, Lu Xun's grandson was asked about his online and reading habits. In a light-hearted response, Zhou humorously shared that he spends approximately 90% of his time watching short videos and 10% of his time reading books. A related hashtag (#鲁迅孙子自称90%刷视频10%看书#) went viral on Weibo, amassing over 190 million clicks.
The topic received so much interest due to various reasons. For one, as Lu Xun is widely regarded as the greatest Chinese writer of this century, people would expect his grandson to also be a man of literary knowledge and wisdom – they simply did not expect him to say he scrolls apps like Douyin and Kuaishou on a daily basis. Another reason is that it underscores a broader trend where people spend more and more hours on their phone mindlessly scrolling videos instead of engaging in study and learning. While some criticized Zhou for his comments, others also praised him for being authentic, straightforward and honest, just like his grandpa.
What's Popular
The latest buzz in arts & pop culture, by Ruixin
Halloween Outfits Reflecting Social Trends | Since our last newsletter was all about What's on Weibo's 10-Year Anniversary, we'd still like to take a moment to reflect on the celebration of Halloween in Shanghai this year as it caused a frenzy on the Internet.
Rather than traditional Halloween themes, young people on Shanghai's Julu Road brought pop culture memes and social phenomena to life with their creative costumes. You could spot some dressed as the Lipstick King Li Jiaqi, who recently got caught up in controversy, or as "Dabai," the anti-COVID workers in protective suits. This playful and unconventional celebration received praise from netizens across China.
The debate about whether or not people should be celebrating Western festivals often surfaces on Chinese social media during Halloween. However, the massive street party in Shanghai seemed to silence the critical voices this year. It appears that they reached a consensus; this Halloween celebration isn't just about a Western festival, it's an opportunity to let loose and express bottled-up emotions in a spooky and festive atmosphere. Whether dressed as writer Lu Xun making a statement or portraying a mobile surveillance camera, everyone found a haven for unrestrained self-expression. A comment under a photo recreating a scene from "Farewell My Concubine" captured the spirit: "Shanghai's Halloween party has turned into China's very own pride walk."
With recent administrative rules turning Chinese New Year's Eve into a regular workday, many young people express that they no longer care about a festival's tradition and simply want to have some fun. One noteworthy viral video from Julu Road featured two guys dressing as legendary singers Feya Wong and Na Ying, performing a classic duet from the 1998 Spring Festival Gala. Netizens dubbed it the young generation's Spring Festival Gala – a celebration of fun and creativity where happiness is the main focus.
What's Memorable
Best reads from the archive
Changzhou Chemical Factory School Scandal | This week's archival pick revisits a significant incident from eight years ago that fueled public distrust. In 2016, a major controversy unfolded around a middle school in Changzhou, where almost 500 students fell seriously ill, some diagnosed with leukemia. The health issues emerged after the school relocated to a new area near a chemical factory in September 2015.
Upon investigation, it was revealed that air and water pollution from nearby chemical plants was the cause. The news triggered widespread anger and discussions on social media, with netizens questioning the contrasting facts that emerged. The incident brought to light not only broader concerns about environmental safety and public health in China but also underscored a deep-seated distrust between parents and schools, citizens and local authorities, and netizens and official media.
Read more
Weibo Word of the Week
The catchword to know, by Ruixin
"Toxic Fangirling" | Our Weibo Word of the Week is "辱骂式追星" (rǔmà shì zhuīxīng), which translates to "toxic fangirling" or "toxically rooting for someone."
In China's ever-evolving fan culture, the phenomenon of 'rǔmà shì zhuīxīng' (辱骂式追星, lit: 'abusive-style celebrity admiration') or toxically fangirling has recently become a trend. This term refers to a rather extreme way for fans to engage with their their idols. When pleased, they express intense love and support for their idols, but they can turn into abusive trolls targeting their idols when dissatisfied. This shift from love to aggression can be triggered by small things, like an unflattering photo or an unsatisfactory performance. Initially viewed as a departure from blind loyalty, this fan behavior has now turned somewhat toxic.
Recently, this term has sparked discussions likening this kind of online behavior to toxic parent-child relationships in Chinese society. The hashtag "Asian parents toxically rooting [for their children]" (#东亚父母辱追#) gained traction on Weibo. A top viral quote joked, 'My parents toxically root for me every day; as long as they're paying, they feel they can insult me all they want.' These discussions touched upon the issue of how many Chinese parents seem to follow a strict and demanding parenting approach, where children need to adhere to high standards and are only praised or acknowledged when high standards are met. If this is not the case, parents will scold or discipline their children in the name of 'love.'
Netizens interpret this 'toxic fangirling' phenomenon half ironically, half seriously, suggesting its origin may be rooted in the collective childhood trauma of Chinese fangirls. Similar to how a dragon-slaying warrior can become an evil dragon, traumatized children may choose to whip their loved ones into what they desire.
This is an on-site version of the Weibo Watch newsletter by What's on Weibo. Missed last week's newsletter? Find it here. If you are already subscribed to What's on Weibo but are not yet receiving this newsletter in your inbox, please contact us directly to let us know.