Coca Cola Chicken Wings Are Here! McDonald's China Introduces Cola Chicken on Its Menu
Add cola, add chicken, and it's a recipe for success.
Coca-Cola Chicken wings are so popular in China that McDonald's China, in collaboration with Coca Cola, has now added them to their menu.
It is one of those dishes everyone in China will know of, yet its origins are somewhat murky: Cola Chicken.
Cola Chicken (可乐鸡) is a sweet and sour cooking dish using cola, chicken, ginger, soy sauce, cooking wine, and Sichuan pepper as its main ingredients (the Chinese way).
Braised Coca-Cola Chicken wings are especially popular in China, combining Chinese style braising and Coca-Cola to create juicy and savory BBQ style wings (see recipe).
According to some, Cola Chicken comes from Jinan, Shandong, where a cook in a restaurant accidentally tipped over a can of Coca Cola into a chicken dish, after which he discovered the taste of the soda matched the simmering chicken.
Others allege two Chinese Coca Cola salespersons thought of the recipe first.
Another explanation states that 'Cola Chicken' was already made in Western countries, using tomato sauce as one of its main ingredients. The dish then became popular in Taiwan, where the tomato sauce was replaced by soy sauce.
Whatever its origins are: Cola Chicken is hugely popular in China. So popular, in fact, that McDonald's China announced on Weibo this week that it would add 'traditional cola chicken wings' to its menu.
The latest addition to the McDonald's China menu is a special collaboration between the Coca Cola brand and McDonald's.
"I love Mcdonald's, I love Coca Cola, I wanna try!",  commenters on Weibo say: "I absolutely love Cola Chicken wings."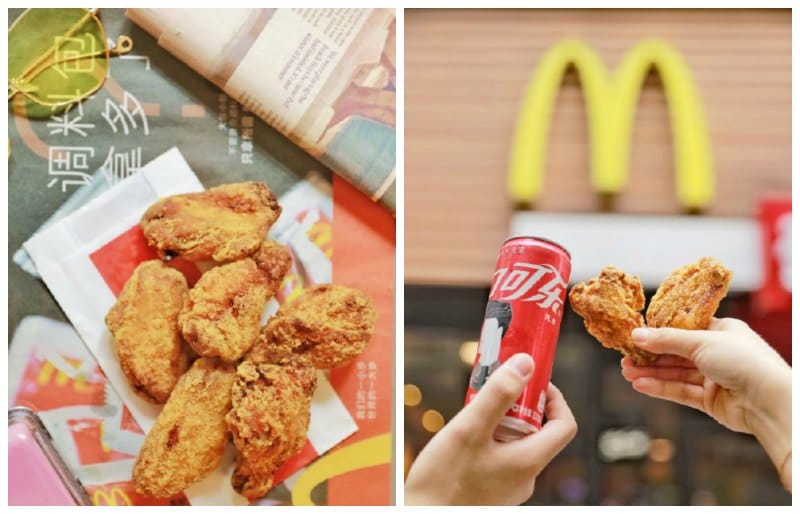 Although social media responses to McDonald's Cola Chicken have been very positive, some who have actually tried it out are less enthusiastic.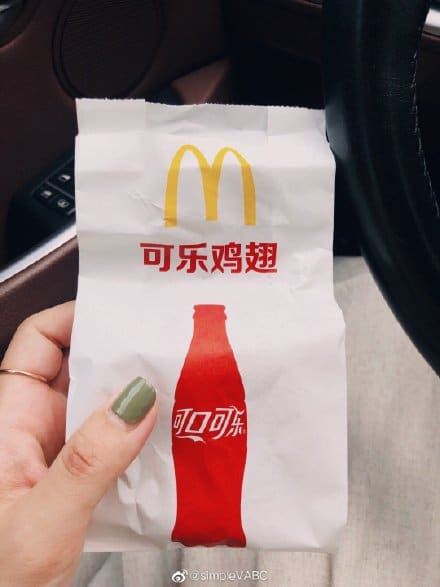 "I had them, but.. I actually didn't taste any cola flavor. Are we supposed to soak them in our coke first?" one disappointed netizen wonders.
Others also expressed similar sentiments, writing: "I am confused by how it tastes" and: "I think it tastes really weird, but I can taste the Cola in it!"
But others who tried it are very happy: "I loved them! While chewing, the skin of the chicken bursts open, giving you that feeling of a carbonated drink. And the chicken is slightly sour and sweet, with that hint of Coca Cola."
The Cola Chicken wings are not the only special additions to the McDonald's China menu, which also offers "Sichuan Spicy Double Chicken Burger," "Jumbo Milk Tea," "Taro Pie," and "Corn cups."
Earlier this year, Mcdonald's China also introduced a Japanese beef rice bowl to its main menu selections.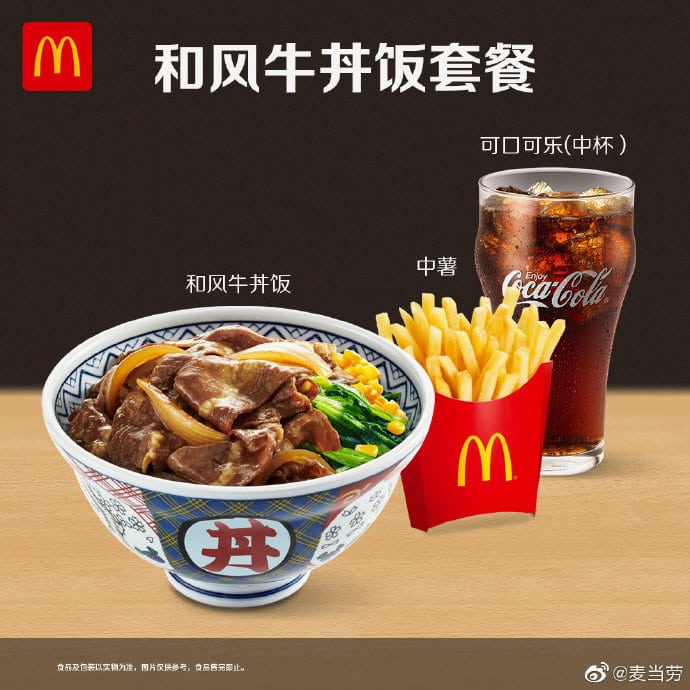 Many introductions to China's McDonald's menu have come and gone over the past few years. Whether Cola Chicken will be one of the items on the McDonald's menu that's here to stay is yet to be seen.
Also read: McDonald's Celebrates 26th Birthday in China
Also read: China's First Fast Food Restaurant
Also read: Coca Cola in China: "Not a Single Bottle of Coke Should Be Sold to Chinese"
Talking about Cola Chicken, a recommendation: the touching and funny short documentary (25 min) 'Cola Chicken' tells the story of the Chinese Chen Chen, who works as a tour guide in Spain, and dreams of opening up his own Cola Chicken restaurant one day:
By Manya Koetse
Spotted a mistake or want to add something? Please let us know in comments below or email us. Please note that your comment below will need to be manually approved if you're a first-time poster here.
©2019 Whatsonweibo. All rights reserved. Do not reproduce our content without permission – you can contact us at info@whatsonweibo.com
Famous Goubuli Restaurant Calls Police for Getting Roasted Online, Gets Kicked Out of Franchise Group
Goubuli Wangfujing shows how NOT to address a social media crisis.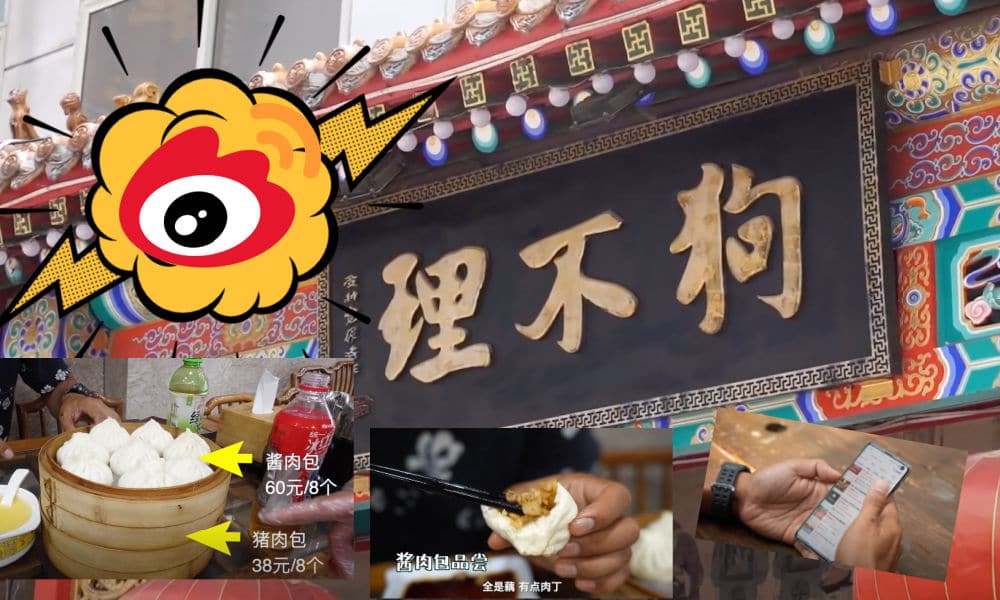 The well-known Goubuli Wangfujing restaurant just got a bit more famous this week. The branch, which specializes in steamed buns, is now not just known as one of Beijing's worst-rated restaurants, but also as a business that shot itself in the foot by handling a social media crisis the wrong way.
The famous Wangfujing main branch of Goubuli Steamed Buns (狗不理包子) is caught up in a social media storm since responding to a blogger's negative video of their restaurant by contacting the police.
The video, Goubuli's response to it, and the following consequences have hit the top trending topic lists on Weibo today.
Goubuli, sometimes transcribed as Go Believe, is a well-known franchise brand of steamed stuffed buns (baozi) from Tianjin that was founded in 1858. The brand now has more than 80 restaurants in mainland China, 12 of them in Beijing. Since Wangfujing is one of Beijing's most famous streets, the Wangfujing branch is popular with both foreign and Chinese visitors.
Gu Yue's "Visiting the Worst-Rated Restaurant" Video
The social media storm started on September 8, when Weibo blogger Gu Yue (谷岳) posted a video titled "Visiting the Worst-Rated Restaurant" ("探访评分最差餐厅"). Gu Yue is a travel blogger with over 1,7 million fans on Weibo.
In the video, Gu Yue starts by explaining he chose to visit Gubouli after searching for the restaurant that receives the lowest ratings in the Beijing Wangfujing and Dongdan areas on the super-popular Chinese mobile food app Dianping.
The blogger found that, out of the 1299 listed restaurants in the area, Wangfujing Goubuli Baozi was the worst-rated place. Ironically, the brand's name Gǒubùlǐ (狗不理) literally means 'dogs don't pay attention,' which makes the name 'Goubuli Baozi' sound like a place with stuffed buns that even dogs would not eat.
Complaining about the service, prices, and quality of food, many Dianping users rated the restaurant with just one out of five stars.
Gu Yue then sets out to visit the restaurant himself to see if Gubouli on Wangfujing really is as bad as Dianping users say. He orders some steamed braised pork dumplings, 60 yuan ($8.7) for 8, and regular pork dumplings, 38 yuan ($5.5) for 8.
The blogger concludes that Gubouli's dumplings are not worth the money: the dumplings are greasy, the dough is too sticky, and they do not have enough filling. Gu Yue's video also suggests that the restaurant's hygienic standards are not up to par, with loud coughing coming from the kitchen.
Gu Yue's video received over 97,000 likes and thousands of responses on Weibo, with many fans praising the idea of the blogger checking out the worst-rated restaurants.
Goubuli's Reaction Starts a Social Media Storm
The Wangfujing branch of Goubuli did not appreciate Gu Yue's video.
In an online statement on September 11, the branch accused the blogger of spreading lies about their restaurant and harming their reputation, and demanded a public apology.
Goubuli Wangfujing called the video "vicious slander" and stated they had contacted the police in relation to the matter.
The hashtag "Wangfujing Goubuli Responds to Netizen's Negative Video" (#王府井狗不理回应网友差评视频#) immediately went viral on Weibo, attracting some 430 million views.
Many Weibo users were outraged about the way the Goubuli branch handled the situation. "Aren't we even allowed to say if something is tasty or not?!" many commenters wondered, with others writing: "You are harming your own reputation!"
"Let's call the police over the quality of your food," others suggested.
There were also many netizens who commented that some Chinese Time-Honored brands, such as Goubuli, often only survive because of their history and fame rather than actually delivering good quality to their customers.
Following the major online backlash on its statement, the restaurant soon removed their post again. But the social media storm did not end there.
On September 15, the Goubuli Group issued a statement saying that it would directly terminate its franchise cooperation with the Goubuli Wangfujing branch over the incident.
With over 280 million views on its hashtag page (#狗不理解除与王府井店加盟方合作#), news of the franchise termination blew up on Weibo.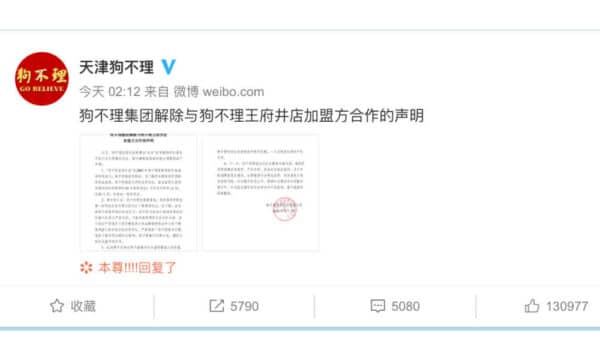 According to the latest Weibo reports on September 15, the Wangfujing Goubuli branch was closed for business on Tuesday (#狗不理包子王府井店门店关闭#).
"This is the power of clout," one person comments: "If it were not for the [Goubuli] restaurant's flawed marketing department, this would not have led to their closure."
"The restaurant has brought this on themselves. There's nothing wrong with posting a bad review."
Another person comments: "This is the first time I've seen a marketing department making something big out of something small, leading to their own closing."
Meanwhile, blogger Gu Yue says that he was not contacted by Goubuli, nor by the police. The social media controversy has only made him more popular.
"Gue Yue single-handedly crushed this restaurant," some say, appreciating how social media has increased the power of Chinese consumers to make or break a business.

Also read: Overview of the Dolce&Gabbana China Marketing Disaster Through Weibo Hashtags

By Manya Koetse
Follow @WhatsOnWeibo
Spotted a mistake or want to add something? Please let us know in comments below or email us. First-time commenters, please be patient – we will have to manually approve your comment before it appears.
©2020 Whatsonweibo. All rights reserved. Do not reproduce our content without permission – you can contact us at info@whatsonweibo.com.
Tianjin Restaurant Introduces "Meal Boxes for Women"
The special lunch boxes for women were introduced after female customers had too much leftover rice.
China's anti food waste campaign, that was launched earlier this month, is still in full swing and noticeable on China's social media where new iniatives to curb the problem of food loss are discussed every single day.
Today, the hashtag "Tianjin Restaurant Launches Special Female Meal Boxes" (#天津一饭店推出女版盒饭#) went trending with some 130 million views on Weibo, with many discussions on the phenomenon of gender-specific portions. The restaurant claims its special 'female lunch boxes' are just "more suitable for women."
According to Tonight News Paper (今晚报), the only difference their reporter found between the "meals for women" and the regular meals, is the amount of rice served. Instead of 275 grams of rice, the 'female edition' of the restaurant's meals contain 225 grams of rice.
The restaurant, located on Shuangfeng Road, decided to introduce special female lunch boxes after discovering that the female diners of the offices they serve usually leave behind much more rice than their male customers.
The restaurant now claims they expect to save approximately 10,000 kilograms of rice on an annual basis by serving their meals based on gender.
On Chinese social media, the initiative was heavily criticized. Weibo netizens wondered why the restaurant would not just offer "bigger" and "smaller" lunch boxes instead of introducing special meals based on gender.
"There are also women who like to eat more, what's so difficult about changing your meals to 'big' and 'small' size?", a typical comment said: "Some women eat a lot, some men don't."
Many people called the special meals for women sex discrimination and also wanted to know if there was a difference in price between the 'female' and 'male' lunch boxes.
There are also female commenters on Weibo who claim they can eat much more than their male colleagues. "Just give me the male version," one female user wrote: "I'll eat that meal instead."
This is the second time this month that initiatives launched in relation to China's anti food waste campaign receive online backlash.
A restaurant in Changsha triggered a storm of criticism earlier this month after placing two scales at its entrance and asking customers to to enter their measurements into an app that would then suggest menu items based on their weight. The restaurant later apologized for encouraging diners to weigh themselves.
By Manya Koetse
Follow @WhatsOnWeibo
Spotted a mistake or want to add something? Please let us know in comments below or email us. First-time commenters, please be patient – we will have to manually approve your comment before it appears.
©2020 Whatsonweibo. All rights reserved. Do not reproduce our content without permission – you can contact us at info@whatsonweibo.com.