Cracking Down on 'Unhealthy' Wedding Customs: Xiong'an New Area Launches Wedding Reform Experiment
Are these announced reforms "neglecting the root and pursuing the tip" of existing problems with weddings and marriage in China?
Authorities in China's Hebei want to curb 'unhealthy' wedding practices such as the custom of giving exorbitant bride prices. On social media, many people think the announced reforms ignore deeper structural inequalities in Chinese marriages.
On May 26, Xiong'an New Area (雄安新区), the state-level new area in China's Hebei Province, announced a reform experiment for local wedding customs.
The Hebei Provincial Department of Civil Affairs published a document on its website on May 24 on the reforms that will be tried out for the upcoming three years. The 'experiment' will be carried out in Xiong'an New Area, Baoding's Lianchi district, Hengshui's Jizhou district, Handan's Feixiang district, and in Xinji city.
The experimental reform will focus on curbing wedding customs such as bride prices, peer competition, 'extravagance and wastefulness' during weddings, and other practices that local authorities deem "unhealthy."
On Weibo, one hashtag page dedicated to the topic (#雄安被确认为婚俗改革实验区#) received over 230 million views on May 26.
Weddings and marriage are always much-discussed topics on Chinese social media, especially over the past few years when the number of marriages in China saw a drastic decline. Over the past year, marriages in China saw the biggest drop in decades while the country's divorce rate has been climbing.
Meanwhile, China's population is aging and birth rates have fallen to record lows.
The custom of bride prices is one topic that has particularly sparked online discussions throughout the years.
Bride prices are a long-standing tradition in China. A 'bride price' is an amount of money or goods paid by the groom's family to the bride's family upon marriage. Since China's gender imbalance has made it more difficult for men to find a bride, the 'bridewealth' prices have gone up drastically over the years. This holds especially true for the poorer, rural areas in China, where men are sometimes expected to pay staggering prices to their bride's family before marriage.
Earlier this month, state media outlet Global Times reported that the high competition between men of marriageable age pushed up the price of brides in rural areas. The price of a bride in Jiaocun town was reported to be between 150,000 yuan ($23,295) and 200,000 yuan in 2017, and allegedly continues to rise by 10,000-20,000 yuan each year.
For many Chinese young people, getting married is not on the top of their wishlist. When a national survey recently revealed that one in five women in China regret getting married – another survey said it was 30% of women -, many commenters on social media suggested the actual number was probably much higher.
The fact that the package deal of marriage in China is unappealing to many people is linked to a myriad of issues, and many social media commenters remark that solely focusing on tackling the issue of wedding customs and bride prices is just "neglecting the root and pursuing the tip" ("舍本逐末").
On Weibo, hundreds of commenters suggest that deeper issues relating to the status and rights of married women in China are more important to focus on.
"You neglect the fact that males are valued more than females, and instead prioritize the bride price issue," one Weibo user complained. Many others agreed, with the following comments receiving much support on Weibo:
"Why can't you focus on practical matters? The bride price isn't the reason why our marriage rates are dropping."
"How about the fact that the children always take on the father's name, isn't that a 'wedding custom'? (..) How about gender equality? How are you planning to reform that?"
"This is done quite fast, how about dealing with domestic violence now?"
"It's fine if you take away the bride price, but will [rural] women then also get a fair division of residential property?"
"First you introduce a cooling-off period for divorce, then you promote a cancelation of the bride price, then you propagate having a second or third child. It's like these experts are in their offices all day long plotting against women and thinking of ways to maximize their exploitation."
Last month, Chinese newspaper The Paper published a column by wedding blogger Zheng Rongxiang (郑荣翔) about the announced wedding reforms, which are also expected to roll out in other regions across China from Henan to Guangdong and beyond.
Zheng argues that many Chinese weddings have become a show of wealth, especially in the age of social media. Extravagant wedding banquets where most of the food goes to waste, extreme wedding customs and games in which bridesmaids or the bride and groom are embarrassed, and an unreasonable emphasis on the height of bride prices – these practices have nothing to with traditions anymore and are far removed from what marriage is all about, Zheng writes.
Although many people on social media are not necessarily opposed to the bride price and other customs being changed, they are more angered that other more deep-rooted problems are left untouched: "Why don't you change the marriage law first?"
For more on this also read:
By Manya Koetse
Featured image via Hunliji.
Spotted a mistake or want to add something? Please let us know in comments below or email us. First-time commenters, please be patient – we will have to manually approve your comment before it appears.
©2021 Whatsonweibo. All rights reserved. Do not reproduce our content without permission – you can contact us at info@whatsonweibo.com.
Zhejiang Daily: 'People First' Does Not Mean 'Anti-Epidemic First'
Many Chinese netizens are showing support for Zhejiang Daily after the Party newspaper published an article that tries to find a middle ground between what authorities want to say and what ordinary people want to hear.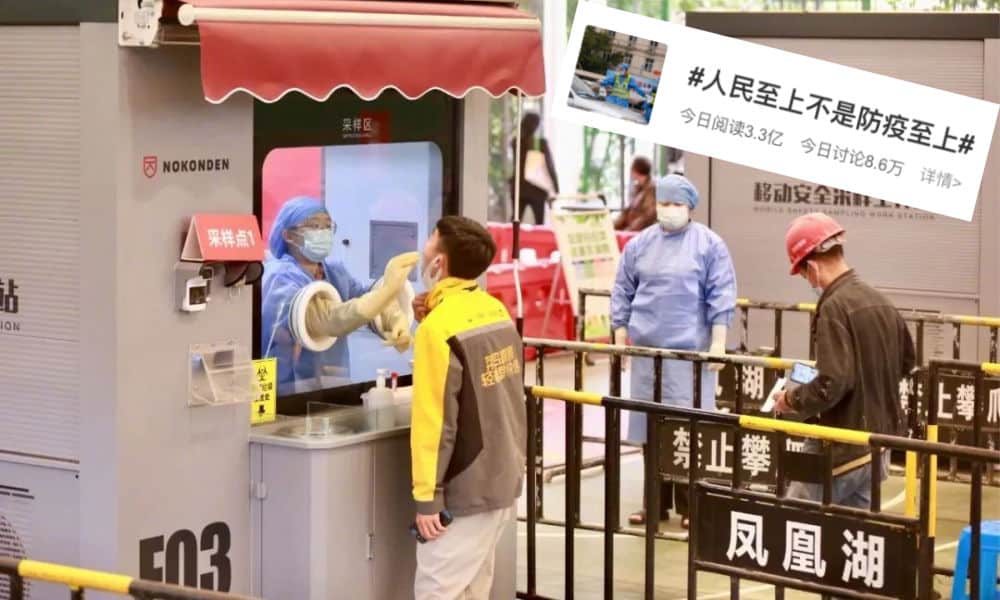 After days of unrest, Party newspaper Zhejiang Daily published an article by the Propaganda Department (aka Publicity Department) that addresses the current problems in China's epidemic situation, talks about the way forward, and stresses the importance of listening to people's demands and "putting the people first." But not everyone is convinced.
On Tuesday, November 29, after days filled with unrest and protests in various places across China, Party newspaper Zhejiang Daily (浙江日报) published a noteworthy article titled "'People First' Is Not 'Anti-Epidemic [Measures] First'" ("人民至上"不是"防疫至上").
The phrase "the people first" (人民至上 rénmín zhìshàng), also "putting the people in the first place," is an important part of the Party's 'people-based, people-oriented' governing concept. The phrase became especially relevant as part of Xi Jinping's now-famous "put people and their life first" slogan (人民至上,生命至上, rénmín zhìshàng, shēngmìng zhìshàng), which became one of the most important official phrases of 2020 in light of the fight against Covid19.
The Zhejiang article starts by addressing the recent unrest surrounding China's zero Covid policy, writing:
Since the outbreak of the novel coronavirus epidemic in late 2019, already three years have passed. As the time of preventing and controlling the epidemic situation is getting stretched, many people's psychological tolerance and endurance level are put to the test, and they are even breaking down little by little. As some netizens say: if the first year was about panic followed by the secret joy of being able to have a good rest at home; the second year began to be more bewildering and was about the hope for a quick end to the epidemic situation; the third year is then more about dissatisfaction, when will this finally end?"
The article mentioned that in addition to growing frustrations about the endless pandemic, various places across China have been intensifying their anti-epidemic efforts in the wrong ways:
"​​"(..) they are abusing their power, and are making things difficult for the people. This has led to epidemic prevention becoming deformed. They will not explicitly say they are locking down, but they are locking down, they are ignoring the interests of the masses and the demands of the people, interrupting the order of normal life at their will, and are even disregarding the lives and safety of the people, harming the image of the Party and the government, and breaking the hearts of the masses. There are even some people who will seize this epidemic situation to make money. Compared to the epidemic, it's these phenomena which are hurting people. The ensuing sense of helplessness and tiredness and anger are all understandable."
The article then stresses:
"Anti-epidemic measures are to guard against the virus, not to guard against the people; it was always [supposed to be] about 'people first,' not about so-called 'epidemic prevention' first. Regardless what kind of prevention and control measures are taken, they should all be aimed at letting society return to normal as soon as possible and getting life back on track as soon as possible. They are all are like "bridges" and "boats" to reach this goal, and are not meant to keep people in place, as blind and rash actions that disregard the costs."
Zhejiang Daily mentions how the World Cup in Qatar has made some people wonder about the crowds in the audience not wearing any masks, as if there was no pandemic at all. If they can, why can't China?
As the foremost reason, the article mentions the relatively low number of hospital beds in China.
Whereas countries such as South Korea or Japan, which are still seeing high numbers of new Covid infections, have about 12.6 beds per 1000 people (12.65 and 12.63 respectively), China only has 6.7.
With the United States being mentioned as an example of a country where Covid-19 patients were using up 32.7% of total nationwide ICU capacity early in 2022, with 7 ICU beds per 100,000 people being occupied by Covid patients, the article suggests that China does not even have this many ICU beds per 100,000 people.
The article further mentions how China, which is a rapidly ageing country, has a relatively large elderly population. With mortality rates being higher in Covid patients over the age of 60, it is estimated that if China would let go of its Covid measures, some 600,000 seniors (60+) catching the virus would die (the article bases this estimation on mortality rates in the Singaporean Covid epidemic.)
Due to Chinese historical, social and traditional values, the protection of the country's eldest is of great importance. Zhejiang Daily suggests that this is different from Western societies: "Some Western countries had nursing homes where hundreds of people passed away during the epidemic – if that would happen in China, it would be unacceptable. If you understand this point, you can also understand all the efforts we are putting out to contain the epidemic situation."
And so, Zhejiang Daily highlights the high price people in many Western countries paid to get to the stage in the epidemic where they are today.
The article repeats some of the arguments that have previously also been included in writings in other newspapers and by political commentator Hu Xijin, namely that with China's current zero-Covid policy and the adjustments that were recently made, the country is now focusing on precise and science-backed epidemic prevention that is meant to put as little strain as possible on society and economy.
However, the latest changes and the essence of China's zero Covid policy are not properly implemented everywhere, the article says, as there is a lack of understanding or an incapability to handle the situation due to a local lack of staff or available methods. Then there is also the issue of some people making money off of to strict epidemic measures. This has all led to tragic situations that should never have happened.
Although the article does not mention any concrete examples, there are many recent incidents where people did not get the help they needed because of excessive Covid measures. We have covered some of the biggest ones on What's on Weibo, including the young girl who passed away after getting gravely ill at a quarantine location in Ruzhou; the toddler who died due to carbon monoxide poisoning and a severe delay in medical help in Lanzhou; and the woman who jumped from the 12th floor of an apartment building in Hohhot, although her daughters had been seeking requesting help for her deteriorating mental state for hours.
The problem at hand, Zhejiang Daily suggests, is that some local authorities are putting epidemic prevention first instead of putting people's lives first. The problem can also not be solved by letting go of all measures, nor by adhering to a 'one-size-fits-all' zero Covid policy ("走出疫情阴霾,不是一句"放"与"不放"就能解决的事情.")
Instead of fighting for 'opening up' versus 'closing down', the point is to find a "soft landing" ("软着陆") way out the "haze of the epidemic situation" ("走出疫情阴霾").
Although the article does not give very concrete answers on what the best way forward is – although it does mention increasing China's vaccination rates, hospital beds, and available medications, – it proposes to look at the exact pain points within the bigger picture, and to deal with them one by one in order to quickly improve epidemic situations across the country.
At the same time, it also advocates that the various systems that are in place across China should be efficiently unified. The health code system in China is not operated nationally, and instead, various regions are each working with their own Health Code apps (see this article).
So, in other words: local problems should be spotlighted and dealt with, while regional innovative tools or effective measures should also be pinpointed and standardized across the country ("一地创新、全国使用").
The article does not explicitly mention the recent unrest across China, but it does hint at it: "The voices and the demands of the people have always been the central point regarding the adjustment and optimization of anti-epidemic policies. There is only one goal in the fight against the virus, and that is to benefit the people, to protect the health and safety of every person. If we hold on to this point, our steps won't be chaotic, and our actions won't stray from the intended line."
On Weibo and WeChat, the article is discussed by many netizens (#浙江宣传发文人民至上不是防疫至上#). One hashtag related to the article received over 350 million views on Weibo on Tuesday (#人民至上不是防疫至上#).
Many people spoke out in support of the article.
"This is a well-written article. It really combines the two components of 'what we want to say' and 'what the ordinary people want to hear,' it brings in some fresh air, clears up some confusion and eases the mood," one commenter from Hubei writes: "But why is only Zhejiang Daily publishing this? The Zhejiang Propaganda [department] is the pride on the propaganda front, the fact that there's just one Zhejiang Propaganda [department] is the sorrow on the propaganda front."
"Finally something that's clear-headed," others wrote. "This article actually moved me. There's been masses of people raising their voice recently because some local epidemic measures are creating problems and are not benefiting the people. No matter how we solve it, the target is unchanged."
"Well put!" others wrote: "So what do we do now?"
But not everyone was convinced that the article is meaningful. "I don't buy it," one person wrote: "This won't do much more than a fart."
"The title is welcomed by the people, the content protects the central authority," another commenter said.
The Zhejiang Daily article suggests that there is nothing wrong with the general zero-Covid policy and the twenty new measures, but instead points at how various places across the country have different interpretations of the policies and sometimes take drastic measures which actually undermine the authority of the central government ("中央定下来的"动态清零"总方针、优化防控二十条措施,一些地方有不同解读,极大降低了中央政策的权威性.")
"It only scratches the outside of the boot," another Weibo user replied: "It does not talk about the main point and avoids taking responsibility by how it's written. It shifts the conflict to ordinary people (..), the fact that we are still reading these kinds of [xxx] articles in 2022 is typical [xxx] socialism."
Regardless of criticism, many people did praise how Zhejiang authorities wrote the article: "Zhejiang has done quite well, and I'll praise their Publicity Department."
Read more about the "11.24" unrest in China here.
By Manya Koetse 
If you appreciate what we do, please subscribe here or support us by donating.
Featured image via Zhejiang Daily.
Get the story behind the hashtag. Subscribe to What's on Weibo here to receive our newsletter and get access to our latest articles:
Spotted a mistake or want to add something? Please let us know in comments below or email us. First-time commenters, please be patient – we will have to manually approve your comment before it appears.
©2022 Whatsonweibo. All rights reserved. Do not reproduce our content without permission – you can contact us at info@whatsonweibo.com.
The 'Blank White Paper Protest' in Beijing and Online Discussions on "Outside Forces"
As people in Beijing, Shanghai, and other places take to the streets holding up white papers, some have dubbed this the "A4 Revolution."
A majority of social media commenters support those who have recently taken to the streets, using blank sheets as a sign of protest against censorship and stringent Covid measures. But there are also online voices warning Chinese young people not to be influenced by 'external forces.'
Over the past few days, there have been scenes of unrest and protest movements in various places across China.
While there were protests in Shanghai for the second night in a row, Beijing also saw crowds gathering around the Liangmahe area in the city's Chaoyang District on Sunday night.
Some videos showed crowds softly singing the song "Farewell" (送别) in commemoration of those who lost their lives during the deadly inferno in Urumqi.
Later, people protested against stringent Covid measures.
Scenes from Beijing's Liangmahe where people sang 'Farewell' song (送别) to commemorate those who died in the Urumqi fire on Thursday. pic.twitter.com/raivvbOibp

— Manya Koetse (@manyapan) November 27, 2022
"The crowds at Liangmahe are amazing," some people on Weibo commented.
Photos and videos coming from the area showed how people were holding up blank sheets of white paper.
Earlier this weekend, students in Nanjing and Xi'an also held up blank paper sheets in protest of censorship and as the only 'safe' way to say what could otherwise not be said. This form of protest also popped up during the Hong Kong protests, as also described in the recent book by Louisa Lim (Indelible City: Dispossession and Defiance in Hong Kong).
The recurring use of blank paper sheets led to some dubbing the protests an "A4 Revolution."
"When can we have freedom of speech? Maybe it can start at Beijng's Liangmahe," one person on Weibo wrote on Sunday night.
Another Beijing-based netizen wrote: "Before going to sleep I saw what was happening in Liangmahe on my WeChat Moments and then I looked at Weibo and saw that the Xicheng area had added 279 new Covid cases. I started thinking about my own everyday life and the things I am doing. I can't help but feel a sense of isolation, because I can't fight and do not dare to raise my voice."
"I didn't dare to believe this is happening in 2022. I didn't dare to believe this is happening in Beijing. I do not dare to believe that again it will all have been useless tomorrow morning," one Weibo user commented.
During the night, various people at the scene shouted out things such as "we want to go out and work," and other hopes they have. One person yelled: "I want to go out and see a movie!"
The phrase "I wanna go watch a movie" ("我要看电影") was also picked up on social media, with some people commenting : "I am not interested in political regimes, I just want to be able to freely see a movie." "I want to see a movie! I want to sit in a cinema and watch a movie! I want to watch a movie that is uncensored!"
Despite social media users showing a lot of support for students and locals standing up and making their voices heard, not everyone was supportive of this gathering in Beijing. Some suggested that since Liangmahe is near Beijing's foreign embassy district, there must be some evil "foreign forces" meddling and creating unrest.
Others expressed that people were starting to demand too many different things instead of solely focusing on China's zero Covid policies, losing the momentum of the original intention of the protest.
Political commentator Hu Xijin (胡锡进) also posted about the recent unrest on his Weibo account on Sunday night:
"The people have the right to express their opinions, and you may have good and honest aspirations and have the intention to express legitimate demands. But I want to remind you that many things have their own rules, and when everyone participates in the movement, its direction might become very difficult for ordinary participants to continue to control, and it can easily to be used or even hijacked by separate forces, which may eventually turn into a flood that destroys all of our lives."
Hu also called on people to keep striving to solve existing problems, but to stay clear-headed, suggesting that it is important for the people and the government to maintain unity in this challenging time.
The term "outside forces" or "external forces" (外部势力) increasingly popped up in social media discussions on late Sunday night.
"I worry a lot of meddling by external forces. Let's be vigilant of a color revolution. I just hope things will get better," one netizen from Hubei wrote.
"Young people should not be incited by a few phrases and blindly follow. Everyone will approve of people rationally defending their rights, but stay far away from color revolutions."
The idea that foreign forces meddle in Chinese affairs for their own agenda has come up various times over the past years, during the Hong Kong protests but also during small-scale protests, such as a local student protest in Chengdu in 2021.
The term "color revolution" is recurring in these kind of discussions, with some netizens suggesting that foreign forces, such as the CIA, are trying to get local people to cause unrest through riots or demonstrations to undermine the stability of the government.
"It's not always external forces, it can also just be opposition," one person on Weibo replied: "In every country you'll have different opinions."
"What outside forces?" another commenter said: "I'm not an external force! I am just completely fed up with the Covid measures!"
Read more about the "11.24" unrest in China here.
By Manya Koetse , with contributions by Miranda Barnes
If you appreciate what we do, please subscribe here or support us by donating.
Get the story behind the hashtag. Subscribe to What's on Weibo here to receive our newsletter and get access to our latest articles:
Spotted a mistake or want to add something? Please let us know in comments below or email us. First-time commenters, please be patient – we will have to manually approve your comment before it appears.
©2022 Whatsonweibo. All rights reserved. Do not reproduce our content without permission – you can contact us at info@whatsonweibo.com.