China's Booming Cyberstar Economy & Papi Jiang
China's 'cyberstar economy' is alive and kicking.
How far would a Chinese company go to connect their brand to Papi Jiang, China's rising Weibo superstar? Today's ad auction showed that people are willing to pay millions to get their ad in one of the popular videos by Papi, who has become China's national sweetheart. The staggering winning bid makes it clear: China's 'cyberstar economy' is alive and kicking.
On April 21, a video ad auction was held in Beijing, in which bidders went as high as 22 million RMB (3,4 million US$) to get Papi Jiang (papi酱) to promote their brand.
Straight to the Millions
The auction starting price was 217.000 RMB (33.555 US$) and increased with 100.000 RMB (15.463 US$) for every bid, Sohu Business reports. Just moments after the auction had started, bidding prices went straight to 10 million (1,5 million US$).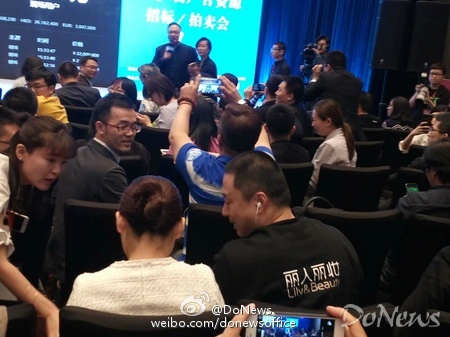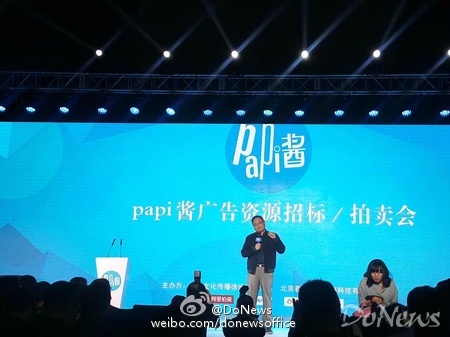 Ultimately, Papi's video ad auction was won by makeup company Lili & Beauty (丽人丽妆) for 22 million yuan (3,4 million US$). Lili & Beauty is an e-commerce company that represents a variety of cosmetic brands like Shu Uemura, Max Factor and Maybelline.
The Year of Papi Jiang
Papi Jiang is famous for her online humorous videos that make fun of everyday societal issues. This year marked her rise to fame, as she gained millions of followers on her Weibo account – just a few months after she uploaded her first video. She also secured a 1,200,000 RMB (±184,000 US$) investment.
Papi made headlines earlier this week when her videos were taken offline by censors for containing 'foul language'. The videos will be allowed back online when Papi takes out the swear words, which she promised she would. The government reprimand has seemingly only boosted her popularity.
"Can I ask what this is all about?" 
News of the auction soon made its rounds on Weibo under the hashtag of 'extremely expensive Papi Jiang ad' (#papi酱天价广告#).
Although many netizens think it is 'awesome' that Papi was able to raise such a staggering amount, some were also critical: "Can I ask what this is all about?" one netizen said: "Aren't there many poor people in the rural areas that could really use this money?"
Others believe that the 'hot online celebrity' phenomenon is becoming too hyped, as brands would do anything to get a popular Weibo celebrity mention their name.
Cyberstar Economy
Today's auction shows that 'online celebrity marketing' or 'cyberstar economy' is alive and kicking in China, where self-made celebrities are mushrooming all over the internet.
China's so-called 'Big V's' – popular microbloggers who have a 'v' behind their name as their accounts have been verified by Weibo or Tencent – are worth big money. These social media celebrities vary from comedians to fashion bloggers or make-up stylists. Some Chinese online celebrities have just become famous because they blog a lot or have an extraordinary appearance.
These online stars offer great marketing potential for brands because they have a huge following, much influence, and often the right target audiences.
Papi's auction bidding is an extreme case of how much brands are willing to offer to be promoted by celebrities, but prices are not always this transparent – nor is the product marketing. A recent example is how on March 26, China's famous singer, actress and presenter Xie Na (also known as 'Nana'), posted a dressing room picture on her Weibo account.
With more than 83 million fans, Xiena is one of Weibo's top celebrities. In her photo (pictured above) you can spot 'lung support tablets' on her dressing table, which are medicine that supposedly counter the negative effects of air pollution.
Xie Na's picture and the lung support brand then became a trending topic on Weibo; the picture was shared almost 10,000 times, got 31.000 likes and 11210 comments, with many netizens wanting to purchase the tablets while praising Xiena for taking such good care of her health. Who knows how much the lung tablet brand paid Xie Na to put their medicine on her table?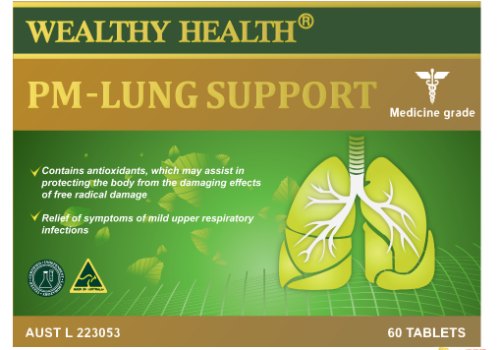 For some celebrities, their prices are less mysterious. Stylist and Weibo 'Big V' (popular microblogger) make-up artist Perry (Xiao P Laoshi) has over 36 million fans on his Weibo page, and it will cost 76.000 RMB (±11,750 US$) for him to mention your brand. These deals can be easily made through Chinese online media buying companies. Perry's prices are considered reasonably low, since the general price for brand promotion by a 'Big V' is set around 100.000 RMB (±15,460 US$).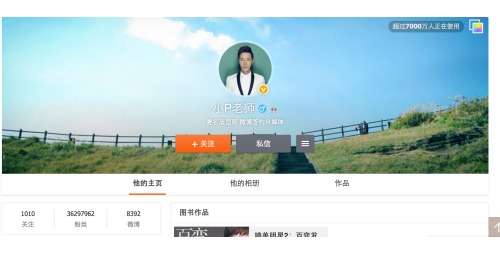 "Not that expensive"
As for today's action – Papi Jiang's business partner stated that the money raised with the auction will be donated to Beijing's Central Academy of Drama (中央戏剧学院), the academy that Papi graduated from.
This decision caused some commotion on Weibo, where many netizens think she should have given the money to the poor instead of to the academy. Amongst the commenters, there are also many who defend Papi, saying she can do whatever she wants with her money, as it is a reward for her huge success.
According to Yangcheng Evening news, the successful bidder later stated that they felt their 22-million-video-ad was "not that expensive."
– By Manya Koetse
Follow @WhatsOnWeibo
©2016 Whatsonweibo. All rights reserved. Do not reproduce our content without permission – you can contact us at info@whatsonweibo.com.
Angelababy, Huang Xiaoming, Li Fei'er: Love Triangle Rumors From Decade Ago Revisited
Weibo explodes after Angelababy addresses rumors that have been going on for over ten years.
On Wednesday afternoon, Beijing time, Weibo exploded when Chinese celebrity couple Huang Xiaoming and Angelababy addressed some strong rumors about the start of their relationship.
Their posts resulted in various hashtags and search terms going viral, including the phrases "When Angelababy Met Huang Xiaoming, He Said He Was Single" and "Angelababy Was Not My Mistress." At least three out of today's top trending Weibo topics are related to Angelababy and Huang Xiaoming.
Angelababy (nickname for Yang Ying 杨颖) is practically a household name in China. The famous actress and model married actor Huang Xiaoming (黄晓明) in 2015, and ever since, their marriage and relationship status is a popular gossip topic on social media. The two have a son together.
With Angelababy having over 100 million fans on her Weibo page (@angelababy) and Huang Xiaoming having over 61 million followers on his (@黄晓明), the two are practically Weibo's most followed couple. Their $31 million wedding is probably the most-discussed Chinese weddings of the past decade.
Chinese actress Li Fei'er (李菲儿) previously dated Huang Xiaoming after working with him in the 2008 television series Royal Tramp (鹿鼎记). The two are said to have started a relationship in 2007, and to have broken up in 2010 – the same year when Huang got together with Angelababy. The ending of the relationship with Li and the start of the new love affair with Angelababy has been a source of gossip for over a decade.
In a 2011 interview with a Hong Kong magazine, Li had hinted that Angelababy was previously 'the other woman' during her relationship with Huang.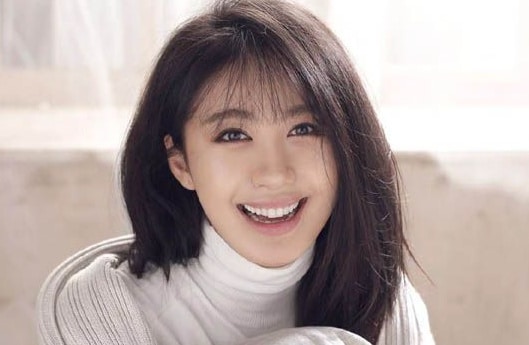 The rumors surrounding that alleged love triangle between Angelababy, Li, and Huang reached a new peak this week when Huang Xiaoming and Li Fei'er shared a stage on the super popular reality series Sisters Who Make Waves 2, which features 30 female celebrities over the age of 30. Huang hosts the show.
Apparently, Angelababy felt that the waves of rumors became too strong for her not to speak out. In the late afternoon of January 6, she posted a Weibo post in which she stated that Huang Xiaoming told her he was single when they first met. When Li made 'groundless' comments about Angelababy in a magazine interview, she asked Huang about it, and "he told me they had broken up."
"A decade has passed by. Today, I've chosen to stand up for myself and to explain the entire thing clearly. I don't want to take the blame anymore," Angelababy writes.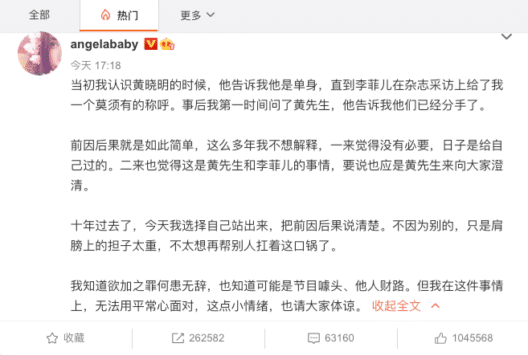 She also added that she felt this is "a matter between Mister Huang and Li Fei'er," suggesting that Huang is the person who needs to clarify the matter to the public.
Angelababy's post was followed up by a post by Huang just an hour later, in which he stated the success of the Sister Who Make Waves tv show lies in the values it conveys to respect women, suggesting that the recent flood of rumors is harmful to the show's central theme, the women participating in it, as well as to his own family.
He further clarifies that Angelababy "was not a mistress," refuting ongoing rumors about the start of their relationship.
The huge attention for this matter seemed to temporarily put a strain on Weibo's servers, with the site momentarily showing a notification that its servers were too busy. In 2017, Weibo servers could no longer handle the peak in traffic after Chinese singer ad actor Lu Han announced his new relationship.
For now, the statements by Angelababy and Huang have only brought about more speculation. The fact that Angelababy refers to her husband as "Mr. Huang" in her post intensifies ongoing rumors that Huang and Angelababy might already be separated.
Meanwhile, Li Fei'er, who has over 11 million followers on her Weibo page (@李菲儿love) has not posted anything about the recent developments. In her last post on January 1st, she wished her followers a happy new year.
By Wednesday night, Beijing time, Angelababy's post had received over 1,3 million likes and 100,000 comments; Huang's post got over 850,000 likes, already making this celebrity news one of the most talked-about topics this week.
By Manya Koetse, with contributions from Miranda Barnes
Follow @WhatsOnWeibo
Spotted a mistake or want to add something? Please let us know in comments below or email us. First-time commenters, please be patient – we will have to manually approve your comment before it appears.
©2021 Whatsonweibo. All rights reserved. Do not reproduce our content without permission – you can contact us at info@whatsonweibo.com.
What's on Weibo Podcast #4: Horse Prince, Ambassador, Money Maker – Ding Zhen is China's 2020 Viral Hit
The rise of Ding Zhen: it started with one Douyin clip and triggered a social media storm.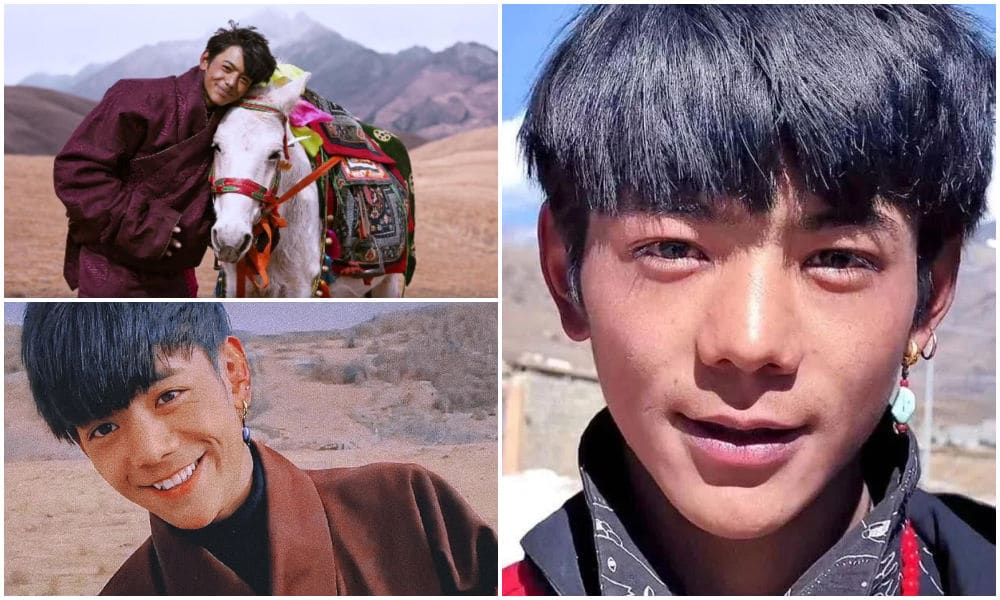 His name is Tenzin, now known as Ding Zhen, and this Khampa Tibetan young man is China's online sensation of the year. Within a matter of days, the 20-year-old from Litang has taken Chinese social media by storm.
In this latest What's on Weibo podcast, we explain Ding Zhen's fame from the very beginning, showing how one video clip snowballed into something much bigger than Ding Zhen alone.
Listen to our latest podcast here!
Spotted a mistake or want to add something? Please let us know in comments below or email us. First-time commenters, please be patient – we will have to manually approve your comment before it appears.
©2020 Whatsonweibo. All rights reserved. Do not reproduce our content without permission – you can contact us at info@whatsonweibo.com.