Here Comes Trump the Chinese Opera, Starring Mao Zedong and Kim Jong-un
First published
Hong Kong playwright Li Kuiming is not afraid to take on sensitive topics in his productions. After an opera about Mao Zedong, this upcoming Cantonese opera focuses on US President Trump and explores China-US relations.
"Enjoy this 'one country, two systems' creative freedom," is one of the slogans promoting a new Hong Kong opera production that features US President Trump – played by the same actor who also played Mao Zedong – and North-Korean leader Kim Jong-un, presenting a story revolving around the modern history and current situation of China-US relations and international politics in the form of traditional Chinese art.
The opera, titled "Cantonese Opera Trump" (粵劇特朗普) was written by Fengshui master and playwright Li Kuiming (李居明), who likes to mix up traditional opera with creative new storylines. In this production, 'Trump' allegedly will not just be singing; he'll be playing ping-pong, too.
Promotion posters for the show have attracted the attention of some Weibo netizens, with some calling it "unimaginable."
This opera is the 34th production made by Li Kuiming, who has some 1,4 million fans on Weibo. Three years ago, Li made headlines for his controversial Chairman Mao opera that explored the private life of Mao Zedong and also featured a scene in which Mao comes back from the dead to talk to Chiang Kai-shek.
The current opera is a sequel to the 2016 production, featuring the same actor, Long Guantian (龍貫天), as President Trump. The role of Kim Jong-un will be performed by Chen Hongjin (陳鴻進).
The press conference for the new opera took place on March 1st, just after the Trump-Kim summit in Hanoi ended without a deal. The actors taking on the roles of Trump and Kim, however, posed together shaking hands.
Despite the somewhat controversial theme of the opera, the Singtao Daily writes that Li Kuiming's production "avoids politically sensitive topics as much as possible."
"Through this opera, I want to analyze China-USA relations," Li told reporters: "China and the US have had very good relations for a long time (..), Nixon's [1972] visit to China marked the friendship between the two countries. At present, the China-US friendship has turned into a struggle."
Li called it "a gift from heaven" that he was able to get performer Long Guantian to play Mao Zedong previously, praising his "enormous flexibility" in the roles he is able to take on. "For [his] role of Trump, I've read many books and thoroughly researched the life and thinking of Trump."
One reason for the opera to stir some discussions on Chinese social media, is the fact that its promotional poster states that the "three roles" of "Trump, Trump, and Mao Zedong" are all performed by the same actor (Long Guantian).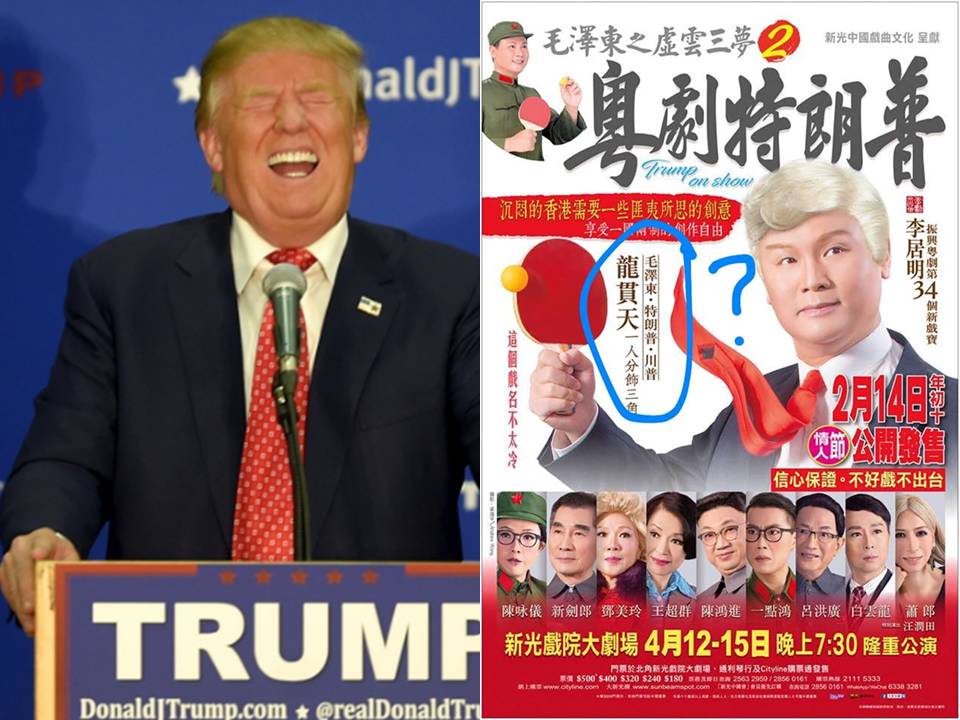 The name of 'Trump' is written in two different ways on the poster, causing much confusion among netizens, who write: "I thought there was only one Trump?!" (To understand more about the two Chinese names of Trump, check this article).  It is not clear if there will indeed be two 'Trumps' starring in the production or why the poster mentions the name of Trump two times.
The Mingpao newspaper reported that Li has high hopes for this production, quoting: "I have a friend who knows Trump, and who suggested bringing this opera to the White House so that Trump can enjoy it. We could translate it. If I'd ever be invited, of course, I wouldn't say no." He also added that he "wouldn't have the courage" to perform the opera in North Korea.
The opera will be performed at the Hong Kong Sunbeam Theatre from April 12 to April 15. "I guarantee it will be good," Li says: "If it wouldn't be good, I wouldn't put it on stage."
By Manya Koetse 
Spotted a mistake or want to add something? Please email us.
©2019 Whatsonweibo. All rights reserved. Do not reproduce our content without permission – you can contact us at info@whatsonweibo.com.