CCTV New Year's Gala 2020: Highlights and Must-Knows (Liveblog)
What is Chinese New Year without the CCTV Spring Gala? What's on Weibo reports the must-knows of the 2020 'Chunwan.'
Chinese social media is dominated by two topics today: the CCTV New Year Gala (Chunwan) and the outbreak of the coronavirus. Watch the livestream of the CCTV Gala here, and we will keep you updated with tonight's highlights and must-knows as we will add more information to this post throughout the night. (This liveblog is now closed.)
As the Year of the Rat is just around the corner, millions of people in China and beyond are starting the countdown to the Chinese New Year by watching the CCTV Spring Festival Gala, commonly abbreviated in Chinese as Chunwan (春晚).
The role of social media in watching the event has become increasingly important throughout the years, with topics relating to the Chunwan becoming trending days before.
Making fun of the show and criticizing it is part of the viewer's experience, although the hashtag used for these kinds of online discussions (such as "Spring Festival Gala Roast" #春晚吐槽#) are sometimes blocked.
The Gala starts at 20.00 China Central Time on January 24. Follow live on Youtube here, or see CCTV livestreaming here.
About the CCTV New Year's Gala
Since its very first airing in 1983, the Spring Festival Gala has captured an audience of millions. In 2010, the live Gala had a viewership of 730 million; in 2014, it had reached a viewership of 900 million, and in 2019, over a billion people watched the Gala on TV and online, making the show much bigger in terms of viewership than, for example, the Super Bowl.
The show lasts a total of four hours, and has around 30 different acts, from dance to singing and acrobatics. The acts that are both most-loved and most-dreaded are the comic sketches (小品) and crosstalk (相声); they are usually the funniest, but also convey the most political messages.
As viewer ratings of the CCTV Gala in the 21st century have skyrocketed, so has the critique on the show – which seems to be growing year-on-year.
According to many viewers, the spectacle generally is often "way too political" with its display of communist nostalgia, including the performance of different revolutionary songs such as "Without the Communist Party, There is No New China" (没有共产党就没有新中国).
To take a look at what was going on during the Spring Gala's previous shows, also see how What's on Weibo covered this event in 2016, in 2017, in 2018, and in 2019.
Live updates
Check for some live updates below. (We might be quiet every now and then, but if you leave this page open you'll hear a ping when we add a new post). (Update: Live blog closed)
Happy New Year Wishes from Wuhan People's Hospital
[Jan 24 / 17:30 CST]
Medical staff at the dedicated isolation ward of Wuhan's People's Hospital wish everyone a Happy New Year, saying: "We're here, don't worry [and celebrate Spring Festival]" – a hashtag that's now propagated online to ease the #coronavirus panic. #有我们在大家安心过年
Medical staff at the dedicated isolation ward of Wuhan's People's Hospital wish everyone a Happy New Year, saying: "We're here, don't worry [and celebrate Spring Festival]" – a hashtag that's now propagated online to ease the #coronavirus panic. #有我们在大家安心过年 pic.twitter.com/byWLd8DJ1i

— Manya Koetse (@manyapan) January 24, 2020
Director of the Gala: Yang Dongsheng
[Jan 24 / 17:57 CST]
This year's director is Yang Dongsheng (杨东升) from Guangdong (see picture below), who also directed the Gala in 2017 and 2018. With Avatar-like settings for dance and singing acts in 2017, spectacular light and dance show in 2018, we can also expect tonight's show to be colorful and big.
Jiayou Wuhan, Jiayou China!
[Jan 24 / 19:57 CST]
In the ten minutes leading up to the CCTV Gala, it is clear that the coronavirus outbreak in Wuhan is not a news topic that will be ignored tonight.
The presenters have a strong message showing their support to the patients and people in Wuhan and beyond, saying: "Jiayou Wuhan, Jiayou China!" – Come on Wuhan! Come on China!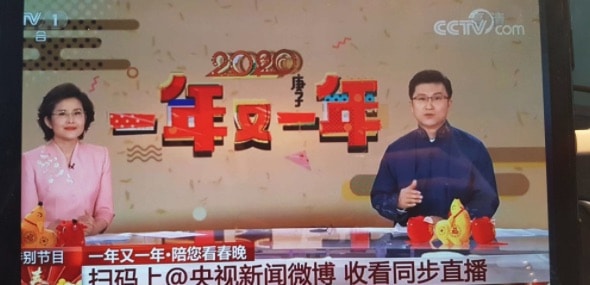 It just started and the first memes are here
[Jan 24 / 20:10 CST]
The first act has only just completed and already there are memes going around Chinese social media, comparing the dancers in the act to Chinese cabbages..
Time to have a "live look" inside the main hospital in Wuhan!
[Jan 24 / 20:40 CST]
A special moment during the CCTV Gala as the show switched to one of Wuhan's main hospitals right now to get an update from the nurses there who are spending their Chinese New Year night taking care of the many people infected with the coronavirus.
According to the presenter, the switch was "very last minute."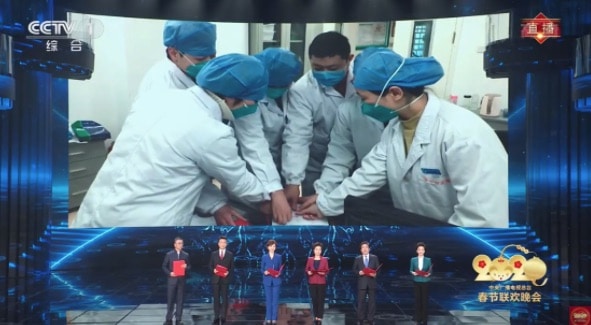 The presenters also take this time to thank all of those people sacrificing their time and energy to take care of the ill.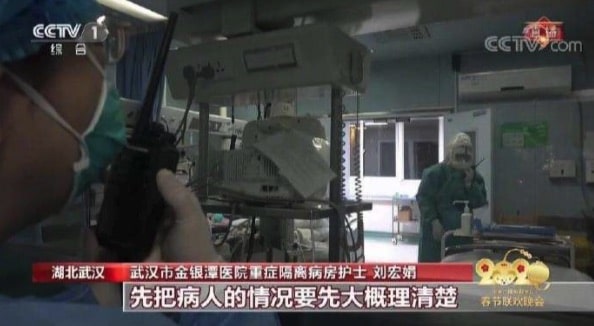 Global Times editor Hu Xijin also posted about the "last minute" Wuhan segment, and praised it for communicating the feelings and worries of Chinese people.

"Who has been eating wild game?!"
[Jan 24 / 20:44 CST]
With the outbreak of the coronavirus, the eating of wild game has been severely criticized on Weibo these days. This meme of the sketch performed by actor Yue Yunpeng (岳云鹏) during tonight's Gala says: "Let's see which idiot still dares to eat wild game?!"
Read more about the backlash against wild game eating here.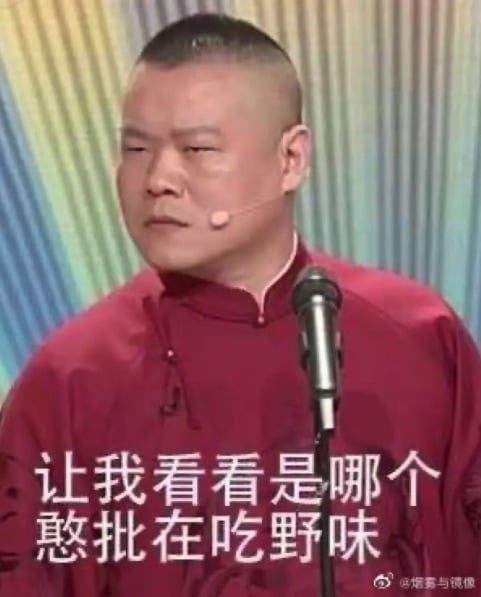 Some people only think about food during Chinese New Year…
[Jan 24 / 20:53 CST]
We already said that this CCTV Gala, directed by Yang Dongsheng, would be a colorful one. For some viewers, the dance performance set up at the start of this night just looks like food.
[Jan 24 / 21:03 CST]
#春晚历史上首次没有彩排的片段#
[Jan 24 / 21:18 CST]
As the night continues, people on Weibo are still talking about the segment in the show that cut to the Wuhan hospital. For the first time since 1983, the CCTV Gala included a segment that was not rehearsed. The topic is making its way around social media under the hashtag "For the first time in history, the CCTV Gala airs unrehearsed segment" (#春晚历史上首次没有彩排的片段#).
How much is live?
[Jan 24 / 21:45 CST]
Although this Gala is a live broadcast from CCTV's No.1 Studio in Beijing, combined with broadcasting from different other venues (this year: Guangdong, HK, Zhengzhou, Macao). every year's show has a taped version of the full dress rehearsal. The tape runs together with the live broadcast, so that in the event of a problem or disruption, the producers can seamlessly switch to the taped version without TV audiences noticing anything.
Because of the outbreak of the coronavirus, Beijing seems to be the only location that is actually aired live tonight, with the other locations using pre-recorded versions.
What's tonight's theme?
[Jan 24 / 21:53 CST]
Every year, the CCTV Gala has a different theme. Sometimes, these themes are very clear, such as the "Chinese Dream" in 2016, or "National Unity" in 2017.
This year marked the 70th anniversary of the People's Republic of China, and the Gala seems to have an umbrella theme capturing issues such as the celebration of 70 years 'New China,' the fight against poverty, unity among all languages and ethnic groups within China, and China's important role in international society (especially marked by the first act, showing dancing and performances from different One Belt, One Road countries).
2020, I Love You
[Jan 24 / 21:53 CST]
This catchy poppy song is called "Hello 2020″(你好2020), performed by various artists.
Stunning Dance "Morning Light"
[Jan 24 / 22:02 CST]
This is one of the dance performances of tonight, called "Morning Light" and led by Zhu Jiejing. The performance is by the Shanghai Song and Dance Troupe. Zhu Jiejing was born in October, 1985 in Jiaxing of Zhejiang Province. She won a top award for dance in China.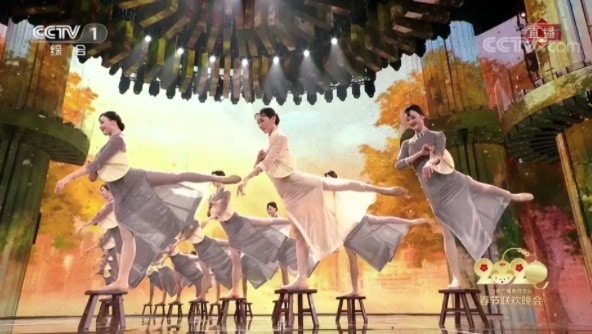 Kuaishou x CCTV Gala
[Jan 24 / 22:06 CST]
Tonight's show is done in cooperation with Kuaishou, a hugely popular Chinese video sharing app. The CCTV Gala usually has different social media and/or online partners – which usually means a boost for these online platforms.
"My Motherland"
[Jan 24 / 22:32 CST]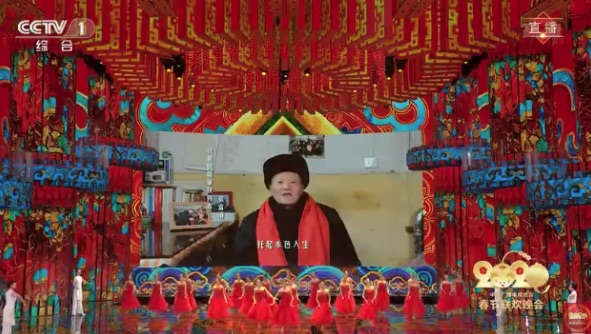 The inevitable patriotic song "My Motherland" is here, including a segment with the 90-year-old singer Guo Lanying (郭兰英).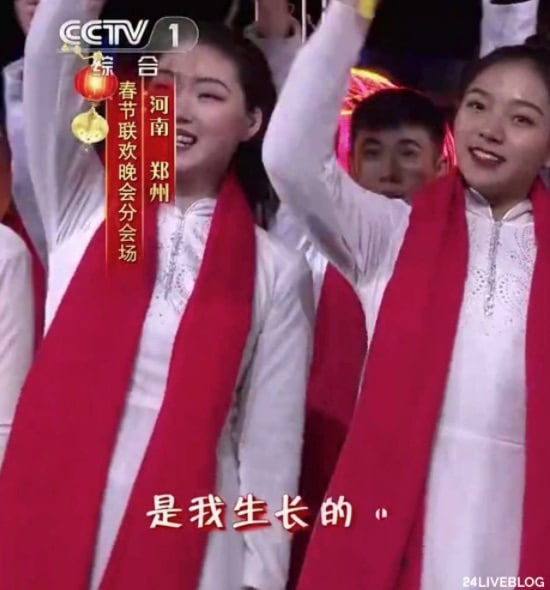 BUT WHERE ARE THE DANCING ROBOTS?!
This is Guo Lanying singing the song for the first time at the Chunwan in her younger years, 30 years ago: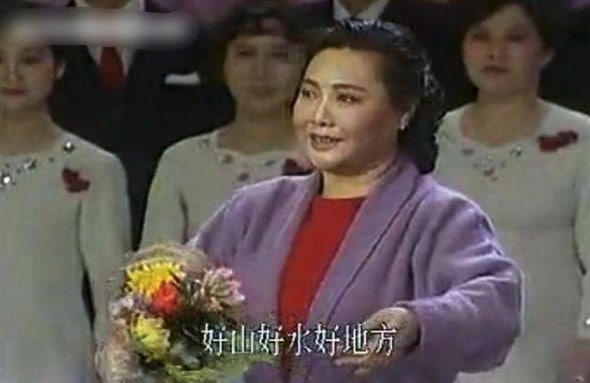 Spectacular footage from Zhengzhou
[Jan 24 / 23:03 CST]
We're moving to one of the venues outside of Beijing – this is one of the prerecorded segments including piano play by the renowned Lang Lang, followed up with a song by Sun Nan (孙楠) and Li Yuchun (李宇春).
Meanwhile on Weibo
[Jan 24 / 23:04 CST]
Seen on Weibo: running out of proper face protection masks, these medical workers are using file folders to make their own face masks. #coronarovirus pic.twitter.com/gHtbAkHeu7

— Manya Koetse (@manyapan) January 24, 2020
Mixed feelings: CoronaVirus and Chunwan share the Weibo stage
[Jan 24 / 23:18 CST]
On Weibo, there are many netizens sharing their mixed feelings about tonight and going on social media, with some posts being about the CCTV Gala and happiness, and the others being about the situation in Wuhan and the despair. "I am laughing and crying," some write.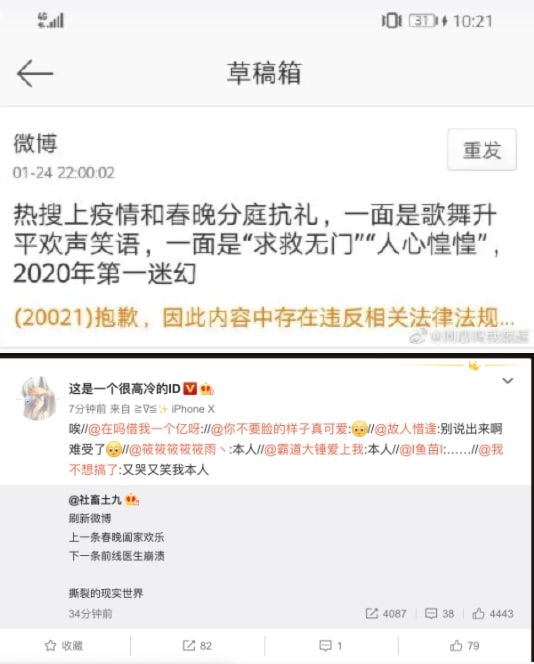 [Jan 24 / 23:39 CST]
On Weibo, @HuXijin_GT posted some of the photos that are now being shared of the army coming in to offer (medical) help amidst #coronavirus outbreak. Many people on Weibo address their mixed feelings: happiness over #Chinesenewyear, worry and fear over the Wuhan situation. pic.twitter.com/6YVmA3GHkL

— Manya Koetse (@manyapan) January 24, 2020
A 'Yellow River' of humans
[Jan 24 / 23:47 CST]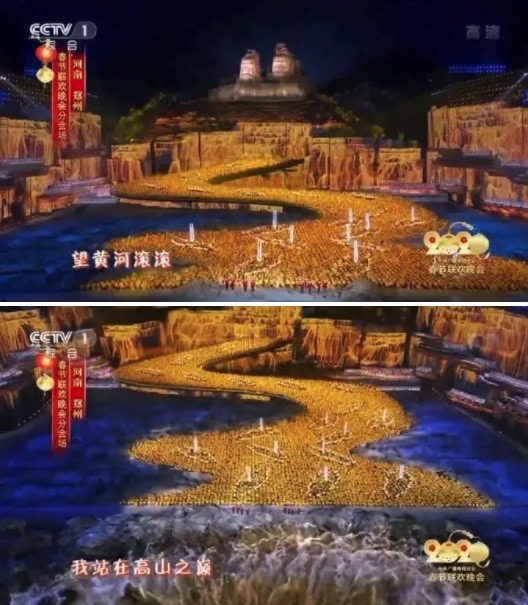 Chunwan and Coronavirus: stark contrast night
[Jan 24 / 23:52 CST]
While Miranda and Manya are watching the CCTV Gala and keeping an eye on social media developments, editor-in-chief Manya just joined BBC World News to briefly address the current social media developments regarding the coronavirus outbreak. See embedded tweet below.
In between watching the #CCTVGala and staying glued to Weibo, I just joined BBC World News live to comment on the social media environment in China during the #coronavirus outbreak. Segment of interview 👇 pic.twitter.com/dzwzI8zYnm

— Manya Koetse (@manyapan) January 24, 2020
Will tonight's show break viewership records (again)?
[Jan 25 / 00:24 CST]
Over the past few years, the number of people watching the CCTV Gala has increased because of the many people watching the event via online platforms. Youtube is one of the platforms outside of China where the event is being livestreamed, and where over 105,000 people are joining.
Together with the traditional TV audiences, the CCTV online viewership, and the total number of people watching via other apps, will tonight's show cross the one billion record again?
If you're not watching the #cctvgala livestream on YouTube: there's over 105,000 people watching this right now and the chat is going crazy. pic.twitter.com/vGCENUZ7dM

— Manya Koetse (@manyapan) January 24, 2020
Wear your facemask
[Jan 25 / 00:26 CST]
Just before the end of the show, a public service announcement reminds viewers to wear a face mask in times of the Corona virus outbreak.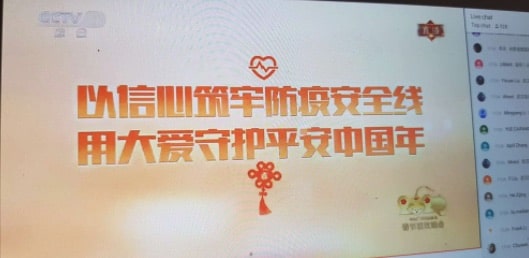 It's a wrap
[Jan 25 / 00:59 CST]
It's a wrap for tonight, so we will close our updates here, but stay tuned the coming days and weeks as we will keep a finger on the pulse of everything happening on Chinese social media and online discussions regarding the Chinese New Year travel season and the outbreak of the coronavirus. Thanks for joining, and a Happy New Year of the Rat!
By Manya Koetse and Miranda Barnes
Follow @whatsonweibo
Do you like what we do? You can donate here to keep this site alive & kicking.
Spotted a mistake or want to add something? Please let us know in comments below or email us. First-time commenters, please be patient – we will have to manually approve your comment before it appears.
©2020 Whatsonweibo. All rights reserved. Do not reproduce our content without permission – you can contact us at info@whatsonweibo.com.
Chinese State Media Features German Twitterer "Defamed by Evil Western Forces"
European media call the 21-year-old Heyden a CCP propagandist, Chinese media call her a victim of the Western media agenda.
The German influencer Navina Heyden has been labeled "a propagandist for the Chinese government" by European media outlets. She is now featured by Global Times for preparing a lawsuit against German newspaper Die Welt for "defaming" her.
A 21-year-old woman from Germany has been attracting attention on Chinese social media this week after state media outlet Global Times published an article about her battle against "biased journalism" in Europe.
She is known by her Chinese name of Hǎiwénnà 海雯娜 on Weibo, but also by her German name, Navina Heyden. On Twitter (@NavinaHeyden) she has around 34K followers, on Weibo (@海雯娜NavinaHeyden) she has over 15800 fans.
According to the Global Times story, which is titled "21-year-old German Girl Debunking China's Defamation Is Tragically Strangled by Evil Western Forces" ["21岁德国女孩驳斥对中国抹黑,惨遭西方恶势力绞杀"], Heyden has been on a mission to "refute Western media's smear campaign against China" for the past year.
The same article was also published by other Chinese state media outlets this week, including Xinhua, Xinmin, and Beijing Times.
Recently, various European news outlets reporting about Heyden's online activities described her as a Twitter influencer acting as an advocate for "pro-CCP narratives."
It started with the German newspaper Welt am Sonntag publishing an article on June 15 of 2021 titled "China's Secret Propagandists" ["Chinas Heimliche Propagandisten"], in which Heyden was accused of being a propagandist. That same story was translated into French and published by Le Soir on June 23.
An article by London-based think tank ISD (Institute for Strategic Dialogue) dated June 10, titled "How a Pro-CCP Twitter Network is Boosting the Popularity of Western Influencers" (link), also featured Heyden and her alleged role in a coordinated Chinese online propaganda campaign.
The article focuses on Heyden's Twitter activity and her supposedly inorganic follower growth, using data research to support the claim that she is more than just a young woman siding with Chinese official views.
Heyden claims that she agreed to do the initial interview with Die Welt about her views on China and the online harassment she experienced by anti-China activists, but that the reporters eventually published something that was very different from the actual interview content, describing Heyden as a Chinese government propagandist and disclosing names and locations without her consent.
Heyden says she is now preparing a lawsuit against the newspaper and its three journalists for violating her rights. In order to do so, she started a crowdfunding campaign to help her fight media defamation. That 'Go Fund Me' campaign was also promoted on Weibo on July 5th, and she soon reached over 13,000 euros in donations.
The main take-away of the Global Times story is that Heyden is an active social media user who has bravely refuted Western bias on China and exposed the supposed media hysteria regarding the rise of China, and that she has been purposely targeted by European media outlets for doing so.
Heyden joined Twitter in March of 2020 with her bio describing her as a "German amateur manga drawer, studying business economy, grown up within Chinese community since age 15."
Since then, she has tweeted over 1000 times and has spoken out about many issues involving China, including the Covid-19 pandemic, the situation in Xinjiang, the national security law in Hong Kong, the India-China border conflict, and the status of Taiwan. She sometimes also tweets out more personal information, such as the time when she shared photos of herself and her Chinese partner.
Her very first tweet on the platform – one about China not falsifying Covid-19 numbers – was sent out on April 1st of 2020 and received 52 likes. Over the past year, her account has only gained more likes and followers.
A later tweet in which Heyden wrote "I can testify that Chinese Muslims are not persecuted like what western media claimed" (link) received over 870 likes.
In another tweet, Heyden wrote: "China is unfairly treated because she's always put in a trial without chances to defend. Her words must be propaganda, her people must be brainwashed. After confirmation with Chinese sources and my experiences, I'm enraged about how wrong our media is. This is harmful to us all." That tweet received over 1.4K likes.
Besides the fact that Heyden's tweets are often retweeted by the Twitter accounts of Chinese diplomats and other prominent Chinese channels – sometimes within just a few seconds of one another, – the aforementioned ISD article claims that Heyden's account has grown in a relatively short time due to sudden spikes in followership by accounts that were created in batches at specific times and in short sequence.
For a Twitter post of August 2020, Heyden recorded a video in which she explained why she wanted to open up her Twitter account in the first place and counter those accusing her of being a "CCP agent" or a "fake account". She said:
"I'm not getting paid by anyone so stop wasting your time on proving something which I am not. A lot of people may wonder why I say so many positive things about China in the first place. The reason is that when I was around 15 years old I was introduced into the Chinese community and I got to learn a lot of Chinese people, what they think about China, and also what they think about their government. And I found that the China I visited is so much different from the China that the media is describing. It's almost as if the media is describing a whole different country. Now, it wouldn't be so bad if only people would not buy those false narratives, and I'm having a problem with it, because a lot of my close friends and also my family are believing all those false narratives. And this is causing me to have some conflicts with them from time to time. So I've decided to open this Twitter account to debunk all those false narratives."
At this time, Heyden describes her own Twitter account as "one of the most influential ones to show people what real China is like."
The story about Heyden's online activities seems to suit some ongoing narratives in both European and Chinese newspapers. For the first, it upholds the idea of China secretly attempting to infiltrate and influence democratic societies in new ways; for the latter, it confirms the belief that biased Western media will do anything to defile China while serving the interests of their political parties.
Meanwhile, on Weibo, hundreds of netizens have praised Heyden for defending China and standing up against Western media.
"China has 1.4 billion people, Germany just has [tens] millions, of course, you're gonna get a lot of fans if you support China," one popular comment on Weibo said.
One influential Weibo blogger (@文创客) wrote about Heyden, calling her a victim of a "deranged" situation where Western media outlets have used her for their anti-China narratives.
"When will you come and live in China," some people on Weibo ask, with various other commenters saying: "Just come to China!"
Plans to move to China seem to be on the horizon for the German influencer. In an earlier tweet, she confirmed: "We are already on the path to live in China PERMANENTLY. Really feel much safer there."
Despite sharing her strong support for China on Twitter, the 21-year-old recently also expressed some frustrations with the Chinese social media climate when she encountered censorship on Sina Weibo and experienced some difficulties posting on Bilibili and Toutiao.
On Twitter, she wrote: "To CPC, you can't lock your citizens in an information greenhouse forever."

Sharing some of her frustrations regarding the Chinese social media sphere on Weibo, where she even admitted to missing Twitter, some Weibo users offered their support: "We're on your side."
By Manya Koetse (@manyapan)
With contributions by Miranda Barnes
Spotted a mistake or want to add something? Please let us know in comments below or email us. First-time commenters, please be patient – we will have to manually approve your comment before it appears.
©2021 Whatsonweibo. All rights reserved. Do not reproduce our content without permission – you can contact us at info@whatsonweibo.com.
100 Years Communist Party Celebrations: Xi's Speech on Weibo
The Party's centennial anniversary speech by Xi Jinping was one of the main topics propagated in the Chinese online media sphere.
This week marked the 100th anniversary of the Communist Party of China (CCP), an important moment for the Party to highlight its historic experiences and "glorious achievements" over the past century.
All over the country, the centennial celebrations have been in full swing. Light shows, exhibitions, ceremonies, and concerts were taking place from Beijing to Shanghai, from Harbin to Xi'an. Virtually every region, city, and village in the country was doing something to pay tribute to the Party. At the Gansu Dunhuang Solar Park, they even mobilized over 3700 solar panels to move simultaneously to wish the Communist Party a happy 100th (see tweet thread below).
Another viral #CPC100 spectacle – they decided to mobilize a sea of solar mirrors (over 3700) at the Gansu Dunhuang Solar Park to move simultaneously to wish the Communist Party a happy 100th. 😳 pic.twitter.com/bfGiMf6HYj

— Manya Koetse (@manyapan) July 1, 2021
Although the Communist Party's birthday is July 1st, the entire week leading up to this was filled with events and Party-related news. In Chinese media and on social media, the anniversary was a major topic, with state media and official accounts continuously publishing all kinds of content related to the Communist Party centenary celebrations.
Chinese social media platform Weibo was completely themed around the 100-year anniversary during the celebration week. A special '100 Year CPC' discovery button, specially dedicated labels for posts about the Party, and a Party-themed color palette for the platform – it was all there.
Hashtags such as "100 Years of CPC" (#中国共产党100周年#), "Tribute to the 100th Anniversary of the Founding of the Party" (#献礼建党一百周年#), "100 Years of Struggle" (#百年奋斗#), "Celebrating the 100th Party-Founding Anniversary" (#庆祝建党100周年#), "The Centenary of Party Founding" (#建党百年#), "Why They Founded the Party" (#他们为什么建党#), and "Which Scene of the Party's 100th-anniversary Celebration Impressed You the Most" (#建党100周年庆祝大会哪一幕令你印象深刻#) were all major topics.
On July 1st, the top six trending topics according to the site's hotlist were all Party-related.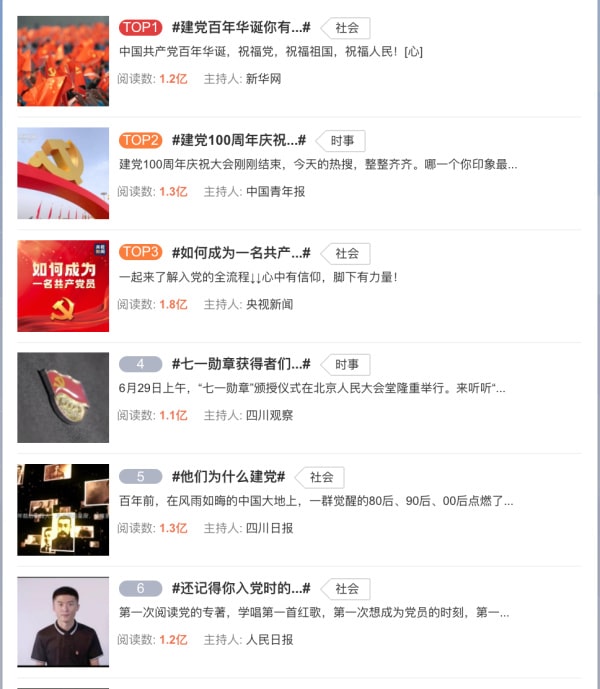 One of the highlights of the (online) celebrations was the July 1st hour-long speech from Tiananmen Square by President Xi Jinping, in which he spoke about the Party leadership, Chinese history, and the journey ahead.
One of the main themes that was highlighted throughout the celebrations, and also in Xi's speech, is the idea of the "glorious journey" or the "glorious history" (光辉历程) of the Communist Party of China over the past century.
The most-used words in this speech, in English translation, are the 'Party', the 'people,' and the 'Chinese nation.' These three terms are the overarching theme of the centennial celebrations, during which the Party, the Chinese people, and national identity are continuously tied together in one narrative.
China Youth Daily even dedicated a hashtag page to the fact that Xi mentioned 'the People' a total of 83 times (#习近平近万字讲话83次提到人民#). During one point in the speech, Xi said that "the people are the true heroes, for it is they who create history."
Various parts of the speech were turned into digital posters by state media outlets and shared all over social media.
One of the most noteworthy moments in Xi's speech was when he used strong language saying the Chinese will never allow foreign influences to bully or oppress them again.
Noteworthy Xi Jinping speech moment, strong language saying the Chinese will never allow foreign influences to bully or oppress them again. #CPC100

("中国人民也绝不允许任何外来势力欺负、 压迫、 奴役我们。谁妄想这样干,必将在1 4亿多中国人民用血肉筑成的钢铁长城面前碰得头破血流.") pic.twitter.com/6vT590Obzo

— Manya Koetse (@manyapan) July 1, 2021
Xinhua translated this part of the speech as:
"We Chinese are a people who uphold justice and are not intimidated by threats of force. As a nation, we have a strong sense of pride and confidence. We have never bullied, oppressed, or subjugated the people of any other country, and we never will. By the same token, we will never allow any foreign force to bully, oppress, or subjugate us. Anyone who would attempt to do so will find themselves on a collision course with a great wall of steel forged by over 1.4 billion Chinese people."
One of the idioms used by Xi Jinping was that of "tóupòxiěliú" ("头破血流"). Although the Xinhua translation uses the English "find themselves on a collision course," the Chinese wording is stronger than that and led to many discussions on Twitter on how the words were translated and misinterpreted in English. Its literal translation would be 'head broken and blood flowing,' but its actual meaning arguably is more like 'suffer a crushing.'
On Weibo, that segment of Xi's speech was highlighted by the social media account of People's Daily, receiving more than 700,000 likes, and by the CCTV Weibo account, where the video received over 2.2 million likes.
Some parts of that segment even became hashtags, namely "The Chinese People Will Never Allow Foreign Forces to Bully Them" and "Whoever Tries to Bully China Will be Crushed" (#中国人民绝不允许任何外来势力欺负# and #谁妄想欺负中国必将碰得头破血流#). Those hashtag pages received 290 million and 1.1 billion views, respectively.
As the online censorship apparatus was running at full speed this week, critical comments on the speech were hard to find, but there were thousands of Weibo users praising Xi's words.
"My eyes just teared up, my love for this country is so deep. I love you China!"
"When we heard the Chairman say this, our entire office just spontaneously stood up and clapped, I couldn't help but feel like crying!"
There were also those who applied the sentence "Whoever Tries to Bully China Will be Crushed" to real-life examples. Fashion brand H&M was mentioned for its boycott of Xinjiang cotton (read here), after which the company saw its sales in China slump.
Some called Xi's speech "a declaration of the people." The idea of a confident China that will not put up with foreign interference in its internal affairs was clearly visible on Chinese social media, reiterated by state media, during the 100-year Party celebrations, and in the months leading up to this event.
"As a Chinese person, [this speech] made me really proud and confident," one Weibo commenter wrote, with another person commenting: "I was applauding in my head the whole time."
In some Weibo threads, only a selected number of comments were available to read, while virtually all comments were censored on other posts. The online censorship showed how comments that, perhaps, were less positive about the speech, were not welcome for the celebrations of the Party anniversary.
The full text of Xi Jinping's July 1st speech is available via Xinhua here.
You might also be interested to read:
By Manya Koetse (@manyapan)
Follow @whatsonweibo
Spotted a mistake or want to add something? Please let us know in comments below or email us. First-time commenters, please be patient – we will have to manually approve your comment before it appears.
©2021 Whatsonweibo. All rights reserved. Do not reproduce our content without permission – you can contact us at info@whatsonweibo.com.