These Are China's Youngest Billionaires
What's on Weibo explores who the richest kids of mainland China are: a top 10 of China's youngest billionaires, according to the Forbes List of the World's Billionaires.
After inheriting a fortune from her father, the 19-year-old Alexandra Andresen has been named the youngest billionaire on the globe by the Forbes World's Billionaire List. Forbes has got Weibo talking about money.
The teenage girl Alexandra Andresen from Norway is worth an estimated 1.2 billion US$ according to the Forbes billionaires list. The young rich woman became trending on China's social media site Sina Weibo under the title of '19-year-old girl becomes world's youngest multi-millioniare' (19岁少女成世界最年轻亿万富翁).
In light of this news, What's on Weibo explores who the richest 'kids' of mainland China are: a top 10 of China's youngest billionaires, according to Forbes' World's Billionaires.
No. 1 – Wang Han (王瀚, 28 years old): 1.3 billion US$
At just 28 years, Wang Han became one of the world's youngest billionaires – he is number 7 in the international top 10. Wang became a billionaire after inheriting shares in regional airline Juneyao Air (吉祥航空有限公司) from his late father Wang Junyao (王均瑶), who was the founder. According to Forbes,
Wang Han owns 27% of the airline and 14% of department store Wuxi Commercial Mansion Grand Orient (无锡商业大厦大东方股份有限公司). The Juneyao Group also has businesses in the education and food sector. They are also active on social media; Juneyao also has a rather large fanbase on its Weibo account.
No. 2 – Wang Yue (王悦, 32 years old): 1.1 billion US$
Wang Yue is a newcomer to the list of the world's youngest billionaires, according to Forbes 2016. He is called China's "web game billionaire". Wang earned a fortune being an online and mobile game entrepreneur. He is the CEO of Shanghai Kingnet Technology (上海恺英网络科技有限公司), better known as Kingnet (恺英网络).
No. 3 – Cheng Wei (程维, 33 years old): 1 billion US$
Cheng Wei (程维, 1983) is CEO of China's Uber rival Didi Kuaidi (滴滴快滴), a transportation company which was formed in early 2015 as a merge of Cheng's company Didi Dache and Alibaba's Kuaidi Dache. Previous to starting his own company, Cheng worked for Alibaba for 8 years and became vice president for Alibaba's online payment service Alipay. Cheng has a verified Weibo account, but he has not posted much since his rise to fame.
No. 4 – Yang Huiyan (杨惠妍, 34 years old): 4.9 billion US$
Born in 1981, Yang Huiyan from Guangdong's Foshan is one of the world's richest women. She became the largest shareholder of real estate developer Country Garden Holdings (碧桂园集团) after her father transferred his holdings to her when she was just 25 years old (also see the featured image). According to its official website, Country Gardens is "a company constantly fighting for the development of a harmonious society."
No. 5 – Frank Wang Tao (汪滔, 35 years old): 3.6 billion US$
Wang Tao, also known in English as Frank Tao or Frank Wang, is the founder and CEO of Shenzhen-based DJI, the world's largest supplier of civilian drones. Forbes describes him as "the world's first drone billionaire". Headquartered in China's "Silicon Valley" Shenzhen, DJI started as a single small office in 2006, and has now turned into to a global workforce of over 3,000. Their offices can be found in the United States, Germany, the Netherlands, Japan, Beijing and Hong Kong (dji.com).
No. 6 – Zhang Bangxin (张邦鑫, 35 years old): 1.01 billion US$
Who ever thought after school tutoring could make you rich? Zhang Bangxin (1980) is the cofounder, chairman and CEO of the Beijing-based educational tutoring firm TAL Education Group (世纪好未来教育科技有限公司). The company has been around since 2003, and it provides after-school tutoring for pupils from kindergarten to 12th grade at over 500 locations throughout China. Zhang is also an official Weibo microblogger, but, like his fellow billionaires in this list, he might be too busy making money to actually post on social media.
No. 7 – Cai Xiaoru (蔡小如, 36 years): 1.2 billion US$
Cai Xiaoru is chairman of Tatwah Smartech (达华智能), a company that is specialized in the research, development, manufacture and distribution of radio frequency identification (RFID). The company produces, amongst others, non-contact IC cards and electronic labels. Cai became a billionaire in mid-2015, following the fast-growing stock price of Tatwah Smartech.
No. 8 – Li Weiwei (李卫伟 aka 李逸飞, 37 years): 1.3 billion US$
For Li Weiwei, it is all work and all play. The young entrepreneur, who was born in Chengdu city, is the vice chairman of online game company Wuhu Shunrong Sanqi Interactive Entertainment Network Technology (芜湖顺荣三七互娱网络科技股份有限公司). The company is better known under the name of 37wan, a platform that offers high-quality game products. Li Weiwei is also known as Li Yifei (李逸飞).
No. 9 – Zhou Yahui (周亚辉, 39 years): 2 billion US$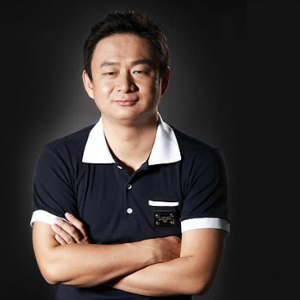 Another billionaire who got rich through the gaming industry is Zhou Yahui (1977) – the CEO of Beijing Kunlun Tech (北京昆仑万維科技股份有限公司). Kunlun Tech is one of China's biggest web game developers and operators. In January of 2016, NY Times reported that the company paid $93 million for a 60% stake of Grindr, the largest social networking app for gay men in the world. With over 2 million daily users in 196 countries, the app has proven to be a good investment for Zhou.
No. 10 – Wu Gang (吴刚, 39 years old): 1.3 billion US$
Wu Gang is co-founder and CEO of money management company Beijing Tongchuang Jiuding Investment Management (北京同创九鼎投资管理股份有限公司), better known as JDcapital (九鼎投资), "a leading investment firm with deep roots in equity investment and management", as it describes itself.
On Weibo, some netizens have asked Norwegian billionaire Alexandra Andresen to come and visit China. With so many other billionaires, the young heiress will certainly have no reason to feel lonely at the top in China.
– By Manya Koetse
Follow @WhatsOnWeibo
Sources:
*163 (2015): http://news.163.com/15/1104/14/B7J6UOEO00014AED.html
*Jiangsu.China.com (2015): http://jiangsu.china.com.cn/html/jsnews/gnxw/2758273_2.html
*Forbes.com (various pages, see in-text links) and the China Rich List sorted by age.
Images:
Featured: Yang Huiyan (http://blog.sina.com.cn)
– http://www.ittime.com.cn/news/news_10433.shtml
– http://www.eeyy.com/jinjing/2014/
– http://uk.china-info24.com/british/tic/ht/20150729/200775.html
– http://baike.baidu.com/view/880927.htm
– http://startupbeat.hkej.com/?author=12
– http://www.cyzone.cn/a/20131114/247015.html
– http://money.163.com/15/1216/07/BAULIVAD00252G50.html
– http://www.laonanren.com/news/2015-11/104275.htm
– http://www.forbes.com/profile/zhou-yahui-1/
– http://www.gsm.pku.edu.cn
©2016 Whatsonweibo. All rights reserved. Do not reproduce our content without permission – you can contact us at info@whatsonweibo.com.
Why Weibo and Chinese Celebrities Are Put into the Naughty Corner by China's Cyberspace Administration
Weibo and online celebrities are punished by Internet regulators for spreading 'vulgar content', but netizens bear the brunt.
China's central Internet regulator has summoned Sina Weibo to keep its information flows under control, punishing the platform by closing down its hot search lists and trending topic lists for the time to come. Sina Weibo has reacted with self-criticism and has exposed Chinese celebrities allegedly buying their way to the top.
There is an empty space on the right sidebar of the Sina Weibo platform this week. Where users of China's biggest microblogging website usually see a 'top trending' list of the most popular topics or the most searched hashtags on the right sidebar, they now see an advertisement with nothing below it.
The change is the result of the reprimands Sina Weibo received this week from the Cyberspace Administration, China's central Internet regulator, over the company's "failure to censor illegal information posted by its users" and spreading of "vulgar content," according to state media outlet Xinhua News.

Weibo Gets Punished

As punishment for Weibo's 'incapability' to keep its information flows under control, the Cyberspace Administration issued a weeklong ban on the site's "most searched hashtags" and "hottest topics" lists, until Saturday, February 3.
Another penalty was also announced: Sina Weibo's hot lists cannot contain dozens of names and topics specified on an issued list for a period of at least three months.
On January 28, Weibo's Administrator (@微博管理员) announced the recent measures and published a list of celebrity names that can no longer hit the 'most popular' charts on Weibo for the time to come.
One of the reasons mentioned for the ban is that these celebrities would allegedly buy their way to the top trending lists on Weibo. Weibo's Administrator writes:
"As the largest social media platform in China, we know that Weibo should have higher standards and greater responsibility. Based on our deep understanding for the notification of the concerning departments, we will carry out a thorough self-examination and self-correction, and will strictly carry out reforming measures to ensure we meet the goal. We will increase the cooperation with the formal media, and upgrade the Quality of Service of our content. With more technology and manpower, we will improve our management of illegal and harmful information, and maintain the order within the online informaton and preserve a good [online] environment."
In August 2016, Chinese authorities already announced that they would strictly guard against hyping private affairs and family conflicts of internet celebrities and the rich and famous. The announcement followed after the divorce of Chinese actor Wang Baoqian became one of the most discussed topics of all time on Weibo and Wechat.

Battling Flawed Algorithms?

On January 28, Weibo's Administrator issued another statement that said that Weibo's hot trending lists should be a reflection of the actual topics gaining most attention amongst netizens, but that companies and entertainment enterprises have found ways to influence these lists.
On Monday, Financial Times also reiterated that Chinese digital agencies are selling fake rankings on Weibo's "hot topics" list.
Besides buying targeted marketing space on Weibo, which is actually clearly marked as third-party advertising, companies and celebrities can get a hashtag of choice into the top trending lists for as little as 8000 yuan (±$1260) by which digital agencies create fake Weibo accounts pushing a topic up the charts.
Other big social media platforms such as Twitter and Facebook are allegedly facing similar problems that falsely affect the top trending lists and platform algorithms.
Weibo administrators promised they would "effectively crackdown on the illicit competition that is harming the [online] community."

Naughty Corner for Celebrities

Based on online data of the past month, Weibo administrators issued a list of 38 celebrity names, topics, and hashtags that were allegedly illegally bought up the trending charts by companies.
These names and topics will not be allowed to appear in the top trending lists for the months to come. Here are eight examples of names provided by Weibo.
1. One of these banned topics is the actress Li Xiaolu (李小璐), who recently made it to the top trending lists for her extramarital affair with hip-hop artist PG One.
2. Another name that won't go 'trending' for the coming months is that of Chinese singer, songwriter, and actress Zhou Bichang aka Bibi Zhou (周笔畅). Bibi Zhou is also accused of paying money to get herself to the top trending lists on Weibo.
However, Bibi Zhou responded to the accusations on January 28, saying that "all the money I have I put into my music videos – I cannot afford [to spend money on] hot search lists."
3. Chinese comedian Song Xiaobao (宋小宝)
The comedian Song Xiaobo, who stars in the TV show Joyful Comedians (欢乐喜剧人), will not be able to promote himself nor the show in the top lists on Weibo for the time to come.
4. Taiwanese singer Lai Guanlin (赖冠霖)
Lai Guanlin, who is part of the popular South Korean boy band Wanna One, was reported to participate in upcoming TV programme "Idol Star Athletics Championships." Further promotions for this appearance are unlikely to come through on the trending lists now.
5. Chinese actress Zhang Xueying (张雪迎) aka Sophie Zhang
Actress Zhang Xueying reached the hot lists earlier this month for her pretty bald head look for her role in Go Away Mr. Tumor, a play that revolves around a woman who copes with cancer.
6. Wang Lele (王乐乐)
Internet celebrity Wang LeLe is a grassroots celebrity from live-streaming app Kuaishou who has attracted much (negative) attention over recent times for the rocky and drama-filled relationship with Yang Qingning (杨清柠).
7. 'Brother Martial Arts' (散打哥)
'Brother Martial Arts' aka Chen Weijie (陈伟杰) is an internet celebrity that emerged from the live-streaming platform Kuaishou.
8. Shawn Wei (魏千翔)
Shawn Wei (Wei Qianxiang) is a Chinese post-80s actor who is currently starring in the popular urban drama 'My Youth Meets You' (我的青春遇见你).
Although he is not a significantly big influential on Weibo, rumors of his company 'buying his popularity' on Weibo are long-standing.

Weibo Responses

The topic of the recent ban on Weibo hot lists itself became a much-discussed issue on Chinese social media. Many netizens dislike the fact that so many celebrities buy their way into the top trending lists, but also express their dissatisfaction with the list of names exposed by Sina Weibo: "There are so many people who frequently buy themselves into the hot lists, yet why are they not on this list?", many said.
Others jumped in to defend their idols: "Why would Lai Guanlin be on this list?!" They say that people such as Lai Guanlin and Zhang Xueyin have been unjustly targeted by Chinese censors.
There are also people who wonder why they can no longer access the hot search and trending lists, because it is not so much the Sina Weibo company and the celebrities who are now punished, but the Weibo-loving netizens.
"How boring life is without the hot lists," some say.
By Manya Koetse
Follow @whatsonweibo
Spotted a mistake or want to add something? Please let us know in comments below or email us.
©2018 Whatsonweibo. All rights reserved. Do not reproduce our content without permission – you can contact us at info@whatsonweibo.com.
Successful Reality Show 'The Birth of Actors' Surrounded by Controversy
Some viewers suspect there is foul play in this acting competition.
The Chinese reality show 'The Birth of Actors' (演员的诞生) has become a huge TV hit and a favorite topic of discussion on social media in China. But, despite receiving much praise, the show is repeatedly surrounded by controversy.
Reality show 'The Birth of Actors' (演员的诞生) has been trending on Chinese social media for weeks now. Since its first airing in late October 2017, the Zhejiang Satellite TV hit has repeatedly become a focus of discussion on Weibo.
Its first two episodes alone already had a viewership of 330 million. The show's hashtag (#演员的诞生#) received 4,6 billion views on Weibo so far.
The show is hosted by the popular actor and director Zhang Guoli (张国立).
The live show invites Chinese actors and actresses to re-enact famous scenes from TV-series or movies. A team of judges, consisting of renowned celebrities Zhang Ziyi (章子怡), Song Dandan (宋丹丹), and Liu Ye (刘烨), give commentary and marks.
The celebrity team, along with the studio audience, then votes over who will stay on the show and who has to leave. The show's winner gets a chance to perform with one of the acclaimed 'judges.'
Foul Play?
Chinese netizens, however, have been questioning the show's credibility since many deemed the show's 'losers' better performers than its winners. In the first episode, for example, judge Zhang Ziyi harshly criticized Chinese actress Zheng Shuang (郑爽) over "lacking respect for her job," but Zheng Shuang won the competition anyway.
In December 2017, Chinese actress and show contestant Yuan Li (袁立) started a big discussion over the validity of the show when she posted screenshots on Weibo of a conversation with a woman working for the show. In this conversation, the show's staff member promised Yuan Li that she would win the first competition and go on to the next stage, to eventually perform with Zhang Ziyi.
According to Yuan, not only was this promise broken, the show allegedly also edited Yuan's performance in such a way that it made her look like a "crazy person."
'The Birth of Actors' responded to the allegations, stating that the staff member's conversation with Yuan Li was not representative of her function at the show. The woman has since resigned from the show.
Corrupt Voting System
Despite the fact that the show's production has denied allegations, rumors of a corrupt voting system are persistent. Later in December, actress Yuan Li also exposed on Weibo that the machines given to the studio audience of the show are actually fake.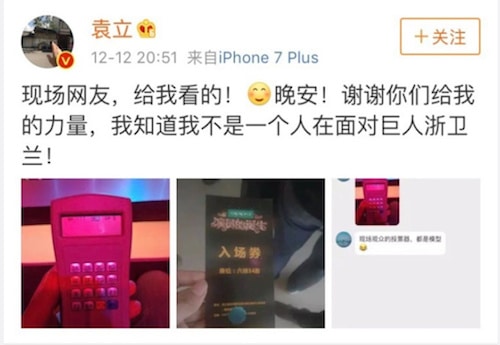 Photos of the non-functional machines were originally taken by a Weibo netizen named 'Sea Breeze Diary 1983' (@海风日记1983), who claimed they joined the live recording of 'The Birth of Actors' as the studio audience.
Later, however, other sources claimed the vote machines did not belong to Zhejiang TV's 'Birth of the Actors,' but to another show by Beijing Satellite TV, and that Yuan Li was spreading false rumors.
Copyright Infringement
On January 2nd, the show made headlines again after it had featured a re-enacted scene from the Hong Kong stage classic I Have A Date with Spring (我和春天有个约会) by dramatist Raymond To (杜國威).
The Hong Kong production company's chairman responded to the episode through Weibo, claiming that 'The Birth of Actors' never approached the company for copyright to the scenes.
Not only did the chairman accuse the show of copyright infringement, he also stated that the performance of the actors in the Zhejiang Satellite TV show "entirely distorted the nature of the play's characters and its experience," and that it "completely destroyed the image of the original script," "wrecking the spirit of this classic drama."
The scene became a topic of discussion earlier when Zhang Ziyi called its performance "the most awkward" she had ever seen.
Ongoing Success
Despite all of its controversies, or perhaps because of them, 'The Birth of Actors' has continued to draw large numbers of viewers.
It is not the first time a popular Chinese TV show faces allegations of copyright infringement and fake voting systems. Previously, Dutch production company Talpa sued Zhejiang Satellite TV for its hit TV show 'New Singing of China' (中国新歌声), of which the Dutch company owned the TV format ('The Voice of..') rights.
Many other Chinese TV shows including voting systems have been accused of influencing or faking audience votes. These controversies often draw more attention to a TV show, which usually grows its viewership.
Besides its controversies, the show has another recipe for success: its all-star cast members that mixes established names with new talent (小鲜肉). As China's idol industry is thriving, this show gives millions of viewers exactly what they want: superstars, competition, entertainment, and some juicy gossip.
By Boyu Xiao and Manya Koetse
Follow @whatsonweibo
Spotted a mistake or want to add something? Please let us know in comments below or email us.
©2018 Whatsonweibo. All rights reserved. Do not reproduce our content without permission – you can contact us at info@whatsonweibo.com.