Online Outrage over Gansu Female Medical Workers Required to Shave Their Heads
Heroes of the coronavirus crisis or victims of visual propaganda? A video showing female medical workers having their heads shaved has triggered controversy.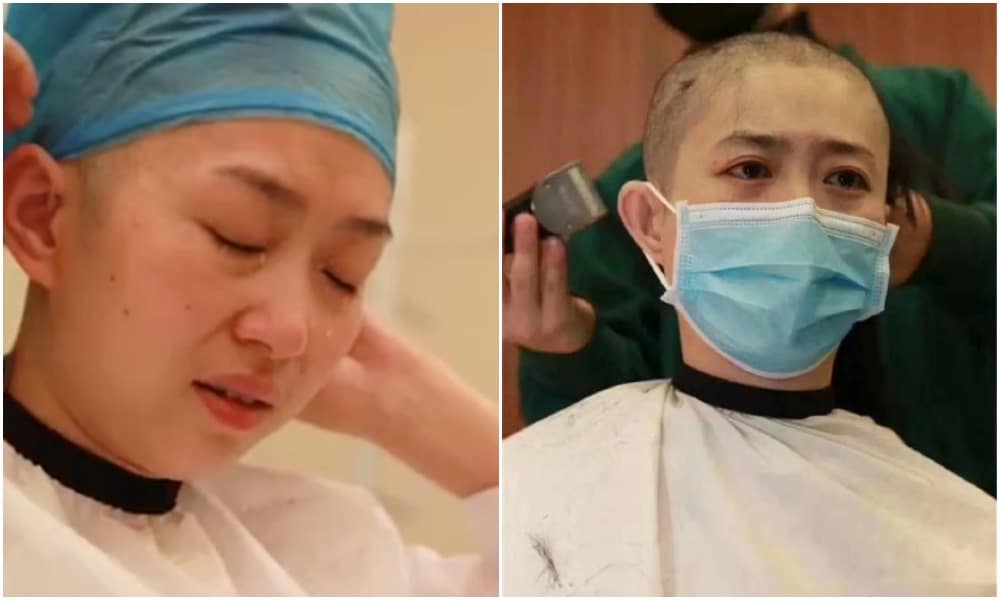 First published
A Chinese media post praising female nurses for having their heads shaved has sparked outrage on Weibo and WeChat. Are these women heroes of the coronavirus crisis or victims of gendered visual propaganda?
A video showing tearful female medical workers having their head shaved before going to COVID-19 epicenter city Wuhan has sparked outrage on Chinese social media.
The video, originally posted by Gansu Daily (每日甘肃网) on February 15, shows how a group of female nurses is standing in line to have their hair shaved off in preparation of their mission to Hubei to assist during the ongoing coronavirus crisis.
In the short segment that has since gone viral on Weibo and WeChat, some women can be seen crying while having all of their hair shaved off.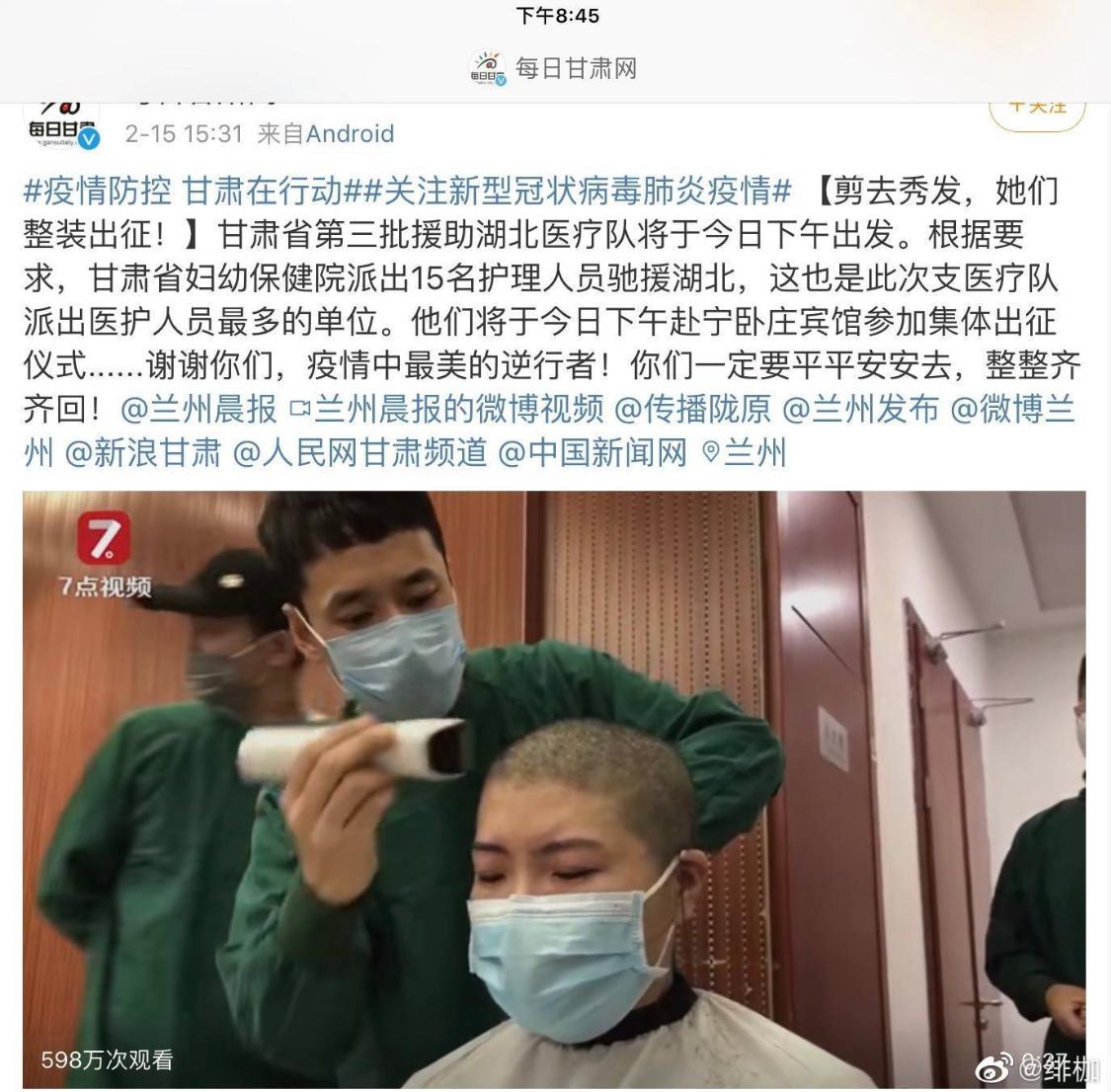 According to Gansu Daily and other Chinese media, the fifteen nurses, including one man, are part of a medical aid group that was sent out to Wuhan this weekend. Their hair was reportedly shaved off "in accordance with requirements" to make their work more efficient and reduce the risk of infection.
The original news post praises the women as "the epidemic's heroes in harm's way" ("疫情中最美的逆行者") – a term also used to describe brave firefighters during the 2015 Tianjin explosions (for more background on this term in Chinese, also see Xinhua and Zhihu).
Although the story praises the female medical workers as heroes and was soon reposted and promoted by many other (state) media, it was not just met with positive reactions from Chinese netizens.
On the contrary: it triggered waves of criticism over the medical team's supervisors requiring the women to shave off their hair, with many deeming the measures unnecessary, humiliating, and sexist.
"Why do they need to shave all of their hair, the men don't even need to do that?!", some Weibo commenters wonder.
Many Weibo users wonder how necessary it actually is for the women to go completely bold for medical work purposes, wondering why the male workers do not need to shave their heads and why the women could not just opt for a shorter hairstyle instead – suggesting the media circus surrounding the shaving of the heads is more about visual propaganda than actually being a necessity.
"I am a medical worker myself," one Weibo user writes: "I consulted an infection control doctor [on this matter] and they said it is not necessary at all to have a bald head. Short hair is convenient enough, and hair has a protective function too to reduce [skin] irritation from the friction of wearing hats and masks. It furthermore also has a function of catching sweat, preventing it from dripping to your eyes. A shaven head does more harm than good."
"Why do people need to bleed and cry in order for them to become heroes?", others say: "This is just cruel."
Adding to the online fury was a photo showing the group of medical workers after their heads were shaved, as the one male nurse in the group not only seemed to wear a better quality face mask, but also appeared to have much more hair left than the female nurses.
The original Gansu Daily post has since been deleted from social media.
On WeChat account Epoch Story ("epochstory2017″/Epoch故事小馆), author Chen Mashu (陈麻薯) posted a critique on February 17th titled "Please Stop Using Female Bodies as Propaganda Tools" ("请停止用女性的身体,作为宣传的工具").
Recent online Chinese visual propaganda in times of the coronavirus crisis has seen a strong focus on Wuhan medical workers.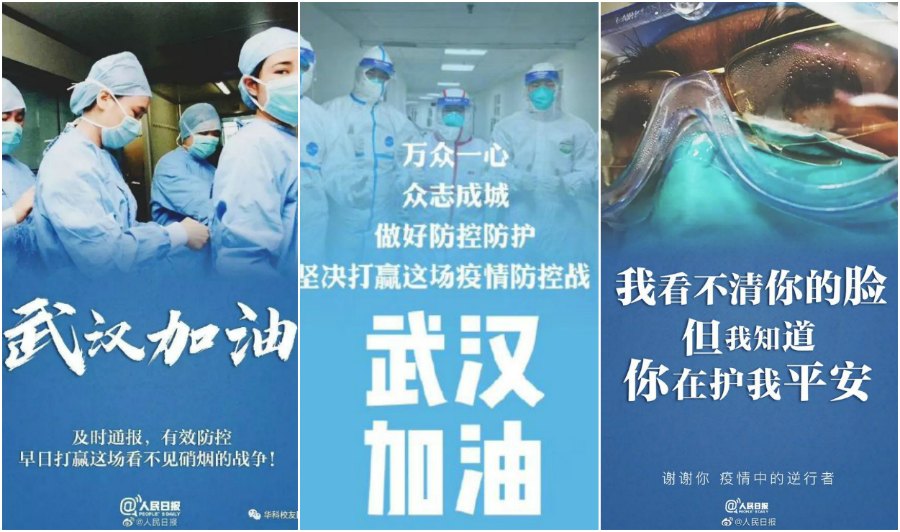 This kind of visual propaganda often highlights the idea of "sacrificing," especially when it comes to women as pretty girls, loving mothers, or good wives.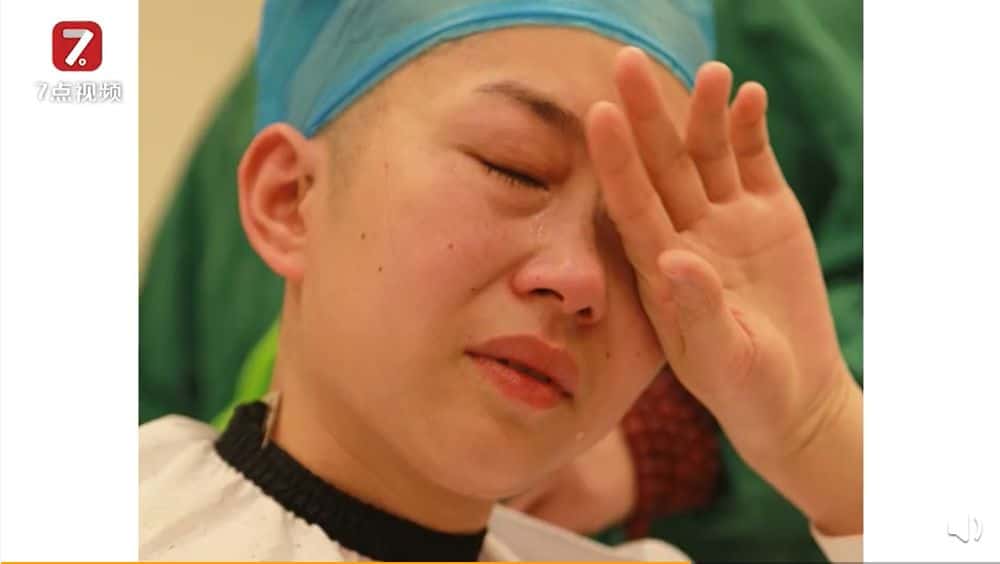 In the WeChat article, author Chen argues that Chinese state media always uses women's bodies as a tool for propaganda, and argues that it should not be necessary for women to endure extra hardship or suffering (in this case, sacrifice their hair) in order to make them admirable 'model workers.' The fact that they are fighting on the front line should be more than enough reason to praise them, Chen writes.
While these women's tears were "used to try to impress the audience" and become an example of some "collectivist spirit," Chen argues, this kind of propaganda backfired because the individual needs and wishes of these women were completely ignored during the process.
Although the original story and visuals may have meant to be empowering in times of coronacrisis, they are actually counterproductive to female empowerment at large.
This is not the first time the role of women in Chinese state media propaganda become a big topic of discussion online.
In 2016, a photo series titled "100.000 soldier-loving girls" (十万恋军女孩) posted by China's Military Web during the Wuhan flood also caused controversy. In the online media campaign, Chinese state media paid a 'tribute' to rescue workers by sharing pictures of girls holding the message "I wish to wash your uniform for you". It triggered online discussions on the submissive female image propagated by Chinese state media.
At time of writing, various posts about the shaved heads of the Gansu medical workers have been taken offline.
For more COVID-19 related articles, please click here.
By Manya Koetse (@manyapan) and Bobby Fung (@bobbyfungmr), with contributions by Miranda Barnes
Spotted a mistake or want to add something? Please let us know in comments below or email us. First-time commenters, please be patient – we will have to manually approve your comment before it appears.
©2020 Whatsonweibo. All rights reserved. Do not reproduce our content without permission – you can contact us at info@whatsonweibo.com.
Chinese Idol Survival Shows – The Start of a New 'Idol Era'
Idol reality survival shows are riding a new wave of popularity in China.
China has a vibrant online popular culture media environment, where new trends and genres come and go every single day. Chinese idol survival shows, however, have seen continued success and now seem to go through another major peak in popularity. What's on Weibo's Yin Lin explains.
On May 30, the finale of Chinese online video platform iQIYI's Youth With You 2 (青春有你2) broke the Internet. Official videos on iQIYI's Youtube channel garnered over 300 million views. At the time of writing, the hashtag "Youth With You 2 Finale" (#青春有你2总决赛#) has 3.15 billion views; the hashtag "Youth With You 2" (#青春有你2#) has 14.5 billion views. 
In recent years, China has produced a slew of so-called 'idol survival shows.' They have enjoyed much popularity among local audiences, as well as overseas—more than 393 hashtags related to Youth With You 2 trended in Asia, Europe, South America, and North America. In this overview, we explore the background, status quo, and future of China's idol survival shows.
The Start of The 'Idol Wave' in China 
In China's idol survival reality shows, so-called 'trainees', or aspiring idols, participate in a series of different challenges to compete for a chance to debut.
The 'idol culture' (偶像文化) has been dominating popular culture in Japan and South Korea for many years. An idol is, in short, a heavily commercialized multi-talented entertainer that is marketed – sometimes as a product – for image, attractiveness, and personality, either alone or with a group.
Especially K-pop and the Korean entertainment industry have since long been extremely popular among Chinese youth, heavily influencing pop culture in China today (more about Korean and Japanese idols here and here, and also read our article "Why Korean Idol Groups Got So Big in China and are Conquering the World").
These kinds of shows are ubiquitous in South Korea's popular culture, with Produce 101 (2016) becoming one of the most popular and successful South Korean reality series ever. 
The concept is simple. Every week, viewers vote for their favorite contestant. Trainees with insufficient votes during elimination rounds are eliminated from the competition. 
The group formed from the final trainees then goes on to 'promote' for a period of time, usually one to two years.
This method of creating an idol group, in which the members are basically selected by their own fans, is a major way to bridge existing distances between fans and their idols. Fan participation is a key factor in the success of idol reality shows.
While China has had several idol survival shows, iQIYI's Idol Producer (青春有你, 2018) was the first to reach levels of popularity similar to that of South Korea's Produce 101. 
Idol Producer premiered in January 2018 with Zhang Yixing as the host and Li Ronghao, MC Jin, Cheng Xiao, Zhou Jieqiong, and Jackson Wang serving as mentors.
This first season of Idol Producer brought together a total of hundred trainees. Though most trainees were from China, there were a few from overseas, such as You Zhangjing from Malaysia and Huang Shuhao from Thailand. The younger brother of Chinese actress Fan Bingbing, Fan Chengcheng, also participated in the show.
The first episode of Idol Producer attracted more than 100 million views within the first hour of broadcasting. In the final episode, more than 180 million votes were cast, with first-place winner Cai Xukun raking in more than 47 million votes.  
Two months after Idol Producer, Tencent launched Produce 101 China (创造101) in March 2018. Both shows marked the start of the 'idol wave' in China. 
In the next two years, more idol survival shows would dominate the Chinese entertainment scene. iQIYI released Youth With You 1 (青春有你) and Youth With You 2 (青春有你2) in 2019 and 2020 respectively. Tencent, too, released Produce Camp 2019 (创造营2019) and Produce Camp 2020 (创造营2020), the latter of which is currently airing. 
China's New Idol Survival Show Era 
In 2018, both Produce 101 China and Idol Producer enjoyed overwhelming popularity, accumulating more than 4.73 billion views and 3 billion views respectively. Their sequels, however, have failed to achieve the same level of success.
At the time of writing, 150,000 viewers have completed Youth With You 1 on Chinese community site Douban, versus 470,000 viewers for its predecessor, Idol Producer. Additionally, the number of votes cast for the first episode of Youth With You 1 was much lower compared to its Idol Producer equivalent. 
As for Produce 101 China, 510,000 viewers have completed the show on Douban, but only 340,000 viewers have finished watching its sequel. 
Groups formed from these shows have met with varying amounts of success and have run into problems regarding scheduling conflicts. 
Nine Percent, the boy group formed from Idol Producer in 2018, was known as a group that rarely met. Their second album was a compilation of tracks from solo members. Members had existing contracts with their own companies while simultaneously promoting with Nine Percent; hence, due to scheduling conflicts, members would often forgo Nine Percent activities for those of their own company. 
Rocket Girls, formed from Produce 101 China, also faced problems after debuting. Due to conflicts between Tencent and their management company, Yuehua Entertainment, Meng Meiqi and Wu Xuanyi, who placed first and second respectively, left the group two months after debut.
Despite the problems faced by groups formed from such shows, some idols were able to ride on the momentum they gained from participating.
For instance, Cai Xukun, first-place winner of Idol Producer, swiftly rose to become one of the most popular trainees on the show, consistently ranking first place in every round of elimination. He was also the host of the recently concluded Youth With You 2.
Other trainees have also seen individual success. Liu Yuxin, the first-place winner of Youth With You 2, gained attention for her androgynous look: short hair, a cool personality, and wearing shorts instead of a skirt. Her hashtag "Liu Yuxin" (#刘雨昕#) has been viewed more than 550 million times on Weibo. In the final episode, she received more than 17 million votes.
Despite the lowering audience ratings for other recent idol shows, the success of Youth With You 2 might mark the start of a new 'idol era'. Even Chinese netizens wondered why the show is so popular compared to Youth With You 1.
Just one day after the finale premiered, the hashtag "Youth With You 2 Finale" had already been viewed more than 2.2 billion times on Weibo. On Douban, 580,000 viewers have finished the show—more than any of the previous idol survival shows by iQIYI and Tencent.
The Future of Idol Survival Shows 
Chinese idol survival shows were received with much fanfare when they first entered mainstream popular culture in 2018. But the ensuing conflicts that the resulting groups ran into resulted in netizens doubting the success and effectiveness of these shows. 
This year, however, the popularity of both Youth With You 2 and Produce Camp 2020 might signal a comeback for the idol era in China.
And this time around, Chinese idol survival shows are also gaining more traction outside of the PRC, becoming more and more popular among global audiences. Both Youth With You 2 and Produce Camp 2020 have been well-received by viewers from many different countries.
On social media, online commenters praise the two shows – and Chinese idol survival shows in general – for having a more "laid-back atmosphere" between the trainees and mentors. Web users also comment that they enjoy how the shows highlight the friendship between the trainees, rather than the feuds.
It seems that what sets Chinese idol survival shows apart from the South Korean ones is precisely why some viewers prefer them. The longer running times, for example, makes it possible to give more screen time to the different trainees and to give a deeper understanding of the relations between them.
With the popularity of idols like Liu Yuxin and Wang Ju who challenge conventional beauty standards, shows can also look into moving away from the cookie-cutter aesthetic that idols usually adhere to. 
Furthermore, management companies and broadcasting companies have to come to an agreement regarding what scheduling arrangement would benefit all parties and be conducive towards the idols' physical and mental health. 
It remains to be seen whether THE9, the newly formed group from Youth With You 2, will be able to flourish in the time to come and avoid the troubles that other groups ran into. 
As for Produce Camp 2020, it seems set to enjoy just as much success as Youth With You 2 did – if not more. Only five episodes have been released, but the show's hashtag already has 16.1 billion views.
A reviewer on Douban writes: "The trainees are all confident, taking opportunities to express themselves and actively showcase their talents. So much youthful and positive energy!" 
The latest newcomers to the idol reality show genre further consolidate the success of the format. Recently, Mango TV released Sisters Who Make Waves (乘风波浪的姐姐们, 2020), where female celebrities above 30 years old compete to make it into the final five-member girl group. The first episode was viewed more than 370 million times within the first three days of release and immediately became top trending on Weibo.
The number of survival shows in China right now and their growing popularity shows that audiences seemingly can't get enough of the genre. It is an indication that, despite setbacks in the past, China's idol survival reality show genre is still going strong and might be here to stay.
You can watch the currently airing Produce Camp 2020 and Sisters Who Make Waves here and here.
By Yin Lin Tan
Follow @WhatsOnWeibo
 Spotted a mistake or want to add something? Please let us know in comments below or email us. First-time commenters, please be patient – we will have to manually approve your comment before it appears.
©2020 Whatsonweibo. All rights reserved. Do not reproduce our content without permission – you can contact us at info@whatsonweibo.com.
When Weibo Stopped Updating Its Trending Topics List…
..Chinese netizens made the super-popular reality show "Sisters Who Make Waves" go viral anyway.
Sina Weibo stopped updating its trending topics list from June 10 to June 17 in compliance with an order from the Cyberspace Administration of China (CAC) for "disrupting online communication order" and "spreading illegal information."
During the seven day suspension, Weibo users had no access to the list of the most popular search terms and topics, which, similar to Twitter, appears in the feed or sidebar of the user interface.
One new reality show, however, became all the rage among Chinese web users and inspired some trending hashtags.
The popular reality show, titled Sisters Who Make Waves (乘风波浪的姐姐) was produced by Mango TV. The show follows the idea of idol group reality shows such as Youth with You (青春有你) produced by iQIYI.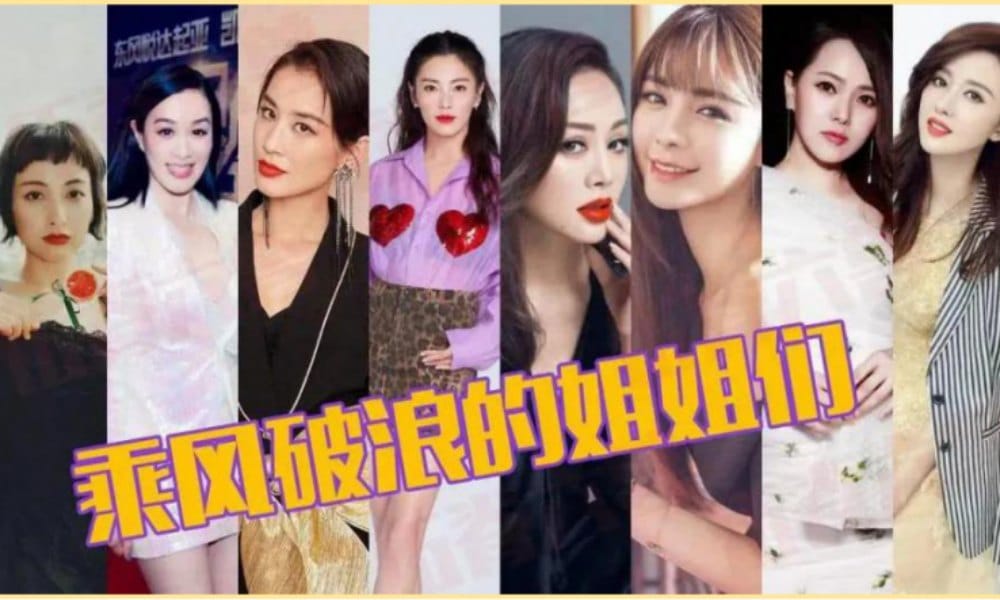 What makes the show different from other Chinese idol reality shows, is that all thirty contestants are familiar faces in the entertainment industry. These thirty 'sisters' are all singers, dancers, and actresses over the age of thirty, with some of them having made their debut a decade ago.
The first episode of the show premiered on June 12 11:50 AM, during Friday's working hours. Though its launch date and time were not even pre-announced on the show's official Weibo account, the premiere still raised heated discussions and soon became 'trending' – but with Weibo's temporary ban on trending lists, the topics were not displayed in any lists on the site.
Netizens found original ways to still show their big interest in this show and make it go viral.
Some Weibo users, for example, made "handwritten lists of 'Sisters Who Make Waves' trends" (#乘风破浪的姐姐手写热搜#). That hashtag alone already received more than 3.2 million views.
All these user-generated handwritten topics are related to some details of the first episode of the show, including quotes by the 'sisters', or the behavior of the show's presenter and judges.
Actor Huang Xiaoming, the official presenter of the final group, garnered more than 130 million views with a hashtag that had his name included. "Huang Xiaoming, the Master of Carrying Water"(#黄晓明端水大师#) went viral, hinting to Huang's behavior during the show; he posted thirty messages to the thirty 'sisters' in alphabetical order on Weibo just before the premiere, and he comforted each one of them by telling them that the show is nothing but "a plus" for them (#黄晓明这是加分项#).
Actress Ning Jing (宁静), one of the thirty sisters who is known for her straightforwardness, responded to the director's request to do an on-camera "self-introduction" by questioning out loud why she still needed to introduce herself at all. After all these of being active years in the industry, she wondered, had it all been for nothing? Her quick and witty response triggered another Weibo hashtag (#宁静 我几十年白干了#).
The hashtag "Sisters Who Make Waves Kick Off" (#乘风破浪的姐姐开播#) has attracted more than 430 million views on Weibo so far, with the hashtag of the show's title (#乘风破浪的姐姐#) receiving more than 7.6 billion views.
One thing is clear –  Sisters Who Make Waves definitely knows how to make waves on Weibo. No matter if Sina Weibo has trending lists or not, Weibo users will make sure that the topics they love go viral anyway.
By Wendy Huang
Follow @whatsonweibo
Spotted a mistake or want to add something? Please let us know in comments below or email us. Please note that your comment below will need to be manually approved if you're a first-time poster here.
©2019 Whatsonweibo. All rights reserved. Do not reproduce our content without permission – you can contact us at info@whatsonweibo.com