Thought you visited the Terracotta Army, one of the great wonders of the world? You might have been tricked into a cheap replica of the famous tourist site. The complaints of people visiting Xi'an who are tricked by "tour guides" are growing louder.
Recently, one Chinese travel review attracted many readers on Douban, a Chinese social media network. In the blog, titled "Xi'an is a fun city: both its tourist sites and its scammers," the writer tells how he went through a challenging game of outwitting cunning "tour guides" during his travels in Xi'an.
The netizen shared how he painstakingly defeated all the 'bosses' and finally managed to see the REAL Terracotta Army instead of its poor replica.
The 'game' began once the blogger had stepped out of the train at Xi'an station, where a fake policeman lured him to the wrong bus. A man in black then tried to convince him that the Terracotta Army pits were so far that he had to take another bus, and a free shuttle bus offered to take him to the real pit.
If it is your first time in Xi'an, and you haven't done much preparation before the trip, you might fall into the trap and be guided to the "famous sites": a Terracotta Army pit, an "Eight Wonders of the World" museum, and some other sites where famous historical events supposedly took place.
Here is what you will be seeing when you go to the "famous sites":
• Shiny terracotta warriors with pouty red lips. Their color, despite what archaeologists say about the paint fading in open air, is vividly preserved. Sometimes they even have a modern-looking girl in their company. [Site: Underground Place of Qin, 秦陵地宫]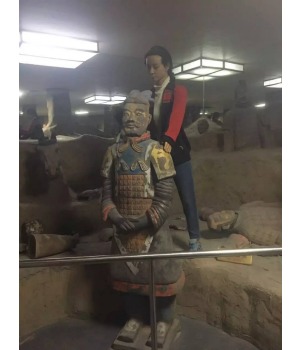 • The "Eight Wonders of the World," where you will see things such as the tomb of Tutankhamen, Egyptian pyramids, or the three goddesses of ancient Greece. [Site: Eight Wonders of the World Museum, 世界八大奇迹馆]
• Or paintings and wax figures depicting people's lives in the past. [Site: Eight Wonders of the World Museum; Relics of Feast at Hong Gate, 鸿门宴遗址]
Although visitors might feel confused and disappointed after such a trip, they often do not not dwell on it for too long; after all, the above three places are officially recognized tourist sites by the Shaanxi Tourism Administration (陕西旅游政务), and have existed for decades.
But since last year, tourists' complaints have grown louder, especially after the October Golden Week holiday when millions of people came to Xi'an to see the historical wonders of the city. Many were angered that they got to see cheap replicas instead.
The problem is that replica attractions used to be officially recognized tourist spots in the same way as real historical sites were. According to Mr. Zhang, an insider interviewed by Pear Video, the tourist sites with poorly replicated relics were constructed in the 1980s, when tourist resources were still scarce.
The 'fake' sites were used to satisfy the curiosity of visitors, so that they could see 'historical relics' they would otherwise never have a chance to see.
Although these replicas might have been of acceptable quality 30 years ago, they now seem crude, cheap, and very much outdated.
But more importantly, many historical sites have now become much more accessible to visitors than they were in the 1980s. On one single day in October 2016 alone, the Emperor Qinshihuang's Mausoleum had 120,000 visitors. Now that the 'real' sites are open for visitors, tourists no longer want to see replicas.
Nevertheless, tourists are still lured to go to these replica sites, only later finding out that they are at the wrong place. According to Mr. Zhang, the operators of these 'fake' sites spare no means to cooperate with illegal travel agencies to bring more visitors to their premises.
As a result of the rising complaints, the Xi'an Tourism Board has disqualified the above-mentioned three sites as of September 2016.
Yet according to Chinese netizens and daily newspaper Dushi Kuaibao (@都市快报), the scamming "travel guides" are still ubiquitous in Xi'an, tricking ignorant visitors every day.
Despite all the controversies, Xi'an is still worth a visit. Take this kind advice of a Xi'an netizen who warns travelers not to waste money on cheap scams:
"We always welcome guests to Xi'an. If your budget is low, prepare your trip in advance. If your budget is high, stay at a 5-star hotel and rent a car. As long as you do not travel on the cheap, you won't be cheated. The point of traveling is spending money for enjoyment. If you spend your money at the right place, you will get the most out of it."
-By Diandian Guo
Follow on Twitter or Like on Facebook
©2016 Whatsonweibo. All rights reserved. Do not reproduce our content without permission – you can contact us at info@whatsonweibo.com.