16 Years Ago Today: The Lanjisu Fire That Changed China's 'Wangba' Era
The tragic Lanjisu fire led to a nationwide crackdown on internet cafes in China.
A Beijing internet cafe fire that killed 25 young people in 2002 has become part of China's collective memory: it was a shift in China's internet cafe era. Today marks the 16th anniversary of this tragic event.
On June 16, 2002, at 2:40 a.m., a devastating fire broke out at a second-story Internet cafe (wangba 网吧) in Beijing's Haidian, the city's university district.
News of the tragic fire shocked the entire nation. The fire had instantly killed twenty people and severely injured 17, of whom five later died in the hospital.
All of the dead and injured people were students; 12 of them were from the prep school of the Beijing University of Science and Technology (Wang 2009, 86).
Although it did not take long for firefighters to arrive that night, the fire at the Lanjisu (蓝极速, 'Blue speed') internet cafe was mainly so disastrous because windows were firmly secured with iron burglar-proof bars, leaving no option for people to escape. The only door was locked; it happened more often that wangba owners would (illegally) operate overnight behind locked doors (Qiu 2009, 33).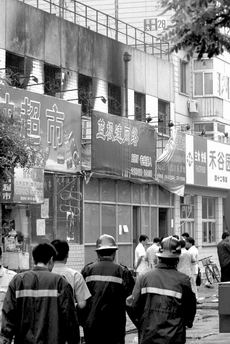 Investigators later ruled arson as cause of the fire at the cafe, which was located at Xueyuan Road 20. Traces of gasoline were discovered at the scene, and two teenage male suspects (13-year-old Zhang and 14-year-old Song) were arrested two days later.
The teenage boys were middle school students who used to play games at the internet cafe, but had gotten into a quarrel with other visitors and were not allowed to come in. To take 'revenge', they had purchased 1.8 liter of gasoline at a nearby gas station just 3-4 hours before they committed arson.
It was later revealed that the two boys both came from poor and shattered families, involving drugs and crime (Lifeweek 2003; Qiu 2015).
In August of 2002, a Beijing court sentenced the 14-year-old boy (Song X.) to life imprisonment, while the 13-year-old was sent to a juvenile re-education center as he was under the age of 14.
A third person, a 17-year-old female also named Zhang, was sentenced to 12 years in prison for being an accomplice; she gave the boys money to but the petroleum, and knew what they were up to. A fourth minor, a 14-year-old boy by the name of Liu, was sentenced to 18 years in prison for being part of the arson plan. The internet cafe owner was sentenced to 3 years in prison for breaching business and safety rules. The gas station was fined 50,000 yuan for selling gasoline to two minors (Lifeweek 2003; Sina 2008).
A turning point in the wangba boom
The Haidian Lanjisu fire had a big impact on China's booming internet cafe culture. Internet cafes had been mushrooming in China since the mid and late 1990s. It was the time of Tencent's highly popular instant messaging software OICQ and multiplayer online games. By 2002 there were thousands of wangba across Chinese cities, many of them unlicensed and illegal, with no fire control equipment.
The Lanjisu fire made the problem of China's wangba a national concern. Not just the unsafe conditions were a reason for worry, but also the impact the internet cafes had on China's youth, with students spending days on end playing online games in these smoky rooms, leading to a rise in school absence and internet addiction. Beijing's vice mayor Liu Zhihua condemned internet cafes as "opium dens" for the country's youth.
The fire led to a huge crackdown on illegal internet cafes. The Beijing authorities launched a campaign that would stop the development of new internet cafes and that would screen all existing wangba one by one, and to close all unlicensed businesses immediately and to confiscate their operational tools (Wang 2009, 87). Across the country, approximately 400,000 internet cafes were closed (Sina 2008).
It also led to the implementation of new rules, such as that there could no longer be internet cafes within a 200-meter radius of schools, that minors were not allowed to enter, and that they had to be closed between midnight and 8 am (Venkatesh 2006, 55)
Since 2005, the remnants of the Lansiju internet cafe have been on display at the Haidian Safety Museum.
The fire is remembered in China as the "6.16 Wangba Big Fire" (6·16网吧大火), and is still being discussed on Chinese social media to this day.
By Manya Koetse
Follow @whatsonweibo
References
Qiu, Jack Linchuan. 2009. Working-Class Network Society
Communication Technology and the Information Have-Less in Urban China. Cambridge, MA: MIT Press.
Qiu, Jack Linchuan. 2015 (2009). "Life and Death in the Chinese Informational City: The Challenges of Working-Class ICTs and the Information Have-less." In: Living the Information Society in Asia, Erwin Alampay Alampay (ed), 130-157. ISEAS–Yusof Ishak Institute.
Sina. 2008. "北京蓝极速网吧老板今安在." Sina News, 29 Dec http://news.sina.com.cn/s/2008-12-29/100416941011.shtml [16.6.18].
Venkatesh, P. 2006. "China on the I-way." In: Strategic Management: Concepts and Cases, Hitt, Duane & Hoskisson (eds), chapter 2. Mason: Thomson Higher Education.
Wang, Xueqin. 2009. "Internet Cafes. What else can be done in addition to rectification?" In: Good governance in China–a way towards social harmony : case studies by China's rising leaders, edited by Wang Mengkui, Lchapter 8. London & New York: Routledge.
Zhuang, Shan 庄山, Ke Li 柯立, Li Wei 李伟, Wu Ang 巫昂. 2003 (2002). "两个纵火少年和25条生命" ["Two Minor Arsonists and 25 Lives"]. LifeWeek 2002 (26), online April 8 2003 http://www.lifeweek.com.cn/2003/0408/1594.shtml [16.6.2018].
Spotted a mistake or want to add something? Please let us know in comments below or email us.
©2018 Whatsonweibo. All rights reserved. Do not reproduce our content without permission – you can contact us at info@whatsonweibo.com.
Insights into Sesame Credit & Top 5 Ways to Use a High Sesame Score
These are the top ways in which netizens' high Sesame Credit scores can be used in daily life.
First published
There's been much talk about China's 'credit score' recently, with many media conflating the country's Social Credit System with the commercial Sesame Credit programme. In this article, we will explain the latter: what is Sesame Credit and what can users do with their high score?
Note: for more about the Social Credit System and differences in its media coverage in China and the West, please see this article.
With all the talks about China's nascent Social Credit system and commercial social credit programmes, it is becoming clear that Chinese netizens are entering a 'credit lifestyle' (信用生活).
"All Chinese citizens now have a score," is an idea that has popped up in many foreign media over the past years, often conflating it with China's nascent 'Social Credit System.' To read more about the Social Credit System see our articles about this here or here. In this article, we will solely focus on Sesame Credit.
On Weibo, the official Sesame Credit account (@芝麻信用), which has over 240,840 followers, often announces new ways for people to profit from their (high) Sesame Credit score.
What's on Weibo explores and lists five different ways in which a high Sesame Credit score can be used in China today. But first – what actually is Sesame Credit?
About Sesame Credit
Sesame Credit (Zhīma xìnyòng 芝麻信用) was launched on January 28, 2015, by Alibaba's Ant Financial, after it had received permission by the PBOC (People's Bank of China) to be one of the eight Chinese companies to experiment with personal credit reporting.
According to the Sesame Credit company, its major goal is to make credit more widely available to consumers and small business owners, and to "enable credit providers to make holistic and accurate decisions," while also "empowering merchants to provide more credit-related services."
Because Sesame Credit is part of Jack Ma's Alibaba Group family (Ant Financial is an affiliate of the Chinese Alibaba Group), Sesame Credit has an enormous amount of data at its disposal, from e-commerce sites to finance products. China's biggest shopping websites Taobao and Tmall belong to Alibaba's vast online ecosystem, as does payment app Alipay.
It is not mandatory for users to opt into Sesame Credit. Some have compared the system to a loyalty program, although it is a bit more than that. Since 2015, for example, Sesame Credit also cooperates with the popular online dating service company Baihe.com (百合网), so that people can link their dating profile to their credit score. Sesame Credit already had 520 million users as of 2017.
Since its launch, various foreign media have written about Sesame Credit as an 'Orwellian system.' Among others, one of the reasons for this, is that Sesame Credit incorporates a publicly available 'blacklist' into its scoring process. The 'blacklist' is a Chinese courts' list with the names of people that have an effective court justice against them; inclusion on this list can make users' existing Sesame Credit drop dramatically, which would make people miss out on all perks of having a high Sesame Score.
Earlier in 2018, Alibaba, along with the seven other private credit programmes that were allowed to run their trial in 2015, become shareholders and active contributors to a new unified platform that has access to an enormous number of personal credit data. At the so-called 'trust alliance' (信联) Baihang Credit (百行征信), state level and commercial organizations join forces in further developing China's credit systems.
About the Score
Within the Sesame Credit programme, the lowest score one can get is 350. The highest is 950. This score is based on users' behavior across various platforms. A score of 550 to 600 is an intermediate/normal score. 600-650 is considered a 'good' score. Those in the 700-950 range are exceptionally high in score.
For those who first opt-in to Sesame Credit, and who have not had any violations, 600 is usually the score to receive.
Some of the important elements the score is allegedly based on, are –
• (35%) general credit history: past payment history and indebtedness – if persons still have enough credit on their credit card when purchasing items, if they pay their gas & electricity on time [often done through Alipay in China], pay violations tickets on time, etc.
• (25%) general financial status/fulfillment capacity: the available amount on users' Alipay account, if they are renting a car/house etc. and are able to pay for it, status of Huabei (a credit card function within the Alipay wallet), etc.
• (20%) online behavior and preference: the extent to which an account is actively used, how many purchases are done, etc.
• (15%) people's personal characteristics: educational background, address, real-name registrations, etc.
• (5%) contact network and interpersonal relationships: how many online contacts one has, ones's influential power in contact list, interactions between user and friends, etc.
For those who opt in to Sesame Credit and have a high score, there are many different ways to benefit from it, as listed below.
The Top Ways to Benefit from Sesame Credit
Please note that there are more ways to benefit from a high Sesame Credit score, but we have listed five popular ones below.
#1 'Credit Treatment' at Hospitals
In November of 2017, Sesame Credit first launched its "Credit Medical Treatment" (信用就医) services for people with a score over 650, with Shanghai's Huashan hospital being the country's first hospital to implement the function.
With "Credit Medical Treatment," patients could save up to 60% of waiting time at hospitals by cutting lines and not needing to pay for treatments upfront. Payments are done through Sesame Credit's in-app credit function Huabei (花呗).
While a normal procedure at Chinese hospitals can be time-consuming, the Sesame Credit procedure is much more efficient, mainly because people do not need to line up to pre-pay for their medical check-up and the medications.
Normal procedure:
(±20 min) 1. Arrive and register at the hospital and pay for it
(±60 min) 2. Waiting time to see a doctor
(±10 min) 3. Doctor's appointment/consultation
(±20 min) 4. Line up for payment [of examination]
(±20 min) 5. Check-up/Examination
(±20 min) 6. Queue up for payment
(±10 min) 7. Pick up medicine
The procedure with Sesame Credit:
(±3 min) 1. Register at hospital and payment by phone.
(±10 min) 2. Automatically get a number to see the doctor.
(±10 min) 3. Doctor's consultation.
Payment [for examination]
(±20 min) 4. Examination.
Payment [for medicine]
(±10 min) 5. Pick up medicine
There are also other ways in which people with a good Sesame Credit score can enjoy extra services and benefits at hospitals. Those with a score over 600, for example, can rent a wheelchair in hospitals without deposit.
#2 Try First, Pay Later
Since September 2018, Sesame Credit offers the possibility to "try out" purchases from Tmall for consumers who have a Credit Score of over 700, promoting the idea of "never regretting a purchase."
With this concept, people can order clothes or other items from e-commerce platform Tmall (天猫 Tiānmāo in Chinese) without any risk, having the guarantee to always being able to send back items that are unsatisfactory without paying for them.
There are also frequent promotions done by brands and companies in collaboration with Sesame Credit, such as offering people with a high credit score (over 750) to try out the newest Ford for three days, or to use the latest Meitu phone for 30 days for free, without necessarily needing to buy it afterward.
Sesame Credit also makes it more tempting for its users to spend money on (Alibaba) platforms in other ways. The higher one's credit is, the more one is able to lend from online lending service Huabei; those with a credit higher than 750 can lend up to 20,000 RMB (±$2890). Unsurprisingly, the literal translation of Alipay's 'online credit card' service Huabei (花呗) is "Just Spend."
#3 No Deposit on Shared Bikes (and other things)
Sesame Credit has a partnership with bike sharing platforms Hello Bike (哈罗单车) and Ofo, allowing users with a credit over 650 points to rent these bicycles, that can be found anywhere in bigger cities in China, without paying a deposit.
It is not the only service that does not require a deposit for those with a high Credit score; using a shared umbrella, or a publicly available shared phone charger, or even renting apartments, often no longer needs a deposit for those with a higher score.
#4 Open Access to Libraries
In many places in China, people who have a Sesame Credit score over 550 no longer need to pay a downpayment and can set up a library card for free, in other places people with a higher Sesame score no longer need a library card at all to borrow books at their local libraries and/or their automated self-service street libraries (just their ID).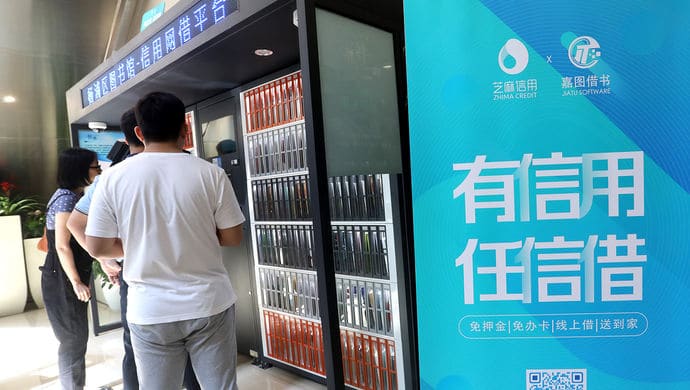 Since April of 2018, this special service for Sesame Credit users (not needing a card) was introduced in the entire Zhejiang province. Public libraries in other places, such as Shanghai, have already been experimenting with Sesame Credit perks for library lovers since 2015.
#5 Special Lounges at Train Stations
Especially during peak seasons such as the National Day holidays or Spring Festival, China's train stations can get exceptionally busy. For Sesame Credit members with a score over 650, there are now special lounges to relax.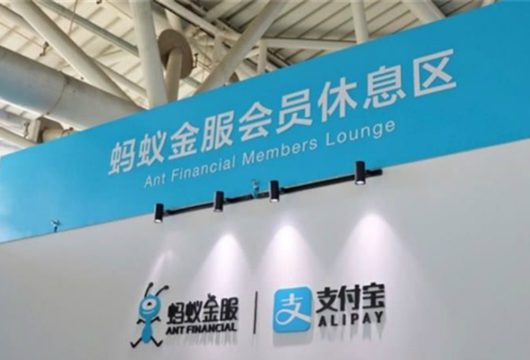 Sina notes that the lounge is only available to those members who have also bought a higher fair ticket (first class), or who have a platinum status.
By Manya Koetse
Follow @whatsonweibo
Spotted a mistake or want to add something? Please let us know in comments below or email us.
©2018 Whatsonweibo. All rights reserved. Do not reproduce our content without permission – you can contact us at info@whatsonweibo.com
Making China's Healthcare More Mobile: Wuxi Launches 'Smart Medical App'
The Wuxi Medical App makes Chinese health care more digital.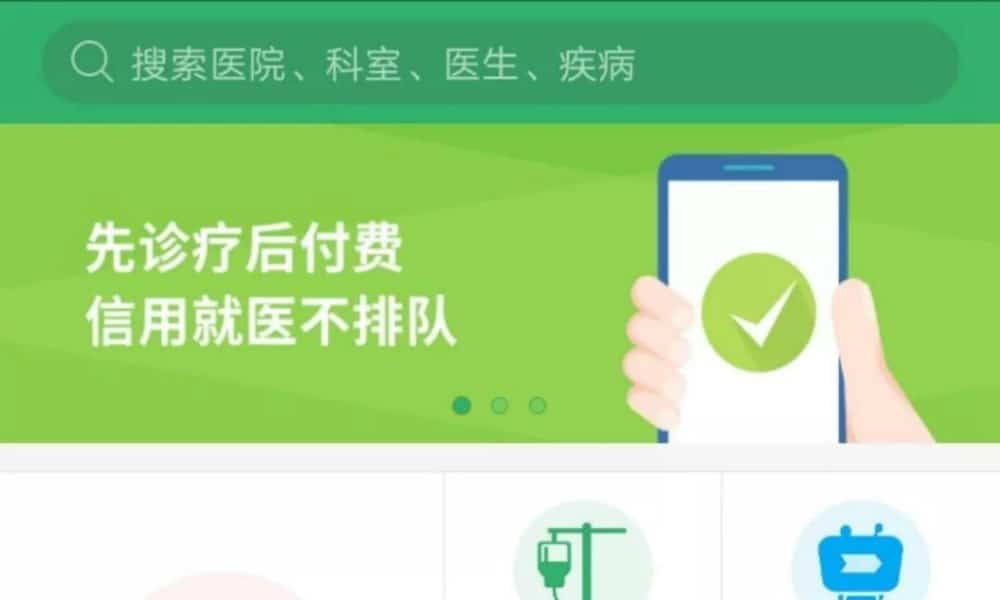 With the trial launch of the Wuxi Smart Medical app [无锡智医APP], patients of eight different Wuxi hospitals can now experiment with navigating their healthcare through mobile.
In late October, the Wuxi Municipal Health Planning Commission launched a trial version of the so-called "Wuxi Smart Medical App" [无锡智医APP] in cooperation with eight hospitals in the city of Wuxi, Jiangsu province – a city with a population of more than six million people.
The app is meant to make the navigation of health services more convenient for both patients and people who work in the medical sector.
According to Wuxi Daily, one of the reasons why the app was designed is to alleviate the widespread problem of long queues at local hospitals.
Especially in China's bigger cities, many patients have to wait in line for hours or sometimes even days before they can register for an appointment (a process known as guàhào 挂号), and receive medical treatment.
With the free app, users can now efficiently register for a doctor's appointment at one of the eight cooperating hospitals through their mobile phone, without having to stand in line at the hospital. The app also allows patients to see and pay for their medical bills, check medical information, and see their examination results.
"When I needed medical consultation or treatment, I never knew what department or doctor I had to queue for," Liu Xingyu (刘星宇), director of the Information Department of the Municipal Health Planning Commission, tells Wuxi Daily: "I was not the only one facing this problem. But with the app, patients can now insert a type of medical issue, their symptoms, etc., and the app will recommend the [relevant] department."
To get insights into examination results, patients using the app no longer have to spend entire afternoons waiting in the hospital. The app stores all examination results going back one year.
As for the payment of medical fees, the app provides users with a self-service payment option. By following a few steps, people can pay their medical bills on their phone through Alipay.
The Wuxi app is a new app, but the idea of bringing China's digitalization into the health care system is not new. As reported by Technode, Tencent already launched WeChat Intelligent Healthcare (微信智慧医疗) in 2014, a platform that allows users to do things such as book appointments, make payments, and more, at hospitals and other medical facilities through WeChat public accounts.
China's healthcare system has also become more digitalized through options offered by some hospitals in China for people with a relatively high score on their Sesame Credit to receive certain 'perks', such as being able to skip lines, or use wheelchairs without paying deposits. (For more about Sesame Credit, an opt-in commercial credit programme by Ant Financial (Alipay), also see this article).
Perhaps Wuxi's trial app will lead the way for other hospitals in China to become more mobile-focused. For now, the Android version of the Wuxi app is available on Huawei and Xiaomi app stores. The iOS version is expected to be available in the Apple Store soon, as is the added option to pay for medical bills through WeChat.
By Gabi Verberg, with contributions by Manya Koetse
Follow @whatsonweibo
Spotted a mistake or want to add something? Please let us know in comments below or email us.
©2018 Whatsonweibo. All rights reserved. Do not reproduce our content without permission – you can contact us at info@whatsonweibo.com