16 Years Ago Today: The Lanjisu Fire That Changed China's 'Wangba' Era
The tragic Lanjisu fire led to a nationwide crackdown on internet cafes in China.
A Beijing internet cafe fire that killed 25 young people in 2002 has become part of China's collective memory: it was a shift in China's internet cafe era. Today marks the 16th anniversary of this tragic event.
On June 16, 2002, at 2:40 a.m., a devastating fire broke out at a second-story Internet cafe (wangba 网吧) in Beijing's Haidian, the city's university district.
News of the tragic fire shocked the entire nation. The fire had instantly killed twenty people and severely injured 17, of whom five later died in the hospital.
All of the dead and injured people were students; 12 of them were from the prep school of the Beijing University of Science and Technology (Wang 2009, 86).
Although it did not take long for firefighters to arrive that night, the fire at the Lanjisu (蓝极速, 'Blue speed') internet cafe was mainly so disastrous because windows were firmly secured with iron burglar-proof bars, leaving no option for people to escape. The only door was locked; it happened more often that wangba owners would (illegally) operate overnight behind locked doors (Qiu 2009, 33).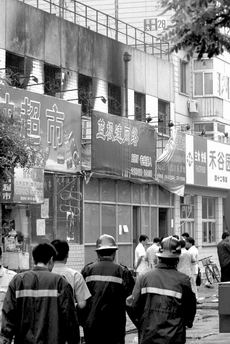 Investigators later ruled arson as cause of the fire at the cafe, which was located at Xueyuan Road 20. Traces of gasoline were discovered at the scene, and two teenage male suspects (13-year-old Zhang and 14-year-old Song) were arrested two days later.
The teenage boys were middle school students who used to play games at the internet cafe, but had gotten into a quarrel with other visitors and were not allowed to come in. To take 'revenge', they had purchased 1.8 liter of gasoline at a nearby gas station just 3-4 hours before they committed arson.
It was later revealed that the two boys both came from poor and shattered families, involving drugs and crime (Lifeweek 2003; Qiu 2015).
In August of 2002, a Beijing court sentenced the 14-year-old boy (Song X.) to life imprisonment, while the 13-year-old was sent to a juvenile re-education center as he was under the age of 14.
A third person, a 17-year-old female also named Zhang, was sentenced to 12 years in prison for being an accomplice; she gave the boys money to buy the petroleum, and knew what they were up to. A fourth minor, a 14-year-old boy by the name of Liu, was sentenced to 18 years in prison for being part of the arson plan. The internet cafe owner was sentenced to 3 years in prison for breaching business and safety rules. The gas station was fined 50,000 yuan for selling gasoline to two minors (Lifeweek 2003; Sina 2008).
A turning point in the wangba boom
The Haidian Lanjisu fire had a big impact on China's booming internet cafe culture. Internet cafes had been mushrooming in China since the mid and late 1990s. It was the time of Tencent's highly popular instant messaging software OICQ and multiplayer online games. By 2002 there were thousands of wangba across Chinese cities, many of them unlicensed and illegal, with no fire control equipment.
The Lanjisu fire made the problem of China's wangba a national concern. Not just the unsafe conditions were a reason for worry, but also the impact the internet cafes had on China's youth, with students spending days on end playing online games in these smoky rooms, leading to a rise in school absence and internet addiction. Beijing's vice mayor Liu Zhihua condemned internet cafes as "opium dens" for the country's youth.
The fire led to a huge crackdown on illegal internet cafes. The Beijing authorities launched a campaign that would stop the development of new internet cafes and that would screen all existing wangba one by one, and to close all unlicensed businesses immediately and to confiscate their operational tools (Wang 2009, 87). Across the country, approximately 400,000 internet cafes were closed (Sina 2008).
It also led to the implementation of new rules, such as that there could no longer be internet cafes within a 200-meter radius of schools, that minors were not allowed to enter, and that they had to be closed between midnight and 8 am (Venkatesh 2006, 55)
Since 2005, the remnants of the Lansiju internet cafe have been on display at the Haidian Safety Museum.
The fire is remembered in China as the "6.16 Wangba Big Fire" (6·16网吧大火), and is still being discussed on Chinese social media to this day.
By Manya Koetse
Follow @whatsonweibo
References
Qiu, Jack Linchuan. 2009. Working-Class Network Society
Communication Technology and the Information Have-Less in Urban China. Cambridge, MA: MIT Press.
Qiu, Jack Linchuan. 2015 (2009). "Life and Death in the Chinese Informational City: The Challenges of Working-Class ICTs and the Information Have-less." In: Living the Information Society in Asia, Erwin Alampay Alampay (ed), 130-157. ISEAS–Yusof Ishak Institute.
Sina. 2008. "北京蓝极速网吧老板今安在." Sina News, 29 Dec http://news.sina.com.cn/s/2008-12-29/100416941011.shtml [16.6.18].
Venkatesh, P. 2006. "China on the I-way." In: Strategic Management: Concepts and Cases, Hitt, Duane & Hoskisson (eds), chapter 2. Mason: Thomson Higher Education.
Wang, Xueqin. 2009. "Internet Cafes. What else can be done in addition to rectification?" In: Good governance in China–a way towards social harmony : case studies by China's rising leaders, edited by Wang Mengkui, Lchapter 8. London & New York: Routledge.
Zhuang, Shan 庄山, Ke Li 柯立, Li Wei 李伟, Wu Ang 巫昂. 2003 (2002). "两个纵火少年和25条生命" ["Two Minor Arsonists and 25 Lives"]. LifeWeek 2002 (26), online April 8 2003 http://www.lifeweek.com.cn/2003/0408/1594.shtml [16.6.2018].
Spotted a mistake or want to add something? Please let us know in comments below or email us.
©2018 Whatsonweibo. All rights reserved. Do not reproduce our content without permission – you can contact us at info@whatsonweibo.com.
TikTok's In-Video Search Function (And How to Activate It)
TikTok shows a glimpse of what in-video search is going to look like in the future.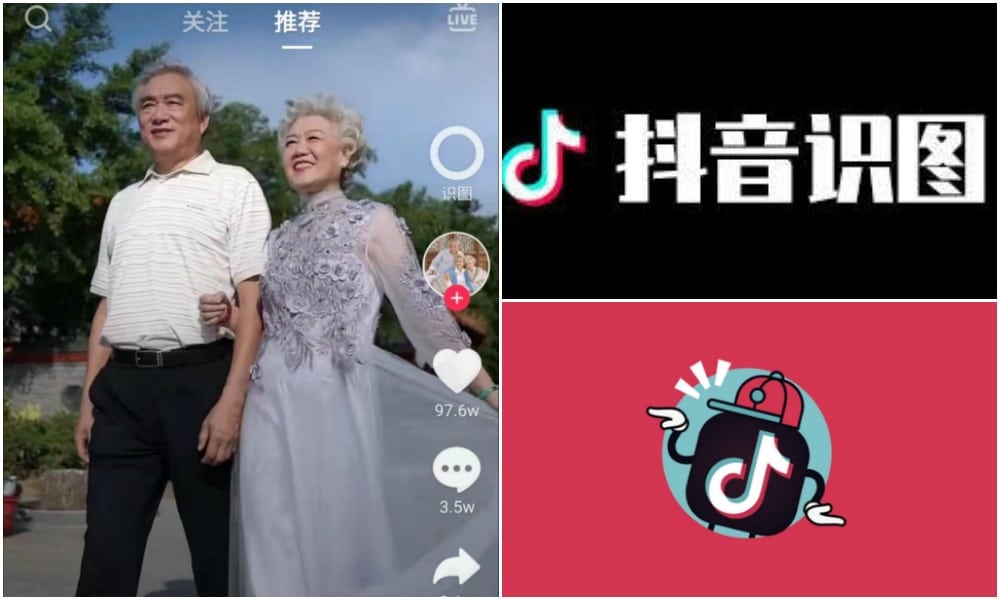 What is TikTok's new in-video search function and how to activate it?
Twitter's most awesome WeChat guru Matthew Brennan recently posted about an "in-video search function" launched in the Chinese social video app TikTok (抖音). (Click here to read about the difference between the Chinese and overseas version of TikTok).
As shown in a video posted by Brennan, the function allows TikTok users to select the face or clothes of a person appearing in a short video to search for other videos or images containing the same person or clothes.
Chinese TikTok now has in-video search. Search someone's face to find more videos of them. Search in-video products or clothes and buy directly #抖音 pic.twitter.com/RBcIqnOBgN

— Matthew Brennan (@mbrennanchina) September 23, 2019
The 'vision search' is a powerful new function within the super popular app.
The idea is that it becomes easier than ever for Tiktok users to find (and buy!) a piece of clothing, that perfect handbag, or even a snack featured in a video.
It also helps users to quickly find other videos in which an online celebrity appears. The function ultimately is an additional feature that keeps users scrolling and shopping within the app – increasing app traffic – as long as possible.
On September 16, Chinese media reported about the function as a "powerful" new tool that greatly strengthens the functionality of the popular short video app.
The function might not immediately seem completely new to Chinese app users; like Google Image Search, Baidu and Taobao also have similar functions (百度识图, 淘宝识图).
On e-commerce platform Taobao, for example, you can take a photo of an item you want (e.g. a certain snack as in example below) and Taobao will try to find the exact same product and list the online stores where you can buy it.
But TikTok's in-video search function is on a whole new level; it does not require users to scan or upload a photo at all. It gives an indication of what visual search will be like in the future.
Whatever video comes by in your TikTok stream, you only need to click the "search" function (识图), select the part of the video you want to search for (you can drag the square from area to area), and TikTok will find the product or face you're looking for – as long as there are comparable products/faces (it does so very fast).
Very much like Taobao, TikTok will recommend various (in-app) online stores where the product can be purchased.
Want to try out the function? For now, it only works in the Chinese version of the app and is still in the 'testing phase' and does not work with all videos.
Make sure you have an updated version of TikTok.
1. Go to "me" (我) page within TikTok
2. Tick the three lines in the top right corner
3. Go to the last option in the sidebar menu titled "lab" (实验室)
4. Activate the function (image below).
So now if you spot a dress you like and would like to buy, press the 'search' button on the right of a video, select the dress, and TikTok becomes like your personal shopping assistant looking for similar dresses for you.
This really makes online shopping more addictive than ever, and also makes it more difficult for people in online videos to hide where they bought their clothing, or what other videos they are in.
Read more about Tiktok here.
Read more about Chinese apps here.
By Manya Koetse
Spotted a mistake or want to add something? Please let us know in comments below or email us.
©2019 Whatsonweibo. All rights reserved. Do not reproduce our content without permission – you can contact us at info@whatsonweibo.com
Didi Riders Can Now Have "Verified Party Members" Drive Them Around
Party-building 3.0? Didi has got it covered.
First published
This is Party-building in the new era: Didi now allows users of its Premier Car Service to let a verified Party member drive them to their destination.
On September 20, as the People's Republic of China is nearing its 70th-anniversary celebrations, the country's most popular taxi-hailing app Didi published an article on Weibo and WeChat explaining its verified Party Member Driver Program.
Recently, riders in Beijing may have noticed something different at Didi's Premier Car service, which is called "Licheng" 礼橙专车 since June of last year.
Thanks to Didi's "Red Flag Steering Wheel" program, spotting a ride hailing CCP member has never been this easy. pic.twitter.com/DuHghtE8xu

— 王博源 Wang Boyuan (@thisboyuan) September 20, 2019
Some of Licheng's drivers now have a red background to their profile photos accompanied by a Communist Party emblem. Upon clicking the profile of these drivers, customers will see that this driver is a Party Member Driver ("党员司机") – meaning that the Didi driver's status as a Party member has been verified through Didi's "Red Flag Steering Wheel" program (红旗方向盘项目) that was set up in November 2018.
Didi writes that these drivers can also be identified as Party members through the red sticker on the dashboard at the passenger side, which literally says "Party member driver."
The article explains that the recent project is an effort to contribute to China's Party-building in the digital era, and that Didi aims to establish a Party member community within its company.
The company is apparently planning to make this community a lively one, as it promises to provide online and offline activities that will help these drivers stay up to date with the latest developments within the Party, and that will increase their "Party awareness."
Starting this month, Didi will reportedly also offer "patriotic classes" to all of its drivers via its online classroom program.
China has more than 88 million Party members. Party membership does not come overnight; those who want to become a Communist Party member need to attend Party courses, pass written tests, be recommended by other members, and pass a screening (read more here).
As for now, riders cannot manually pick to have a Party member as their driver; a nearby driver will be automatically selected when they order a car – if it is a Party member, they will know straight away from the driver's profile.
For now, Didi has set up "mobile Party branches" in Beijing, Shanghai, Shenzhen, and a number of other cities.
On Weibo, some see the initiative as a marketing move from Didi's side. "If you hear the driver is a Party member, you know it's reliable. It's a good thing."
The past year was a tough year for Didi, after the murders of two young women by their Didi driver made national headlines, causing outrage and concerns about customer's safety when hailing a car through the Didi company.
By Manya Koetse
Spotted a mistake or want to add something? Please let us know in comments below or email us.
©2019 Whatsonweibo. All rights reserved. Do not reproduce our content without permission – you can contact us at info@whatsonweibo.com