Let's (Not) Talk About Sex, Weibo – Cleaning Up China's Internet
On April 13th 2014, the Chinese government released an announcement about its renewed nationwide campaign against pornography. The campaign, tagged 'Eradicating Pornography & Illegal Publications – Cleaning the Web 2014', will be held from mid April until November 2014. Contrary to previous campaigns against pornography, this one specifically targets online activities (Sina News 2014). Since when did pornography become such a sensitive topic within China, and how political is the 'anti-porn' battle?
China's war against obscenity is in full swing. Over 3000 Weibo accounts and 100 websites have already been shut down for disseminating pornographic information (NDTV 2014). Despite the current anti-porn campaign and overall strict censorship, pornography is very much alive on Weibo and the Chinese Internet. The number of porn users within Mainland China has reached millions (Bin&Hong 2012, 111).
Pornography in Chinese History
Pornography has existed in China for thousands of years, and is imbedded in its cultural history. The origins of Chinese erotica and pornography can be traced back to the Han Dynasty (206 B.C. to A.D. 220), and remained prevalent up to the Qing Dynasty (1644-1911). Erotic images and symbols were expressed through literary fiction, paintings and sculptures, displaying different sexual practices- from lesbian sex or homosexuality to threesomes and anal sex (Griffiths 2011; Bin&Hong 2012, 114).
Beijing handscroll, late 19th century
The explicit erotic images within China's historical art were not necessarily intended to be 'pornographic'; they were influenced by practices from the ancient
Daoist religion
. In Daoism, sex was a way to be one with nature and to reach happiness and long life. The importance of Daoist practices made sex a major issue throughout dynastic history (AFP 2014; Griffiths 2011).
Mao & Sex
Sex is still a major issue in China, but campaigns against pornography have put a different light on erotica. Since the start of the rule of the Chinese Communist Party in 1949, censorship became prevalent throughout the country. During the Mao years, sexual expression was considered taboo. Love and sex did not contribute to the common good, and erotic material was banned in every form. The government determined what was allowed to be published on the subject, which was limited material on reproduction within the context of marriage (Koetse 2012, 6-16).
Although written or visual material on sex was practically non-existent during the rule of Mao, it became more prevalent after Deng Xiaoping introduced economic reforms and the Open Door Policy in 1978.The first political campaign against pornography, called "sweeping away the yellow subjects" ('yellow'meaning 'erotic/pornographic'), was launched in 1989. It banned all publications describing sexual behavior. Punishment or infringement was heavy; over twenty people were sentenced to death for distributing pornography. Other campaigns against pornographic material took place in 2004, 2007 and 2009 (Pan 1993, 59; Bin&Hong 2012, 116).
What is 'pornography'?
The government officially views pornography as something that "perverts China's young minds" and harms the country's "social ethos"(Kuo,2014). The first definition of 'pornography' was laid out in 1988. It makes a difference between "obscene" (yinhui) and "pornographic" (seqing) material, although both are illegal. The first is something that "portrays and promotes obscene acts, which appeals to the prurient interest in sex, leads to the corruption of the average person, and lacks artistic or scientific value" (Bin&Hong 2012, 121), while the latter is "that which, taken as a whole, is not obscene but contains some obscene content, which is harmful to the health and spirit of an average person, especially an adolescent, and lacks artistic or scientific value" (ibid., 121). The problem of these definitions is that they are open for discussion: who decides, for example, what 'artistic value' is?
To further enlarge the scope of the battle against "unhealthy" information, the Chinese government launched a new term in 2007 to define other illegal online material, calling it the "low and vulgar" (disu). This includes, quoting Bin Liang and Hong Lu (2012):
(…) (1) illegal material portraying extreme violence, murder, cursing, and libel; (2) material that leads juveniles to wrongful thinking and behavior and disturbs their normal study and lives, including material directly or implicitly showing human sexual organs and sexual behavior, and pictures, sound, cartoons, or articles with a titillating or derogative nature; (3) illegal commercials for sex drugs and treatment, as well as information spreading sexual transactions and illegal friend- making; (4) material invading others' privacy including exposure, secret photographing, and spreading others' private information via the Internet; (5) material violating correct marriage and family values, such as material encouraging extra-marital affairs, one-night stands, or swinging (wife-swapping) (…) (122).
The current '2014 anti-porn campaign' also includes this definition of the 'low and vulgar', which goes far beyond the scope of pornography.The government's broad definition of what 'obscenity' and 'porn' entails has caused many critics to believe that China's battle against porn is in fact a way to justify the censorship of political material.
Many Chinese artists have pushed the boundaries of censorship by playing with the concept of 'pornography' – after all, according to the legal definition, eroticism is not 'pornographic' when it has artistic value. Over the last decade, many cases have shown that government and artists have different views on what 'art' is.During his 2011 exhibition at Beijing's museum of Contemporary Art, performance artist Cheng Li publicly had sex with a woman – the performance was titled Art Whore. Cheng was arrested and sentenced to one year in labor camp. Artist Ou Zhizhang is well-known for doing naked push-ups in front of famous Chinese places. He was arrested for public nudity at multiple occasions (Keating 2011).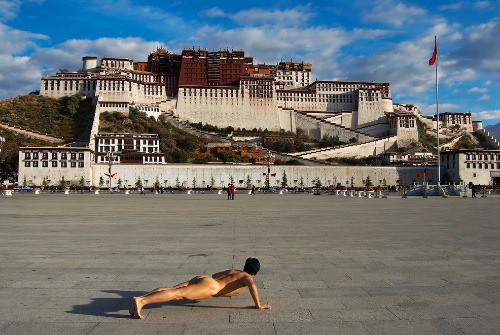 Ou Zhizhang doing naked push-ups in front of China's scenic spots
Another example is one of Ai Wei Wei's pictures titled 'One Tiger, Eight Breasts'. In this picture, Ai Wei Wei poses naked with four women, who are also naked. The photo led authorities to investigate Ai Wei Wei for the dissemination of pornography.This led to furious reaction of Weibo netizens, who believed the action was more about politically silencing Ai Wei Wei than about correcting his morality. They responded by putting naked pictures of themselves online to prove that nudity is not pornography (An 2011).
Pornography as Political Weapon
The battle against pornography has strengthened the government's control and supervision over China's Internet. 'Obscenity', 'porn' and the 'low and vulgar' have become buzz words that give grounds for the emergence of new technologies to screen the net. High-tech filter software, virtual police squads and online observation forces are important countermeasures against the fight for an 'online civilization'.
China Internet specialist Rebecca MacKinnon has already stated that anti-porn technology has ended up being used more for the purpose of censoring political content than to eradicate 'obscenities' (Kuo 2014).
So is pornography a thing of the past for Chinese internet users? Most probably- no. The number of Chinese netizens using porn is still increasing. China already holds 28% of the world's porn consumption. These kind of numbers show that a large part of China's netizens does not take the government's crusade against pornography that serious. It also means that online police squads and censor forces still have a lot of work ahead of them in the years to come. Good luck to them.
References
AFP-Jiji.2014."Erotic Art Offers Glimpse of China's Lost Sexual Philosophy. "The Japan Times (April 18)
http://www.japantimes.co.jp/news/2014/04/18/asia-pacific/erotic-art-offers-glimpse-of-chinas-lost- sexual-philosophy/#.U1fwdeaSwxm
(Accessed April 22, 2014).
An Xiao. 2011. "Getting Naked for Ai Wei Wei."
Hyperallergic
(November 21)
http://hyperallergic.com/41010/ai- weiwei-one-tiger-eight-breasts/
(Accessed April 22, 2014). Bin Liang and Hong Lu. 2012. "Fighting the Obscene, Pornographic and Unhealthy- an Analysis of the Nature, Extent and Regulation of China's Online Pornography Within a Global Context."
Crime Law Social Change
58: 111-130. Griffiths, James. 2011. "A Brief History of Chinese Porn."
Danwei
(August 14)
http://www.danwei.com/a- brief-history-of-chinese-porn/
(Accessed online April 21, 2014). Keating, Joshua E. 2011. "Cultural Revolutionaries." Foreign Policy (May 10) http://www.foreignpolicy.com/
articles/2011/05/10/cultural_revolutionaries (Accessed online April 22, 2014). Koetse, Manya. 2012(2008). "Shanghai Baby: Beyond China. A Chinese Novel Banished to the West." Bachelor Thesis, University of Amsterdam.  Kuo, Lily. 2014. "China's Latest Crackdown on Porn has Little to do with Porn."
Quartz
(April 14) 
http://qz.com/198932/china-latest-crackdown-on-porn-has-little-to-do-with-porn/
(Accessed online April 22, 2014). NDTV Gadgets. 2014. "China Shuts Down 110 Porn Sites as Part of Internet 'Cleanup' Drive."
NDTV
(April 21)
http://gadgets.ndtv.com/internet/news/china-shuts-down-110-porn-sites-as-part-of-internet-cleanup- drive-511567
(Accessed online April 21, 2014). Pan, Sui-ming.1993."China:AcceptabilityandEffectof ThreeKindsof SexualPublication."
Archivesof Sexual Behavior
(22)1: 59-71. Sina News. 2014. "
Zhongguo 'Saohuang' Xingdong Shenru Wangluo Shijie
中国
'
扫黄
'
行动深入网络世 界
[China's 'Campaign against Pornography' Infiltrates the World Wide Web]"
http://news.sina.com.cn/o/2014-04-17/093029952736.shtml
(Accessed April 18, 2014).
Images:
An Xiao. 2011. "Getting Naked for Ai Wei Wei."
Hyperallergic
(November 21)
http://hyperallergic.com/41010/ai-
weiwei-one-tiger-eight-breasts/
(Accessed April 22, 2014).
Keating, Joshua E. 2011. "Cultural Revolutionaries." 
Foreign Policy
(May 10) http://www.foreignpolicy.com/articles/2011/05/10/cultural_revolutionaries (Accessed online April 22, 2014). Tan Chong Kee. 2007. "Same-sex Love in Ancient and Modern Chinese History".
Fridae
(June 19)
http://www.fridae.asia/gay-news/2007/06/19/1879.same-sex-love-in-ancient-and-modern-chinese-history-2- 2
(Accessed online April 22, 2014).