Pictures of a kinkily dressed 'drag queen' in a Shenzhen supermarket have gone viral on Weibo, where Chinese netizens discuss if this kind of apparel should be respected as part of transvestism or condemned as indecent exposure.
On May 14, one Weibo netizen called Mr. Danzi posted: "Today at the Shenzhen MixC supermarket I was stunned to see a 'Witch Man' [loosely: 'drag queen'] in high-heeled boots, just breathtaking..I was dumbstruck."
Mr. Danzi then shared different photos of the extraordinary shopper, dressed in skin-tight underwear with open buttocks. The photos reveal how other shoppers watch from a distance and take pictures. Within 48 hours, this post and the pictures were shared over 4000 times on Sina Weibo.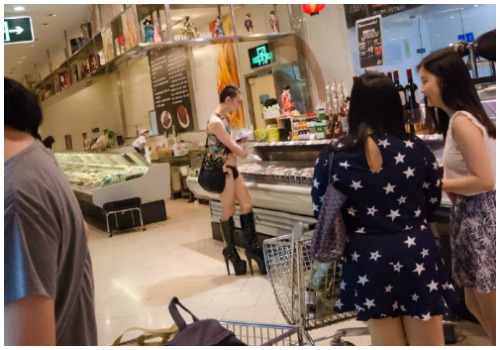 The pictures cause much commotion on Weibo, where netizens have different opinions on this grocery shopping outfit – with some praising it and others denouncing it. Many netizens think the cross-dresser looks sexy and is in good shape, but there are also those who scold him for walking around like this.
"Isn't it great to be a transvestite," one female netizen responds: "If a woman would go out dressed like this, she would be slandered." Other netizens comment: "I respect all kinds of unusual clothing – it's the freedom of choice people have. But exposing the lower body is just not good in my opinion."
One Weibo user writes: "I am now in America, and although I have often seen people like this, I've never seen people taking pictures of them or avoiding them." Another commenter responds: "I also live in America, and I am not sure where you live, but I've never seen a person like this. Transvestism and exhibitionism are not the same thing."
Discussions on Weibo mostly focus on the question whether or not this kind of clothing is socially acceptable, and to what extent this classifies as 'transvestism' and to what extent it simply is 'inappropriate'. One netizen comments: "If this was a normal transvestite, nobody would've even noticed. But I classify this as exhibitionism."
Another person says that people on Weibo should not use foul language towards this person: "You all should stop attacking him with such mean words – after all, he has a mental illness."
A feminist discussion platform has responded to these pictures on its Weibo account, saying: "There should be a clear divide between men gracefully dressing in women's clothing and this kind of indecent exposure."
There are also those who don't care about what this person wears, but do care about looking after one's health: "I can appreciate special hobbies, but won't they get a cold dressed like this?!"
– By Manya Koetse
Follow @WhatsOnWeibo
©2016 Whatsonweibo. All rights reserved. Do not reproduce our content without permission – you can contact us at info@whatsonweibo.com.