Weibo From A to Z: A Look Back at the Biggest Trending Topics of 2016
What were the most discussed topics on Weibo of 2016? What's on Weibo gives an overview of top stories on Chinese social media from A to Z: a look back at Weibo's biggest trends of 2016.
As we are getting ready for a new year, What's on Weibo reflects on the most popular trending stories on Chinese social media in 2016. It was a year where many things happened, from political controversies to online scandals and social hypes.
Sometimes the most trivial things got big, while the biggest things remained trivial. Time to list the China trending stories and digital trends of 2016 from A to Z.
———
#A is for Alipay,..the app for raunchy transactions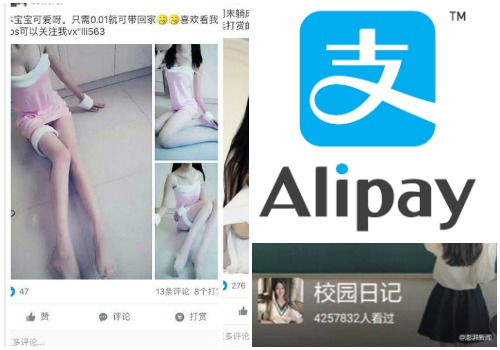 The A is for Alipay in this alphabet of 2016; not just because this Chinese 'equivalent to Paypal' is still the world's leading third party payment platform, but also because the app made headlines in November when it launched a new group chat feature that soon turned into a 'soft porn' place.
The new social feature 'Circles' (生活圈) made it possible for users of a certain sex (female) to post, while only allowing other (male) users above a certain credit score to comment/interact. It triggered hundreds of women to post sexy pictures to tempt men or other users with a high credit score to spend some of their digital money. The groups were soon closed and Alipay CEO Peng Lei apologized, calling the incident "the most difficult" period of her Alipay career.
#B is for Baidu,..promoting false medical information
Another 2016 online scandal was exposed in May when the death of a 21-year-old cancer patient triggered heated discussions about Baidu's paid search results. Through an online search on China's biggest search engine Baidu, a young man named Wei Zexi found a promising treatment for with he spent 200,000 RMB (31,000US$). It later turned out to be a highly contested one, and the man soon died. Thousands of netizens criticized Baidu for offering a platform to shady health care providers.
The death of Wei Zexi did not only expose the spread of false medical information by Baidu, it also revealed a huge profit-driven healthcare market, in which Baidu and the fraudulent Putian Medical Group were running the show. Although the uproar led to a temporary shutdown of these ads, the same advertisements reappeared on the search engine in November.
#C is for Castro,..the "old friend of China"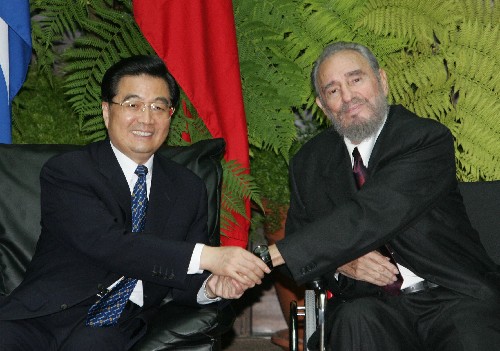 Shortly after news of his death came out, Cuban leader Fidel Castro became the number one trending topic on Weibo in November. Many Weibo users called Castro an "old friend of China", expressing their condolences through thousands of digital candles. Under the leadership of Castro, China-Cuba relations became like those between "good comrades, good friends, and brothers", as former president Hu Jintao described them. The Weibo topic on #卡斯特罗去世# was viewed over 99 million times.
#D is for Disneyland,..the grand opening in Shanghai
It was the most anticipated opening of the year. Disneyland Shanghai opened its doors on June 6 of 2016 to let the masses of people in who had been able to get their hands on the most wanted tickets of the year. Although Chinese netizens had been raving about the opening of the 'happiest place on earth' for months, the enthusiasm soon made place for complaints after the opening.
Many said the Disney trains in Shanghai were ugly and not nearly as beautiful as those in Hong Kong, the prices of snacks and drinks were deemed way too high, and many were troubled by the uncivilized behaviour of some visitors to the park.
#E is for Eleme,..China's successful home-delivery app
The E in this alphabet perhaps not just stands for Eleme (饿了么) but the overall success of E-commerce in China in 2016. Home-grown delivery apps like Eleme, Baidu Takeout and Meituan were ubiquitous all over the first-tier cities of China this year. Delivery apps Eleme and Meituan became the focus of scrutiny when Chinese media revealed they were involved in illegal business by selling food from unlicensed restaurants.
With a heightened crackdown on street food, many unlicensed vendors chose to sell their food door-to-door via apps like Eleme, making them relatively 'invisible' to authorities. It has led to authorities keeping a closer eye on these delivery platforms.
#F is for Forbes Billionaires List,..China's billionaires
The release of the Forbes Billionaires List got Weibo talking about money and the world's youngest billionaires this year. Although the very youngest multi-millionaire is not Chinese – but a 19-year-old Norwegian – the Forbes list revealed that China also has its fair share of young billionaires, with entrepreneur Wang Han becoming one of the world's youngest billionaires at the age of 28. Check out our list on China's youngest billionaires.
#G is for Gaga,..for meeting with the Dalai Lama
In the summer of 2016, Lady Gaga lost a lot of her Chinese fans after she met up with the Dalai Lama during a US conference in Indiana. After learning of Gaga's support for the Dalai Lama, many netizens said that "Lady Gaga has officially left the Chinese market."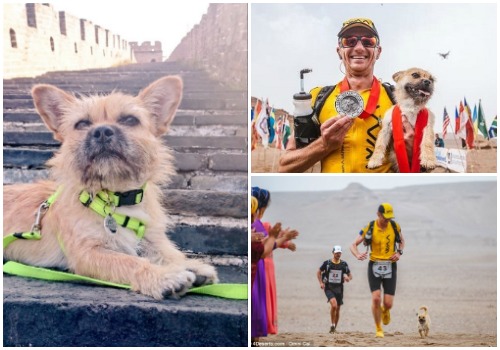 Honourable mention: The #G for Gobi, the desert dog. The stray dog captured everyone's heart after joining runner Dion Leonard on a 155-mile marathon across China. Netizens all rooted for Gobi after the dog got lost while in quarantine before joining Leonard to his home in Scotland, but after an amazing nine-day search, the little dog was found in Urumqi, and she is now on her way for a new life with her self-chosen owner Leonard in Scotland.
#H is for Hangzhou,..the heart of the G20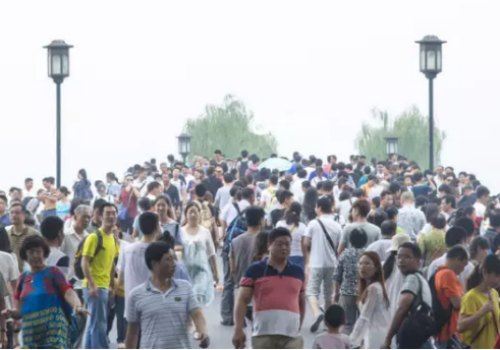 The whole world was looking at Hangzhou in September of this year as world leaders convened in the ancient Chinese city for the annual G20 summit. It marked China's first time as host of the international forum – an important moment for China to once again emphasize its important role in the international community today.
But the G20 was also an opportunity for the city of Hangzhou to promote itself as a tourist destination. These efforts paid off so well that in the days following the G20 summit, the city was so packed that people could barely move. It also led to trash being left behind all over the city by visitors, with street cleaners removing as much as 14 tons of garbage within one day.
#I is for iPhone6 Legs,..another skinny trend
This was the year of different challenges taking over social media. There was the One Finger Selfie, the A4 waist challenge, and the much-discussed iPhone6 challenge.
Thousands of female netizens posted pictures on social media showing off how their smartphones could cover their skinny legs. Although many people later ridiculed the trend, there were also worries that these kinds of hypes promote unhealthy beauty standards. The majority of Weibo users, however, seemed to accept that an iPhone could never cover both their legs. Perhaps an iPad could.
#J is for Johan Cruyff,..the Dutch soccer hero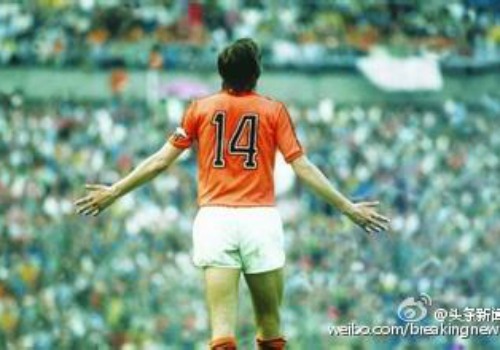 As What's on Weibo is a blog that is both run from Amsterdam and Beijing, this topic especially touched our hearts this year. Dutch soccer hero Johan Cruyff passed away at the young age of 68 due to cancer, and became Weibo's number one trending topic.
Within hours after news of the soccer legend's death came out, thousands of Weibo users responded by posting candles and crying emoticons for what some called the "emperor of soccer" and "the world's most legendary number 14." Cruyff's Chinese fans expressed their grief and their respect for his career: "The soccer world has lost its godfather, but your philosophy remains. Don't forget to wear your soccer shoes in heaven. I salute you," one fan said.
#K is for Kang Kang,..the missing CCTV mascotte
For the Year of the Monkey, CCTV launched its new official mascot of the Spring Festival Gala: Kang Kang the monkey. But when controversy arose over web users deeming the mascotte 'ugly' and 'stupid', Kang Kang suddenly was nowhere to be seen anymore.
It led to the burning question on Weibo: whatever happened Kang Kang the Monkey? Weibo netizens discussed the various reasons why Kang Kang did not come on the show, with some wondering if he left when he saw the show's rehearsal and others suggesting they should file a missing's person report. There were multiple netizens who thought Kang Kang might have carried 'dangerous goods' and did not pass the CCTV's strict security checks. Kang Kang, unfortunately, was not be seen again.
#L is for Lei Yang,..who died due to police brutality
The death of Beijing resident Lei Yang (雷洋) was already called one of the biggest controversies of the year in May of 2016. When the 29-year-old environmentalist Lei Yang died shortly after his arrest at an alleged brothel, his story sparked national outrage over police brutality. "We could all be the next Lei Yang" was one of the phrases that soon made its rounds on Chinese social media. When Lei's wife stepped forward demanding answers from Beijing authorities on the circumstances surrounding her husband's death, she received massive support from China's Weibo users.
According to further investigation by the Beijing prosecutor's office, Lei Yang was found to have died due to choking. VOA recently reported that five officers involved in the case are expected to be charged with dereliction of duty in this case.
#M is for My Little Princess,..the hit TV drama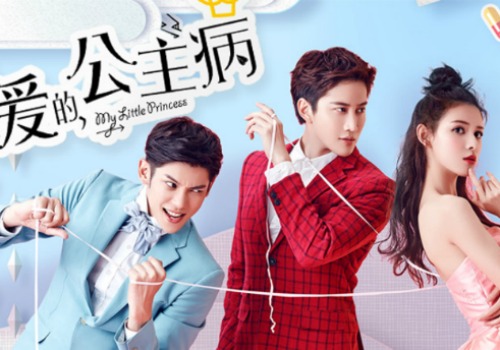 My Little Princess, a Chinese TV drama revolving around the trials and tribulations of Chinese rich kids attending college, is just one of the many Chinese TV dramas that became big trending topics on Weibo this year.
Other hit dramas were shows like The Interpreters, The Imperial Doctress, and countless others. The sucess of telenovelas like My Little Princess shows that Chinese audiencies just cannot get enough of TV drama – enjoying them together with a far broader audience outside of the People's Republic.
#N is for the Noodle Gang,..Shanghai's noodle maffia
A Shanghainese 'Noodle War' attracted the attention of Chinese netizens this year, as one noodle restaurant named Alilan openly shared its battle with a local Chinese Hui muslim community, that alleged the owner violated their code that there should be no other beef noodles restaurant within 400 meters of a Hui muslim restaurant.
As the 'noodle community' attempted to boycott the restaurant by standing in front of Alilan and blocking visitors from entering, Weibo netizens stepped up and showed their support by coming to dine at Alilan and resisting the boycott in great numbers. Weibo saved the restaurant, which is still running a successful business today. They thanked their fans for their help on their Weibo page earlier this month.
#O is for the Olympics,..that made Fu Yuanhui famous
The topics related to the Olympics might just have been the biggest topics of the year on Chinese social media. Whether it was about the helmets designed for the cycling team, the insulting comments about Chinese athletes made by a Canadian TV commentator, or the success of made-in-China products in Rio, the Olympics were the trending topic of the summer of 2016.
But only one Chinese athlete was the absolute winner of all Olympic-related topics. Swimmer Fu Yuanhui stole everyone's hearts with her down-to-earth attitude and almost childlike facial expressions and talks about how she won at the Olympics with her 'mystical powers.' She also broke a sporting taboo by openly speaking about her period. With now over 8 million followers on her account, Fu Yuanhui has become a popular Weibo celebrity.
#P is for Papi Jiang,..the online celebrity of 2016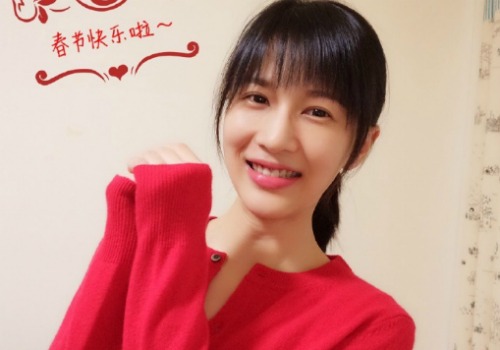 Papi Jiang rose to fame in 2016 and went from a lonely vlogger to one of China's most beloved online celebrities – seemingly overnight. The Weibo superstar was the 'new kid on the block' in March of 2016 with her witty online videos in which she commented on anything from family interactions to dating etiquette.
In April 2016, the power of Weibo's celebrity economy became clear when an ad auction showed that companies were willing to pay up to 22 million RMB (3,4 million US$) to get Papi Jiang connected to their brand. It showed that 2016 was THE year of Weibo's celebrity economy. Papi now has over 20 million followers on her Weibo account, and still frequently posts funny videos.
#Q is for Qiaobi,..the 'most racist' commercial of the year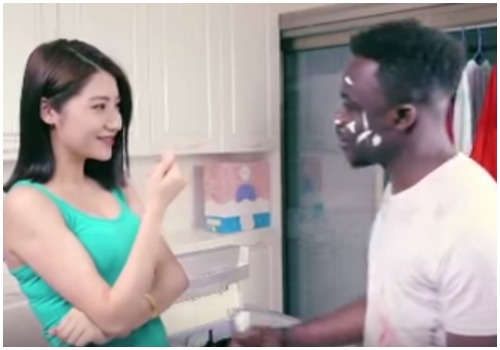 A Chinese washing powder commercial went viral outside of China this year for being "jaw-droppingly racist." The commercial shows how a black man is turned down by a Chinese woman, who puts him in a washing machine – after which he comes out as a Chinese man.
Within China, the ad initially stirred no controversy – it seemed that no one had even heard about the ad – until international media controversy also blew over to Weibo. Different websites soon exposed that the Chinese commercial was copied from a 2006 Italian ad where a white man turns into a black man after being 'washed'. On May 30, Chinese media reported that Qiaobi had taken the commercial down and had apologized in response to the outrage it caused.
#R is for Red Alert,..the smog 'airpocalypse'
Since Beijing's first red alert for smog was issued in December of 2015, the 'smog alert' has become a recurring topic on Chinese social media. The red alert for smog of December 2016 especially triggered many comments on Weibo this year when 400 students in Henan, Anyang, had to take their exams outdoors in heavy smog while their school was officially closed due to the smog. The principal has since been suspended.
#S is for SK-II,..the brand that opened up the 'Leftover Women' discussion
A short film about China's leftover women by skincare brand SK-II became a hot topic on Chinese & international social media in April of 2016. Many netizens were touched by the video's message about choosing personal happiness over society's expectations.
Although the 'Change Destiny' ad campaign also received some criticism, most people seemed to agree that the video send out the right message: that women, despite the pressure to get married, should pluck up the courage to speak out and get their voices heard.
#T is for Trump..from hero to zero on Weibo
Trump undeniably is the biggest name of 2016. On Chinese social media, many people initially showed their support for Trump for his humor, pragmatism, war against political correctness, but also because many thought he was a better option than Hillary Clinton.
But soon after Trump was elected, the enthusiasm subdued when the newly elected US president spoke with Taipei president Tsai Ing-wen and suggested in a Fox News that he could drop the "One China" policy. Trump's recent moves have caused confusion on Chinese social media, although there are also Chinese netizens who say that China will win, no matter what Trump's future plans may be.
#U is for Uber,..merging with Didi Chuxing
American ride-hailing app Uber had a bumpy ride in China, where was losing over $1 billion a year since it started its PRC adventure in 2013. Uber China was facing the fierce competition from homegrown Uber-equivalent Didi Kuaidi (later: 'Didi Chuxing') which was doing a staggering 10 million rides a day in China while Uber was doing only 2 million rides a day worldwide.
In August 2016, Uber China finally gave up its Chinese e-hailing war with Didi, and merged with its rival. It led to many complains on Weibo, with higher prices and bothered passengers. The original Uber app has closed down and was replaced by an app specially made for the Chinese market.
#V is for the Big V-s,..making Weibo big
Although China's biggest social media platform Sina Weibo was previously practically pronounced dead by international media, this year was the year of Weibo's revival.
One of the main reasons for Weibo's success is the popularity of so-called 'Big V's' – popular microbloggers who have a 'v' behind their name as their accounts have been verified by Weibo. These social media celebrities vary from comedians to fashion bloggers or make-up stylists who offer great marketing potential for brands because they have a huge following, much influence, and often the right target audiences. While Weibo helps online celebrities grow big, these online celebrities also helped Weibo revive by boosting the number of active monthly users who come to see what their idols are up to.
#W is for Wang Baoqiang,..the divorce of the year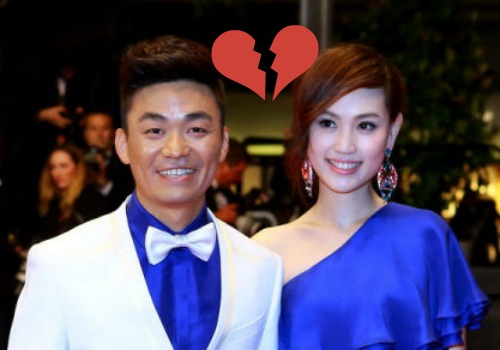 The probable winner in this list of Weibo's trending topics of 2016 is the divorce of Wang Baoqiang. The popular migrant worker-turned-actor publicly announced on Weibo that he was divorcing his wife Ma Rong for cheating on him with his manager. It led to an unprecedented stream of comments, with the majority of Weibo netizens supporting Wang and hating on Ma Rong.
While an audience of millions seeing the love drama unfold, Ma Rong took revenge by blaming her estranged husband for abandoning his friends and family, and sueing him for defamation of character.
#X is for Xiaomi,..China's winning smarthpone
After Single's Day, China's biggest online shopping festival of the year, it became clear that 'made-in-China' smartphones and tablets were the big winners this year.
Although iPhone7 still made considerable sales, made-in-China smartphones were the undeniable winner of the Single's Day smartphone sales. Overall, netizens bought more Chinese smartphone brands than international ones. According to the sales numbers of JD.com, no less than 8 of the top 10 best-selling smartphones were domestically produced mobile phones. China's Xiaomi brand did especially well. With the Mi 6 coming out in 2017, the brand can expect to gain more Xiaomi lovers in the coming year.
#Y is for Yulin,..China's most controversial local festival
Year on year, the annual Yulin dog meat festival has been receiving more attention internationally, with more celebrities and politicians condemning the event. The tradition has previously mainly sparked outrage outside of China, but is also getting more criticism within the PRC; 62% Chinese surveyees now think the dog meat festival harms China's international reputation. This year, China's Foreign Ministry spokesperson Hua Chunying clarified that the Yulin government has never supported or organized the festival, and that it is a local initiative – a controversial one.
#Z is for Zhang Guoli,..who was quoted before he spoke
An awkward moment on Chinese state media got people talking during the Plenary Sessions in March when CCTV reported that actor and director Zhang Guoli advocated for stronger monitoring of web dramas at China's plenary sessions, and when the actor posted on Weibo that he had not spoken at all yet.
Although Zhang Guoli's comment was soon deleted or removed by Weibo's censors, it had already caught the widespread attention of Weibo's netizens. "The media is always like this," one netizen responds: "they report about a speech before someone has actually spoken!"
———
What's on Weibo wants to thank you for following us over the past year, in which we have grown into much cited and much visited independent news blog on China. Please keep connected in the year to come for all of China's social trends.
New year's greetings from What's on Weibo's 2016 writer's team.
– By Manya Koetse
Follow on Twitter or Like on Facebook
©2016 Whatsonweibo. All rights reserved. Do not reproduce our content without permission – you can contact us at info@whatsonweibo.com.
[showad block=1]
The Anti "Halalification" Crusade of Chinese Netizens
Discussions on the so-called 'halalification' of China have flared up after delivery app Meituan introduced separate boxes for its halal food deliveries this week. Many netizens see the growing prevalence of halal food in China as a threat to a unified society and feel that featuring special services for Muslims is discriminatory against non-Muslims.
Discussions on the so-called 'halal-ification' of China have flared up after delivery app Meituan introduced separate boxes for its halal food deliveries this week. Many netizens see the growing prevalence of halal food in China as a threat to a unified society and say that featuring special services for Muslims is discriminatory against non-Muslims.
The "halal-ification" (清真泛化) of food products in China has been a hot issue on Chinese social media over the past two years. Discussions on the spread of halal food in China broke out again this week when food delivery platform Meituan Takeaway (美团外卖) locally introduced a special halal channel and separate delivery boxes for halal food.
What especially provoked online anger was the line used by Meituan to promote its new services, saying it would "make people eat more safely" (Literally: "Using separate boxes for halal food will put your mind at ease.")
Many netizens said the measure discriminates against non-Muslims. They called on others to boycott Meituan and to delete the app from their phone. In response, the topic 'Is Meituan Going Bankrupt?' (#美团今天倒闭了吗#) received over 3.7 million views on Weibo, with thousands of netizens discussing the issue under various hashtags.
RAISING AWARENESS ABOUT ISLAMIC DIETARY LAW
"China is a secular country ruled by an atheist Party, and firmly boycotts Islamic laws."
In 2016, halal products were already at the center of debate on Chinese social media when officials called for national standards on halal food (definition here).
A popular Weibo imam called Li Haiyang from Henan wrote a post in March titled "Raising Awareness about Islamic Dietary Law" ("关于清真食品立法的几点认识"), in which he discussed the importance of national standards on halal food in China.
Li Haiyang, who is part of China's Henan Islam Society (河南省伊斯兰教协会), wrote that all Muslims should follow the classic rules and abide by their beliefs, of which Islamic dietary laws are an important part, and that the PRC cannot discriminate against Muslim ethnic groups by refusing to legally protect Muslim halal food.
At the time, the imam's post was shared over 500 times and besides much support, it also attracted many comments strongly opposing the imam's views. A typical comment said: "China is a secular country ruled by an atheist Party, and firmly boycotts Islamic laws!"
Despite backlash, there are multiple accounts on Weibo dedicated to informing people about halal food, such as 'China Halal Food Web' (@中国清真食品网 3100+ fans) or 'Halal Cuisine Web' (@清真美食网, 3950 fans).
"HALALIFICATION"
"Halalification is not good for national harmony and not conducive to the healthy development of Chinese Islam."
In Chinese, the word for 'halal' is qīngzhēn 清真, which also means 'Islamic' and 'Muslim.' The two characters the word is composed of (清 and 真) literally mean 'clean' and 'pure.' The various meanings of the Chinese word for 'halal' somewhat complicate discussions on the matter.
In the halal food debate on Chinese social media, the term qīngzhēn fànhuà (清真泛化) is often used – a new term that popped up in Chinese media in 2016. It basically means 'halal-ification' or 'halal generalization,' but because qīngzhēn also means 'Islamic,' it can also imply 'Islamization.'
And that is precisely what is at the heart of the discussion on the spread of halal food on Chinese social media: those who oppose the spread of halal food in the PRC connect the normalization of Islamic dietary laws to an alleged greater societal shift towards Islam. The spread of 'Islam' and 'halal food' are practically the same things in these discussions through the concept of qingzhen.
Another issue that plays a role is the idea that 'qingzhen' stands for 'clean and pure' food. This distinction between halal and non-halal food implies that while the one is clean food, non-halal food is 'unclean' and 'dirty,' much to the dismay of many net users. Some people suggest that the name of 'halal food' should be changed to 'Muslim food.'
On Baike, Baidu's Wikipedia-like platform, the page explaining the term qīngzhēn fànhuà 清真泛化 says: "The term [halalification] originally only referred to the scope of the specific diet of [Muslim] ethnic groups, and has now spread to the domains of family life and even social life beyond diet, including things such as halal water, halal tooth paste, and halal paper towels."
The Baike page explains that halal products are hyped by companies that are merely seeking to gain profits. It also says that halalification is "not good for national harmony" and "not conducive to the healthy development of Chinese Islam."
Although there are no official government records of how many people practice Islam within the PRC, it is estimated that there currently are around 23 million Muslims in China, which is less than 2% of the total population. According to Pew Research (2011), because China is so populous, its Muslim population is expected to be the 19th largest in the world in 2030.
HALAL WORRIES
"State-financed products should not be religious."
Most Chinese food ordering apps now have a special halal section; Chinese supermarkets provide a wide range of products labeled as 'halal' and there are ample halal restaurants in Chinese cities.
But many people on Chinese social media feel that the spread of halal products is going too far. Legal service app Ilvdo (@律兜) published an article on Weibo this week that mentions that many Chinese consumers might buy halal products such as halal ice cream or milk without even knowing it: "You perhaps drank [halal] water and indirectly funded Islam religion – because the companies that have halal certifications have to pay Islamic organizations for them."
On Weibo, there are some popular accounts of people opposing the spread and normalization of halal food in China. An account named 'No Halal' (@清真发言) has over 143.500 followers. The 'No Halal Web' (@非清真食品网) account has nearly 90.000 fans. These accounts regularly post about halal products in Chinese shops and restaurants and link it to the spread of Islam religion in China.
The account 'No Halal Web' recently posted a photo taken at a Shanghai restaurant that shows a table with a sign saying "Reserved for Halal Customers Only."
The 'No Halal Web' account wrote: "This already is Muhammed's Shanghai." They later stated: "In the Islam world, the demands of Muslims are not as simple as just wanting a mosque, they want their environment to be Islamic/halal."
Verified net user 'Leningrad Defender' (@列宁格勒保卫者, 254465 fans) posted photos of a segregated 'halal' checkout counter at a Jingkelong supermarket in Beijing's Chaoyang area, wondering "is this even legal"?
A Weibo user named 'The Eagle of Great Han Dynasty' (@大汉之鹰001) posted a photo on July 20 showing a bag of infant nutrition from the China Family Planning Association that also has a 'halal' label on it. He writes:
"What is the Family Planning Committee doing? Why is this halal? This is Jilin province, are we all Muslims? What is behind this, can the Committee tell the public? This is financed through the state, the public has the right to know!"
Others also responded to the photo, saying: "State-financed products should not be religious."
THE MEITUAN INCIDENT
"Only when we as the Chinese people integrate together, can our country be unified as an undivided family."
Although there is much opposition to the spread and regulation of halal food in China, the halal food industry also provides many business opportunities for companies who are eager to serve the millions of customers wanting to buy halal.
Popular food delivery platform Meituan faced furious backlash this week when it introduced its special halal food services. The so-called 'Meituan Incident' (美团事件) became a heated topic of debate on Weibo and Wechat.
One of the key arguments in the debate is not so much an opposition to halal food in itself, but an opposition to a normalization of 'halal food' (with the complicating factor that the Chinese qingzhen also means 'Islamic' and 'clean and pure'), which allegedly discriminates against non-Muslims and increases social polarization. Many netizens said that if there are special boxes for food for Muslims, there should also be special boxes for food for Buddhists, Daoists, atheists, etc.
One well-read blog on Weibo said:
"National identity, in the end, is cultural identity (..). What is needed for the long-term stability of a country is integration [of the people] rather than a division [of the people] – let alone isolation. The national law should [therefore] turn 'halal food 清真食品' into 'Muslim special food 穆斯林专用食品.' This would make sure that Muslims don't eat anything they shouldn't eat, and it also liberates those (..) who aren't religious. The law could confirm that there is a special kind of food designed for Islamic religious people to eat, instead of asking non-religious people to eat it as well. (..) There are more and more atheists. We should no longer distinguish people by saying he is a Daoist, he is Buddhist, that's a Muslim or a Christian..in the end we shouldn't even distinguish people as being Han or Zhuang or Miao or Hui or Manchu. Only when we as the Chinese people integrate together, can our country be unified as a harmonious and undivided family."
The blog, that was viewed over 88.000 times, received much backing from its readers. One person wrote: "As there is now a national resistance against Islamization and religious segregation, how could the Meituan incident not cause anger amongst the people?"
It is not the first time that the separation of facilities/services for Muslims versus non-Muslims triggers online discussions in China. In September last year, the introduction of special "Muslim-only" shower cabins at a Chinese university also provoked anger about alleged "Muslim privilege."
TRIVIAL MATTER OR SOCIAL SHIFT
"Today it is about separate boxes for food; tomorrow it might be about separate seating areas in restaurants. And what's next?"
On Thursday, Meituan Takeaway officially responded to the controversy through Sina Weibo, saying that the promotion of halal delivery boxes was a local and unofficial activity by one of its agents in Gansu province. It also said it would strengthen supervision of its agents and their promotional material.
But not all netizens believed Meituan's explanation. One person said: "I am located in Inner Mongolia, and your Meituan [here] also promotes the two separate delivery boxes."
Other netizens also posted photos of Meituan's food delivery rival Eleme also using special "Halal only" delivery boxes.
Among all the negative reactions and the resistance against the spread of halal food, there are netizens who praise halal food for being tasty and who do not get what all the fuss is about. A female netizen from Beijing wrote:
"Why are so many brain-dead people opposing Muslims these days? How does Meituan's separation of halal food hinder you? What do you care if your yogurt is halal? If you don't want to eat it, don't eat it. There are plenty of people who will. Use your brain for a bit. Not all Muslims are extremists; just as not all people from the Northeast are criminals."
But there are many who think Meituan's separate boxes are no issue to disregard. One young female writer says:
"(..) Under the current national policy of protecting ethnic minorities, Muslims enjoy special privileges in the name of national unity. If this continues for a long time, the inequality inevitably will spread to other domains of society. Today it is about separate boxes for food; tomorrow it might be about separate seating areas in restaurants. And what's next? Segregated neighborhoods? Trains? Airplanes? It might seem like a trivial matter, but if you ignore this, then those who are privileged now will go on and get greater privileges. The distancing of Muslims will only grow. I'm not saying this to alarm you. It's self-evident that unequal benefits and the privilege of an ethnic group will eventually create conflicts between the people."
Amidst all ideological arguments, there are also those who say it is all about the money. In the article published by Ilvdo, the author says about the Meituan incident: "Why do the boxes need to be separated? Because in general, Muslims feel that what we eat is "dirty" … but the product increase cost is shared by all the customers – so not only does it make us feel "dirty", we also spend more money."
They later say: "What we want is national unity, not religious solidarity. (..) You have your freedom of religion, which app I use is my freedom. Separate boxes and other special services will ultimately be reflected in the costs, and I do not want to pay religious tax. Luckily I have the freedom to delete this app and stop using it."
By Manya Koetse
Follow @whatsonweibo
©2017 Whatsonweibo. All rights reserved. Do not reproduce our content without permission – you can contact us at info@whatsonweibo.com.
Behind the Rise and Fade of China's Literary Sensation Fan Yusu
Beijing migrant worker Fan Yusu became an overnight sensation when her autobiographical essay "I Am Fan Yusu" went viral on Chinese social media in late April 2017. The author has since gone into hiding and her essay has been removed. What's behind the sudden rise and silent disappearance of China's biggest literary sensation of 2017?
Beijing migrant worker Fan Yusu became an overnight sensation when her autobiographical essay "I Am Fan Yusu" went viral on Chinese social media in late April 2017. The author has since gone into hiding and her essay has been removed. What's behind the sudden rise and silent disappearance of China's biggest literary sensation of 2017?
Fan Yusu was the name on everybody's WeChat in late April and early May of this year. An essay titled "I Am Fan Yusu" ("我是范雨素," full translation here) spread like wildfire over Chinese social media, seemingly coming out of nowhere.
In some ways, the popularity of the essay in China is comparable to the recent hype over Alex Tizon's essay "My Family's Slave" on Western social media; this non-fiction story about 'Lola' Eudocia Tomas Pulido from the Philippines, who lived as a modern slave with an American family for 56 years, went viral on Twitter and Facebook in May. It gripped its many readers for exposing poignant problems in modern-day society that usually stay behind closed doors.
Fan Yusu's account, in its own way, also revealed the harsh realities of an ever-changing society. China has an estimated 282 million rural migrant workers. The autobiographical tale focuses on the difficult childhood and adult life of one person amidst these 282 million – Fan Yusu herself.
"I Am Fan Yusu" was first published on Noonstory.com, an online literary platform by Shanghai news outlet Jiemian. A year prior to its publication, one of their journalists (Dan Bao 淡豹) headed out to Picun for an interview. Picun is a migrant village on the outskirts of Beijing, not far from the capital's airport. It was here that Jiemian learned about the local literary club and its many poems and essays. One of these works titled "My Brother's Dream" particularly stood out to them. It was written by the 44-year-old Fan Yusu, and the editor soon decided to publish her first story ("农民大哥") in May of 2016.
A year later, Jiemian published a second essay by Fan, not expecting that it was this piece that would soon hit three million views and go viral across the country.
HER STORY
"Am I living in the Qing dynasty or is this new socialist China?"
In "I Am Fan Yusu", Fan recounts her impoverished childhood in a rural village in Xiangyang, Hebei. Fan came to Beijing at the age of 20. Being a clumsy waitress with low expectations for her future, she rushed into an unhappy marriage with an alcoholic husband and had two daughters. When her marriage turned violent, she returned to her hometown for help. It was here that she discovered she was "merely a passer-by" in the village where she was born and raised. Her brothers could, but were not willing to help; her mother wanted to, but could not help.
Being the youngest of five siblings, Fan already learned at a young age that men have the final say in China's countryside. Although her mother was a powerful local politician for more than forty years, she resigned from her official post the moment Fan's oldest brother objected to his mother's work.
The twenty-something Fan then returned to Beijing and took on a job as a nanny in a rich family, leaving her own two daughters behind in the village of Picun, where many other children grow up without a mother. She writes about life as a babysitter for the child of her boss's mistress, while his dressed-up young wife waits on the sofa every night for her husband's return: "I wondered if I was living in the Qing dynasty or if this was new socialist China."
Despite her low educational background, Fan always had a thirst for knowledge and became a well-read person with a love for writing and literature. "If a person cannot feel happiness or satisfaction in life," she writes: "they simply aren't reading enough novels."
ONE VOICE OUT OF MILLIONS
"We are all Fan Yusu."
Thousands of netizens shared Fan's essay shortly after it was published online. They responded to it with praise, saying it was a "unique piece of work" and even "Nobel-Prize worthy." Why did specifically this essay become so hyped on Chinese social media?
The answer can be found in both the person of Fan Yusu herself as in her essay. The piece appealed to people because it uses simple yet powerful language. Some called it "unpolished"; a reflection of Fan's own life and society at large.
The fact that Fan Yusu is in her forties, a single mother of two, and a migrant worker who has had a difficult life, makes her story carry more weight. She represents a voice that is generally lost in a media environment that is dominated by the middle class.
The popularity of this account also shows that a migrant worker with a low educational status can still be a successful writer. At a 2015 social gathering, Fan already mentioned that "'migrant worker' is not a derogatory term, just as 'artist' is not an elite one."
"I Am Fan Yusu" also touches upon numerous issues such as domestic violence, divorce, gender inequality, the poor and rich divide, and a lacking healthcare system. These being issues that a lot of people have to deal with, the catchphrase "We are all Fan Yusu" ("我们都是范雨素") soon made its rounds on WeChat and Weibo.
A NEW LITERARY MOVEMENT?
"Many in China's elite literary circles do not touch upon society's pain points the way Fan does."
Fan Yusu's account comes at a time when there is a surge of stories that tell the individual stories of ordinary people. An essay on Beijing's crazy housing market titled "Housing Madness" ("房疯") by an author named Chongzi (虫子) also saw its fair share of success in April of this year.
There is a growing appetite for these types of stories, and non-fiction websites such as Noonstory or Guyu Story provide a platform for them.
The popularity of such stories seems to relate to a growing weariness with established literature. On Weibo, many people shared their overall discontent with China's literary circles in response to Fan's essay. Many said they think of Chinese literature as being elitist and out of touch with 'real life.'
This idea was backed by renowned novelist Zheng Shiping (a.k.a. Yefu 野夫), who applauded Fan's writing in an interview in May. He criticized Chinese modern literature, saying that many in those "elite circles" never touch upon society's pain points in the way Fan does.
Some Weibo netizens responded with sarcasm, saying: "Literature is literature. No matter if it touches upon society's pain points or not, it always needs to follow the ideology of the Propaganda Department."
ROOTLESS WOMEN OF CHINA
"A married daughter is like water that has been poured."
Another major factor that has contributed to Fan's sudden success, is that her account shows the disadvantaged position of women in China's countryside. Rural women are often caught in a vulnerable position, facing various economic and social obstacles that hinder their emancipation.
"A married daughter is like water that has been poured," is a saying about countryside women who go out to marry. They often leave the house empty-handed. Fan addresses this 'floating life' of rural women in her essay. Women from the countryside are 'rootless' because their status, location, and economic rights change depending on the role they have as daughter, bride, wife, daughter-in-law, or mother. All land ownership is generally in name of the fathers, husbands, and sons (Also see this article on China's 'rootless women').
When a woman marries outside her hukou (household registration permit), she usually has to give up any benefits or rightful land ownership she had in her previous household. No matter if a woman gets married into a different household or joins China's mass urbanization, she often is bound to end up in the lowest layers of society.
WHAT HAPPENED TO FAN YUSU?
"Why is Fan Yusu censored?"
Only three days after Fan Yusu's essay went online and viral, the text disappeared from its original source [editor's note: the essay is still available on some websites]. Different Chinese media reported that Fan Yusu, overwhelmed by the media's attention, had gone into hiding in a mountainous village.
It was not just Fan's essay, but also its reviews that were soon "harmonized" (被和谐, meaning 'censored'). One popular Weibo blog titled "Why I Like Fan Yusu" was no longer accessible as of May 6 for "violating the rules" on Weibo. The sudden disappearance of the essay and its direct reviews also made many netizens wonder: "Why is Fan Yusu censored? (范雨素怎么被和谐了?)"
Although the real reasons are not exposed, there is ample speculation. In her account, Fan writes about her problems with social anxiety. The sudden attention for her personal life may have been so overwhelming that some suggested it is Fan herself who wanted her essay removed. Especially since there were also journalists who went to her Hebei hometown to interview her mother – something that she dreaded. "I've run into a sandstorm," Fan Yusu reportedly told her friend about the flock of journalists swarming into her village.
But there were also those who said that reasons for censorship perhaps related to the fact that the account revealed details about the personal life of her former boss, a rich and powerful man who may have put a halt to online publications.
Another plausible option is that the publication was removed due to its criticism on Chinese society and politics. "Sharp criticism is just not allowed," some people commented: "She is very realistic, and exposes some gloomy aspects [of society]." Although Chinese state media initially lauded Fan's essay, it is possible that the hype surrounding it just grew too big too fast.
The sudden rise and disappearance of Fan Yusu has some resemblance to the hype surrounding Chai Jing and her documentary "Under the Dome" in 2015. This self-funded documentary on China's pollution problem originally was supported by Chinese state media. It received over 200 million views before it was abruptly removed from Chinese websites a week after its release.
At the time, Greenpeace East Asia's Calvin Quek told Bloomberg that it might had to do with the timing, just before the start of China's plenary sessions: "It's a reflection of some kind of political infighting that they chose to shut it down. The government censored the film because it got 200 million views, and they did not want it to dominate the twin conferences," he said.
In Fan's case, the hype came just before the Beijing One Belt, One Road Summit, a very significant event during and around which Chinese media emphasized the idea of China as a responsible and harmonious global leader.
Although Fan Yusu's 'sandstorm' has gradually blown over by now, she still has not returned to her Picun home according to the latest media reports. Fan might have disappeared from the limelight for now, she is not forgotten.
Fan Yusu is the voice of a social class often ignored; she is a shining example that migrant workers can influence and shape the world of Chinese literature today. The heightened media attention for "the writers of Picun" (article in Chinese) is just one manifestation of how Fan Yusu has already made her mark – an unerasable one.
– By Manya Koetse
Follow @WhatsOnWeibo
©2017 Whatsonweibo. All rights reserved. Do not reproduce our content without permission – you can contact us at info@whatsonweibo.com.